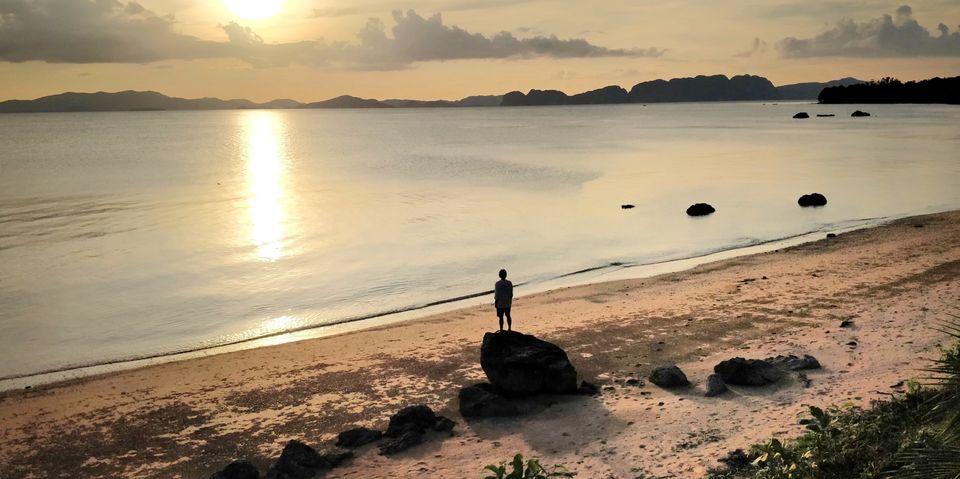 A Guide for Alternative Travelers & Respectful Backpackers
Disclaimer 1: This guide is not for party animals, sexpats and package tourists.
Disclaimer 2: This is not a guide to the islands. It is based on my road trip along the mainland coast of Southern Thailand.
When everyone is island-hopping, the mainland becomes the offbeat.
I set off on an unplanned motorbike trip across South Thailand on 20 December, 2018.
I am writing this blog as a travel journal while on the journey. I will be adding the new experiences every day for this one-week trip.
UPDATE: At the end of the 7 days, I decided to live in a small village I discovered on Day 7 for 3 more days. I experienced the local village life, made many friends, and had a peaceful time there.
Let's start!
. . .

DAY 1 (วันที่ 1)
Highway Roads, Pineapple Gardens, Private Sunset Beach
I started my journey from the touristy hub of Ao Nang, Krabi. All I wanted to do the first day was leave Krabi province and take the road to Trang Province.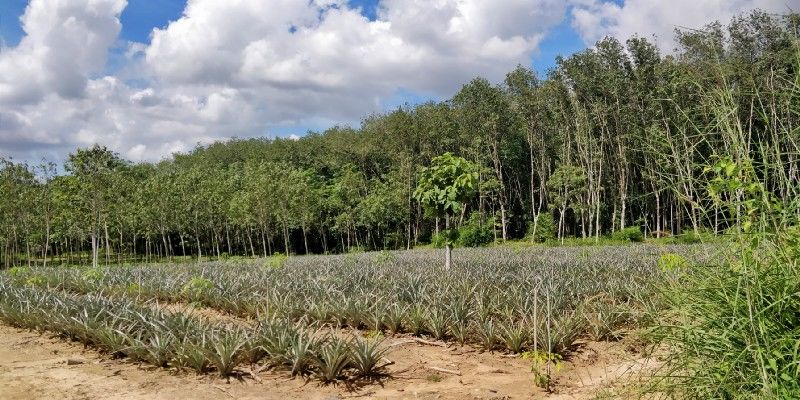 On the way, I discovered why Thailand is the 'Land of Pineapples'. Thailand is the world's largest producer and exporter of Pineapples.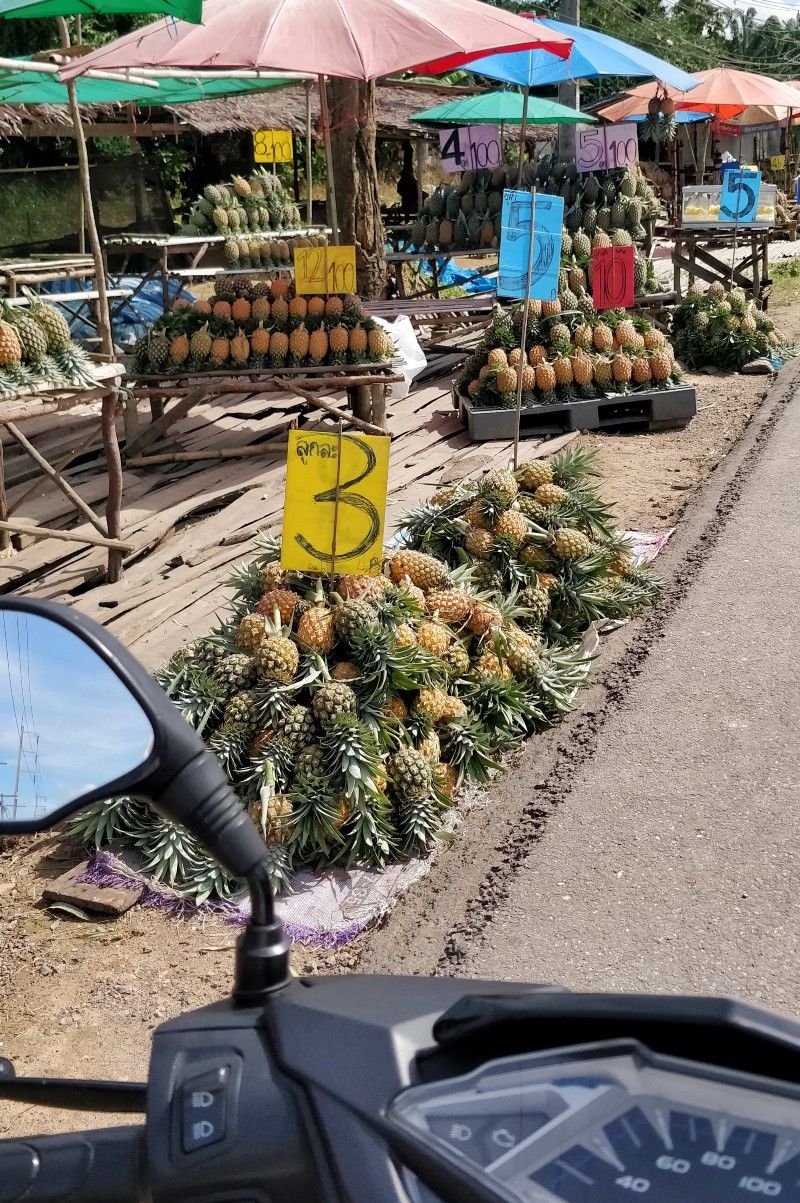 Whenever possible, I chose the side roads over the main roads. This led me to beautiful experiences on the way.
As soon as I entered Trang Province, One such side road took me to a local family-run cafe. And guess what, they also had a room for me to stay!
I found a home as soon as I entered Trang!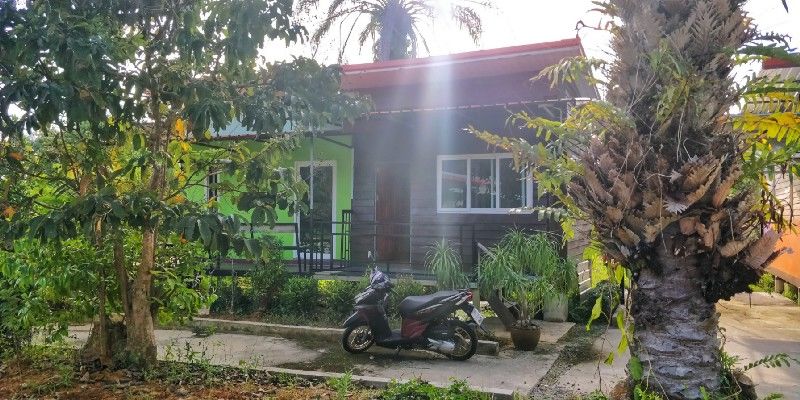 This cafe is not on Google Maps and they're planning to build some rooms for guests there for around 500 Baht per day.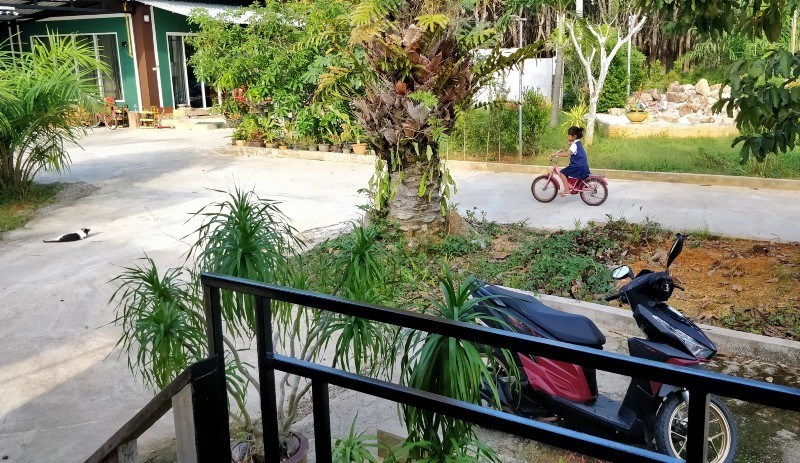 You can find the name in Thai right after the Krabi-Trang border on the side road which meets Highway 4046 at Kamon Si School.
Kalase is the place inside Sikao District and Trang Province. This is how you read a Thai location: [Sub District, District, Province]
Once I put my backpack to rest in the room, I headed to explore an unnamed beach in the direction of the sunset.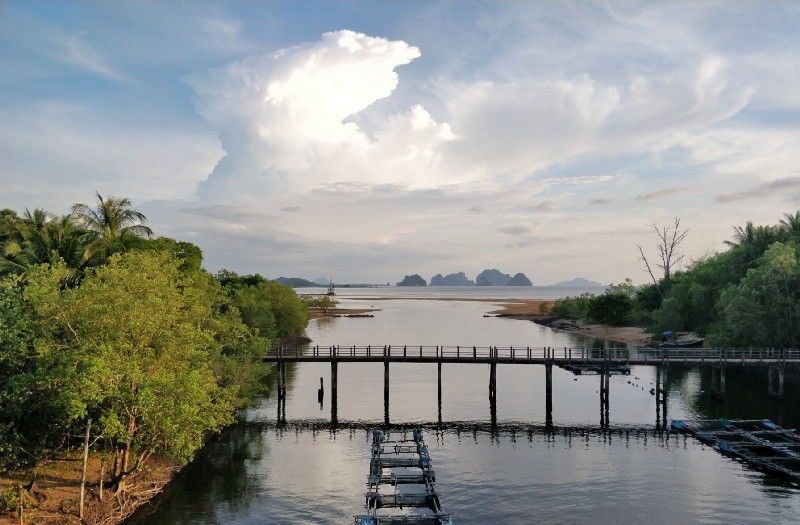 As I drove in the direction of the beach (which wasn't on Google Maps), I had entered the Khao Mai Kaeo Sub District within Sikao District in Trang Province.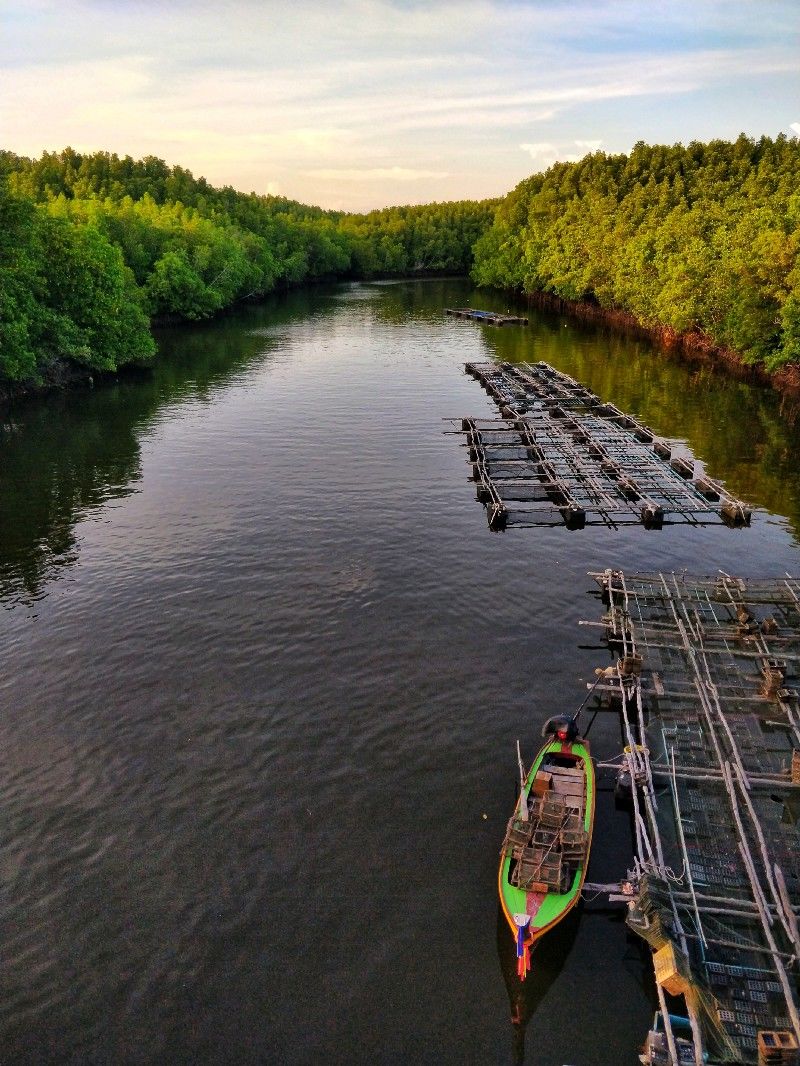 I saw many local fishing families and absolutely ZERO tourists. And that's when I knew I was going in the right direction.
Soon, I reached the coast I was chasing.
I usually check Google Maps on Satellite mode and see where I can see sand on the coastline. That's how I find unexplored beaches.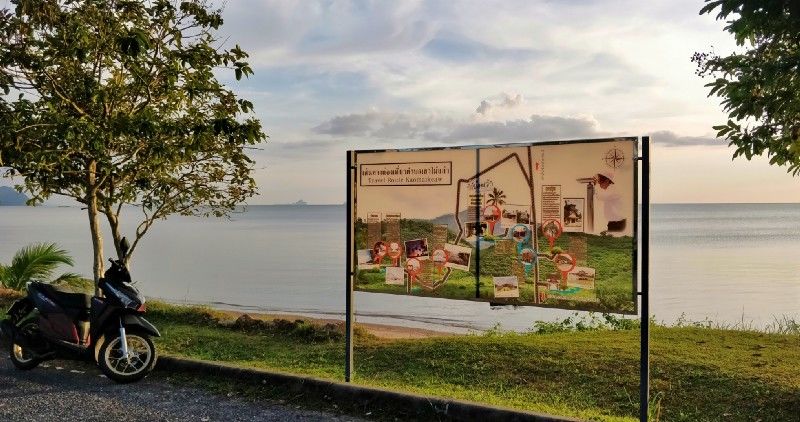 And hence, there I was..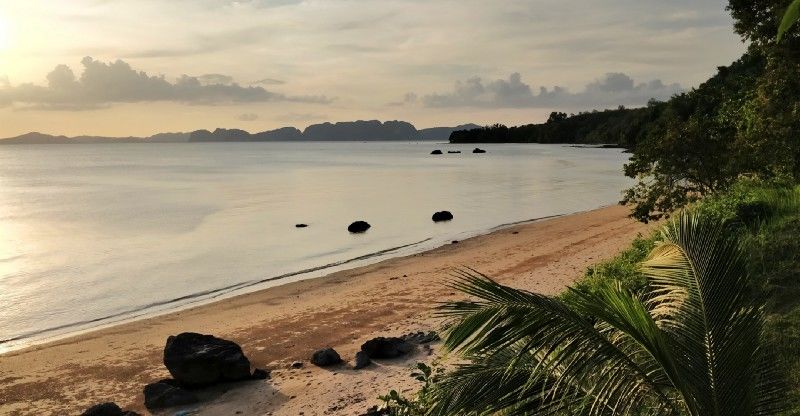 Ready for the sun to set.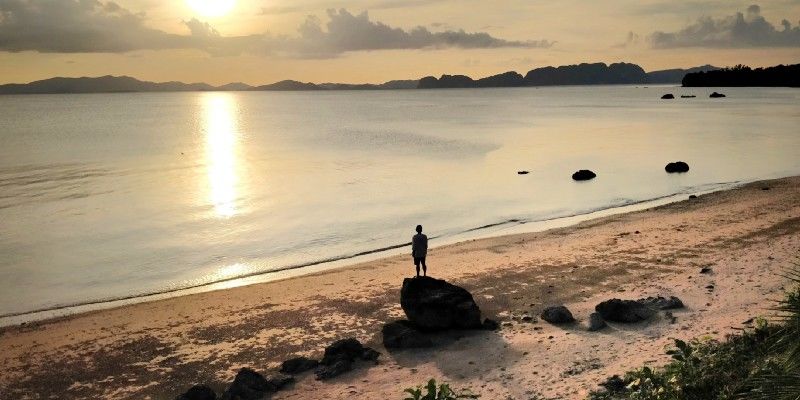 I never want to miss a sunset. If you ever have a chance to see the sunset, take the chance. You won't regret it.
"Never waste any amount of time doing anything important when there is a sunset outside that you should be sitting under." ~ C. JoyBell C.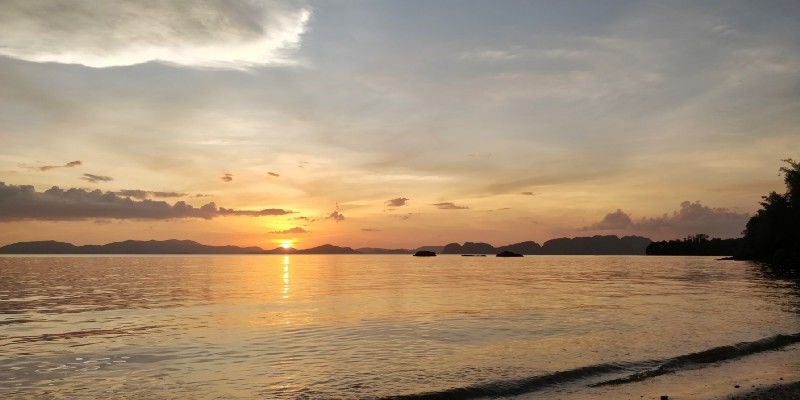 After the sunset, I found a local restaurant right above the beach with a beautiful view of the sea.
They had to go outside their menu to make me a vegetarian meal and it was delicious. "Aroy Ma!" ..as we say in Thailand.
Of course, there was no English spoken. When in Thailand, speak Thai! Don't be a tourist.
Need help with basic Thai phrases? Learn them here.
After a fulfilling meal with friendly locals, I headed back to my cafe-stay.
When it comes to real travel, there is nothing more valuable as experiencing the local culture.
Here are a few lines from my favorite poem before I close Day 1.
All seems beautiful to me,
I can repeat over to men and women
You have done such good to me I would do the same to you,
I will recruit for myself and you as I go,
I will scatter myself among men and women as I go,
I will toss a new gladness and roughness among them,
Whoever denies me it shall not trouble me,
Whoever accepts me he or she shall be blessed and shall bless me.
End of Day 1.
20 December, 2018.
. . .
DAY 2 (วันที่ 2)
Jungle Walks, Fresh Water Spring, Cave Beach
After a short Tibetan meditation at 5:30 AM, I ventured out to discover some jogging tracks around 6:00 AM.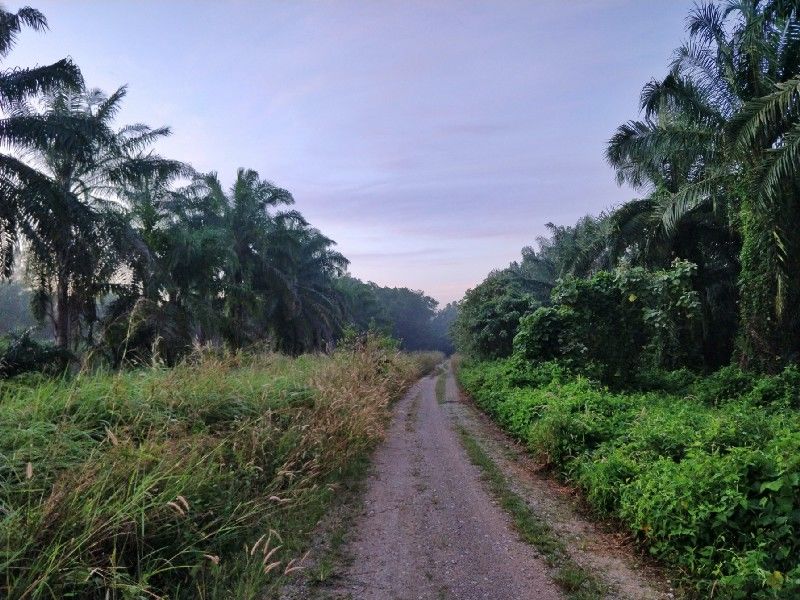 "Nothing is more beautiful than the loveliness of the woods before sunrise." ~ George Washington Carver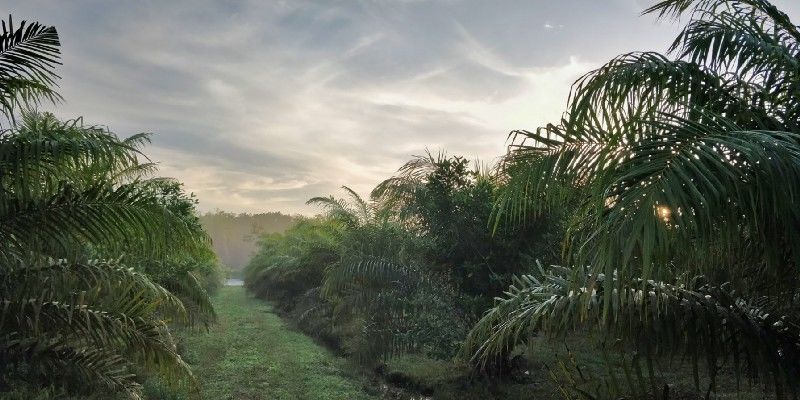 "The early morning has gold in its mouth." ~ Benjamin Franklin
I was happy and grateful for this beautiful morning.
Early mornings have always been my favorite time of the day and I love to spend them alone.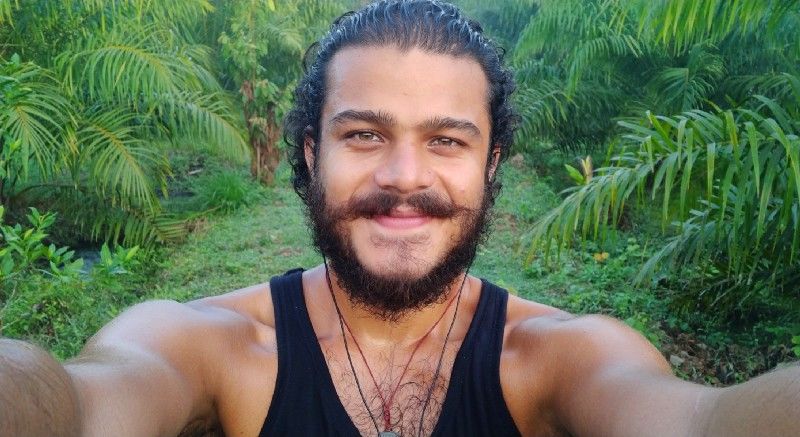 Further on my newly discovered jogging track, I found a beautiful Buddhist temple.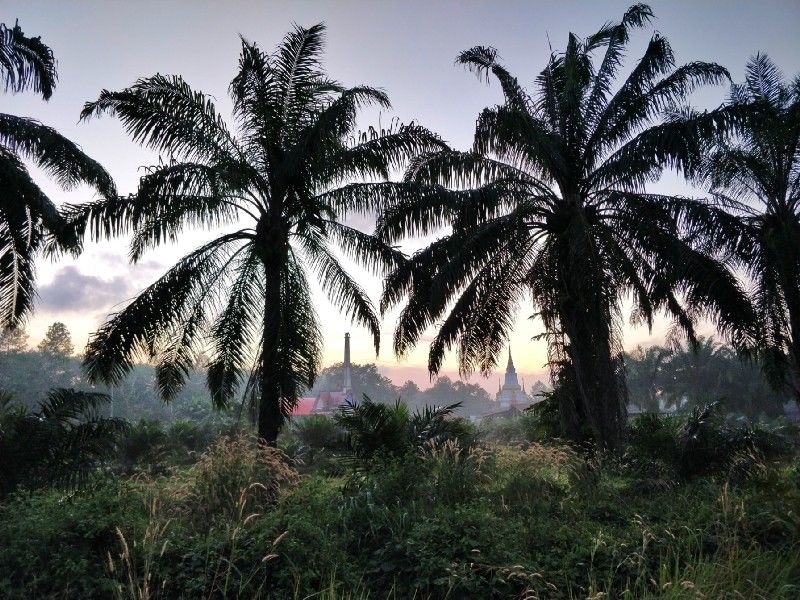 As you would've guessed, I decided to explore..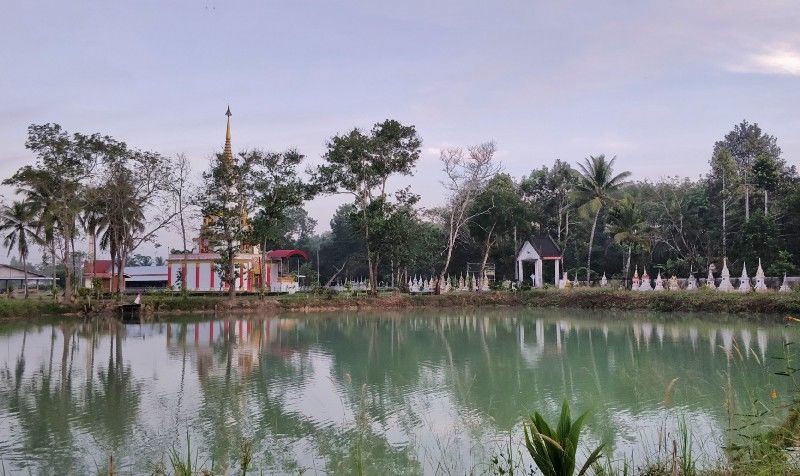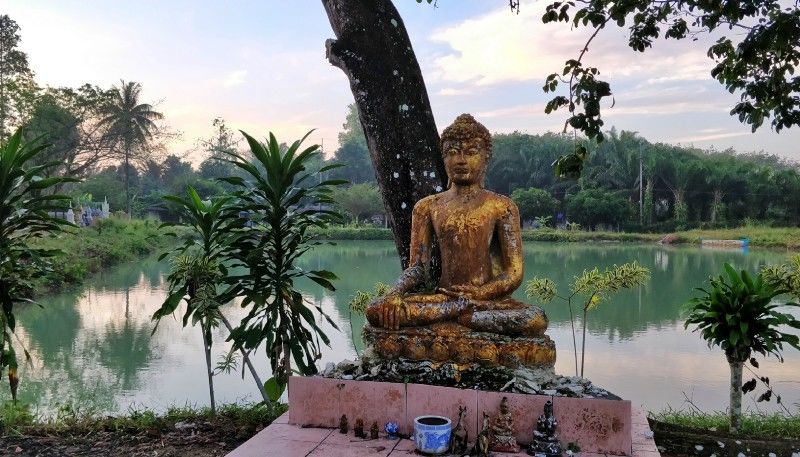 It was a beautiful sight. There was only one monk walking around.
And then, back to worldly matters..
It was time to get to work and do my morning deep work session.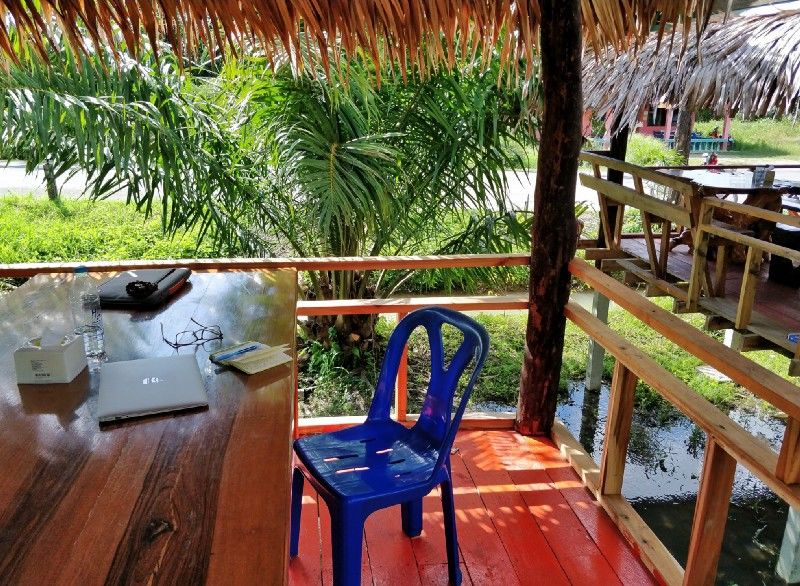 This environment helped me work with FLOW.
And hence, I decided to spend another day at my cafe-stay.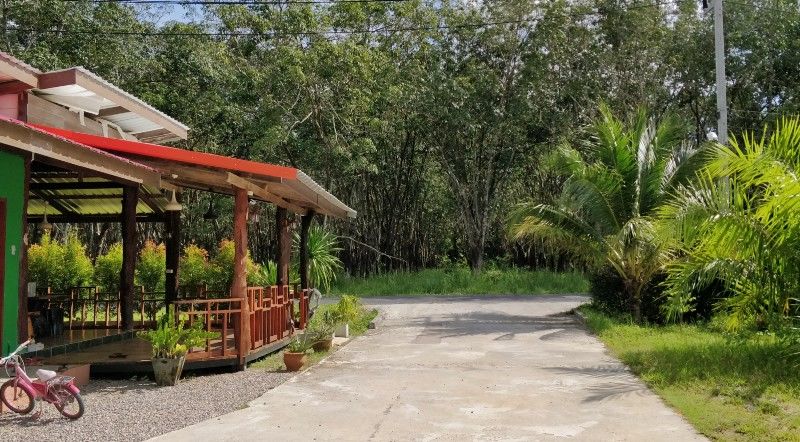 Later in the evening,
I wanted to explore the 'cave beach' I'd seen on the Google Maps satellite view around 15 kms from where I was.
It showed a strong promise of an untouched beach with sunset views to fill my evening.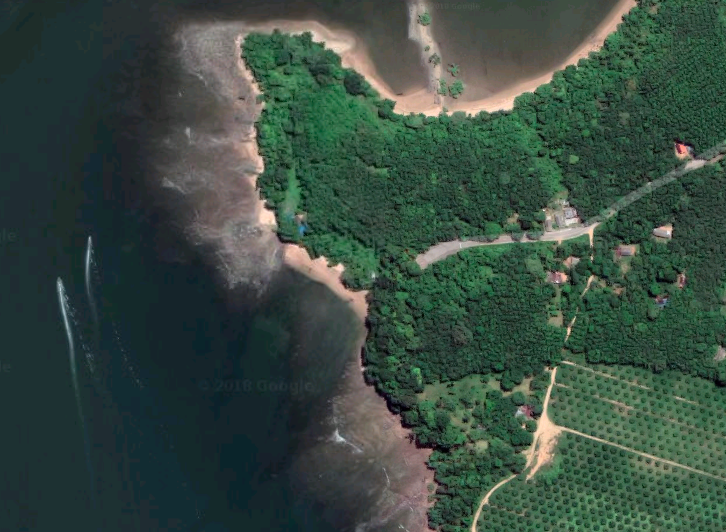 While on the trek to the beach, to my surprise, I found a fresh water stream.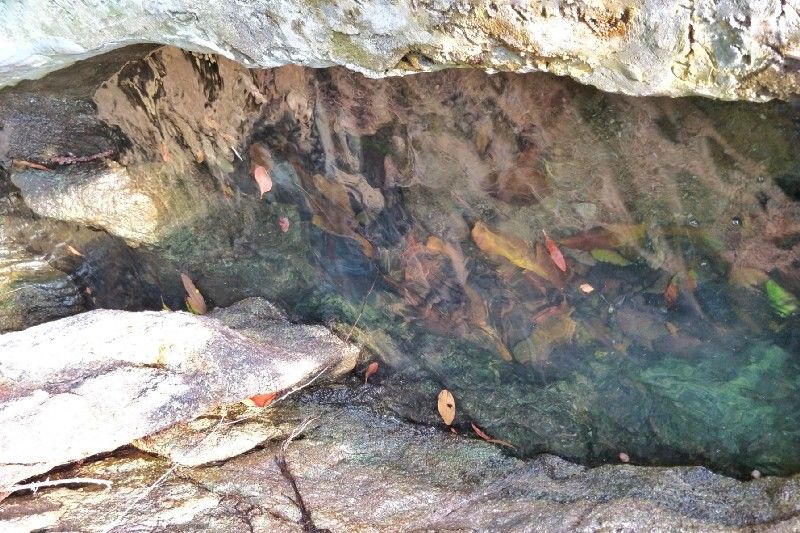 The water was clear and perfect for a bath.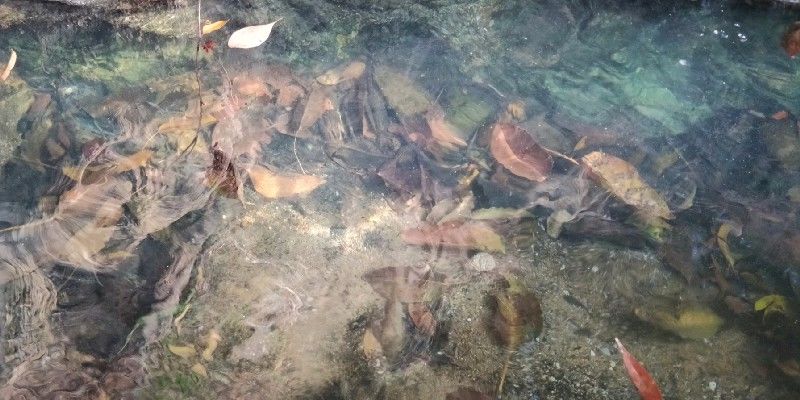 It was coming from a cave next to my trek.
And then I discovered the cave..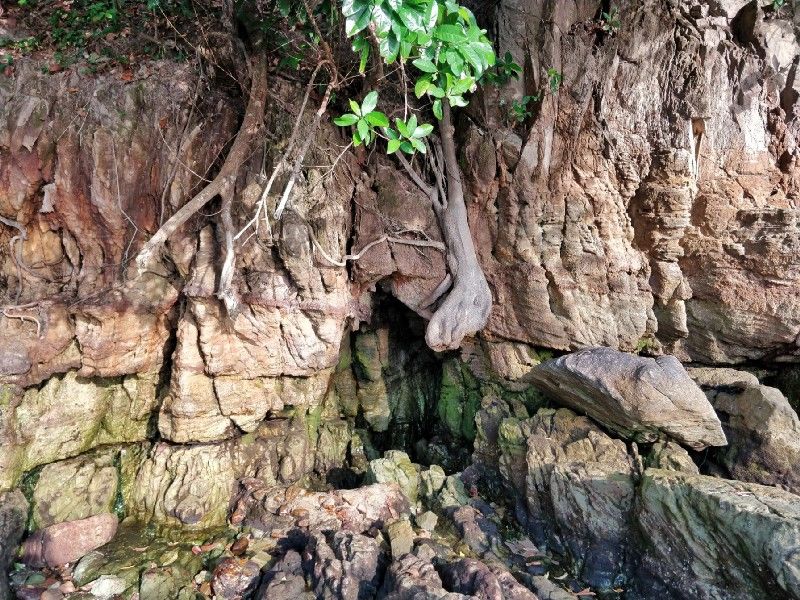 And then another cave..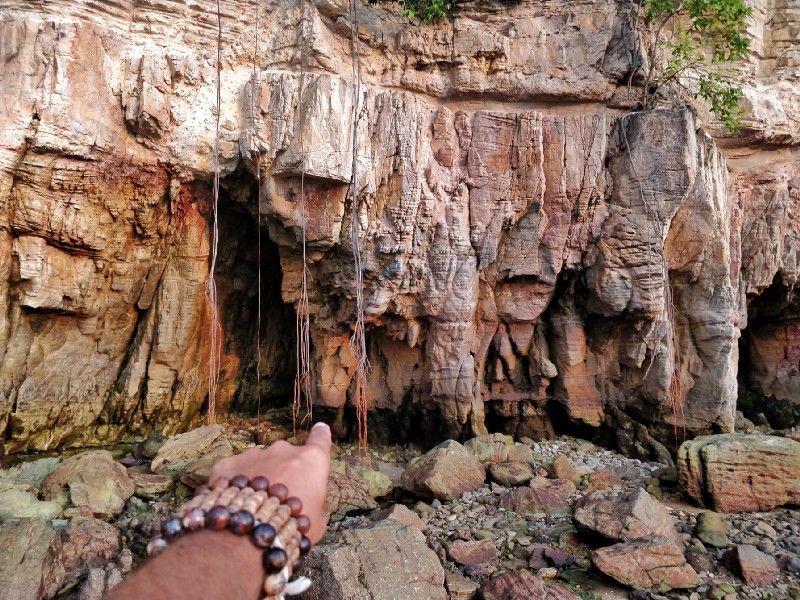 And then, I met eyes with my Andaman Sea..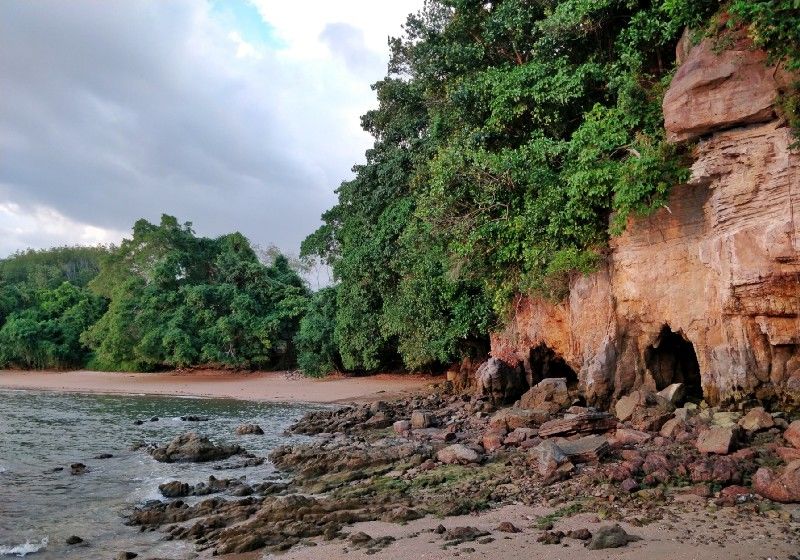 As you can guess, I decided to call this nameless beach the 'Cave Beach'.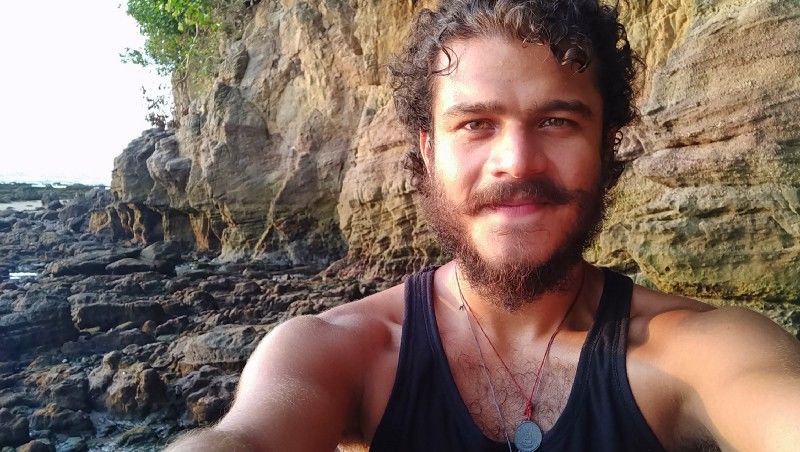 And then it was time to enjoy the private beach..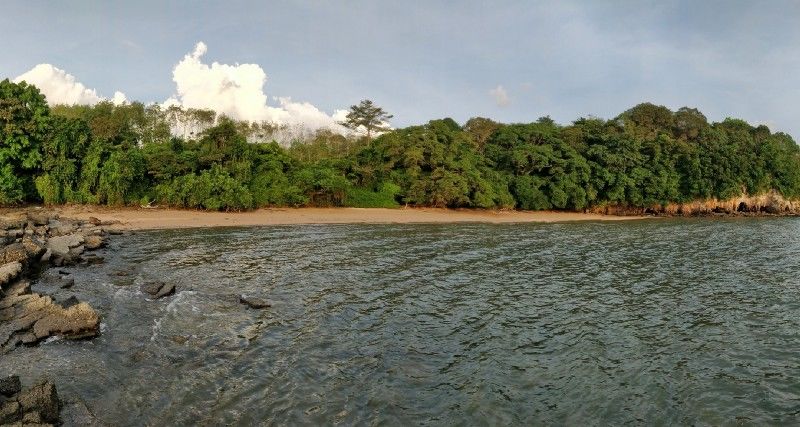 I've been spoilt by nature and my courage to explore the offbeat, that I've become used to having beaches all to myself.
And I never fail to find one for me... Even in South Thailand!
So as you can see, it's not really all about tourism.
To find what you imagined, go confidently in the direction of your dreams. All good things are wild, and free.
Which brings me to the next good thing that makes life worth living:
..THE SUNSET!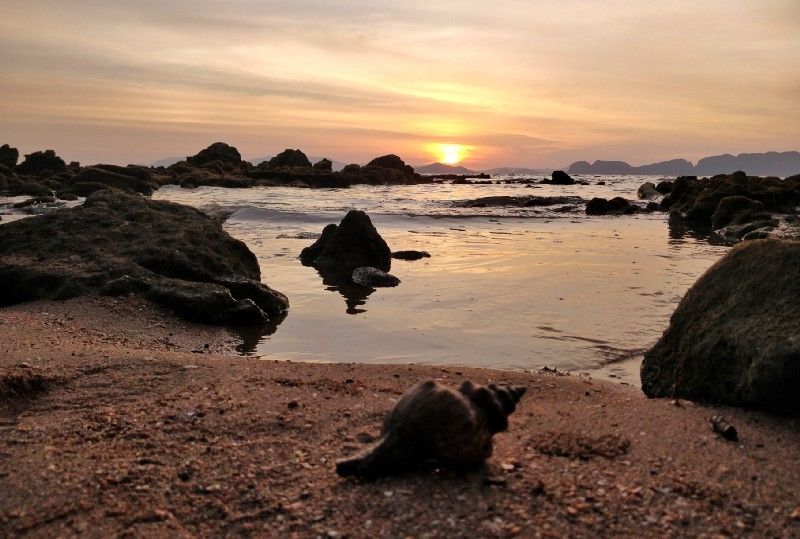 Count your days by sunrises and sunsets not swipe-ins and swipe-outs.
Live outside of your office and home buildings - See the world.
And then, I headed to the local restaurant on the beach and made them make me some vegetarian food.
When I am finally able to explain the locals that I am vegetarian, the first thing they say is they don't have anything for me.
And then I give them ideas: Rice with vegetables, Noodles with vegetables, Stir-fried vegetables, Papaya Salad, Mango Sticky Rice, Morning Glory, etc and then they actually come up with new ideas themselves.
They do like putting in a lot of egg though and I've stopped saying no for that. They just want to make sure I'm full :)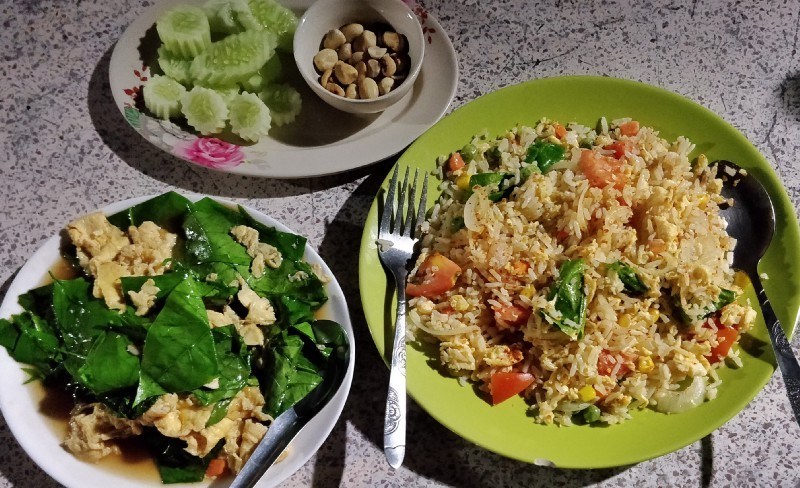 So this was the amazing meal I had the second day.
Mouth-watering, isn't it?
And that's why I'm surprised when fellow-vegetarians warn me about going offbeat in South East Asia.
I've found so much amazing vegetarian and vegan food everywhere!
That was Day 2 for me.
I would like to end Day 2 with a few lines from my favorite poem:
The earth never tires,
The earth is rude, silent, incomprehensible at first,
Nature is rude and incomprehensible at first,
Be not discouraged, keep on, there are divine things well envelop'd,
I swear to you there are divine things more beautiful than words can tell.
End of Day 2.
21 December, 2018.
. . .
DAY 3 (วันที่ 3)
Private Island, Cave Meditation, Sunset Beach
It was time to leave my cafe-stay and get back on the road.
Mine forever - the open road.
I was driving along the coast - Looking for a new beach until I found one.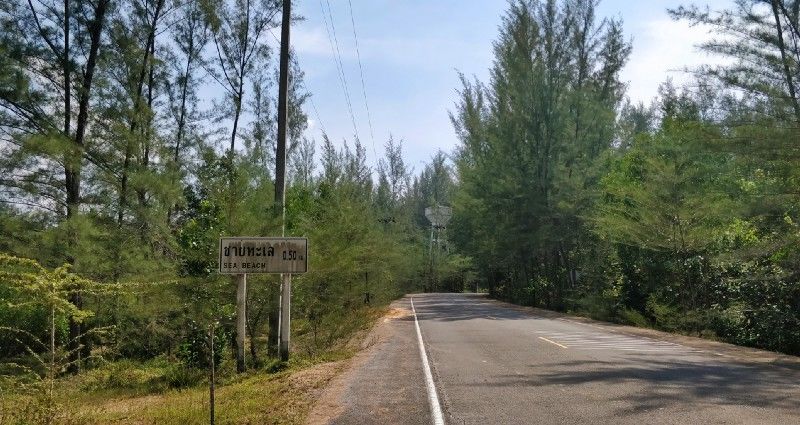 And there it was, half a kilo-meter away, waiting to meet me!
And this was no ordinary sea as you would see
It was special..
I could drive on it.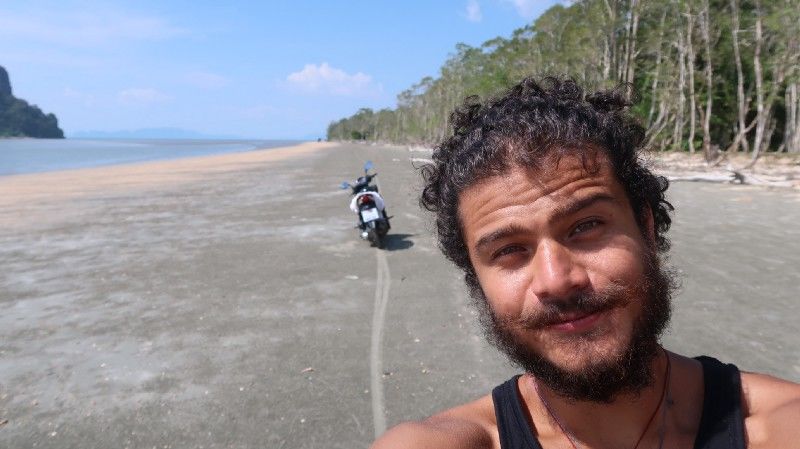 I could park my motorbike where-ever I wanted.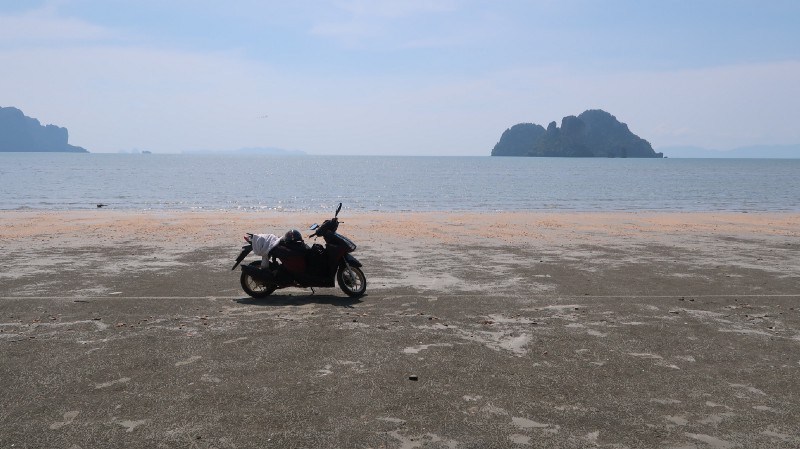 Get a closer look at my Honda Click 125 in the video below
And that's the best part about this beach..
As I showed you in the video, I decided to walk over the mud-flats to the island!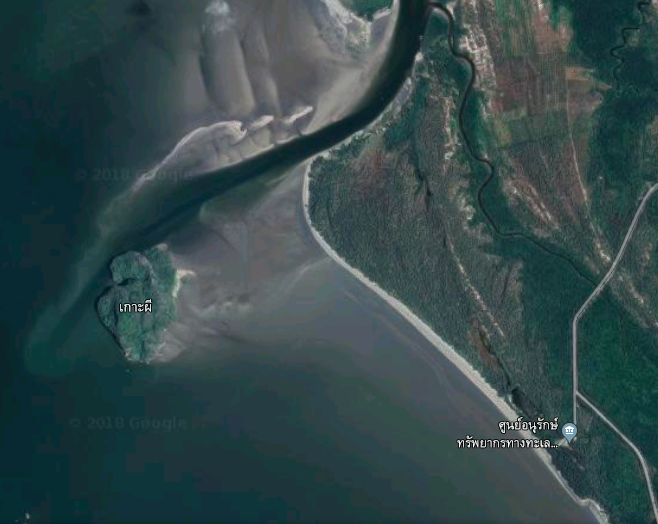 And that's where I found my 'meditation cave'.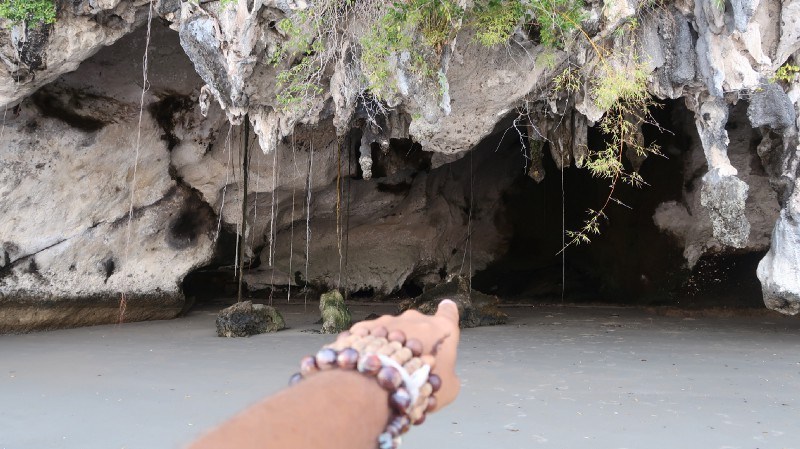 A cave just for me..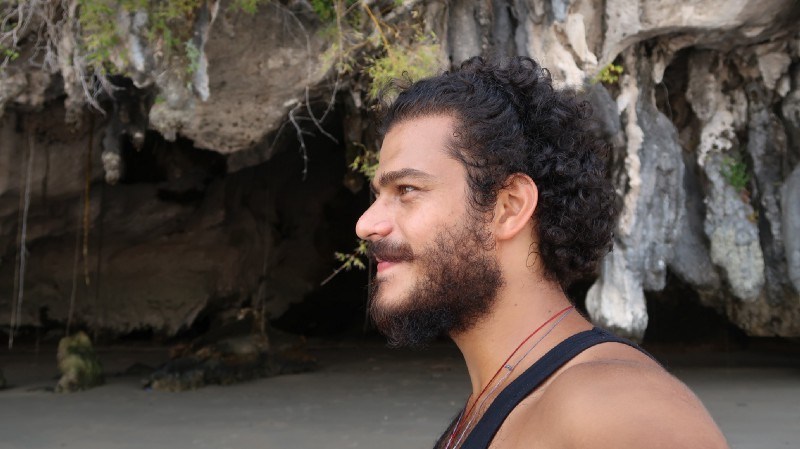 Far from humans, between the sea.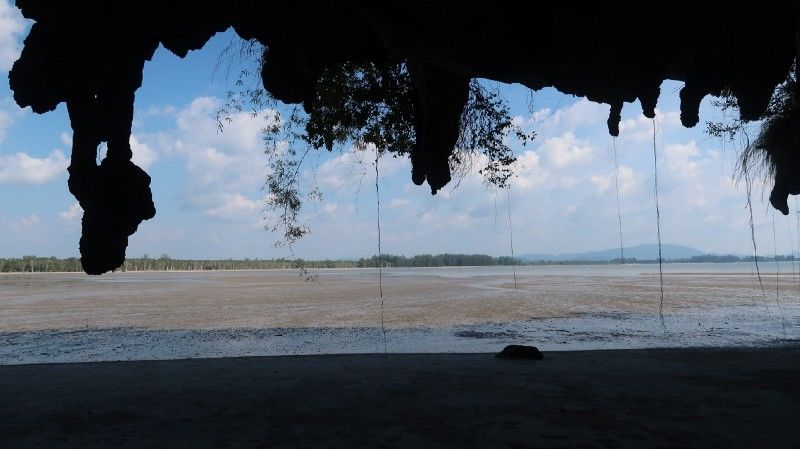 After a short meditation, I starting exploring around my new found island.
I heard a lot of different bird sounds.
And then I met the army of small crabs..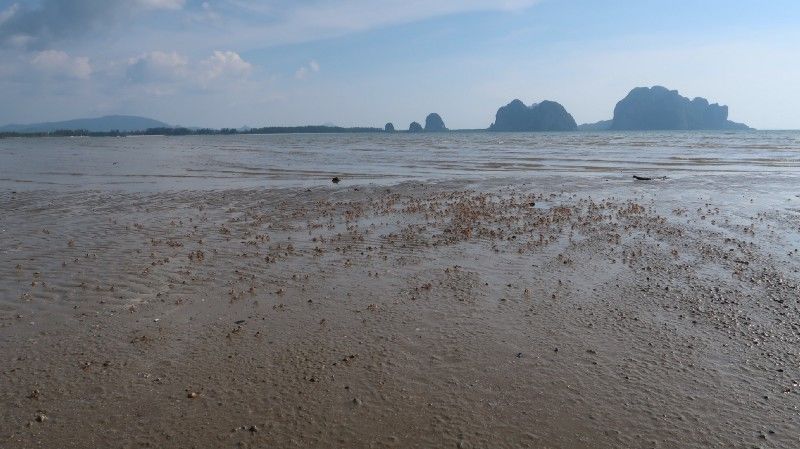 You can take a closer look at those little crabs in the video below.
So, naming this beach the 'Crab Beach', I headed back to my motorbike.
I was back on the road again.. Looking for a place to watch the sunset!
And that's when I found 'Rajamangala Beach'.
I was back to civilisation and this beach was actually inside the university campus of the university by the same name.
And now that I was used to treating my motorbike like a boat, I drove it until the sunset beach..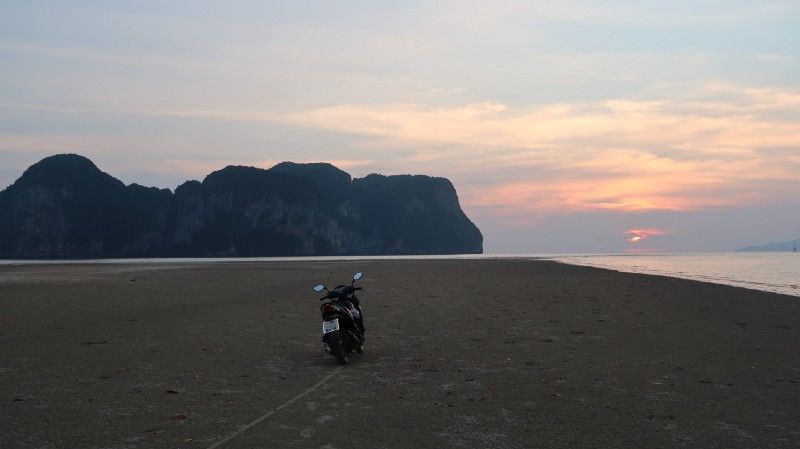 I couldn't stop staring into the sun this evening..
It was looking so beautiful.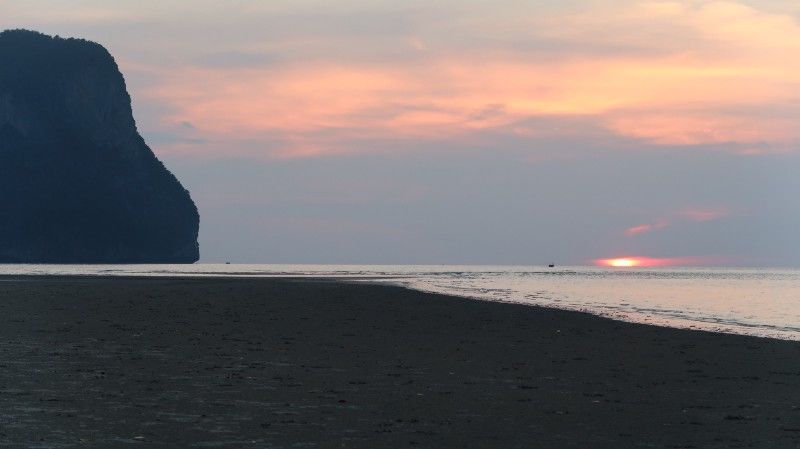 And the colors spread slowly over the islets.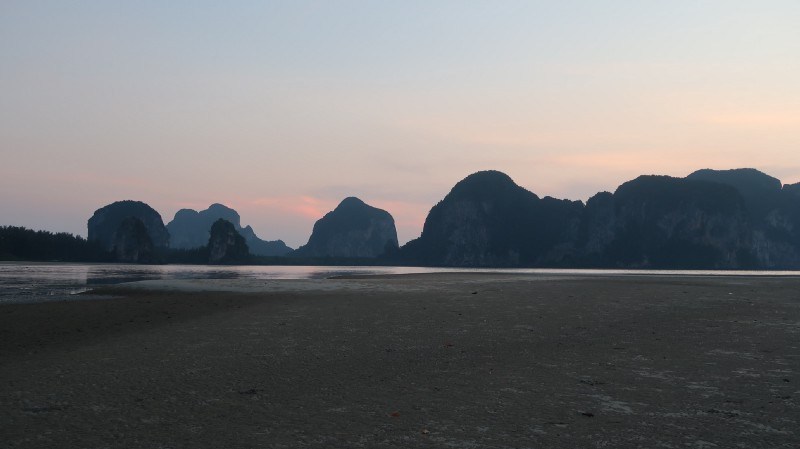 My motorbike wanted to pose with them too!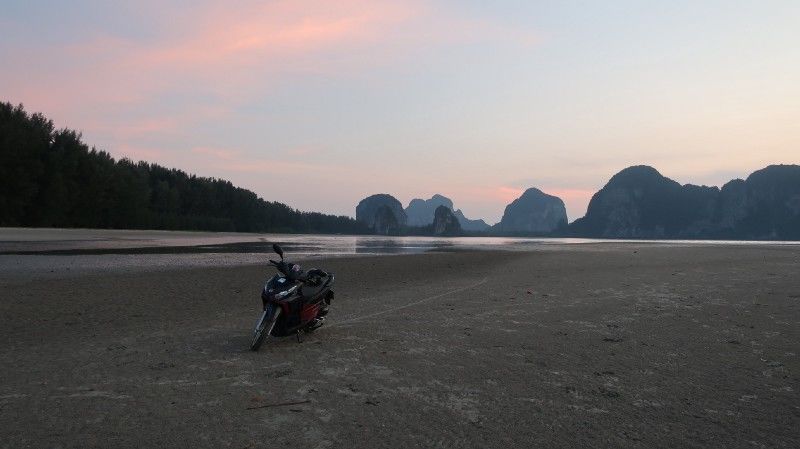 And on the other side, there was the moonrise!
"We ran as if to meet the moon, That slowly dawned behind the trees" ~Robert Frost
On this night, I found a place to stay near Pak Meng beach, which seems to be a popular spot for Thai tourists (local tourists).
And that was Day 3.
22 December, 2018.
. . .
DAY 4 (วันที่ 4)
A day with the locals of Trang
Day 4 was all about meeting the locals.
I started the morning volunteering with local kids to clean the beach.
The activity was part of the NGO called 'Trash Hero'. You can check out their work here.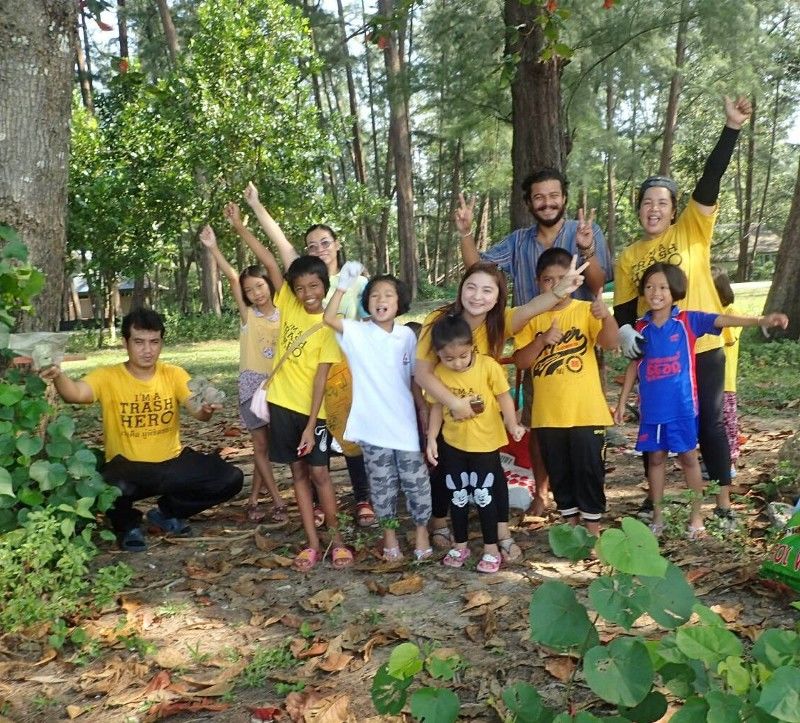 We made a plan to pick and separate waste.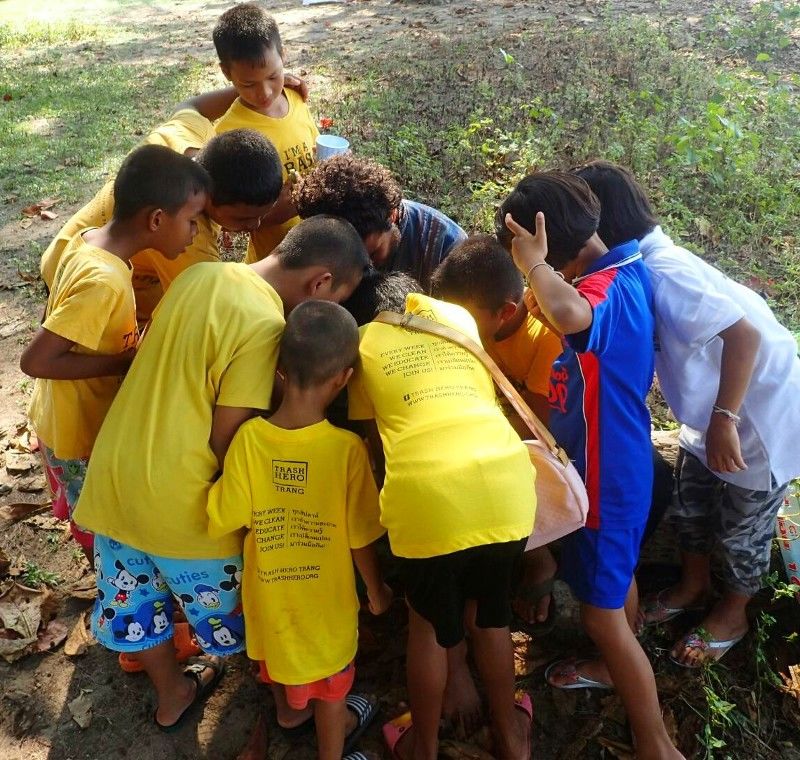 And then we started the job.
Since it was a Sunday morning, it was perfect for this activity as we found a lot of waste from the Saturday fun people would've had.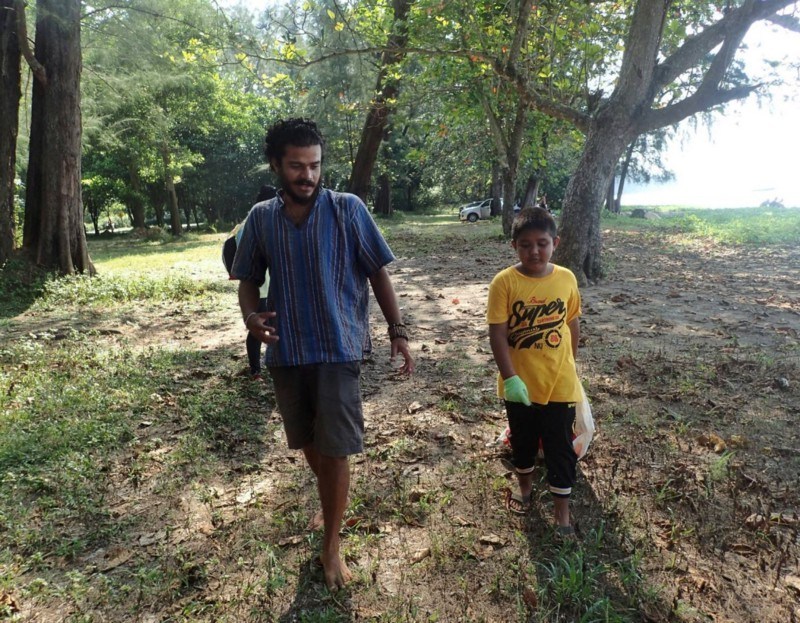 After spending some chit-chat time with the kids, I started looking for food.
I had a big plate of noodles for 40 Baht.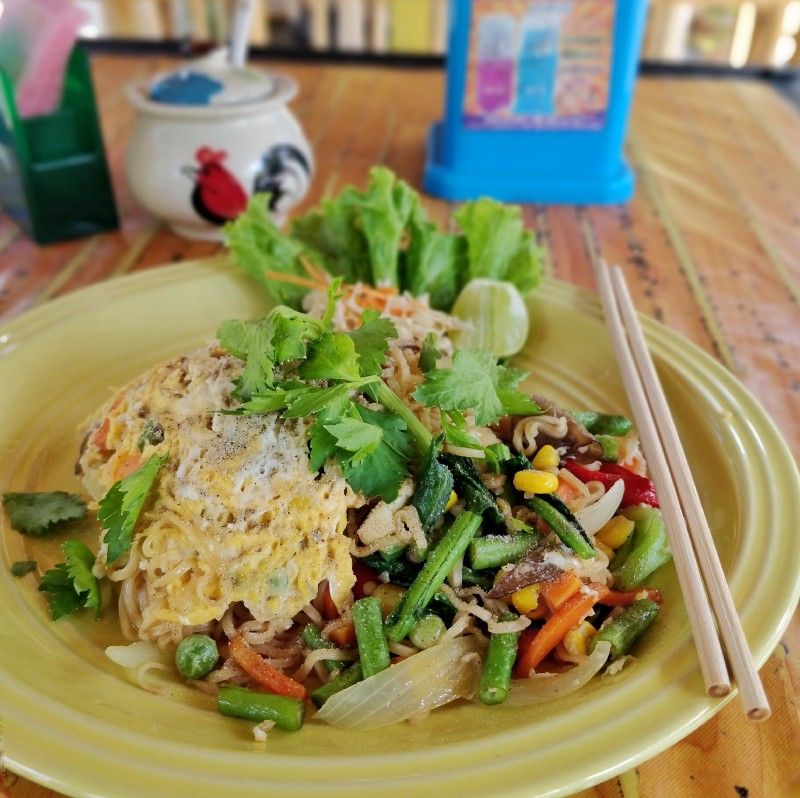 And then, I headed to Trang city.
On the way, I decided to make a quick stop when I saw a sign board for 'Arabica Coffee'.
Little did I know I was to meet a beautiful family and new friends at this coffee stop!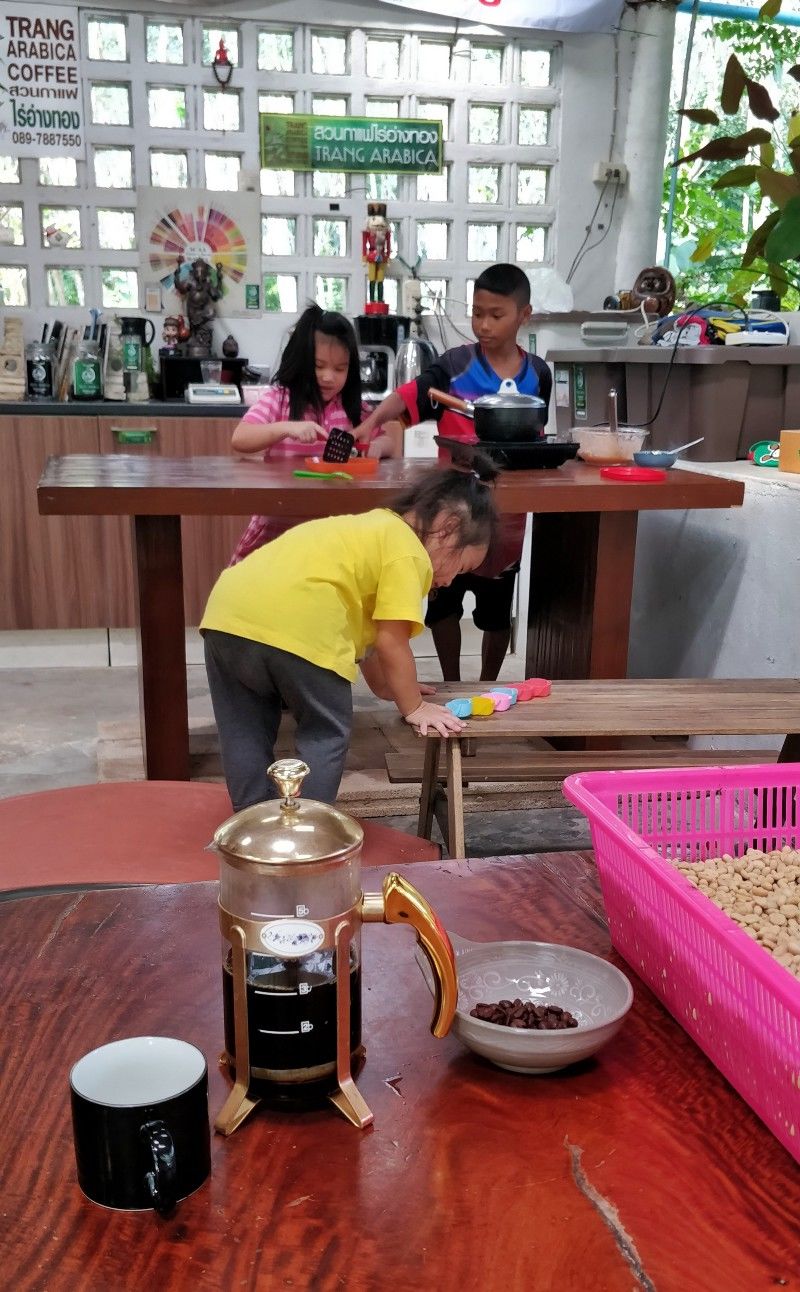 And after a cup of coffee, I got the opportunity to roast my own coffee!
It was fun and as I was told, I wasn't bad for the first time.
Or they were just being nice :)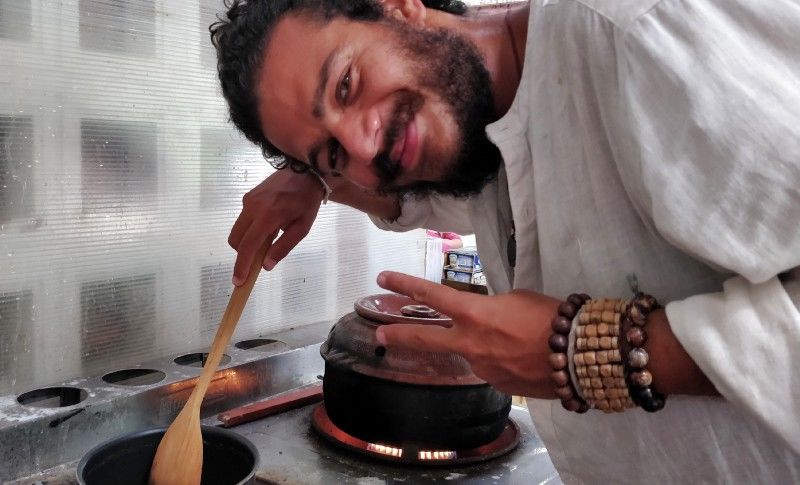 We made a 200 gm measure and powdered my roast.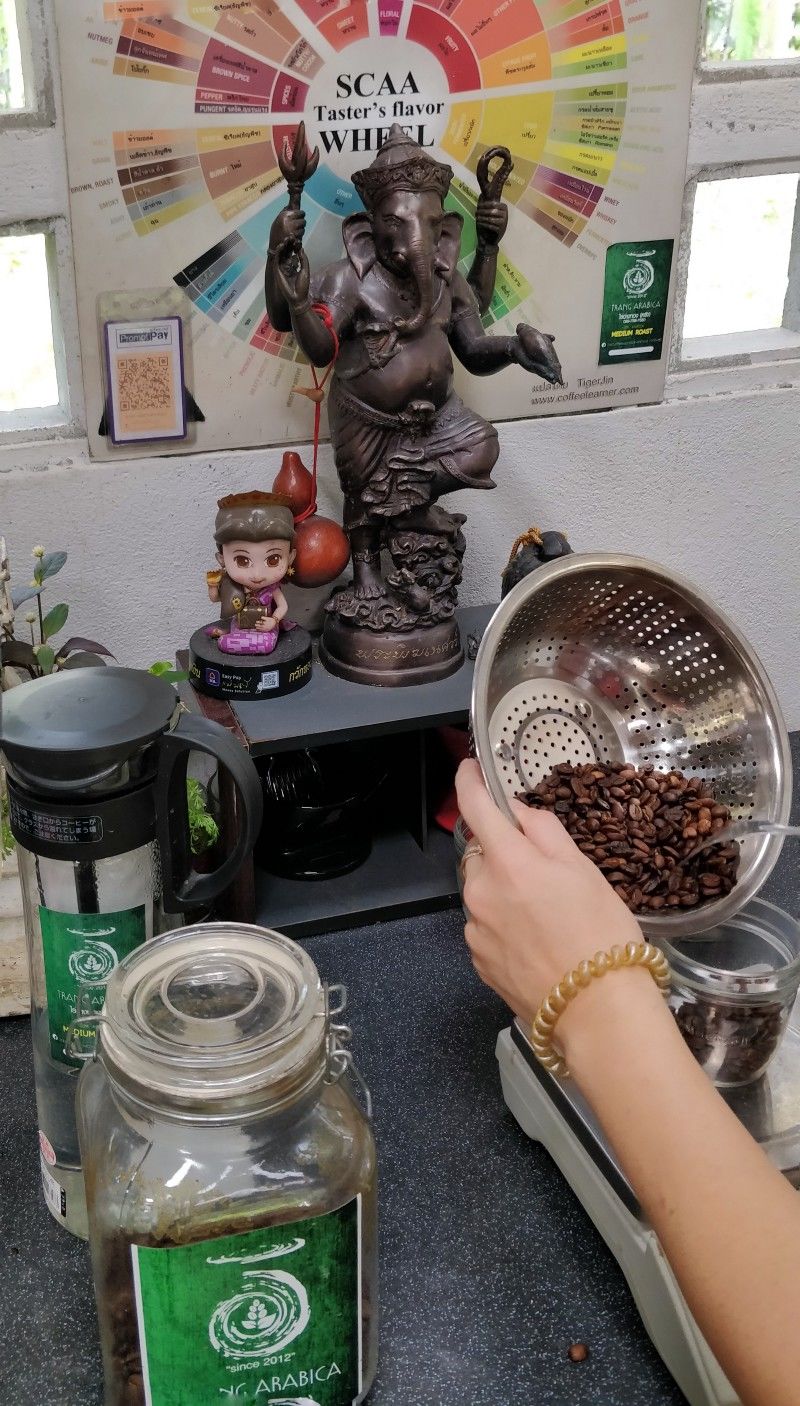 And then some playing around.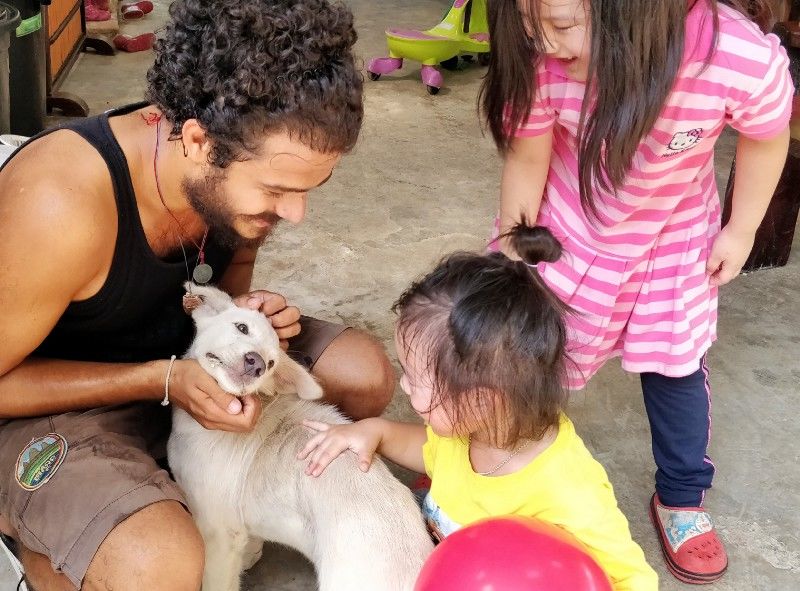 Beautiful people, Beautiful family, Beautiful time.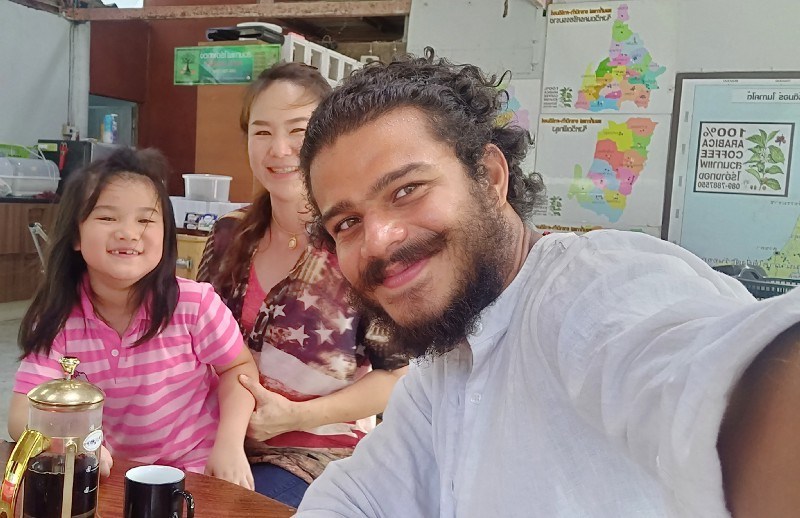 I am so happy I made this stop.
If you're in Trang, you should definitely visit this coffee farm.
Here's the location on Google Maps.
You can also check out their Facebook Page.
After this amazing stop, I was back on the road to Trang city.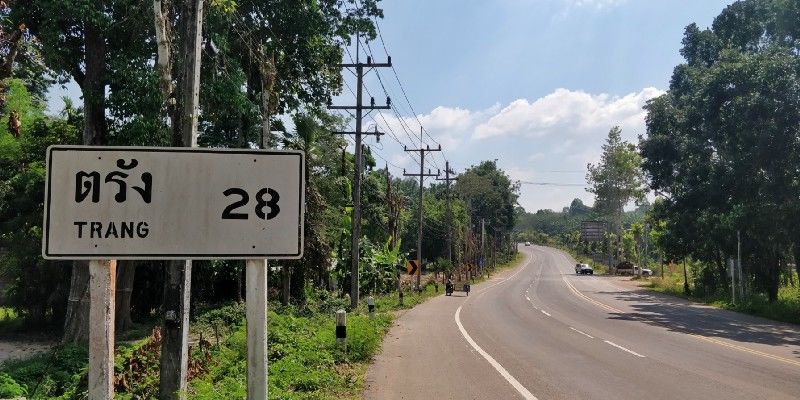 Once in Trang, I found a new office for the day and did my deep work session of the day.
It looked nothing like one of your offices ;)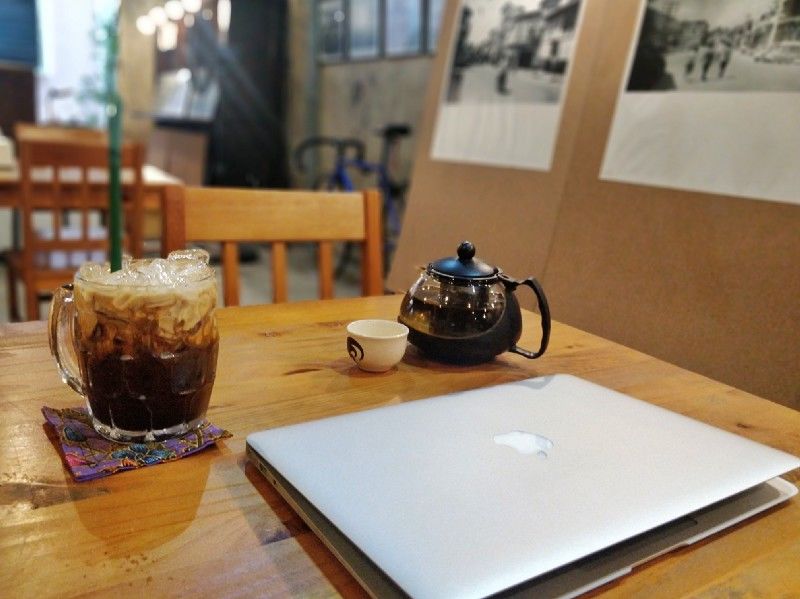 And then, it was supper and sleep!
I found a place to sleep and a simple Pad Thai (noodles again!) was my meal.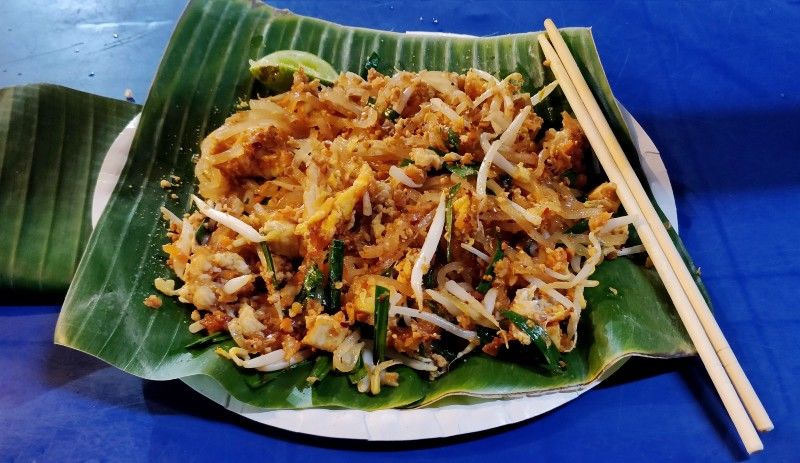 That was a day filled with local experiences and local people!
Thanks for all the love.. every one who I've met.
Those who were strangers yesterday, are like family today.. This is the beauty of my life.
This reminds me of a few lines from my favorite poem.
They go something like this:
What is it I interchange so suddenly with strangers?
What with some driver as I ride on the seat by his side?
What with some fisherman drawing his seine by the shore as I walk by and pause?
What gives me to be free to a woman's and man's good-will? What gives them to be free to mine?
And in case you're wondering, the last line of the poem is the question and the answer is in the question itself.
End of Day 4.
23 December, 2018.
. . .
DAY 5 (วันที่ 5)
Vegan Food, Shooting Club, New Haircut
Trang is not your usual city.
It is charming, it has the relaxed vibe, and it has all the convenience you except from a small city.
The first thing I noticed was a Chinese community living there.
And this is when I knew there must be some vegan restaurants around!
For the uninitiated, Thai people mostly follow Theravada Buddhism while the Chinese (and Vietnamese among others) follow Mahayana Buddhism. Mahayana Buddhists follow vegetarian / vegan days as per the lunar calendar and hence you will find Vegan Buddhist restaurants wherever Mahayana Buddhists have a strong presence or community.
Anyway, the point was - I was going to get a full menu to myself without having to explain people I am vegetarian.
So, I hopped to the 'jay' (vegan) restaurant closest to me and had my morning meal: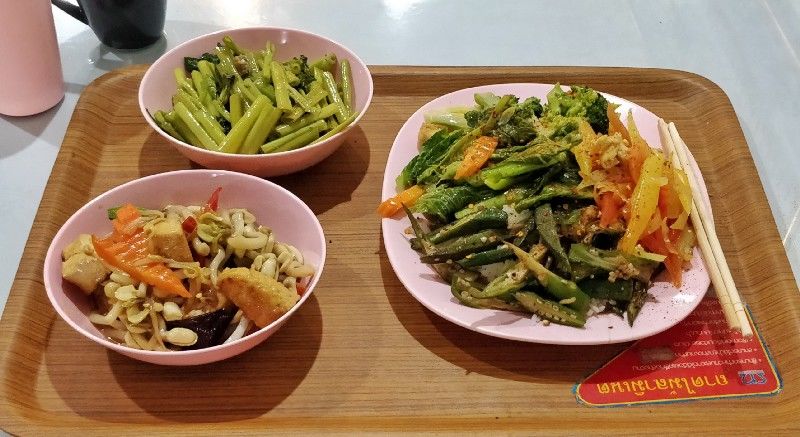 And this was the first time I had sprouted peanuts!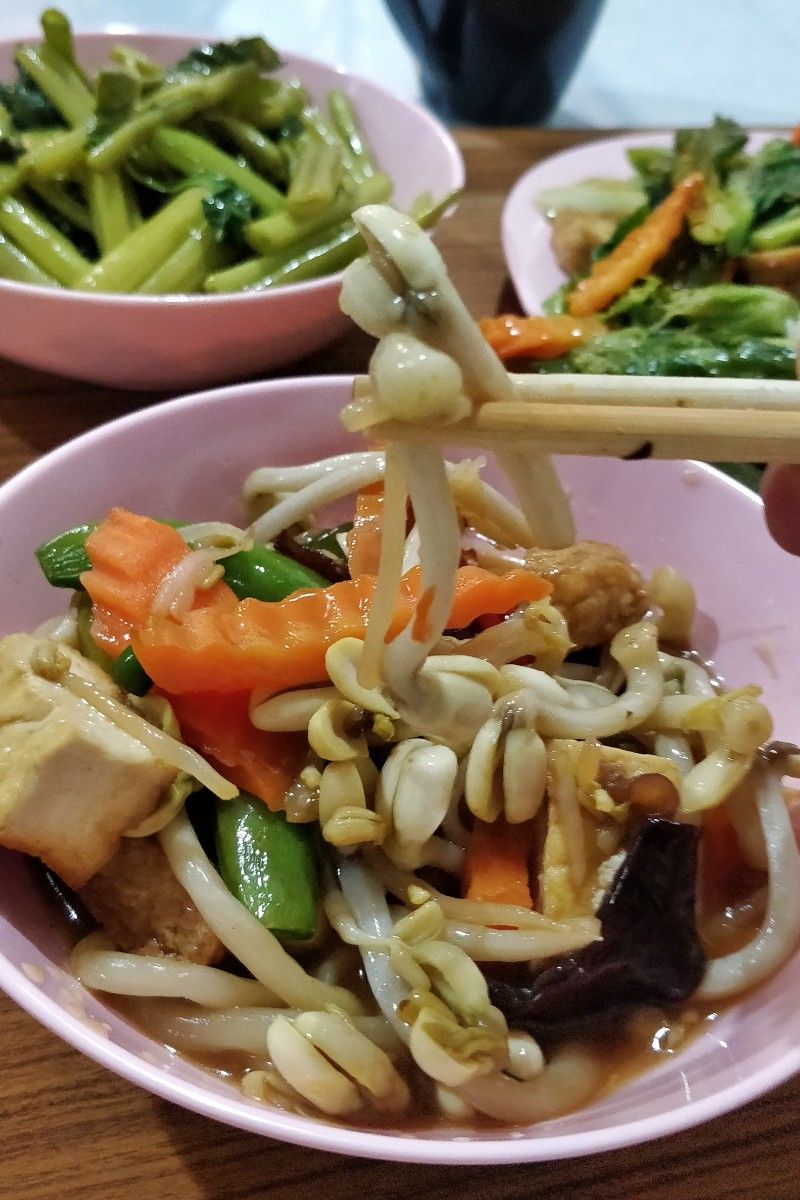 After a power nap and a deep work session, I headed out to finally get a haircut. (I know it was due since long!)
On the way, I saw a shooting club and decided to make a quick stop.
My teacher, as I soon found, was a Thai shooting champion.
Here's a link to his 'Shooting Club' page on Facebook. Visit him if you're in Trang!
And then, I found my barber from heaven.
Really, one of the most patient and understanding barbers I've come across - especially with the language confusion.
I had to wait at the barber shop because this cute kid was getting a haircut. And his style somewhat inspired me.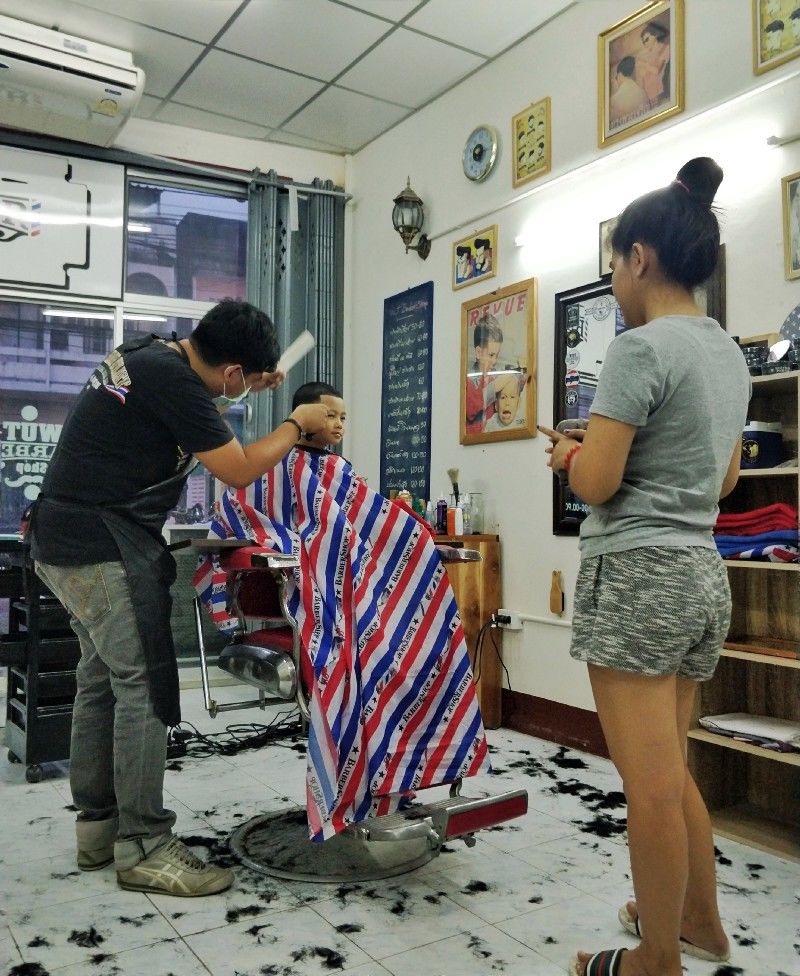 And there's me after the haircut: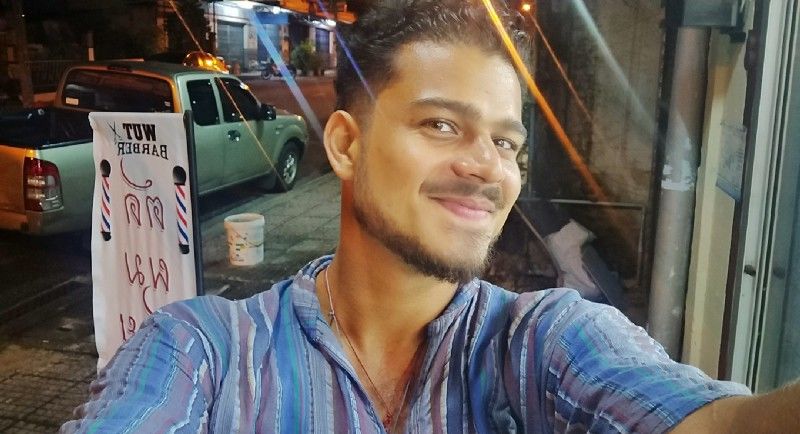 So yeah,
A big shoutout to WUT Barber in Trang!
Check out his page on Facebook.
End of Day 5.
24 December, 2018.
. . .
DAY 6 (วันที่ 6)
New Friends, Muay Thai, Local Dinner
I decided to stay another day in Trang because of new found friends.
I met Lada, an English teacher in Trang, who then introduced me to her Muay Thai master name 'Ake'.
In Thai, you would say 'Kru Ake' which means Master Ake or Teacher Ake.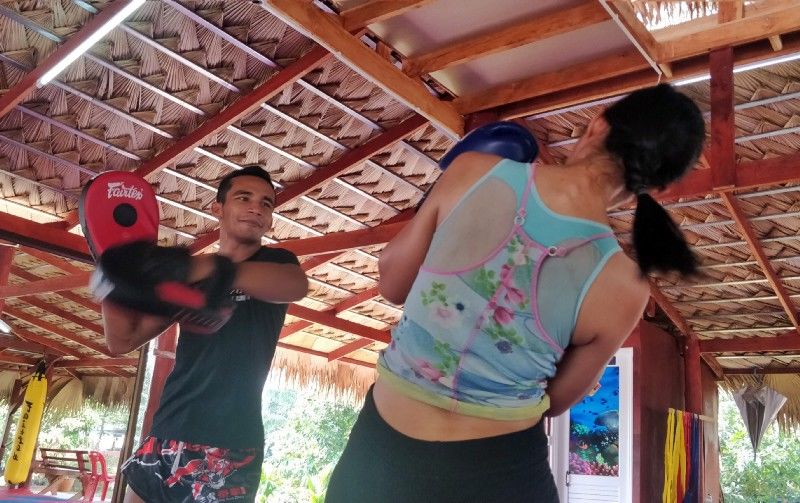 And yes, he always punches with a smile!
So all this while in Thailand, I wanted a non-touristy real Muay Thai experience and this was the right place for it.
So here it is, the first lesson and practice:
When he asked me if I've trained Muay Thai before and I told him "I've watched a lot of movies!"
He's a great master and If you really want to learn Muay Thai, check out his Training in Cinta Garden, Trang.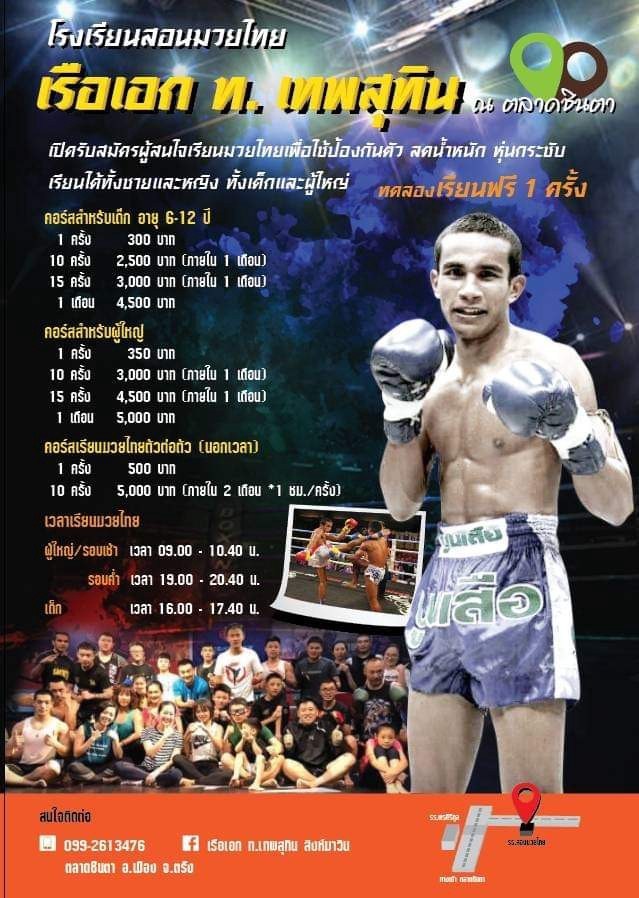 Me and Lada were really hungry after this session and decided to go to the Center Point, Traing for a local dinner.
But before that, a picture with the Master!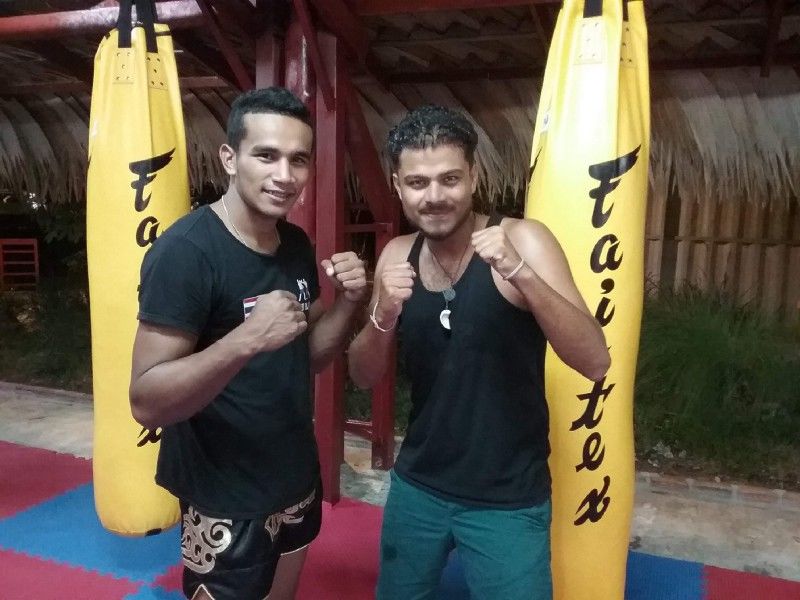 Next, hunger was on our heads.
And we headed for the most local meal: 'Khanom chin'.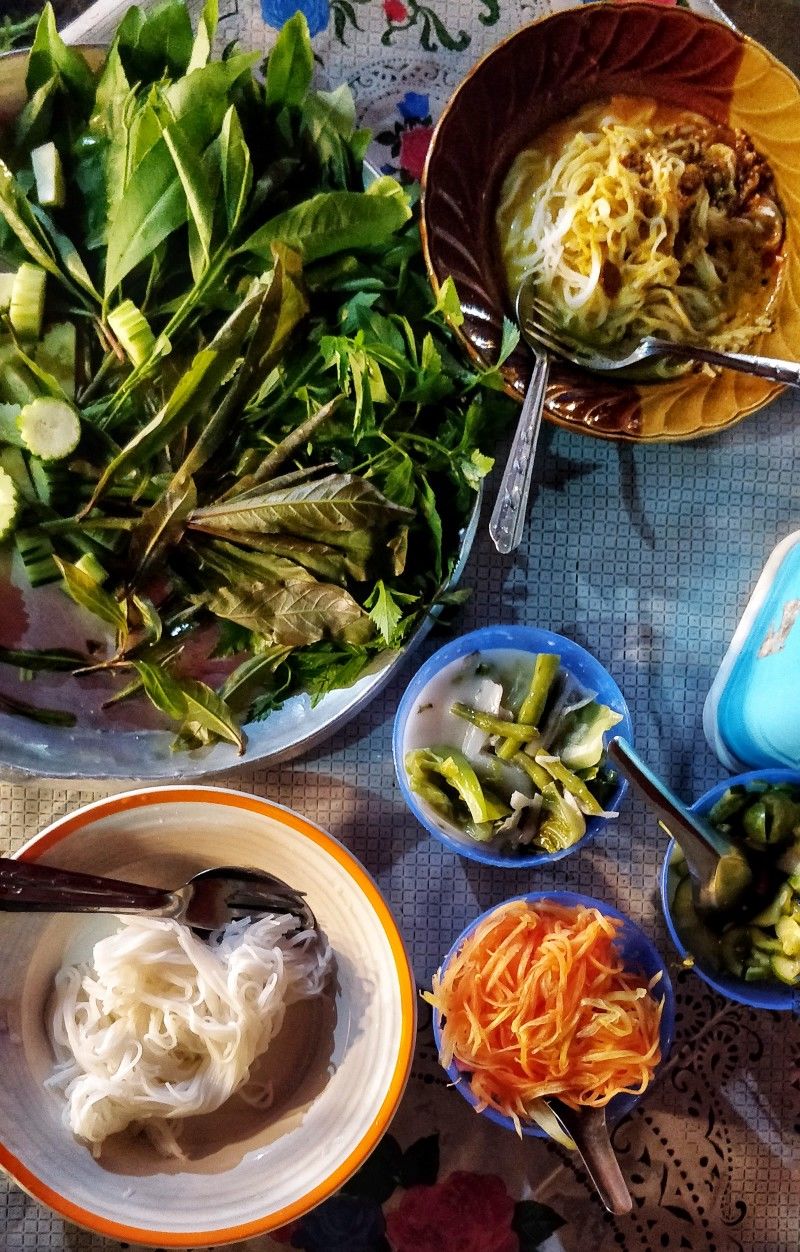 This meal did remind my of my Bun Chay meals in Vietnam. And they use the same thin, rice noodles.
It was filling, and cheap.
I met the cook and owner and told him his smile looked a lot like The Mask's.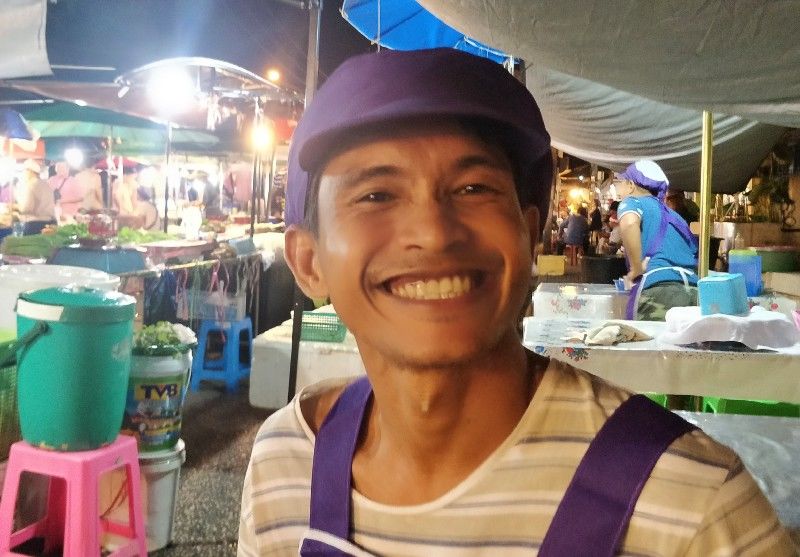 That's all for Day 6.
25 December, 2018.
. . .
DAY 7 (วันที่ 7)
Exploring waterfalls & scenic village roads
I was back on the road leaving Trang city to discover the area bordering the Trang and Phatthalung Provinces.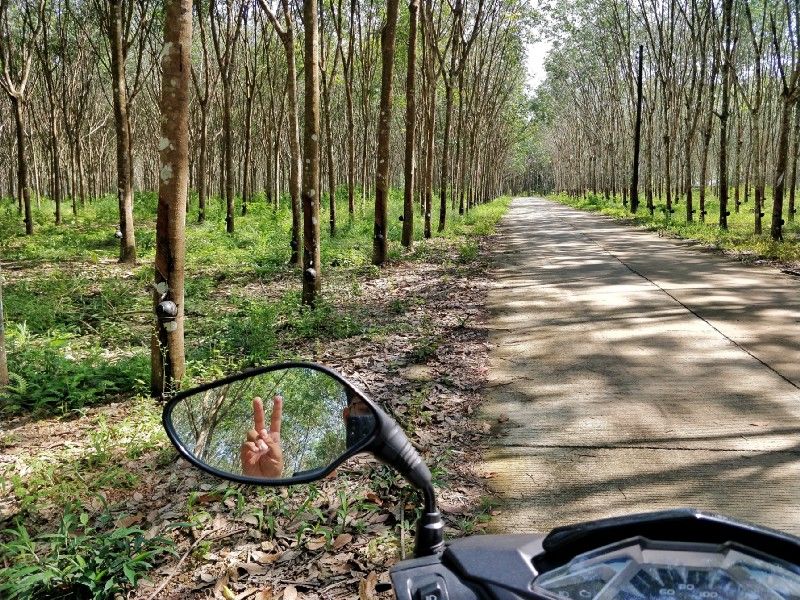 This bordering area is mostly hills and I was headed there in search of some new waterfalls!
The biggest of all waterfalls accessible from the Trang side of the hills is the 'Ton Te' waterfall. I reached the waterfall around 3:30 PM and there was no one at the ticket counter.
The fee for entrance is otherwise quite steep for foreigners (200 Baht) compared to 20 Baht for local but you need not complain.
Because you can walk around the entrance and access the waterfall from the other side. There is even a bridge to cross over to the main side without any security.
Over the next 3 days, I would use this bridge to access the waterfall for free! (Yes, I stayed around for 3 days!)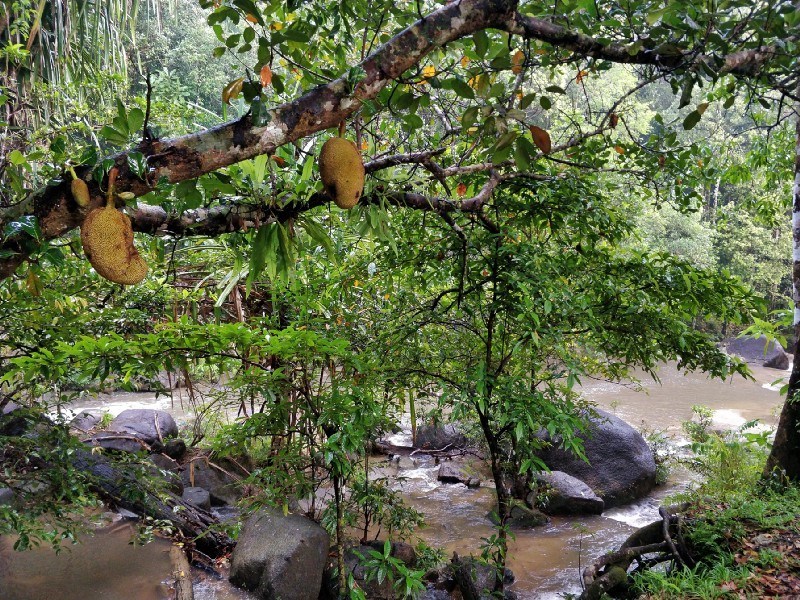 The walk to the waterfall was even more thrilling!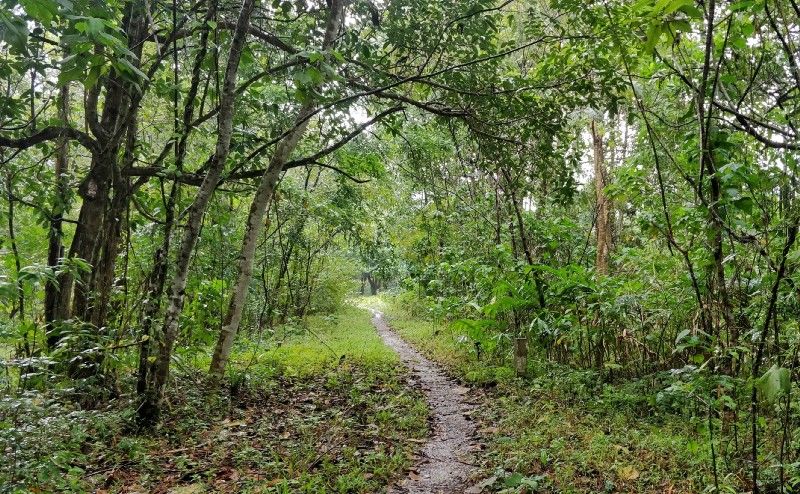 Once you're in, hike up to find some great pools for swimming and a complete view of the fall which unfortunately, I couldn't capture because I was busy swimming!
On some Google Maps research, I discovered there is an entire system of waterfalls in these hills, both on Trang side as well as Phatthalung side.
I was on the way to the next waterfall when it started pouring.
And I was given shelter by this local family.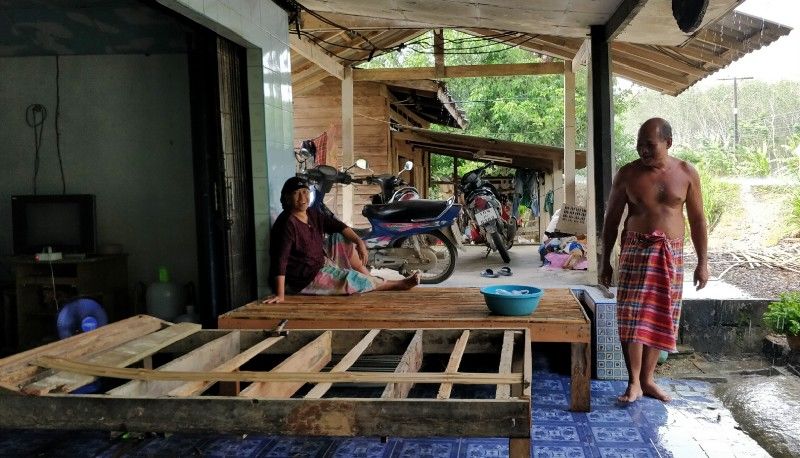 I was alone even on the next waterfall which was called the 'Lam Plok Waterfall' and the road to this one was even more beautiful.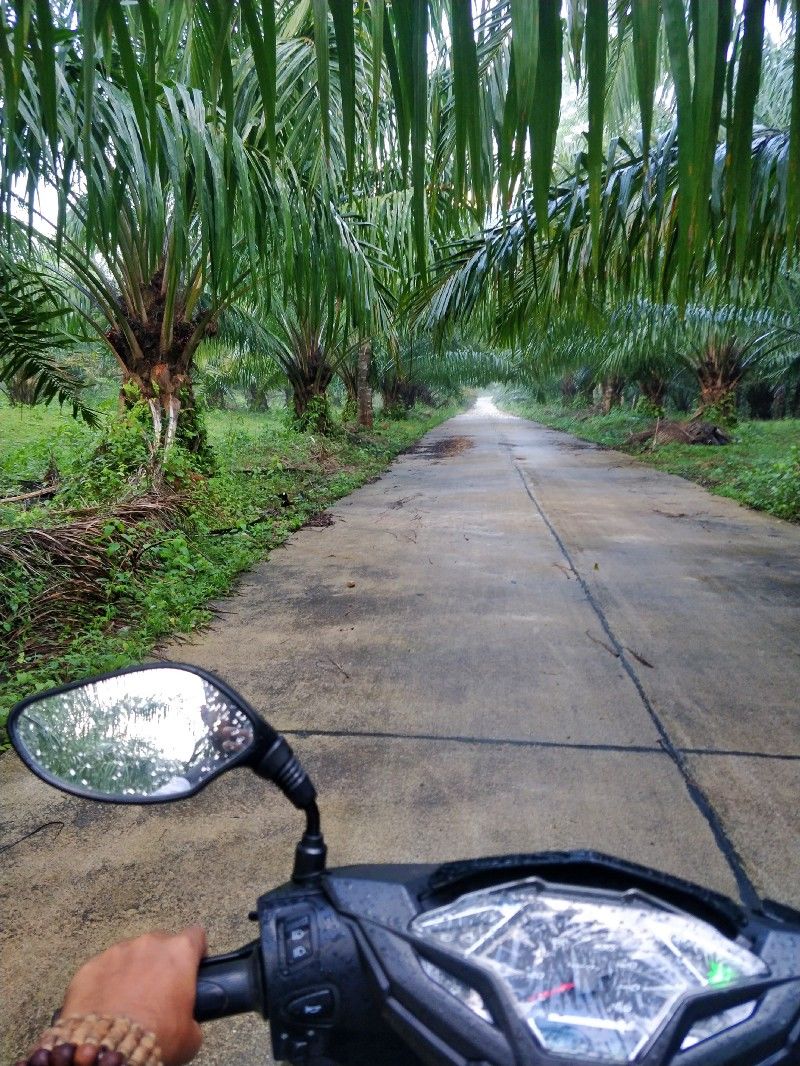 I wasn't charged any entry fee because it was a private waterfall just for me and there were no humans for a few kilometers around me :D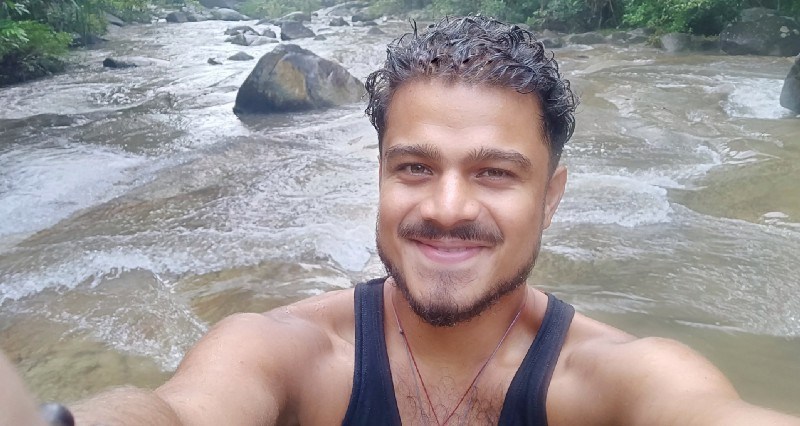 On the way back, I was surrounded by some beautiful views of the hills around.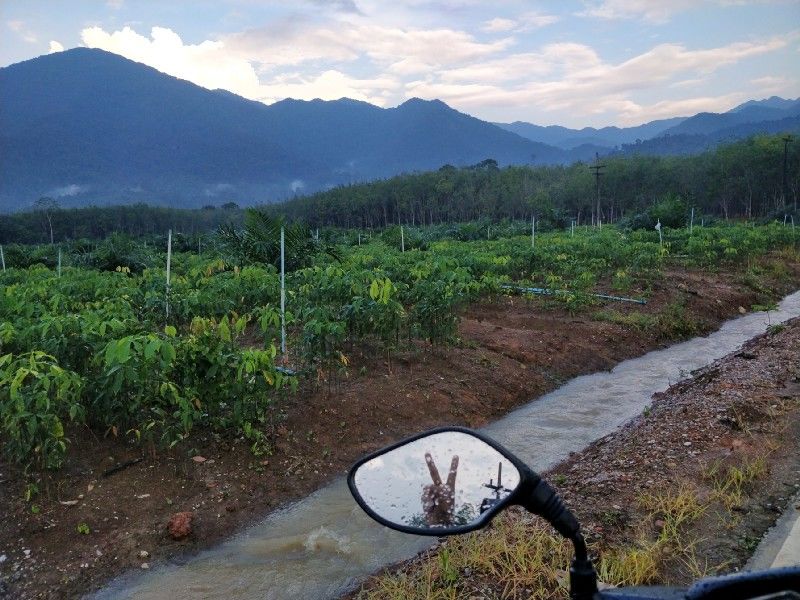 And then my Honda Click decided to strike a pose!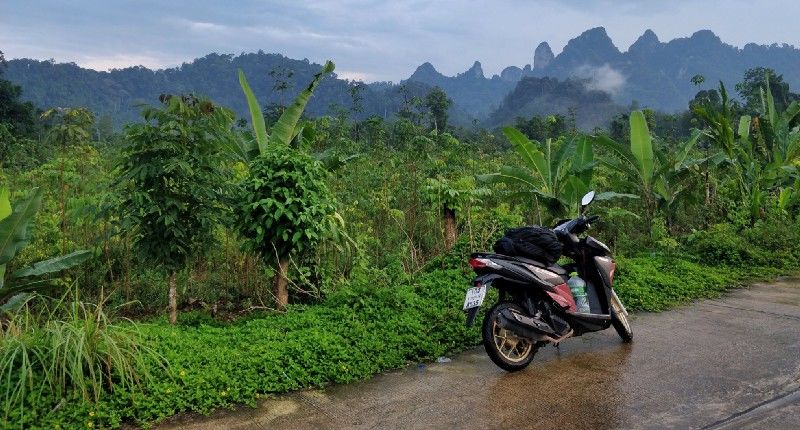 On the way back from the waterfall, I found a temple called 'Wat Santi Wararam'. Some ladies there were making food and offered me a meal.
This was a free meal at the temple.
Along with a beautiful sunset right behind the temple..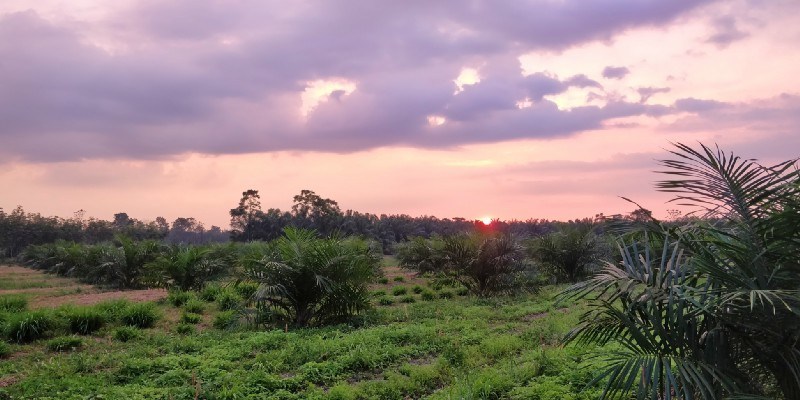 I was then told there are many more waterfalls around and I decided to stay around for a few more days.
The problem was this was a small village without any hotels or resorts.
I was offered to stay at the temple when a policeman, who happened to be dining at the temple, said he knew a local homestay (which wasn't really on Google Maps or anywhere else online).
This local village was part of the Laem Som sub-district in Palian District in Trang Province.
Once I was at the homestay, I knew I had found a new home.
I loved the beautiful scenery and people of this village so much that I would go on to stay here for 3 more days.
For those who want to checkout the homestay, it is right next to the Ban Nong Ueang Police Station (Link to Google Map)
And that was my story for this one-week offbeat South Thailand exploration.
And the story continues..
Thank you for joining me in this experience and my travel journal.
I would like to close with a few lines from my favorite poem.
O highway I travel, do you say to me 'Do not leave me?'
Do you say 'Venture not - if you leave me you are lost?'
Do you say 'I am already prepared, I am well-beaten and undenied, adhere to me?'
O public road, I say back I am not afraid to leave you, yet I love you,
You express me better than I can express myself,
You shall be more to me than my poem.
. . .
Written in Trang, Thailand.
Nomadic Dev, December 2018.