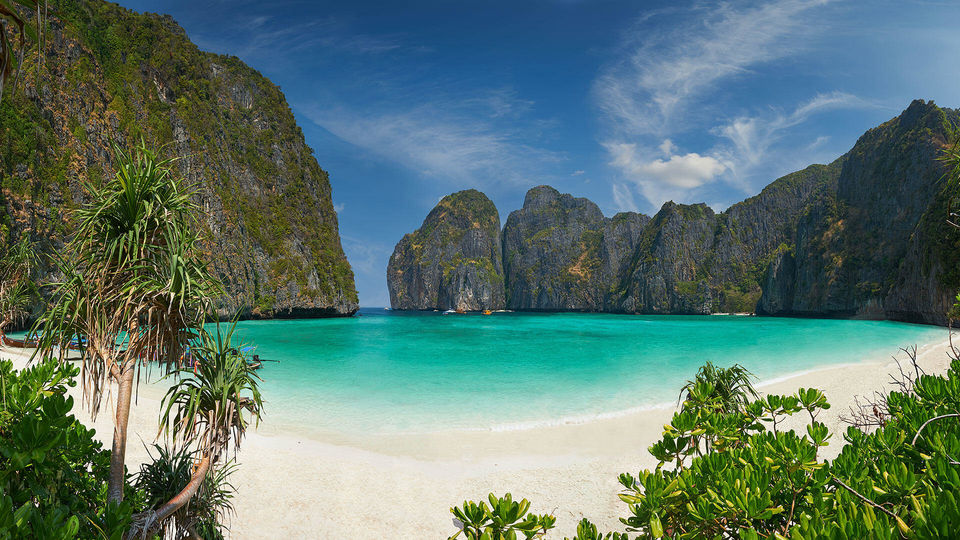 The Phi Phi islands are some of the loveliest islands in Southeast Asia. Just a 45-minute speedboat trip or a 90-minute ferryboat ride from either Phuket or Krabi, these picturesque locations offer the ultimate sight for eyes. Featuring classic tropical beaches, stunning rock formations and vivid turquoise waters teaming with colourful marine life, it is just paradise perfected. Phi Phi is a group of six islands [Koh Phi Phi Don, Koh Phi Phi Leh, Koh Bida Nok, Koh Bida Nai, Koh Phai (Bamboo Island), and Koh Young (Mosquito Island)]. The two main islands are Phi Phi Don and Phi Phi Leh. The larger and inhabited Phi Phi Don attracts hundreds of visitors to stay on its lovely shores while the smaller uninhabited Phi Phi Leh hosts stunningly beautiful bays and beaches, including the world-famous Maya Bay, which was the set where The Beach (with Leonardo Di Caprio) was filmed

Phi Phi Leh is an uninhabited island that lies 1.5km off the southernmost tip of Phi Phi Don. Stunning vertical cliffs capped with green foliage give way to small sandy beaches and tropical coral seas. Most visitors find their way around Phi Phi Leh on an organised Phi Phi boat tour. However you can rent a longtail boat for your own customized trip.
Maya Bay is a stunningly beautiful bay that's sheltered by 100-metre high cliffs on three sides. Inside the bay there are several beaches, most are small and some only exist at low tide. The main one is around 200 metres long with silky soft white sand, underwater colorful coral and exotic fish in exceptionally clear water; the whole bay is one big reef. Maya Bay has become the main tourist attraction of Phi Phi since The Beach was filmed here in 1999.
There are numerous local travel agents through whom you can book your day trip to Phi Phi islands even a day or two before your trip, bargain to get the best deal. A day trip to Phi Phi Island is sufficient to soak yourself in sun and sand.