VISITING BARREN ISLAND VOLCANO IN ANDAMAN AND NICOBAR ISLANDS
Barren Island is situated in the Andaman Sea, and lies about 138 km (86 mi) northeast of the territory's capital, Port Blair. It is the only active Volcano along the chain from Sumatra to Myanmar and also the only active volcano in India. Barren Island is a part of the Indian Union Territory of Andaman and Nicobar Islands and is well known as a Submarine emergent Volcano, which lies above the subduction zone of India and Burmese plate.
Well, Barren Island in Andaman has again started errupting in 2018, and many people across the globe are coming to the islands just to experience this phenomenon. Here are the recent photographs of the barren island volcano which has started erupting in 2018.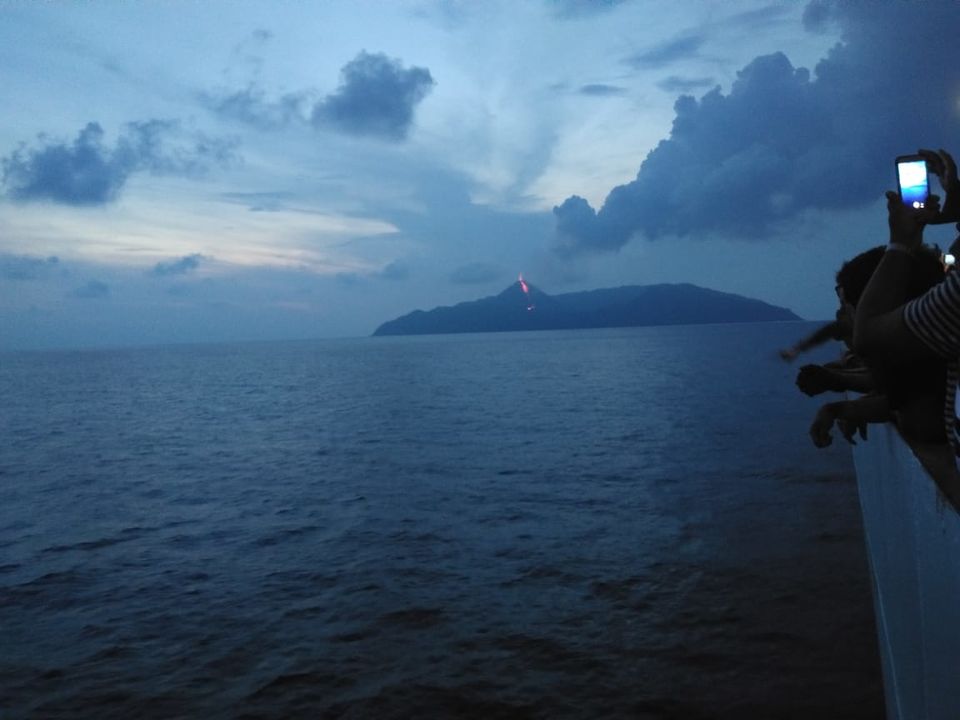 Its name is evidently justified as it is a barren area uninhabited by humans, though it has a small population of goats. Also birds, bats like flying foxes and a few rodent species such as rats are known to survive the severe conditions. Also unpeopled and bereft of any significant vegetation.
How to visit Barren Island?
Barren Island comes under the restricted zone and special permits has to be taken to visit Barren Island. In addition, no one is allowed to land on the Barren Island. No night stay is allowed at Barren Island so one can plan for the early morning trip to the island like you can start at 3 or 4 a.m. It takes nearly 4 to 5 hrs to reach the island. Tourists generally travel through ships and without getting down on the island they get the whole enthralling feeling of the island. The Island can be visited by chartered boats only with the approval of the forest department and after getting necessary permits.
Private charter has to be hired to visit Barren Island, on your way to Barren Island you can get indulge in Sports fishing activity. In addition, snorkeling can also be done during the trip. Some advanced Scuba Divers also go to Barren island for diving. All Guides are present with you during this excursion.
What is there in and around Barren Island?
Manta Rays, interesting basalt formations, topography of past lava flows and fast growing coral gardens will seriously payback to your visit expenditure. This destination is obviously remote but can be easily accessed by either a live aboard ship or with scuba-operators based at Havelock Island. Day tours on private charters is also possible. You can think of fishing and scuba diving which can engage you for nearly 6-8 hrs. The island can be accessed by the visitors, with the prior permission of the department concerned..
Cost of the trip?
This destination is fairly remote and you need to charter a private boat to Barren Island. Mainly this trip begins from Havelock Island and this trip can cost you between INR 1,00,000 to 1,50,000 for the entire charter depending upon the boat you are getting. A group of 4 - 8 Adults are generally recommended to do this tour.However, lesser number of people can also do this tour.
Geography and Biodiversity of Barren Island
Just 3 kilometers wide, with a two-kilometer- wide caldera, Barren Island is the summit of a volcano that rises about 2,250 meters from the sea floor, with 354 meters above the water line. It is the emergent summit of a volcano that rises from a depth. The eruptions had obviously reduced the number of bird species and their population. Of the 16 previously reported species, only six species are observed, of which the Pied Imperial Pigeon is the most abundant.
Not Dangerous at all!
It has been in news recently that the Volcano erupted in small episodes of about five to ten minutes, on January 23, 2017. It resulted into the ash clouds and red lava fountains were ejecting from the crater and the hot lava flowed streaming down its slopes. But don't worry this is nothing new to this unique place. It has erupted at least five times over the next 100 years.
Historically, the first record of the volcano's eruption dates back to 1787. In 1991, it erupted so and the smoke billowed out for about six months. And since then there have been eruptions every two-three years also the last in February 2016.
However, all of these eruptions lie at the lowest level of the Volcanic Explosivity Index. This index ranks the volcanoes from 1-8 on the basis of quantity of volcanic material spewed and its strength. This latest 2017 eruption was recorded as a 2 on the index which is much in the safe limits.
Other volcanoes in Andaman and Nicobar Islands:
Narcondam Island in Andaman and Nicobar is a volcanic island and classified as dormant volcano by Geological Survey of India. The island is declared as a UNESCO World Heritage Sites and famous for its prevalent Narcondam Hornbill. Baratang Island in Andaman is famous for Mud volcanoes. These also attract many of the anxious tourists all the year round.