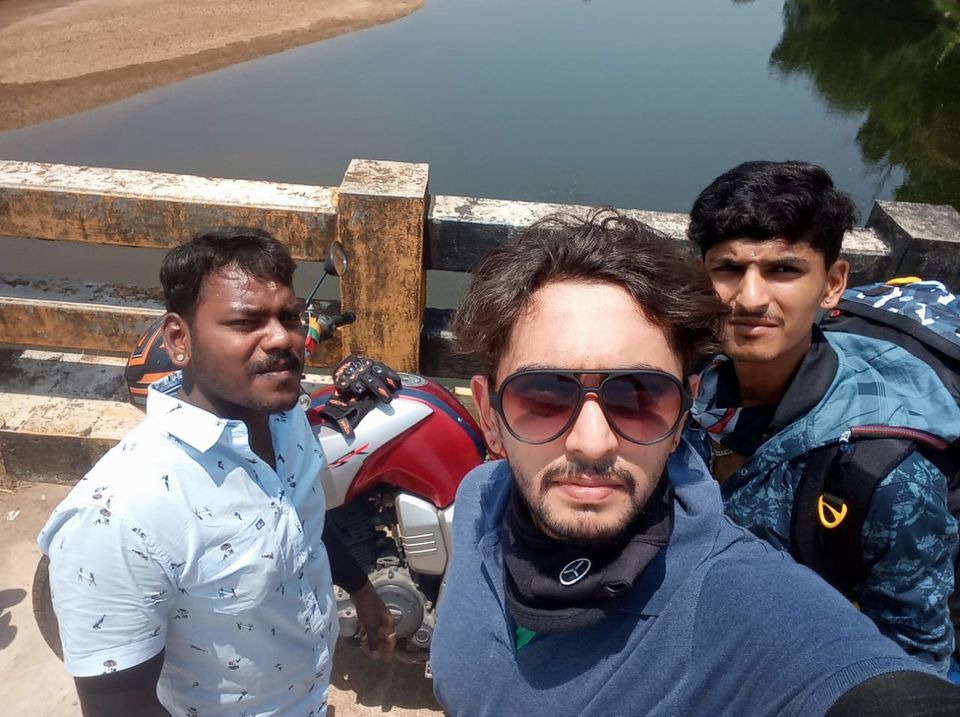 It's the peak summer and the best time to lose calories with the same pinch of work done during Winter . What say ?
DAY 1:
Well if you consider what I said above a joke or anything else, well that's exactly what happened to me on the second weekend of April 2019.
My alarm pulled me off my bed at around 4.30 AM. As my bags were already packed, all I had to do is 'pack myself' (I know I sounded weird, you will know what I mean if you read further or umm if that's boring, I have an entire video for you).
It was around 6.30AM when I left, most of the time took to get my luggage adjusted in my pillion seat. Now that just means, this journey is a motorcycle ride.
Joined with me were other two friends who were with me to Shravanabelagola trip (you can read that blog too). Well for these guys this was the longest ever ride on a motorcycle, I throughout tipped them with suggestion to handle things better. I am mostly a riding champ all the time (not that I am noble prize winner in motorcycling, just that I have been to multiple rides and I understand roads a pony better than new riders).
Lets now dive into the most relevant topic, the Ride itself. 'Pack myself' as earlier quoted, it means I had to wear a lot of thick rider suit with gears and protectors, though these were to protect myself, that did hurt me a bit in the burning sun (more in my video)
We took multiple breaks, the first one at Jalahalli, Nelmangala Junction, Kunigal(for breakfast) Shiradi ghat, etc. Our first big stop was at Southadka, this place is mostly famous for Ganapathi Temple. Now when I say temple, this place does not have a huge tower (gopuram) built and inside which the deity is located, but this is an open place and the Ganapathy idol sits on a platform under a huge banyan tree and can be viewed just entering the temple arch. After darshan we rushed to have the meal provided by the temple, but our luck did not pay us well that day, we just had to continue our journey without wasting much time.
Dharmasthala is about 15kms away from this place, we headed there and found a room to keep our luggage and get fresh. Next was utmost priority, is to visit the temple. We rushed into the que and waited for about 45 minutes to have the glimpse of "Lord Manjunatha", later we headed to the huge dining hall to have the food (Prasadam) provided by the temple itself. Soon after, since my friends were a huge elephant fans, they took some pics with the holy elephants outside the temple.
I knew it was Ramanavami (Birthday of Sri Rama) that day, but I did not plan for the coincidence that was to blow our minds off. Just around 6-7Kms from Dharmasthala we headed to a Sri Rama temple, this is mostly built with modern crafts and amenities. Entire temple was lit and from far off it looked like festival of fire crackers. There was a chariot that was getting ready, since we had no later plans, we stayed back and cherished entire procession. Sometimes unplanned stuffs bring extra smile, this temple visit exactly did that. And we were done for the day, we headed back to the room, with not so longer chit chats we slept early, as our alarms were set for 5.00AM next morning.
DAY 2:
5.30AM was when we started our day, since the rooms we stayed had no washrooms attached, we had to be dependent on a general one on the floor. As each one of got ready, we packed our stuffs to continue our journey, just before that how about another visit to 'Manjunatha temple' ?. I know this is not a question I must ask you folks, but eye popping one for ourselves. 6.00AM is when we got into the que, and guess what? 9.30AM was out exit, meaning we had to re-plan a lot of things as we were running short of time, because our next big stop was at "Kukke Subramanya Temple". We had breakfast in a hotel and stuffed our bikes and started immediately
This place is about 54-58kms away from Dharmasthala, it was more than a hour journey due to steep road and moreover my friends were not so experienced in handling the curves. We reached 'Kukke' exactly at 1.00PM and we were told the temple will be closed at 1.30PM. We pulled down all our bags from the bike and safeguarded in a luggage room next to the temple, it was 1.15PM when we entered the temple and butterflies in mind by just looking at the crowd. We pushed ourselves, we jumped ques and we were done with the Darshan in about 45 minutes. Later I tried if we can do the same for the dining hall que but failed. Our hunger made us weak in the shining sun, we had food in a hotel and packed back our bags on the bikes carefully and started to Bengaluru.
We had most part of the day left to make our journey a bit stretched, but that would cost all of us a Monday off! With not many breaks, we flooded the highway with the maximum speed our respective bikes can reach (mine 120+ ????) and it was 9.30PM when I reached my home.
Well if you think if I am going to end this blog, sorry!
I want to share my post journey experience, read if you are patient and insensitive ????
Since this was a bike ride, one will experience a lot of stress, and I had no excuse, headache striked me few times during the ride, around the eyes were swollen without good sleep, backache had just begun and my butt (ouch) hurt badly, though I had enough cushioning and gears to guard. Well this is a much-expected odds for a journey like this. For all the sacrifices one makes, you get to experience nature, fresh air, spirituality, togetherness, friendship, etc. This is more relevantly important in life and journeys like this set an example
That's it in my bucket now, see you all on my next journey.
Thank you.