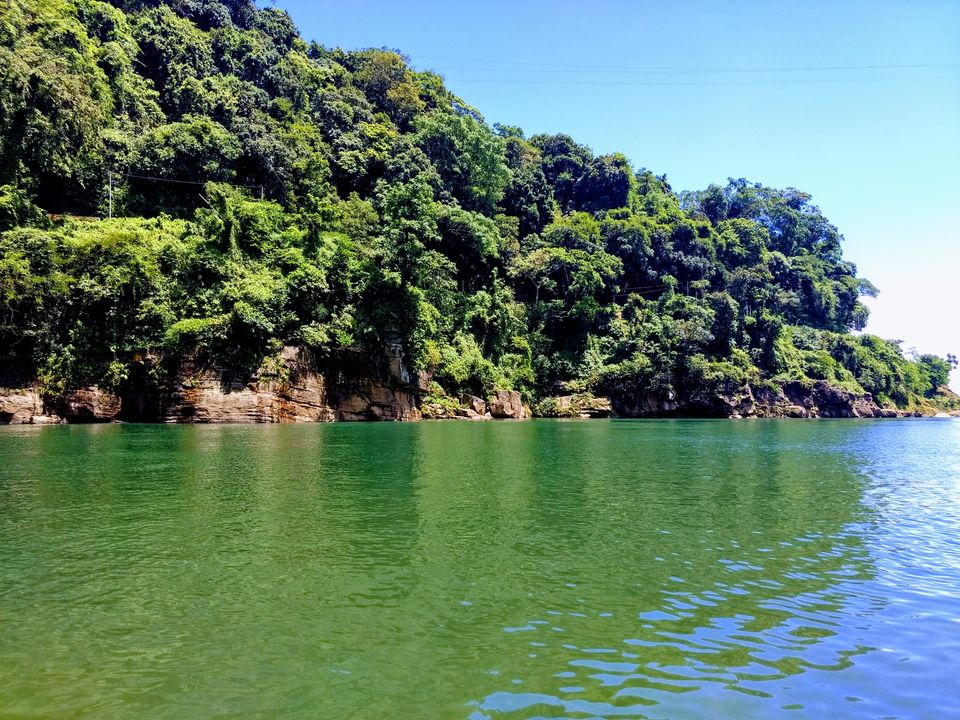 Tamabil - Indo Bangladesh border !
It was during my recent visit to Meghalaya I got an opportunity to visit Dawki- Tamabil. The Dawki-Tamabil border crossing between the nations India and Bangladesh should not be missed while planning a visit to Meghalaya .This area is now used to ferry across both cargo and passengers.
Borders always fascinated me ; because from that point onwards no longer I could travel freely to the other land ; eventhough the lands looked alike. We reached there around morning 10 am and to our luck the place was less crowded. A police officer at Tamabil reminded us every now and then not to cross the lines ; while we were carelessly taking pics and we obeyed him for sure as he was just doing his duty. The BSF officers on both sides were very friendly and they allowed us to take as many pics as possible ; at the last Indian point.
We noticed few boys were selling berry pickles from the other side(Bangladesh) and couldn't resist ourselves from tasting it. I bought the pickles and handed him some extra Indian currency and in return he smiled at me . Borders were just on land and maps ; in our minds we all were just humans struggling for own survival .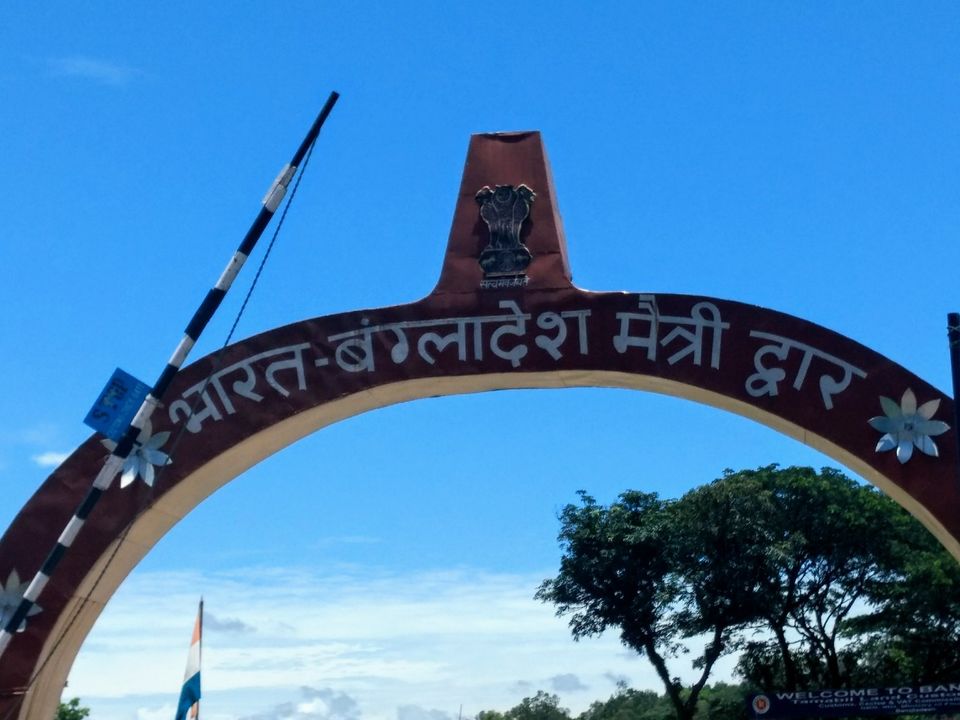 Spending some time near the border line we then moved to Dawki, which was a much awaited destination in my bucket list !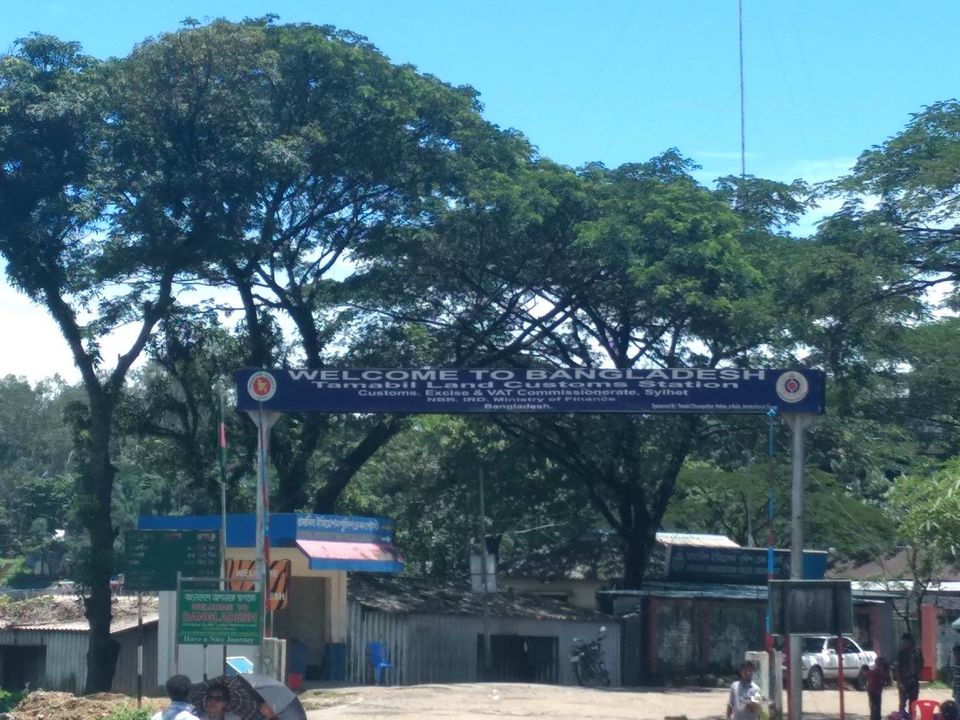 "Dawki",Meghalaya in west Jaintia hills is one of the famous road border crossings between India and Bangladesh. The famous river Umngot flows through Dawki and is the border river between two countries.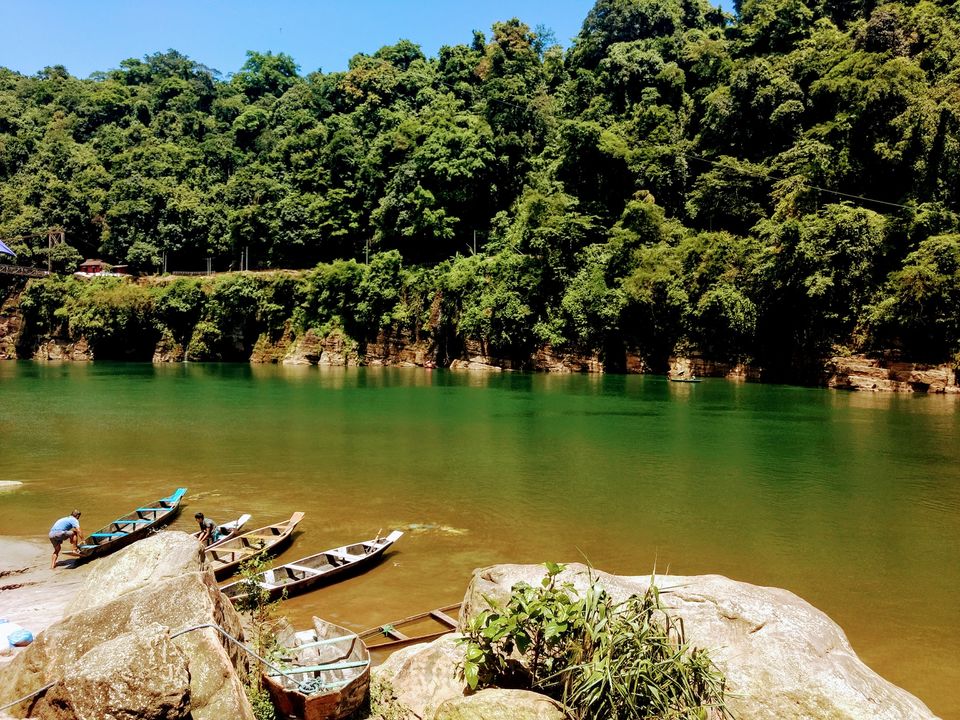 Journey to Dawki was rich with nature! Without doubt I would say, Meghalaya is rich with waterfalls and I was able to view waterfalls throughout my journey through the state and to be frank I became too much addicted to this sight. On the way , I could clearly view the land of Bangladesh on one side of the road . Driver told us that the huge buildings that we saw on the right side of the road are part of Dhaka.
As we reached Dawki, I found that Umngot river was super clear as I've seen in pictures and trust me that wonderful sight would always add peace to your mind . The location I have seen many times in snaps and google images is finally right in front of my eyes and I was extremely glad with joy. But guides told us that the river may look more crystal clear during Oct- Nov seasons. Since our travel was in July, according to them Umngot was not clear. But it didn't matter ; to us as it was beyond our expectations!!
It was a natural wonder!! The green vegetation at the sides of the river made the water look greenish!!Fishing boats painted in yellow, green and blue colors were seen here and there and that added extra beauty to the green river .
The boatmen charged us Rs.500/- per boat and four of us got into it and started the sail. We could view the suspension bridge for the traffic to cross Umngot, and the guide explained the story of it's construction .It was said to be built by the British . Britishers might have used this route for trade and material movements across the borders. Even today, goods are transported to and from Bangladesh through this route.
As we progressed the boat journey, I could see the borders of our motherland was ending and we were nearing towards Bangladesh .After few minutes the boatman dropped us at the white sandy banks and we stepped out to take few snaps. To any photography addict, I would say this is a must visit location and believe me your camera's won't get rest!! After spending some time , we again got back to boat and started return journey waving bye to Bangladesh natives along the borders.
We sailed for about 25 minutes and reached the banks, but to be frank I didn't want to get out of boat :) . Hoped that journey never ended!
It's green, green everywhere and the beauty of pristine waters cannot be expressed in just words, it should be experienced! Activities like scuba diving, cliff jumping, fishing, rafting, zip lining can also be experienced depending on the climate and season.
Video below was taken during my visit. Have a look !!
How to reach Dawki -
Nearest railway station is Guwahati
Nearest airport is Lokapriya Gopinath Bordoloi International Airport.After reaching Shillong you can hire a cab / taxi to reach the destination.
Bu bus - Take bus from Shillong to Dawki . From Dawki, it is a 1.5 km walk to Tamabil.