We had been forewarned that today was going to be a long journey. We had to cover approximately 200 kms with two stops - Nako and Tabo. Well in the plains, 200 kms is not much. But in the mountains, it's a lot. It can easily take 6-7 hrs depending upon the road conditions. Another risk is of landslides and shooting stones which can lead to a road block for a long time. The good part is that this route is maintained by BRO and they immediately take up the clearing work. Hats off to them for working in such harsh conditions!
I woke up early since I wanted to catch the sunrise. And it was indeed rewarding.

The sun rays peeking from behind the Kinner Kailash mountains was lending a heavenly feeling to the surroundings. One could even hear birds chirping and a small channel flowing in the background.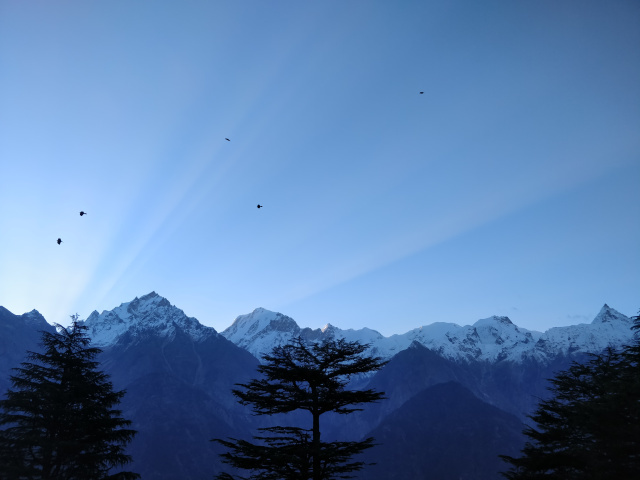 Since we had a long day ahead, we took packed breakfast so that we could have it on the way. We began around 7.30 hoping to reach Nako by noon. Once we out of the town, the landscape outside was beginning to change. Vegetation on the mountains was decreasing. So we were able to see more of the chocolate-brown colour. Till now I had seen this only in pictures of Ladakh and Spiti. But to travel through these places, it's an entirely surreal experience. You feel so tiny and humbled infront of this gigantic structures. This is how the drive looked like!
We took a small break around 11 at this amazing bridge in Hangrang Valley. It was huge and was situated below a mountain face. It was full of prayer flags with the river flowing by. The place was beautiful. Such stark and rugged terrain has its own beauty in my opinion.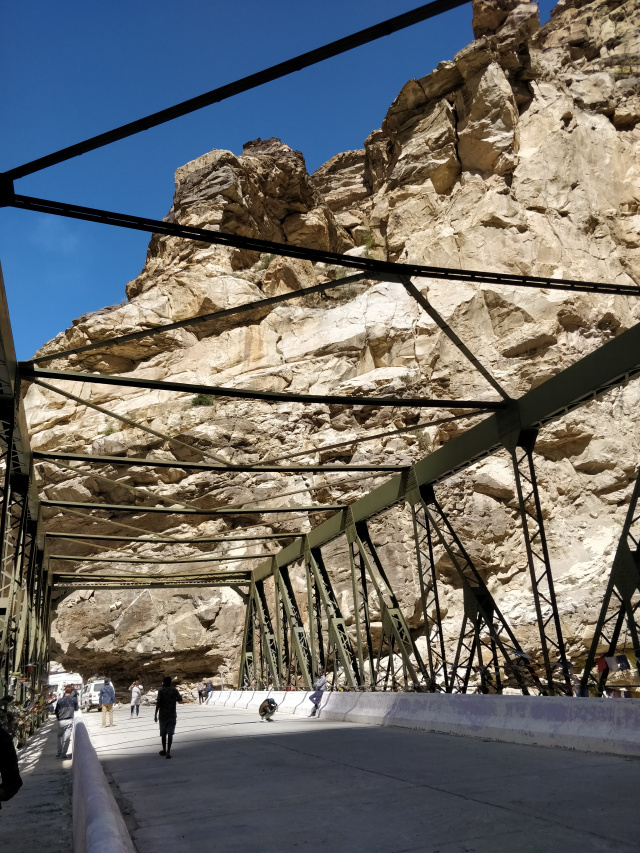 Since we were running late, we left after spending 30 mins here. Further on, the views kept on getting better and better. I held my phone outside the window and kept clicking. Wherever you could see, you would get a stunning picture :) After sometime, I settled down on my seat and kept peering outside the window trying to soak in the experience I was having. Just a few hours back we were at the bottom of the mountain and now we were almost at eye level to them! The roads in this part were amazing. The jet black was lending a perfect contrast to the stark brown. To top it up, we could even see snow-capped peaks in the background!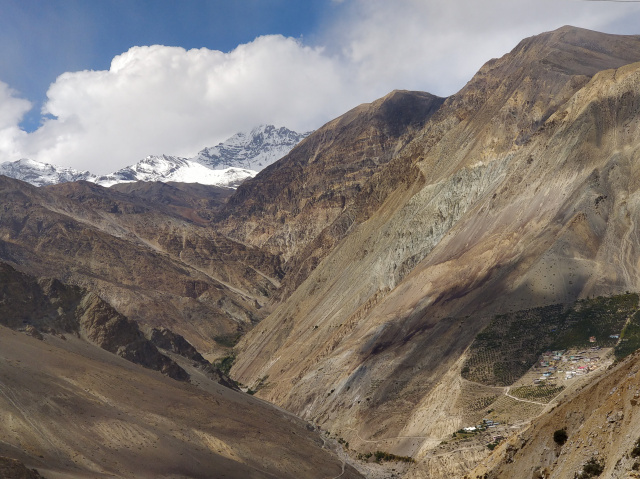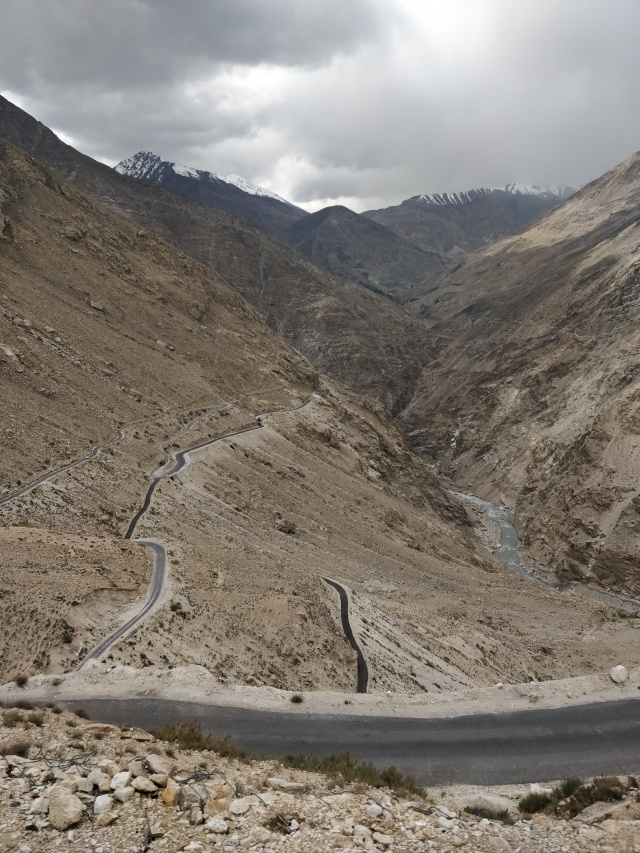 We reached Nako around 1 PM. Nako lies in Upper Kinnaur but is leaning more towards the Buddhist side religion wise. When we reached here, there were hardly any people. Probably they were out in the fields. We walked in the village and reached Nako lake. It was a shade of green and had beautiful yellow trees on its periphery. A perfect match.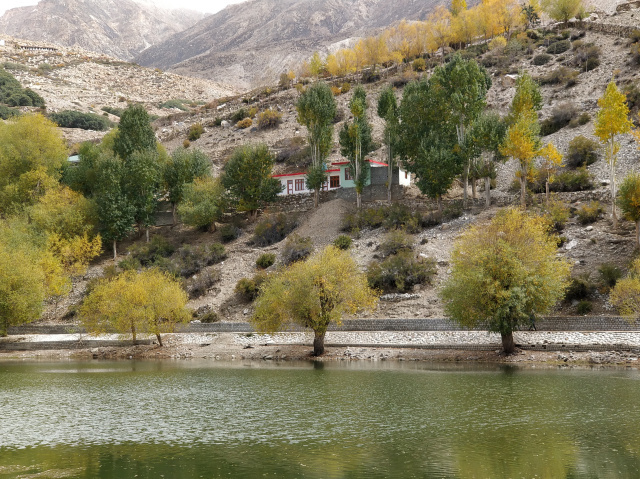 While we returning back from the lake, we got a little surprise! I could see some white flake like thing falling on my sweatshirt. I thought it might be something from the sweatshirt. But it was not! They were snowflakes :) It was a mild snowfall since it stopped quickly. Nevertheless, I had experienced it for the first time.
Nako is the largest village in Hangrang Valley at an elevation of 3625 m (11893 ft). It's very near to the Tibet border. In the backdrop we have the Reo Purgyal mountain which is the highest mountain in Himachal Pradesh. For some reason, I didn't feel like leaving from here. There was something in the air that was enticing me to stay back. I wanted to get lost in my thoughts like this monk.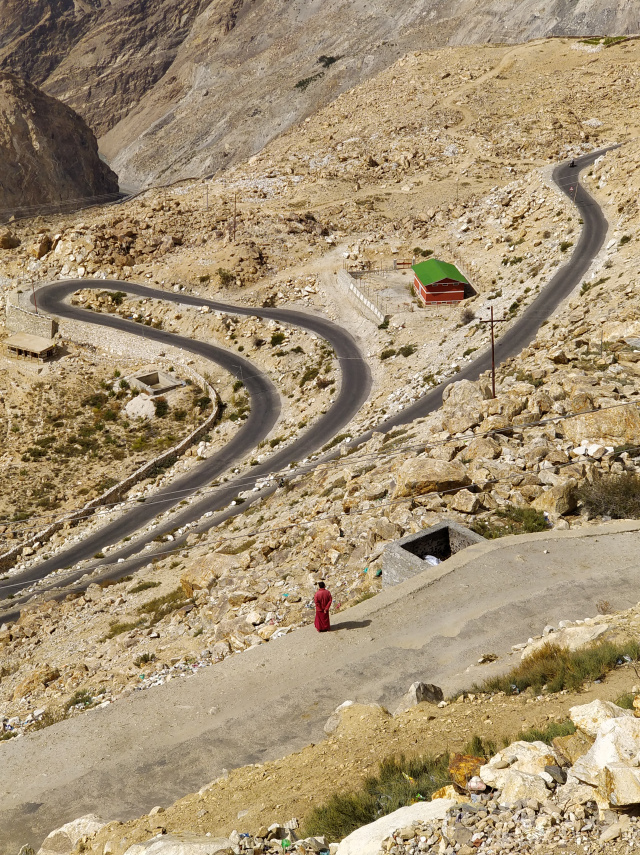 But we had to move to our next destination - Tabo. After Nako, there is a checkpost at Sumdo. This is where Kinnaur ends and Spiti begins. So finally after 3 days of starting from Delhi, we were in Spiti Valley ! You need to make an entry here about the vehicle, passengers and if there are any foreigners or not. Once done, we proceeded for Tabo. Tabo is known as the Ajanta of the Himalayas for its 1000+ year old monastery and paintings. The place is so holy that even the Dalai Lama has expressed his desire to retire here. We reached here around 4 PM and were hoping that the monastery would be still open. There is a new monastery as well just next to the old one. A monk advised us to go the old one first since that would be closing soon. Since there was no photography allowed inside, we left our phones and cameras outside. Once we entered, we realised why! The place had no artificial light and was illuminated by a single source of light coming from the roof. The paintings on the walls were exquisite! Even in the faint light, they were standing out, radiating their holiness.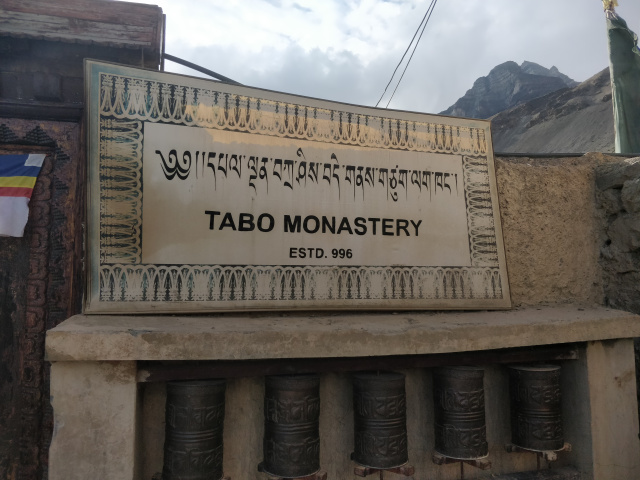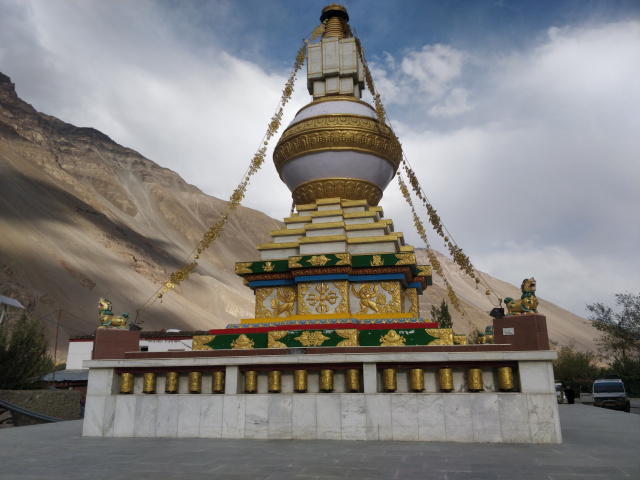 Such a historical place surely deserves more time. I was mentally preparing myself to come here again :) Since this was the last stop for today, we had some snacks in one of the restaurants near the new monastery. Soon it was time to resume our journey to Kaza - the final destination for today. As soon as we left Tabo, there was a huge traffic jam. I was wondering how could we have a traffic jam here in the mountains! But when we saw the reason, we were delighted! It was a local wedding ceremony which was going on. Everyone was decked up in traditional attire. Since the road was blocked, everyone got down to take a closer look. Who knows when would one get a chance to attend something like this again :)

We reached Kaza around 7.30 PM. It was starting to get dark by then. Thanks to our driver bhaiya, who drove like he had the whole route mapped in his mind and made sure we reach before it gets late to drive. Even though the roads are open during night, but it is not safe to drive due to the risk of shooting stones. All of us alighted and headed to our rooms. But the 6 guys from the Tavera were nowhere to be seen. In Spiti, only BSNL works. So there was no way to contact them also. Just when we were thinking to go out and find them, their Tavera arrived! Apparently they had lost their way in the dark and missed the hotel. Guess who came to their rescue? Tanya :D They recalled from her vlogs that the hotel was located right next to the primary medical centre and then got the directions from a local.
Dinner was served and we all attacked it! After such a long and tiring journey, getting a plate of hot food really helps. All of us had gathered and were eating in the common area of the hotel. Our captain, Abhimanyu, told us about the plan for next day and gave us 4 postcards each to post. I knew what this was for :) More details on that will come in the next post!
Kaza is located at an altitude of 3800 m (12500 ft). Higher the altitude means lesser the light pollution which means awesome place for stargazing (subject to clouds)! And indeed it was. I had never seen so many stars in my life on a single night. Today I didn't plan to sleep early. Instead we four planned to do a lot of stargazing. DSLRs were taken out, tripods set up and all the neighbouring lights were dimmed :) Amulyam had a mount for mobile as well. So we used that and fixed my OnePlus 5 onto to the tripod. Pro mode did its job quite well. I never expected that this phone could also capture this. Did some post processing in Snapseed and here it is!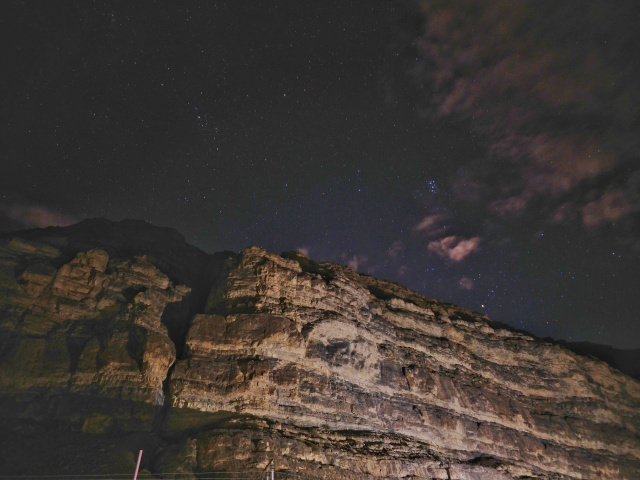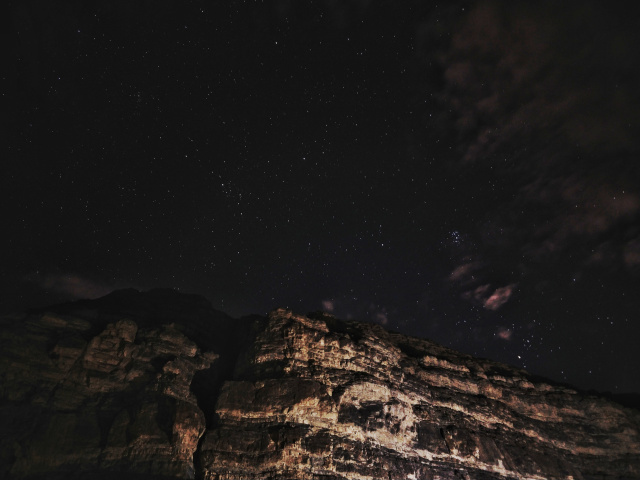 After a night full of memories, we crashed on our beds. Dreaming under the starry night about what's in store for us tomorrow and hoping that this trip never ends :)