When it comes to travelling, an oft-understated aspect of the whole experience is the stay. To be exact, the lodging. Despite the ubiquitous need for a hotel in any trip longer than a day, hotels are seldom the focus of a journey. They almost always exist to serve the purpose of convenience and for weary travelers to get some shut-eye.
Of late, many hotels have been trying to be more than just their rudimentary function ­– attempting to incorporate local flavour to add on to the traveller's experiences in some long-lasting way. However, a few hotels around the world go above and beyond their peripheral functionality. These five hotels are so innovatively intriguing that they no longer qualify as a mere accommodation – indeed, they have become a destination in their own right.
Giraffe Manor, Kenya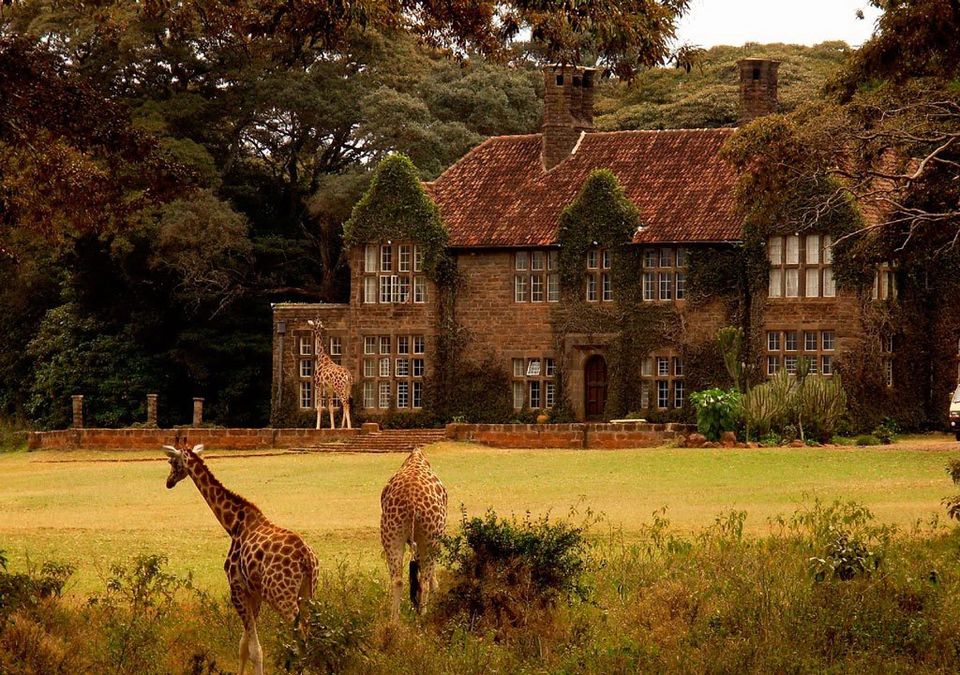 Credit: Archute
If you're someone with an affinity for nature, perhaps a keen safari enthusiast, the Giraffe Manor will be right up your alley. Located in the midst of a 140-acre large indigenous forest in the Langata suburb of Nairobi, this building is like no other you'd ever have seen before. The name pretty much sums it up. Besides the obvious tranquil beauty of an old-fashioned manor covered in creepers and plants with antique decor and four-post beds inside, the herd of resident Rothschild giraffe is what makes this a magical place to be. These endangered giraffes visit the manor regularly and lodgers can feed them as they poke their necks into the window in the hopes of treats.
Info and Booking:http://www.thesafaricollection.com/properties/giraffe-manor
Free Spirit Spheres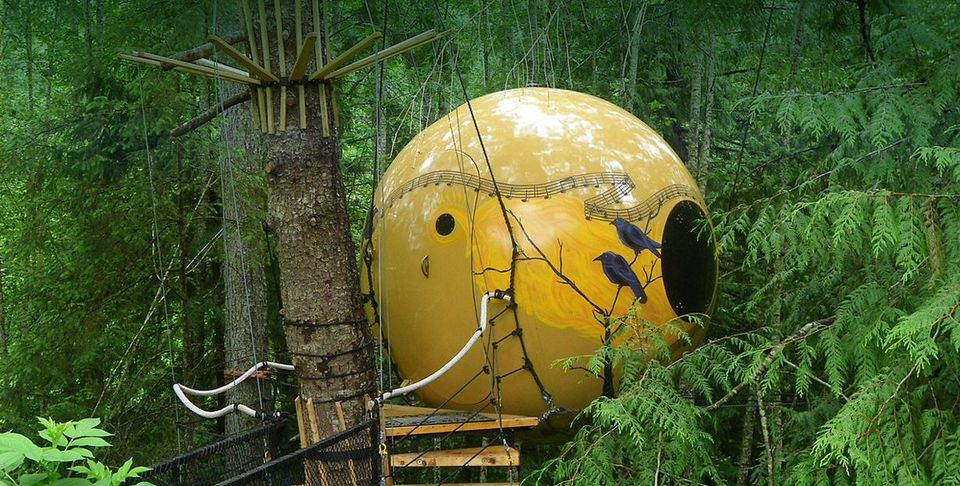 Credit: Free Spirit Sphere Website
Eve, Eryn, Melody. These are not three elves from an LOTR-esque world. These are three giant spheres that will make any compulsive explorer weak at the knees. These spherical treehouses, hanging in suspension in the woods – to be exact, within the Vancouver Island forest – are about as close to nature as you can get. Along with allowing for a window into the heart of the forest, these treehouses also move and sway with the wind and the trees. The three spheres are of three different sizes, the smallest Eve accommodating a single person.
Info and Booking: http://freespiritspheres.com/
Kakslauttanen Arctic Resort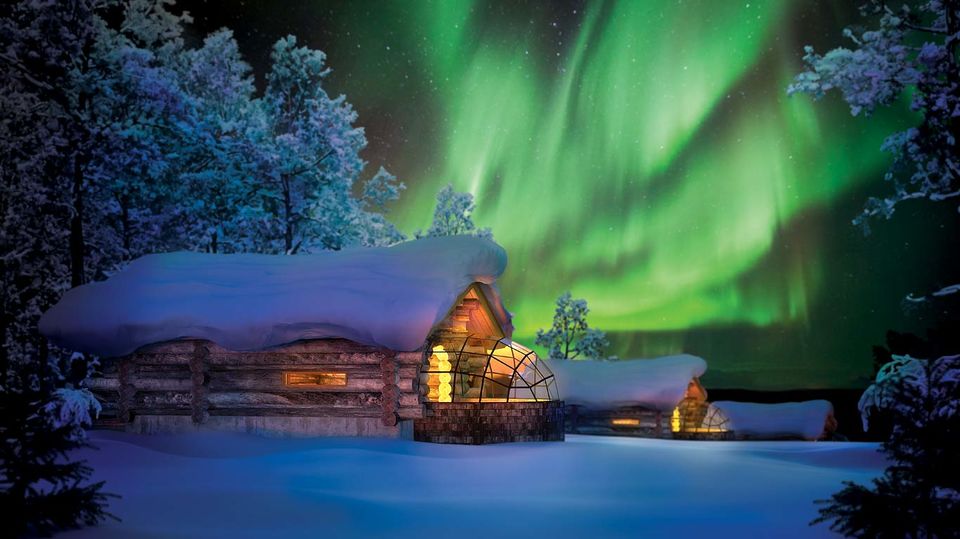 Credit: Kakslauttanen Arctic Resort
There are few things in the world as breathtaking and sublime as the Northern lights. The Aurora borealis, the beautiful barrage of dancing lights in the northern sky, is a sight to behold. The Kakslauttanen Arctic resort in the Finnish Lapland gives you the most covetable view of the starry sky and the Borealis. While a night in the land where Santa Claus hails from can sound rough and unbearable, even, this resort compensates for the natural harshness of the Finnish wilderness. You can pick from an array of lodging options that include cozy log cabins, snow igloos, and a field of glass igloos that are basically a bunch of transparent geodesic domes.
Info and Booking: http://www.kakslauttanen.fi/
Icehotel, Jukkasjärvi, Sweden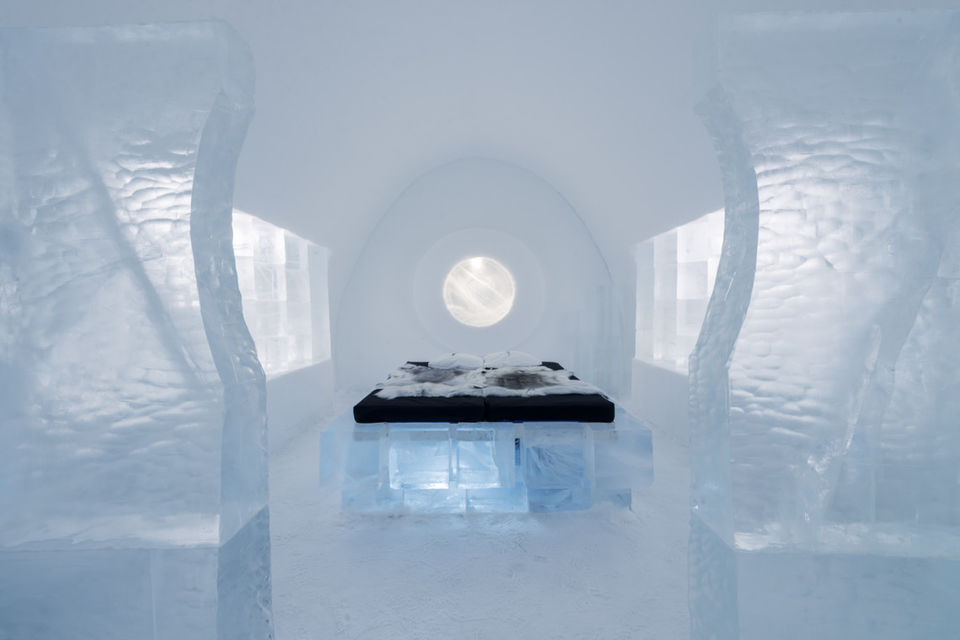 Credit: Icehotel
Speaking of extreme cold conditions, it is hard to imagine a hotel that instead of attempting to compensate for it, actually capitalizes on it. And does so successfully. The Icehotel in Sweden in a tiny village called Jukkasjärvi covers a massive 5000 square metres and is made out of thirty thousand tonnes of snow and four thousand tonnes of ice. The structure is constructed every year in varying designs and remains functional from late October to May, after which it melts away under increased temperature. The Icehotel provides cold accommodation, which is essentially an ice room with a bed made of compressed snow covered with reindeer hides, as well as warm accommodation that includes cabins. The main walkway has displays of fascinating ice sculptures and beyond that smaller corridors lead to the bedrooms and suites. There is a chapel where couples can get married all year round.
Info and Booking: http://www.icehotel.com/
The Underwater Room in Manta Resort, Pemba Islands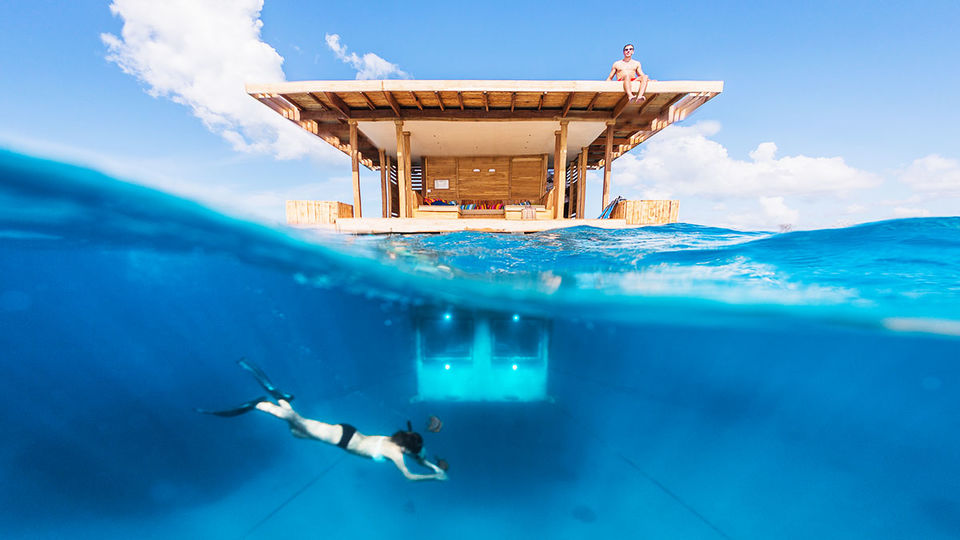 Credit: The Manta Resort
Imagine being stranded in the middle of the ocean. Except you have all the comfort and luxuries that you'd need. And, you're not really stranded. The Manta Resort in the Pemba Islands is a beachfront resort and their highlight is, without doubt, the incredible Underwater Room. Located smack in the middle of endless water, this houseboat-like structure is not only a delightful spot to relax and dive from, but it houses a section underneath, about 7 meters underwater. With its glass walls, the underwater room is the closest you can get to aquatic nature without actually getting into the water and while enjoying the comforts of civilization. The room, when lit up at night, attracts ocean-dwellers and gives you a magical view of life under water.
Info and Booking: http://www.themantaresort.com/