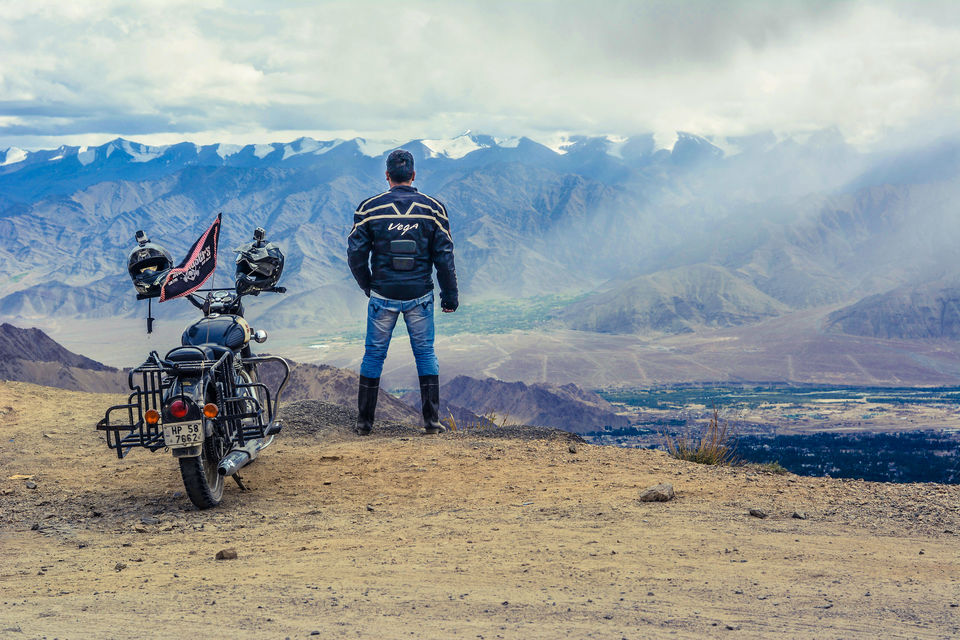 How it started?
It was Saturday sunny afternoon of 2nd July'16, waiting for my turn to see the orthopedic doctor and fix
my surgery date to get the implant removed from my right forearm.
I was advised to be seated patiently and wait for my name to be call out. In the midst of that half-full
waiting room with unknown faces sharing pleasantries, I was lost in thoughts.
There was a war between my mind and heart on the things to happen in course of next few
weeks/months and slowly my thoughts gained control over my heart and concluded the matter.
Then comes my turn to meet the Doctor and I walked into the room with mixed emotions. As usual it
started like any other doctor meeting and things unexpectedly took turn when he asked about my
interests. I was on full throttle for next 20 minutes talking about my road-trips, showing pics and vlogs.
My blabbering almost surprised him and he was curious to know my plans for next road-trip, that's
when I said its Spiti Valley and I am not gonna do it as the roads get closed by the time I recover from
this surgery.
The next few lines from Doctor reverberate in my ears and that discussion will remain very close to my
heart. This is what he said to me "Everything can wait but not your Dreams. Go and chase them before
the time runs out"
So by the time I walked out of the hospital, I was so elated that I am doing Spiti trip this year.
How?? When?? Where?? Are some of the questions to follow but I was least bothered to find an answer
for any.
I know everything gets sorted because it's all about Mountains, Mountains and more Mountains.
Though it sounds filmy, I have immense passion for mountains.
Chapter 1
In the next few days, most of my friends are made aware that I will be riding again to Himalayas this year
and the invite is open for everyone. As always most of them had shown genuine interest and wanted me
to share a trip itinerary and budget plan.
I came up with initial itinerary and estimated cost for the trip and that's when Arijit hopped in and said
he would like to join me on the Spiti tour given the number of days are reduced/adjusted. In order to
accommodate him, I revisited the itinerary and came up with a new one which suits our requirement.
In the interim, Kiran (Brother in law) and Ricky have decided to join us on the trip. And this is what I call
the magic of brainstorming over alcohol.
By now I have three riders who are game for this trip, but the most difficult part was to schedule them
considering their individual requirements.
Initially we thought August last week is good considering the rainfall in Himalayan range but
unfortunately it doesn't fit into Kiran's schedule due to other travel commitments.
I moved the itinerary a week ahead to onboard Kiran, later got to know that it disturbs Arijit's schedule.
This is when I was really disturbed and decided to move the tour plan to mid of September to
accommodate everyone, but Arijit was really kind enough to adjust his schedule and was ready to fly on
Aug 20.
Chapter 2
On 20th July, we booked the flights with departure as 20th Aug and return on 31st Aug from Delhi to
Hyderabad.
I was not ok with the concept of booking return tickets so early and had a strange feeling that the last
day of the trip will not be as planned.
Couple of days later I had this message from Arijit to check if we can also do Ktop in this trip, as doing
another trip to mountains is far impossible anytime soon. I was quick to confirm that it can be achieved
given he takes few more days leave from work. He promised to get back to me seeing his other
commitments at work.
He somehow managed to get the additional leaves approved and was keen to do the Ktop along with
Spiti.
Now we are at cross roads again. I need to come up with new itinerary, budget calculation and etc. No
wonder I became an itinerary expert for Leh and Spiti tour, thanks to my boys... lol
We decided to catch up on friendship day to sort this out and after lot of devising all of us agreed to
extend the trip and complete Leh as well.
By this time, we had a group on WhatsApp to discuss various things like things to carry, places to visit
and etc. We started ordering items like riding gear, action cameras, etc and thanks to technology for
giving us a scope to do daily jam.
In another weekend, the tickets were rescheduled and were eagerly waiting for the D day.
The Spiti trip has now successfully changed to Leh and Spiti tour.
Chapter 3
The mission begins
Men – Sai Sathuluri, Arijit Yadav, Kiran Ganji and Rajesh Veeramachineni
Machines – RE Classic 350 * 3
Miles – 2000
High Level Itinerary –
Aug 20 - Hyderabad to Delhi to Manali
Aug 21 - Manali Rest Day
Aug 22 - Manali to Bharatpur
Aug 23 - Bharatpur to Leh
Aug 24 - Leh to Ktop to Leh
Aug 25 - Leh to Jispa
Aug 26 - Jispa to Batal
Aug 27 - Batal to Kaza
Aug 28 - Kaza Local Touring
Aug 29 - Kaza to Pooh
Aug 30 - Pooh to Sangla
Aug 31 - Sangla to Anni
Sep 01 - Anni to Manali
Sep 02 - Manali to Delhi
Sep 03 - Delhi Rest Day
Sep 04 - Delhi to Hyderabad
As it happened…
Day 1 -
Started from home at 8.30 am
Reached RGIA airport at 9.45 am
Boarded the flight at 11.30 am
Arrival in Delhi at 2 pm
Lunch at Vaishno Dhaba
Boarded the Manali bus at 5.30 pm
Got to Haryana by 7.40 pm
Dinner at 10 pm @ Green Valley Punjabi Dhaba near Chandigarh
Day 2 -
Chai Break near Mandi at 7 am
Reached Manali at 10.30 Am
Lunch at Phunksuk
Bike Modifications and Visit to local market
Dinner at World peace cafe
Day 3 -
Started from Manali at 8.15
On Rohtang pass around 11
Lunch at Koksar
Reached Tandi at 3 pm
On Barlachala at 6 pm
Stay @ Sunrise Dhaba at Bharatpur
Day 4 -
Photoshoot near Sarchu
Lunch at Pang
Smooth roads after pang
On top of Tangla at 5 pm
Reached Leh at 8 pm
Stay at Solpon Guest House
Dinner from Otsal Restaurant
Day 5 -
Visit to KTop
Shopping in Leh market
Evening Lunch at Pizza Hut Restaurant in Leh
Fuel Reload & Bike fixing at RE service center
Dinner from Otsal Restaurant
Day 6 -
Early start from Leh
Lunch at Pang
Chai break at Sarchu
Stay at Padma Lodge in Jispa
Drinks and Food at same place
Day 7 -
Late start from Jispa
Lunch at Sissu
Chai Break at Chatri
Reached Batal at 7 pm
Dinner & Stay at Chacha Chachi Chandra Dhaba
Day 8 -
Rainy morning in Batal
Trek to Chandratal Lake
Lunch at Tenzen Camps near Chandratal
Pit stop at Kunzum pass
Reached Kaza by 6 pm
Drinks & Dinner at Winter White Spiti
Day 9 -
Visit to Key Monastery
Visit to Kibber Village
Visit to Langza village
Visit to Komic Village
Visit to Hikkim Post office
Evening Stay at Winter White
Day 10 -
Lunch at Tabo
Reached Sumdo at 3.15 pm
Massive landslides enroute Sumdo to Chango
Reached Nako at 6 pm
Stay at Valley View restaurant in Pooh
Day 11 -
Ride via Spilow and Kinnaur check post
Fuel refill at Powari
Visit to Sangla Valley
Started to Chitkul Valley
Spend time at Army Checkpost in Rakkcham
Return to Sangla and Stay at Mount Kailash Hotel
Day 12 -
Breakfast at Kailash Hotel at Sangla
Road closed at Wangdoo due to landslides
Snack Break at Rampur
Diversion at Sanjee towards Manali
Hotel and Dinner at Anni
Day 12 -
Ride through Jalori Pass
Reached Manali by 2 pm
Party at World Peace Cafe in Manali
Day 13 -
Manali to Delhi
Delhi Local Touring
Day 14 -
Delhi to Hyderabad
We had dealt with everything possible in those two weeks be it an evil emotion, harsh weather or a bike
failure but we stood strong as an unit and conquered those mighty mountains.
I would like to take this as an opportunity to thank my fellow riders Arijit, Rajesh and Kiran for trusting
my decisions and being a great wall of support throughout the journey.
Big thanks to each and every one who played their part in making this trip a huge success.