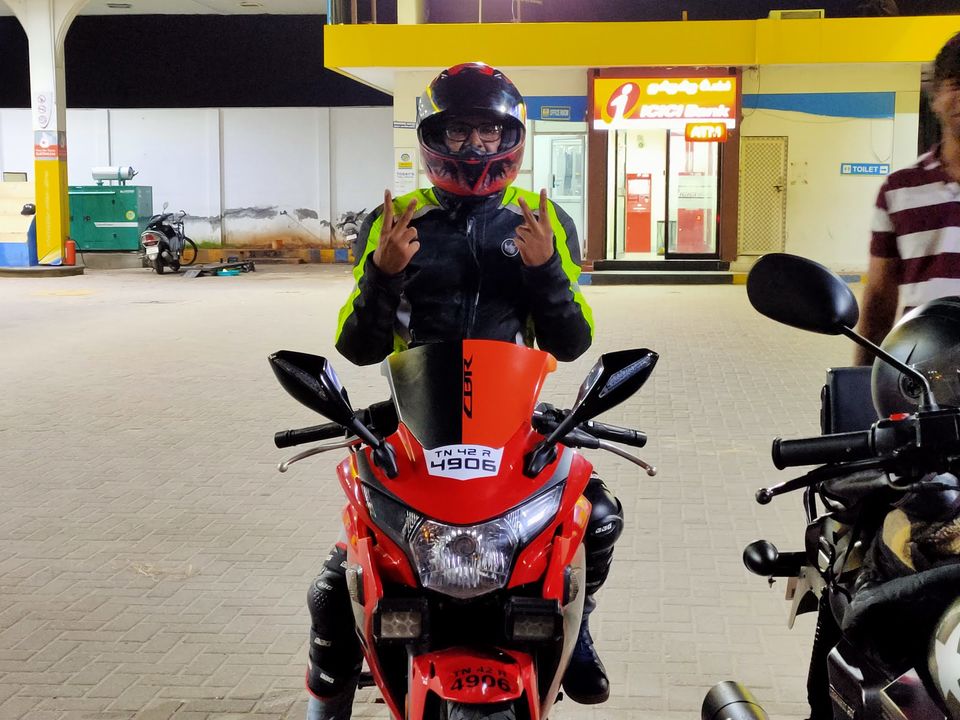 Another Sunday, another one day trip. And we were gonna hit the outskirts of Karnataka yet again. It was Gopalaswamy Hills we were hitting to, 164 Kms from Tiruppur. So it was the same old plan, get up by 4 and start by 5. But, it did work this time. Lol.
We were 6 people on 5 bikes, wishing for a getaway from our daily routines.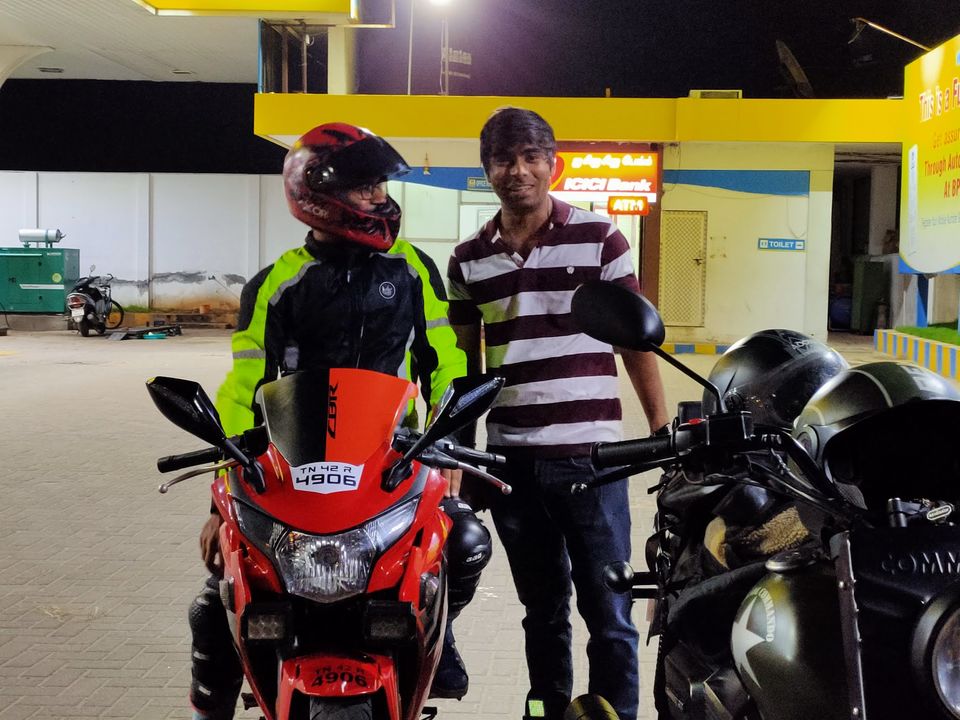 This was the early morning click with my friend Sridhar. I don't know how i hang out with this guy, but if you see my stats you'd realize that most of my rides a.k.a trips has been with him. So, this guy was coming with a touring bike against four sporty ones. Yeah, he drives a Renegade Commando 300. And oh man, it really gave him a hard time during the uphill.
Don't get fooled by this smile, he's begging us to take him back home inside his helmet.
So, we again took the way via Dhimbham. And, i'm really getting bored by that route. But, we don't have much of a choice guys. It's the fastest way to Karnataka.
Just like the last time, we stopped at Bannari for breakfast. It was 6.30 and we were right on time, to our surprise.
27 hairpin bends uphill and the traditional tophill photos is what we took. But, this time we didn't waste much time. To be honest, we stood for only 5 minutes there.
This is the tiniest guy of my group and dies for the very single photo we can get of him. After few clicks there, we left for Gopalaswamy Hills, some 68 kms from there.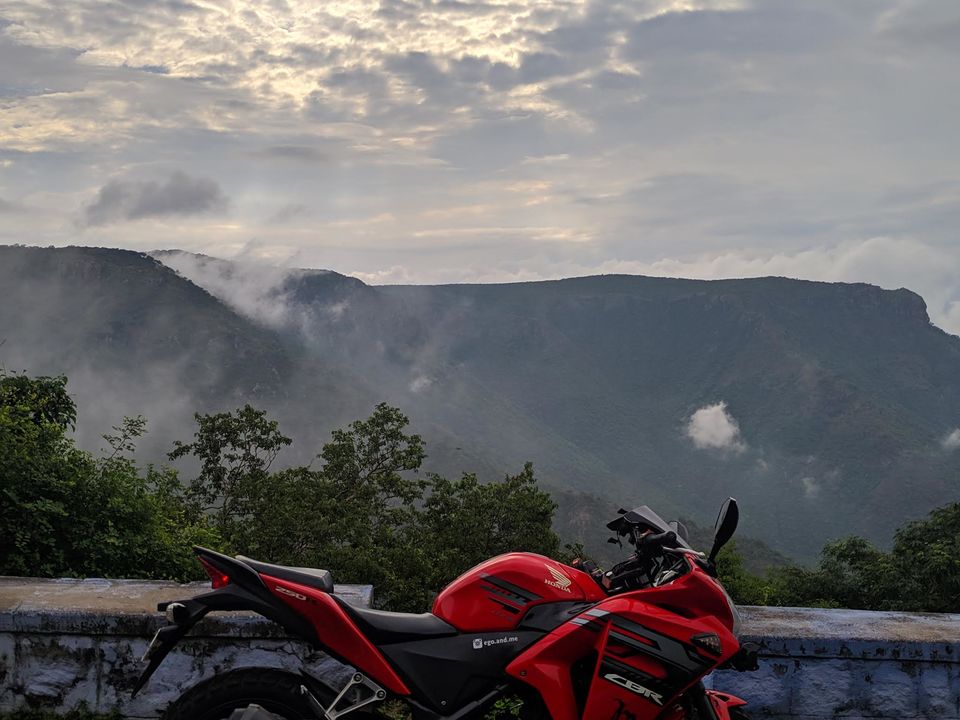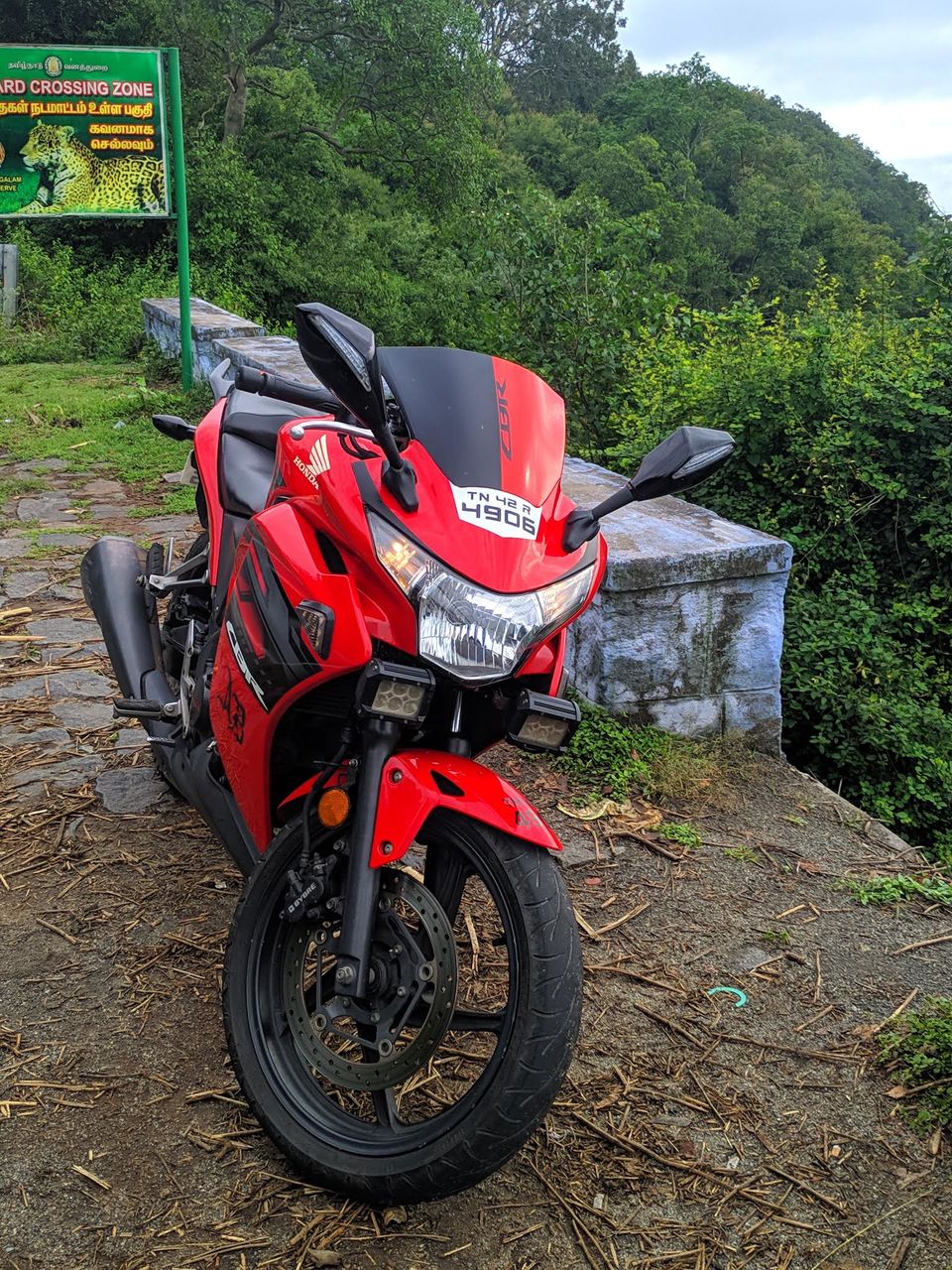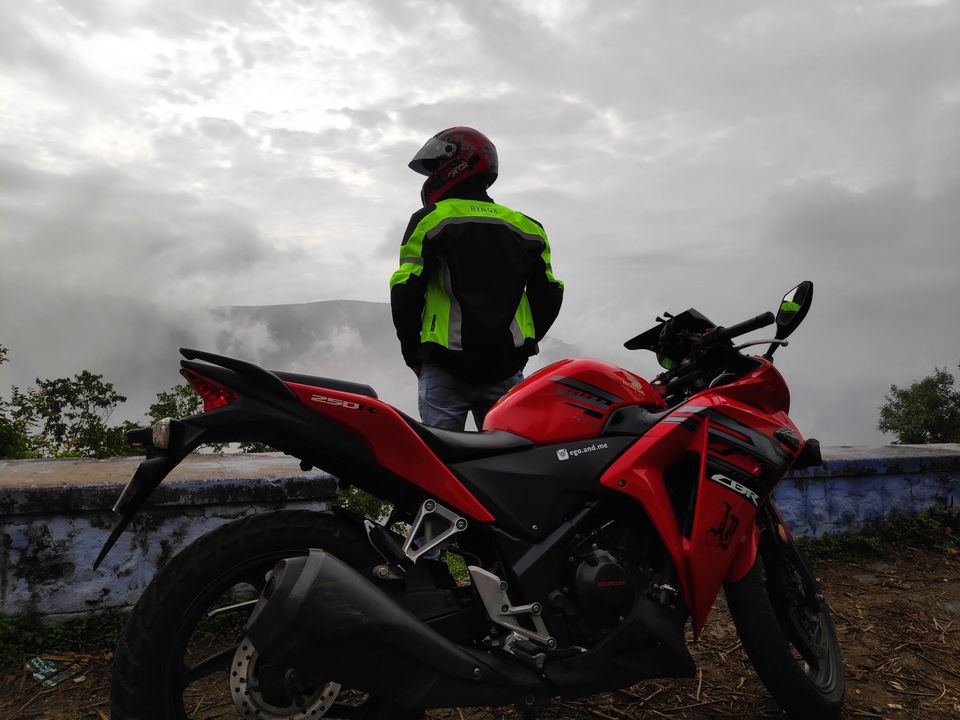 As i've already mentioned in my earlier blogs about the Karnataka roads after crossing the TN border, it was no different this time too. We're in fact kind of used to it now except for one guy who literally hates such roads and swore to never opt for this road. Lol.
It took a while to cross it as the road was all wet due to heavy rains. Once we were done with it, we stopped at the Chamrajnagar NH to relax our hands a bit. And after having driven on those roads, this NH seemed like heaven.
The road to Gopalaswamy Hills was just amazing. I've got a lot of photos to show you how amazing it was.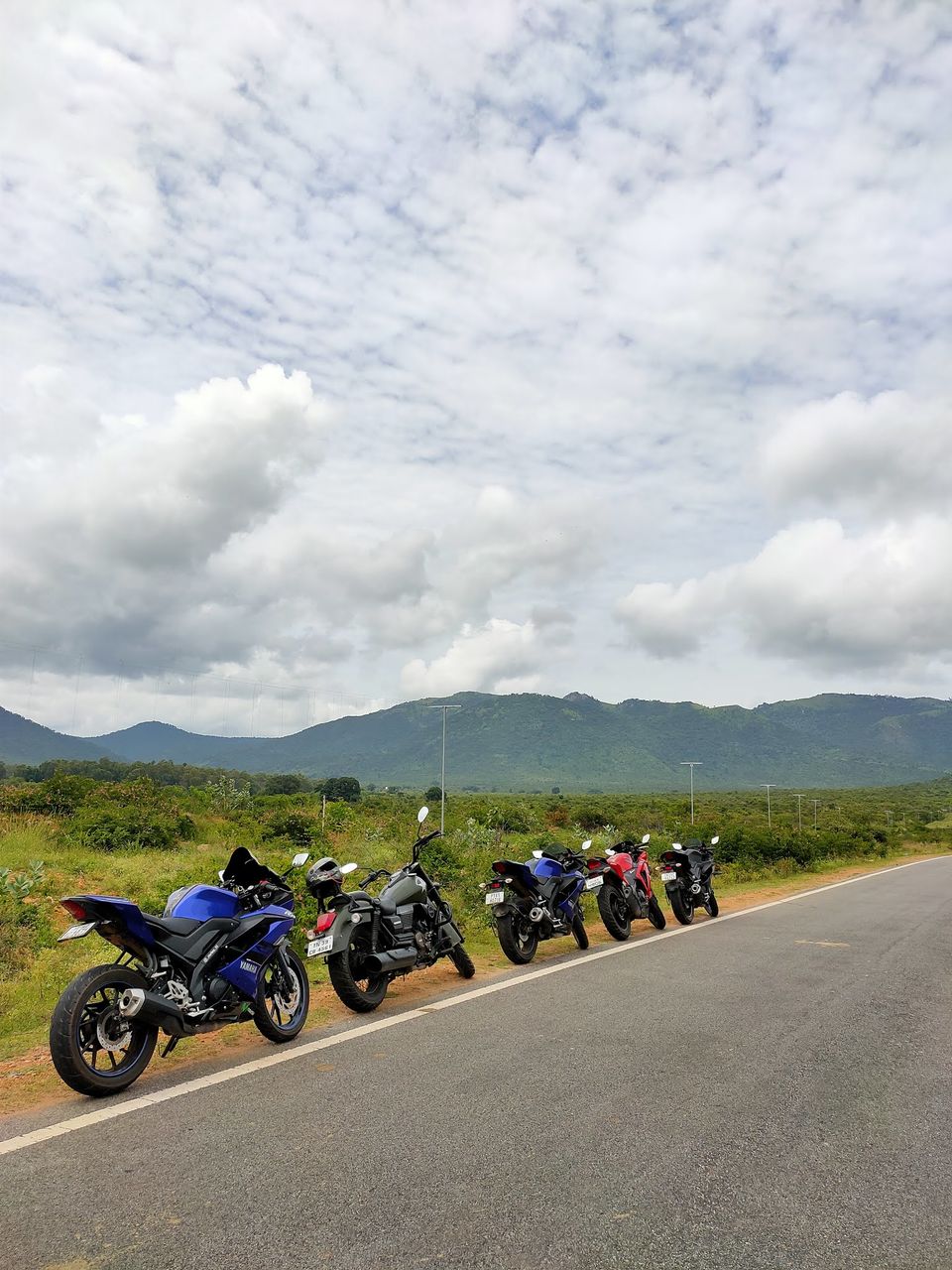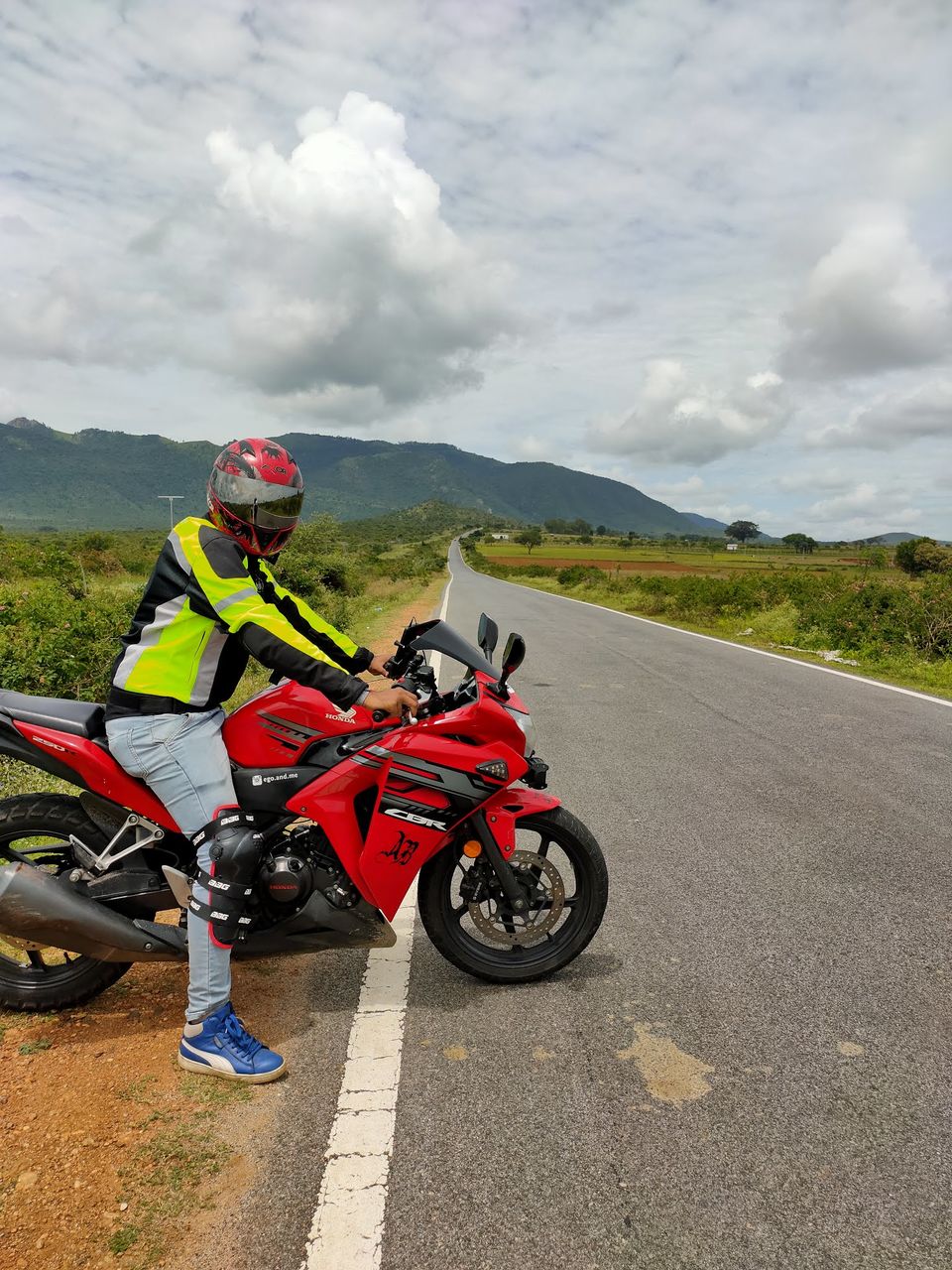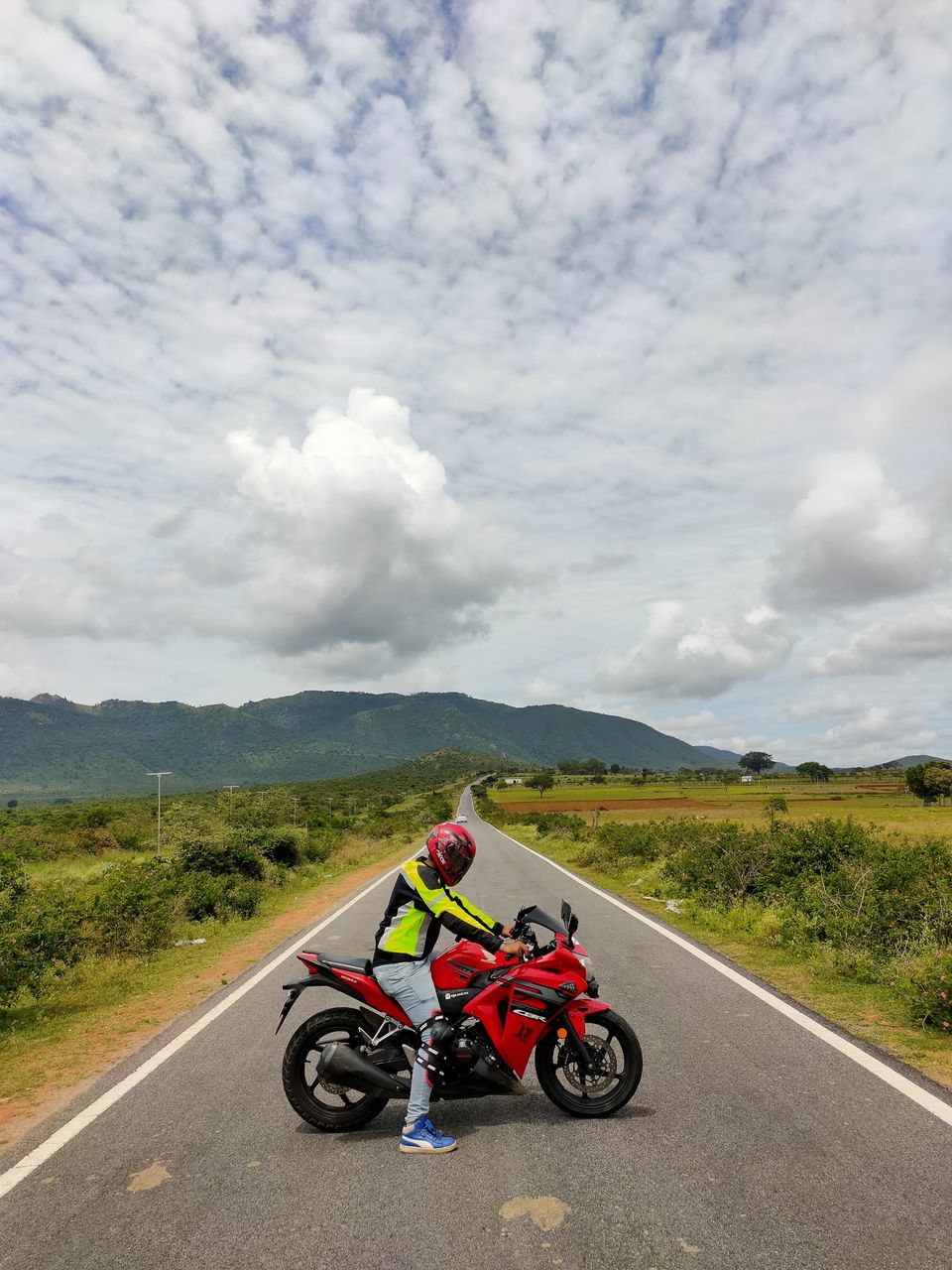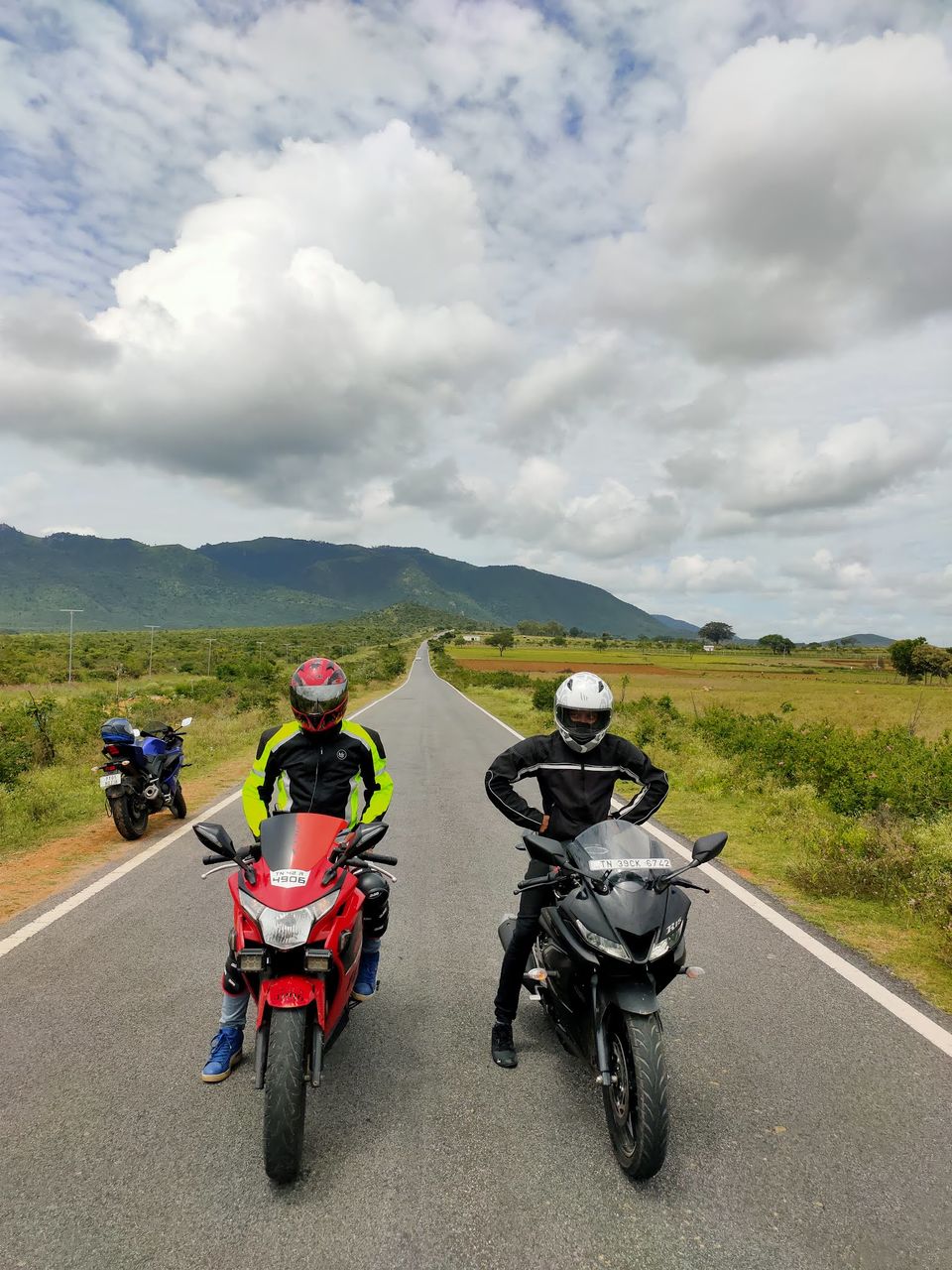 There's just a temple at the top of Gopalaswamy Hills. And the bad part is that no bikes or cars are allowed uphill. You're supposed to park your vehicles at a facility and you'd be taken to the top by a bus. We just lost all our spark knowing that . So, we left the location.
We decided to go Ooty via Bandipur and trust me you won't find any better road with that sort of calmness anywhere else. The only drawback was that since it is a forest we're not supposed to stop anywhere in between. The climate was lovely and it was so peaceful traversing through it with earphones on, that we did'nt want leaving the place. When we reached the checkpost connecting Bandipur and Muthumalai Tiger Reserve, we were greeted graciously by the Inspectors there since we were in complete kit. And trust me, it felt soo good. I used to run all my college life from all the Inspectors for helmet or license but this respect felt real good.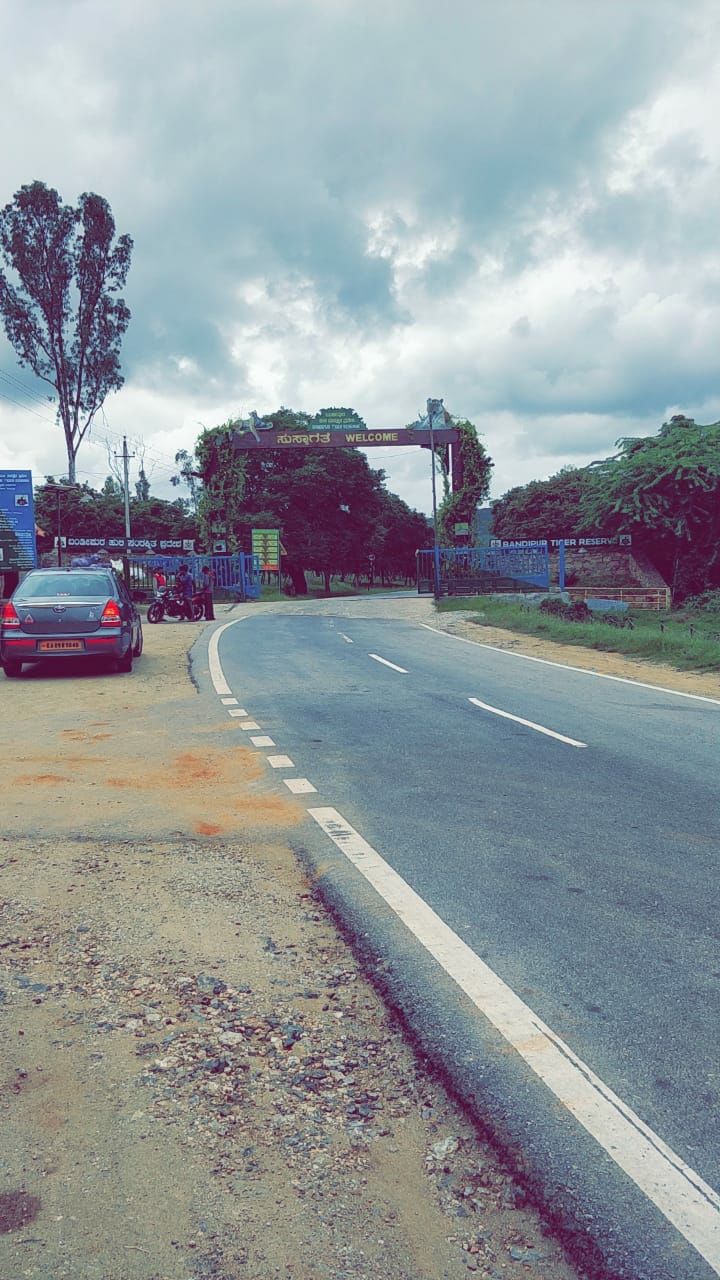 This was a selfie video i took traversing through Muthumalai. I thought it'd be good. Do tell me if it's not.
Then we touched the Masinagudi-Ooty road. It had 36 hairpin bends and the road was too steep and high. My bike struggled abit but the climate balanced it cause it was starting to chill up. And Ooty climate was fabulous. It was foggy and very cold. I'm a very sensitive person, so it was very cold to me. The Ooty guy with me was shivering as well, hence i didn't find my body behaving odd. We decided to go downhill via Kothagiri cause the roads are good and less crowded. Doddabetta is near the Kothagiri road and man i haven't seen this much fog at Doddabetta all my life.
We were just loving it there and then the downpour began. Rain with fog while going down the hill is just a nightmare. We were shivering really bad but the road was good.
After crossing Kothagiri the sky cleared up and it was all great then. We raced down the hill till Mettupalayam. We took a small break near Annur where two bikes parted ways. They headed to Coimbatore and we reached home by 8 PM. It was a complete 372 kms ride which was great, thanks to a lot of factors but majorly thanks to the company i had.
It's a pleasure riding with these guys.
Cheers :)