When I woke up today, I was hoping that the sunrise would be equally good as the previous day's sunset. But all I could see were clouds in the sky. The sun was nowhere to be seen! Well, I wasn't disappointed since the cloudy weather would definitely give us some relief from the sharp sunrays. Initially, we weren't able to sleep as a puppy was continuously trying to smother us with its love. As soon as it left us, I just dozed off under the starry sky. We woke up something like this :)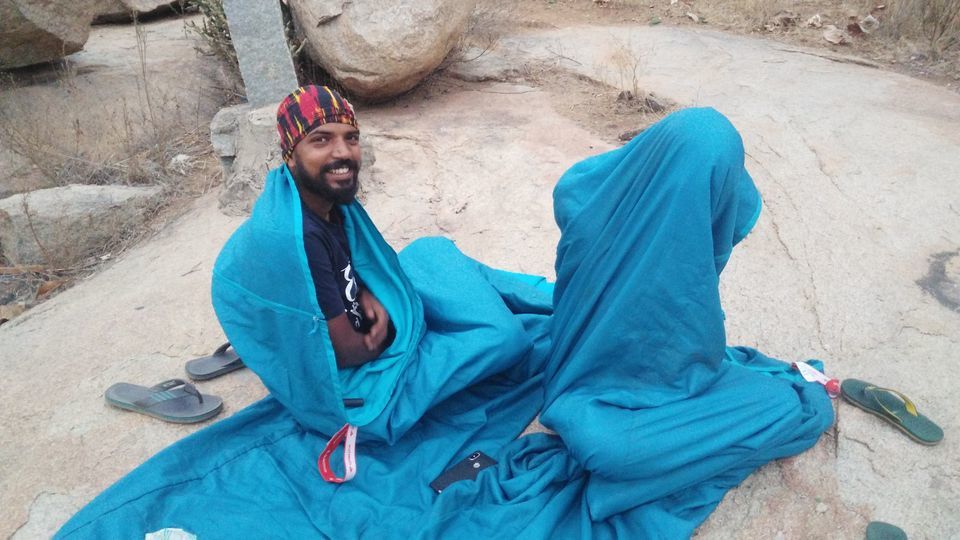 We were going to explore the temple side of Hampi today. Since everyone was waking up slowly, we decided to head to the boulders again :) We could see the gopuram of the Virupaksha Temple in the distance. That was going to be our first stop for the day. There was a group of foreigners practicing on a rock. When I went closer, I noticed one of them looked like Daniel Radcliffe! He even had the trademark Harry Potter glasses!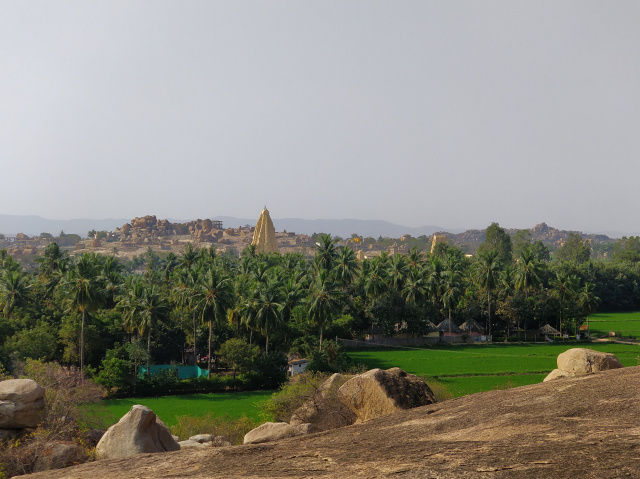 We had our breakfast and started packing our bags. But the leads shared there is a surprise activity that is going to happen. Music therapy! Wow! I was intrigued and waiting how it was going to be. We went to the site where the tents were pitched. A musician was waiting for us with different kinds of instruments. The ground was covered with sheets and mattresses and all of us laid down. What happened for the next 1 hour was an unforgettable experience. He played such soothing tunes that transported us to another world. He came with his instruments near each and every one of us while we were lying down and played them around our ears. With the sound of the wind blowing past us and rustling of the leaves on the trees, the music created a brilliant symphony and helped us relax. The musician was a local named Gali Durugappa. You can read more about him here. You must listen to his music if you are in Hampi. He has even composed a short song about Hampi and trust me it's amazing!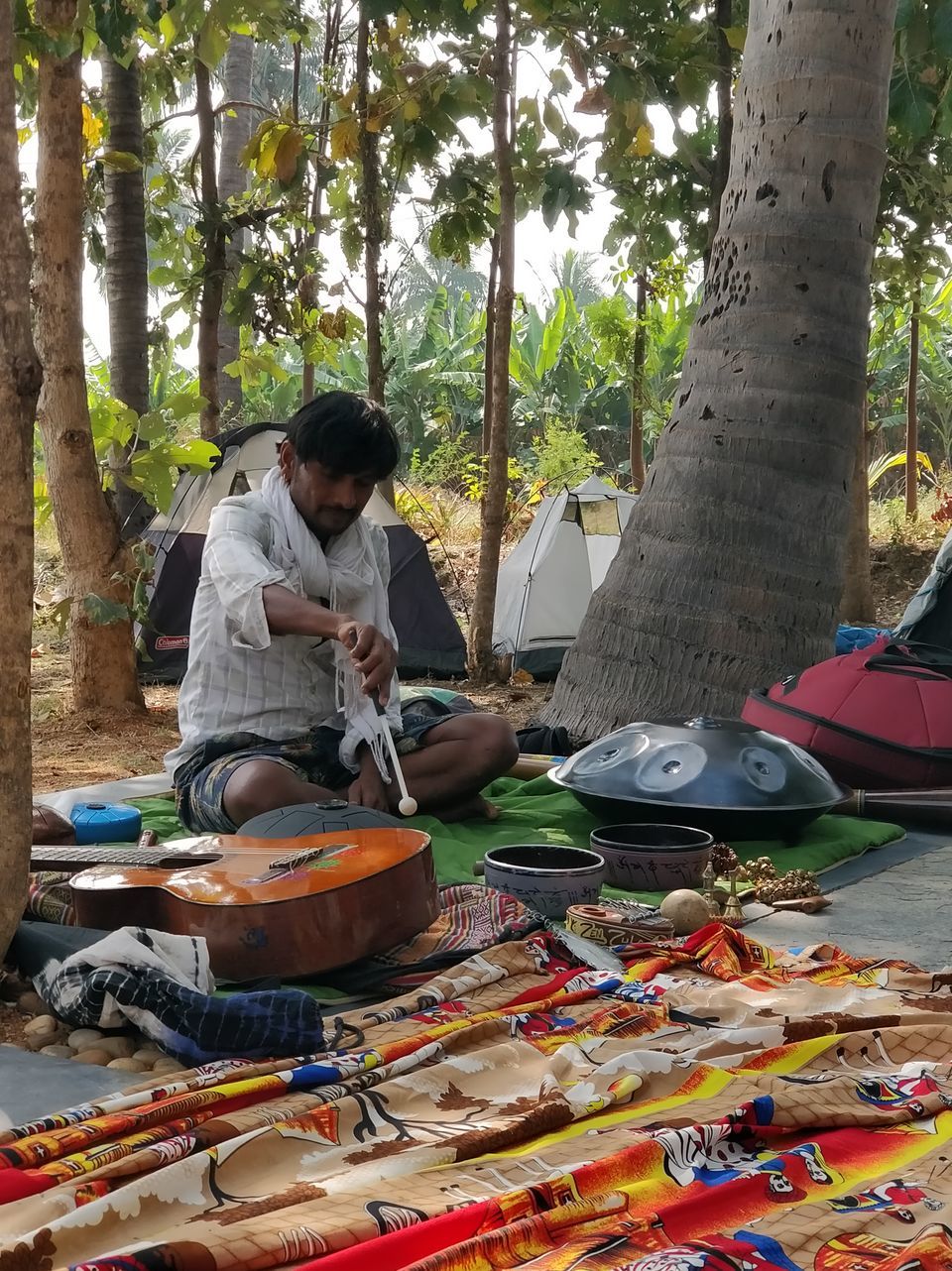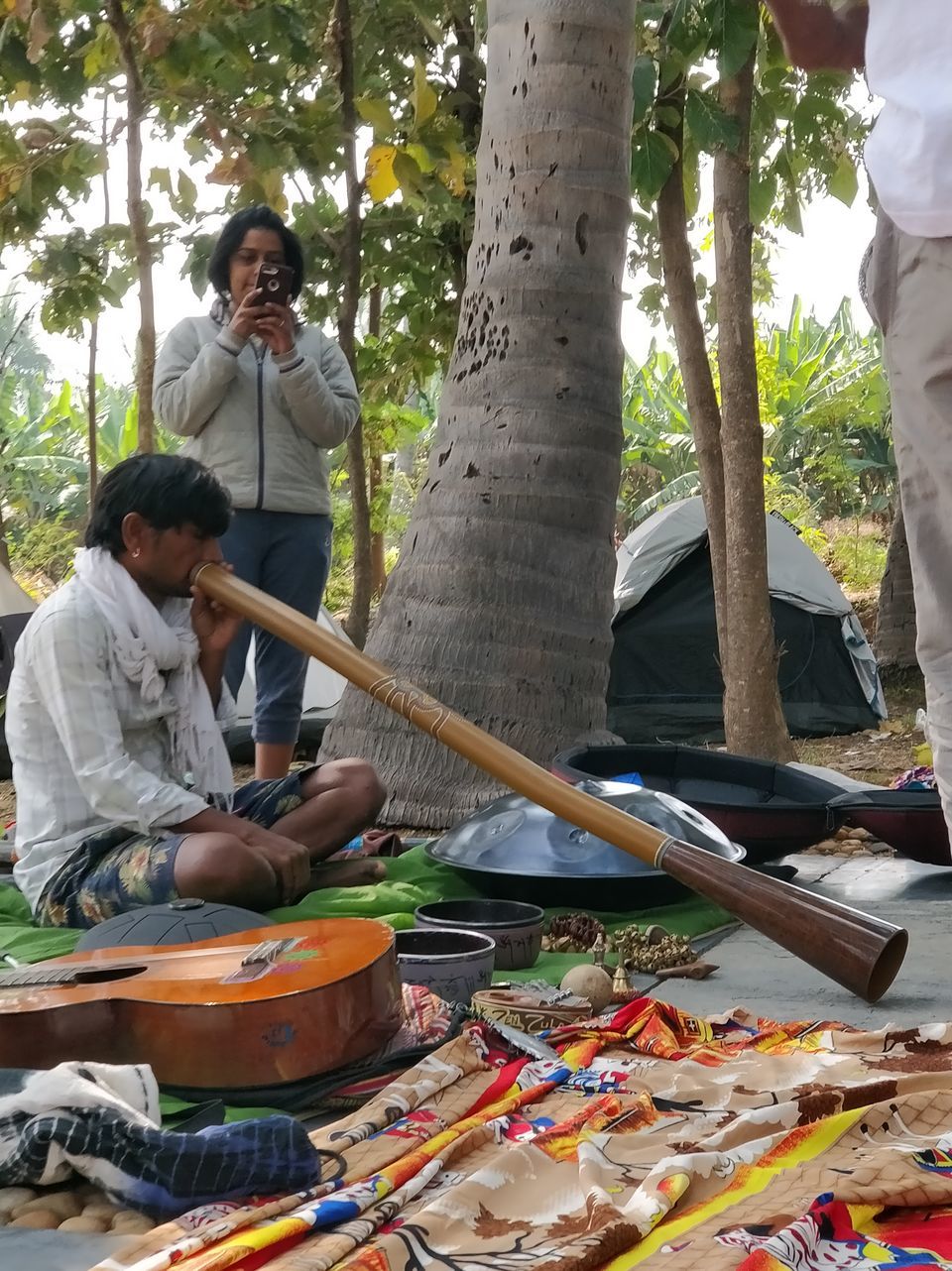 After this, we bid goodbye to the folks at the campsite and proceeded to the river crossing to catch a boat to go to the other side. While walking, we came across these lush green paddy fields swaying from left to right in the cool breeze. Quite an enchanting sight!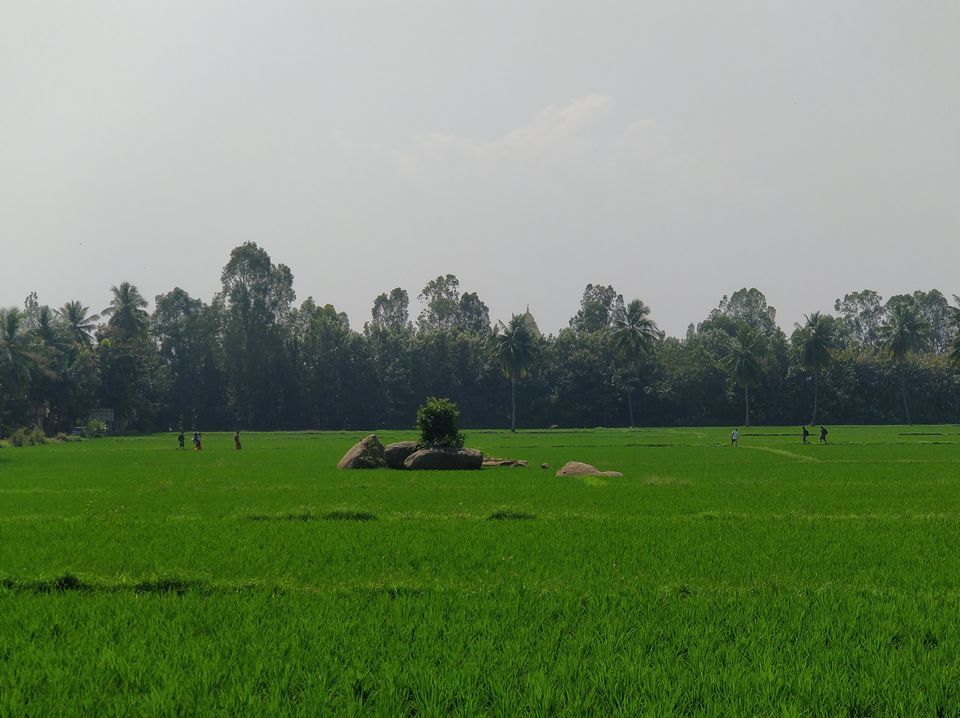 We reached the pick up point and waited for our turn. This point was straight down the road from Sunny's bouldering school. The boat charges Rs. 50 per person (included in PTU charges). The last boat leaves at 5.30 PM. There were loads of people moving from both sides.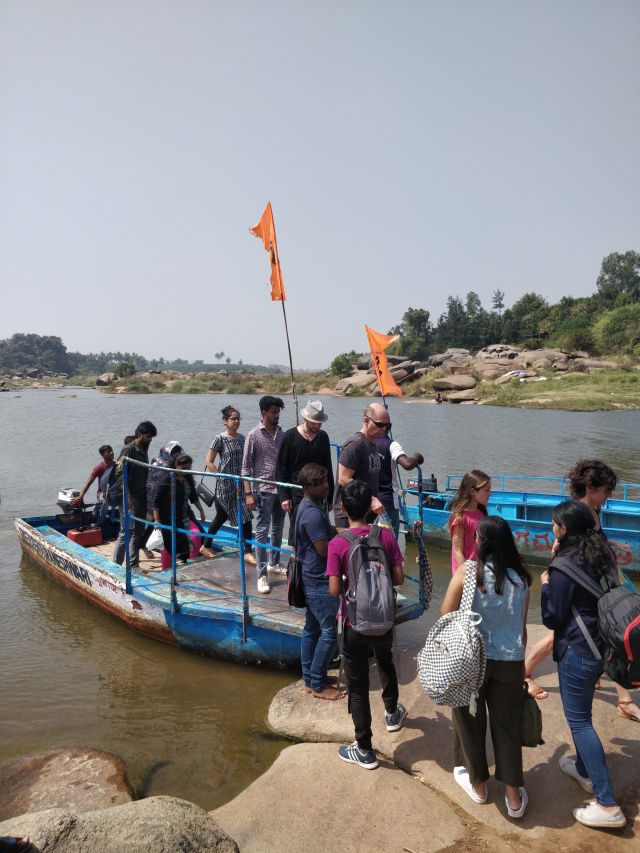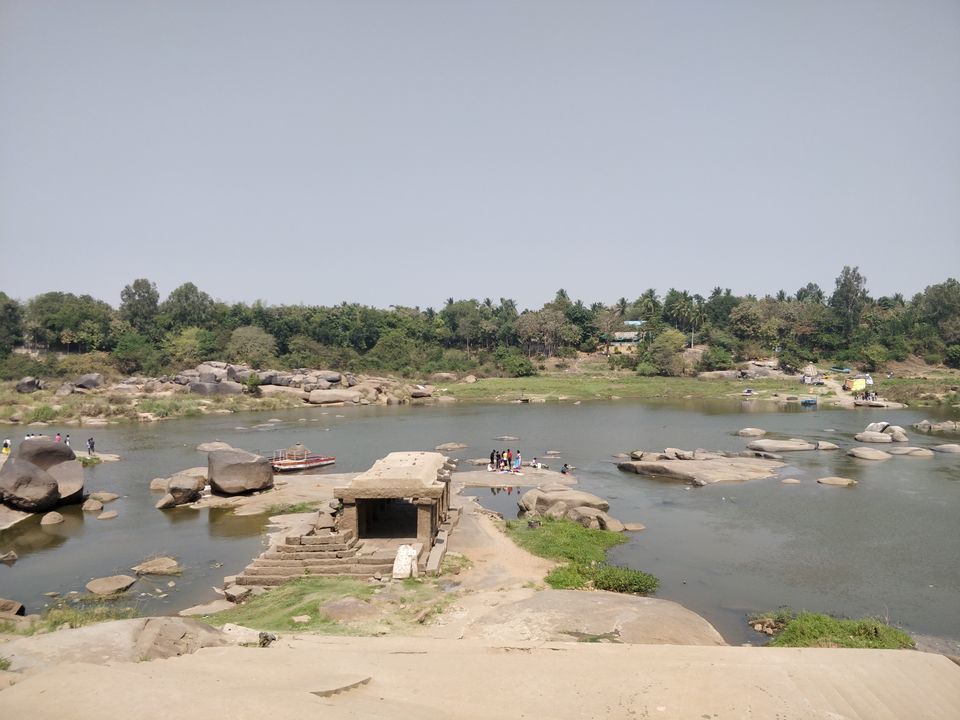 Virupaksha temple complex was built around 7th Century AD under the patronage of the Vijayanagar Empire. It's dedicated to Lord Shiva and is one of the oldest functioning temples in India. The intricate work on the gopurams and pillars is a sight to behold. History and architecture lovers are sure to find this place a treat to their eyes :) There is also an interesting place in the temple complex where you can see an inverted shadow of this gopuram cast through a small opening in the temple walls. A 700 year old mystery !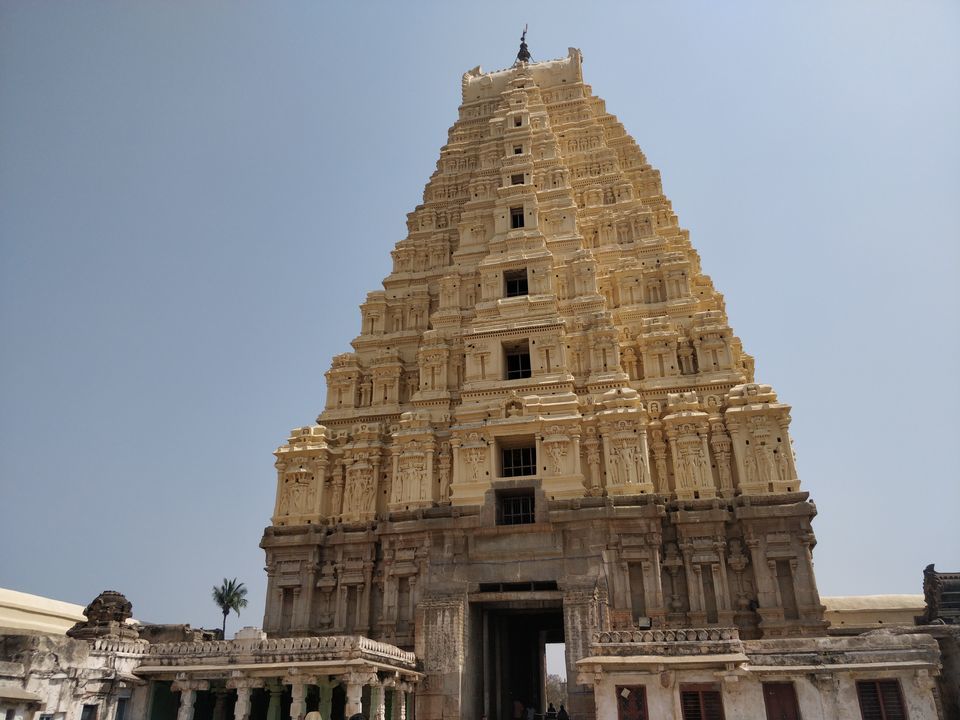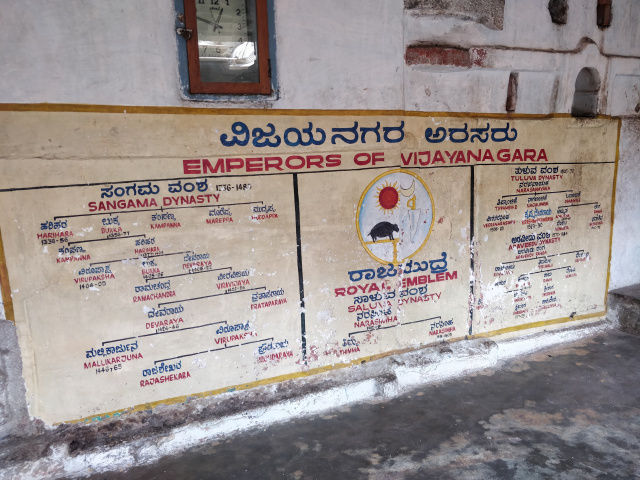 It was noon and all of us were hungry. We marched towards the most famous restaurant of Hampi - Mango Tree. But somehow I didn't feel like eating. I wanted to make the most of my time in Hampi exploring the streets. So I went off in another direction. I have this strong compulsion to buy something from a place I visit. I had bought postcards and fridge magnets during my Spiti trip. I already bought a book and some postcards from the temple complex shop. Now it was time to find the fridge magnet :) My luck was good and I quickly found a shop selling some. I bought one for myself and Akshit, who had earlier asked me to buy if I find one. When I went back to the restaurant and showed it to Pujitha, even she liked it and bought one for her mother :)
It was time to move to the next stop which was a little far from here. We went to the parking lot only to find that the drivers were missing! We tried reaching them on phone but in vain. Only BSNL works properly in Hampi. Other networks like Airtel, Jio work only in some parts. We were almost starting to walk on foot when the drivers arrived. We quickly got in and started. Next stop was Queen's bath.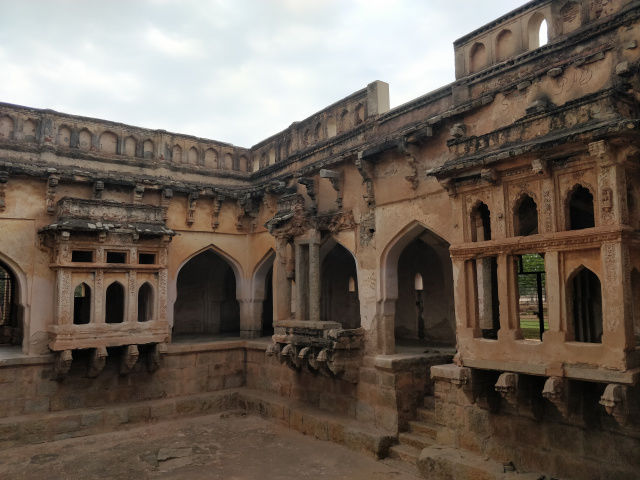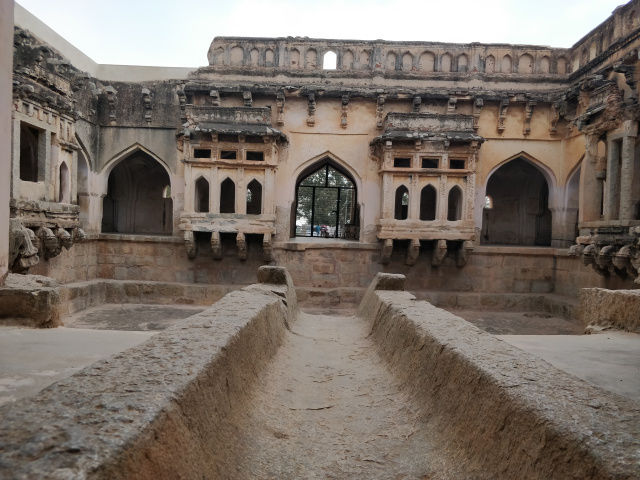 Just a few meters from here, we found the place which is very famous for its symmetrical design. It's known as the Stepped Tank or Pushkarani. But as soon as we reached here, it started raining! The natural light was fading slowly and I wanted to make the maximum use of it. So me and Akshit ran as fast as we could. The well was a real masterpiece. Its located near the Royal Enclosure and is made out of black stone. It was used in olden days for religious ceremonies for the royals. Today, it has become one of the most photographed places in Hampi. Sometimes you can't help but wonder how our ancestors were able to carve out such magnificent symmetrical structures!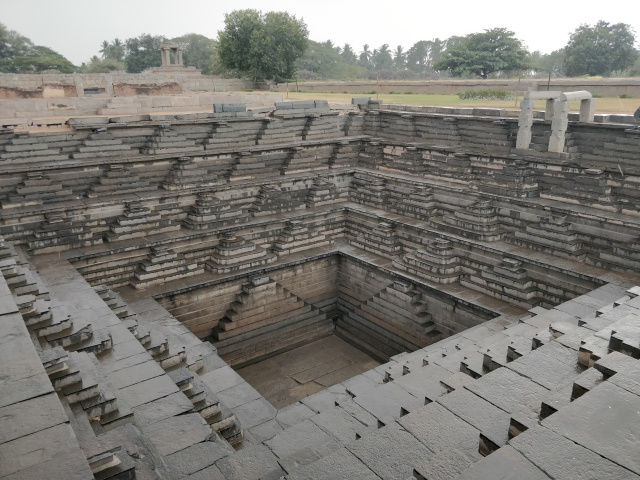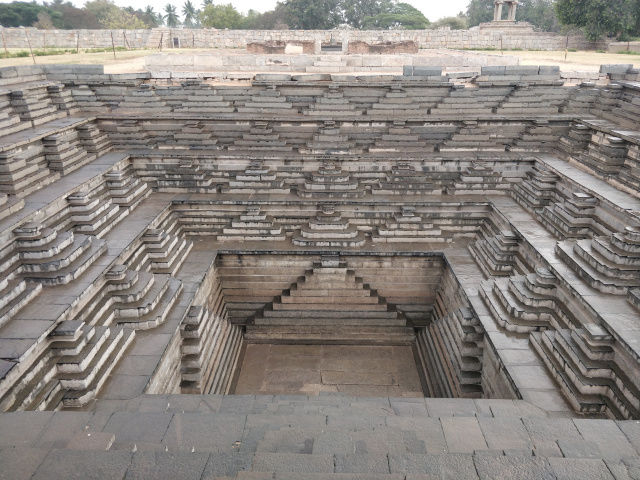 Once the rain stopped, we moved on to the final destination for the day - Vitthala Temple. This is the another masterpiece from the Vijayanagar Empire. The temple is dedicated to Lord Vitthala - a form of Lord Vishnu. Since it was getting late, we decided to walk to the temple entrance. Otherwise you can opt for the battery operated vehicle for which you need to stand in a queue. The path to the temple complex was filled with a lot of structures. Finally, we were here at the grand entrance! Though it was damaged by invaders over the course of time, it still stands tall in eternal glory.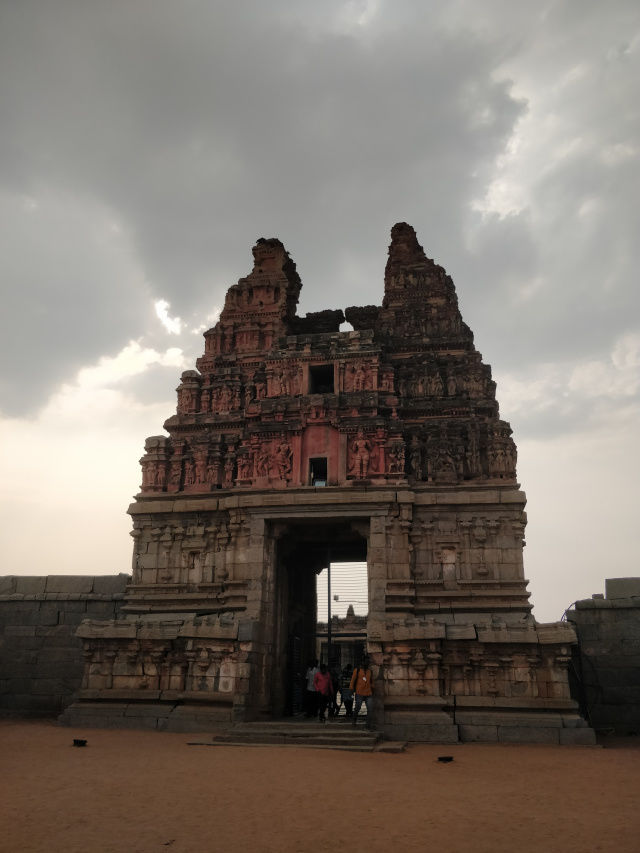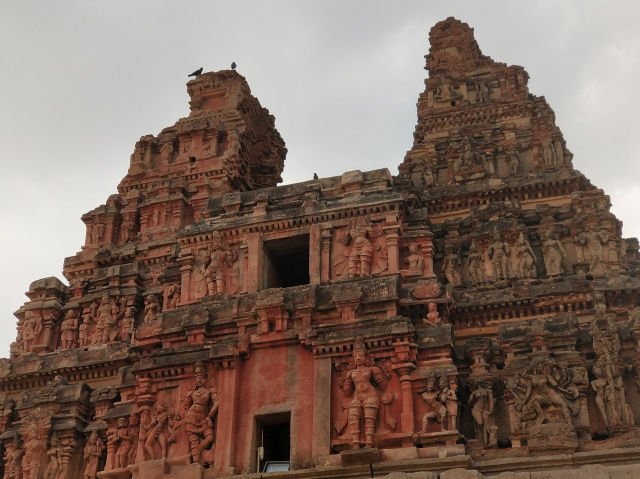 Once you enter the complex, we were greeted by this stunning chariot made of stone which has become the symbol of Hampi worldwide. The chariot looks as if it is made out of a single block of stone. But it is not. The joints are so smartly hidden that it gives an impression of being a singular structure. It is dedicated to Garuda, the vahana of Lord Vishnu. This iconic monument has made it to the back of the new 50 Rs. note as well.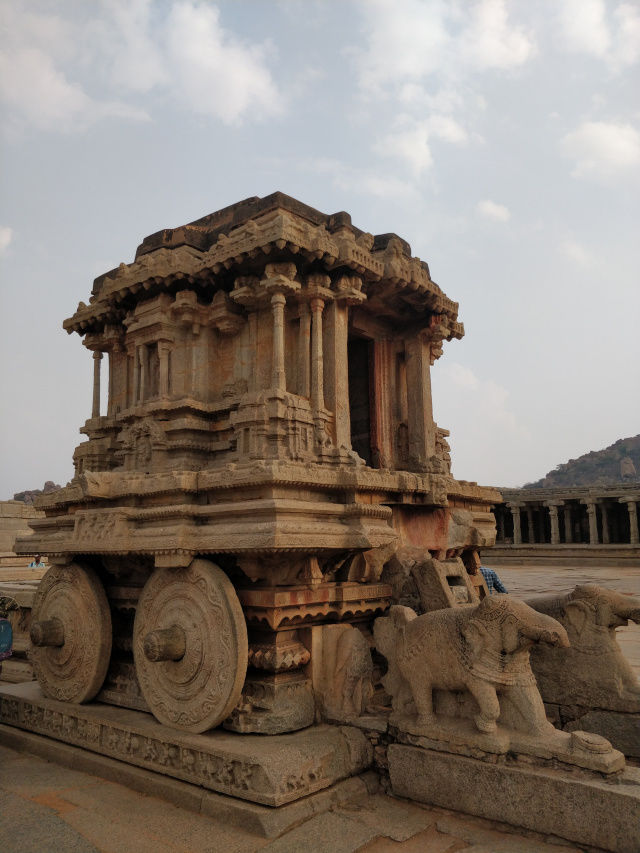 Further on, facing the stone chariot, is the Maha Mantapa. After going inside, we could see some really intricate carvings on the pillar. On the periphery of the hall, we saw these smaller pillars which are popularly known as the musical pillars. It is said that they emit musical tones when tapped gently!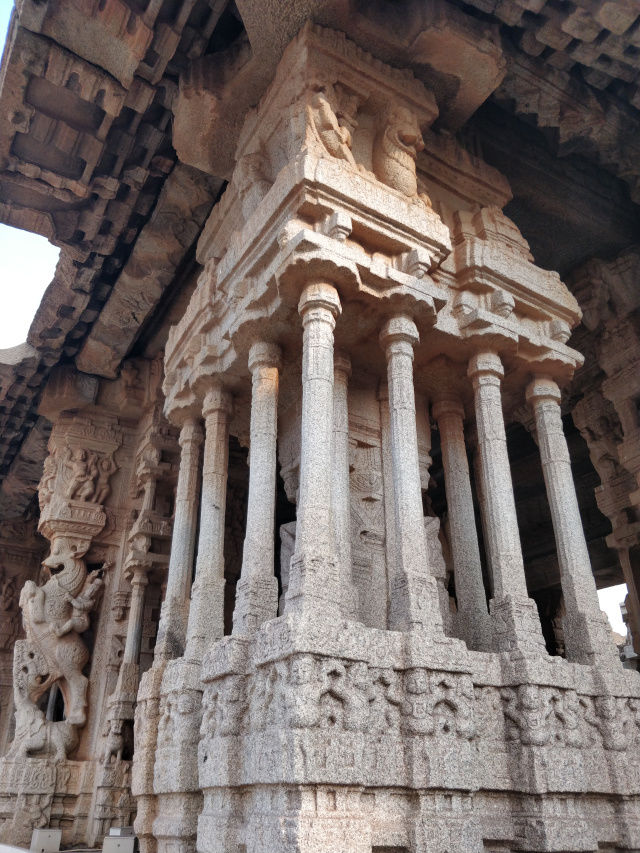 The entire temple complex is filled with carvings. You could spend a day here trying to understand their meanings. One must definitely hire a guide to understand the beautiful history behind these stunning structures. Outside the entrance were these short pillars standing tall spaced out evenly. They were a part of the bazaar which used to be held here in olden days.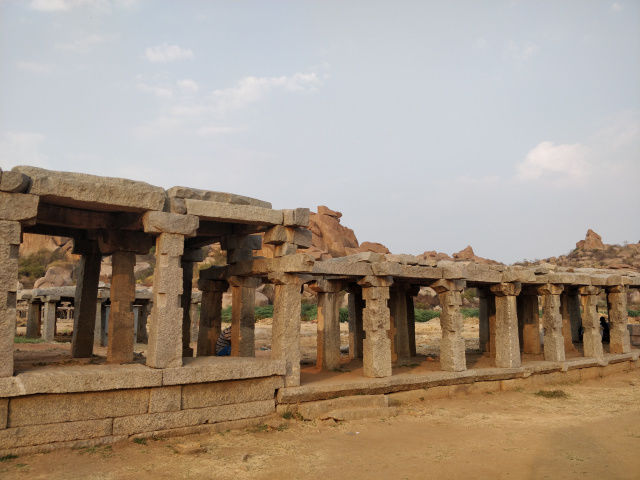 Meanwhile, some of the folks from our group decided to make the best use of these heritage structures by enacting various poses from our mythology :)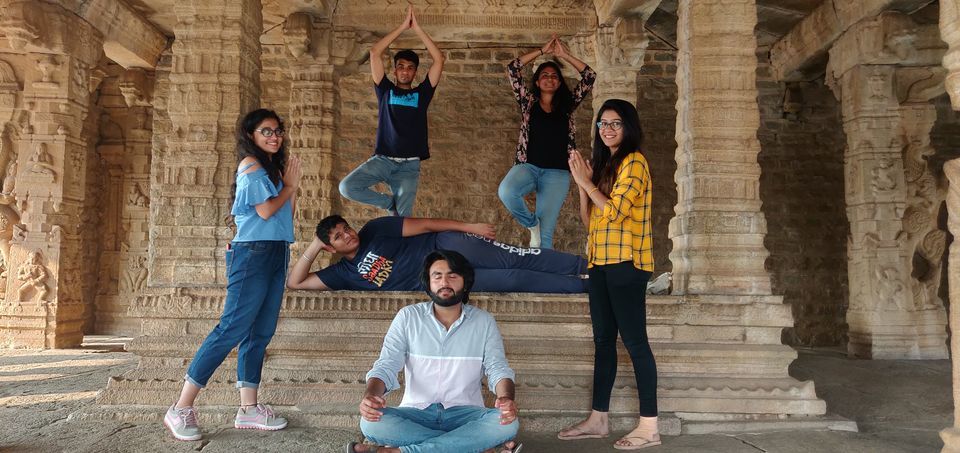 The sun was setting down and soon it was time for us to depart. After a long and eventful day, we treated ourselves to ice-cream, coconut water, churmuris and god knows what all! After taking a last look at the monuments, we started our walk back to the bus with a heavy heart.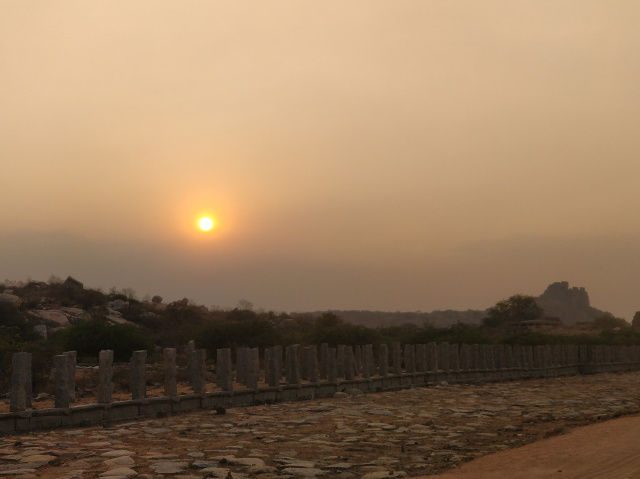 We began our journey to Bangalore with Hampi memories to last for a lifetime. I would definitely love to come back again and explore it thoroughly. On the way back, we had the signature PTU wrap up wherein each one of us was given a title and a badge. I got the Gumsum award owing to me quiet and introvert nature :) All of us gave our feedback and experiences about the trip. I definitely had made new friends whom I would remember for a long time. We reached Bangalore early morning next day and after bidding goodbye to each other, went to our respective destinations with memories to cherish forever.