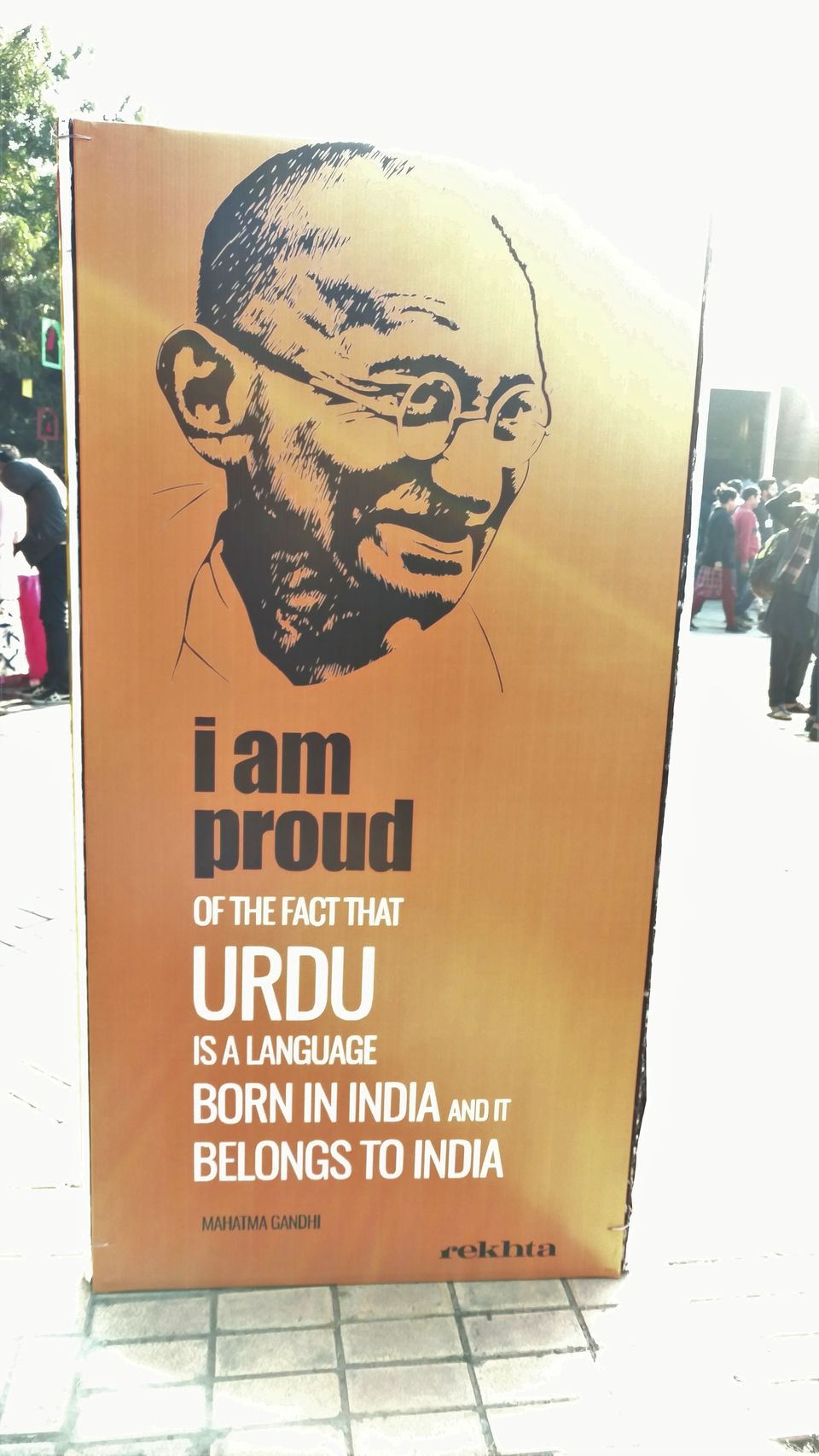 या ख़ुदा यदि तुम्हारी इबादत संस्कृत में कर दी,
हे प्रभु तुम्हारी प्रार्थना को फ़ारसी मे गा दिया,
तो क्या तुम बुरा मान जाओगे ?
लोग तो यही कहते हैं
पता नहीं सच क्या है।
- कुंवर नारायण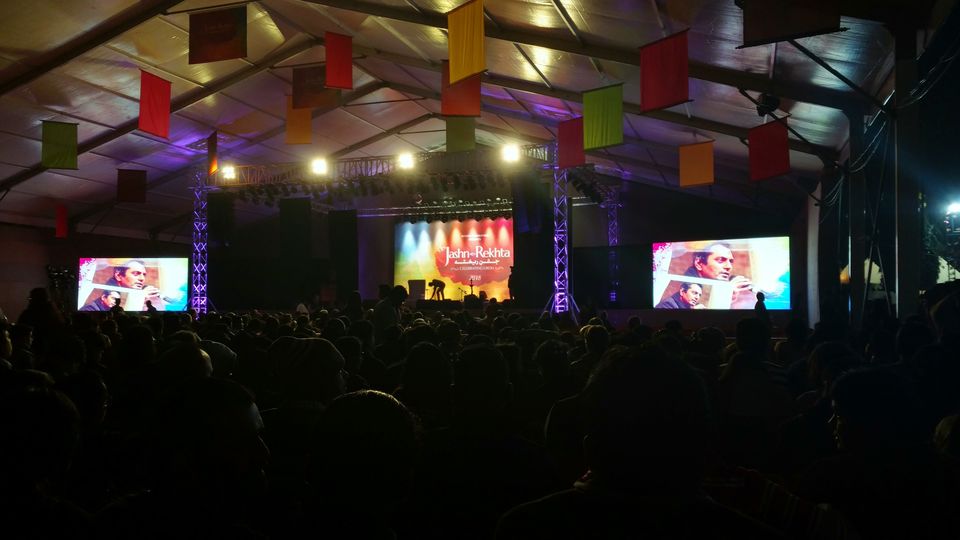 This was Jashn-e-Rekhta's fifth edition and my first experience of this beautiful festival which show cases the rich culture and tradition of this intriguingly pluralistic country of India. It stretched from 14th to 16th December 2018, at the Major Dhyan Chand National Stadium, New Delhi.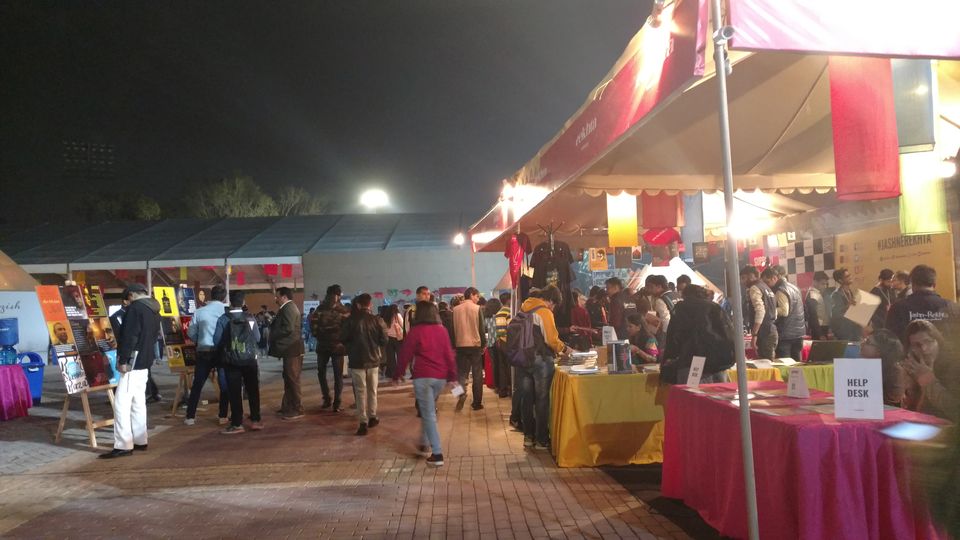 It was a well thought out and well managed show. All the details of the festival were conveyed, to all those attending the show, well in advance. In this age when the accessibility to a large part of our art and culture is being hijacked by the corporate-elite combine, the entry to this festival was free !! It therefore came as a surprise when I found out that the founder of Rekhta organisation was a businessman called Sanjiv Saraf.
This gesture was further appreciated by the audience considering the fact that a large number of big stars like the Wadali Brothers, Javed Akhtar, Shabana Azmi, Vishal Bhardwaj, Javed Jaaferi, Warsi Brothers, as well as Waseem Barelvi, Malini Awasthi, Mahmood Farooqui,Aasif Sheikh, Anu Kapoor, Kumar Vishwas, Sonam Kalra etc. were participating in this festival.
It was a three-day long festivals with four parallel sessions running from 11 am to beyond nine o'clock in the night. Whether you were a student of Urdu language, a budding poet, an academician, a fan of Urdu and Bollywood songs, or just someone who appreciated the pluralistic traditions of India- that is called the Ganga-Jamuni tehzeeb , there was something for all. Contrary to having been branded as the 'language of the Muslims' by those attempting to divide India, Urdu or Hindustani is a language of synthesis and unity. Where else will you find a Muslim poet write the following lines:
तू सबका खु़दा सब तुझ पे फ़िदा।
अल्लाहो ग़नी अल्लाहो ग़नी।
हे कृष्ण कन्हैया, नंद लला!
अल्लाहो ग़नी, अल्लाहो ग़नी।
इसरारे हक़ीक़त यों खोले।
तौहीद के वह मोती रोले।
सब कहने लगे ऐ सल्ले अला।
अल्लाहो ग़नी, अल्लाहो ग़नी।
- नज़ीर अक़बराबादी
And a Hindu poet write the following:
देखा जो उन्हें सर भी झुकाना न रहा याद,
दरअस्ल नमाज़ आज अदा हमसे हुई है।
- कृष्णबिहारी नूर
The program was inaugurated by Morari Bapu, one of the few contemporary religious gurus who is an advocate of Hindu-Muslim unity. In a very brief sermon he recited some of his own poetry:
ऐसी नूरानी महफ़िल मेरे लिए इबादत से कम नहीं।
(Such an illuminated mehfil is no less than worship for me)
आप जो मुझे शेर सुनाते हो वह शेर नहीं इश्क़ है,
(That which you recite as poetry to me is not poetry but love)
इस लिए मैं दाद नहीं दुआ देता हूँ।
(In response I shall not applaud you but will bless you)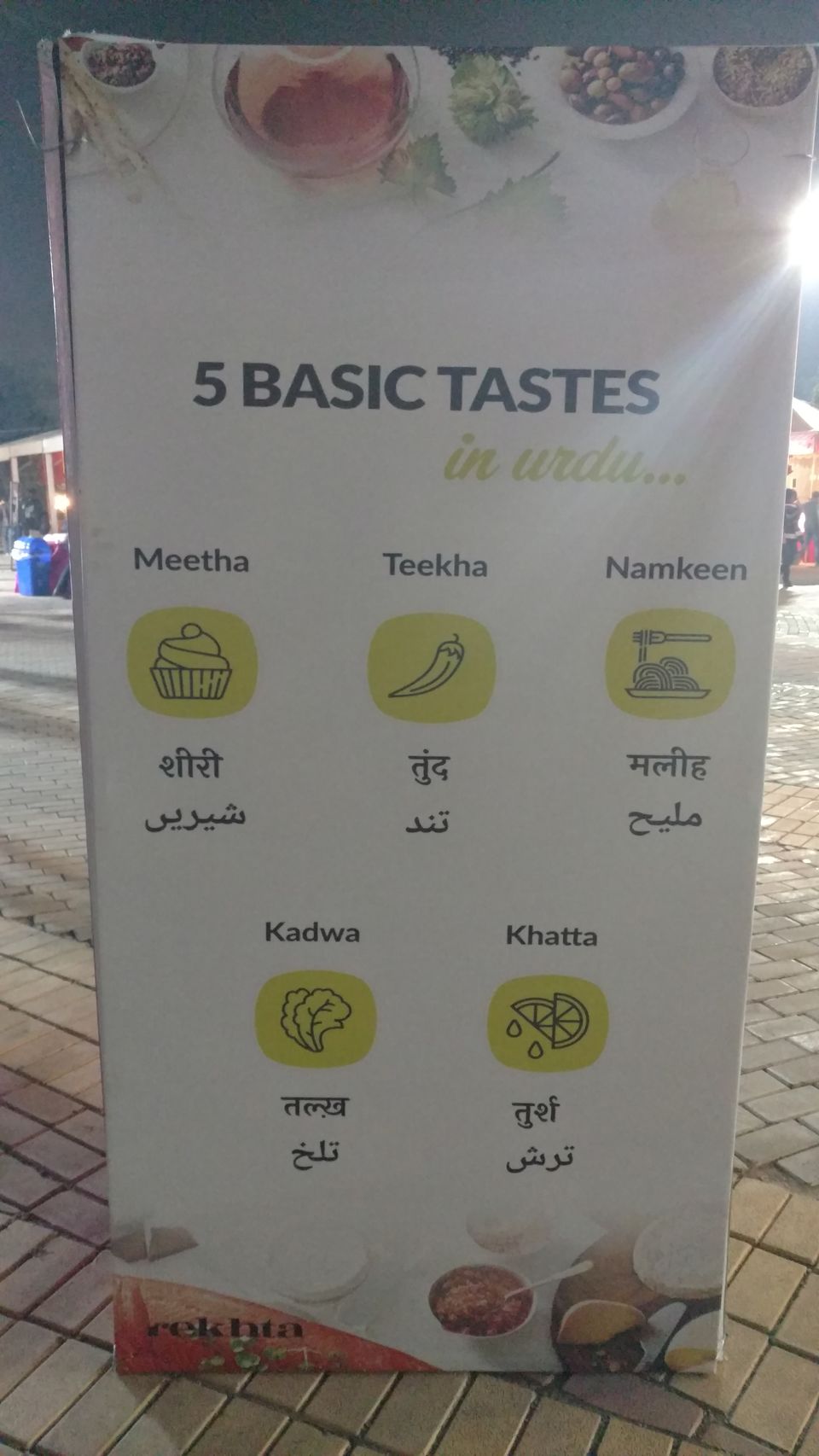 साँवले तन पे ग़ज़ब धज है बसंती शाल की
जी में है कह बैठिये अब जय कनैया लाला की
- Insha Allah Khan 'Insha'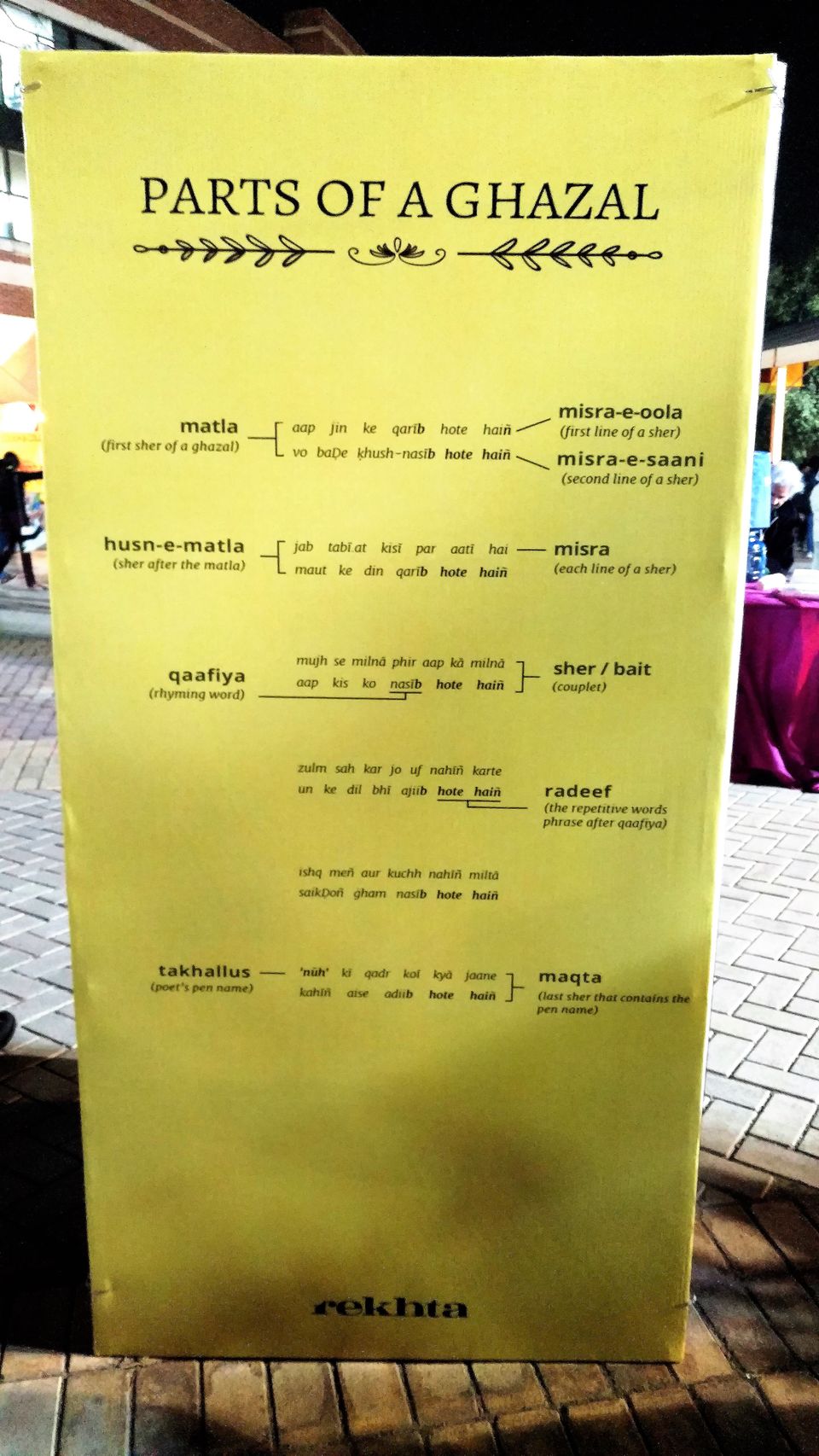 There were a total of 34 sessions in the course of three days which included, among other things, qawwalis, ghazal renditions, Dastangoi,panel discussions, folk songs and book launches. Sprawled around the four event-pavilions were shops selling books of Hindi and Urdu prose and poetry, art ware depicting calligraphy and poetic verses of legendary Urdu poets and Sufi saints like Ghalib and Bulle Shah. There were ingenious attempts to make Sher-o-shayari appear cool to the young generation by printing catchy logos and smart captions in Urdu calligraphy on T-shirts, lamp shades and wall hangings.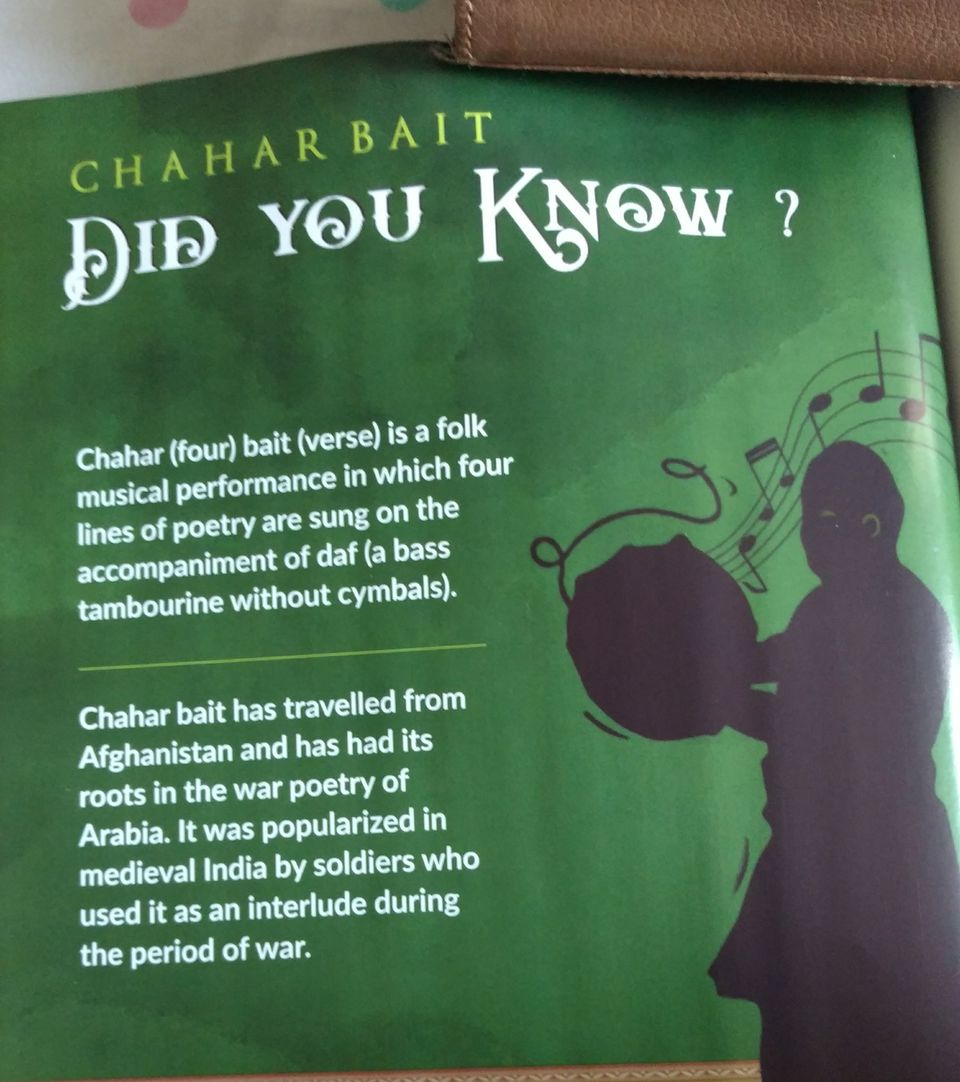 The major highlight of the show was the presence of a large number of young adults among the audience. The youth, it seemed, was re-discovering romance in Urdu shayari !!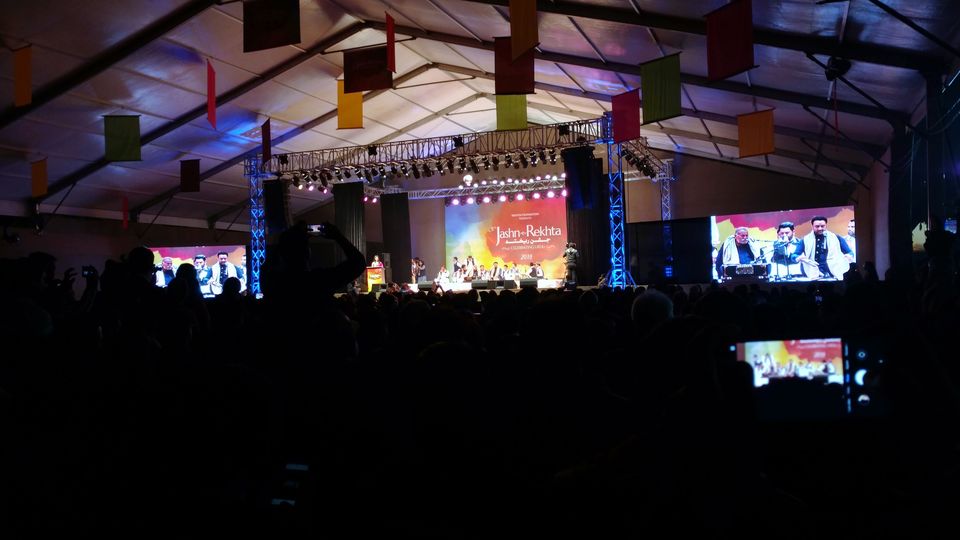 ऐ देखने वालो
इस हुस्न को देखो
इस राज़ को समझो
ये नक़्श-ए-ख़याली
ये फ़िक्रत-ए-आली
ये पैकर-ए-तनवीर
ये कृष्ण की तस्वीर
मअनी है कि सूरत
सनअत है कि फ़ितरत
ज़ाहिर है कि मस्तूर
नज़दीक है या दूर
ये नार है या नूर
दुनिया से निराला
ये बाँसुरी वाला
गोकुल का ग्वाला
- हफ़ीज़ जालंधरी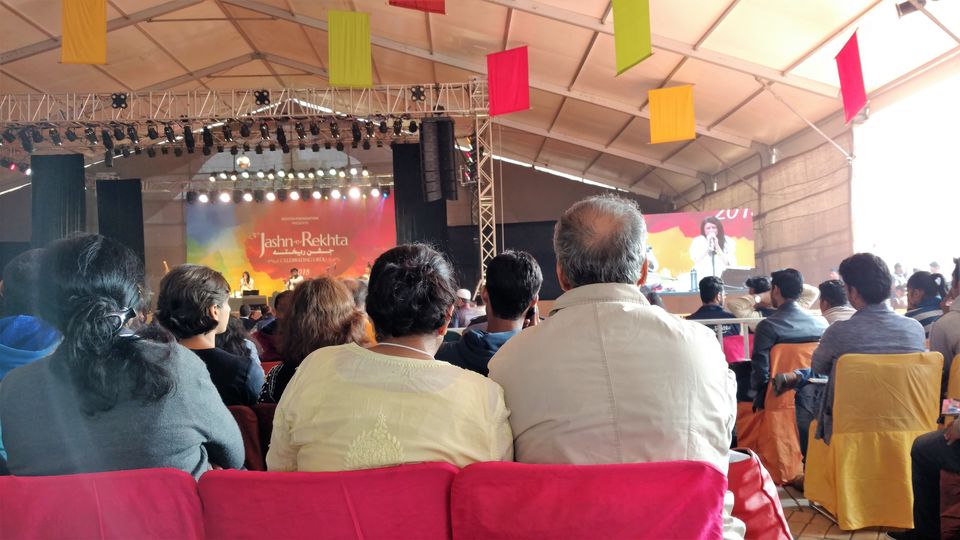 बोल कि लब आज़ाद हैं तेरे
बोल ज़बाँ अब तक तेरी है
तेरा सुतवाँ जिस्म है तेरा
बोल कि जाँ अब तक् तेरी है
- फ़ैज़ अहमद फ़ैज़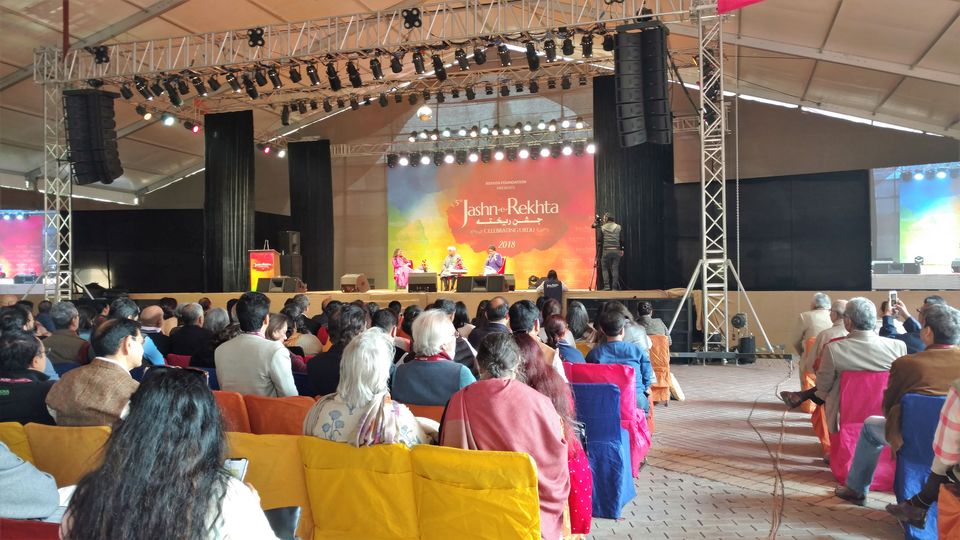 ओ पालनहारे निर्गुण और न्यारे
तुमरे बिन हमरा कौनो नाहीं
हमरी उलझन सुलझाओ भगवन
तुमरे बिन हमरा कौनो नाहीं
- जावेद अख्तर (songwritten for Bollywood film, Lagaan)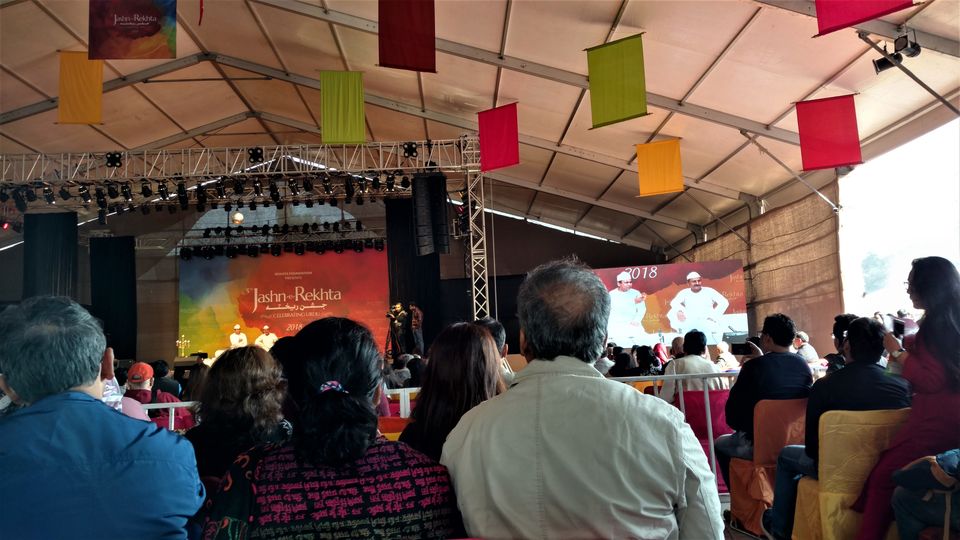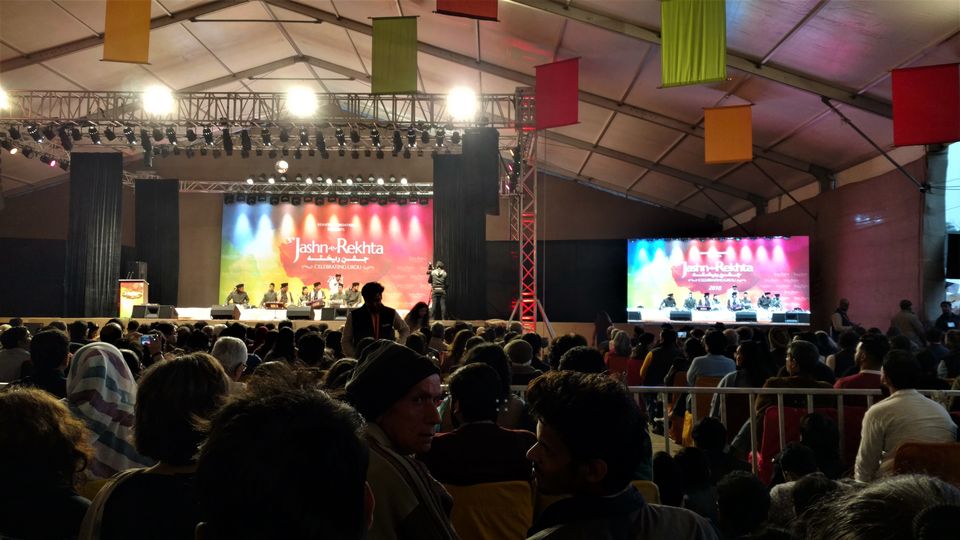 नंद के कुमार क़ुर्बान तेरी सूरत पै
हूँ तो मुग़लानी, हिन्दुआनी ही रहूंगी मैँ।
- बेगम ताज खान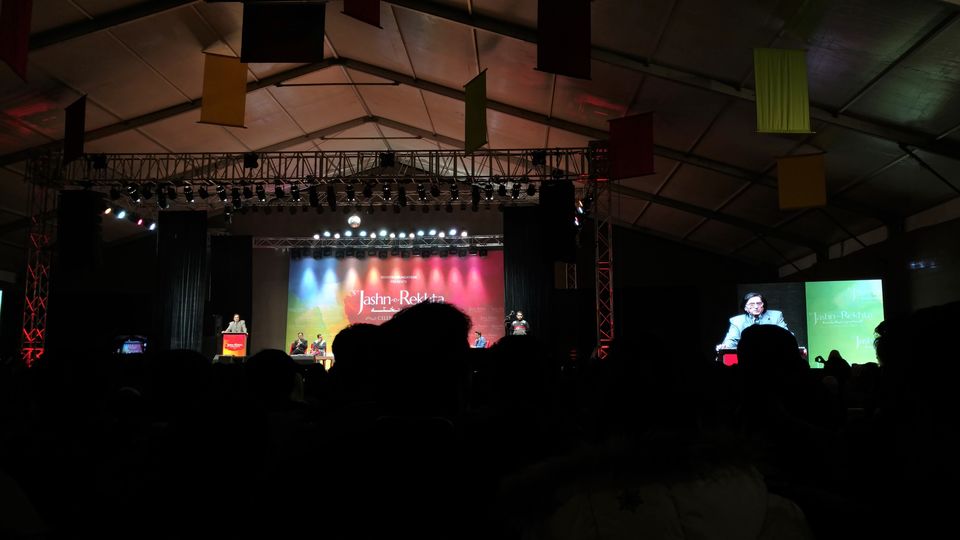 फ़ैसला हो ही नहीं पाया बहुत बातों के बाद
कौन खुलता है यहां कितनी मुलाक़ातों के बाद
आंसुओं के सामने पत्थर दिली की क्या बिसात
अच्छे अच्छे घर दरज़ जाते हैं बरसातों के बाद
- वसीम बरेलवी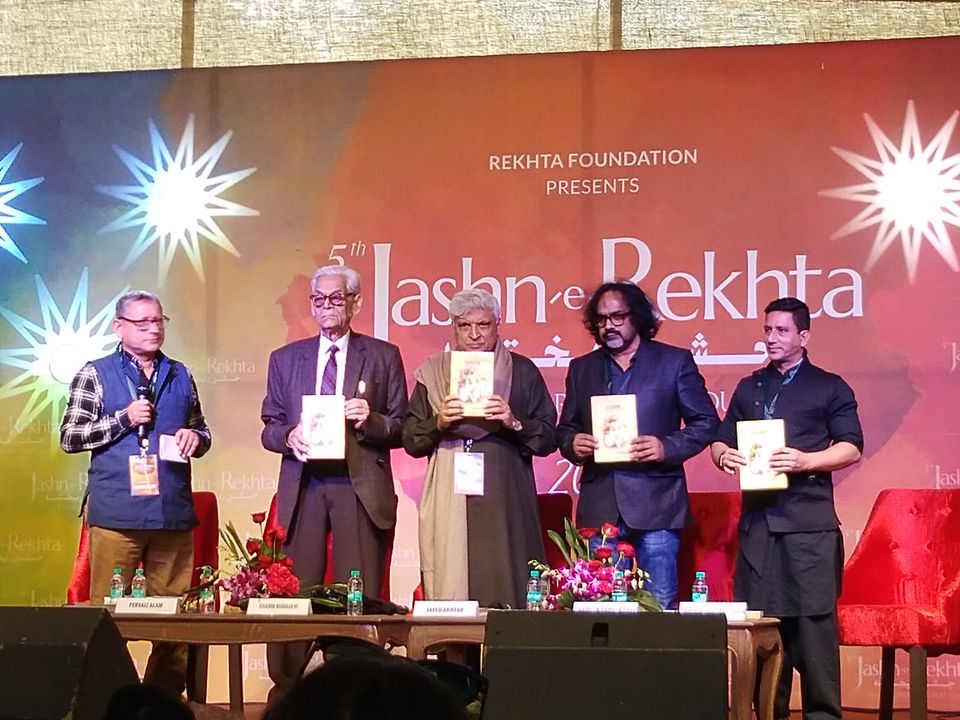 'मुज़्तर' पिया परदेस सिधारे सुना है गोकुल धाम रे
दुखया जान के मुझ बिरहन को जल्दी मिलहो राम रे
- मुज़्तर ख़ैराबादी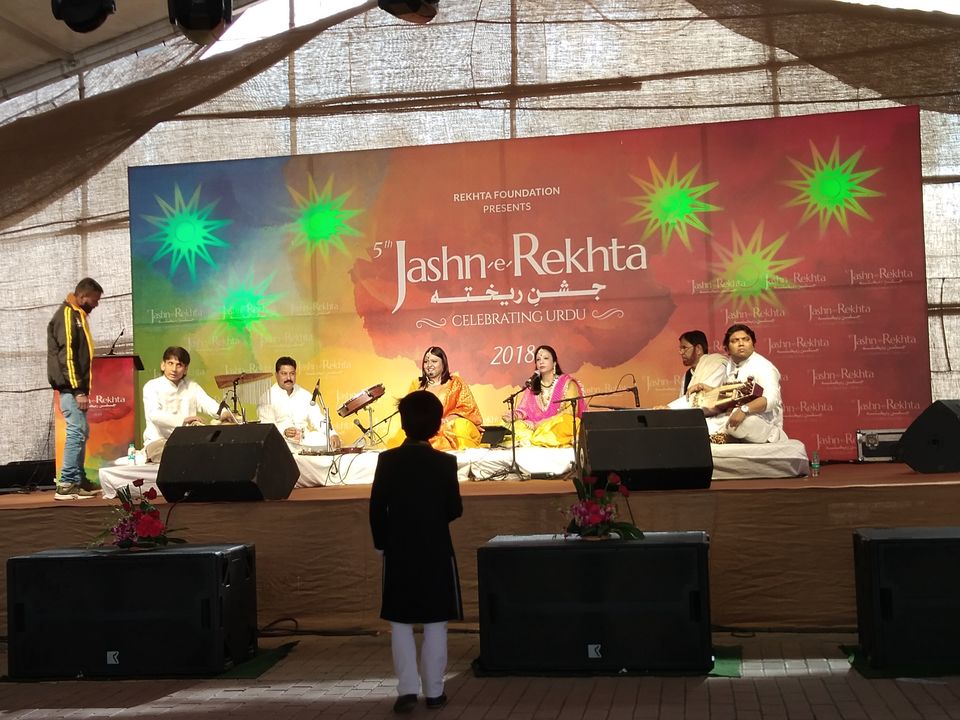 चाँद तनहा है, आस्मां तनहा
दिल मिला है कहाँ कहाँ तनहा
बुझ गई लौ, छुप गया तारा -२
घरघराता रहा धुआँ तनहा -२
ज़िंदगी क्या इसी को कहते हैं -२
जिस्म तनहा है और जां तनहा
हमसफ़र कोई ग़र मिले भी कहीं
दोनों चलते रहे तनहा तनहा
जलती बुझती सी रोशनी के तारे
सिमटा-सिमटा सा एक मकां तनहा
राह देखा करेगा सदियों तक
छोड़ जाएंगे ये जहाँ तनहा...
- मीना कुमारी (मेहजबीं)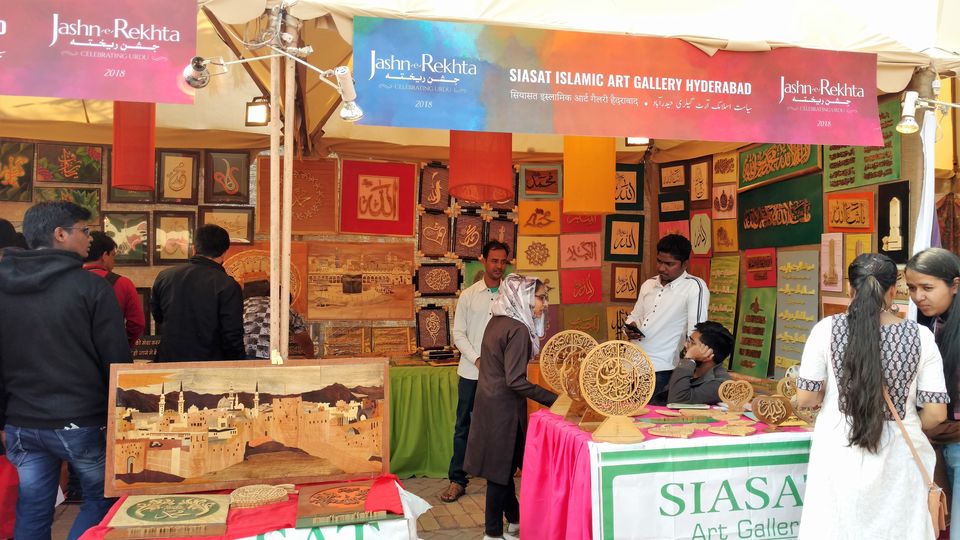 मथुरा की नगर है आशिकी का
दम भरती है आरज़ू इसी का
हर ज़र्रा सरज़मीं-ए-गोकुल दारा है जमाल-ए-दिलबरी का
बरसाना व नंद गांव में भी देख आए हैं जलवा हम किसी का
पैग़ाम-ए-हयात जाविदां था हर नग़मा कृष्ण की बांसुरी का ।
- मौलाना 'हसरत' मोहानी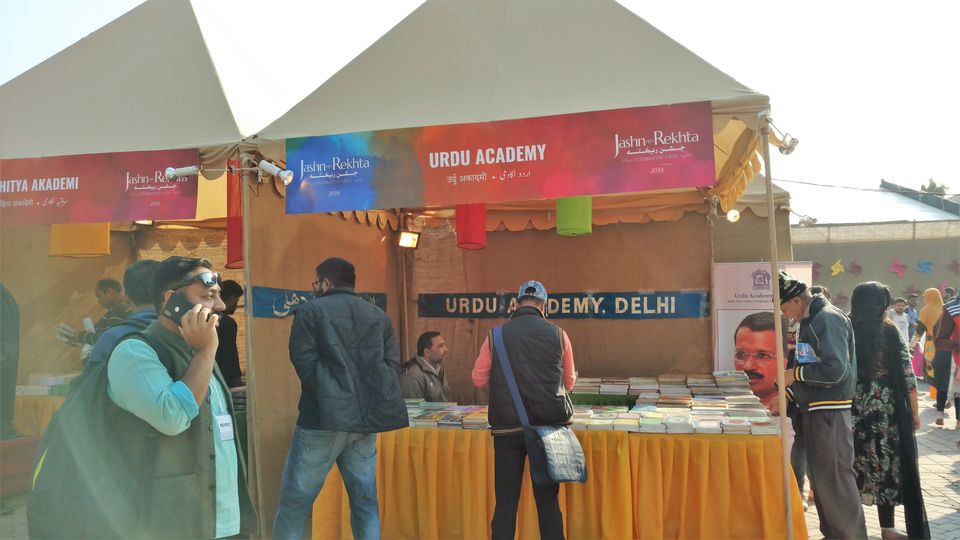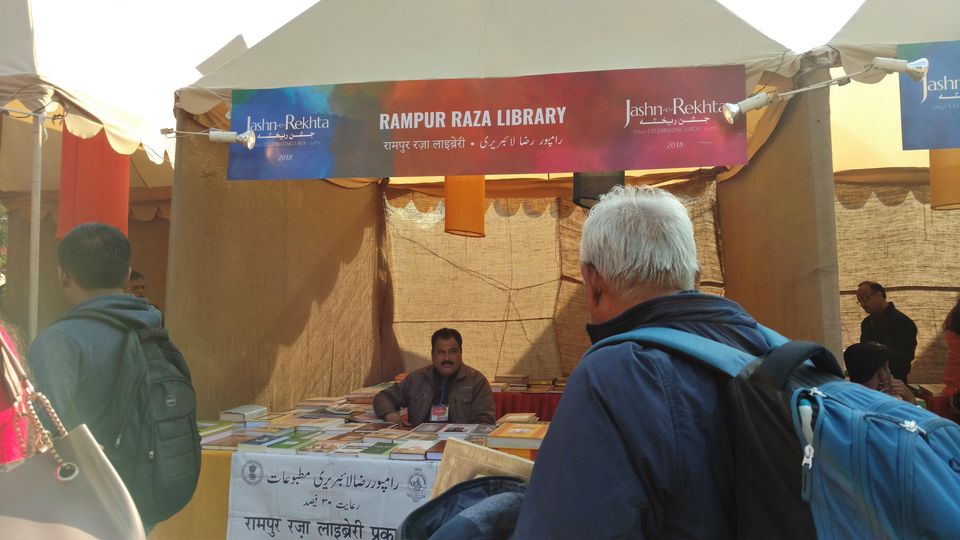 There was a stall put up by the Rampur Raza Library which is one of the world's magnificent, unparalleled repository of cultural heritage and treasure-house of knowledge built up by successive Nawabs of Rampur State in present Uttar Pradesh. It contains very rare and valuable collection of manuscripts, historical documents, specimens of Islamic calligraphy, miniature paintings, astronomical instruments and rare illustrated works in Arabic and Persian languages besides 60,000 printed books.
Apart from the above you can find gems like Valmiki's Ramayana translated from Farsi to Hindi: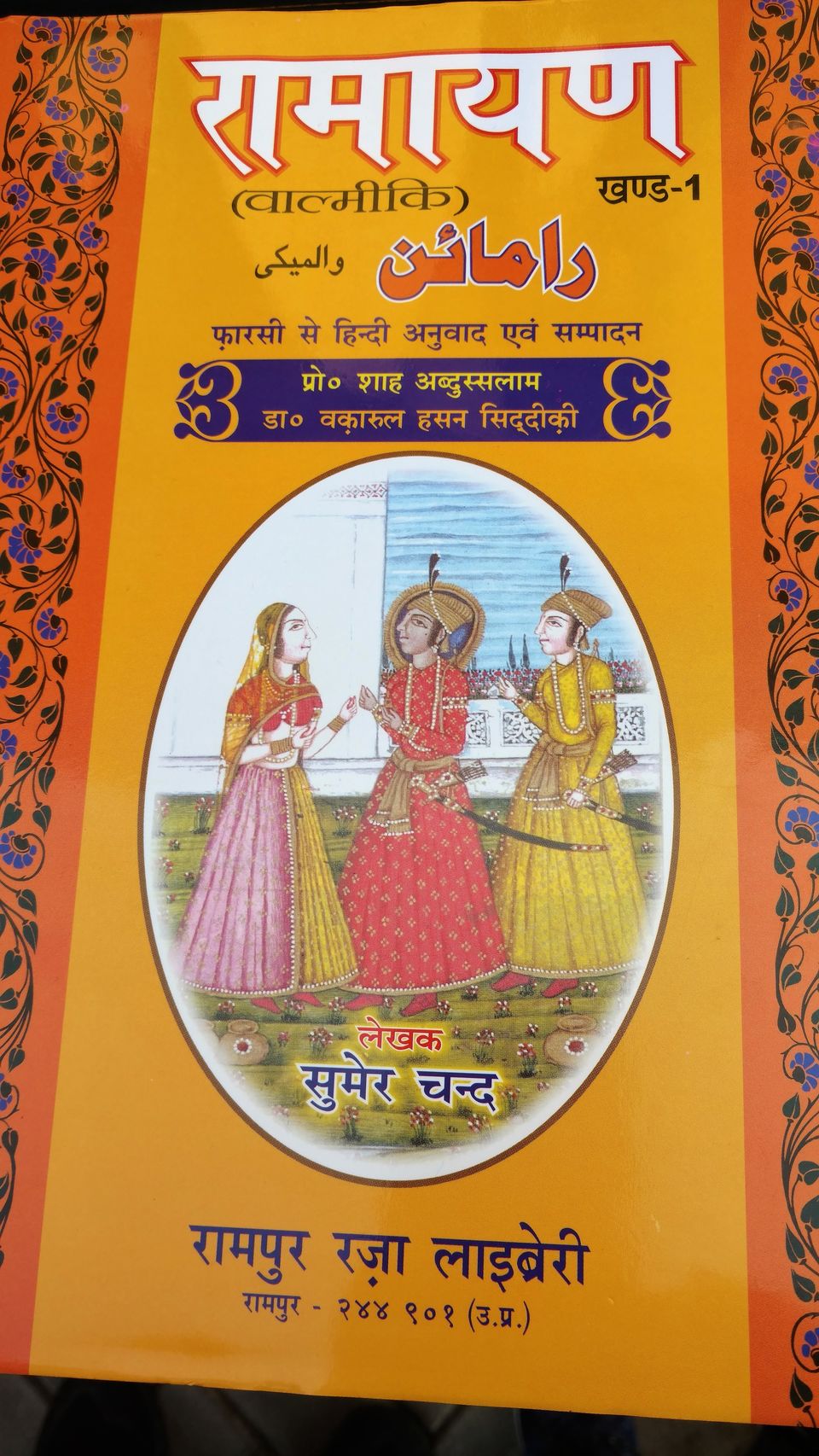 And Madhumalati which is a ballad of mystical Sufi romance. It is about a prince, Manohar, and his love for the beautiful princess Madhumalati. When they are separated they have to endure suffering, adventure, and spiritual transformation before they can be reunited and experience true happiness. The poem is also rich in mystical symbolism and the story of the two lovers represents the stages on the spiritual path to enlightenment. Madhumalati was written in the sixteenth century and it is an outstanding example of Sufi literature in the Indian Islamic tradition. It was originally written in a dialect of Eastern Hindi: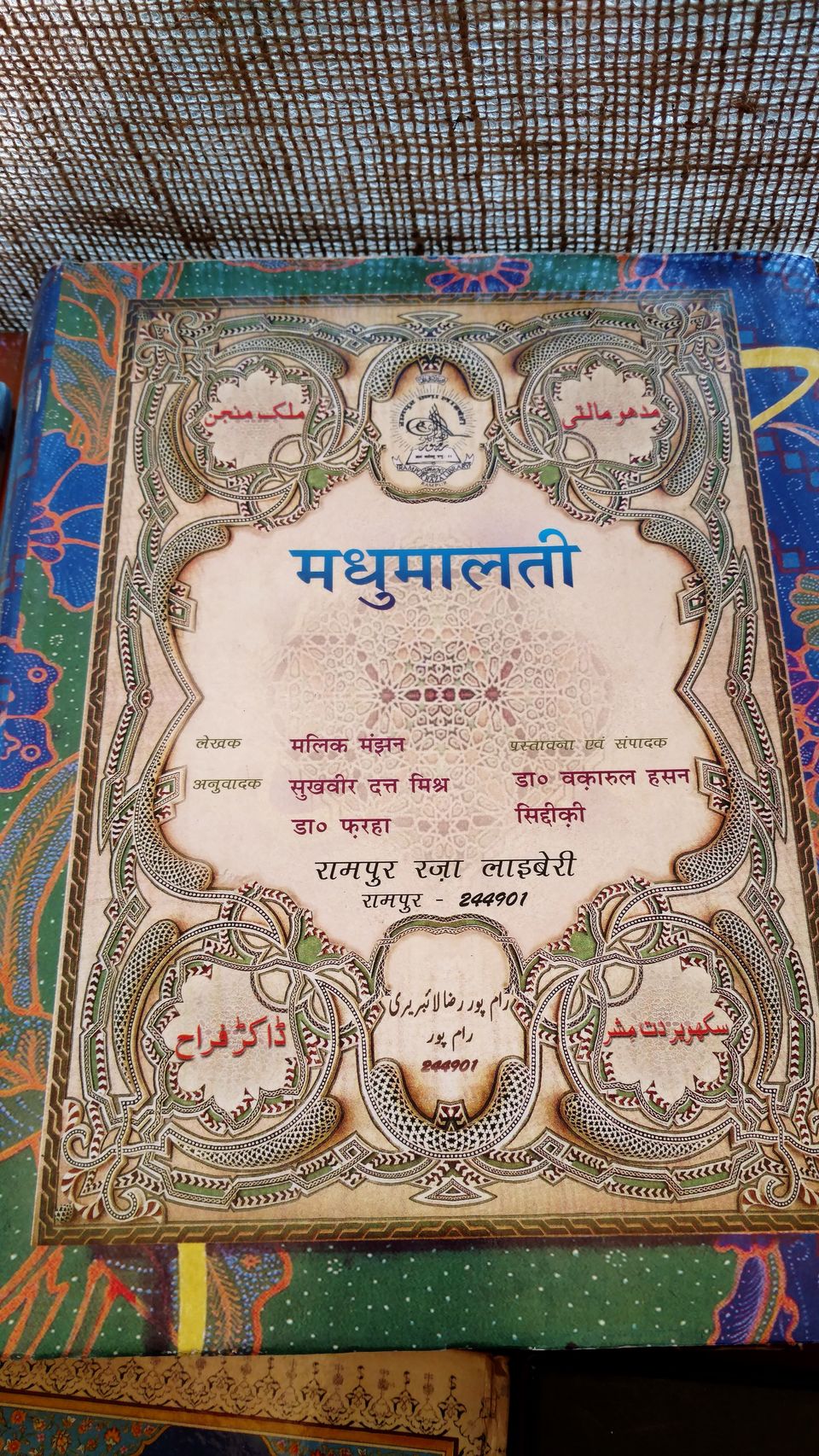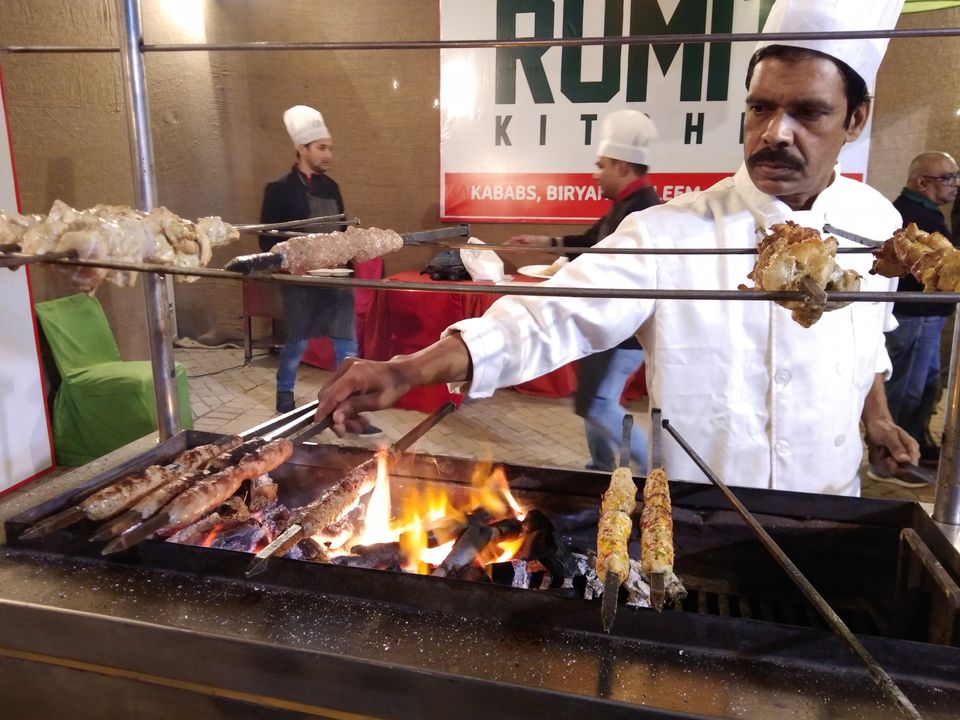 There was a variety of food stalls selling food as diverse as Afghani Chai to Litti Chokha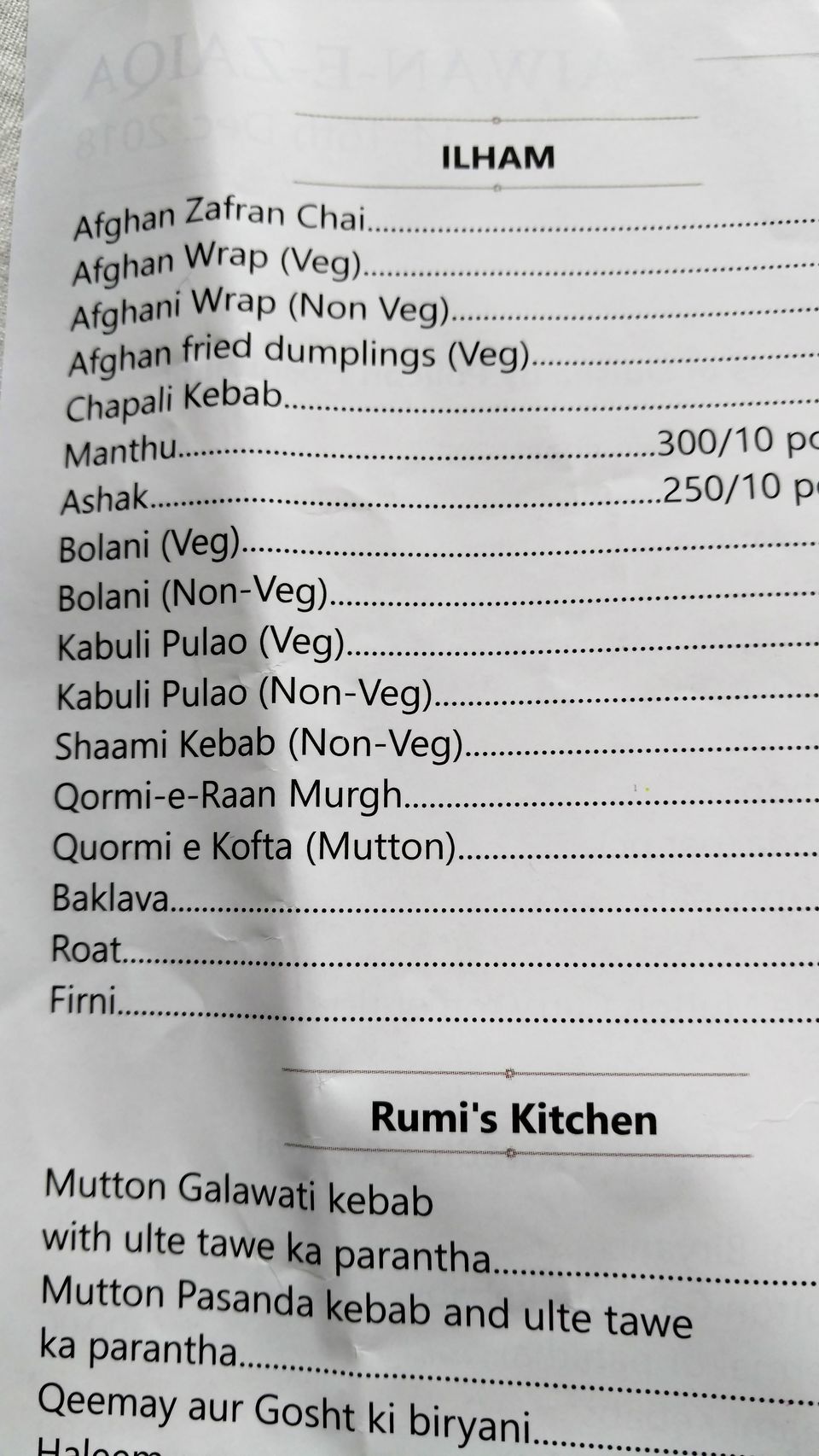 We left the festival with poet Krishna Bihari Noor's lines ringing in our ears:
हमारे धर्म के फैलाव पर नज़र डालो,
हमारा धर्म मुहब्बत है ए वतन वालो !
हमारे धर्म के पैगम्बरों की सफ़ है बड़ी,
अशोक - अकबर- औ -गौतम -बुखारी - औ -तुलसी,
कबीर, ख़ुसरो -औ - चैतन्य -नानक और चिश्ती।
Photo credits: Rupa Abdi and Razi Abdi