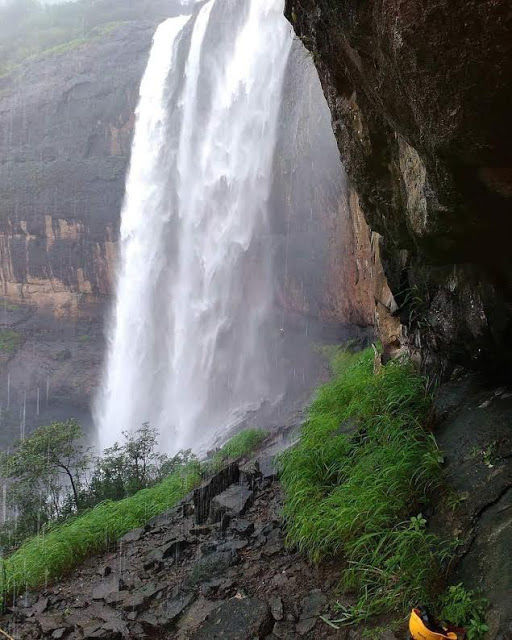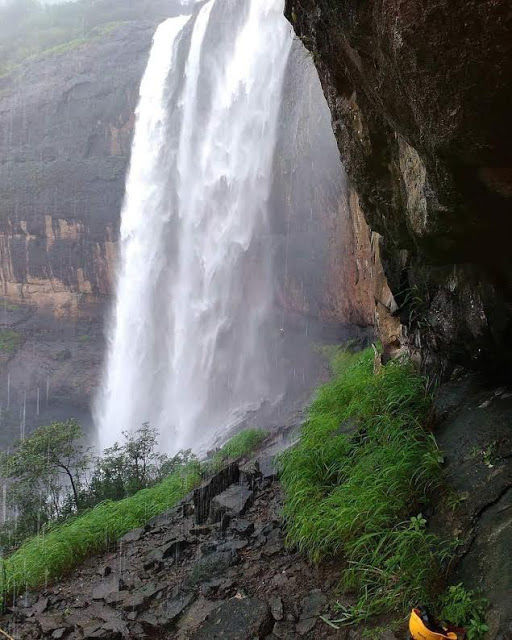 It was one of the lazy July Sunday and a rainy trek was on the cards. Probable locations were one day trekking to Rajmachi near Lonavala. It was a trekking of choice i had not visited the place and also as it offers a wonderful view of Kataldhar waterfall in the valley below. The waterfall can be ideally seen from Srivardhan fort of Rajmachi. However I was confused to choose between trekking and waterfall rappelling. And mind you I choose both. Instead of viewing the Kataldhar waterfall from Rajmachi, I chose to go the other way around. I.e. to see the Srivardhan fort from Kataldhar waterfall. Meaning I had enrolled for the waterfall rappelling at Kataldhar waterfall itself. After boarding Indrayani express from Mumbai, i had managed to reach Lonavala by 8:15 Am. There the trek lead Siddharth was waiting with a bus in a tow. Along with 3 participants from Pune, we were 11 participants in all, managed by 4 coordinators.
It was a rainy morning to begin with. Our compact tempo traveler was negotiating the muddy and crater filled roads. The road conditions worsened after Della adventures. After around 45 minutes we reached the Phanasrai village. At that point there is a stream flowing which later forms one of the feeder streams for Kataldhar waterfall. It is a open plateau with few shacks run by local villagers serving snacks and tea. There were quite a amount of trekkers at the point. Some adventurous bikers were also there with their mean machines. ...read Royal Enfield's.
We had our breakfast at one of the shacks. By the time our breakfast was ready, we were observing the bikers who were trying to get their bikes past the stream. It was more than a knee deep stream to begin with. But bikers with the dose of jingoism we were hell bent to pass through the stream, even if their beasts refused to do so. So their fellow bikers have to pull the bikes (white elephant as I would like to call them) out along with their saddle. The funny part was that this 2 legged mechanical beasts like 4 legged live beast seemed to be uncontrollable.
Then when we reached the rappelling point besides the stream, our trek leads were already busy fixing up ropes and setup. The heavy rains were still on and prevented us from capturing the view from that point. The valley was very deep and clouds covered the valley most of the time hampering visibility. We after gulping down our breakfast, headed towards the rappelling point; which was 15 minutes steep descend of around 400 feet from the point. We had to cross one stream enroute.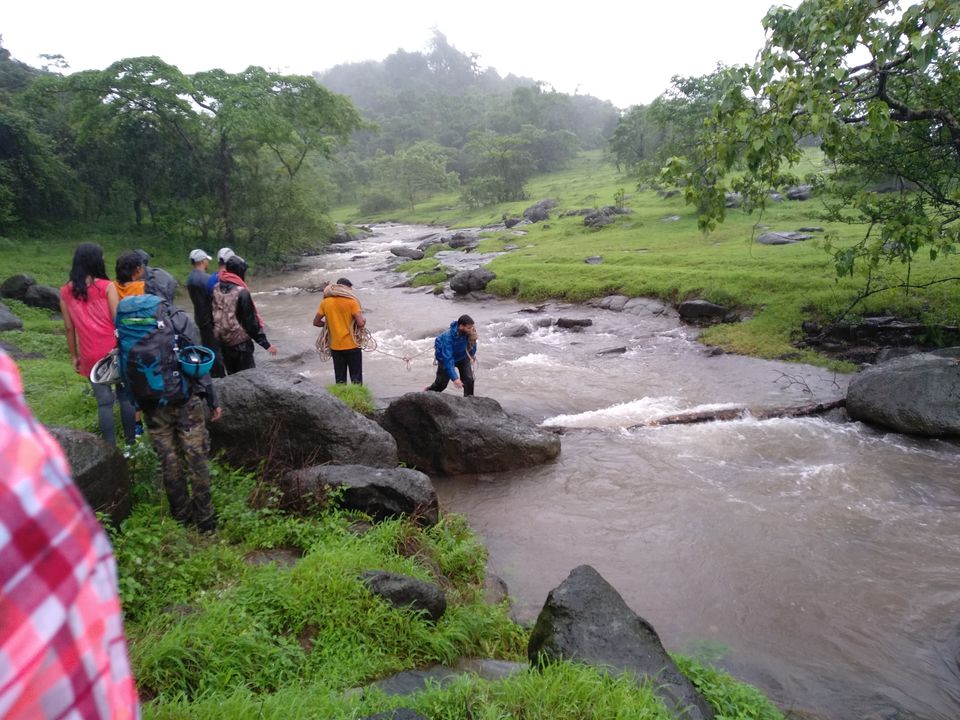 We could occasionally see the Rajmachi fort peeping out of the clouds. It was one of scenic points, but rains and winds prevented us from capturing the view in our mobiles. We had only one GO pro with one of the participants that too has very limited battery. There e ach on was handed a helmet, harness along with descender and carabineer and gloves.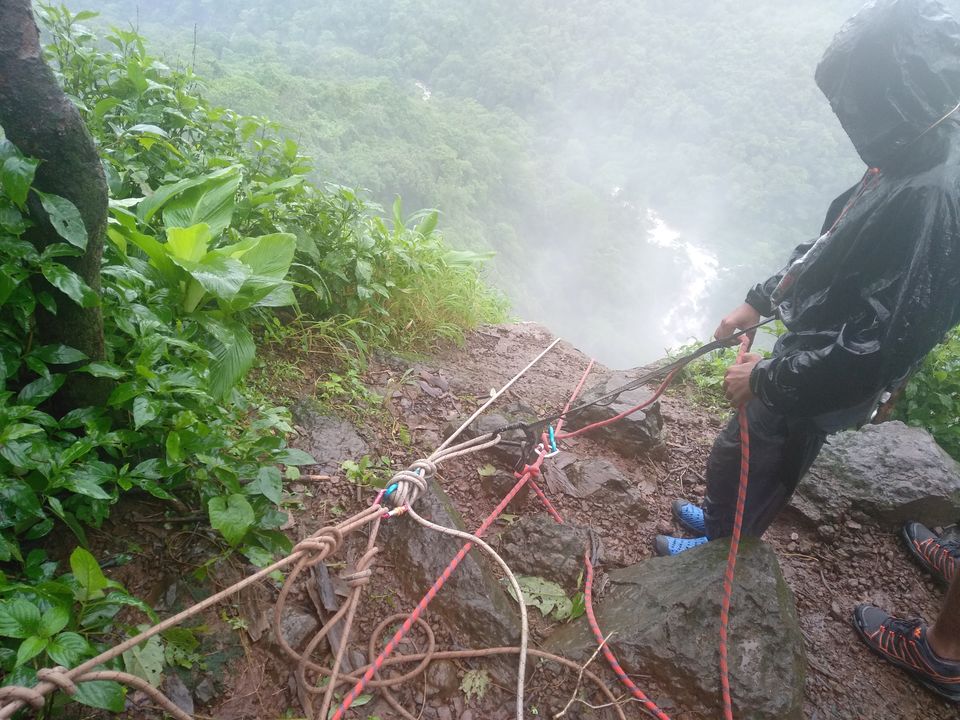 Every time one looks down from that height at the valley with stream flowing, with wind blowing at such a pace that it makes ones heart miss a stroke. But that's the fun and thrill part of it. Then around 12 pm it was my turn to rappel down. There the trek leads aligned me with the ropes and harness and I was ready to go.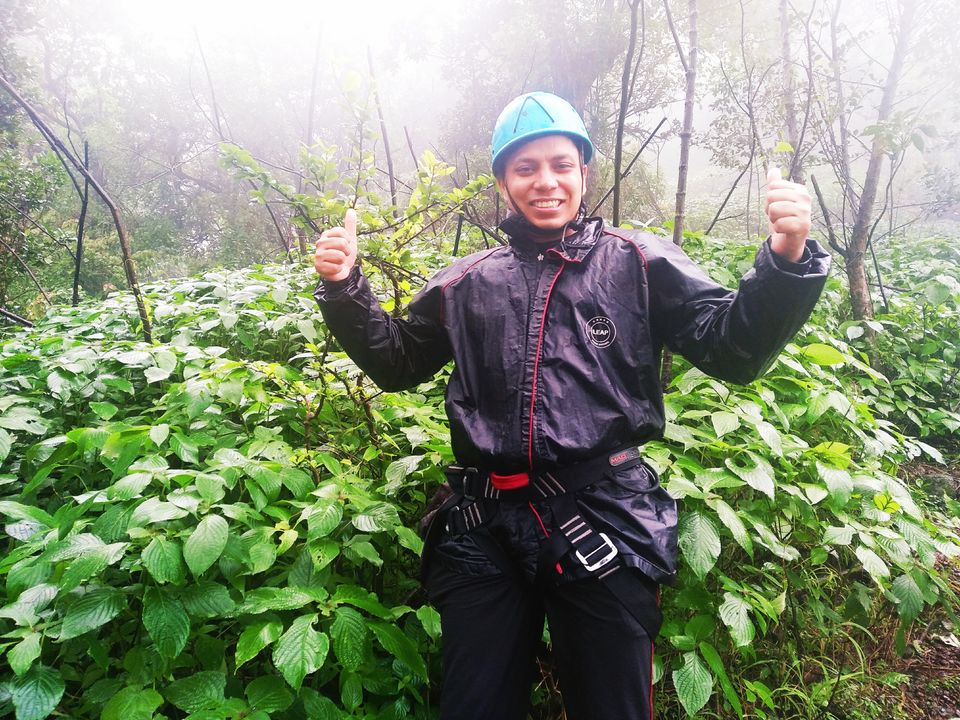 So around 10:30, the setup was fixed. There 2 ropes fixed of which red which white was a mainline and other one red was belay rope. The setup was well calibrated and validated before one of the trek leads Sameer descended on it. Siddharth the trek lead was manning the top activity point; the trek leads were equipped with walky talky to coordinate the activity.Sameer who descended first had one walky talky and updated of every move of the rapeller to the Siddharth at top who was manning the belay rope. So each participant during activity is under close watch by the trek leads.
There then 3 other participants including Ankit descended one after another taking around 25 mins each. It took around 15 mins to descend and 10 mins to pull the ropes up for next participants to begin with the activity. On average for experienced rappelling participants it should not take more than 20 mins each. But we had more amateur rapellers as usual.
One has to feed the mainline rope through the descender to move downwards keeping body straight inclined in an angle towards the rock wall. The more you feed the rope upwards through the descender, the more you move downwards. This is the basic mechanism of rappelling. There is another rope for belaying which is controlled and manned by the trek lead on top for safety. If in case the mainline trips, the person still hangs by the belay. So it is a 2 pronged safety setup. The rope seemed very heavy to lift to begin with. The first 20 feet stretch was kind of muddy, then started the rocky part. By now the rope was kind of lighter to feed. It was one on the wonderful moments where one is hanging on a rocky wall at a height of around 450 feet in the foggy and windy valley with besides gallons of water gushing down at a lightning speed. There is no human contact at that moment. You tend to feel cut from rest of the civilization. At that moment there is only you and nature. The noise of gushing water hitting the rocks beneath was so loud, that no human voice can be heard even if one shouts with his lungs out. Words can hardly describe those goose bumps in the belly. It is straight fall of 400 feet. If you want to feel the same, refer pic below of my fellow rapeller Kishor.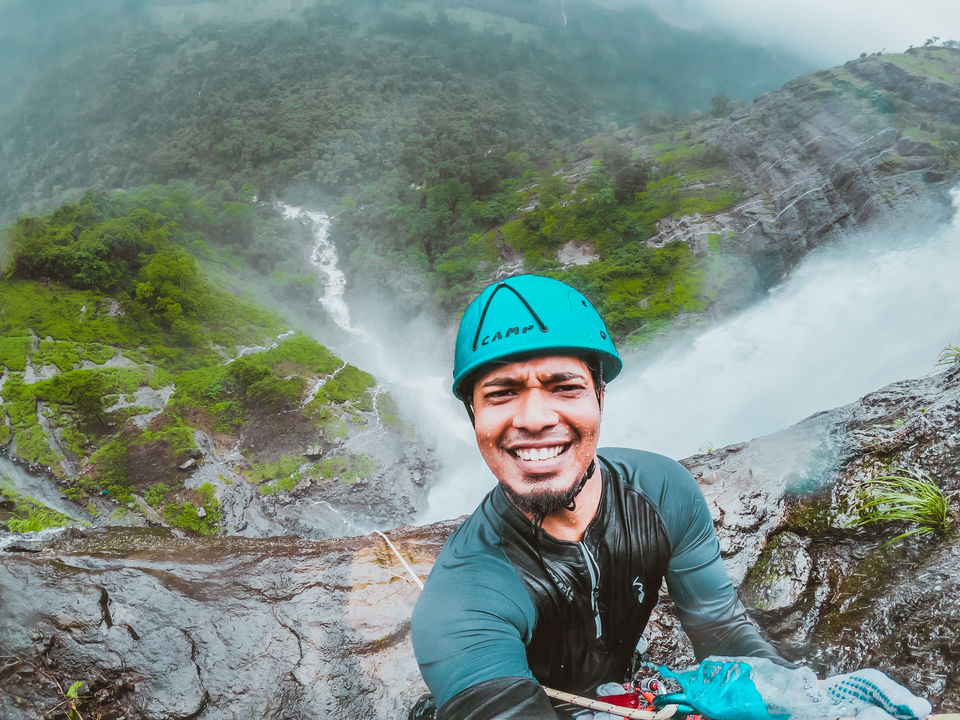 There i was descending down when that moment arrived when the streams of waterfall were blowed by winds to cover me in entirely in cloud of white gushing water. What a rapturous moment worth every penny spent for it. There on one of ledges where I could foothold myself enroute, I took a short break to enjoy the view. Moreover till then right arm was aching in process of lifting and feeding the rope. There looking at the wonderful creation of nature, a thought crossed my mind. We humans however intelligent we may be, we are tiny and just helpless before the nature. How beautiful mighty, unbridled and limitless is the nature. This thought took me to the creator of this nature. One can only imagine boundaries of his knowledge and intelligence. Whatever he has made, all things are beautiful in its design. There I thanked Almighty for the opportunity of this scene and continued rappelling down the rocky wall.
After around 150 feet from ground there is a overhang. Now overhang is a point where the rocky wall caves inside. Meaning there is no place to rest you feet at overhang and you just hang at this point. There one has to only slide down feeding the rope hanging in the air without foothold. This part was one of the easiest part of the activity. By now the rope was easily being fed.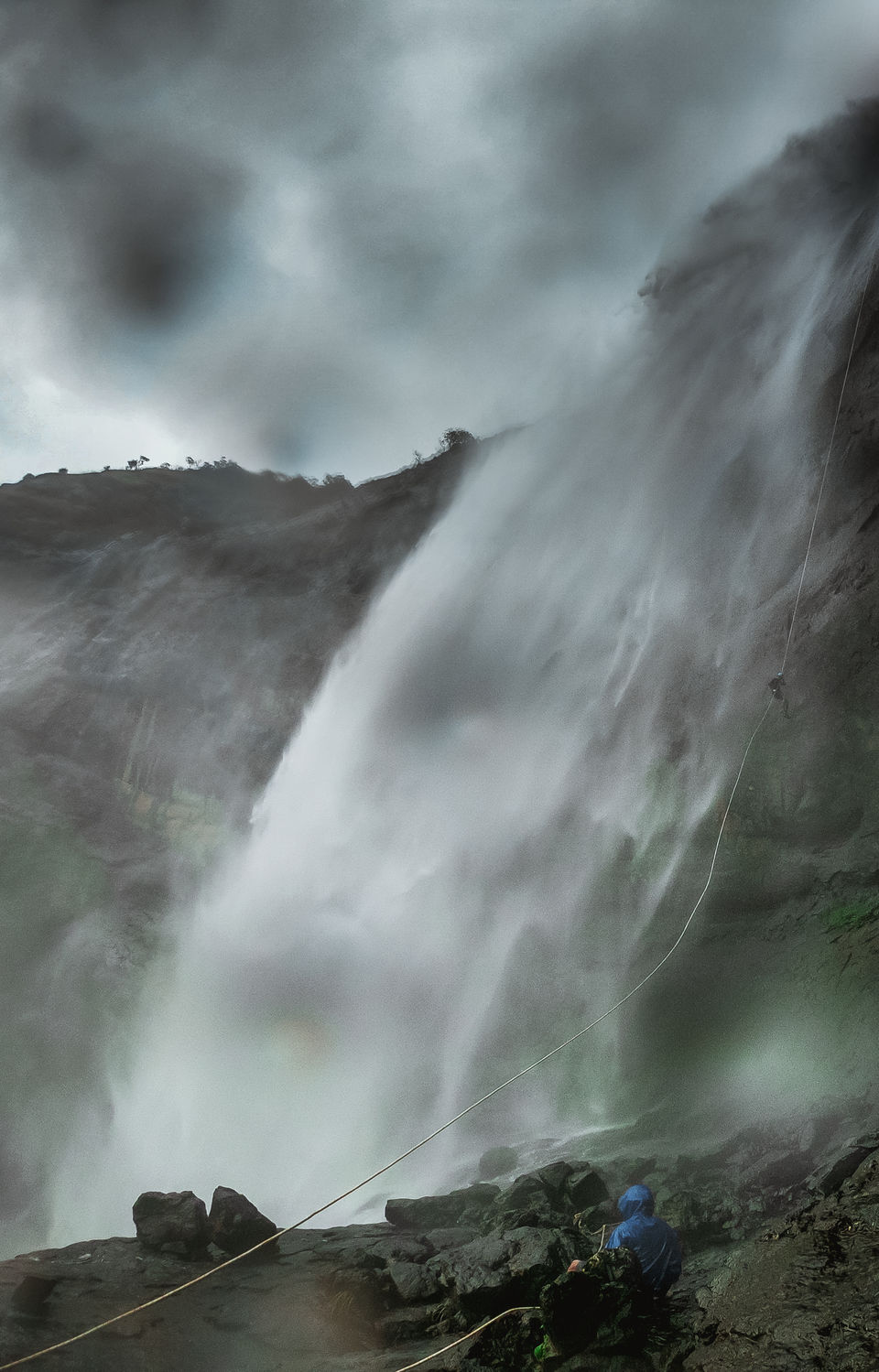 There at the overhang again winds made their way into the water streams covering me entirely into milky white clouds of gushing water. I waited hanging till the winds to subside and then continued sliding down. There is when I saw Sameer who was waiting for me beneath to pull me towards the foothold in the rocks. He loosened the mainline and guided me towards the cave. The rocks beneath were full of moss and hence very slippery. The flow of the waterfall was dreadful. The continuous rainfall has swelled the waterfall limits.
There at the cave were around 50 odd trekkers who had come trekking their way from other end of the mountain. There on the rocks near cave we waited for all other participants to rappel down. The rains were still on and now there we had started feeling the chill in the air. There at cave we had snacks. Some of the participants took around 30-40 mins to rappel down adding to our impatience. The last participants rappelled down at around 4 pm. Till then we were observing the cloud covered Rajmachi from the cave.
Then the trek leads at top pulled up the ropes and we set on our route back to top at 4:15 pm. We had to descend on the muddy slippery route in the valley below. The return route circumvented the entire hill to join the motorable road 2 and ahead of our starting point. Our way back was a steep climb of gaining around 1200 feet passing through 3-4 small streams. Finally around 5:40 pm we reached the motorable road. We expected our bus to be waiting for us. However to our dismay, the trek did not expected us to return back so early and had waited at the starting point. Then 2 of us had to reach the starting point to get our bus to end of the trek point. The main reason for the hurry was to reach Lonavala railway station before 7 pm to target a specific Vasai bound train.
Then after a gulping down hot tea at local shack, we started of towards station to reach station around 6:55pm. However we were scheduled to have lunch at a restaurant in Lonavala. There our trek leads and few trekkers from Pune departed to have lunch/snacks. However for me and 2 other trekkers, in order to reach station in time we had to skip our lunch. Reaching home safe and in time is always a priority after any trek or adventure activity. There we boarded the Pune- Indore express at Lonavala to reach Vasai at around 10:10 pm. From there we bid adieu to trek mates. To sum up it was a wonderful and thrilling experience consisting of both waterfall rappelling and trekking.
Few point of advice to trekkers planning for this trek.
Prior rappelling experience is must for this activity. (Amateur please avoid) People having height phobia please avoid.
For more trek and travel you can check my blog. https://irishpereiraonthego.blogspot.in/