This Pandemic has got a rough patch for all the travel lovers like me. Things are never going to be the same and for sure we get through all the struggles of house arrest very soon. Until then, it is becoming increasingly evident of a moral and social responsibility to stay home for a little while.
This unprecedented lockdown can hold us back to travel physically but can it stop us travelling mentally? Definitely NO. How am I fighting this uncommon distress to get myself as lost as possible? I have listed down few of my daily routines to indulge my wanderlust during this quarantine.
Taking some virtual tours
Gone through Wanderlust travel videos on YouTube. Their collection shows the places like native. Watching those videos took me into the desire of visiting those places and also it made my future travel plans simple.
If you have VR glasses at home then you have got a better pastime. Grab on those glasses and play virtual reality videos to experience the illusion of being a part of your dream places through the experience of people who know them deeply.
Binge travel shows
Netflix has got some very interesting travel shows which every travel lover should watch. The below two are my current favorites.
Somebody feed Phil
If you are a foodie you will no doubt thank me for suggesting you to watch Somebody feed Phil streaming on Netflix. Phil will take you through the delicious, mouth-watering, appetizing dishes. With his infectious energy, Phil explains about everything he tastes. You can feel the taste of it. By the end of this show you will be tempted to make a list of dishes you want to try in each of those countries (at least I did that).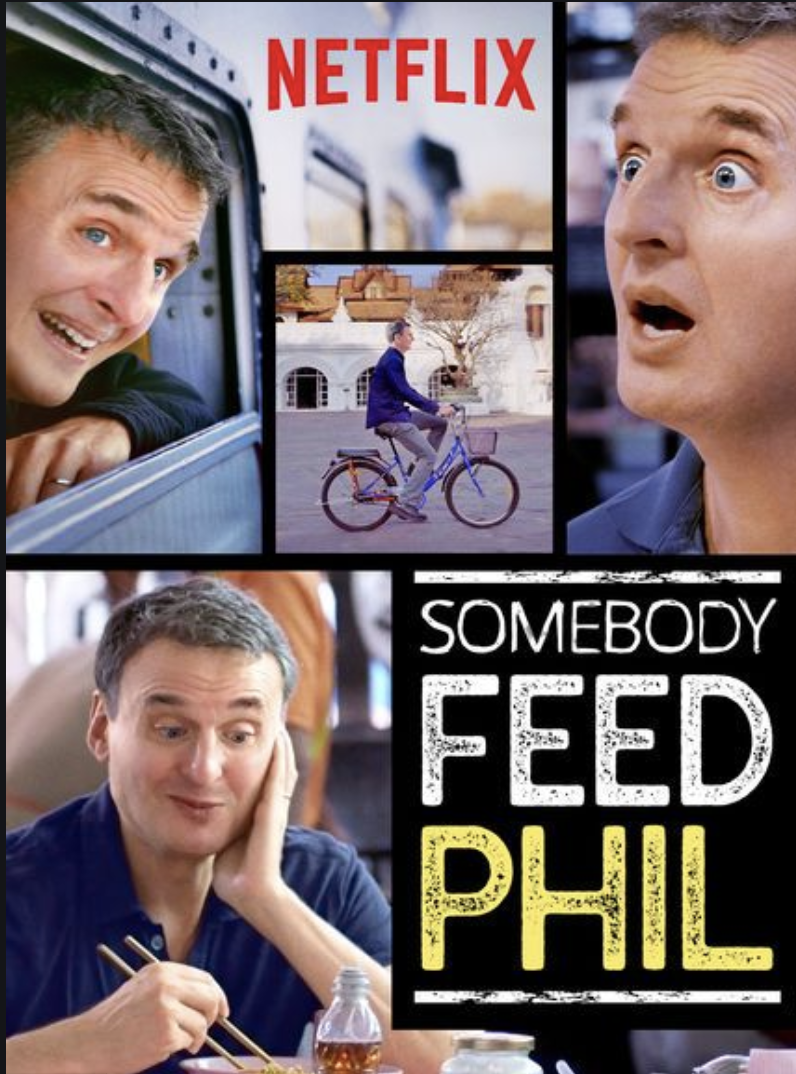 Expedition happiness
A feel good Travel documentary streaming on Netflix. It is all about two free spirits' and one dog's attempt for a road trip travelling across North America in refurbished school bus. Wow!!! so fascinating isn't it? I had no expectations with the first impression of this title but I loved it while watching. This documentary has got good life lessons too. I'm not going to reveal everything here but can suggest you to give it a try.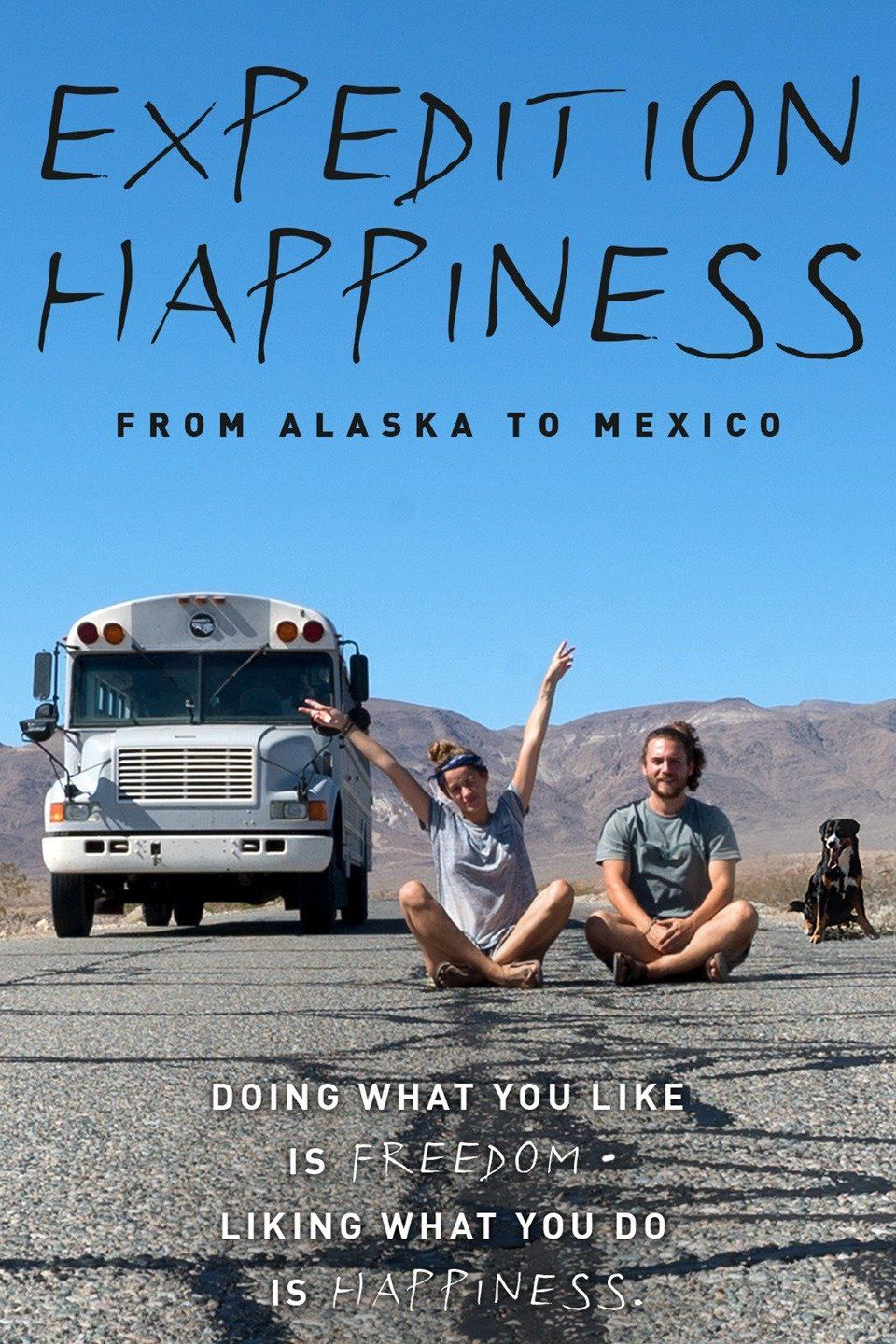 Cooking different cuisines
For a foodie like me, experiencing a country's authentic food will always be the best part of my trips. Sometimes, just eating a dish we've experienced in a place can take us right back there!
Now that travel restrictions are inevitable, we cannot visit the places to taste our favorite dishes but that doesn't mean you cannot enjoy them. We can recreate our favorite food cultures by learning how to cook them at home.
Cooking and tasting the food cultures of different countries is one of the best things you can do during this quarantine.
As a couple we've made ourselves a dinner date with some Spanish food. The taste of it lead to some deep conversations on our thoughts of a trip to Europe. We came up with many ideas on making the trip more memorable.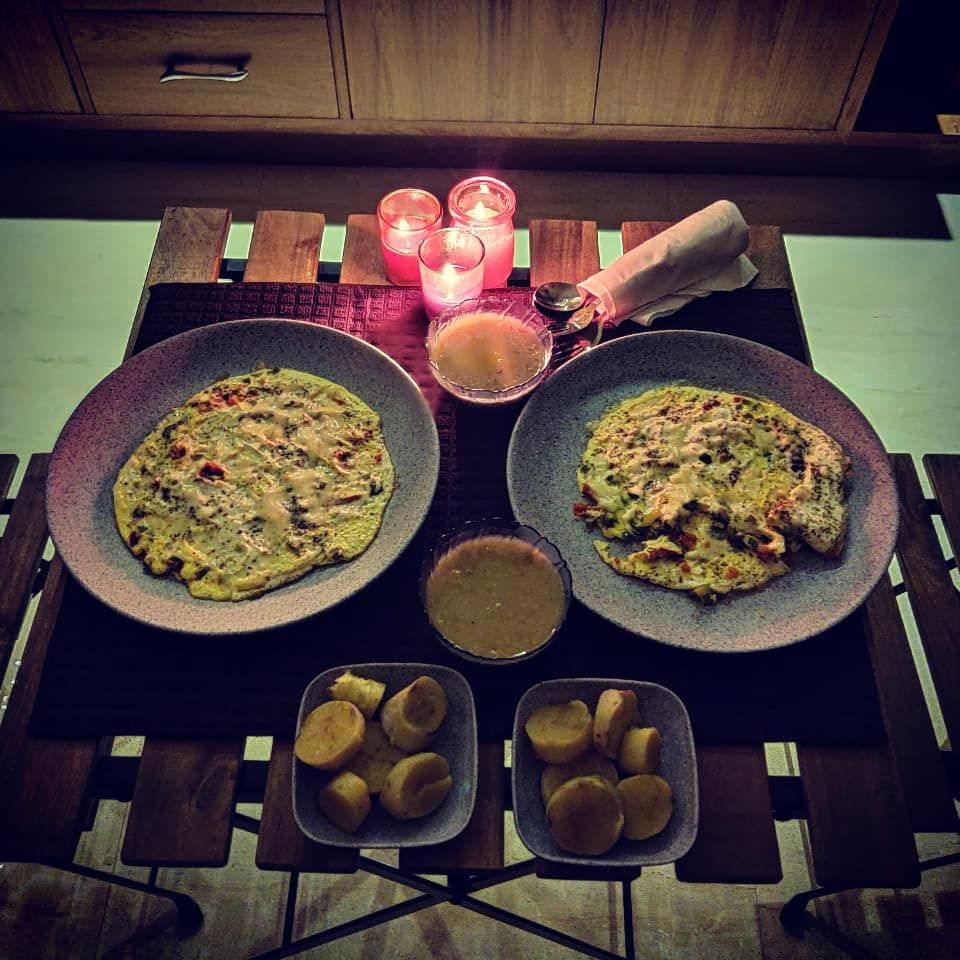 Tried an Italian dish - Lasagna, which took us back to the memories where we had first tasted. It was in Puducherry. Our conversation went back to our Puducherry days. I was so excited to try Lasagna for the first time in Baker's Street. I still remember the first bite, I could feel the carbs, dairy, meat and vegetables all together hitting my taste buds and melting my heart. Oh! thats something I can never forget about Lasgna.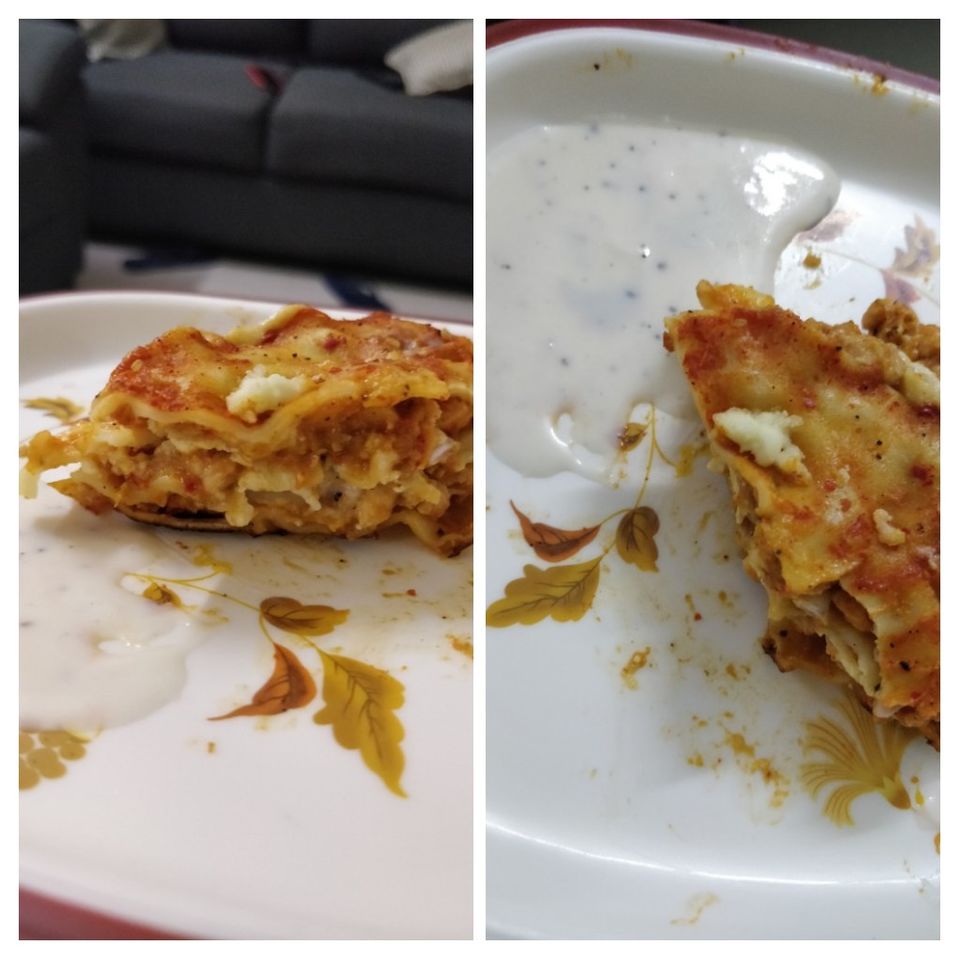 Decorating home
One day I badly missed being at a sea shore, hearing the waves, feeling them crashing into my feet while gazing at a sunset and not knowing which drop will kiss. The positive effect of being close to the water naturally settles our minds and puts us in a more productive and calm state.
A quick thought hit my mind to let go off the Locked-in Syndrome. During this quarantine, your balcony is the only outdoor place you can enjoy. We had setup a relaxation zone in our balcony with limited resources we have. Our creative thoughts made us to transform our bitsy balcony into an irresistible summer retreat. We chose an old saree to drape as a tent. The lights and candles we have at home casted a magical glow. Turning on some romantic music and feeling the cold breeze touching us was refreshing. It was the best relaxing date night during this quarantine.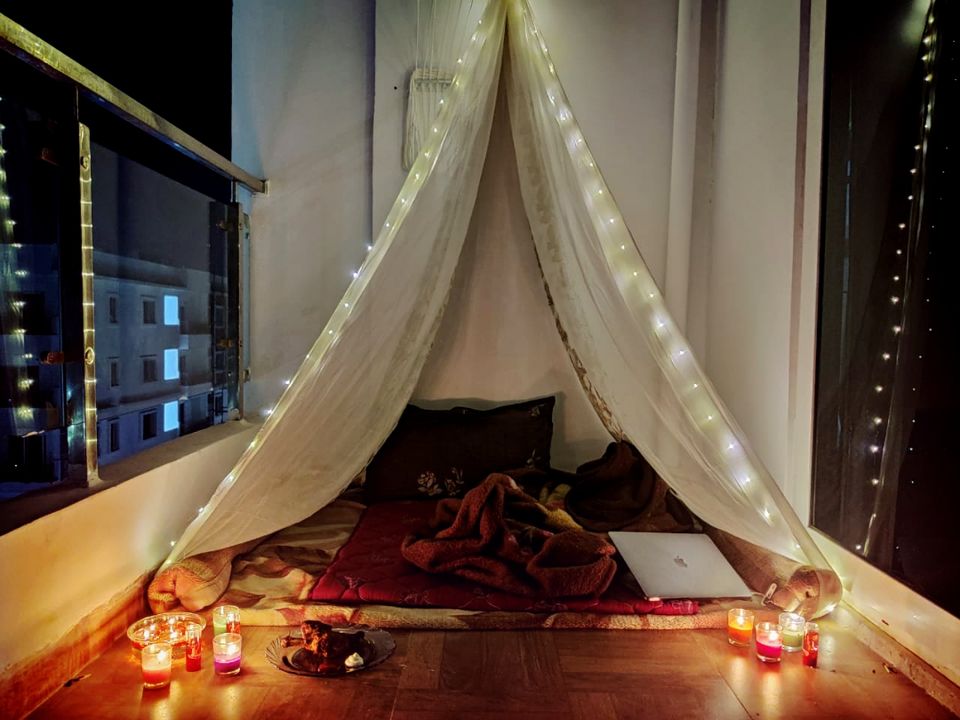 Planning my next trip
Wanting to go everywhere makes it difficult to decide one destination and leaves us with the sense that we haven't been anywhere, even after traveling a lot.
This quarantine had finally got me the real time to read some travel blogs or guide books, watch few travel documentaries and decide on the places I want to travel as soon as this quarantine ends. Got enough time to compile a Google Doc to structure my upcoming dream trip — even if it's not until 2022.
Socializing with people about their previous travel experiences
Connect with friends, family, colleagues during this quarantine. Know about their well-being, ask about the places they have visited. You never know what tips you get from them. So, try it.
My cousin recently visited Goa. I conferred with him and made a great conversation on how he explored. As we have got lot of time during this quarantine, we could spend a quality time after ages. He explained about the fishing culture of Arambol beach, a scenic Harvalem waterfalls, The Portuguese Ruins – Cabo De Rama, The Portuguese Architecture - Sinquerim Fort, Night life in Casino Pride and every inch of Goa he touched. Now, I have a clear picture of what to do, what not to do, where to go, what to try etc., when I visit Goa.
Planning the Post-pandemic travel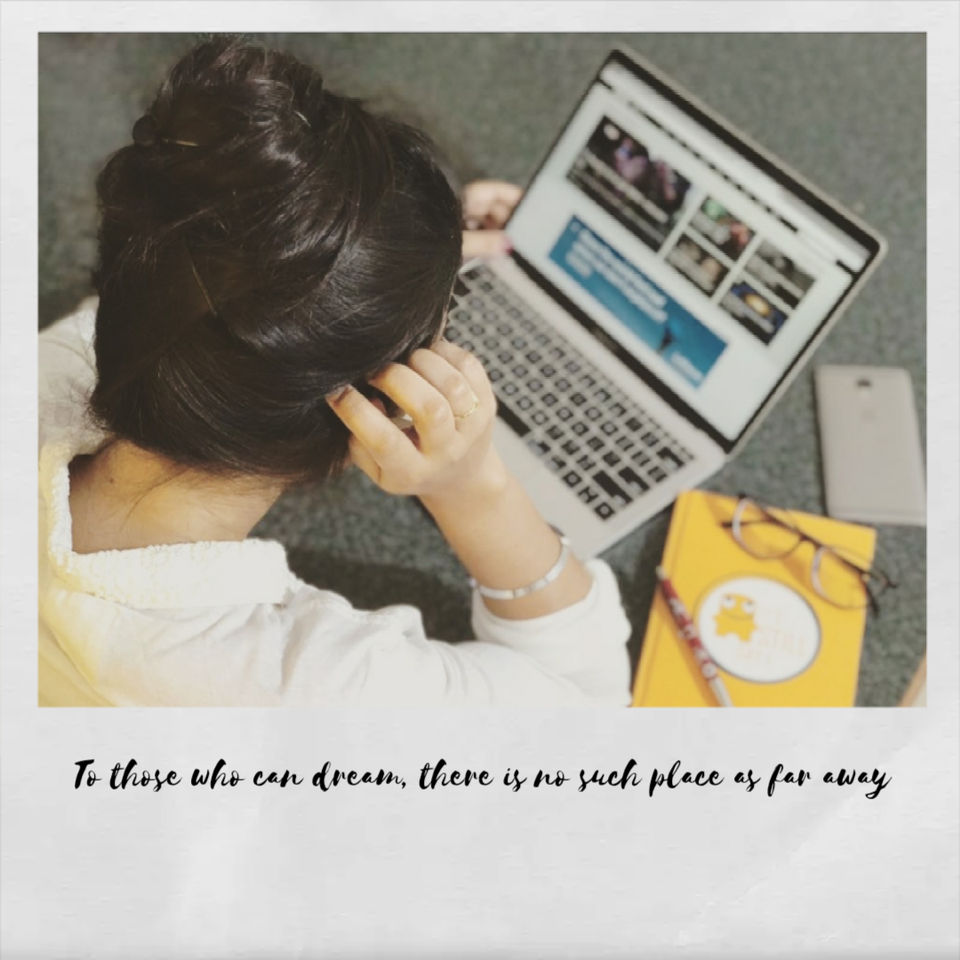 We've been tasked with putting travel plans on hold and staying home to "flatten the curve." It doesn't mean this is the end. This thing is definitely not forever. Everything that has a begining comes to an end.
Once this is all over, I will have a plan to make that first post-pandemic trip a memorable one for the lifetime. I started day dreaming on that special trip already.
This quarantine is the best time to dive deep into the travel opportunities. Explore on where to go, What/Where to eat, What/Where to drink, every possible thing that you can do after visiting that dream land. I have secured all my plans already in my travel planner.
Stay Fit
Stay fit because you don't want to miss those adventures you've planned to do before you are too old. It's important to be healthy when you have planned for some adventures during your trip.
Adventures like bungee jump, skydiving etc., causes Adrenaline rush. If you are not healthy and fit you may not even take a chance of doing those blood pumping activities.
Let's consider when you have planned to visit a sunset or sunrise point at a hill where the climb is steep. Health and fitness plays a major role in trekking up to the sunrise or sunset point because the main goal here is to reach there in time.
So, let's not take a chance to miss those adventures.
Eat healthy food, maintain your appetite and keep burning those extra calories every day. Pack all the energy and make yourself ready for the travels post lock down.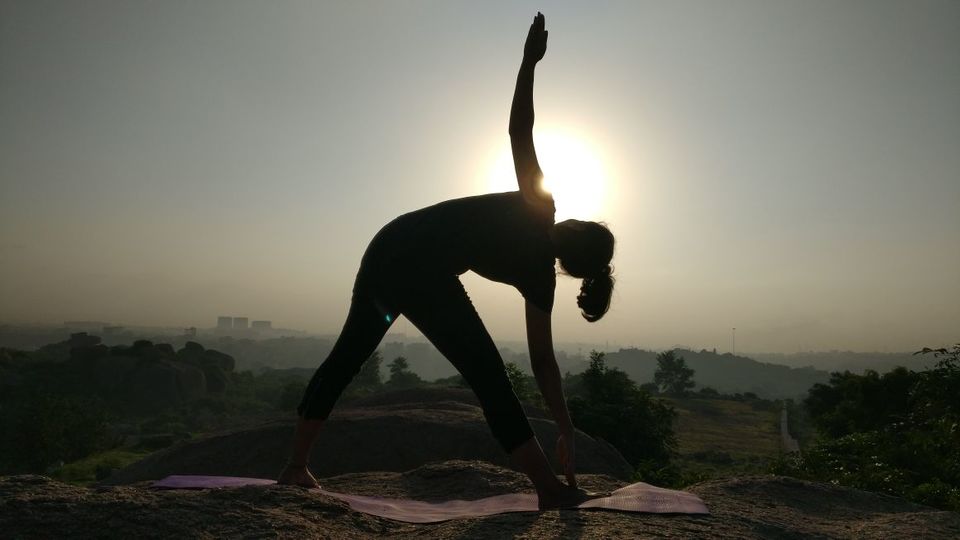 Last and the most important thing
Enjoy the nature because right now it is in its pure state. The reduction of public conveyance and transport has reduced the pollution. Feel your surroundings which you missed to do during your busy lifestyle. You can simply sit in your balcony in the evening and feel the difference in air.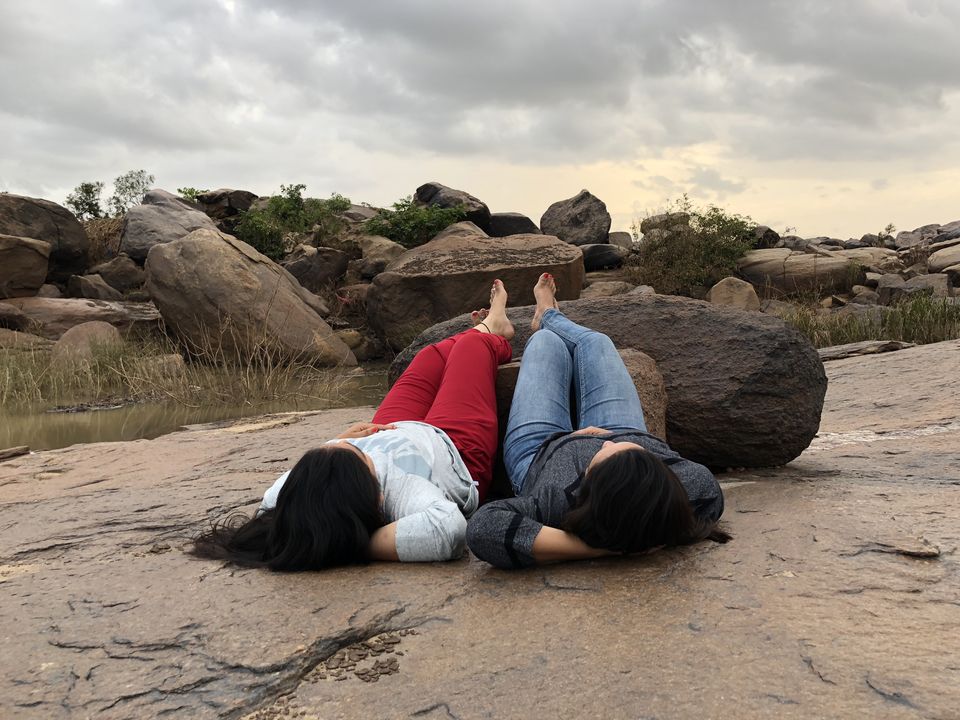 Now that we have plenty of time in our hands, this is the perfect time to focus on ourselves.
There are many other ways to satisfy your urge to travel while making yourself a better traveller. Some other skills I have planned to learn in this quarantine are -
Learning some new languages which will help me in communicating with local people when I travel some countries.
Learning photography. We all love to take photos when we travel, so learning how to improve the skills of photography can help us capture better memories of our adventures.
Most importantly, saving money as much as I can in this no travel period. This helps me in times when money is holding me back from travelling.