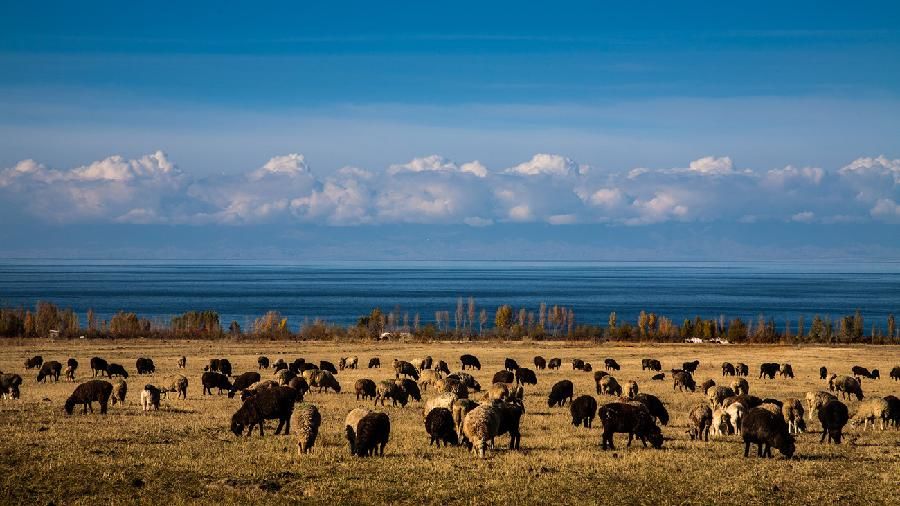 The Story of a Mythical Land
"Kyrgyzstan? Wait. What? Is that even a place?" My borderline frenzied coworker asked when I excitedly told her of travel to the land of the Sun. "But why Kyrgyzstan? How did you come to know about Kygr-z-rgyz- whatever?" asked the other, joining in.
"Well, I follow a lot of travel blogs so I did know the place exists, but when a friend in Saudi Arabia, where I was deployed on a work assignment, shared his travel experience in Kyrgyzstan and showed me the photographs, I was bowled over. I have to make this trip I had decided that moment on." I said.
On returning from Saudi, I shared some of the most beautiful pictures of Kyrgyzstan with my friends on our WhatsApp group, trying my best to sell it to them. Having received varied not so encouraging responses, I was on the verge of going solo. I had to do it, right?! But the next day I get a call from Srinath. He says "I'm in. when do we start planning and booking?"
It was hard for people to believe if such a place even existed. At the same time I felt there was a tinge of curiosity to their questions. Hearing/reading it for the first time, it may feel like nothing but a funny accumulation of random letters out of a spelling bee competition.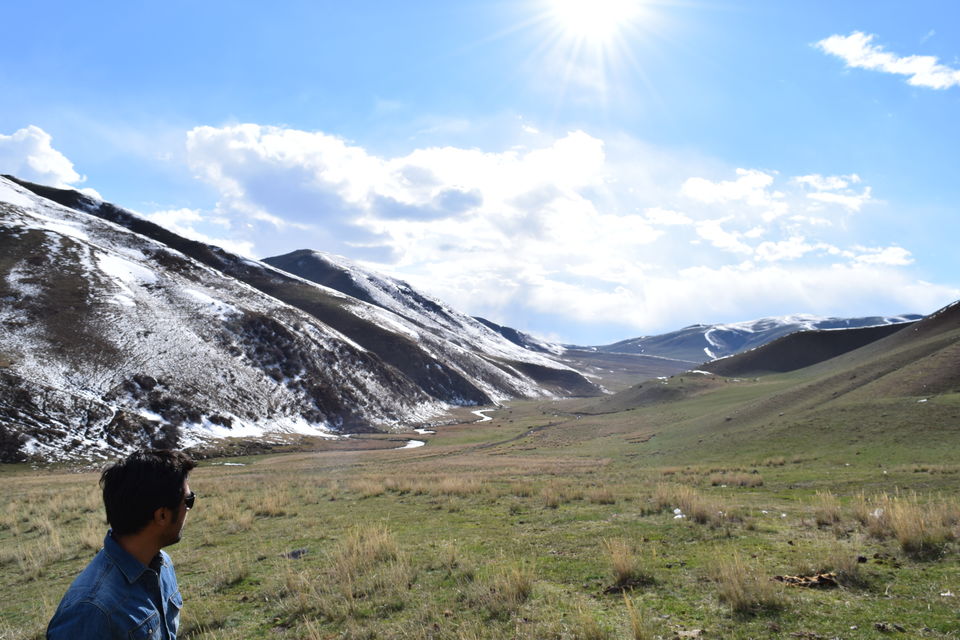 However, our experiences in the country were even more difficult to express, ineffable even.It left us clueless, speechless. Every moment we spent , we didn't question any of this though. We bathed in its existence, we danced, we smiled, we lived.
Here I attempt to share our story knowing very well it won't do justice to the beauty and magnificence of the place. Yes, it exists and yet it still is fable.
Of Slogans and Mountains
"Let's do this!" Exclaimed Srinath as we were about to board our flight at the Indira Gandhi International Airport, New Delhi. It took me back to the moment when he bought into the idea of travelling to Kyrgyzstan. I remember quite vividly, "Let's do this!" were the exact same words he had said daringly just before we booked the tickets. Looking back, the decision to travel to this otherworldy place was nothing but taking a deep breath and diving into the unknown. It turned out to be a trip of many firsts. A trip where "Let's do this!" became a rallying cry.
Having received our visas on the day of our travel, that too our passports being delivered to us at the airport meant we didn't quite have the time and the mental state to be excited days before we took off. Heavy aviation traffic at the runway delayed our flight by about 45 minutes. Fatigued, having not slept the previous night due to the red-eye flight to Delhi from Ahmedabad, I took the opportunity and slept off. What felt like the soundest sleep I had in a while, was ruined by Srinath's heavy nudge. "Dude, what the fuck! After all the struggle in obtaining our Letter of Invitations and Visa till T-1, we have finally made it. And you are here sleeping like a log! It's Kyrgyzstan, baby!" he exclaimed, as if he was the mayor of a fine grey area between excitement and anticipation.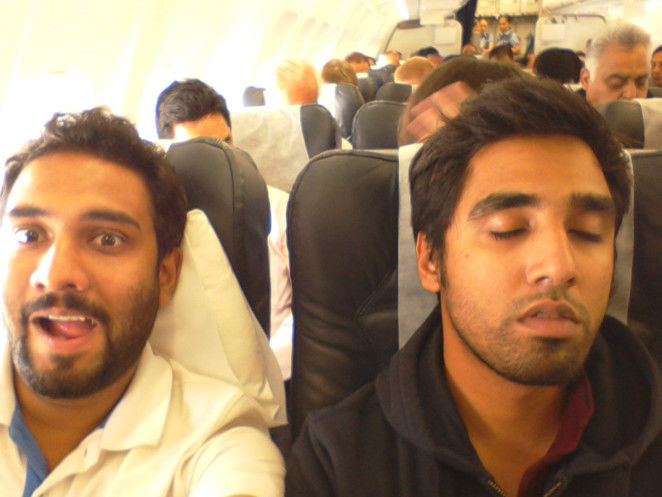 And oh, he was right. From the moment we landed in Almaty, Kazakhstan,we had to stay awake to dream. After our short layover in Kazakh – the land of wanderers, quite aptly, we and our nerves took off to Bishkek on a 30 minute flight over the Misty Mountains of Rivendell. Our mechanism for imagination and daydreaming went in to overdrive in those 30 minutes. We could even see the Elves dressed as flight attendants, when we were not having our heads pressed against the window with our jaws dropped.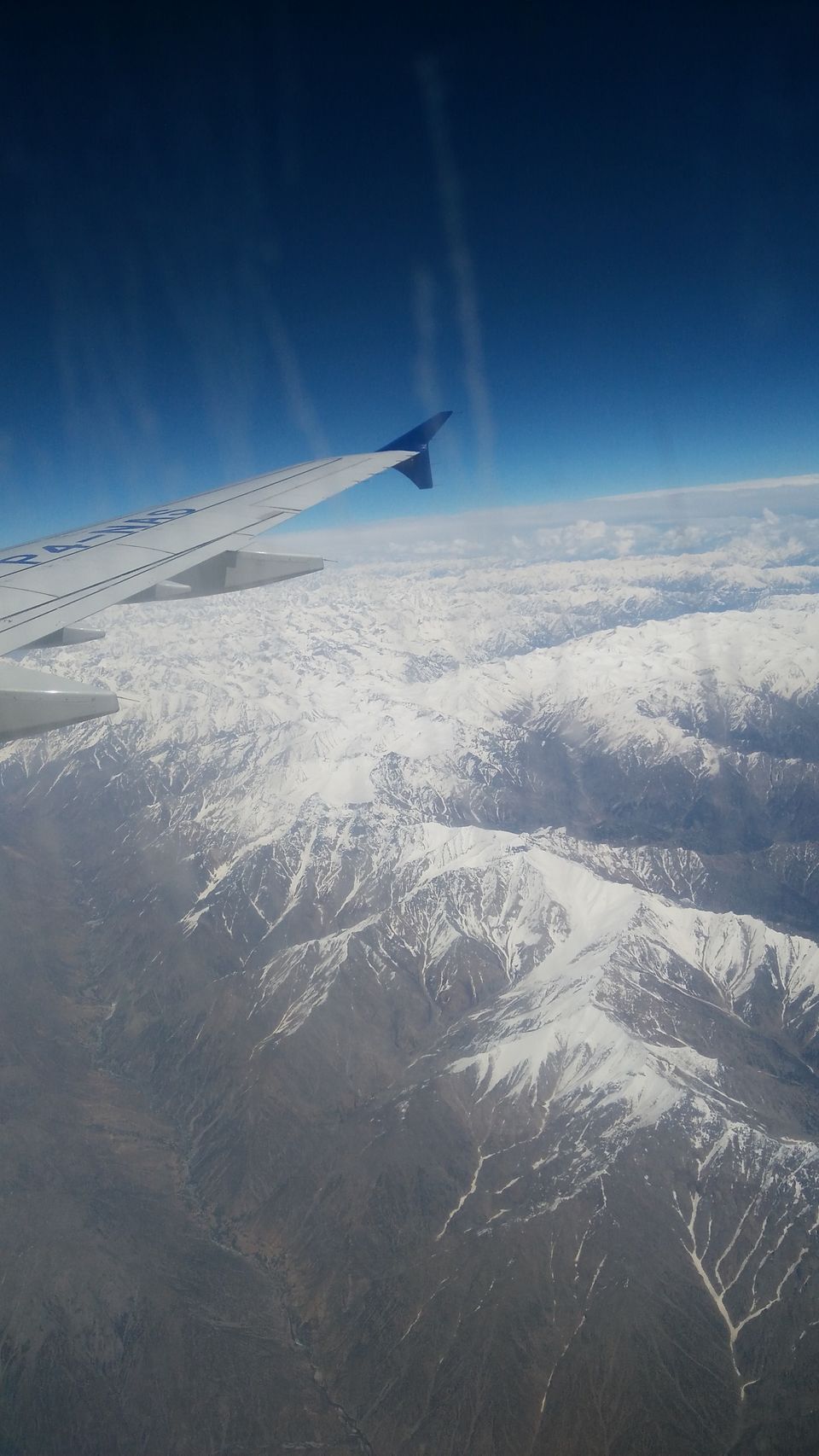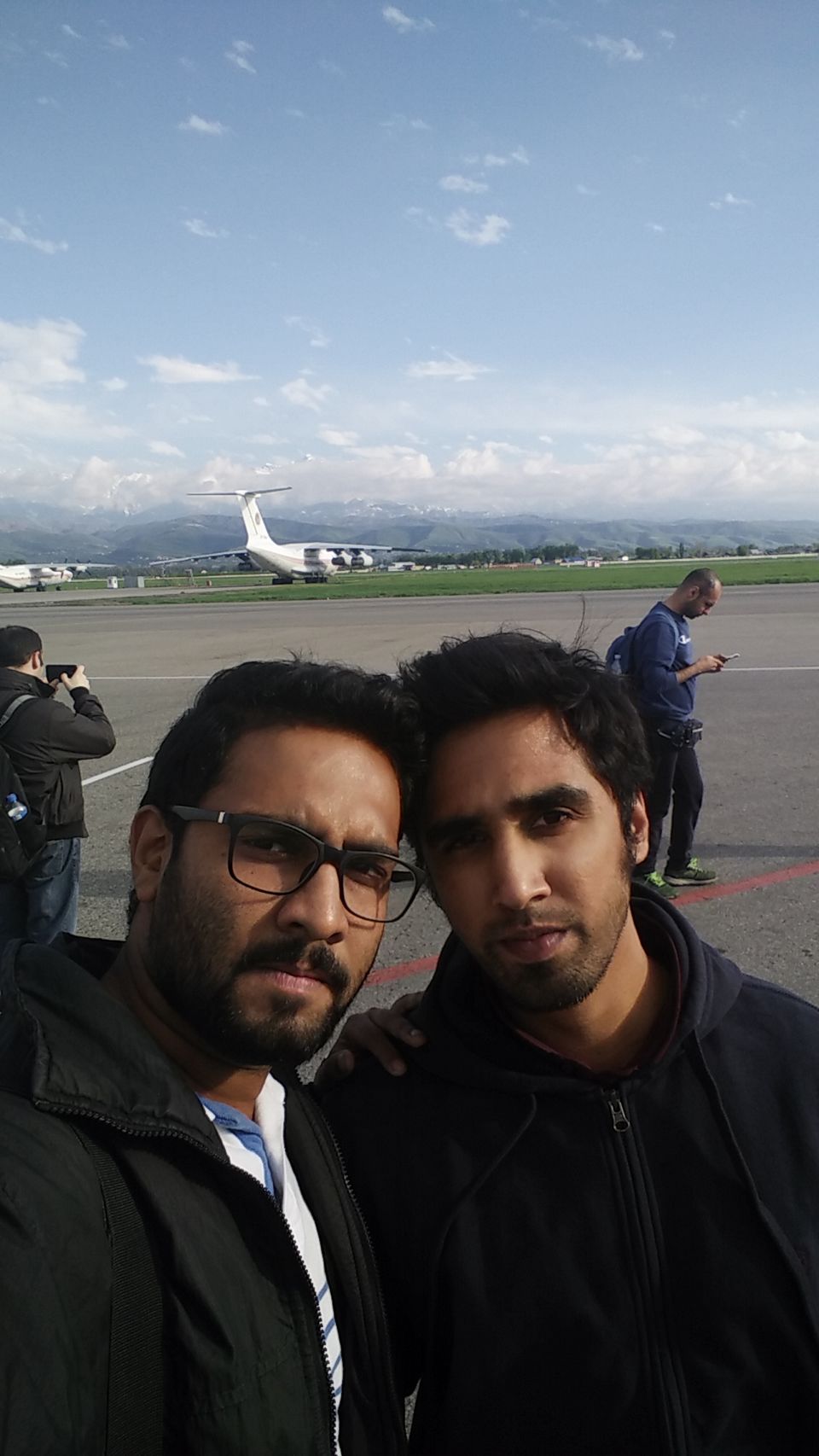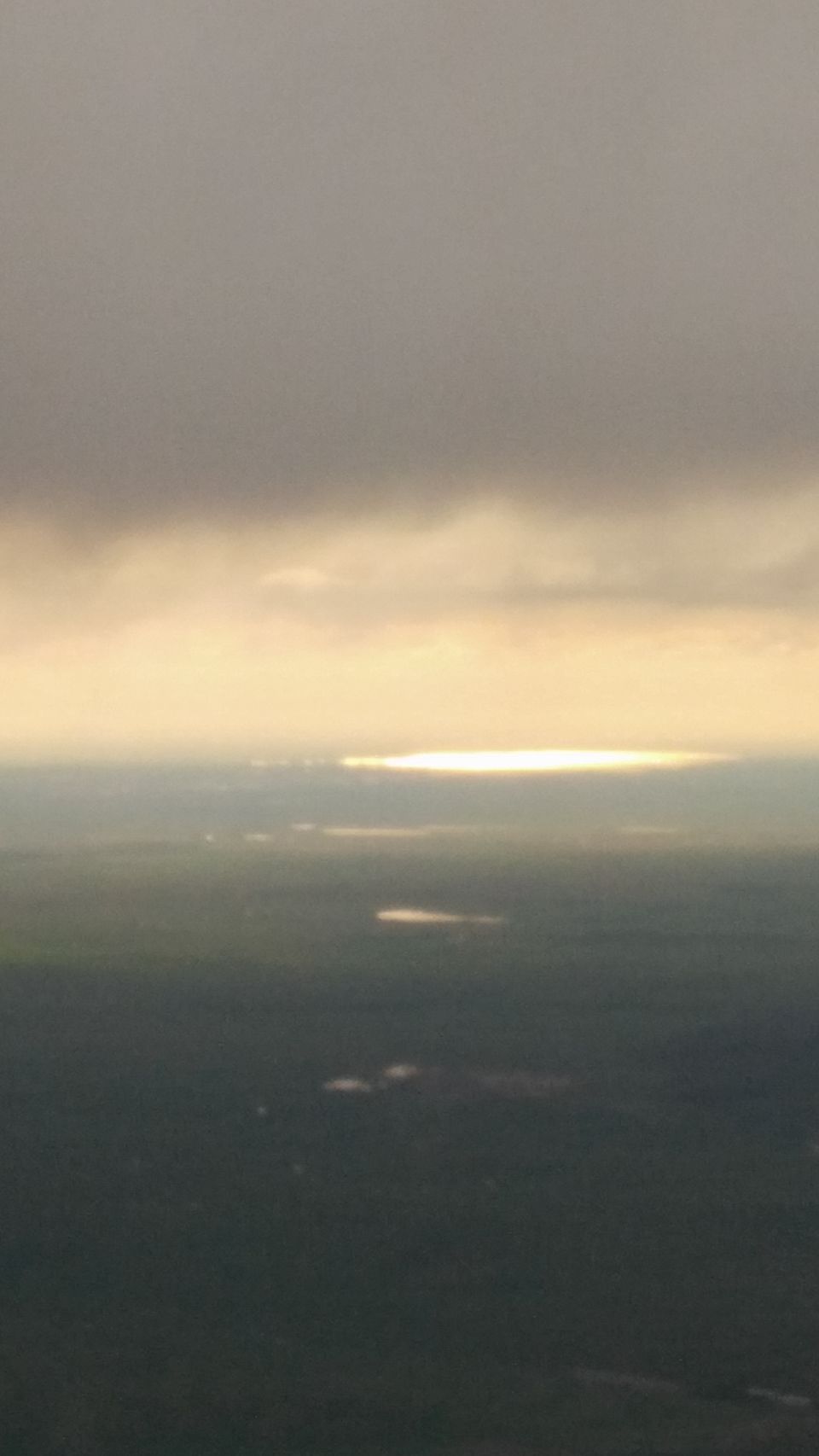 Upon landing, we got down from the plane to the beautiful sight of mountains covered with snow, when all of a sudden it started drizzling. It was an ethereal moment. The cold wind's full blast was so chilling that it felt like it had frozen time and the touch of fine rain drops on our faces reinvigorated us, as if bringing us back from the dead. Gasping for the air so fresh, we felt life in its purest form. Overwhelmed, we didn't speak a word as we made our way to the terminal in the shuttle.We were detached but still there, floating and wondering what does the country have in store for us.
When We Were Chased By People and Trees
With the formalities completed, we exit the airport to the sight of a sea of people chasing and flocking us to get in to their cab or concierges with placards looking for their guests. It reminded us of the scene back home. We politely refused the cab drivers as our host at the hostel had already arranged for the airport pick up for us. We navigated our way through them like a celebrity evading paparazzi and frantically started looking for our name on the thousands of placards on display.
Then, suddenly out of no where a very beautiful local girl stopped us in our search for the cab driver – which evidently was going nowhere, and gave us a free sim card as if her intervention was timed by the divine. Turns out, there was a huge telecom drive going on in Kyrgyzstan. The sim card was valid for 7 days and had 100mb free internet. Good for us! Srinath quickly inserted the card and called Aigul, our host at the hostel. She forwarded Hamid, the drivers' number and thankfully we found him shortly. It emerges that we had crossed our guy like 14 times as he was standing there with a placard with 'Taxi' in font size 180 and our names written in font size 8 at the bottom -in Russian. How about that for a placard?
Relieved, after a search operation lasting half an hour, we put our backpacks in the hood of the cab. We were told it was a 45 minute drive from the airport to the hostel. Hamid adjusted the frequency of his radio and drove us off from the airport to the tunes of some Russian equivalent of Armin van Buuren. It was 7.45pm and the sun was still up in this part of the world, half hiding behind the dark grey clouds. It was as if the trees had all dressed up and running with us on either side. The sunlight was watery and cold, filtered through the leaves above, flowing through the gaps like water.
The trees ran with us for a while but slowed down and disappeared soon after. Maybe they were tired. Like us, I thought. After the trees, came the fields covered with the green blankets. Of course, it was cold after all. The view was straight out of van Gogh's gallery of paintings. We asked Hamid to stop the car for a couple of minutes so that we can capture it.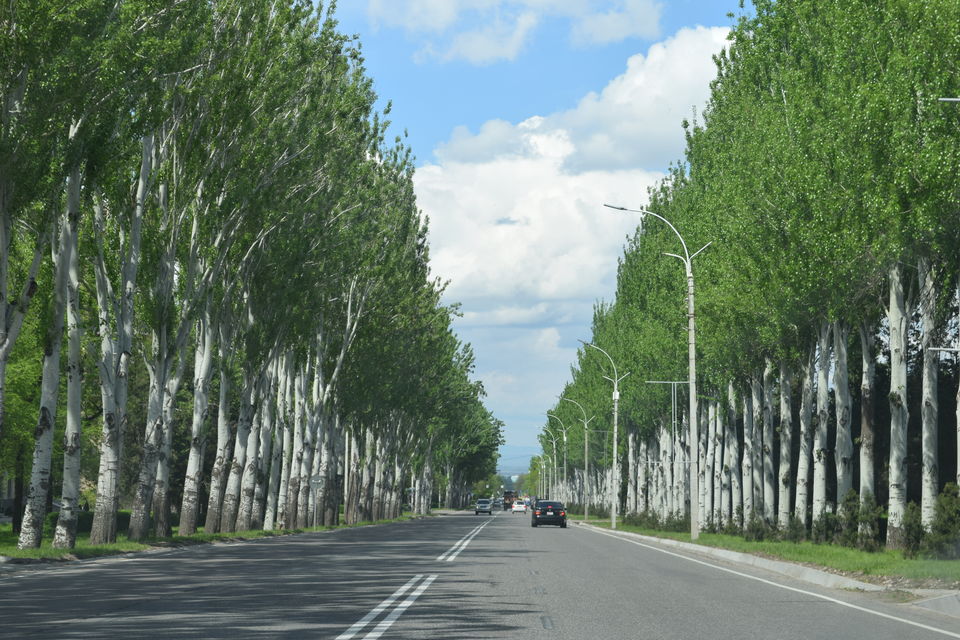 A couple of clicks later, we got back into the car. The freshness of the wintry air didn't diminish as we approached the concrete establishments. There was no chaos in Stalin's city. Just order. At least when you compare it with the traffic at Akota char rasta, back home. A few minutes later we enter a thin lane and see a solitary building with a huge gate. Hamid confirming our inference, we had reached our hostel.
Apple and 'The Host(s)'
As we entered the hostel we were greeted by our host Aigul and her beautiful mother at the reception, "Welcome to Apple Hostel." We collect our room keys, exchange pleasantries and share a couple of laughs before Aigul takes us to the canteen for coffee. We take a seat, while Aigul talks us through her expansion plans for the hostel, which was already underway. With the fresh aroma of black coffee having a revitalizing effect,we excitedly start discussing our travel itinerary with Aigul. Being a tour organizer herself, Aigul planned the next 6 days for us. Having agreed to the same, Aigul offered to arrange everything for us, the kind soul.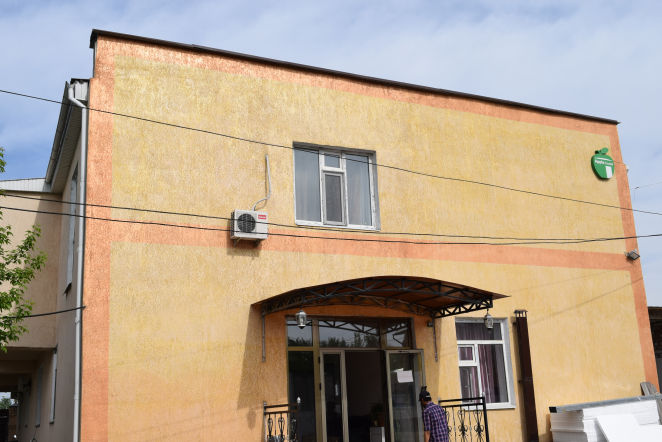 With the coffee still warm, we talked about Kyrgyzstan, India and how in some ways we are so similar. Aigul shared her travel experience in India, which was quite interesting. She was invited to an ex-guests' wedding in Chennai, who incidentally was the first Indian guest at Apple Hostel. After the long-winded chit-chat over coffee, we leave for our room. As we were about to take the stairs, Srinath turned back towards Aigul and asked if there was any Indian restaurant here in Bishkek. She beamingly said "Of course. I know just the place. I will call the cab. You guys freshen up."
Suffering from extreme hunger, we rushed towards the room. We put our respective backpacks down carefully in the corner, turned on the lights and noticed the room was newly renovated. Customarily, Srinath went and checked the toilet first. Satisfied, we started unpacking to the music of The Weeknd's Starboy on the Bluetooth speaker. Taking turns, we got our business done, freshened up and got ready for the night in Bishkek.
As we came down the stairs, we were greeted by an Irishman and a Canadian. We introduced ourselves to each other, "You guys have a whale of a time, lads!" said the Irishman in a typical Irish accent as we were about to depart. Pretending we caught what he had said, we smiled back and left for the Indian restaurant – 'The Host" in the cab.
It was 10.30 PM and the streets were at ease with the little traffic of cars and commuters. Though, at a distance the buildings, monuments and statues pulsated mysteriously in the melancholic light. After a quick ride to the restaurant, we thanked the cab driver and got down the basement to enter "The Host" which had a very 'Indian' feel to it ambiance wise, especially with Bollywood numbers being played in the background. Surprisingly though, we had the whole restaurant to ourselves.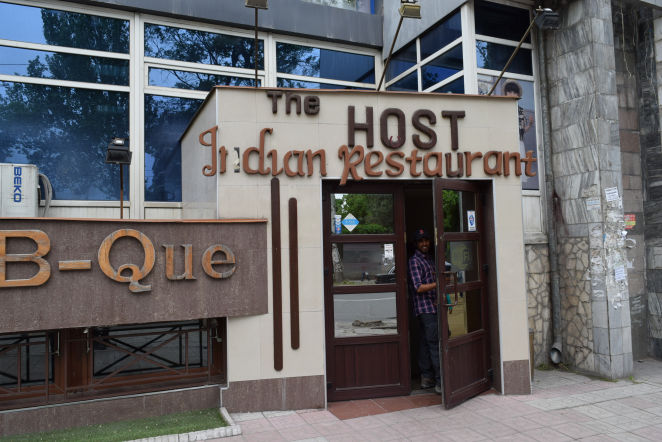 Taking the table at the center, we quickly ordered for a four course Punjabi meal, with dessert saved for the last. After a lot of traveling and worrying about stuff to take care of, we finally had time for ourselves. There was a lot of catching up to do. It was almost 2 years since we last met. Friendship, at least for us, is like a time machine. The moment resonance is achieved, we travel back in time and relive those memorable moments again. We ate and laughed till our stomach hurt.
Waiting for Sunrise
Taking the cab back to the hostel, we saw Aigul completely engrossed with something on her laptop. The squeaking of our shoes on the wooden floor made enough noise to catch her attention. Keeping everything aside she exclaimed, "Hey guys! I was just working on your itinerary but it's going to take a while for it to be finalized." Excited, we asked about the plans for tomorrow. We were told that she had already arranged for a driver who would take us to the Ala-Archa National Park at 07.00 in the morning. Having inquired about the place, we were told the breakfast would be served at 06.30.
Having said our goodnights, we go to the room and get changed. Lying on the bed, exhausted yet stirred we recalled the days' memorable moments and encounters. "It was only the first day man! Cannot wait to find out what tomorrow has in store for us." Srinath said with a thrill in his voice. I smile and nod in agreement as silence took over.