Mysterious Village Twin Town - Only twins are born here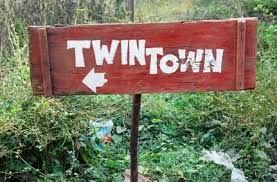 Kodinhi

, popularly known as The Twin Town is a small village in the district of Malappuram in Kerala, India.  The village of Kodinhi is located about 15 miles from the city of Malappuram. It has one of the highest birth rates of twins in the world. Kodinhi has an unusually high number of twins born there every year. For a village with only 2000 people, there are 204 pairs of twins, with about 15 pairs being born every year. Approximately 10% of the town's populations are twins.
              
For every 1,000 births in Kodinhi, 45 are twins. Compared to the rest of India where the twin birth rate is 4 out of every 1,000.The phenomenon has fascinated researchers, but they still haven't found a cause for it. According to villagers the twin phenomena has only been happening since 1949.Women who marry men from outside Kodinhi, and men who marry women from different villages, still report high rates of twin births. In Kodinhi there are twins of every age.

Kodinhi, Looks like one happy village.
Nobody knows why or how this phenomenon originated!!!
Baffled doctors are trying to unravel the mystery of Kodinhi who is boasting more than 220 sets of twins born to just 2,000 families. Experts who have visited the remote tropical village of Kodinhi, in Kerala, have been left scratching their heads over the phenomenon that has seen almost six times as many twins born than the global average. Local doctor and twin enthusiast Dr Krishnan Sribiju has been studying the medical marvel of Kodinhi for the past two years. Although 220 sets of twins have been officially registered in the village Dr Sribiju believes the real number to be far higher.
The genetic, biological, molecular, hereditary and climatic factors of the puzzling phenomena are the subject matter of the research on the multiple births at Kodinhi. While the strange and wonderful phenomena of extra-ordinary concentration of twin births in this village continues, an in-depth study on the various factors to find out its causes has become highly essential.