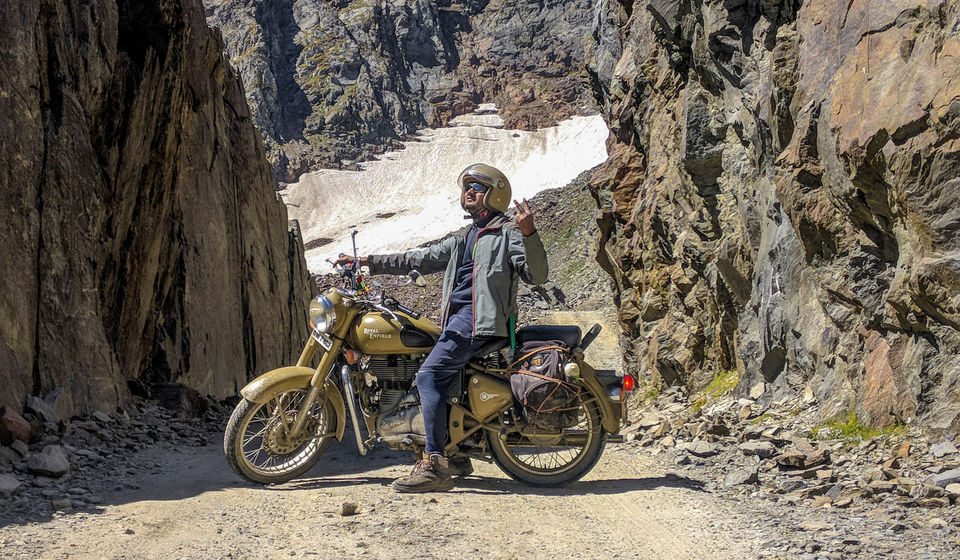 The first video of the two part video series on Sach pass (4500 m) talks about our experience on the very first day of the road trip.
We started the road trip from Manali (2000 m) at 11:00 am on one bike (Royal Enfield Standard 500 CC). We were two individuals on one bike carrying a small backpack consisting of very few clothes, 4 apples, power bricks and a 3 litre can for carrying petrol.
After getting our permit checked at the Gulaba check post, we reached Marhi which is a "shanty town of roadside restaurants" in Himachal Pradesh. You can stop here for food and Jio is the ONLY network that works here. We continued our ride towards Rohtang pass (3900 m).
After visiting the Vyas Muni temple at Rohtang pass we started descending the pass. The road on the other side of the pass is relatively bad. We reached Koksar in another couple of hours. You have to make a small stop at Koksar to make an entry. Koksar is another place where you can have lunch and the mutton rice available here is cost effective and delicious.
The next village on the way is Sissu. We stopped there to get the blessings of the local deity of Lahaul named "Raja Gephan". In another couple of hours we reached Tandi. It is the village which has the LAST FUEL PUMP on the route. Make sure you fill your tank and carry extra 3-5 litre petrol.
Take the diversion which is there 3 Kms away from the petrol pump. The roads till Udaipur are really nice and the views of the numerous villages in the valley are a treat to the eyes.
We reached Udaipur at 04:30 pm. We withdraw some cash from the ATM and continued our ride. There are SBI and PNB ATMs in Udaipur and this is the last place where you will get an ATM and there is NO petrol pump.
The road after Udaipur is in a very bad condition. Be careful as the route comprises of many water crossings and unpaved sections. We drove till 08:00 pm and reached the small village called Purthi.
The next day we started the ride early morning. Stay tuned for the second part to know more about the Sach pass road trip.