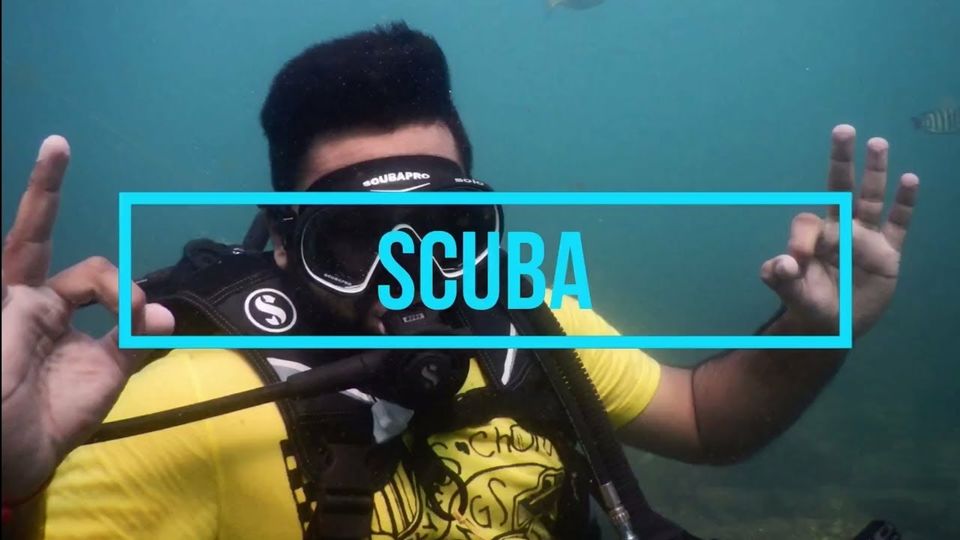 Check out the video for a visual experience!!
This entire experience of SCUBA was a part of our 5-day Road-Trip from Mumbai to Murdeshwar. To read about our entire journey, please visit --
https://www.tripoto.com/trip/drive-to-dive-scuba-an-1840km-roadtrip-from-mumbai-to-experience-a-world-beyond-ours-5aa53497302c2
If you wish to experience SCUBA only, read on.
7.15 am :
Pulled up at the Kawari Palm Resort. We looked around the empty parking lot only to find the Netrani Adventure office still locked. The three of us exchanged glances of pride having reached so early. I'm sure the EXCITEMENT factor played a big role!
Miriam, a gorgeous Polish diver was our instructor for the day. She gave us some basic knowledge and instructions at the dive-center. After a quick bite at Jaya snacks, we drove down to the beach to catch our boat. Just as we found a space to park our car, the front tires got stuck in the pliable beach sand! The more we tried to remove it, the deeper it dug! We got more and more concerned as all our tries were failing. Fortunately, our efforts soon reaped as the car came out without any damage. We immediately left the beach to park the car on a solid ground.
At the boat, all of us formed a human chain to pass the SCUBA gear and tanks into the boat. We sat in the boat, the motor revved and off we left... umm no, we couldn't! The boat was stuck in the sand! We were like "Sand.. WTF is your problem man!!" All of us got down and pushed the boat till we were ready to go. And finally the 1.5 hour journey to Netrani Island began. The back of the Shiv statue and the Gopuram were visible from the sea. A young girl got sea-sick followed by his mother. We wanted to help, but the father and the Polish lady had them covered very nicely.
TIP : Please take prior medicine if you tend to be sea-sick.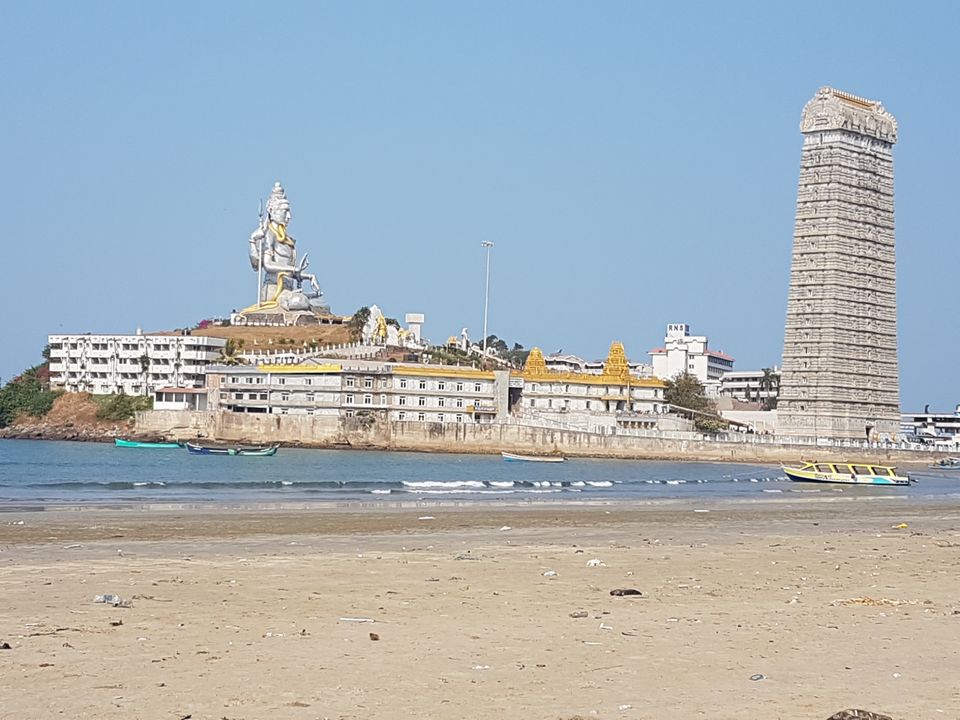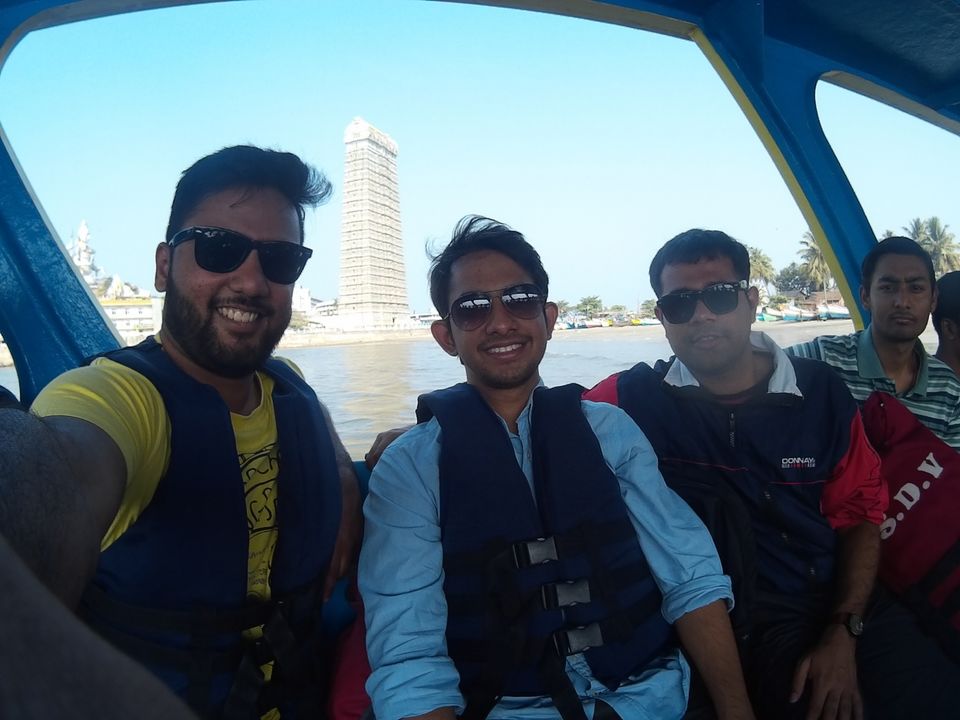 5.29 am :
I turned the keys to Ignition and left for Murdeshwar. We had been tired; we had slept late; it hadn't been a very comfortable rest; but even then, we were up and running 1 minute ahead of our schedule. As we drove on the empty roads in the dark, Saumitra finished his sleep quota in the car.
Jay and Saumitra were visibly elated, as it was their 1st time at SCUBA. Having done SCUBA 3 time before this, including at Mauritius and Spain, I was very skeptical about this at first. On reaching the island, the pretty clear blue water eased my concern. It looked like a pretty good place for SCUBA. All 27 visitors seemed very eager to jump in the water and quickly picked the snorkeling gear. We were left with scratched up goggles and no snorkels. So we decided to go for a swim just like that with our safety jackets on. There were 4 instructors taking 1 person each for SCUBA; which meant a lot of time for swimming while we waited.
We jumped, swam, explored the sea-bottom from the surface and goofed around with my SJCam, capturing pictures and videos underwater. The overall ambiance was pretty SCUBA-friendly with 2 other companies' boats a little far away from us with their customers. But the visibility didn't impress me at all. I couldn't see 5m away from me.
We went back on the boat to get ready for SCUBA. We were not given wet-suits because the water was already 26°C. So I got to experience skin-dive for the first time! Lead-belt on my waist, O2 tank on shoulder and flippers on my feet suddenly made my adrenaline surge; and I was ready for another adventure!
SCUBA:
I sat on the boat edge, left hand holding my jacket and right hand pushing my goggles in my face.
3...
2...
1...
I went for the reverse dive into the Arabian sea. The cool waters once again creeped on my skin. It wasn't until the bubbles cleared that I realised the reason for bad visibility while swimming - scratched glasses. The ScubaPro glasses showed me how clear the water really was. I could very easily see the sea-sand 14m below the surface. This was a try-dive where the instructor handles all your controls and all you have to do is gasp at the breathtaking world you knew existed, but had never been a part of untill NOW! (Don't gasp literally.. just keep breathing normally! :P)
My instructor took me to surrounding regions to watch different schools of fishes. I started counting the number of species I encountered - 1, 2, 3, 4, 5... and soon lost count! The marine life was so diverse that I couldn't even believe it was a natural habitat. So many fishes I had only seen pictures of, so many I had only heard about, so many I had seen cartoons of and way more I had no idea even existed. Stone fishes are hard to find, but because of my previous experiences, I spotted a few. And then my eyes caught an eel with a leopard print on it. I saw another pair of divers heading towards us; and then Saumitra's striped tshirt was visible! We got our pictures clicked underwater. Jay and I couldn't meet-up beneath the water.
Amidst the loud silence of the sea and the mesmerizing beauty of the marine life, I had no idea it was time to go back to the dry world I had come from. We began our ascend slowly and soon breached the surface water. I climbed the boat with a heavy heart and a very heavy SCUBA gear.
Snorkeling :
All those who were done with SCUBA, were sitting on the boat, tired; but not me. I grabbed the best snorkel and goggles I could find and jumped back in the sea. While we waited for Jay and Saumitra to come back up, SJCam and I had some time to ourselves. We dived in the sea together, captured the divers from the surface, caught their bubbles and obviously pampered myself. I was very anxious to know if their experience was as astounding as mine. When they came up and then again in the water with their accessories, I bombarded them with curious questions; and they responded with even more zest and excitement! We had just had the best experience of our entire lifetime and we were on cloud 9!
We snorkeled and clicked pictures again until everyone was done with SCUBA. We hadn't wasted a single moment on the boat during the entire time the anchor was in place. We started our return journey back to the mainland. Looking around, all faces showed the same story - exhausted but bewildered! We slept on the return trip; wasn't easy not to.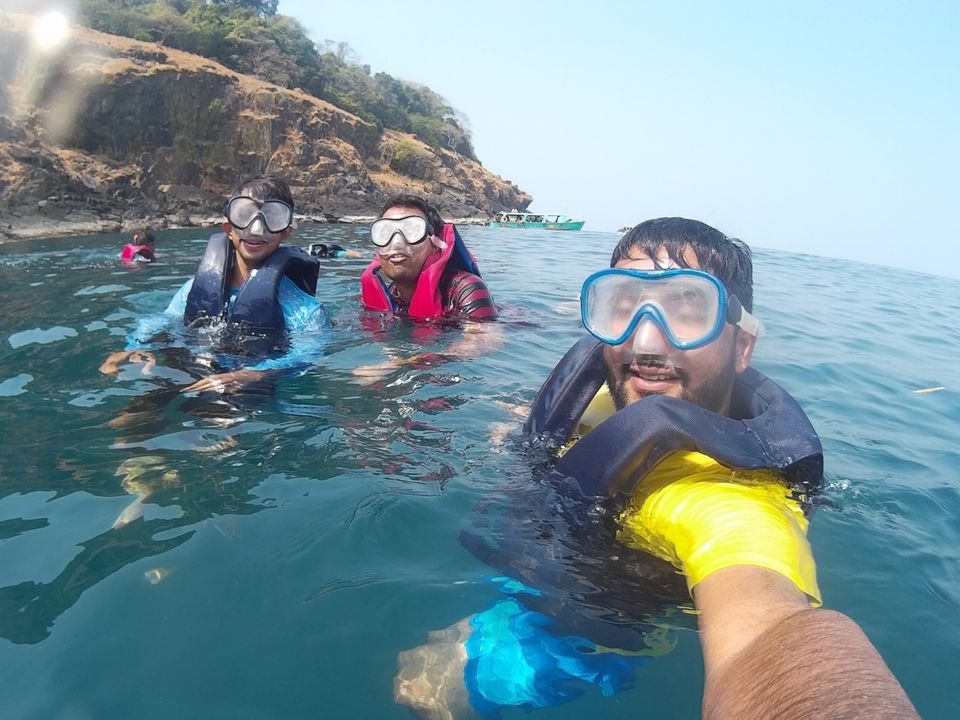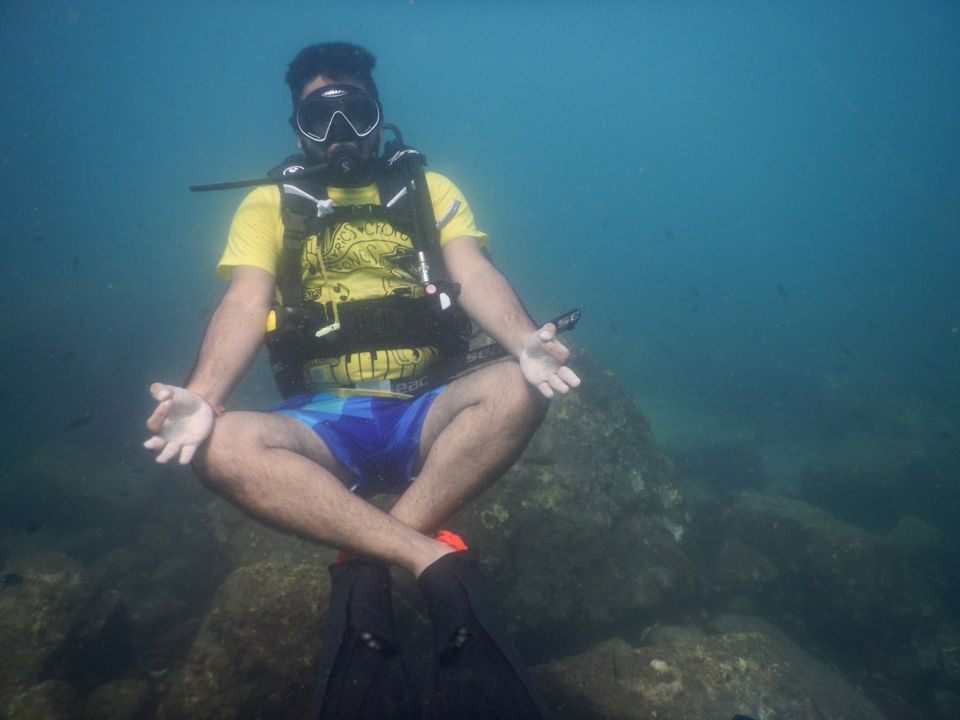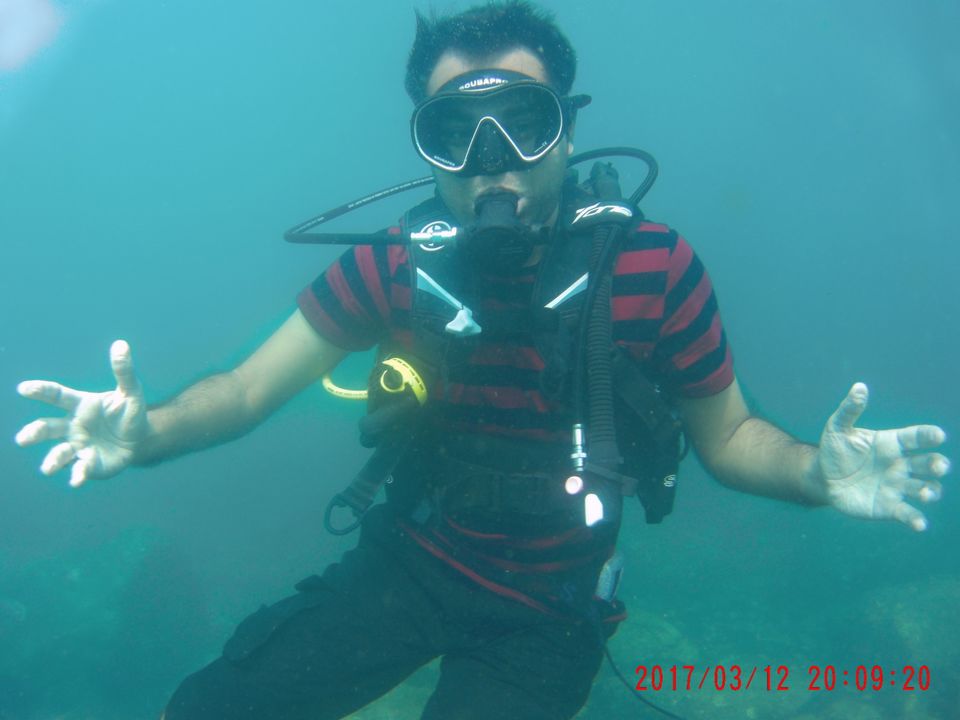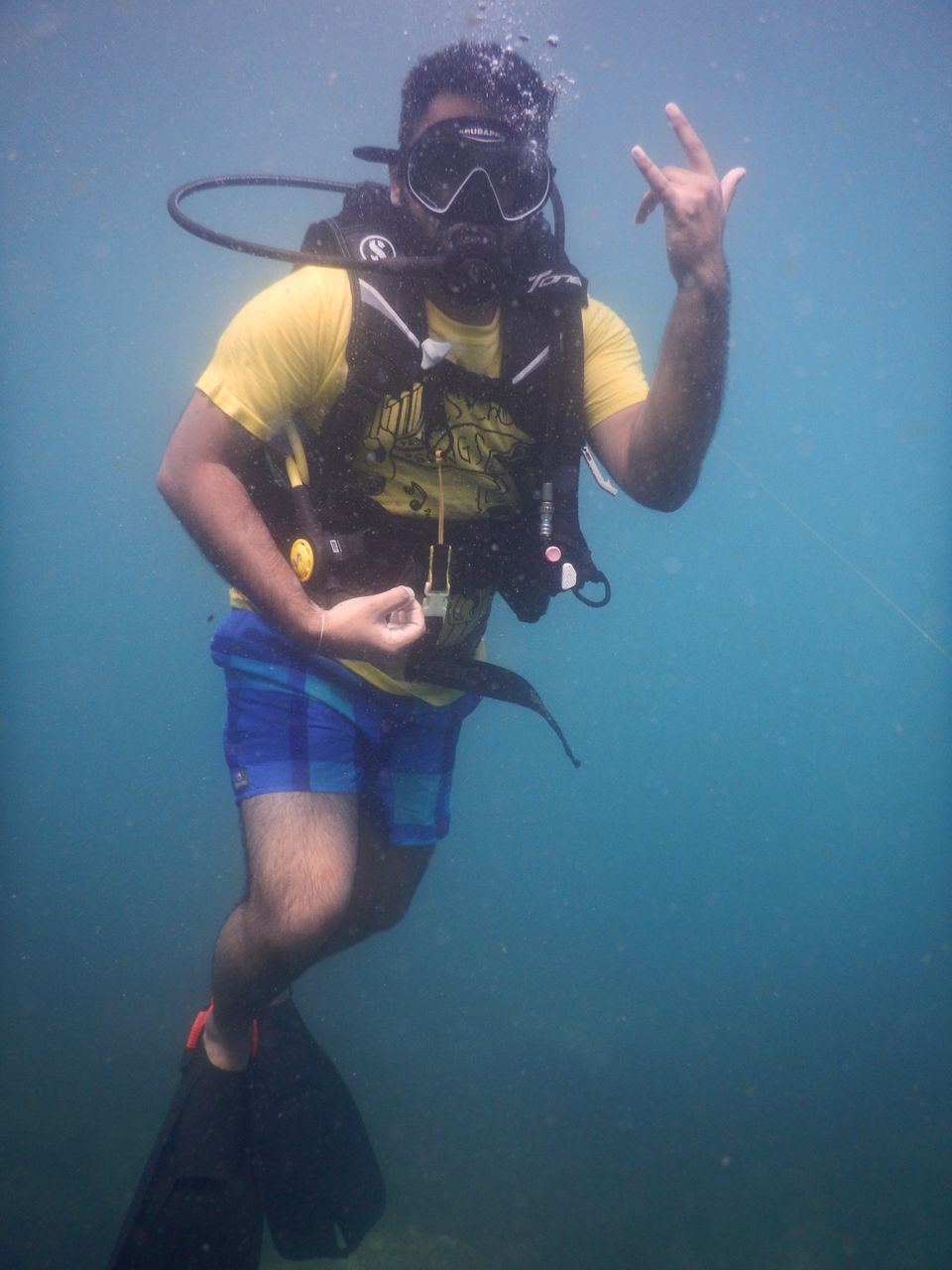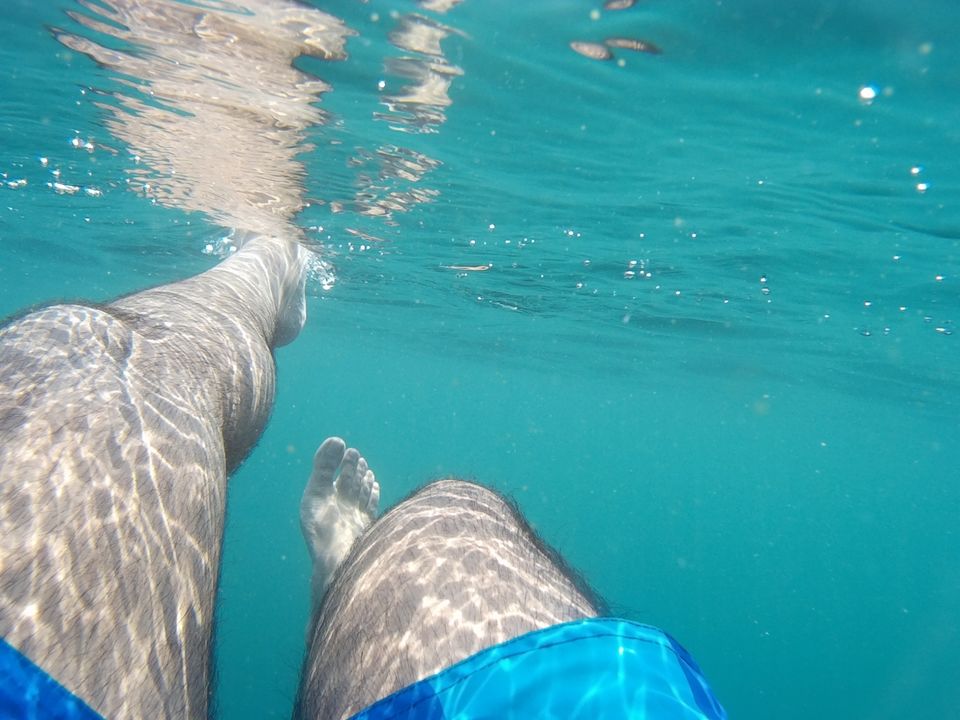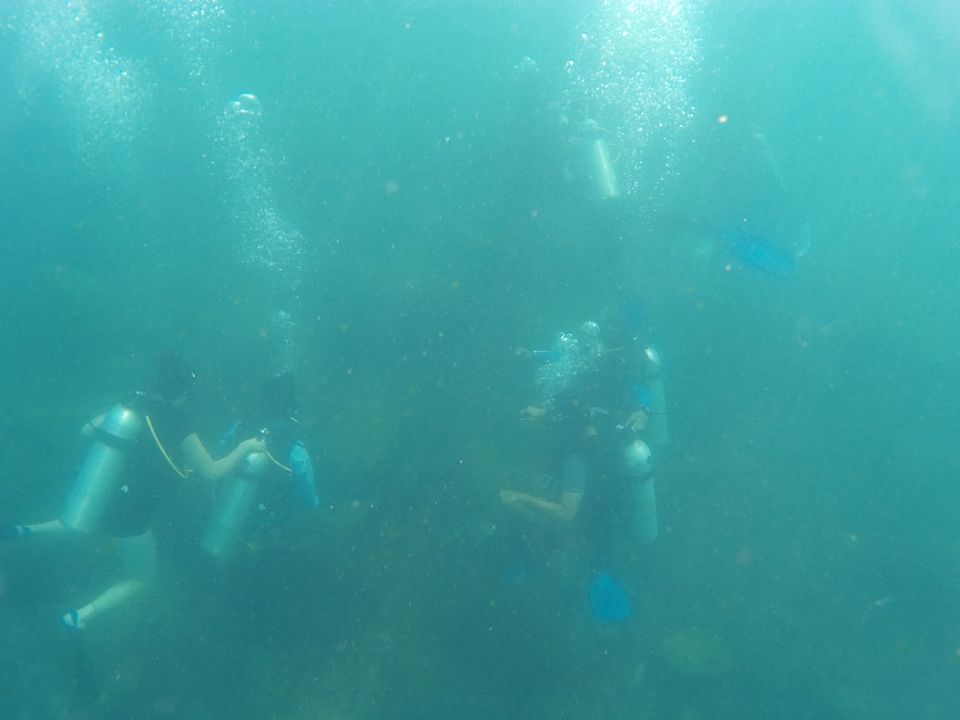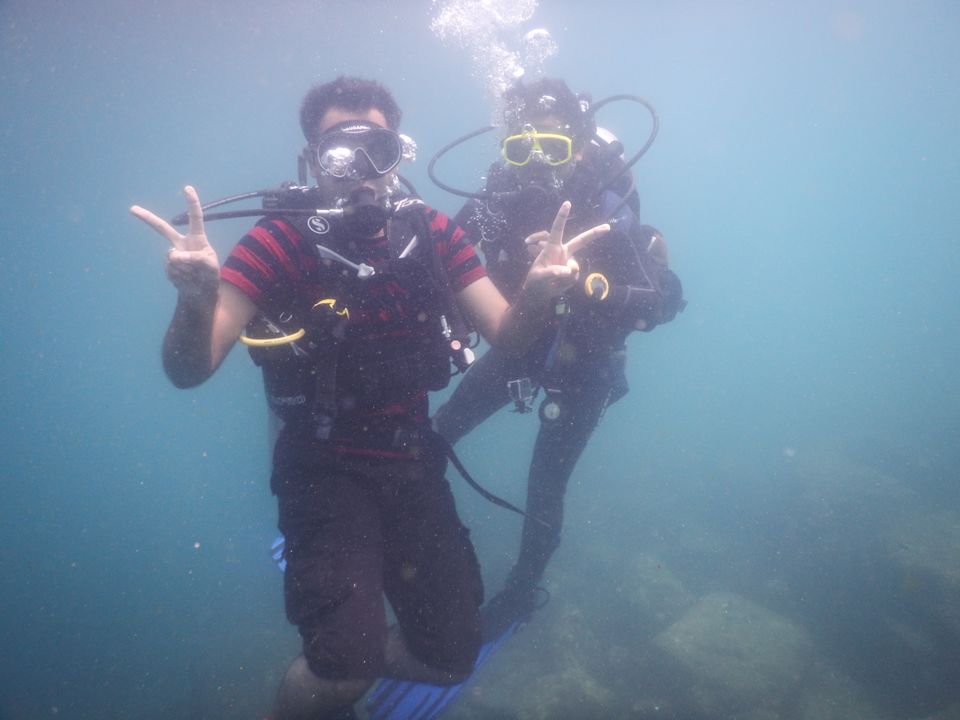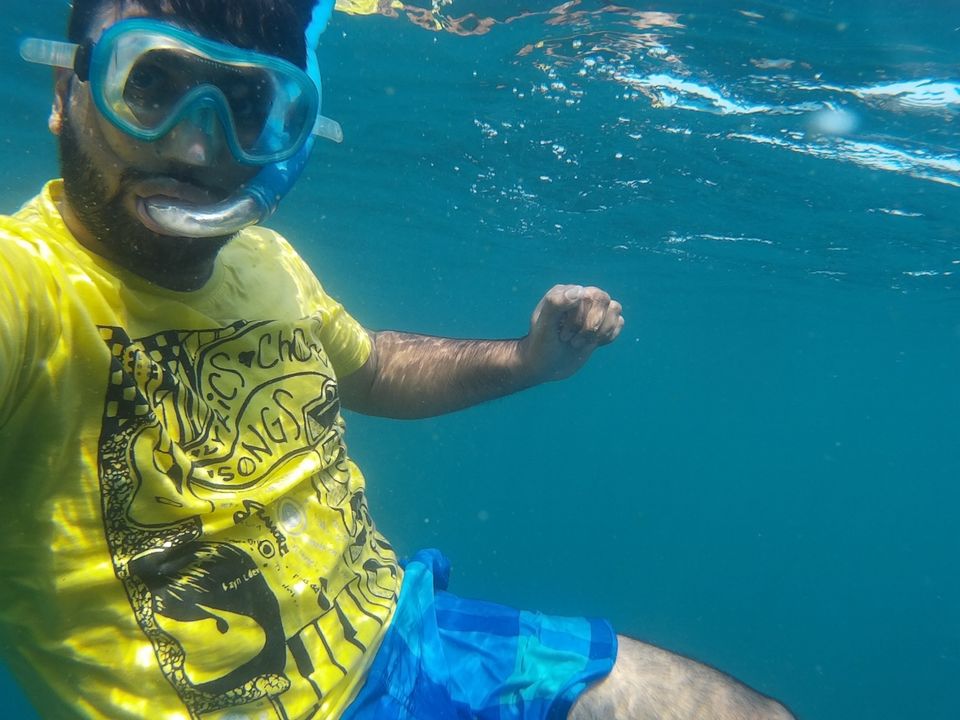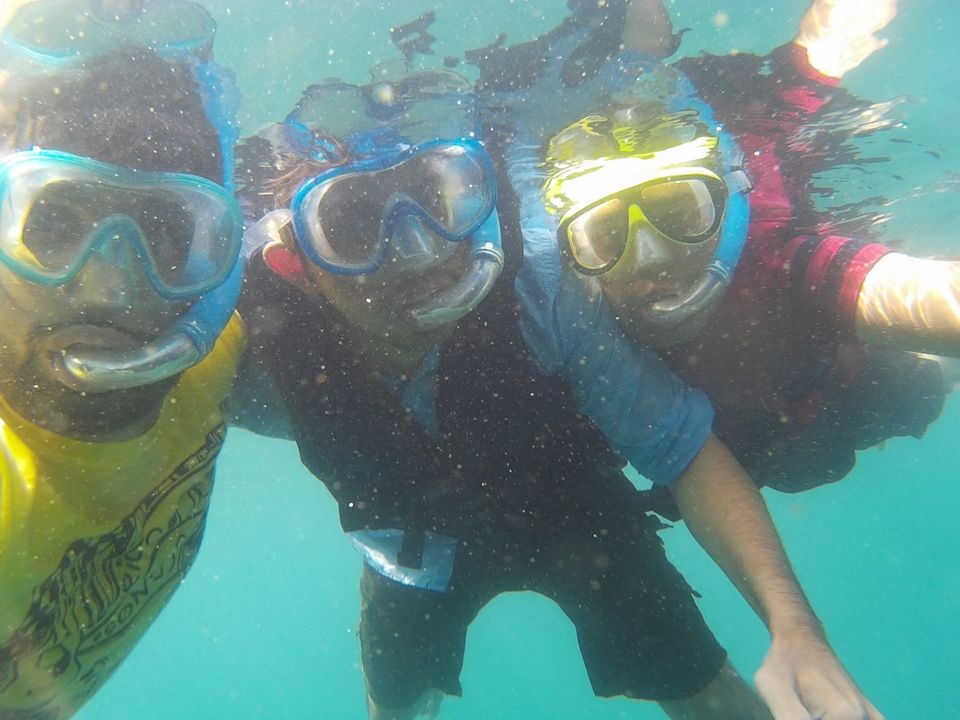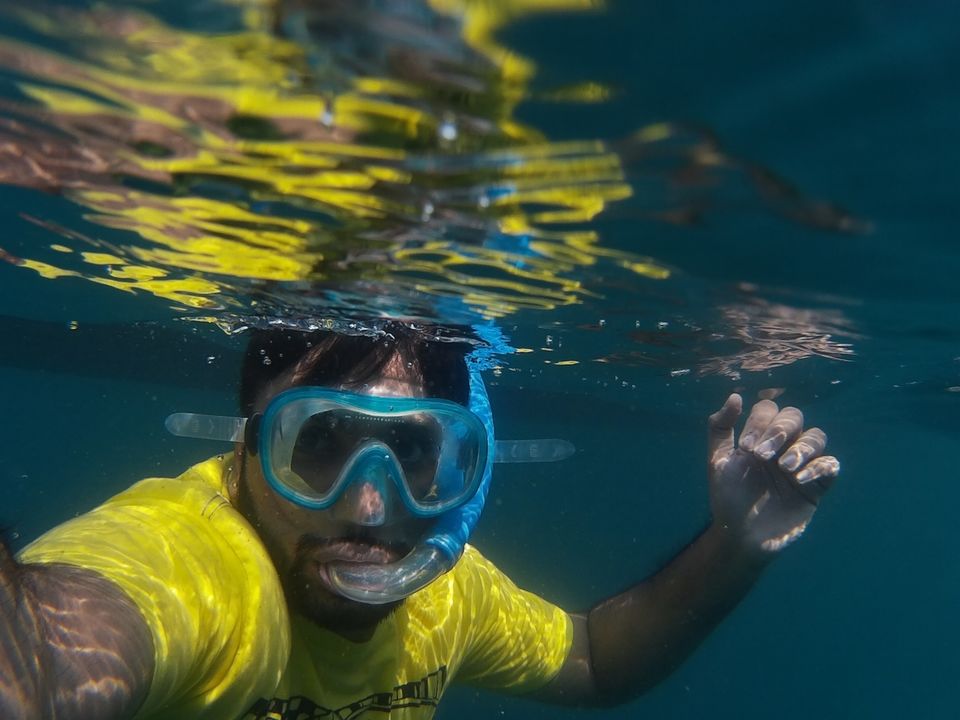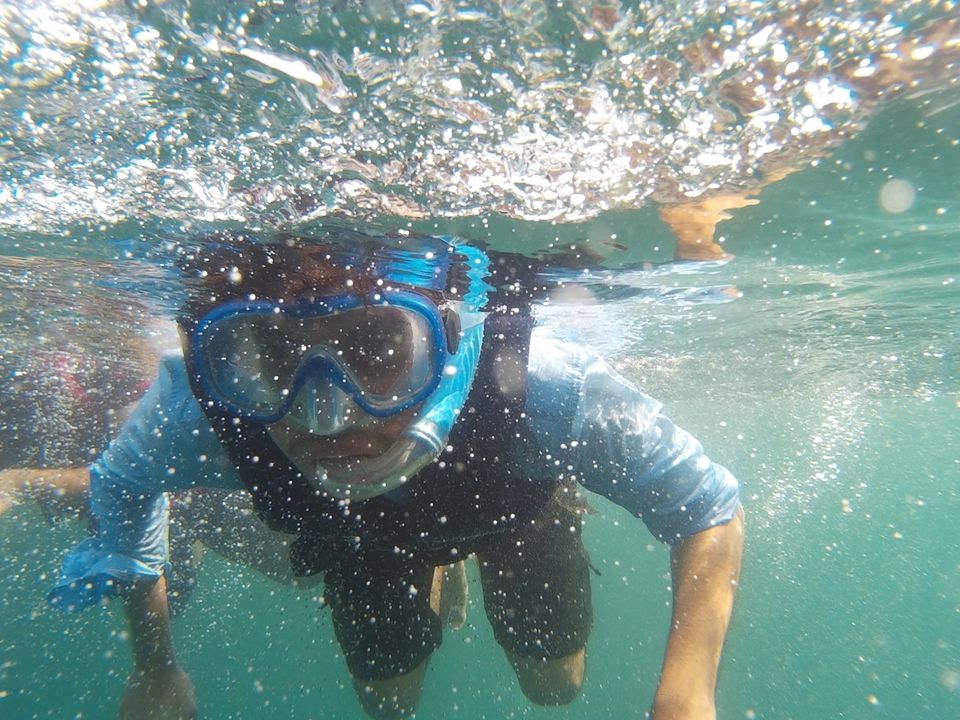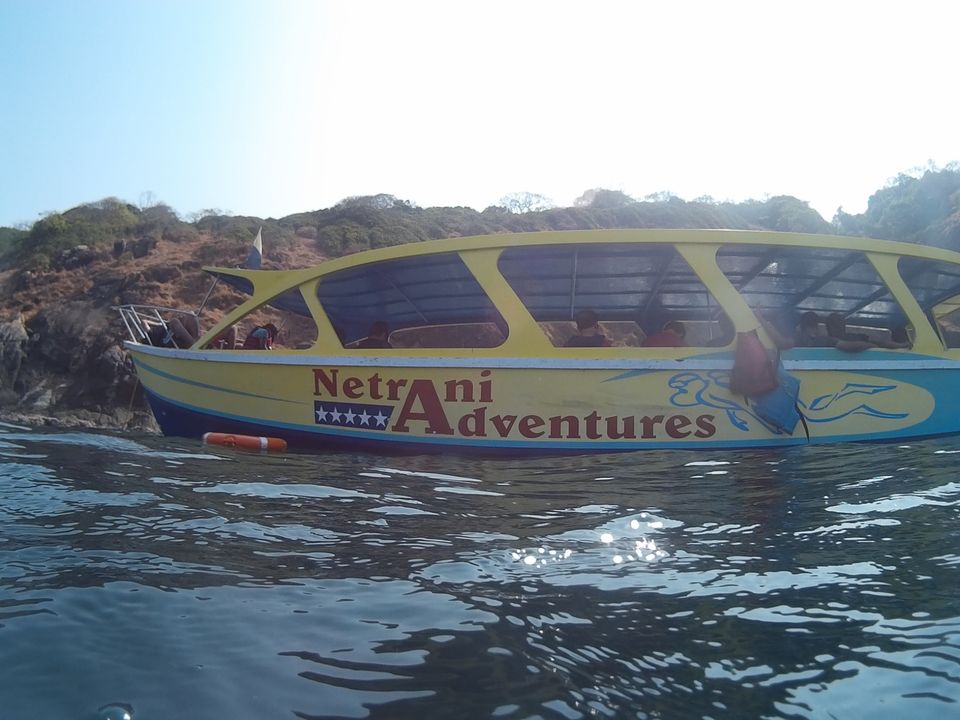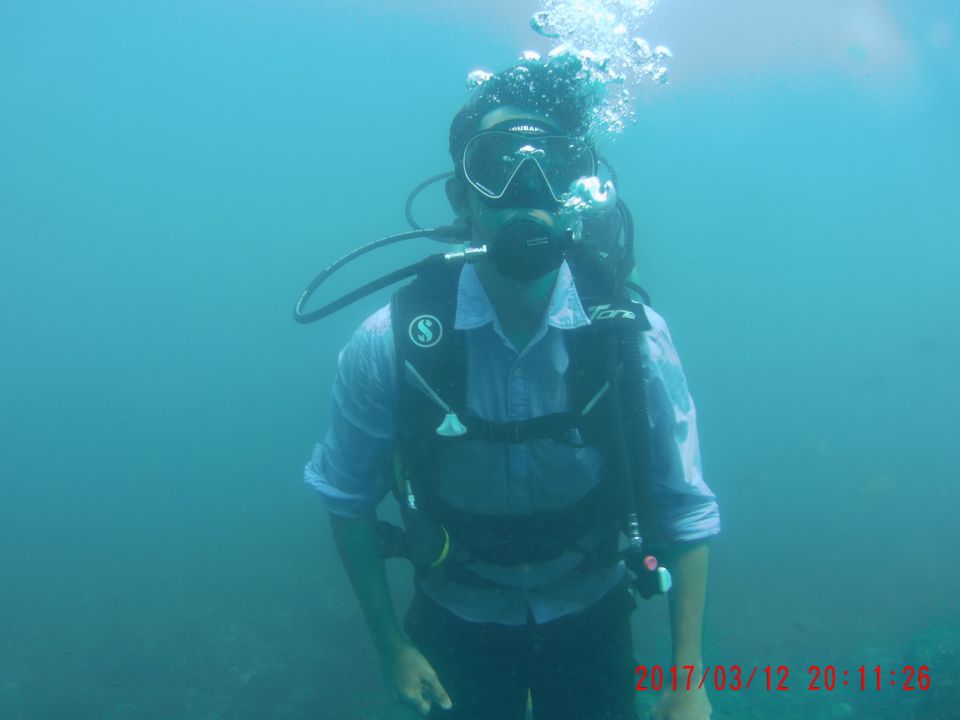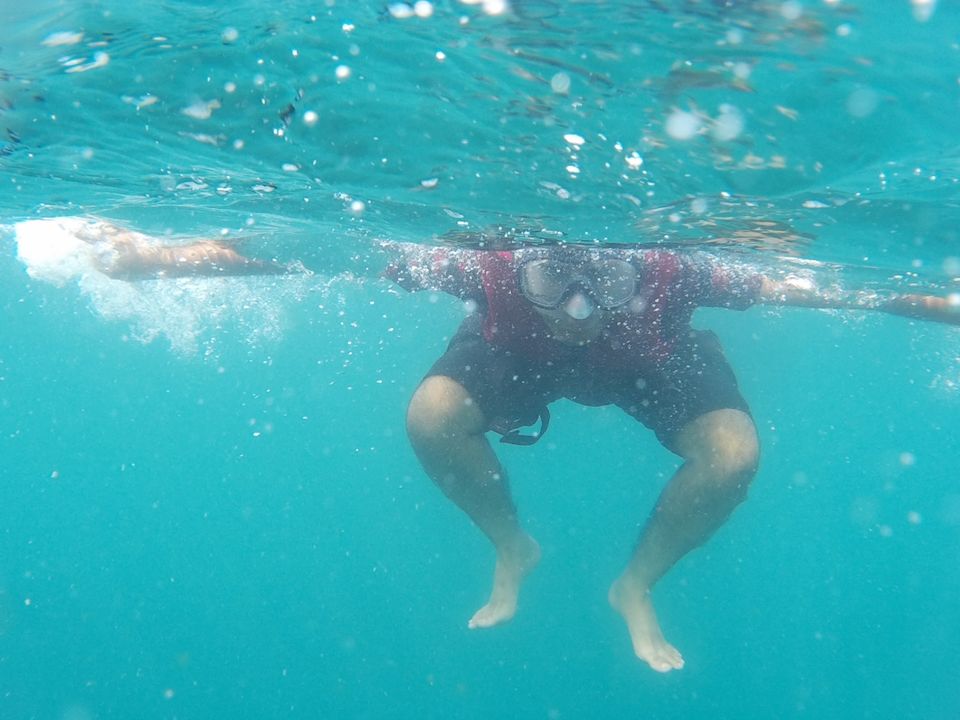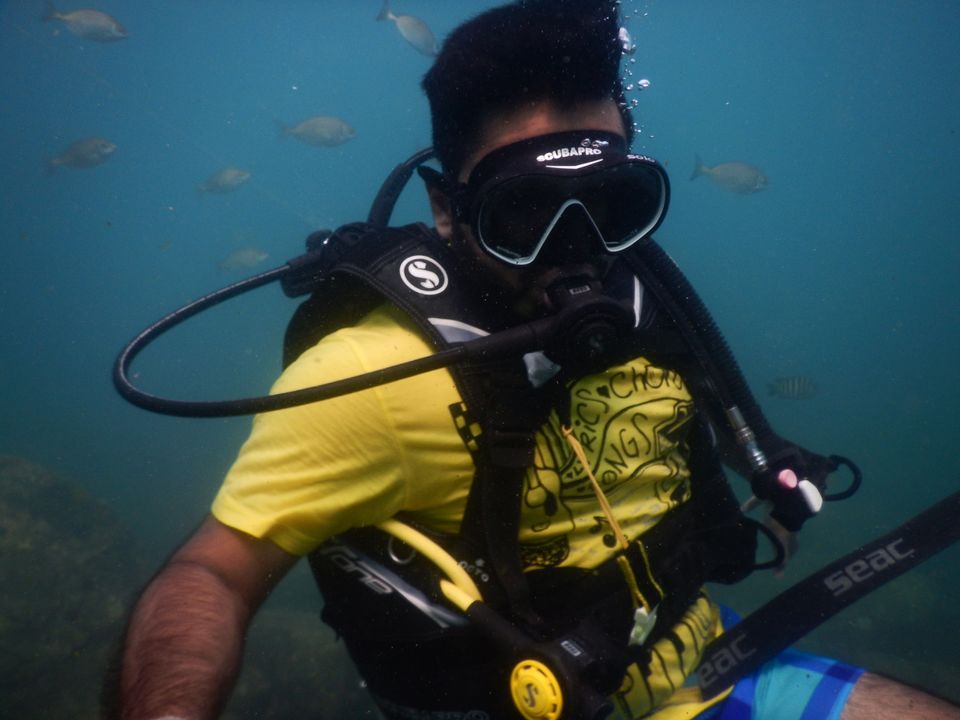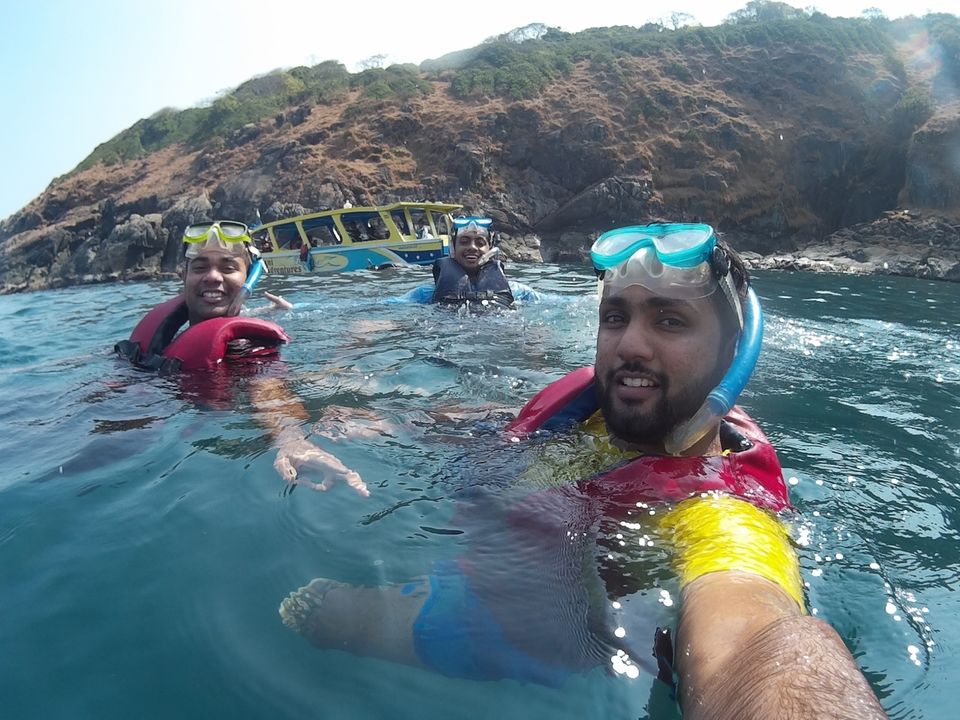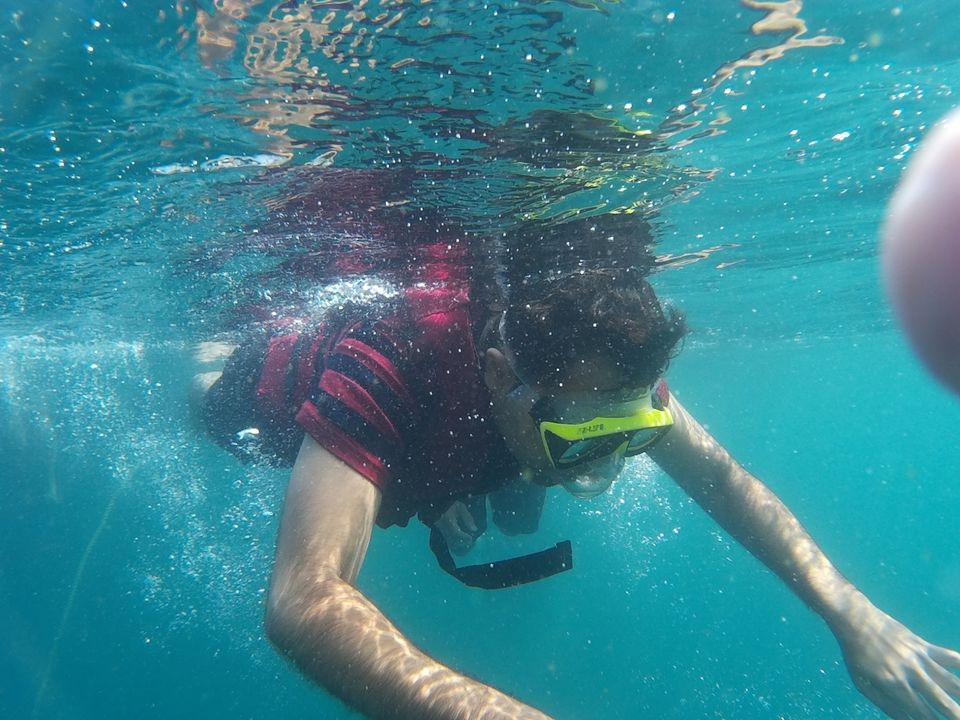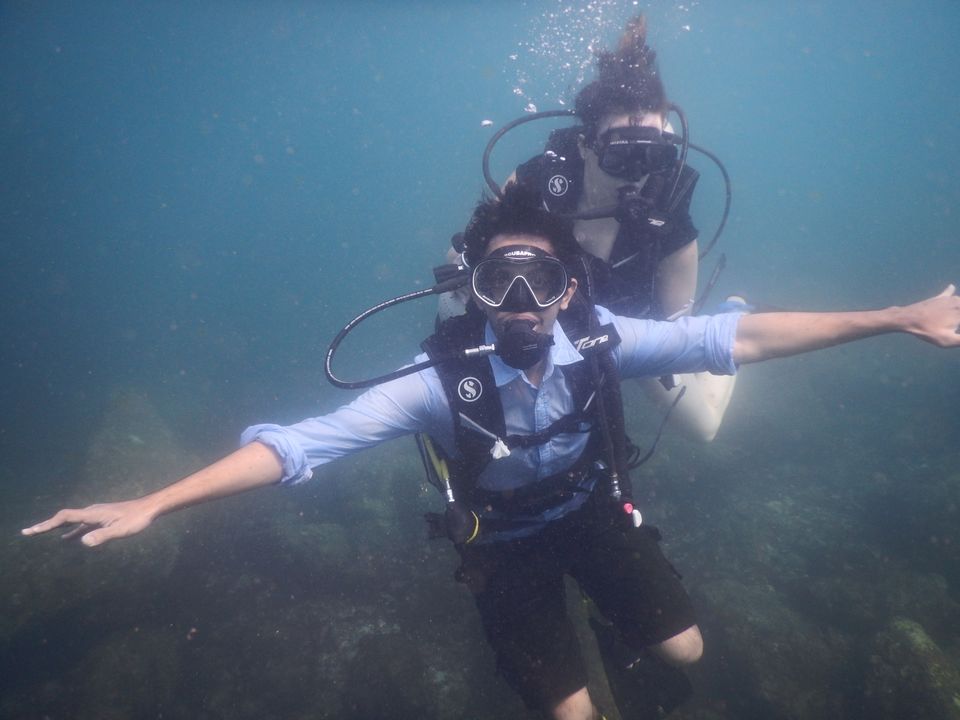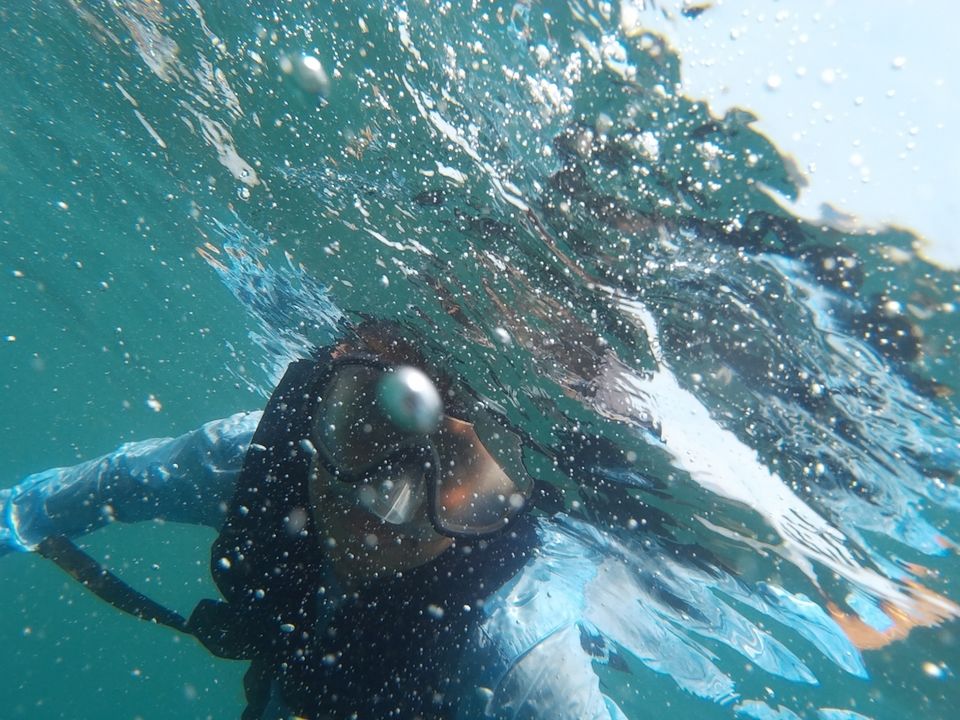 TIPS :
- Netrani Adventures : recommended.
- Go for SCUBA among the first few in the boat for better visibilty.
On this note, I'll take your leave.. until..
THE NEXT ADVENTURE !!
Check out our entire 1840km SelfDrive RoadTrip for some Travel Goals!