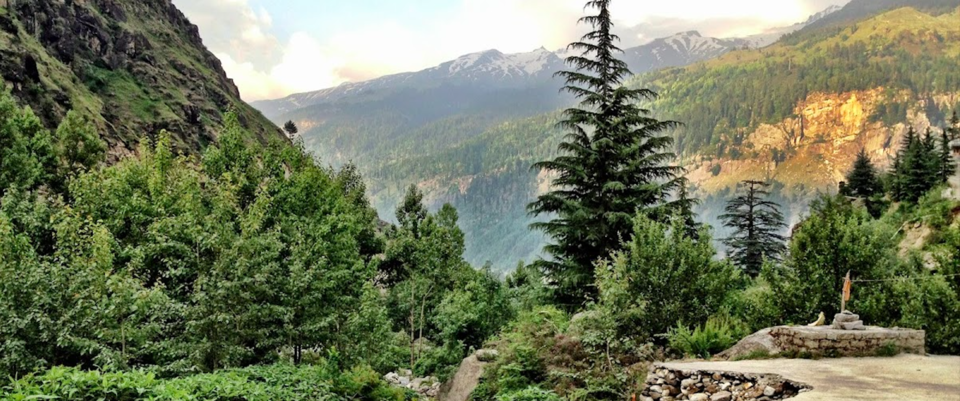 On the 3rd day of our trip, we set off for Shanag, a quaint little village in Manali, Himachal Pradesh. We stayed at one of our brother's (Sanil Anand) property (Idyllic Inn), which looks like a fairytale home, surrounded by apple orchards, Apricot and Cherry tress. Breathtaking mountain ranges on all 3 sides was indeed a sight. Added benefits were homemade food cooked by aunty which was just too good and an interesting chat with uncle. This place is covered in snow starting December through to March. Also, if you are visiting in August, then you can enjoy the first harvesting season of apples.
We just had a day to ourselves, thus couldn't do much, but the experience was wholesome. We set off for our day trip to Manali Club House, visited a local cafe - Cafe 1947 (a must do) and walked around aimlessly in the main market. Spent some time strolling all along the local village roads, ending the day with having dinner at Ride Inn.
Lastly, everyone feel asleep and I spent the entire night sitting out in the balcony, trying to experience the feeling, when the first ray of sunshine touches the mountain top. Bliss!
I know, not a lot for a day but definitely worth a shot! I would definitely cherish this trip all my life.
Cafe 1947:
Trip Advisor: https://bit.ly/2wUezfX
Idyllic Inn (A Home Amidst Hills):
(For bookings, Call +9188948 93645 & +91 9873859794 )
Ride Inn: (A unique experience)
Coming soon: Dream Village, Shanag (A hike to remember)
Show some L-O-V-E. LIKE-SHARE-SUBSCRIBE to my YouTube Channel
Peace\m/