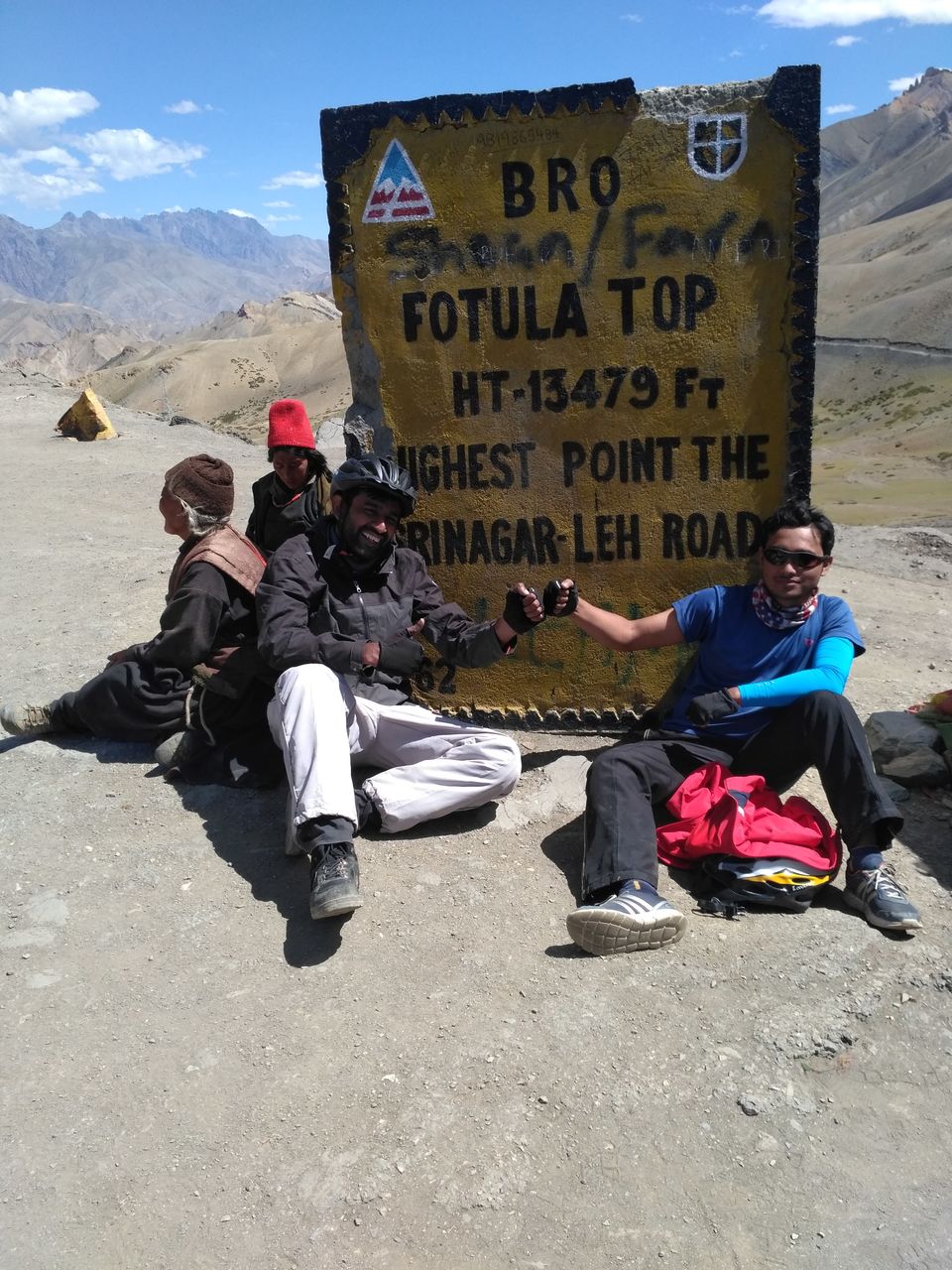 It was 2017, I planned my much awaited and more than month long adventure trip. It included cycling expedition - Srinagar to leh; Himalayan treks 1 in Ladakh region Stok-kangri and other one in Uttarakhand Roopkund trek and also a backpacking trip in Rishikesh. I'm here giving details of my first adventure activities i.e Srinagar to Leh cycling.
24th August 2017:Srinagar to Sonmarg -80 km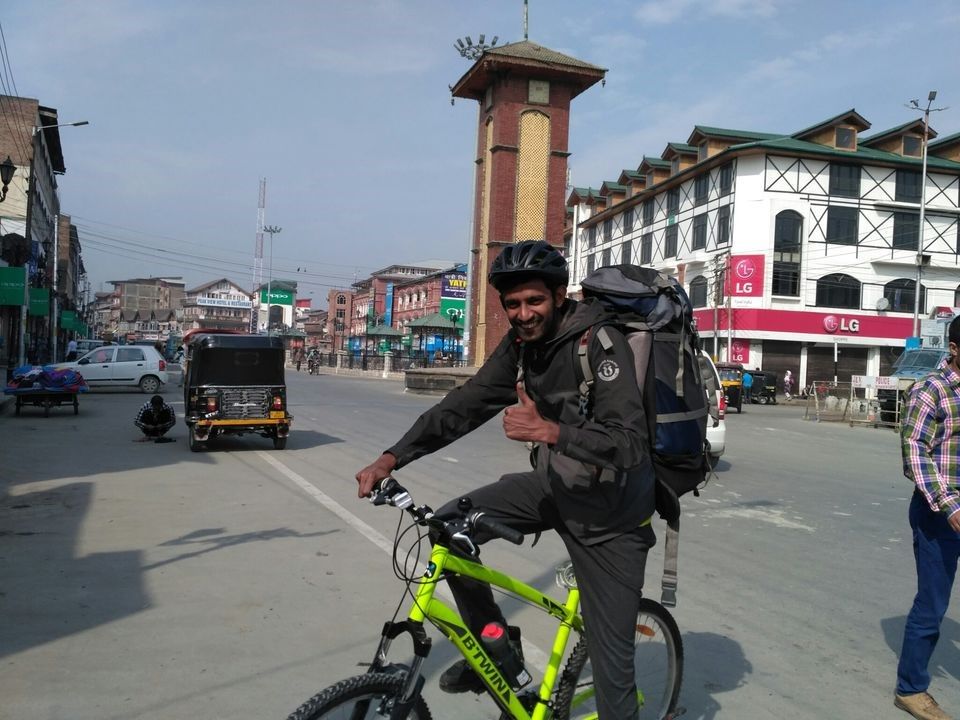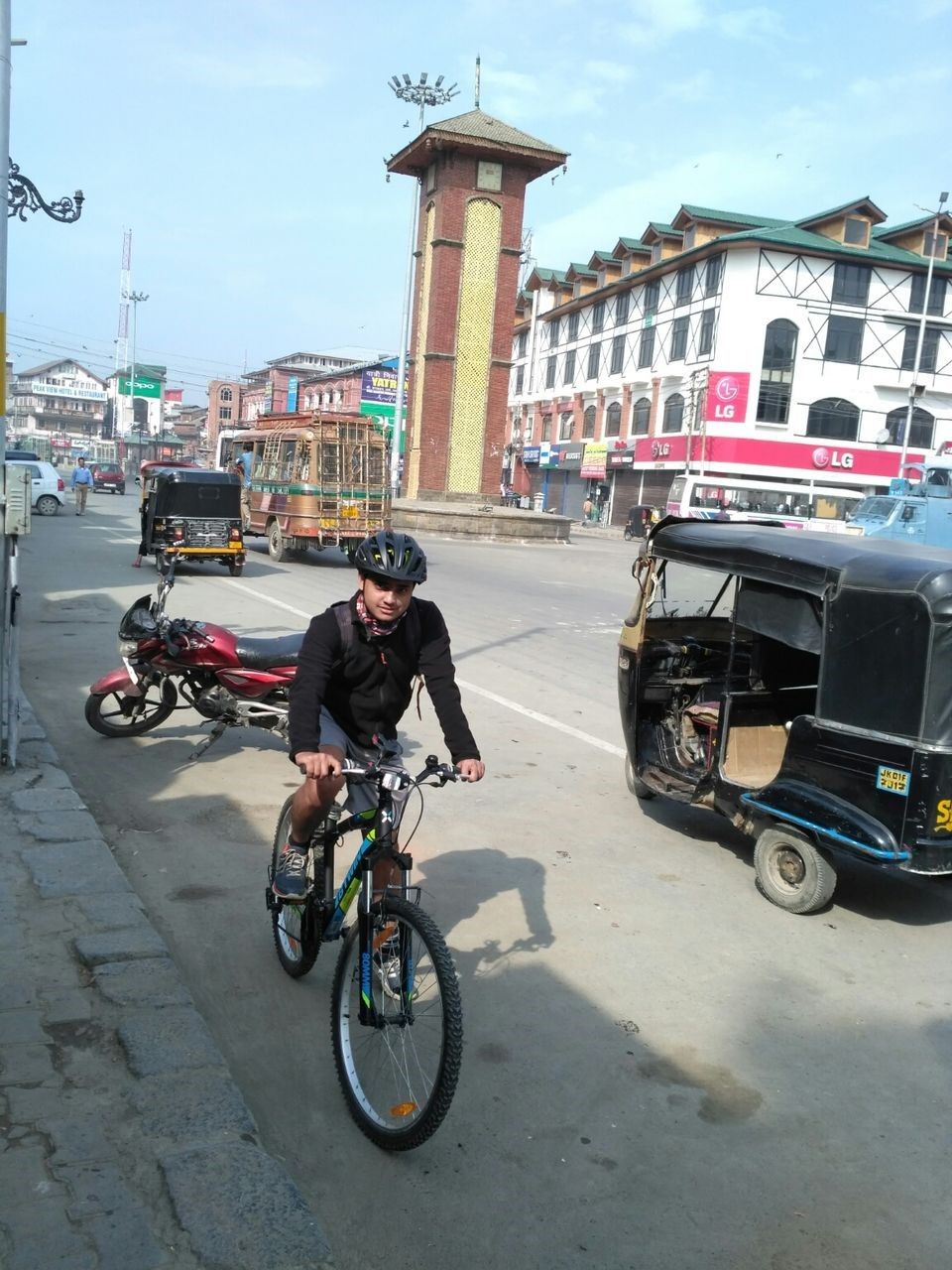 The very first day where we should have departed on time and we were around 6 hours late. Me and my friend started our Srinagar to leh cycling expedition from lal Chowk around 12 Noon. We rode cycle on Srinagar leh highway,road was good with normal climb and beautiful green valley across road that made our ride very pleasant. Some of the glances of the road and valley of day 1.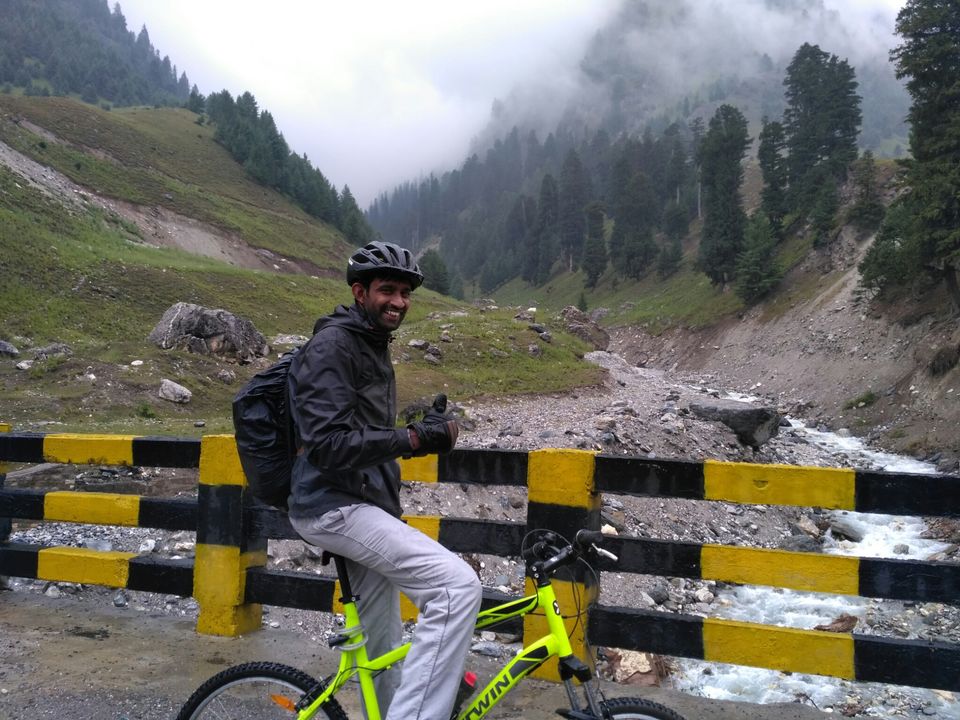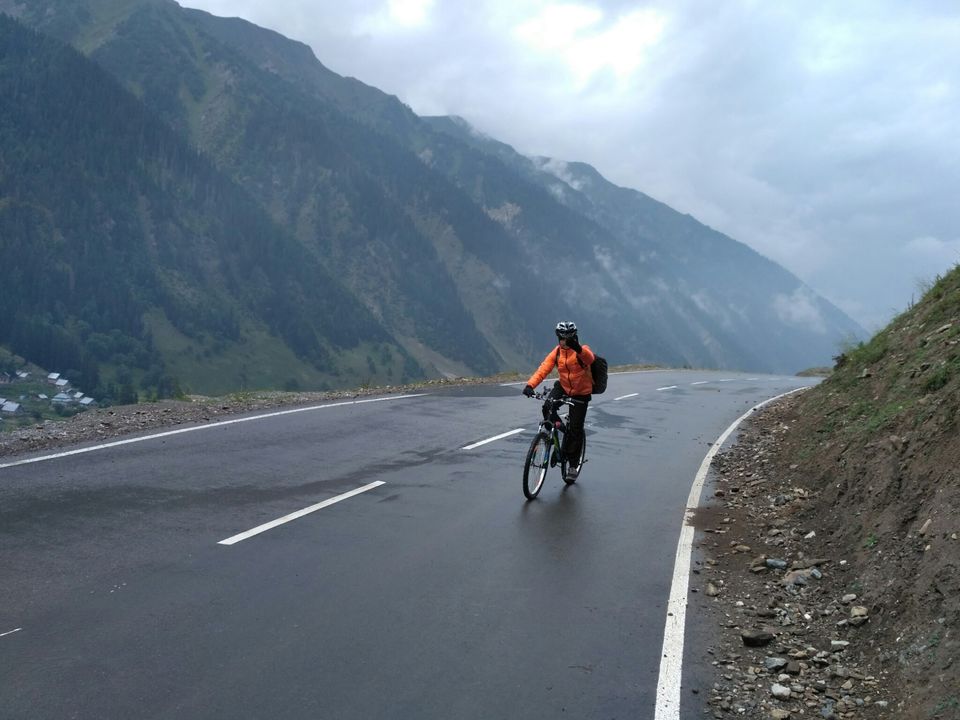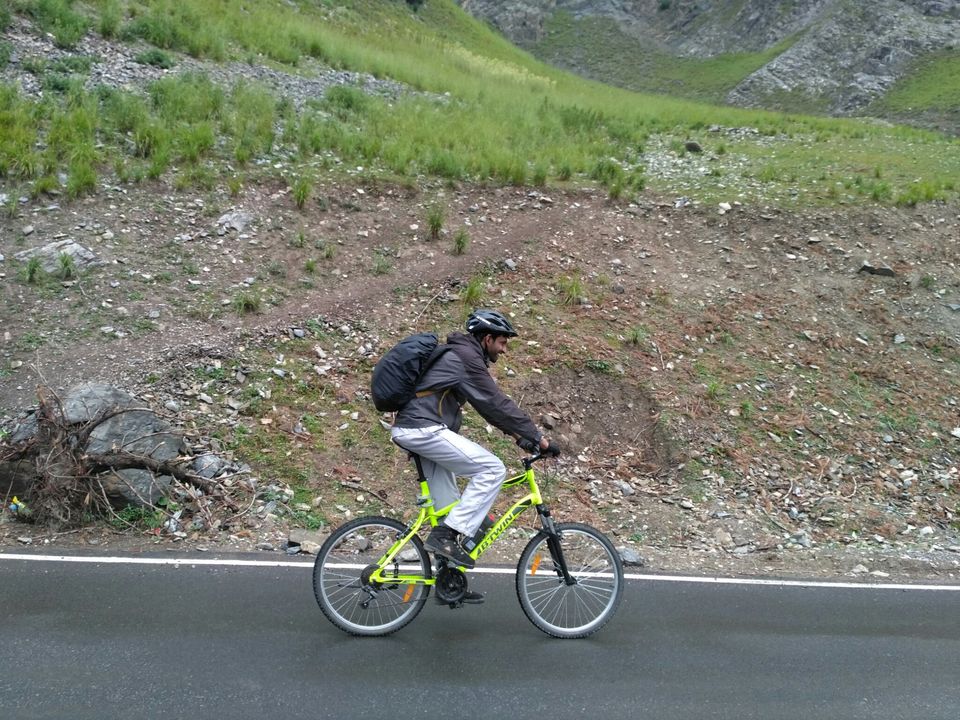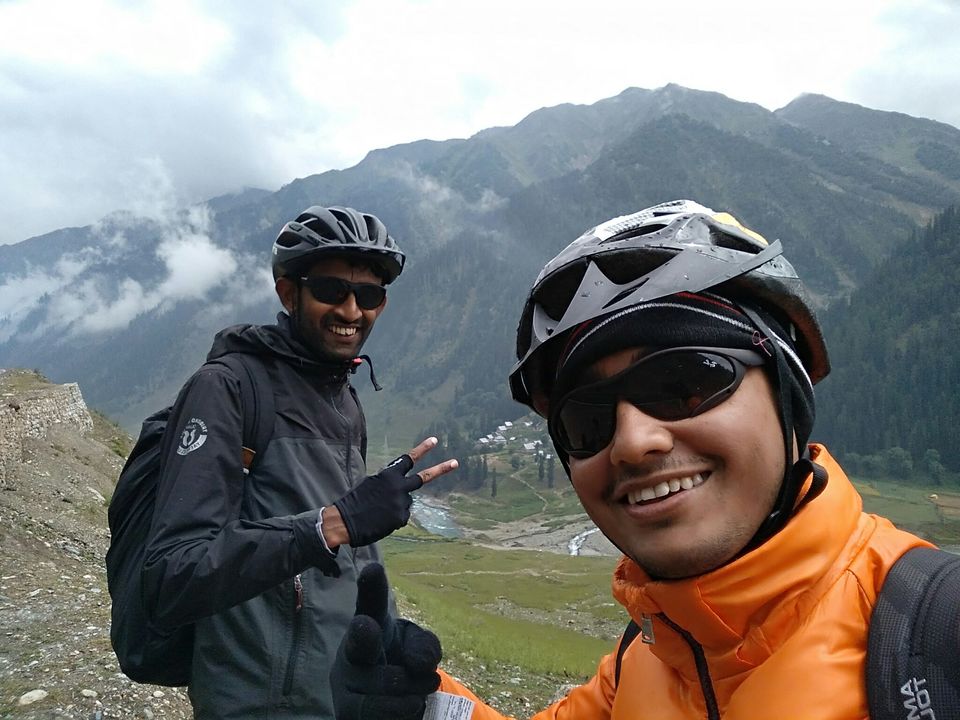 After 50 km cycling our first break for tea and snacks on one small dhaba and left for day's last stretch of cycling. We reached sonmarg around 7.30 pm. As it was August end and the off season for the hoteliers gave us advantage of cheap, beautiful and comfortable room with all amenities only in rs.400. We then had a super dinner then went off for the day.
25th August 2017:Sonmarg to Drass - 63 km
Second day : Morning 9 am, started journey towards Drass via mighty zojila pass (people also called road of death). We had breakfast and as we reached sonmarg in night,so we clicked some pictures at entry point of sonmarg and had some discussion with villagers and army personnel's.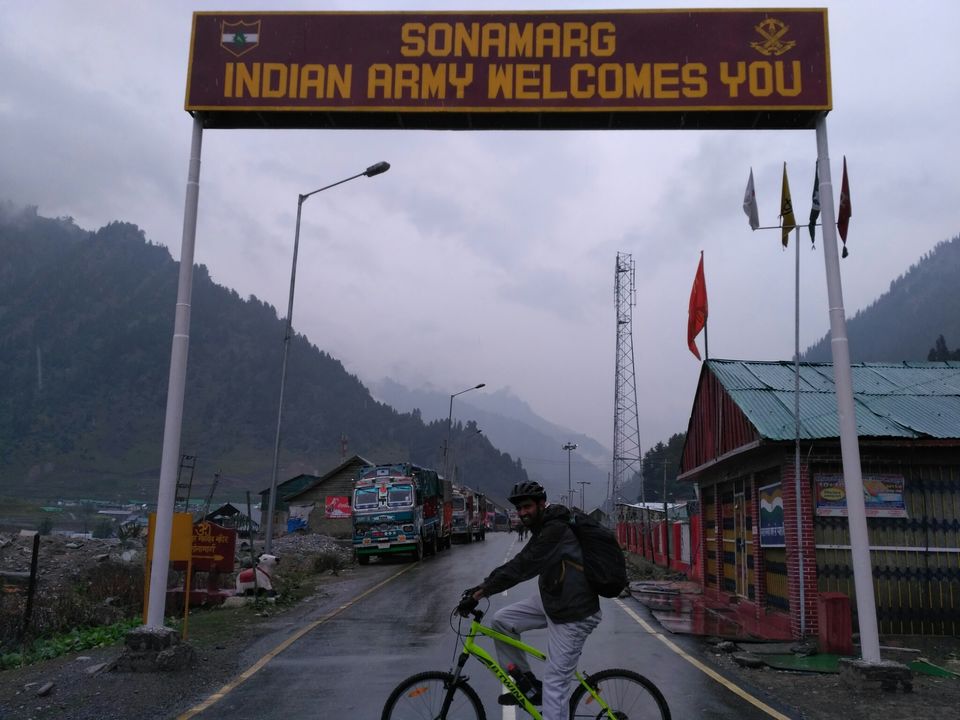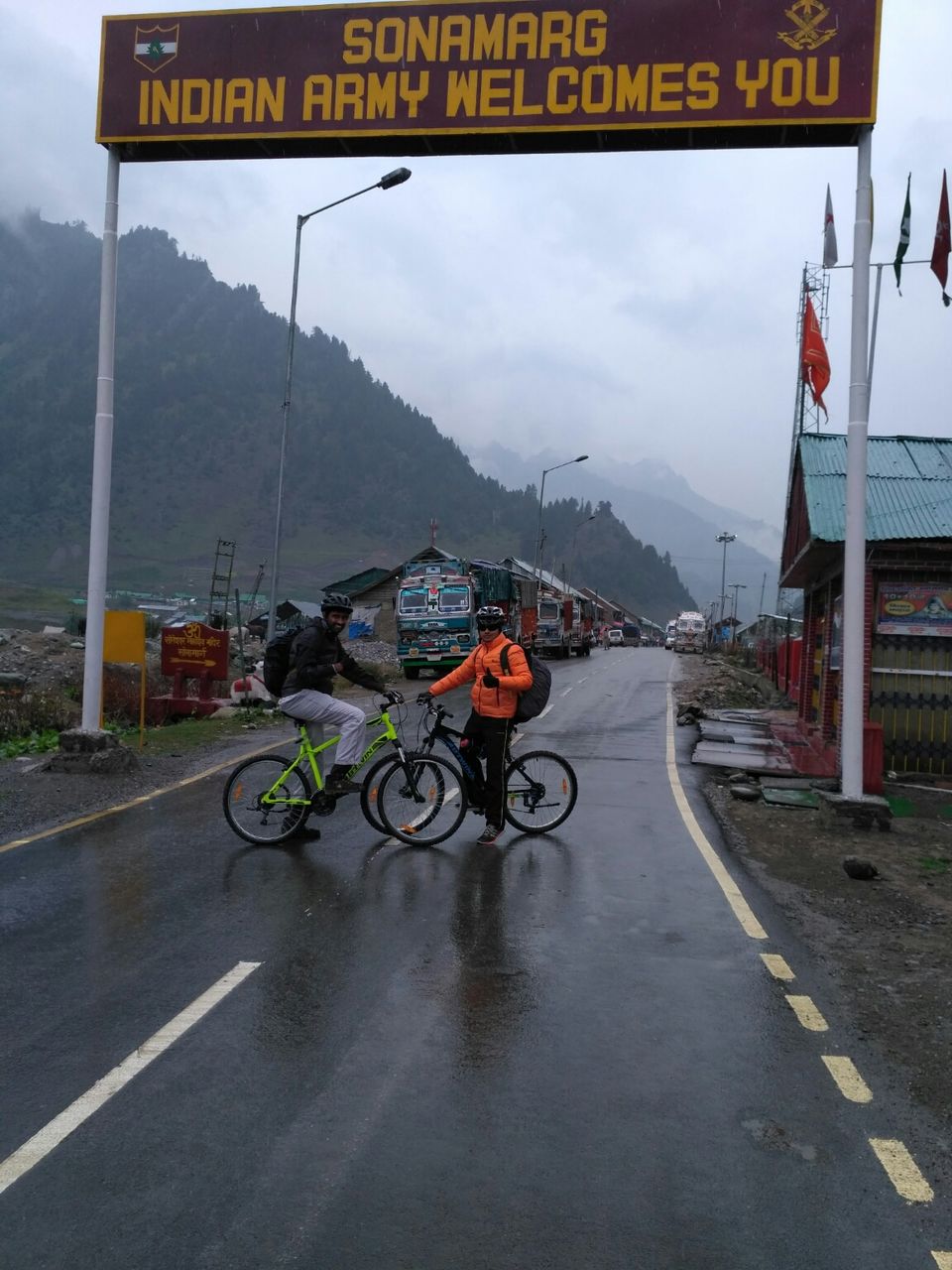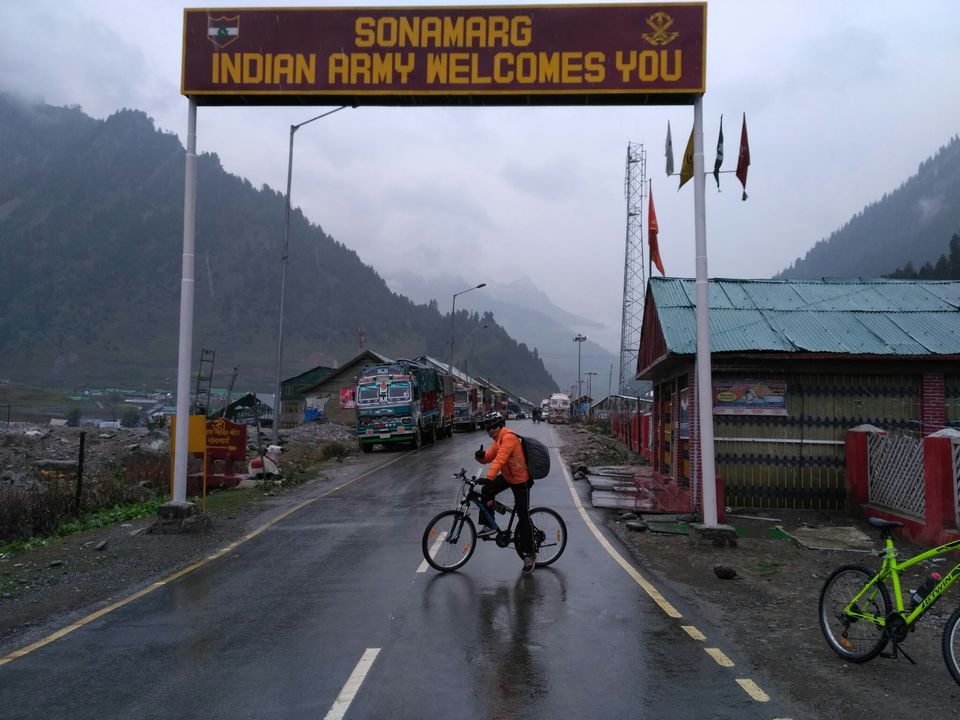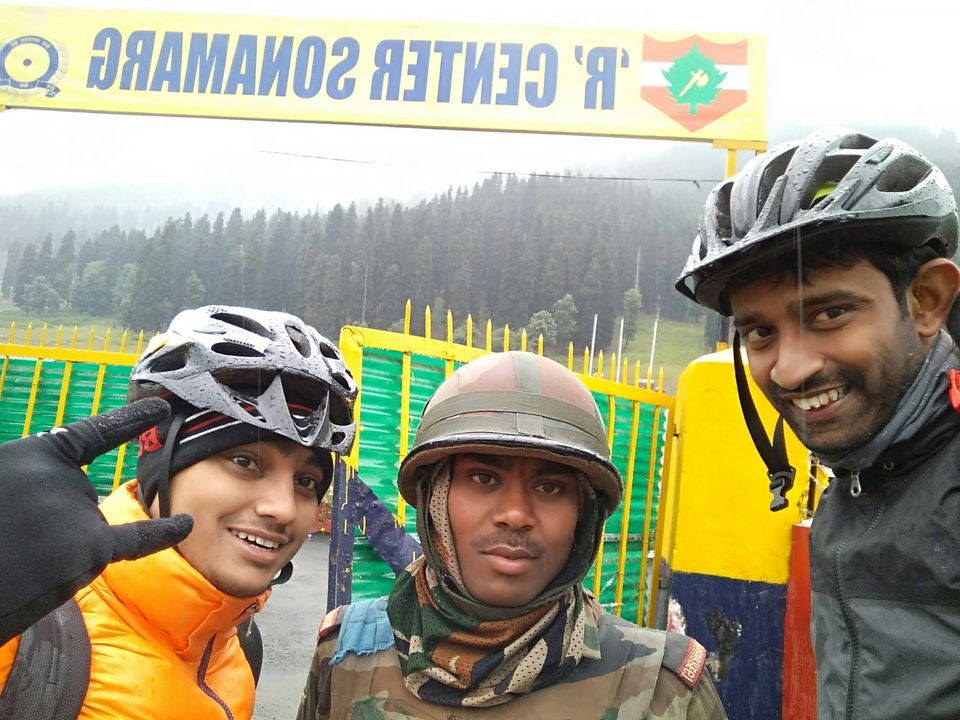 Finally we took off from sonmarg for zojila pass. Zojila pass road starting point is around 15 km from sonmarg. These 15 km is one of the beautiful road of our cycling expedition.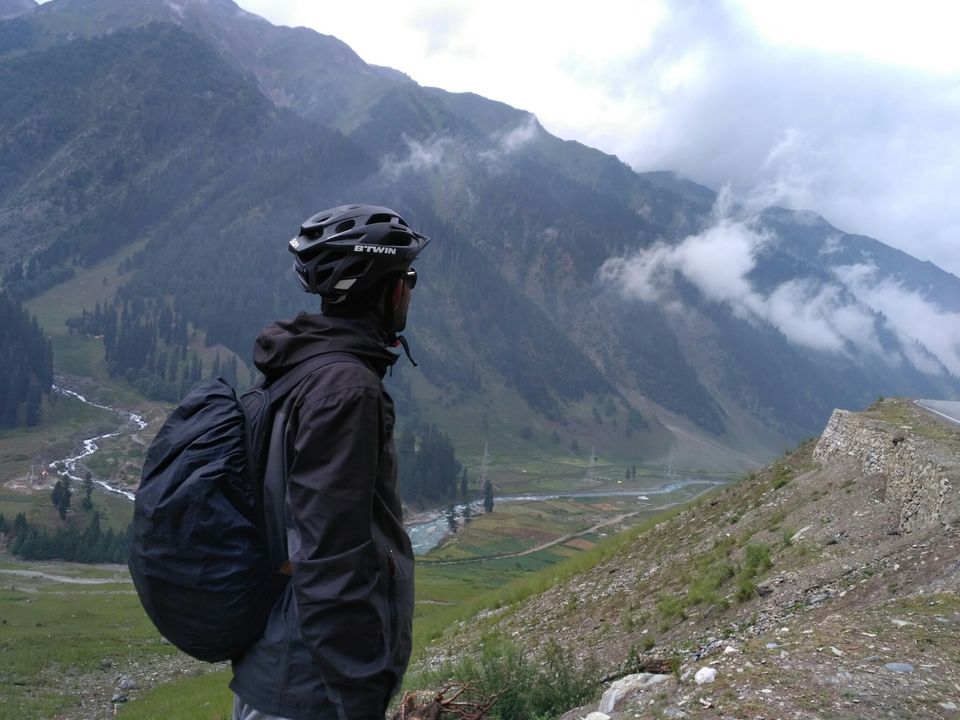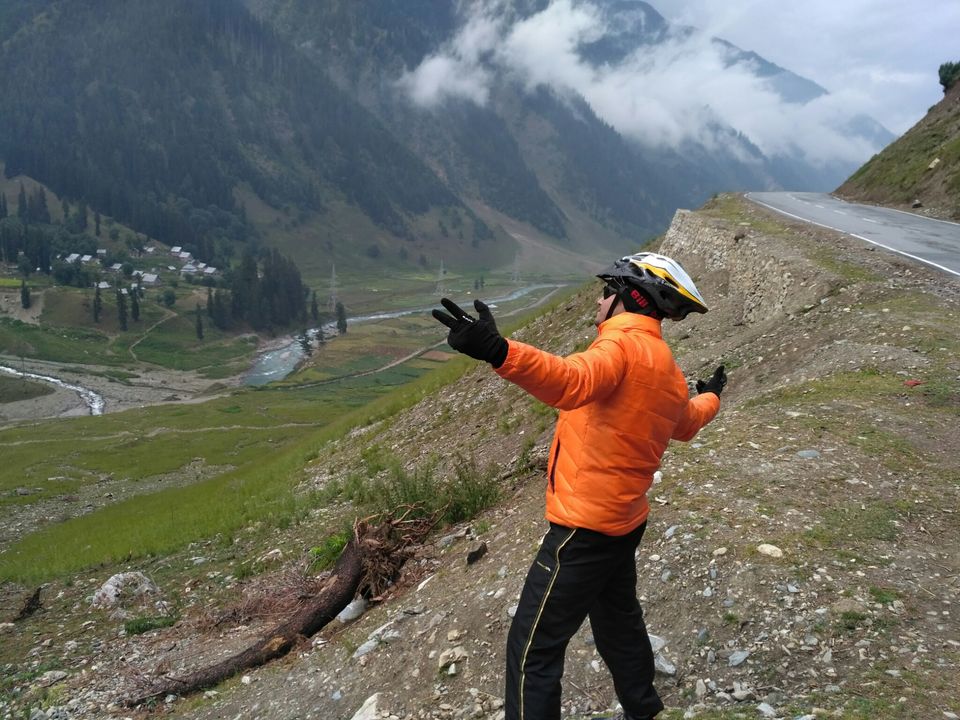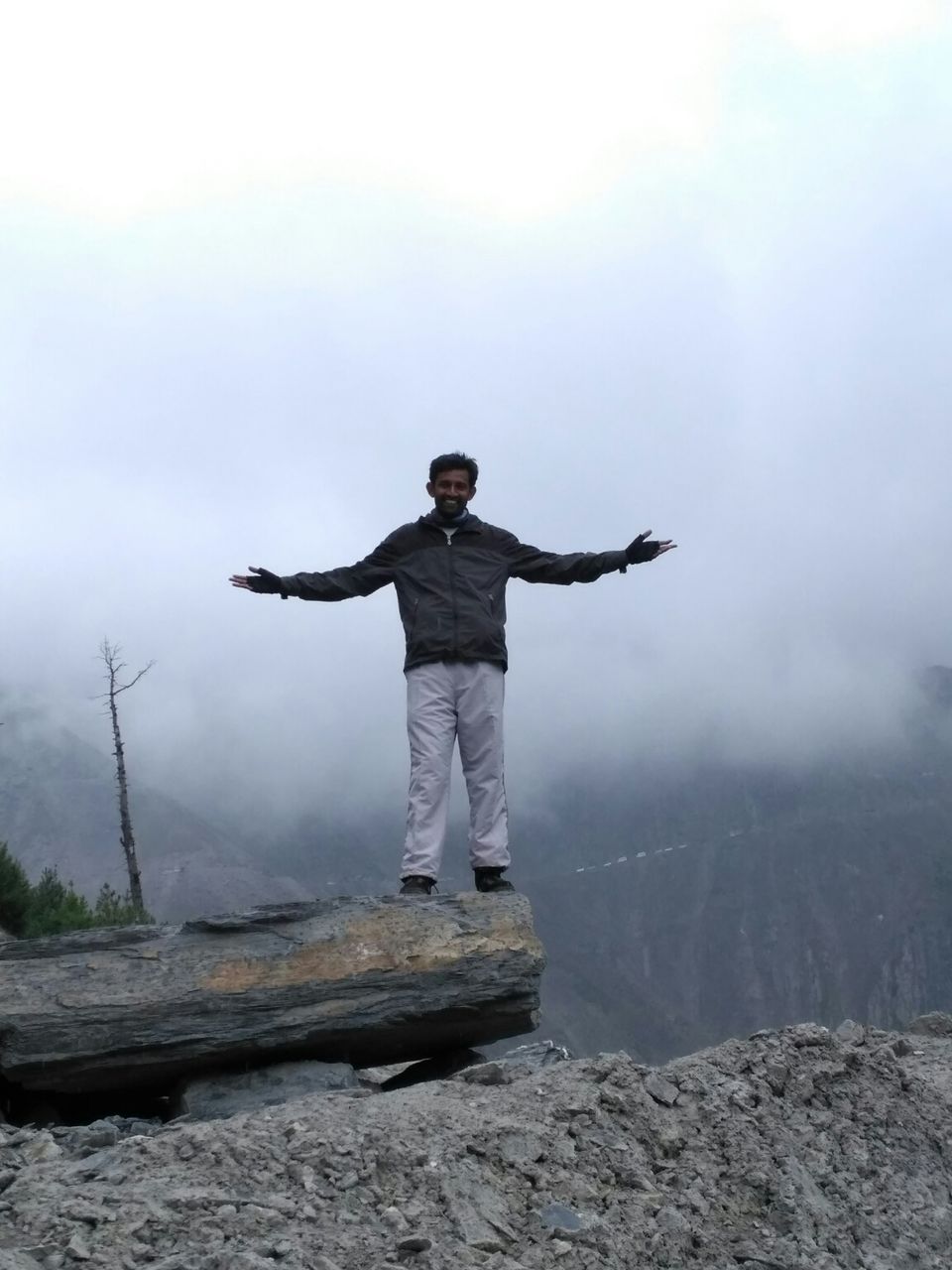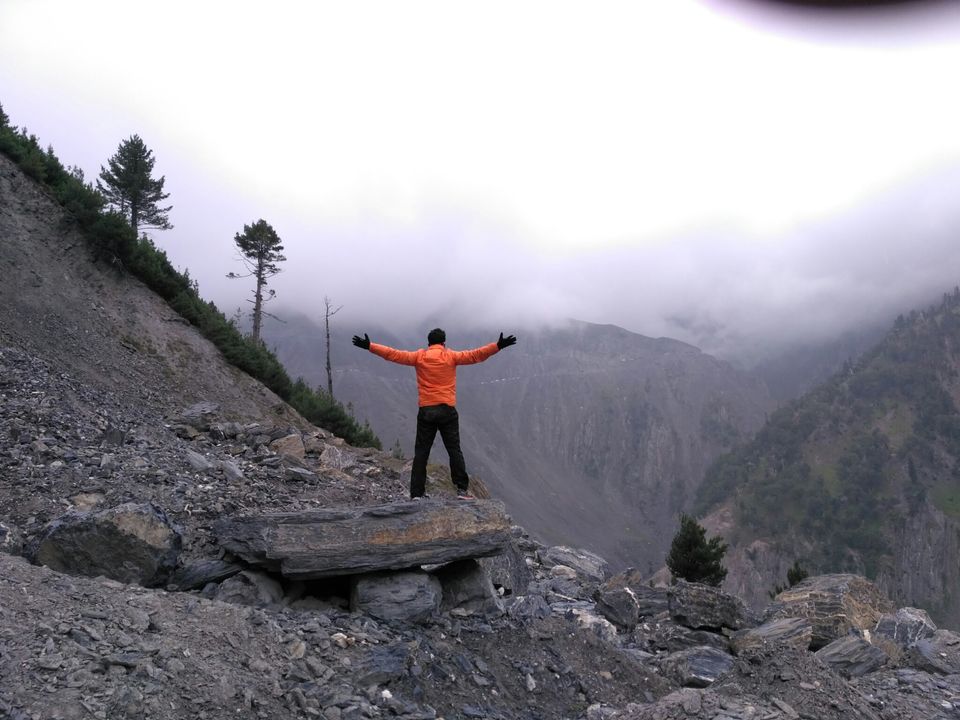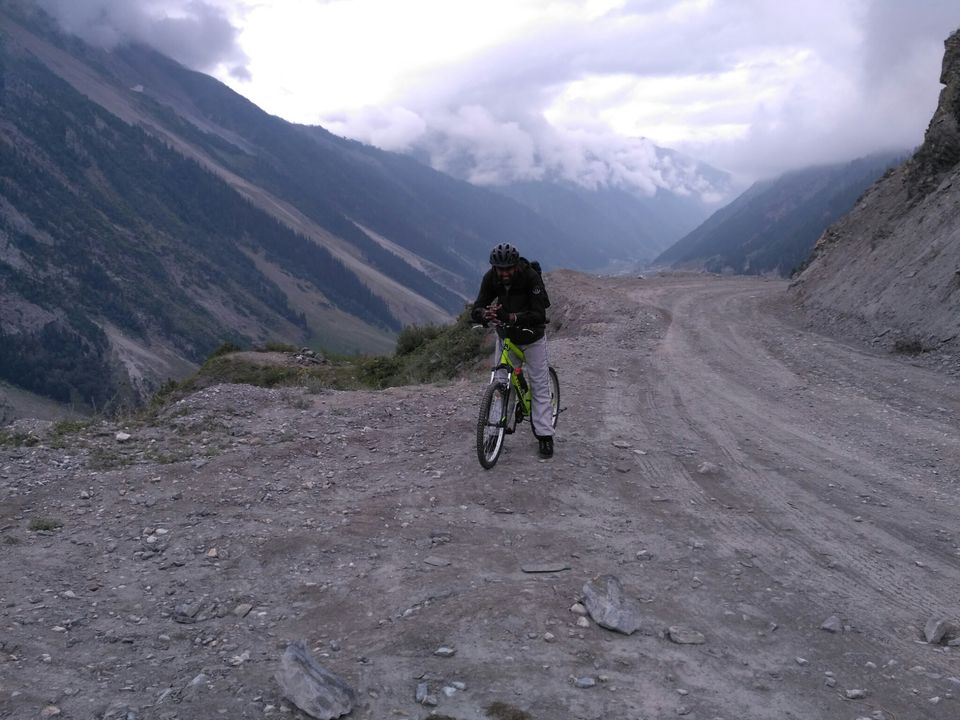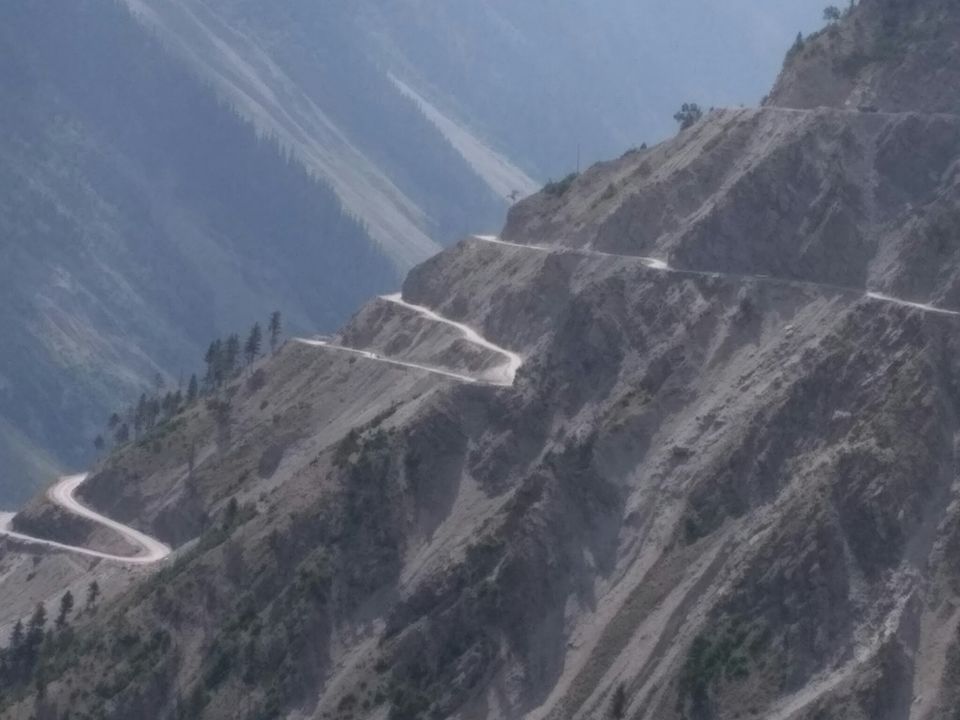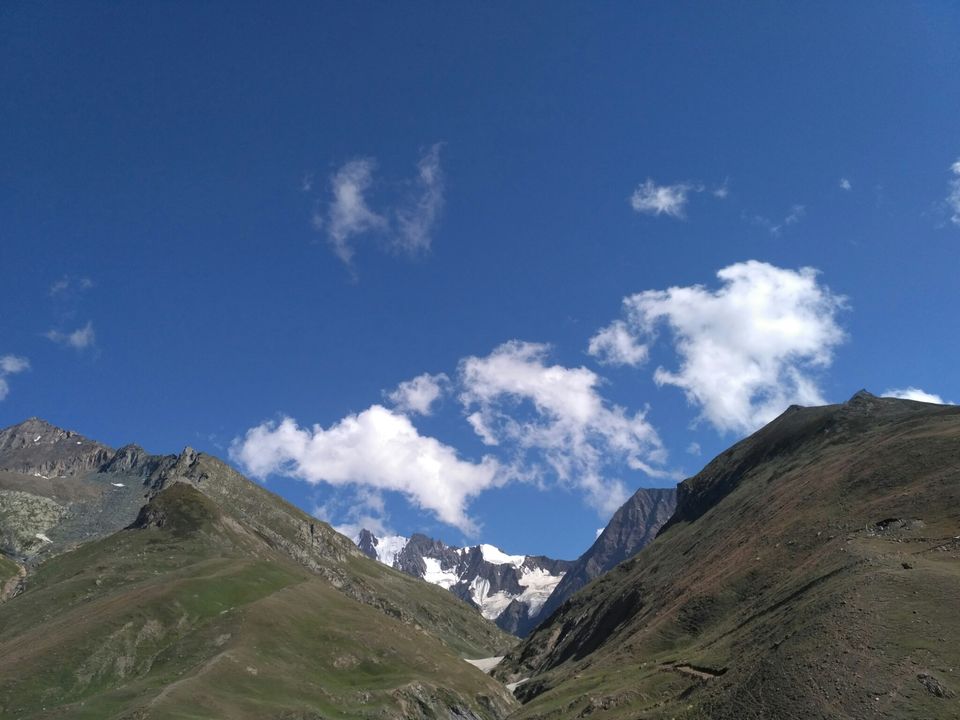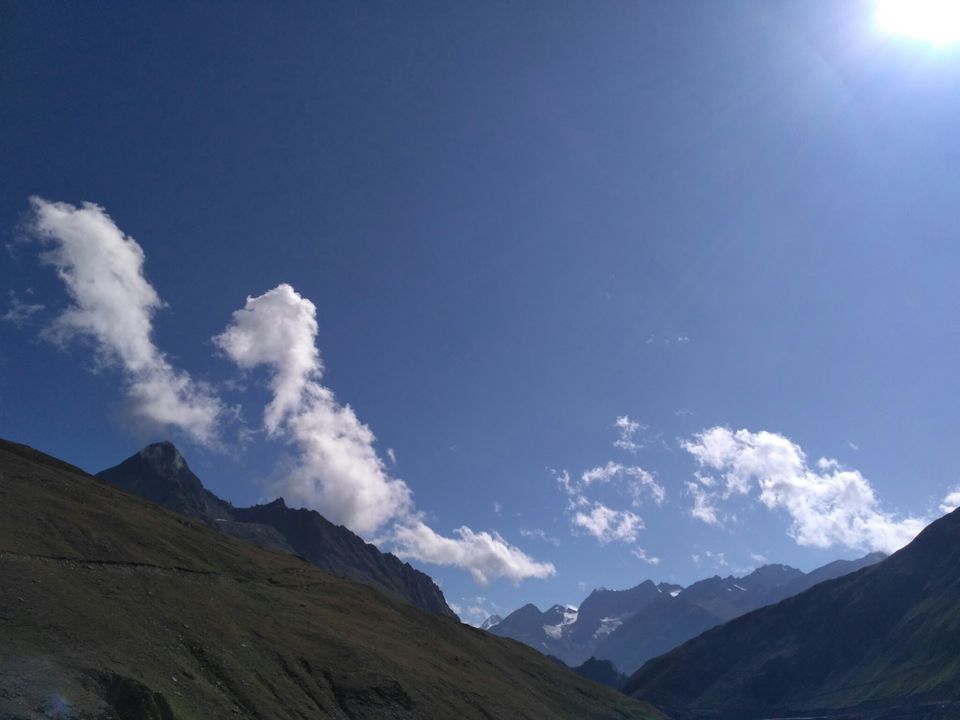 After climbing most difficult road of our cycling expedition, finally we reached at zojila pass. Zojila pass located at an altitude of 11649 ft. we had lunch at zojila pass and left for Drass which almost 35 kms from Zojila Pass. Mostly road is descend till Drass and road is also smooth and beautiful. on the way we visited 1947 war memorial which situated in Gumri near zojila pass, paid tribute to real heroes of our country who fought for us and our mother land.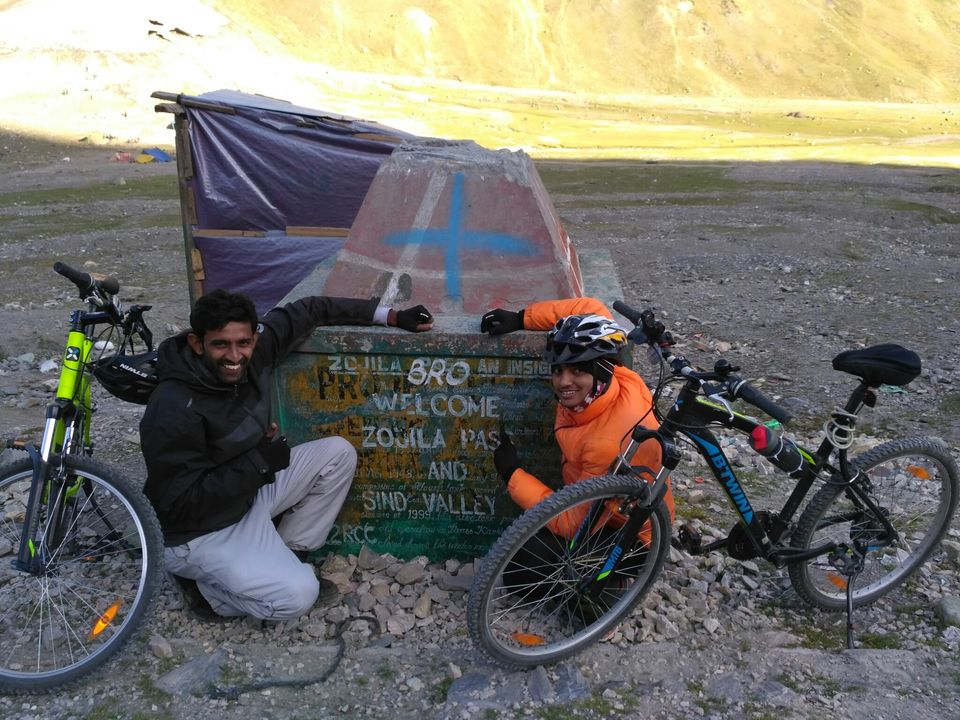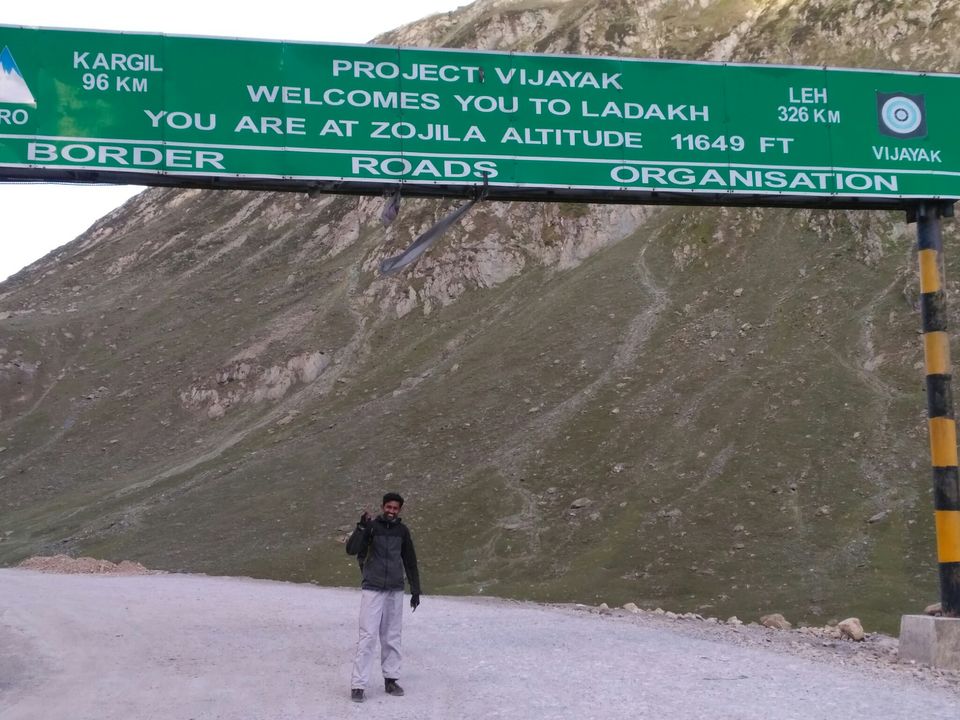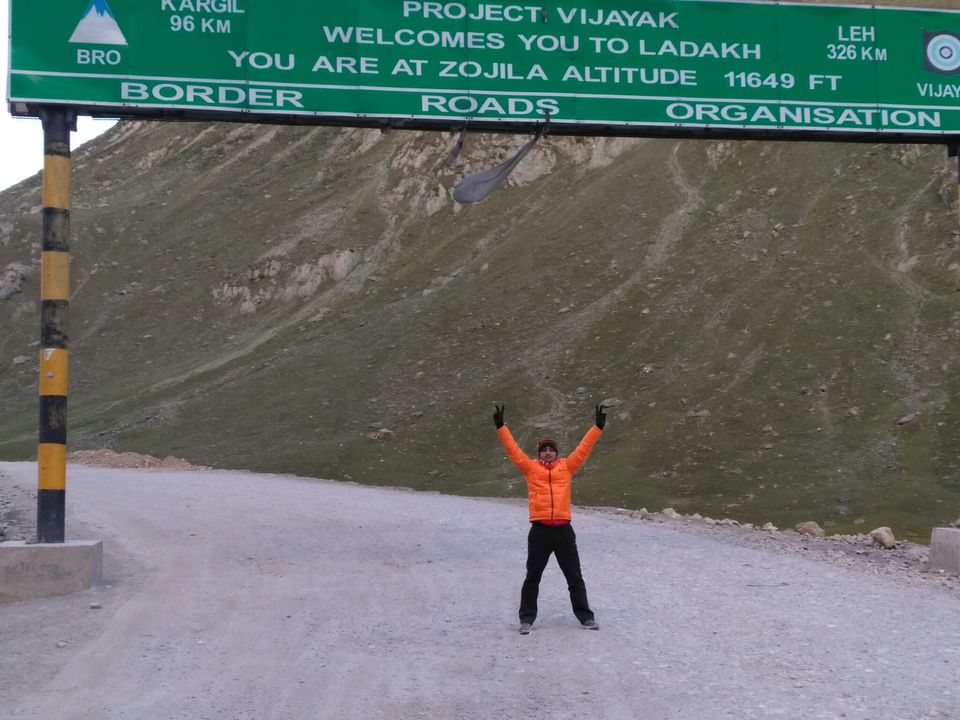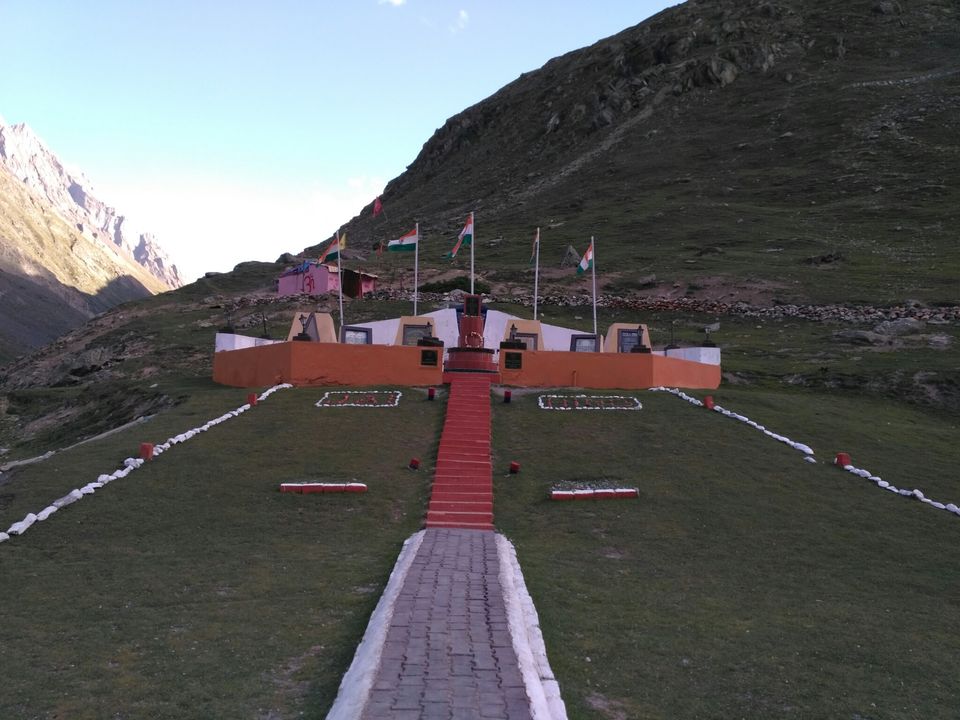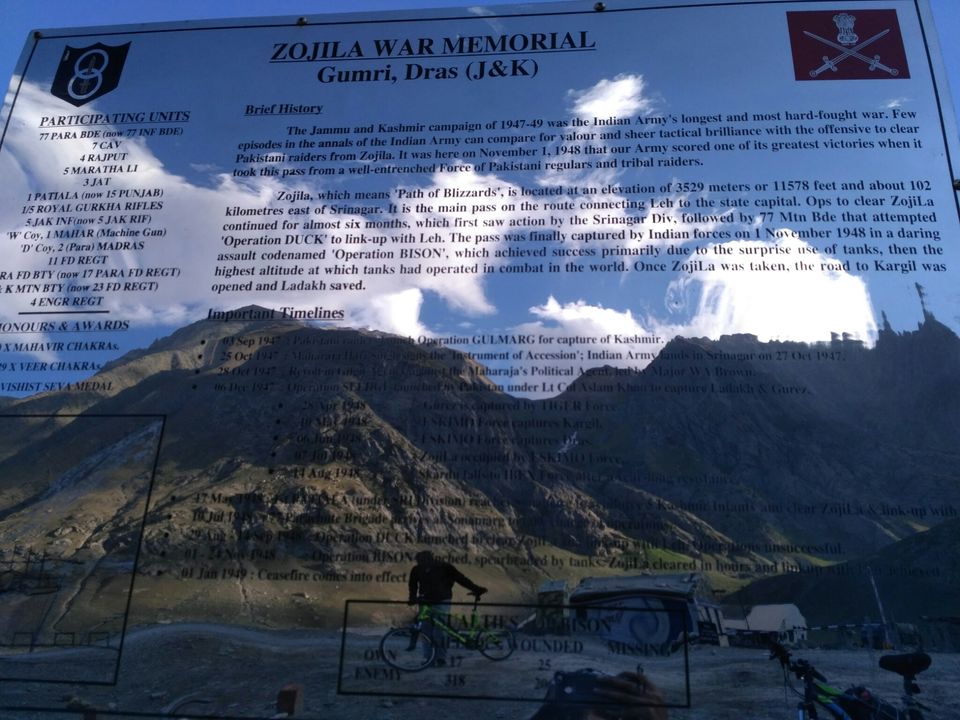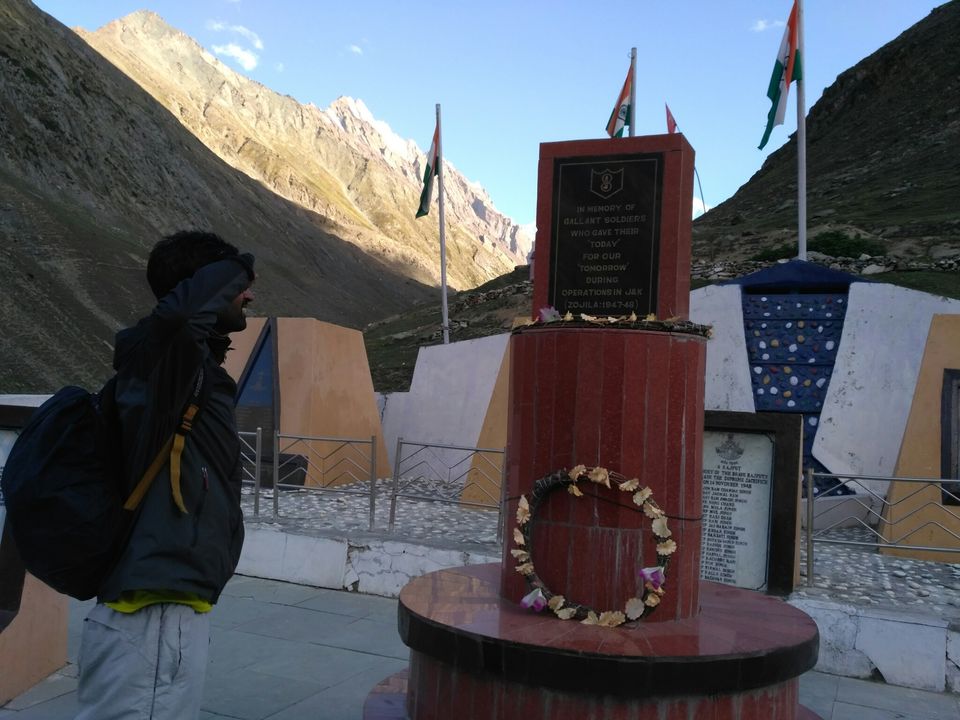 It was around 6.30 pm when we reached near pandras by covering another 20 km, which 15 km before drass. Road was flat and beautiful mountain on both side of road.we stop there for sometime and click some pictures.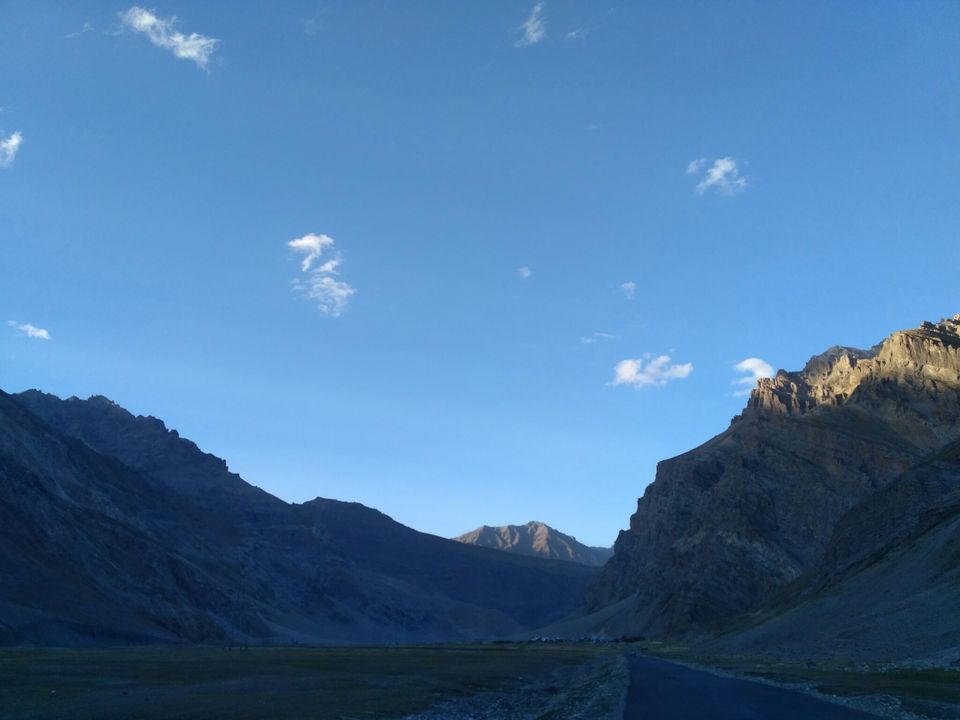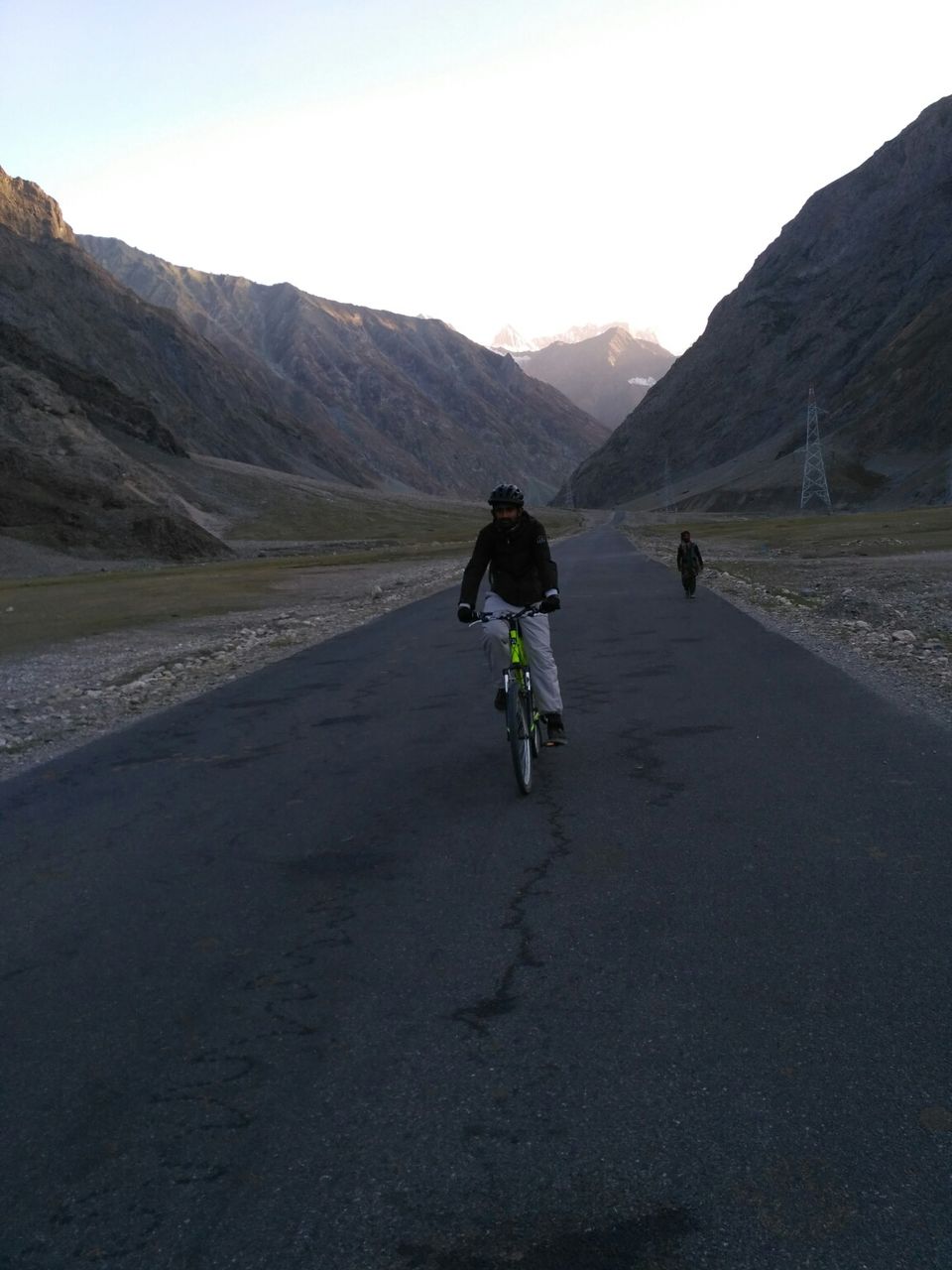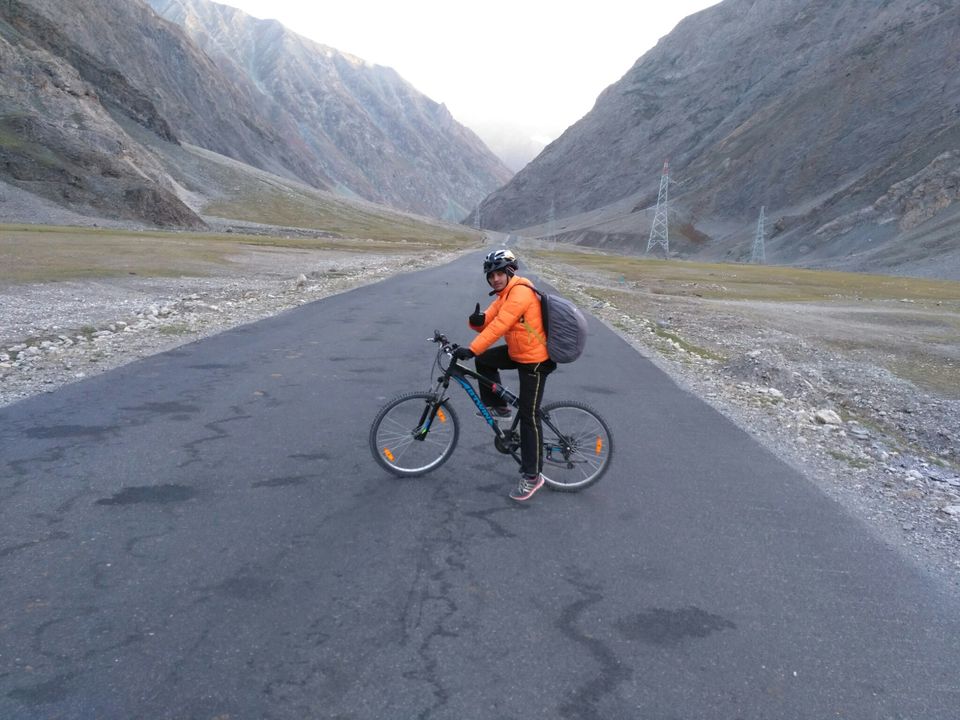 After crossing pandras the bad road which stretched for 15 Kms, being on cycle it took us 2 hours to cross it. Finally we reached Drass around 8.30 pm.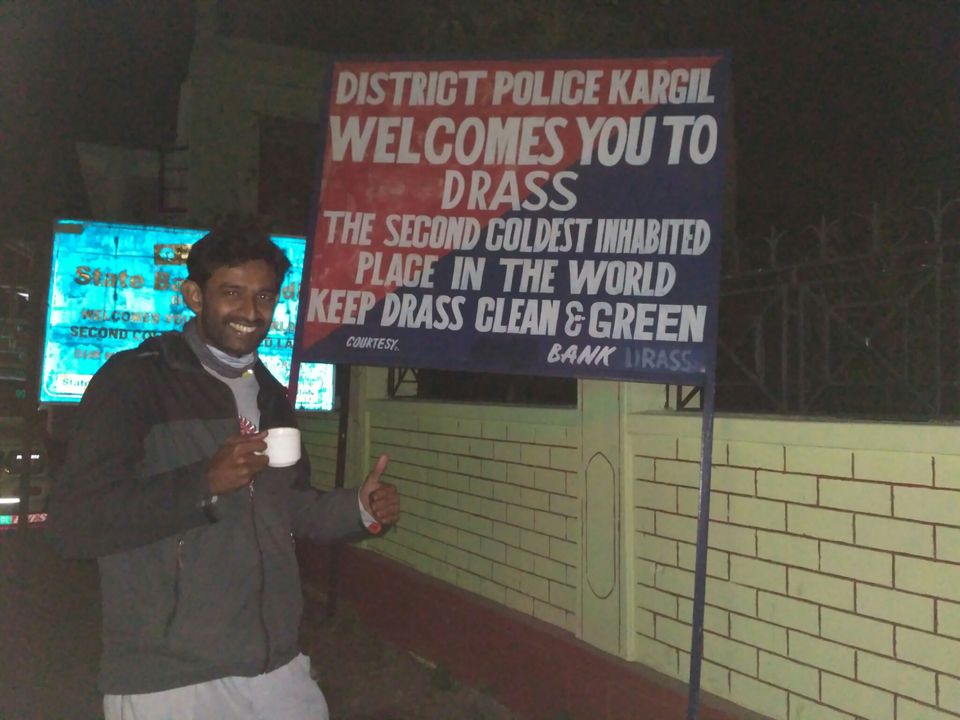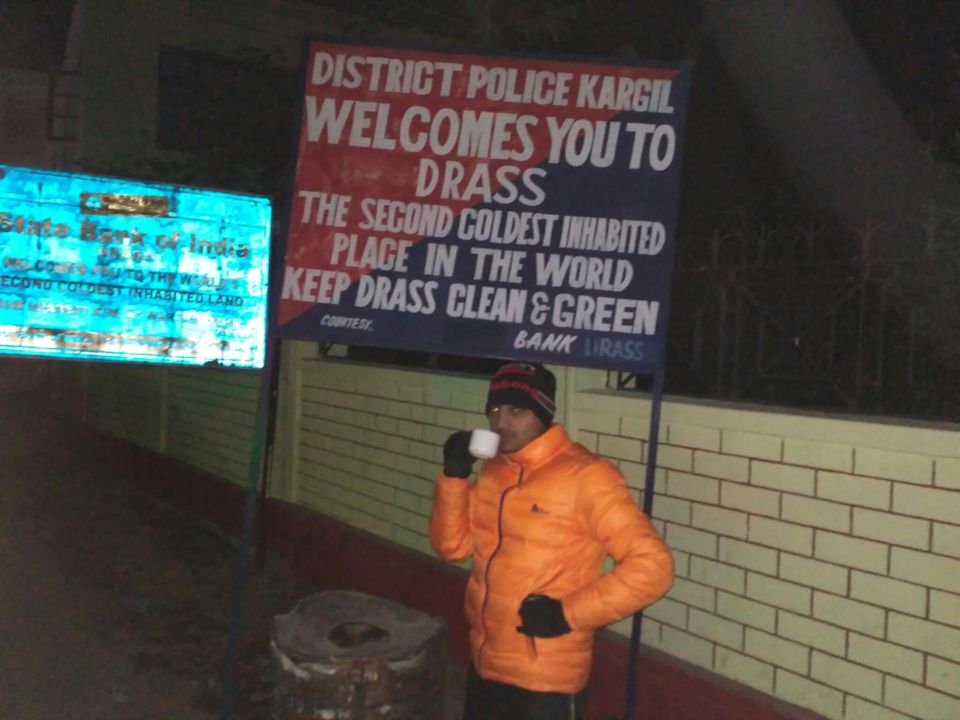 We stayed in Shah land hotel opposite to Drass police station.they charged us only rs 300/- for stay room was good but wash room was common.
26th August 2017: Drass to Kargil - 64 km
Morning around 9 am we had breakfast in same hotel and we left drass.once you cross Drass town you can see lot of mountains, where Indian Army fought in kargil war you can able to see some mountain which became famous after kargil war like tolaling, tiger hill, batra hill,etc. Kargil war memorial is situated in these mountain only. Kargil war memorial is around 7 km from Drass. they show us documentary of kargil war and briefed about mountains and India army.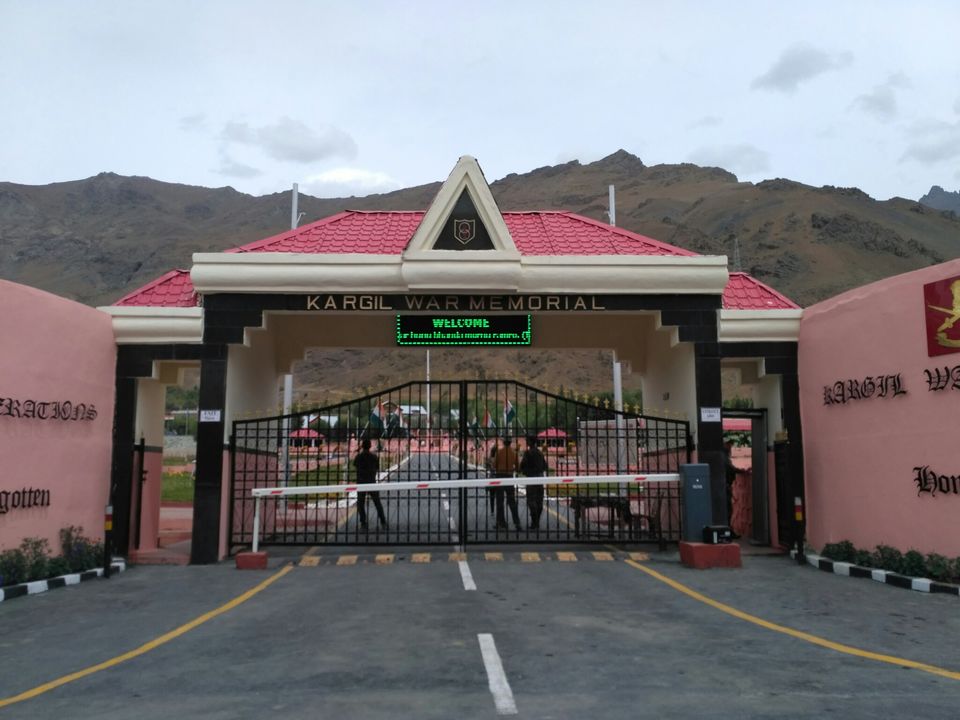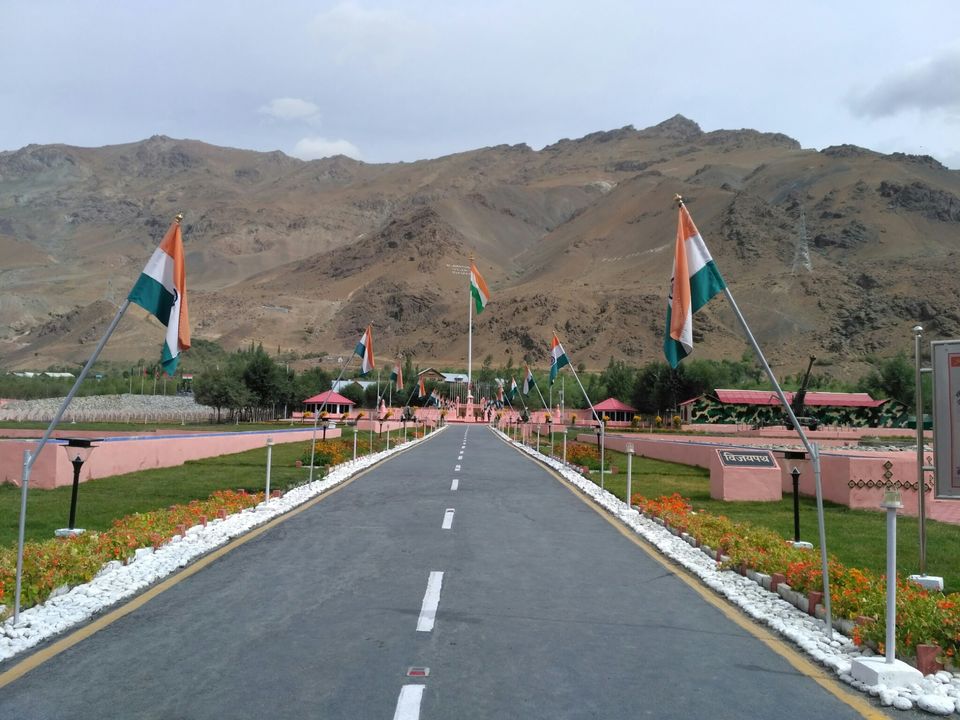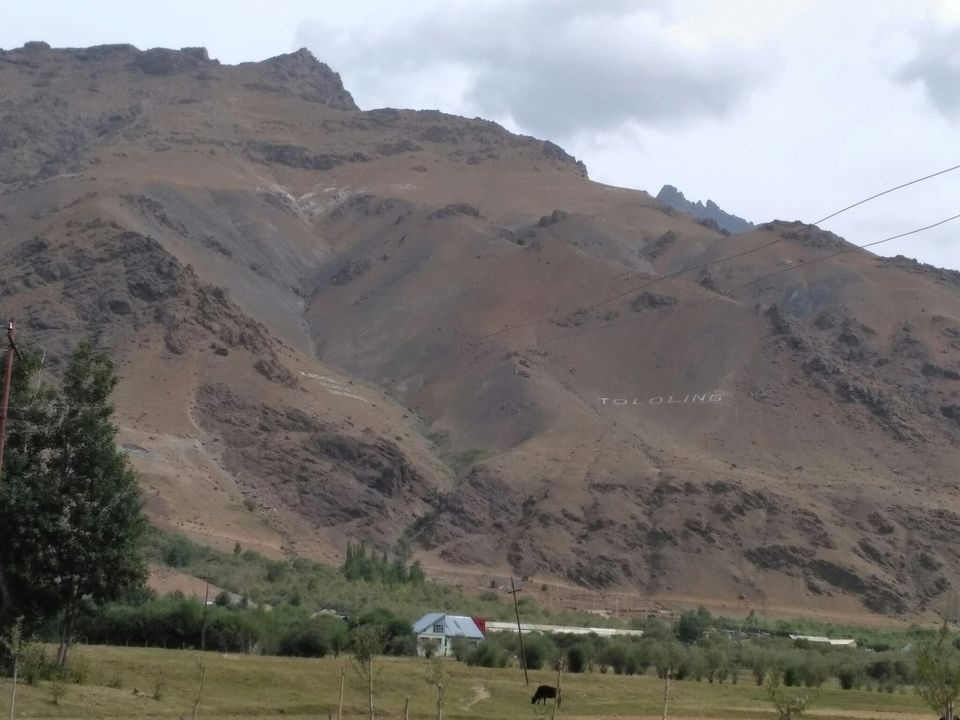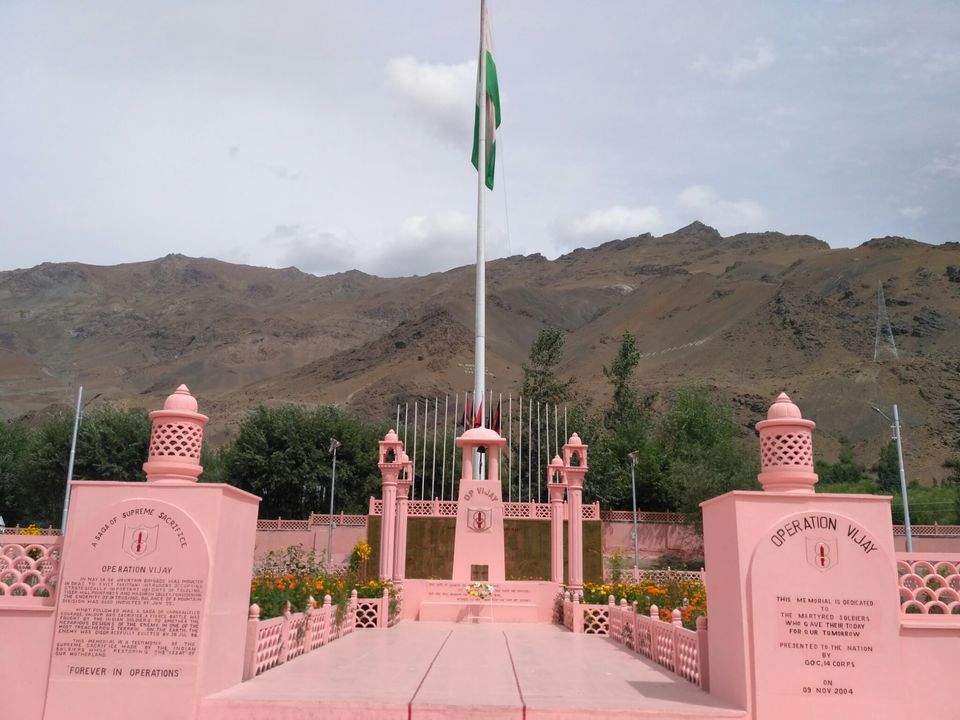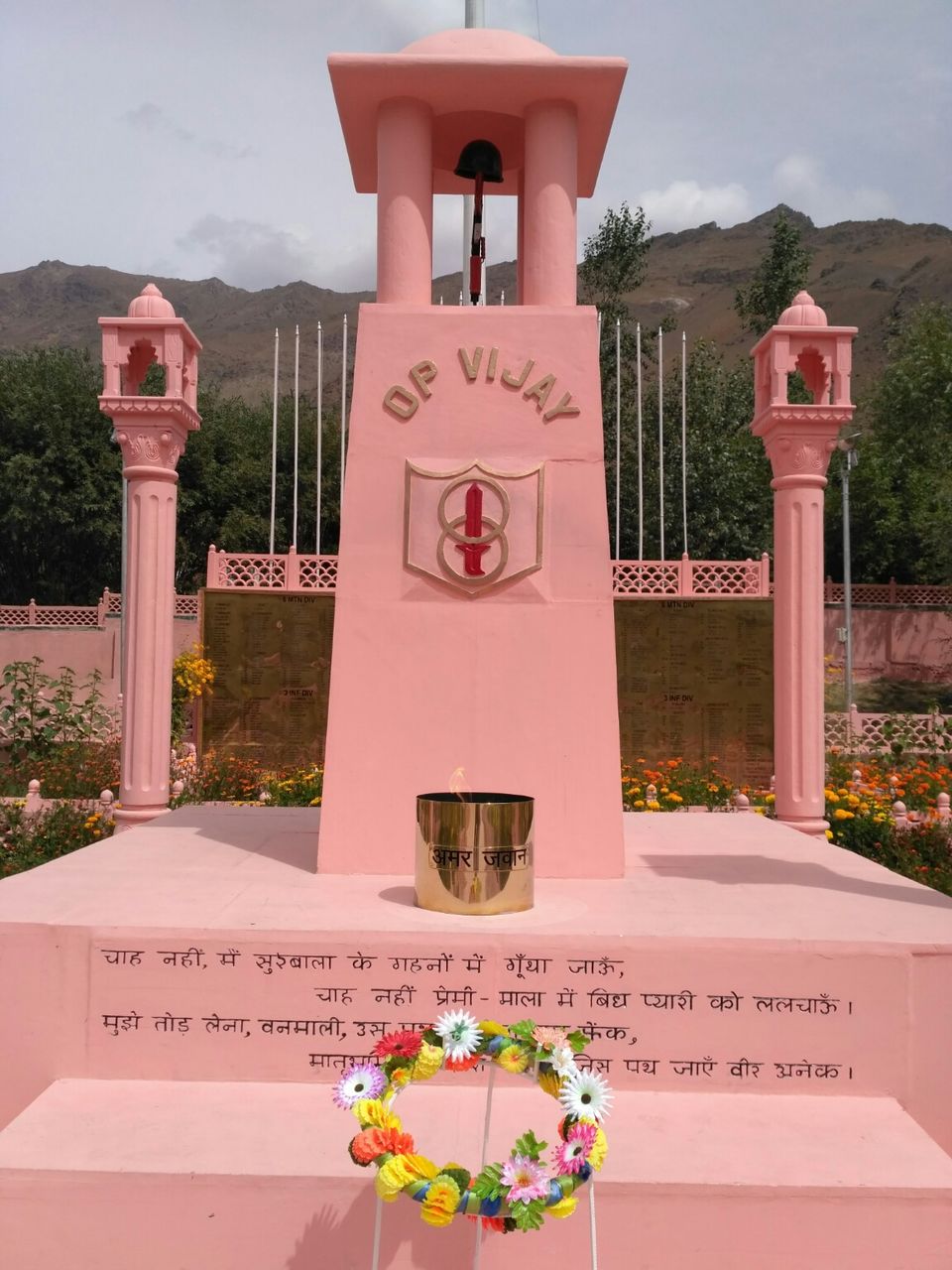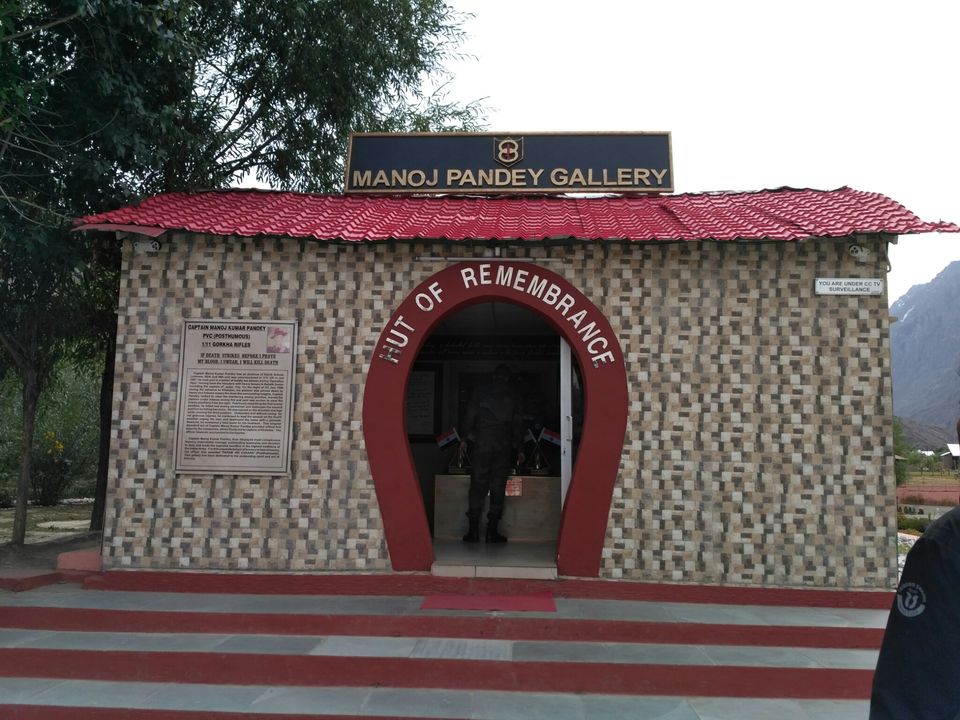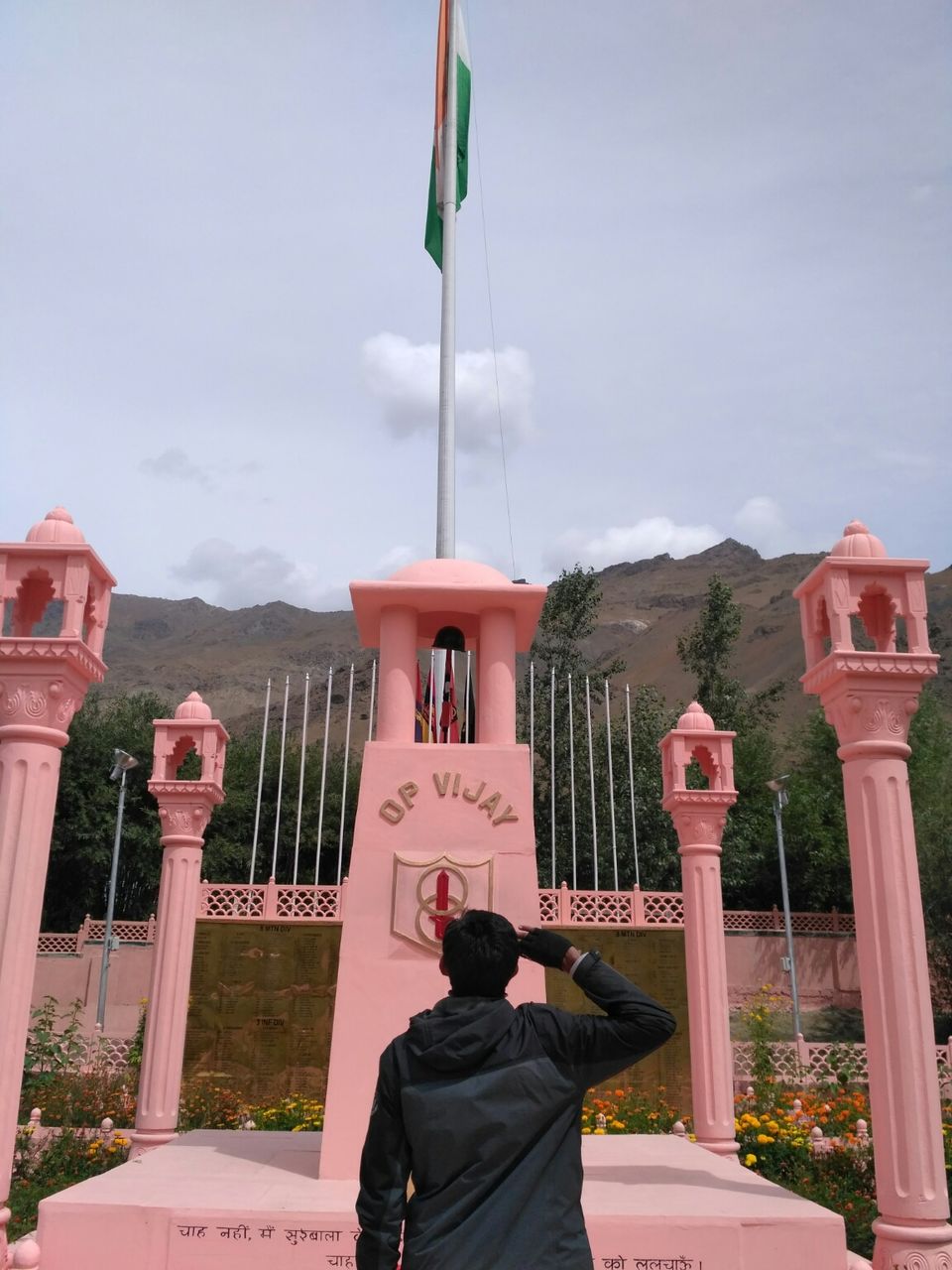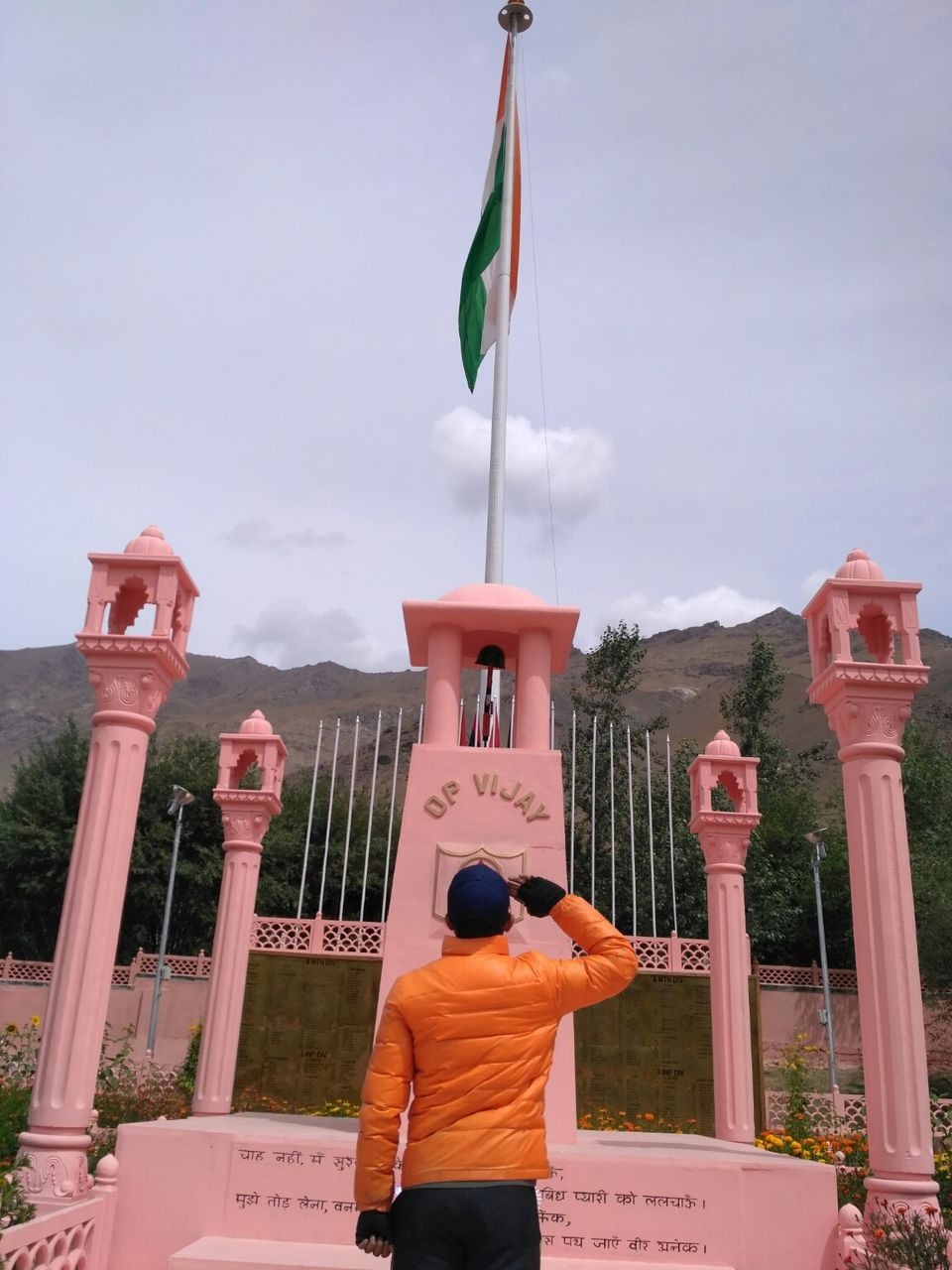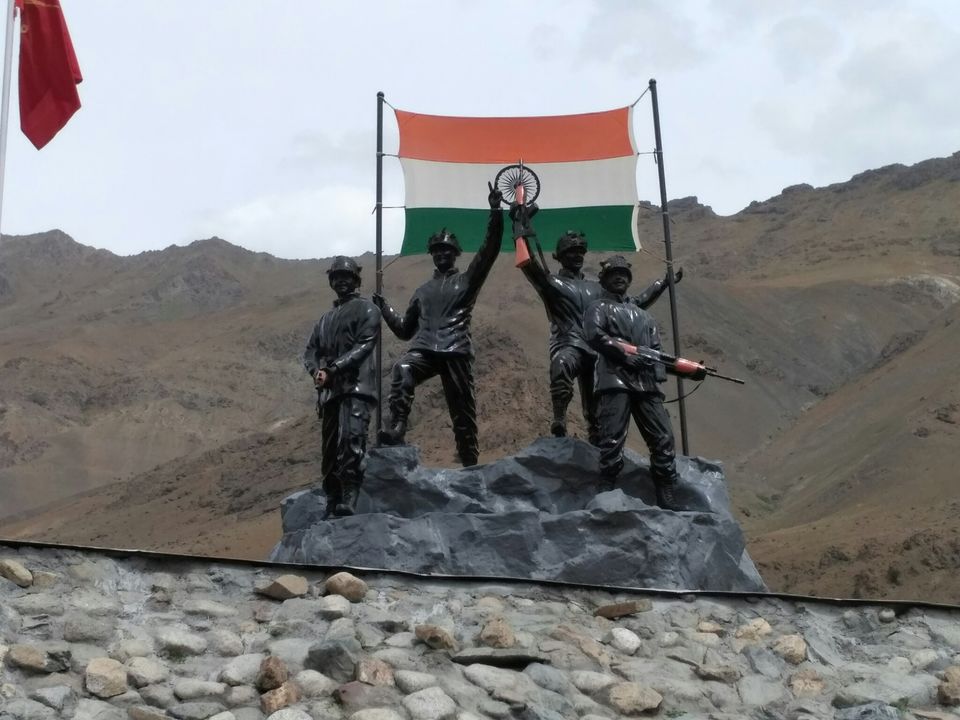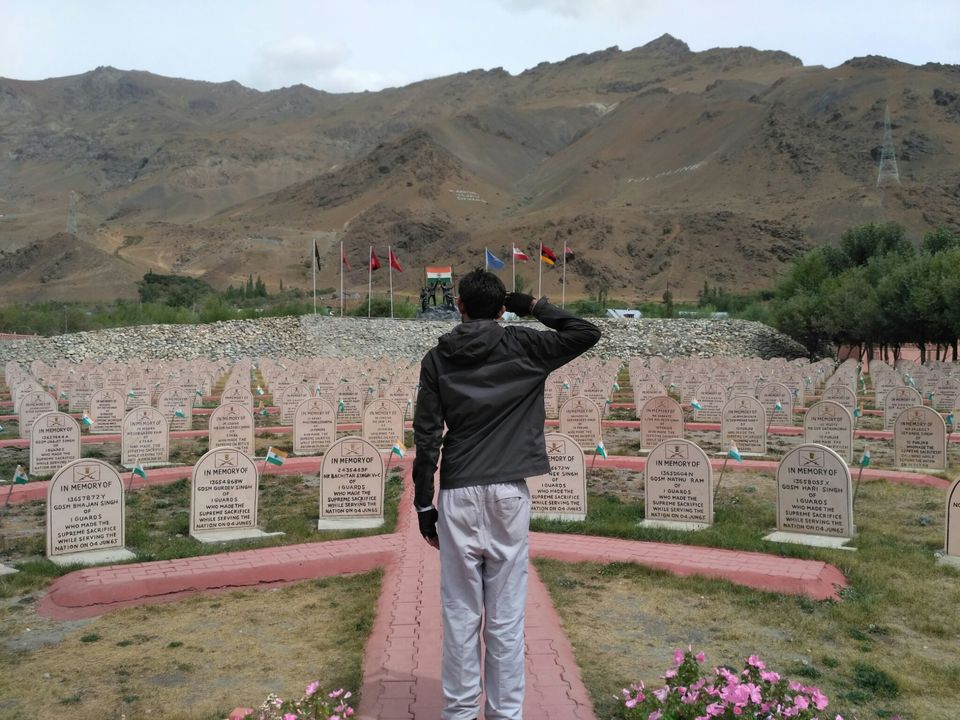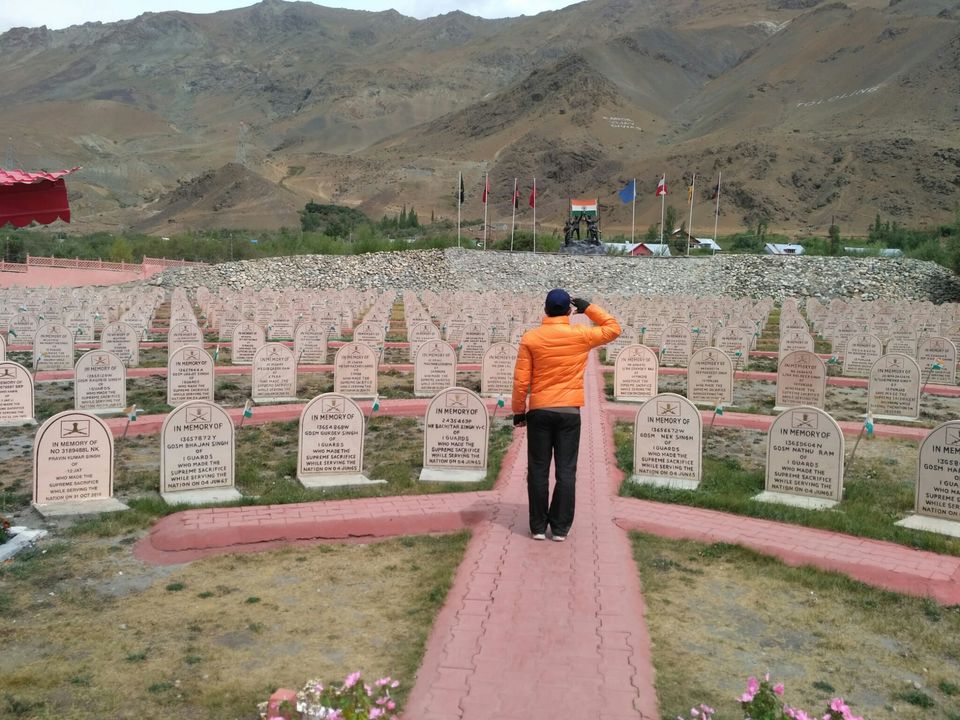 We left kargil war memorial with emotion and proudest feeling. The road was in good condition and mostly road was flat, river was flowing next to road and mountains on both side.so we was enjoying that day ride.while riding we noticed BRO motivational quotes on road side,that help us to motivate our self till leh even thereafter in regular life.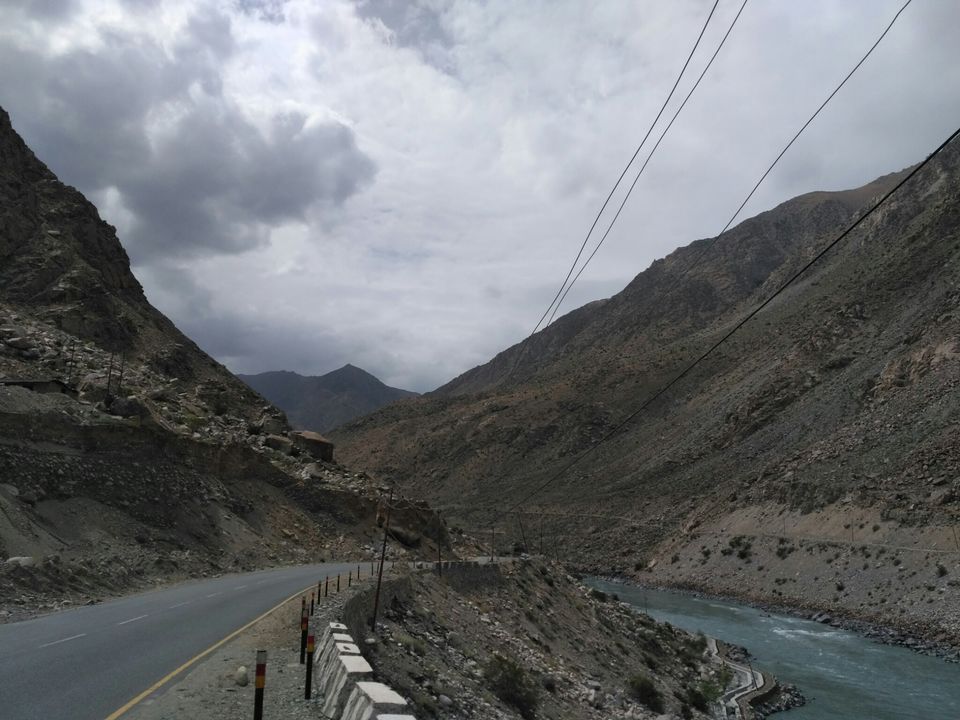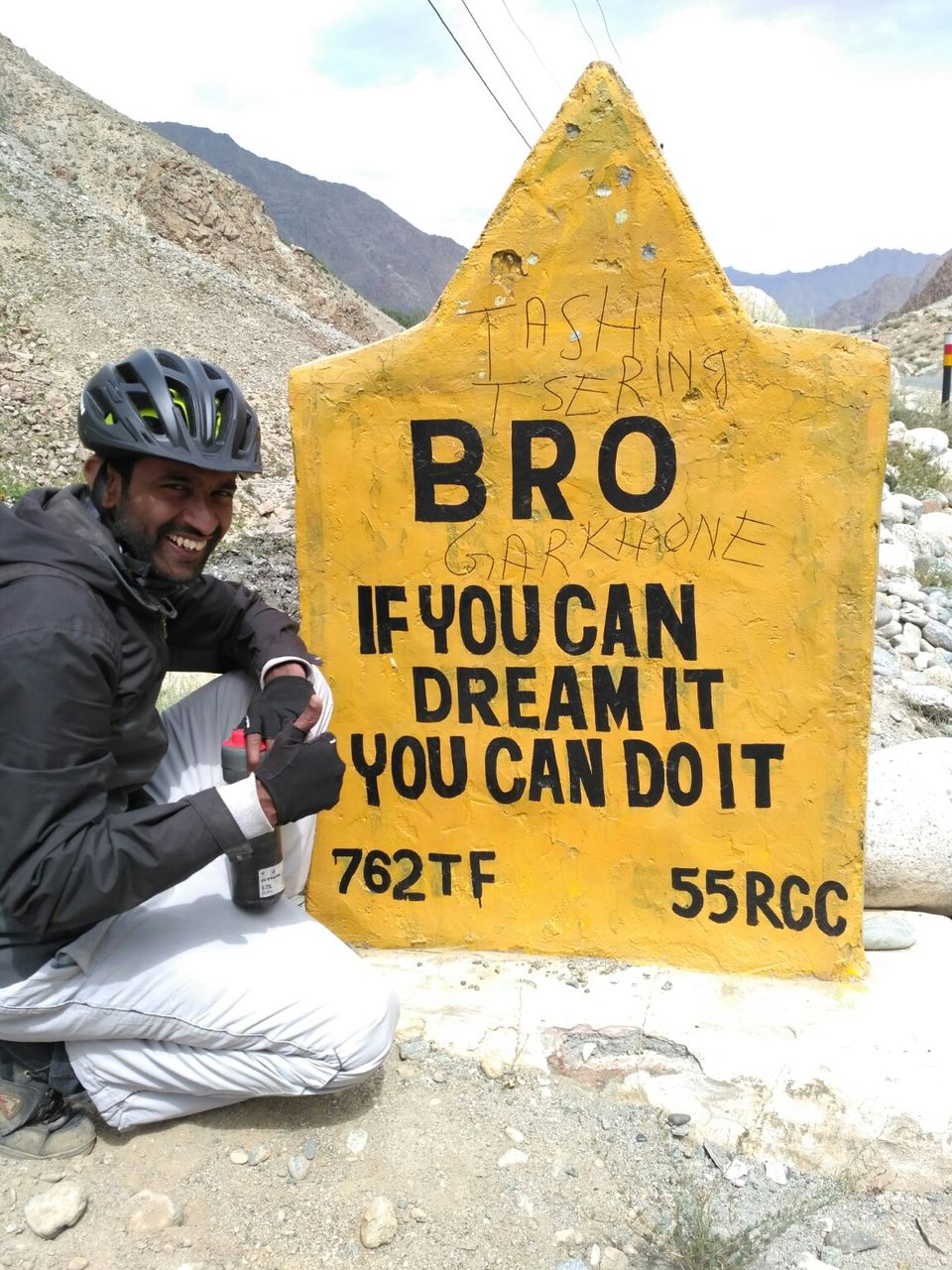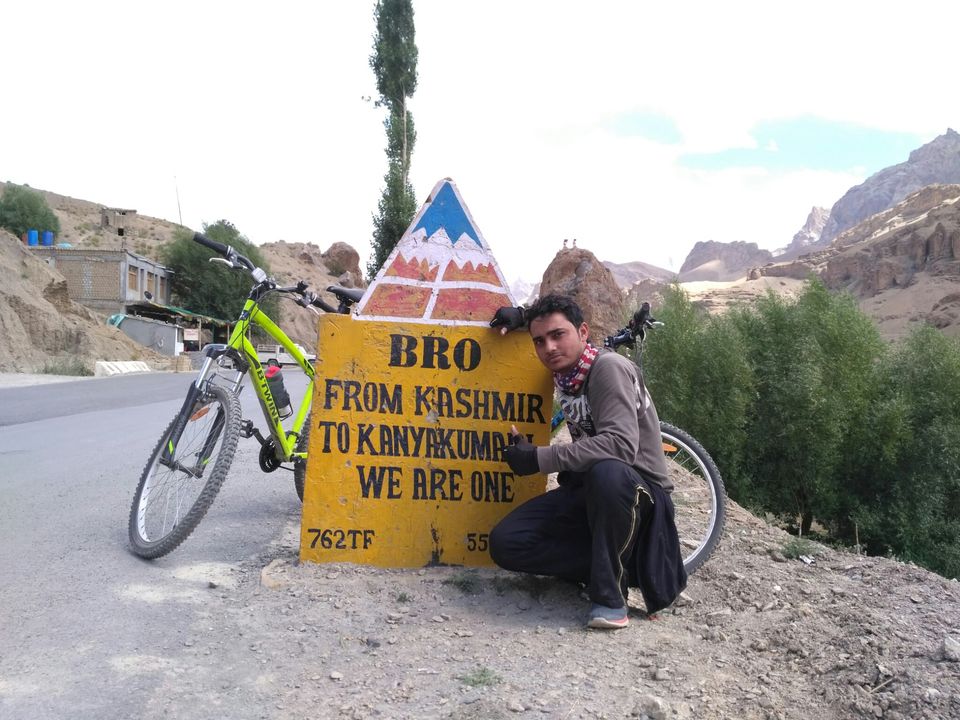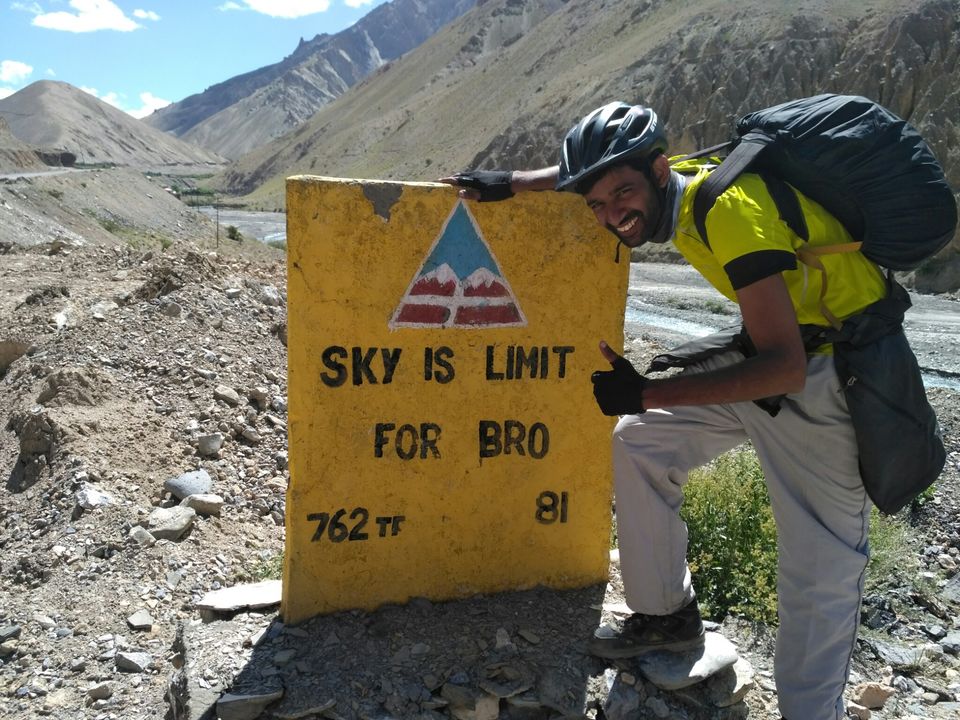 We cover almost 56 km from kargil war memorial and reached in kargil around 5 PM. We stay in one lodge they charged us rs.600/- for night stay. Room was great with all amenities.we had dinner slept off around 11 pm.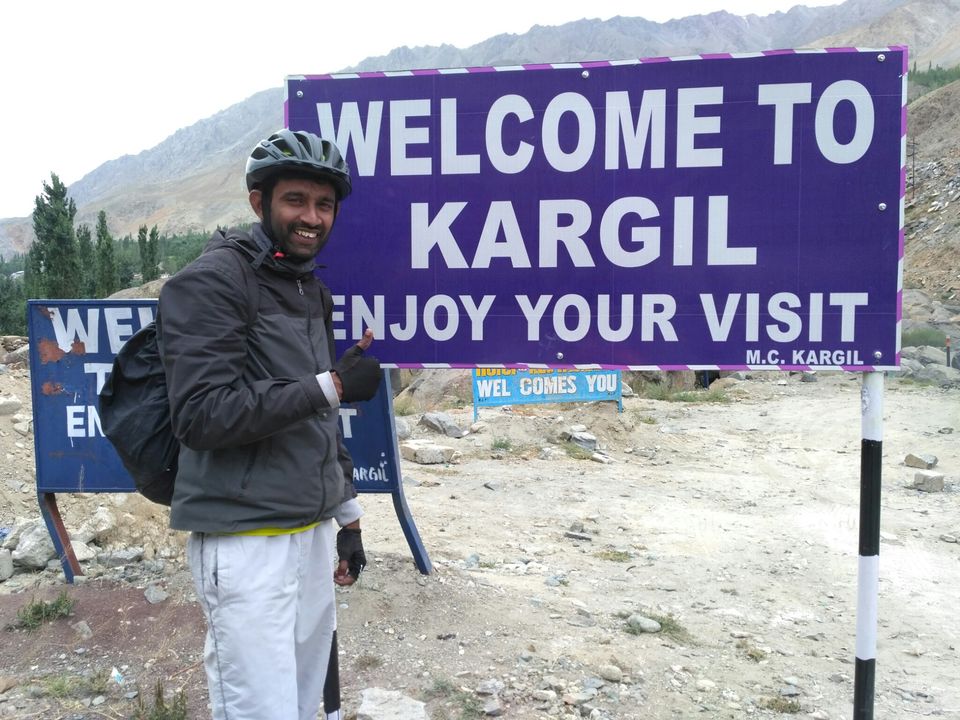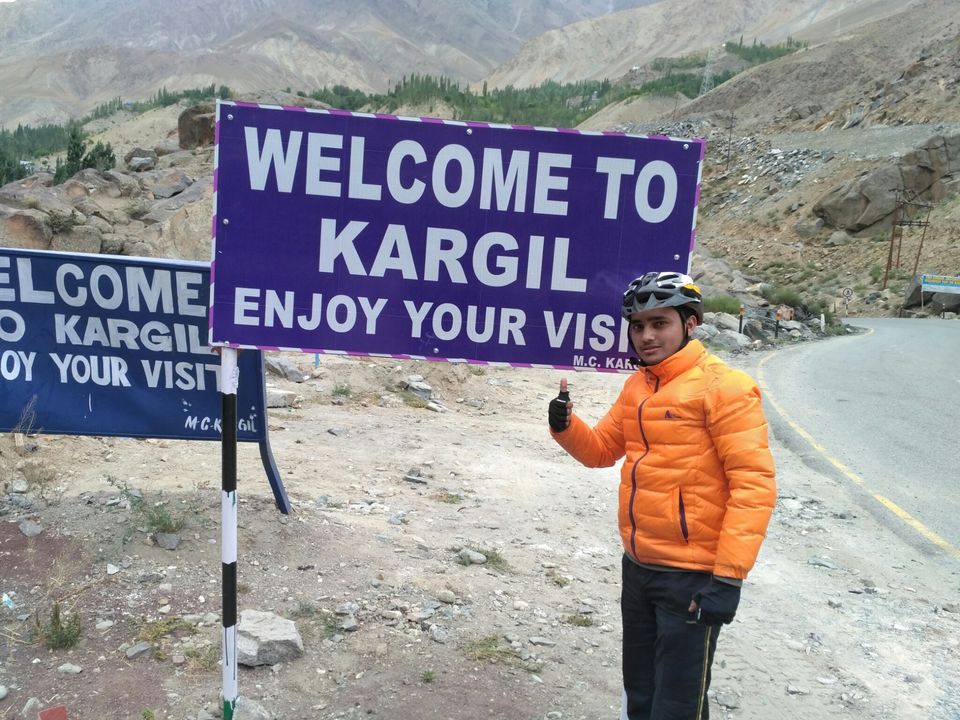 27th August 2017: Kargil to Budhkharbu - 70 Km
Early morning after breakfast we started for budhkharbu, few km ride was good after that road was very bad as road is under construction. It was difficult to ride as road was bad and dusty.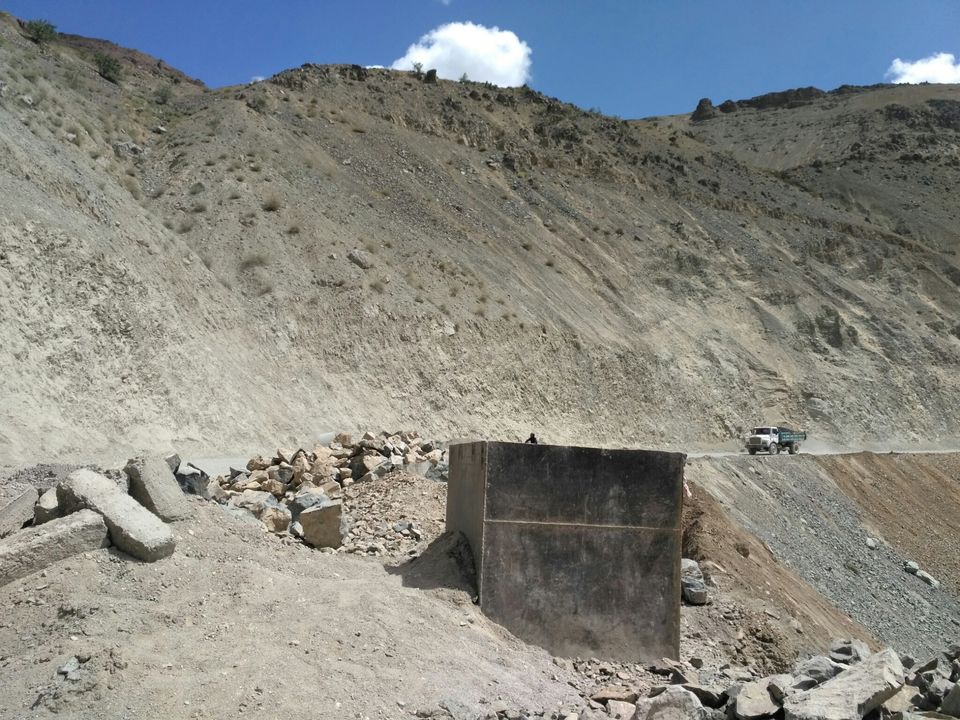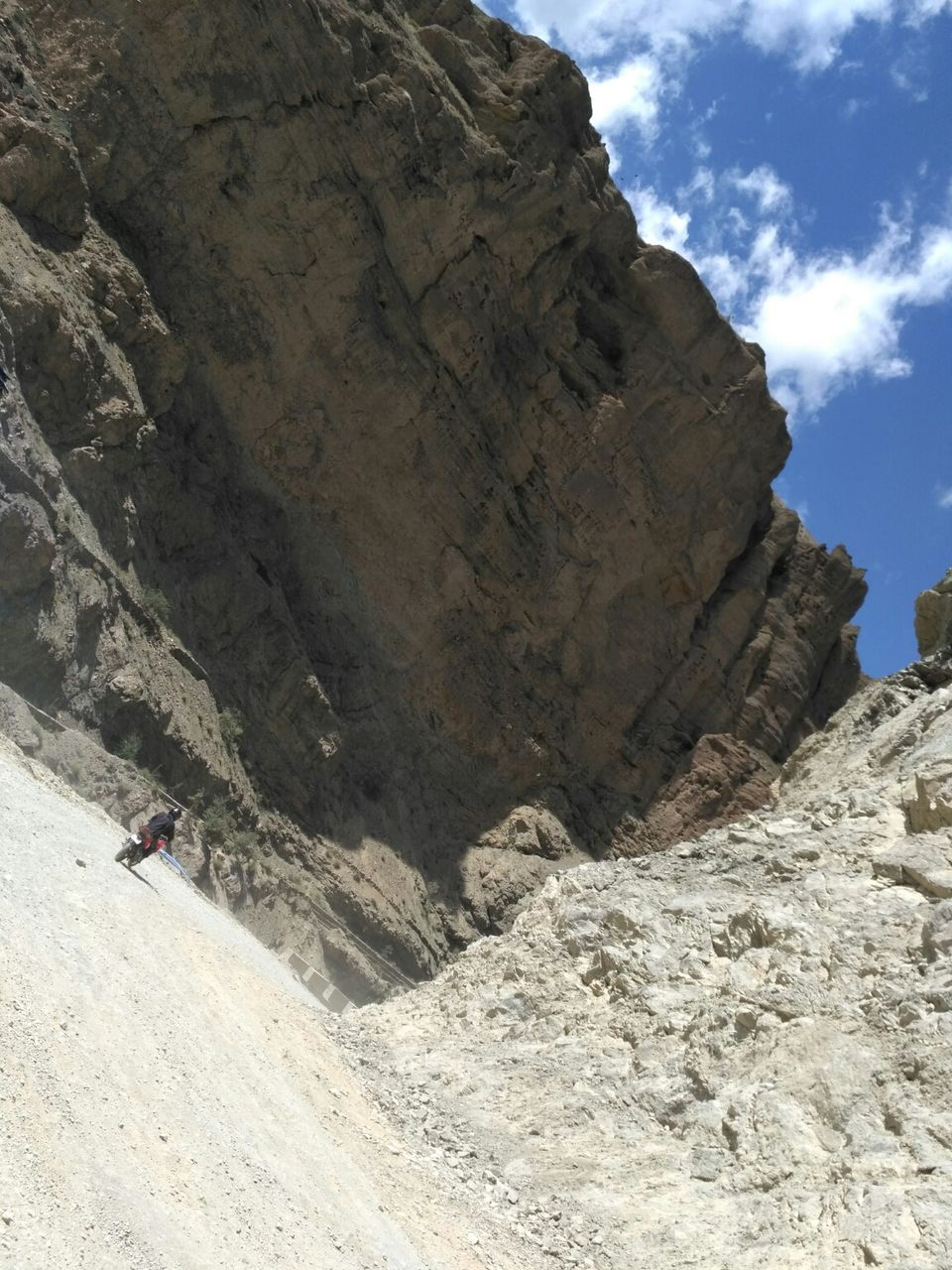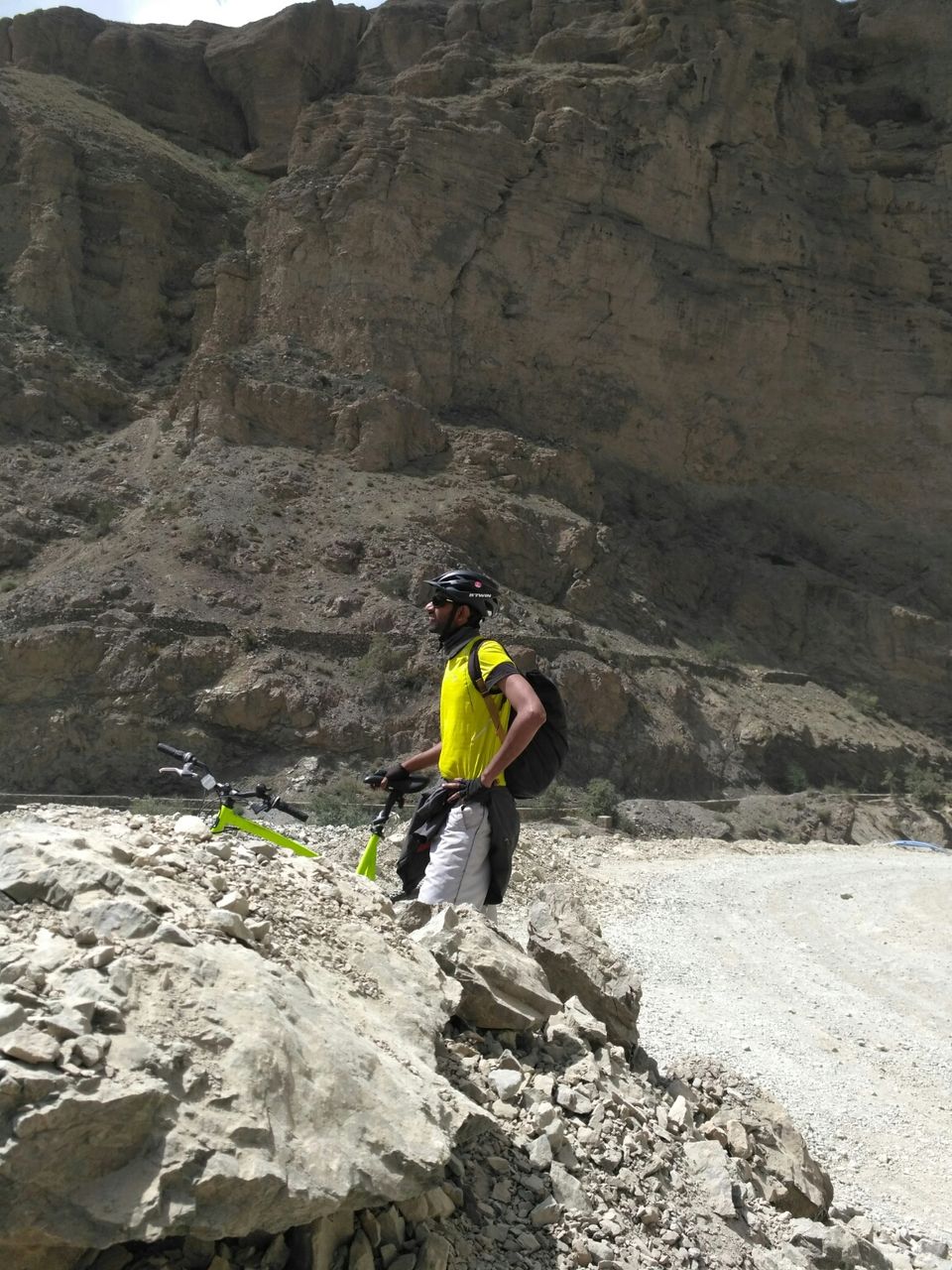 At 12.30pm we reached mulbek after riding around 38 km in that dusty road.we had lunch there and took some rest.we left for budhkharbu via Namika La Pass. Namika Lab pass is around 15 km from mulbek. This road is good but mostly ascending one till namika la Pass and wind was flowing opposite direction. It was one of the tiring day.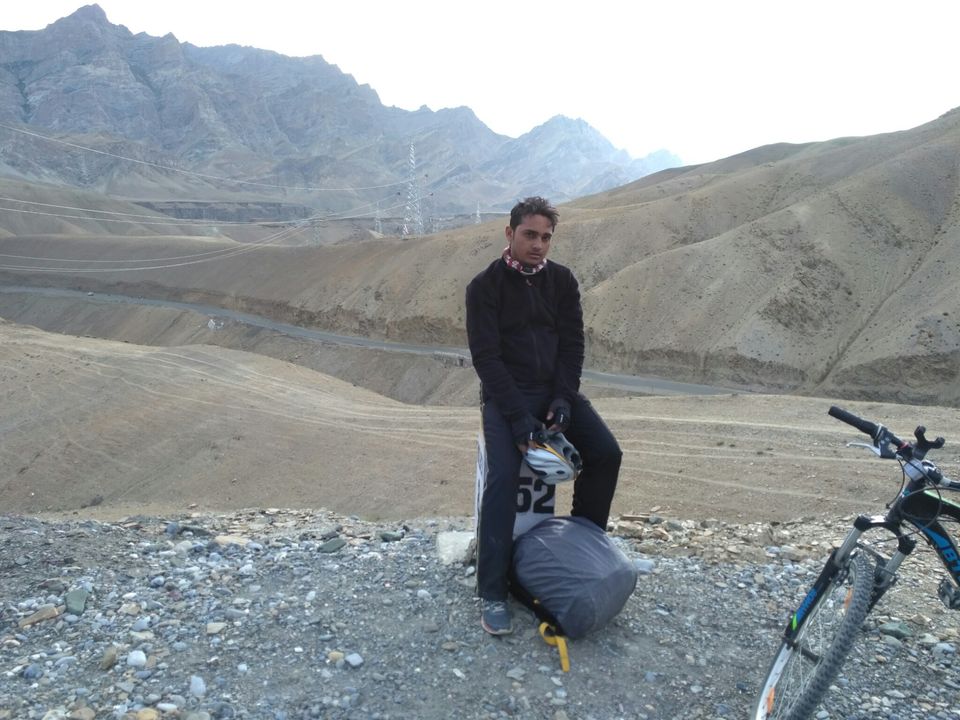 We reached Namika La Top around 4pm, took some rest and started day's last 17 km ride. road was mostly descending till budhkharbu.we reached around 7 pm at budhkharbu. Budhkharbu is army basecamp. In budhkharbu only small dhaba is available (rakesh ka dhaba) with stay option, they have 2 big rooms only. Room was in good condition with attached bathroom.they charged us rs.800/- for stay. It was our costliest stay of our whole cycling trip.
28th August 2017: Budhkharbu to Lamayuru - 36 km
As our next destination was not to far so.we started late around 10 am, first 15 km of day ride was ascending one till Fotula Top. We were happy as we going to visit highest point of Srinagar-leh highway road. while we riding,we took a break before 7-8 km of fotula top. Click some pictures and rested for while with enjoying view.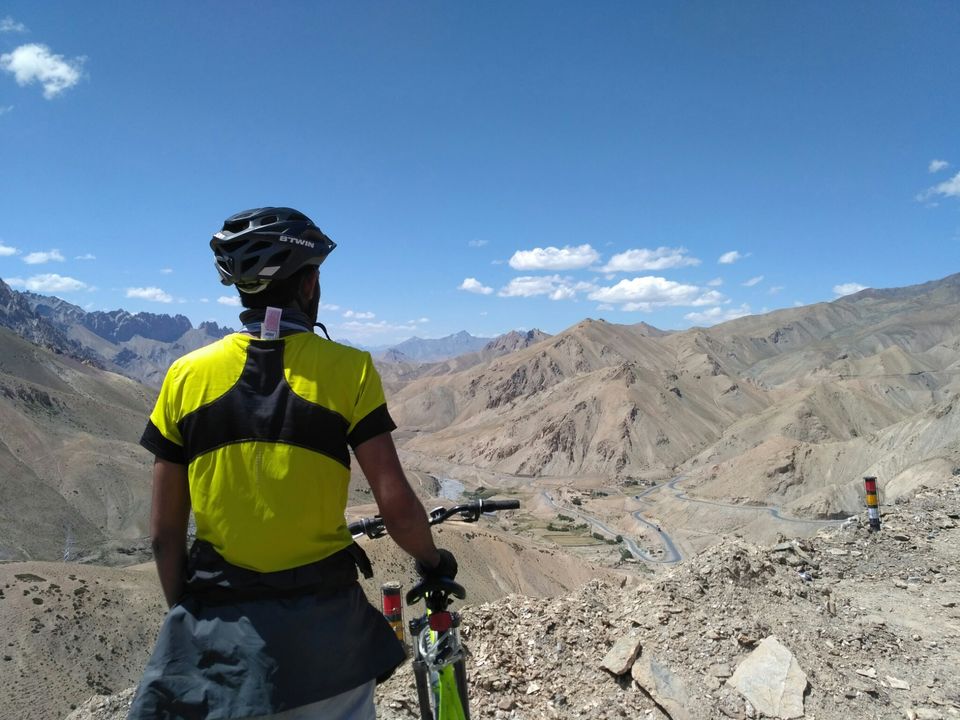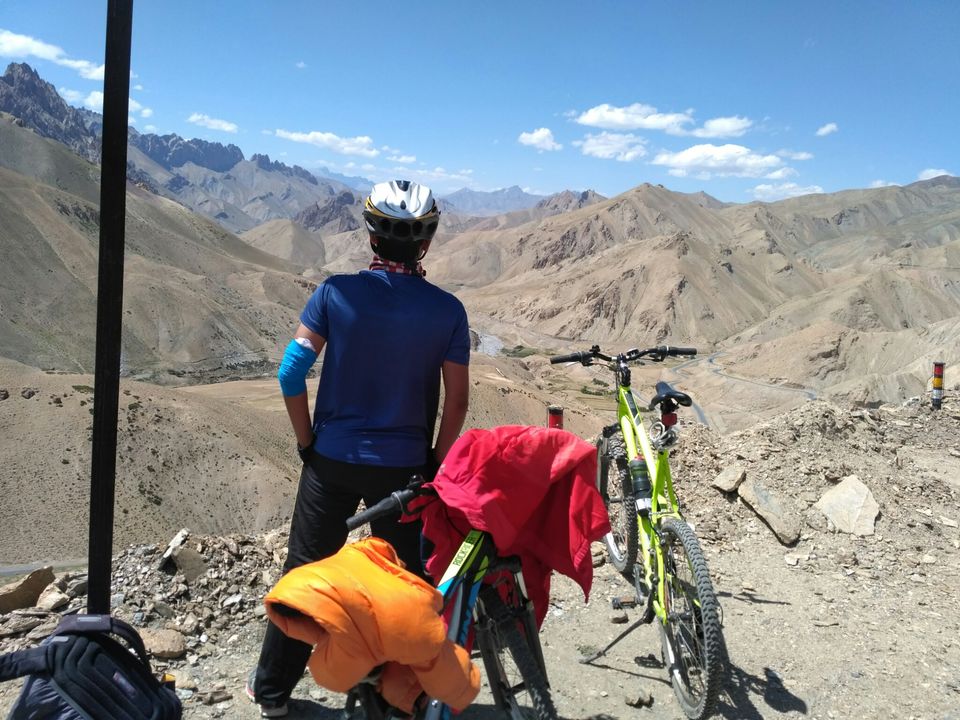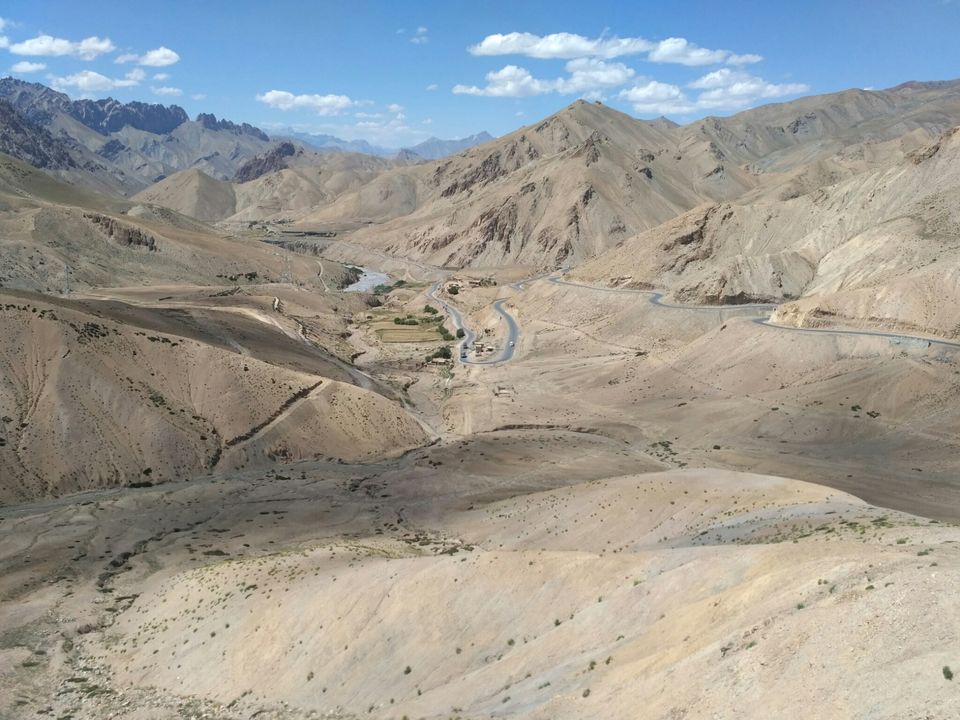 We reached around 1 pm at fotula top. We had feeling like dream come true as fotula top is highest point of our cycling trip. We spent here almost half an hour watching views and click some pictures.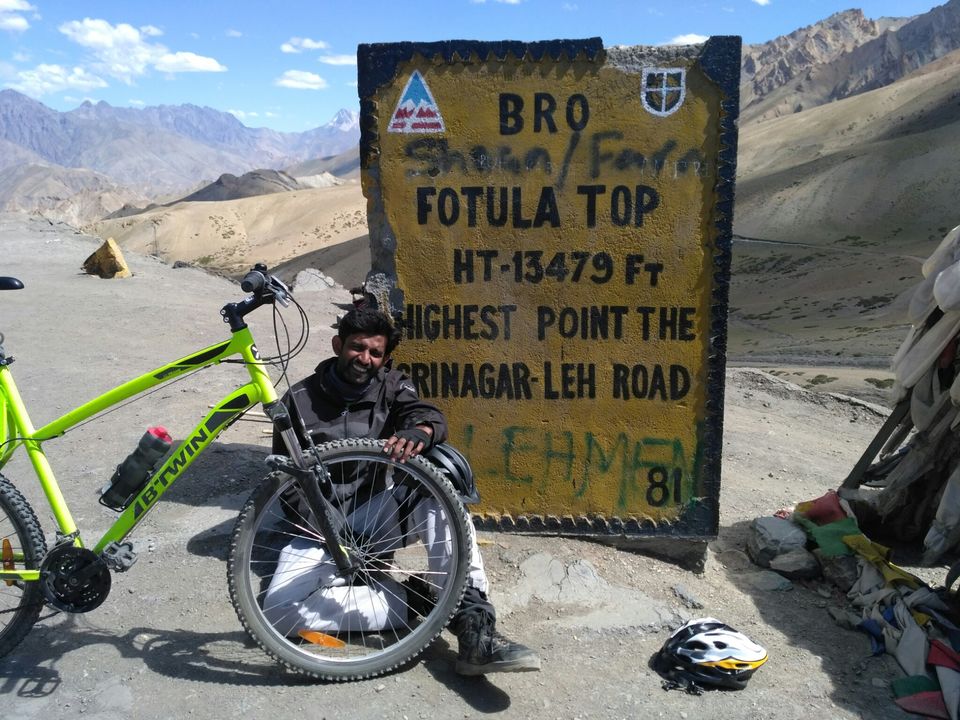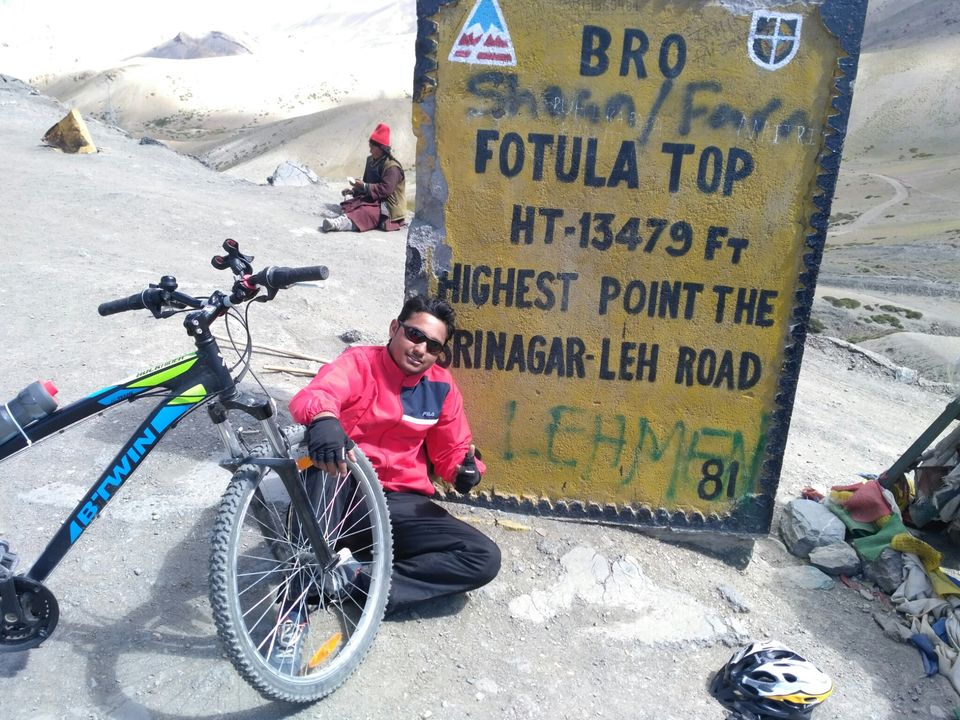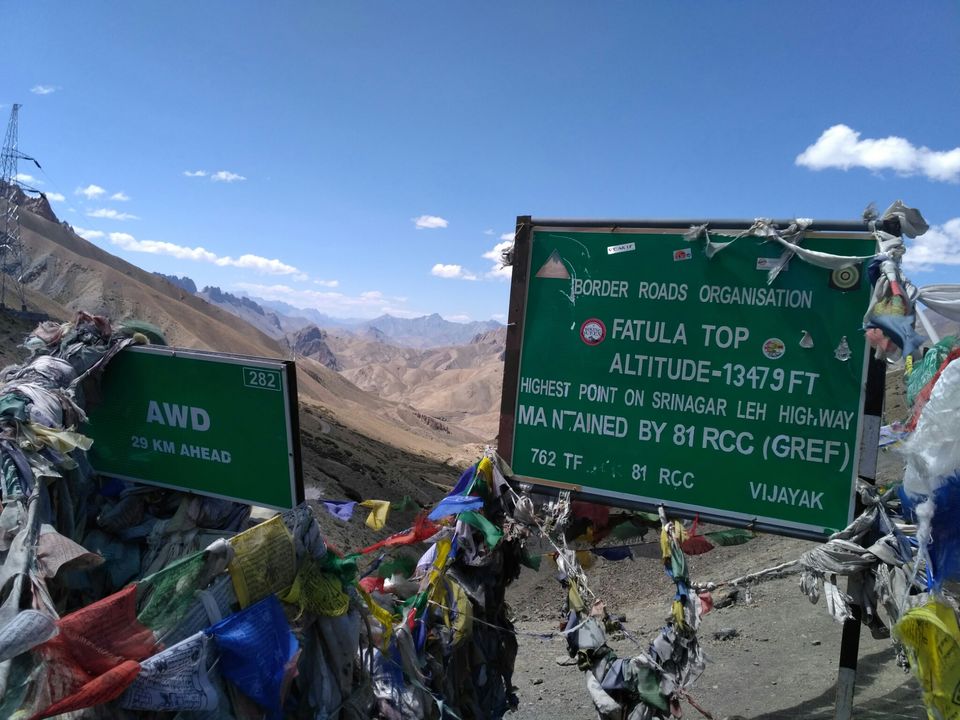 We also interact with local granny and army personnel and also click some pictures with them.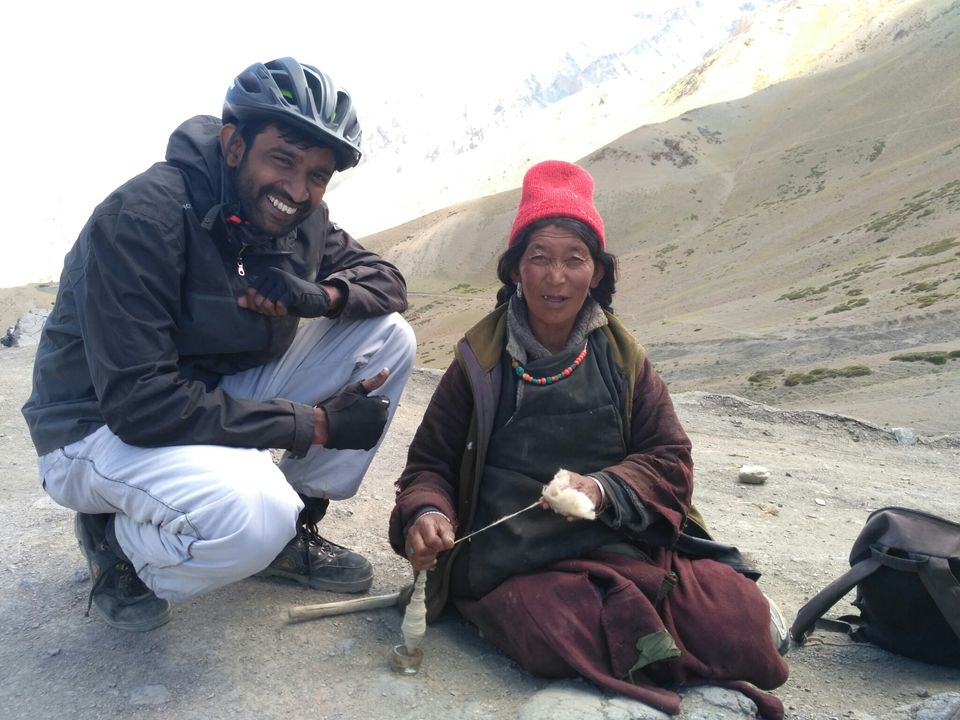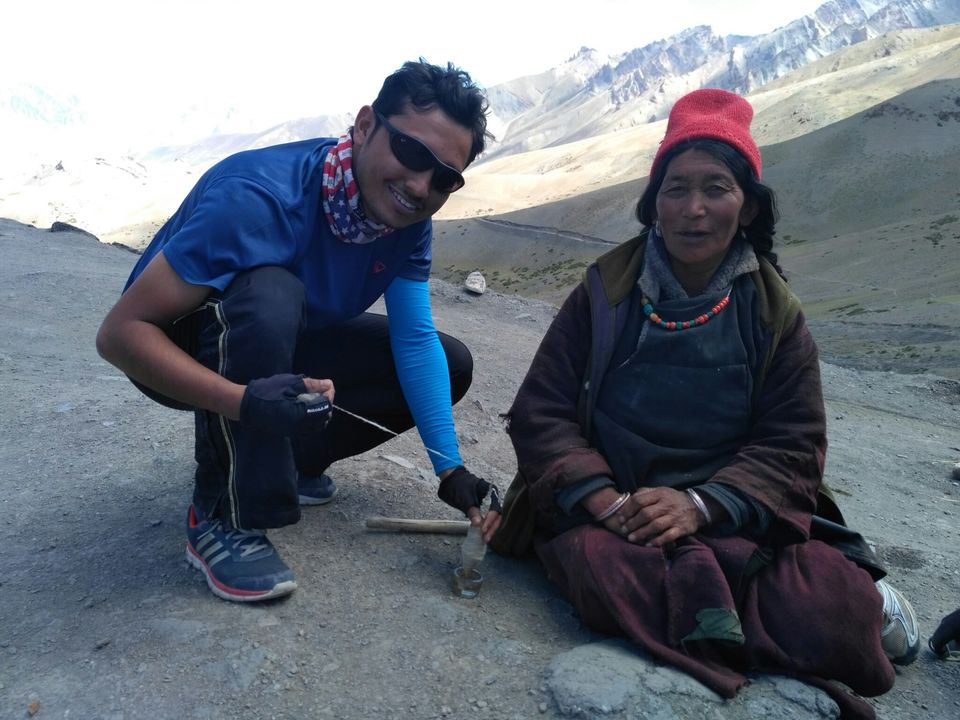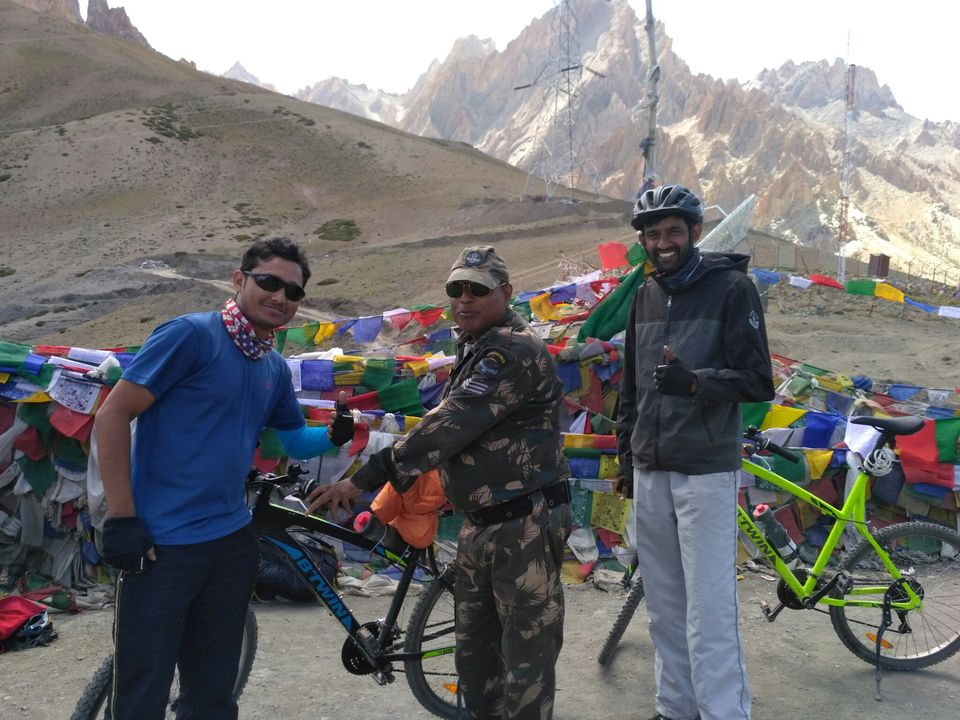 We left from fotula top with beautiful memories which never be forgotten.we reached around 3 pm at lamayuru.we started looking for a hotel and finally we got 'Shangrilla temple view guest house'. They charged us only rs 300/- for stay with common bathroom. 5 pm we went for lamayuru monastery visit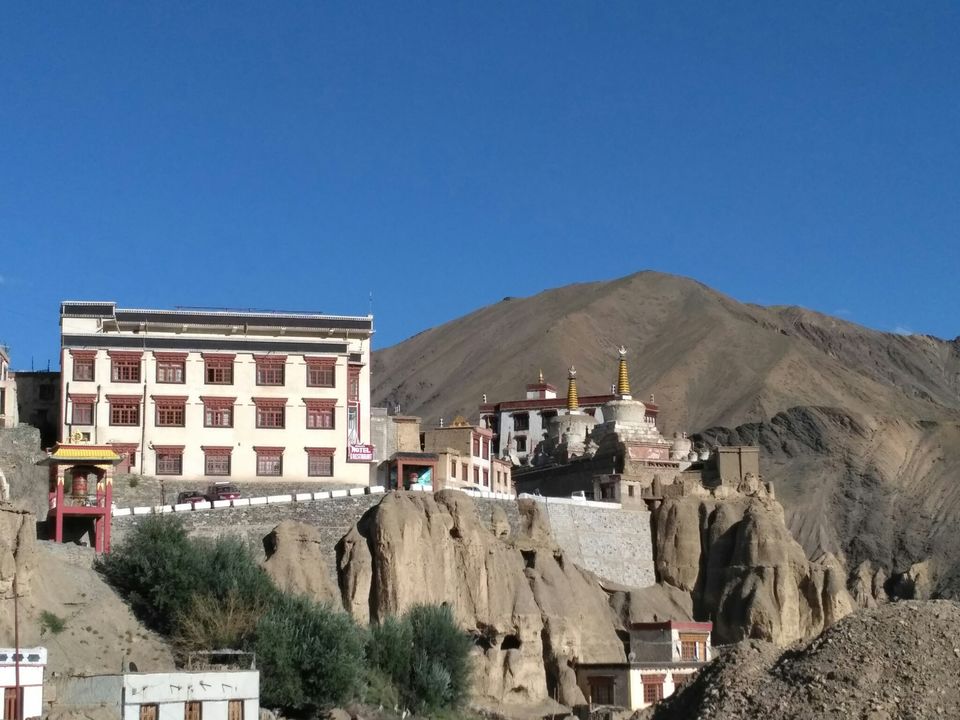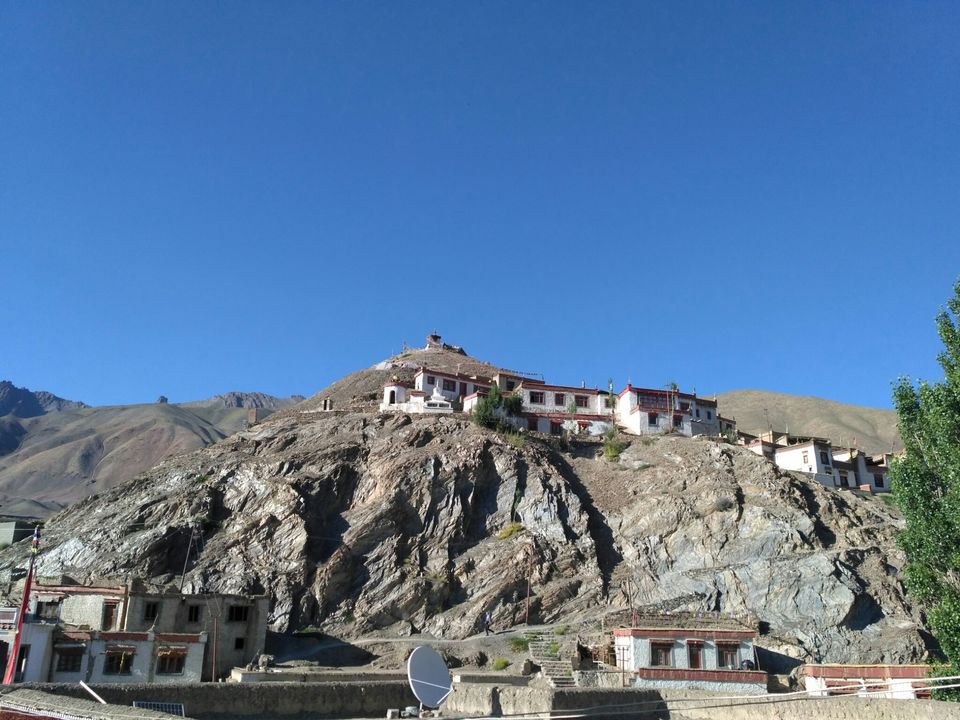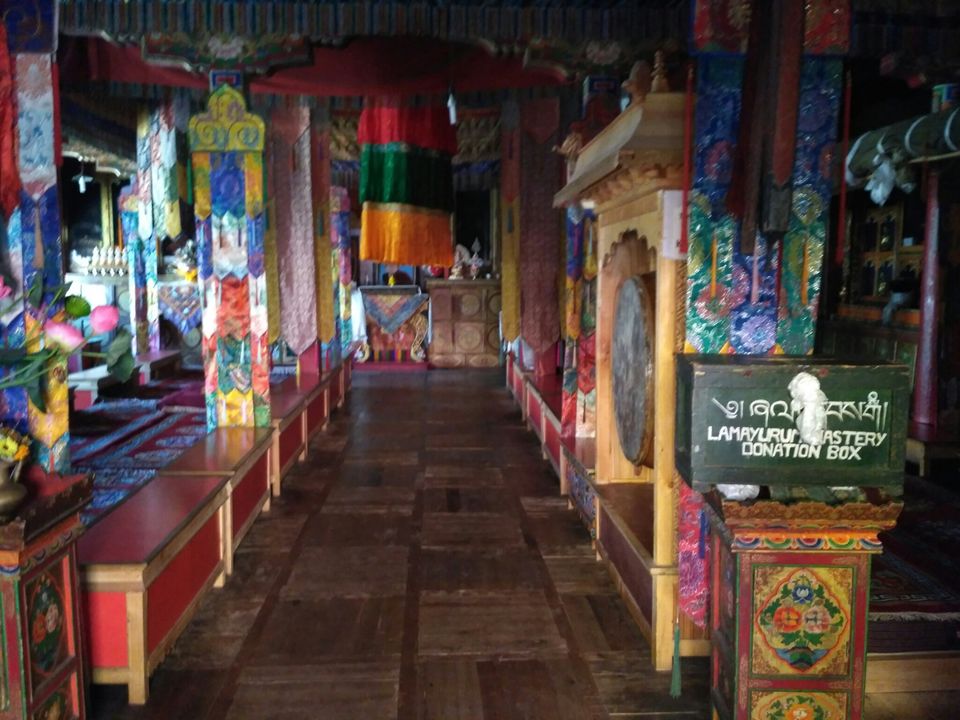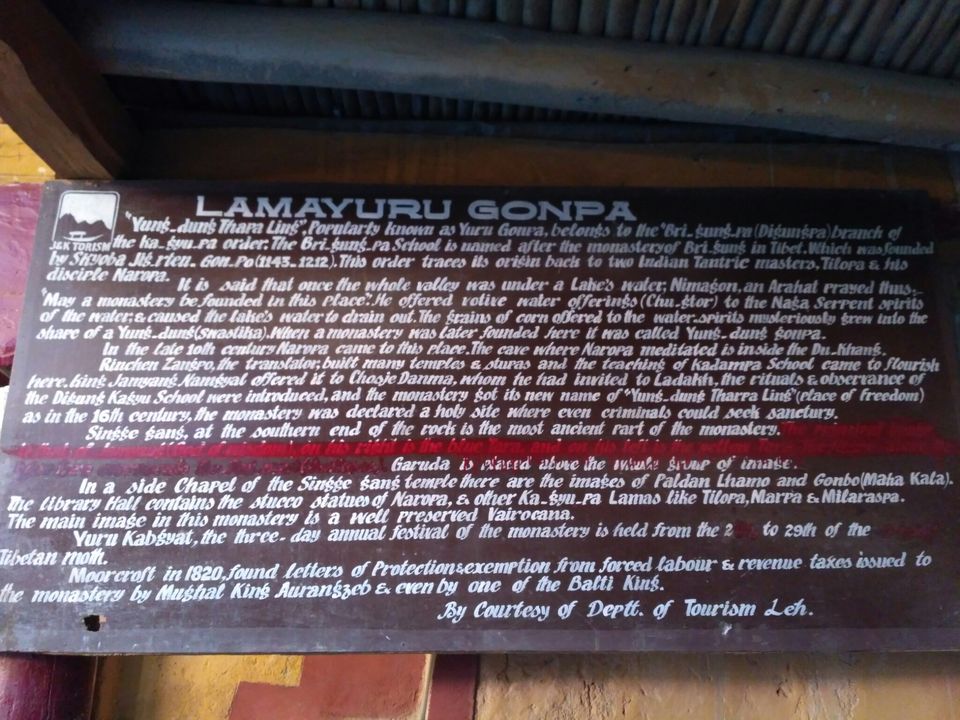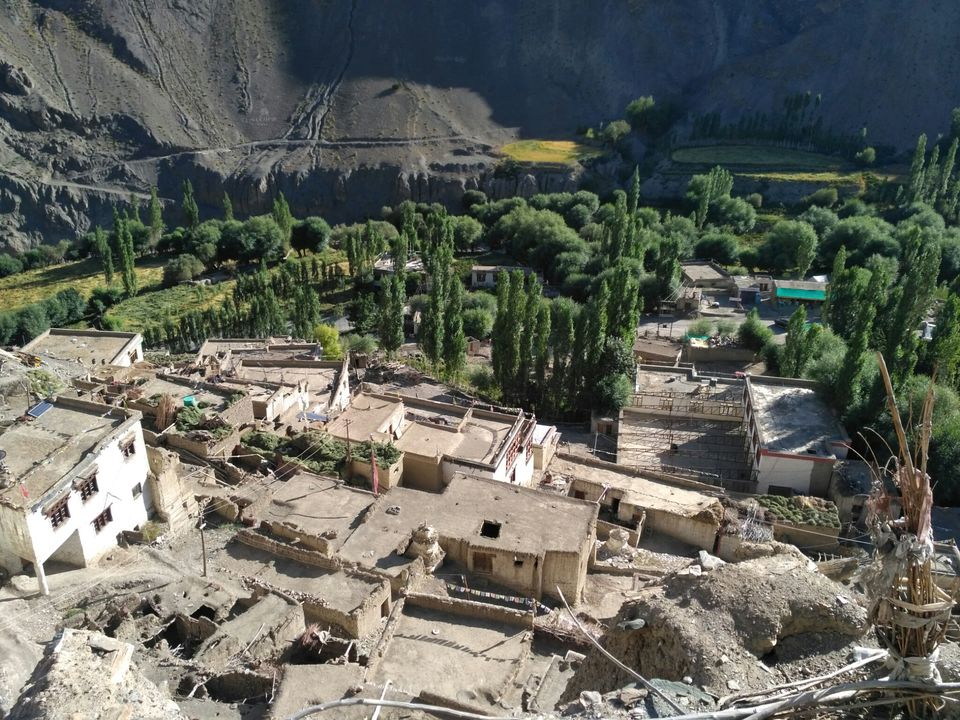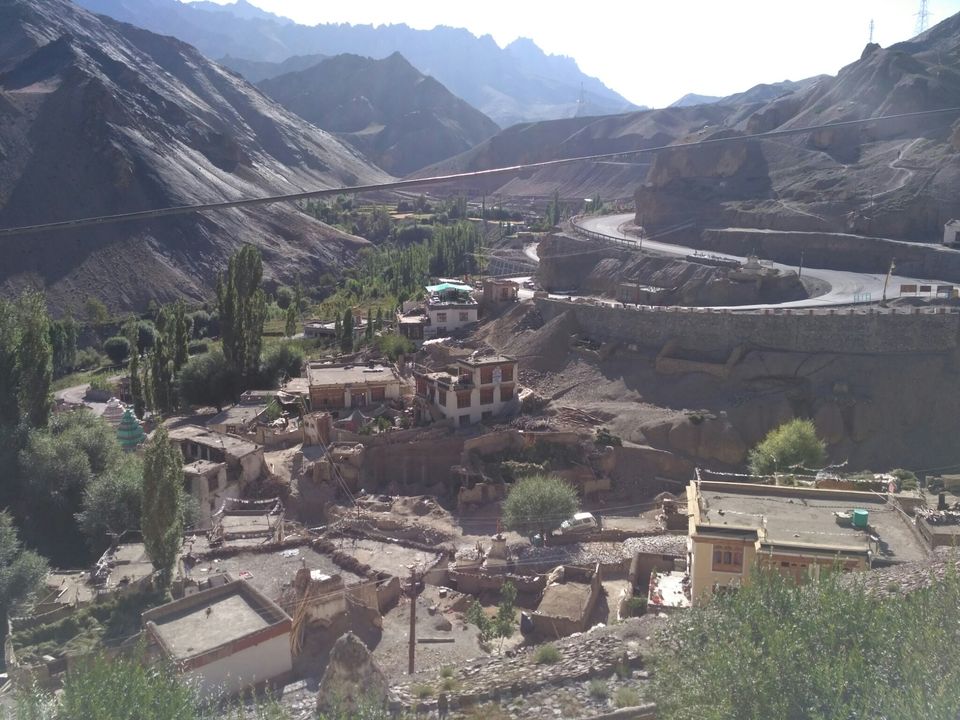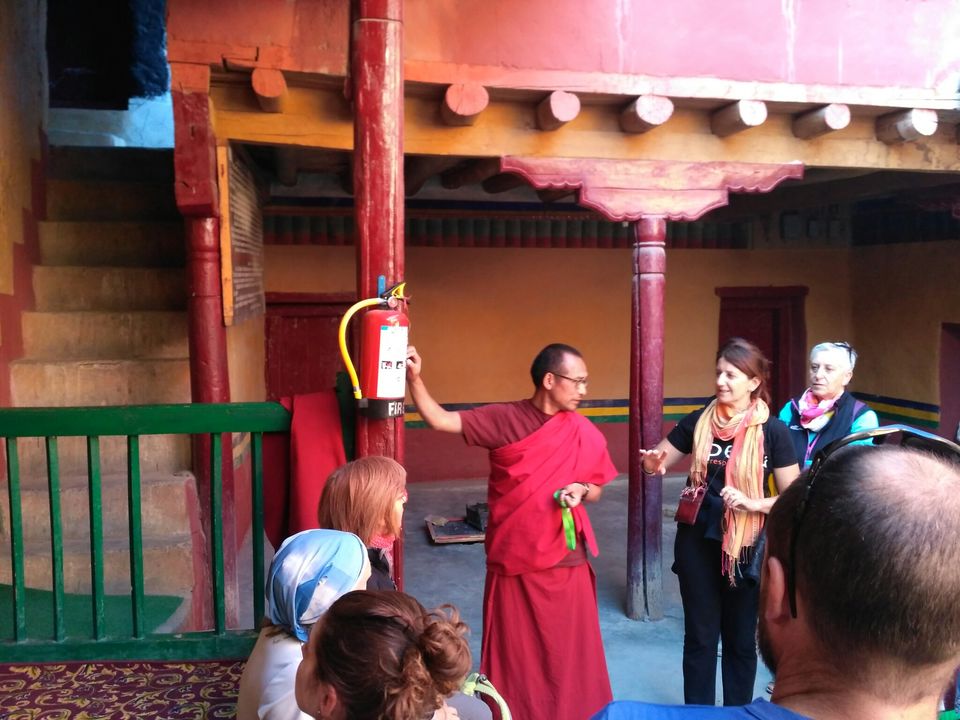 after visiting monastery we had dinner and went off.
29th August 2017: Lamayuru to Alchi - 57 km
Second last day of our cycling trip,we started around 10 am after having breakfast for Alchi. Lamayuru to Alchi road was smooth and good, mostly road covered by flat road. Almost after covering 50 km from Lamayuru we stopped at one place around 2 pm, as lot time remain for day end and only 7 km remaining we rested for almost 1 and half hour there as Mountains turned into mattress... Flowing river became my calm music.. Wind took care of my sweat...sky turned itself to shelter.. The best sleep one could ever ask and dream for.. Journey is not only reaching the destination., Its also about the adventure and the journey. Its about to feel the nature.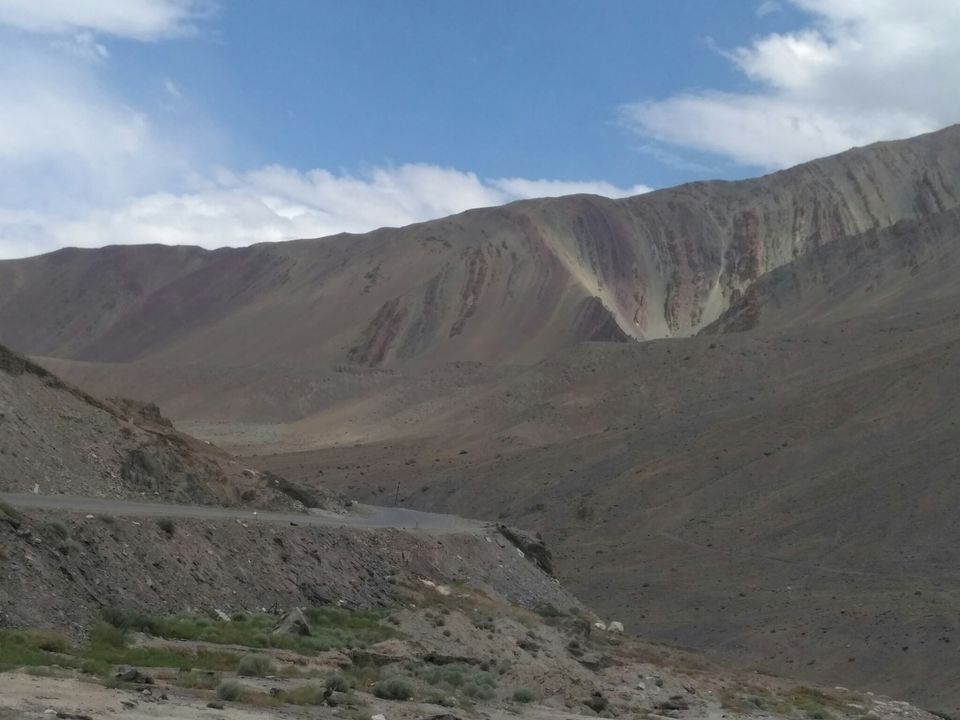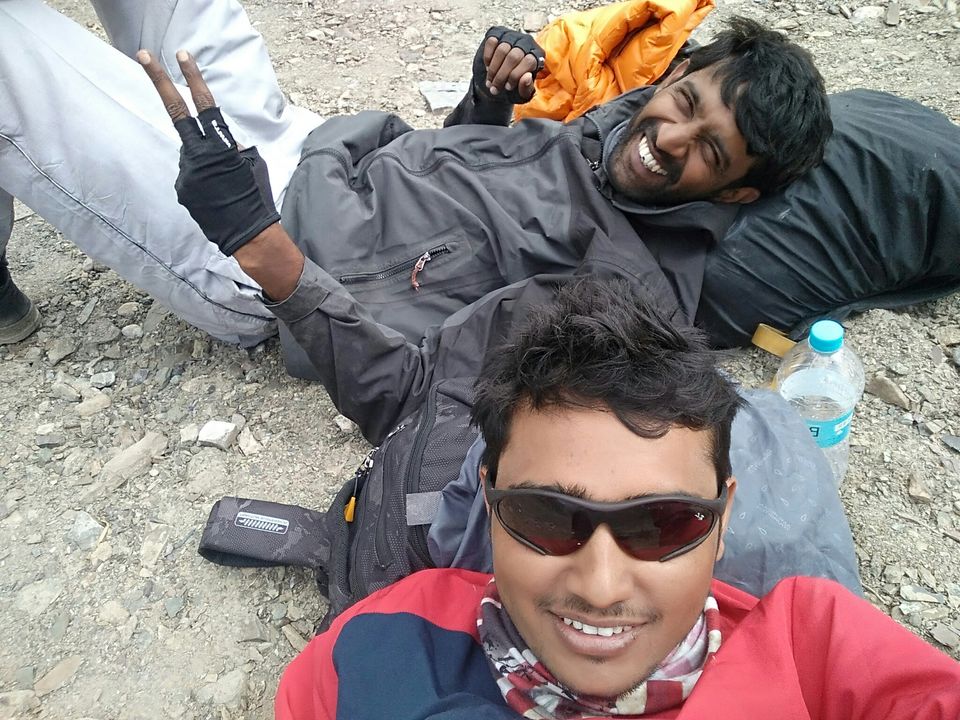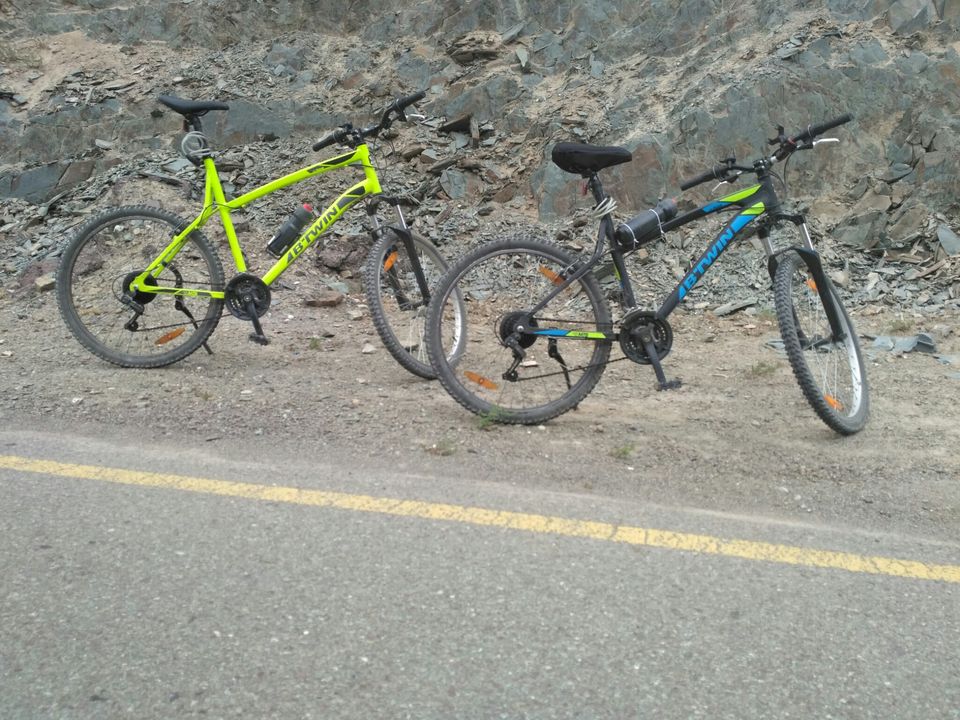 around 3.30 pm we left for Alchi, after covering 2 km we cut ourself from Srinagar-leh highway to reach alchi.we reached Alchi at 4 pm. We stay at Lharjey homestay,this is second last stay of our cycling trip and most beautiful stay of our whole journey. I recommend this home stay as it is mostly beautiful stay i ever been till date.they charged us rs. 1000/- ( including evening tea, dinner and breakfast) room has all amenities.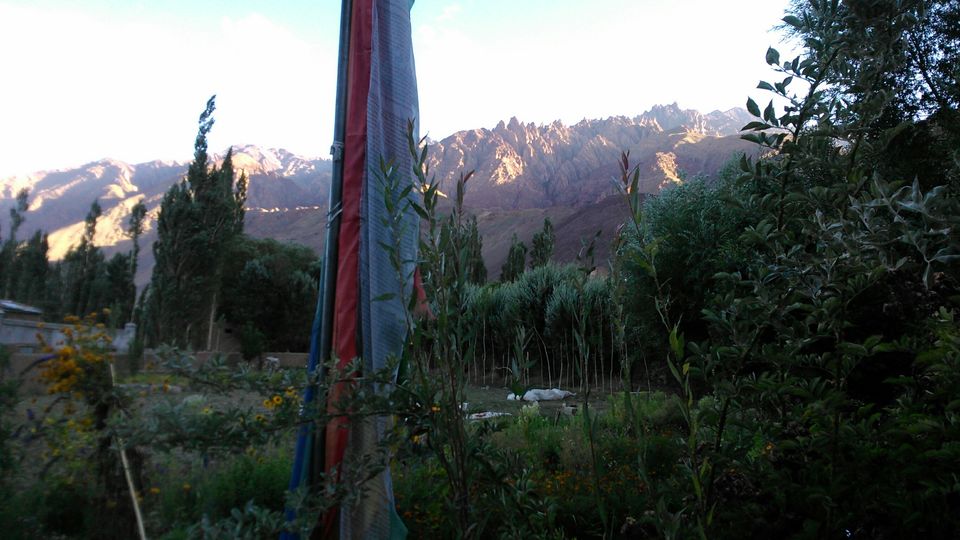 30th August 2017: Alchi to Leh - 66 km
We got emotional as today ride was our last ride of cycling trip and we leaving most beautiful home stay. we left Alchi after had breakfast with best memories of stay. Alchi to leh road good with some ascend and descend. On the way to leh we met with cyclists,they was cycling to zanskar from leh. We had some discussion about road and cycles and clicked picture with them.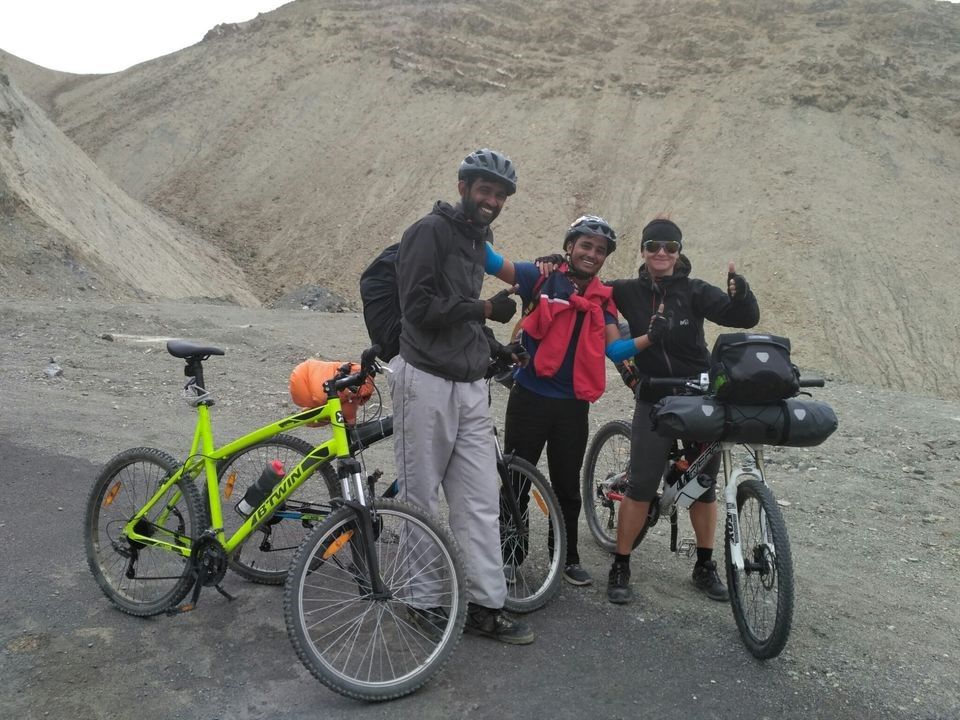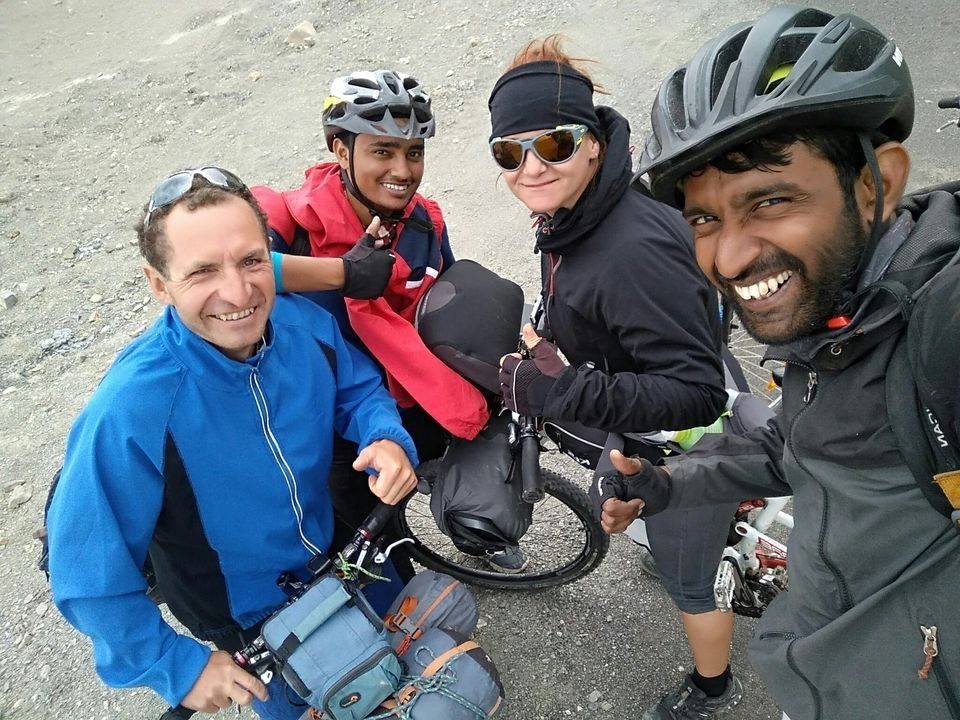 After completing major portion of our cycling that day we got most beautiful photogenic road,we stoped there clicked pictures.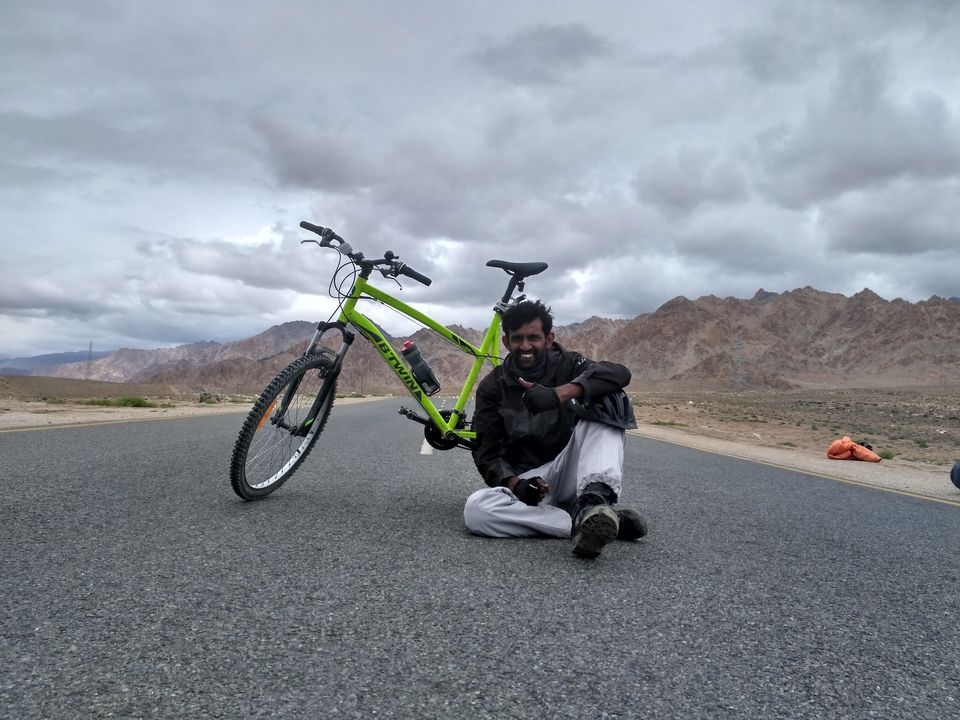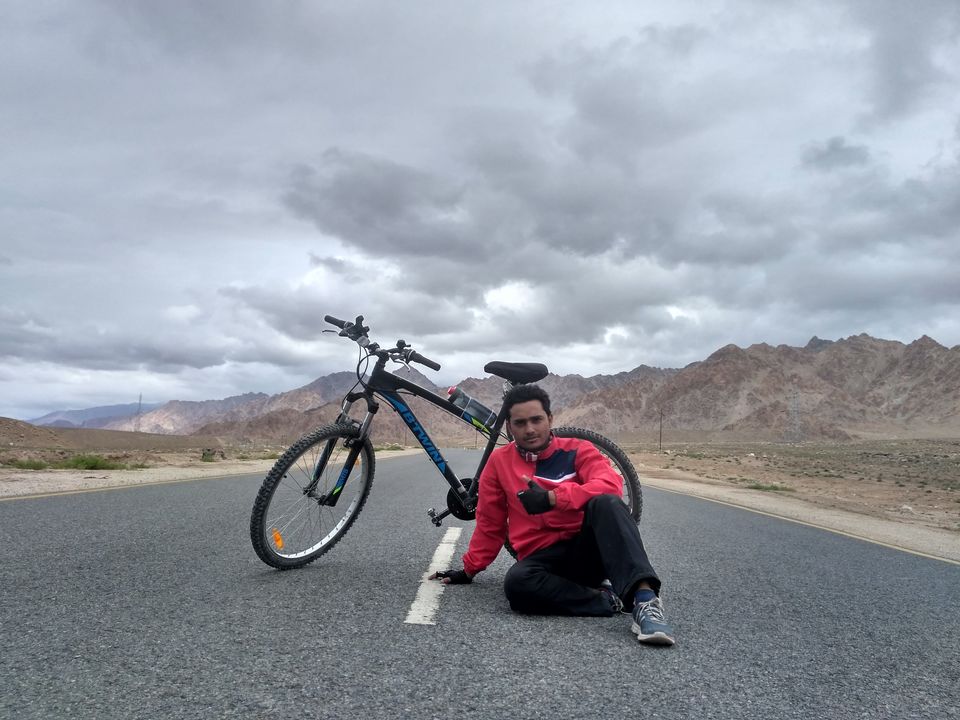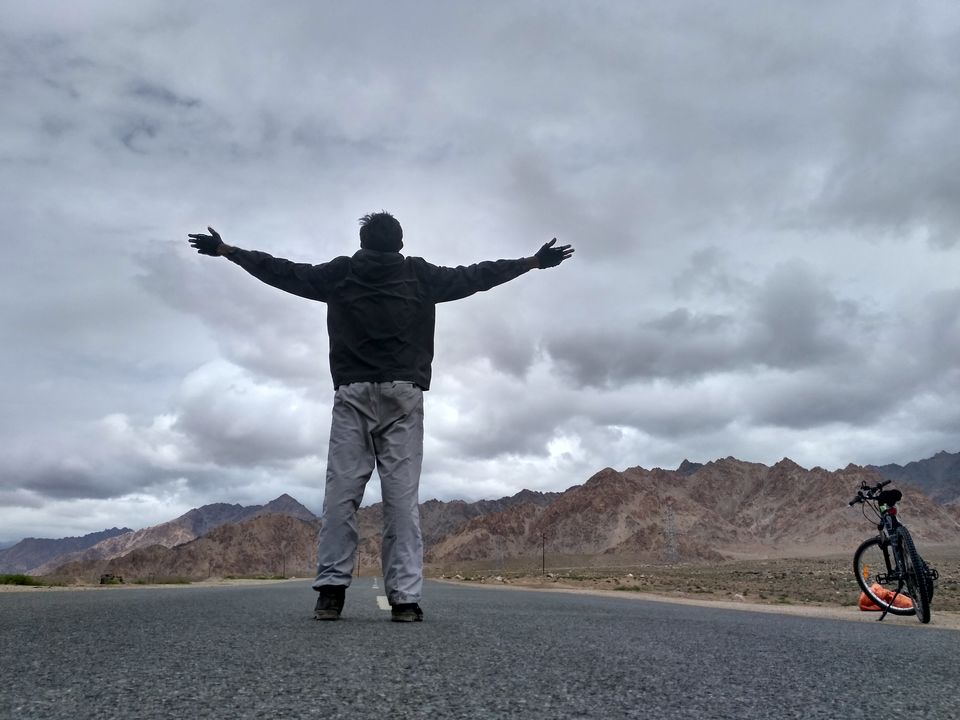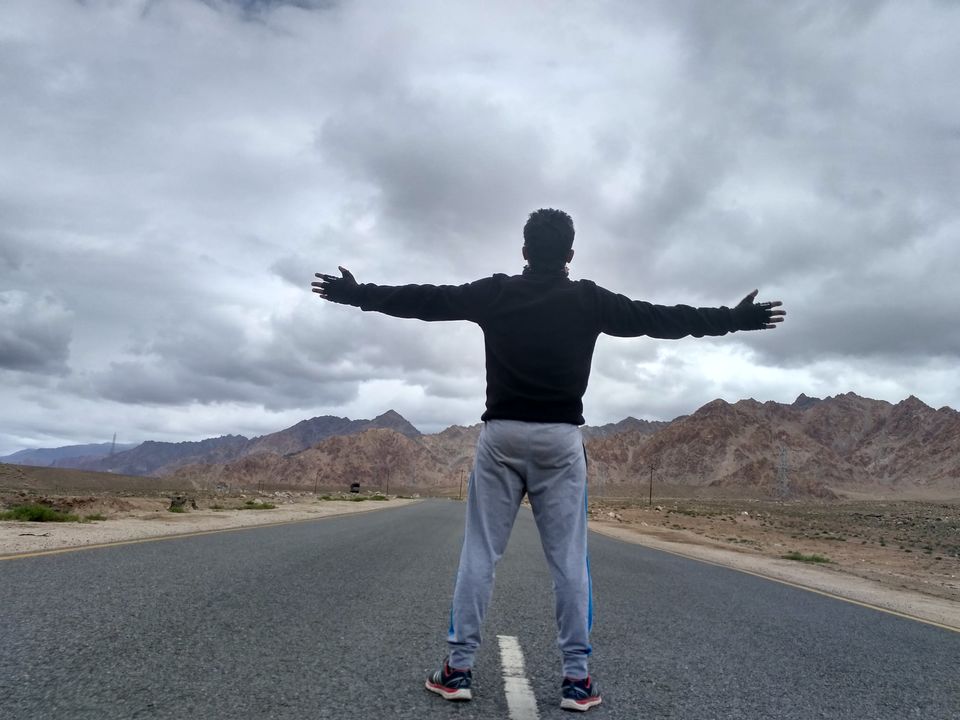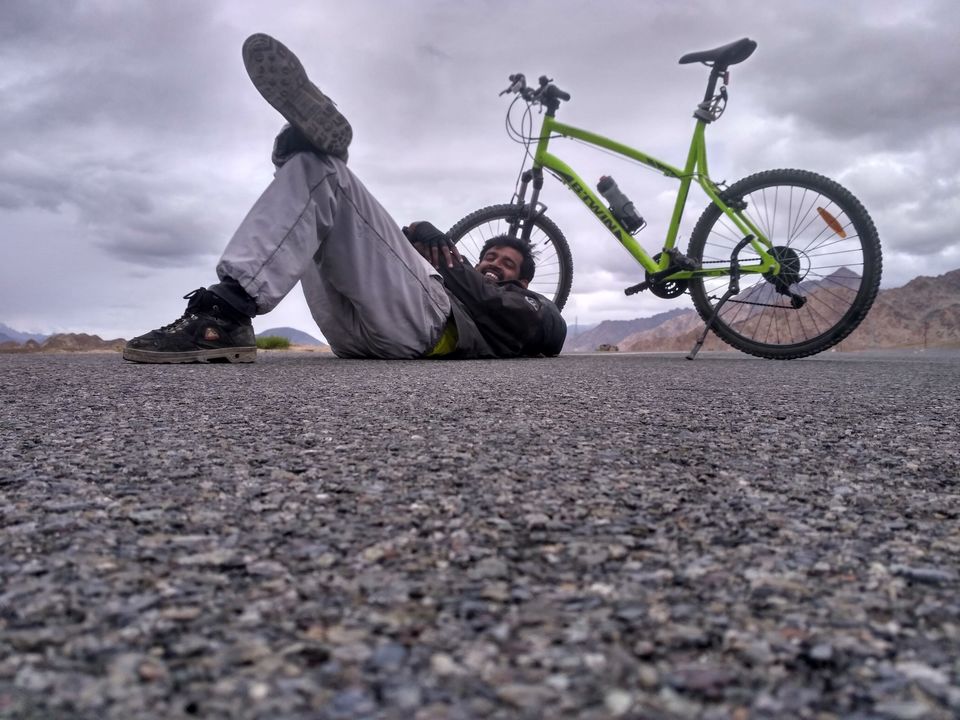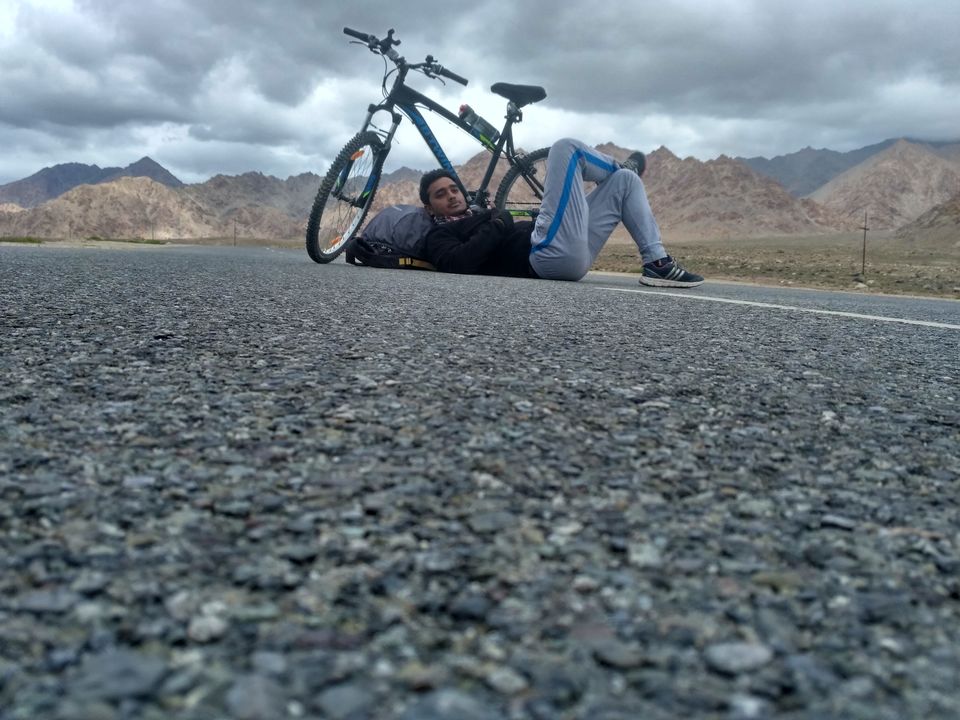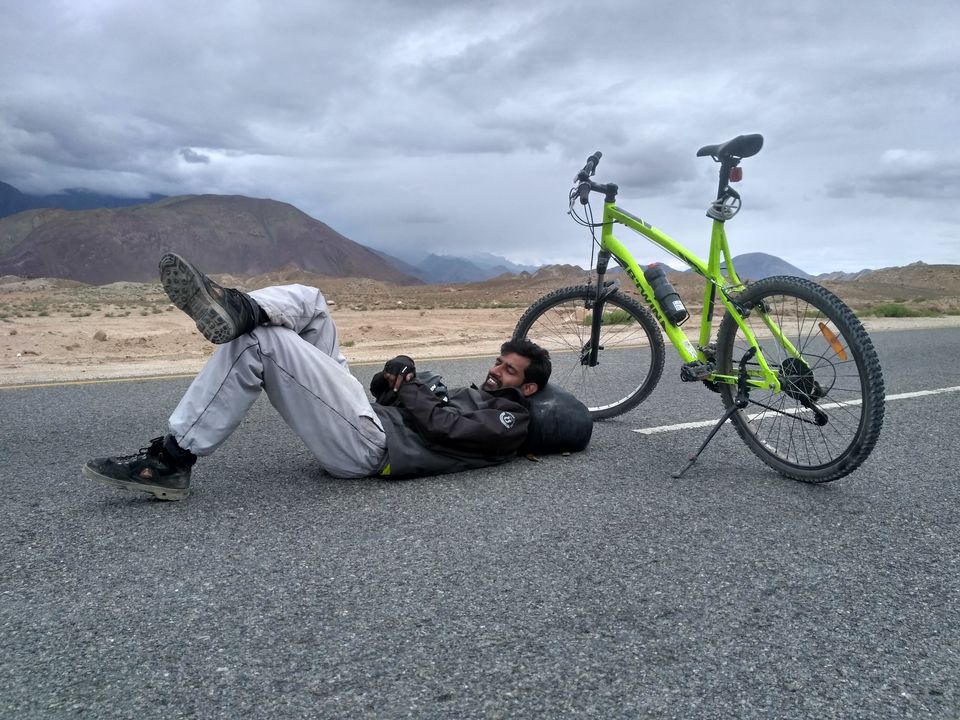 We reached leh it was great feeling, feeling like something great accomplishment. Leh city welcome us with open arms,we were happy because finally we reached our destination leh.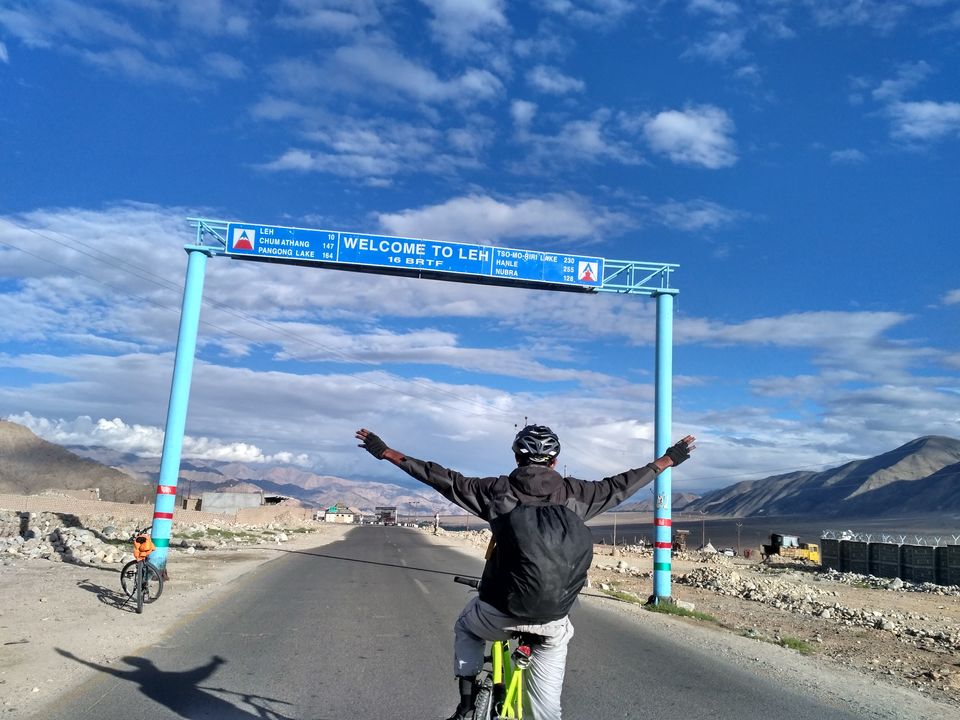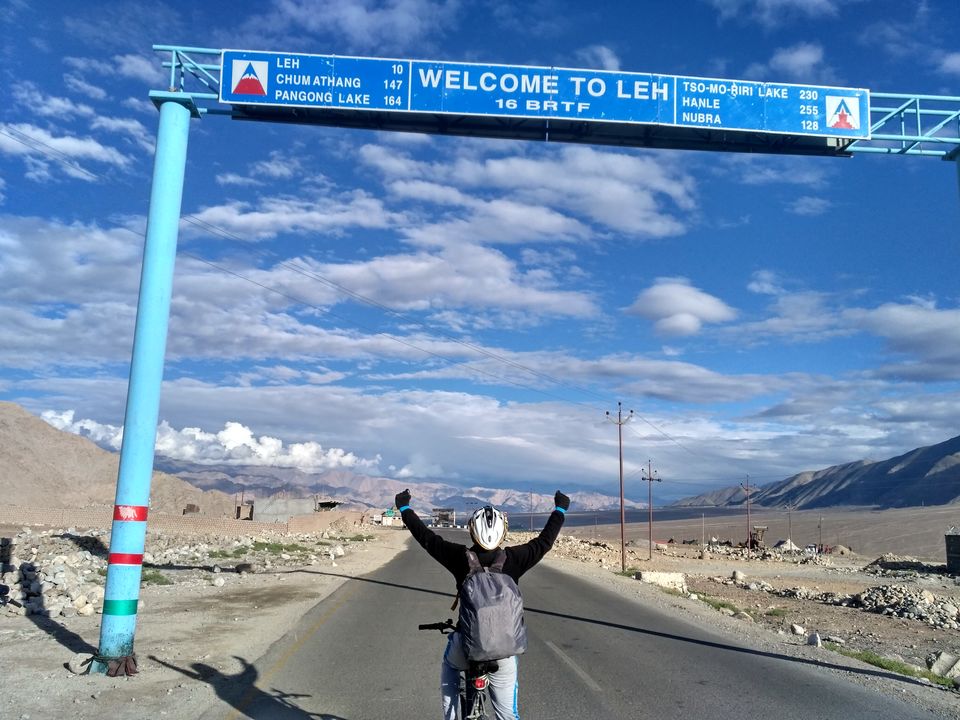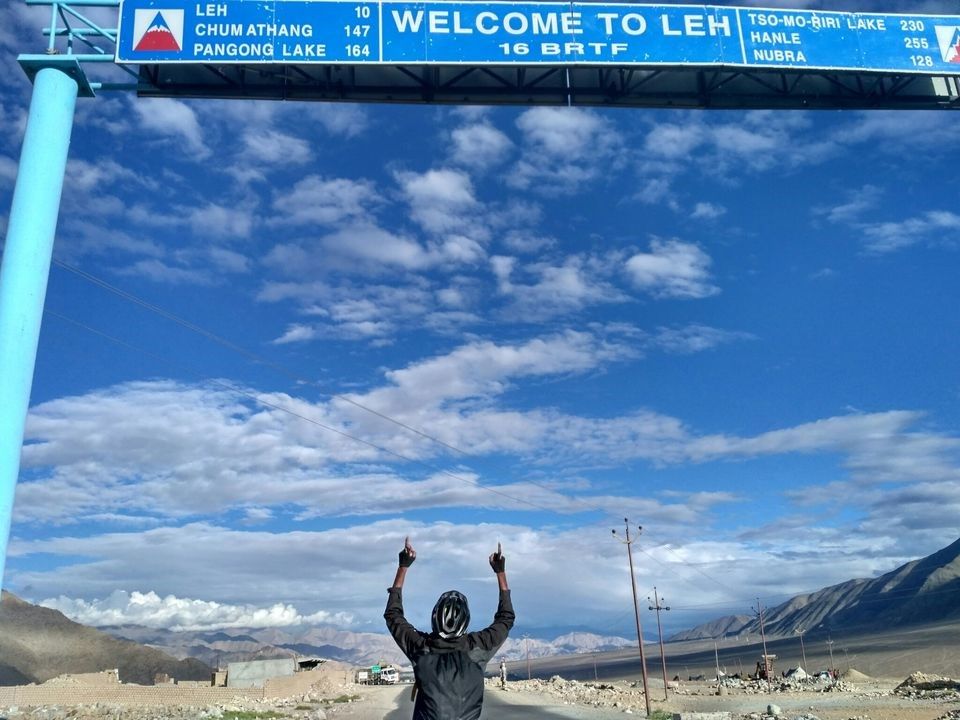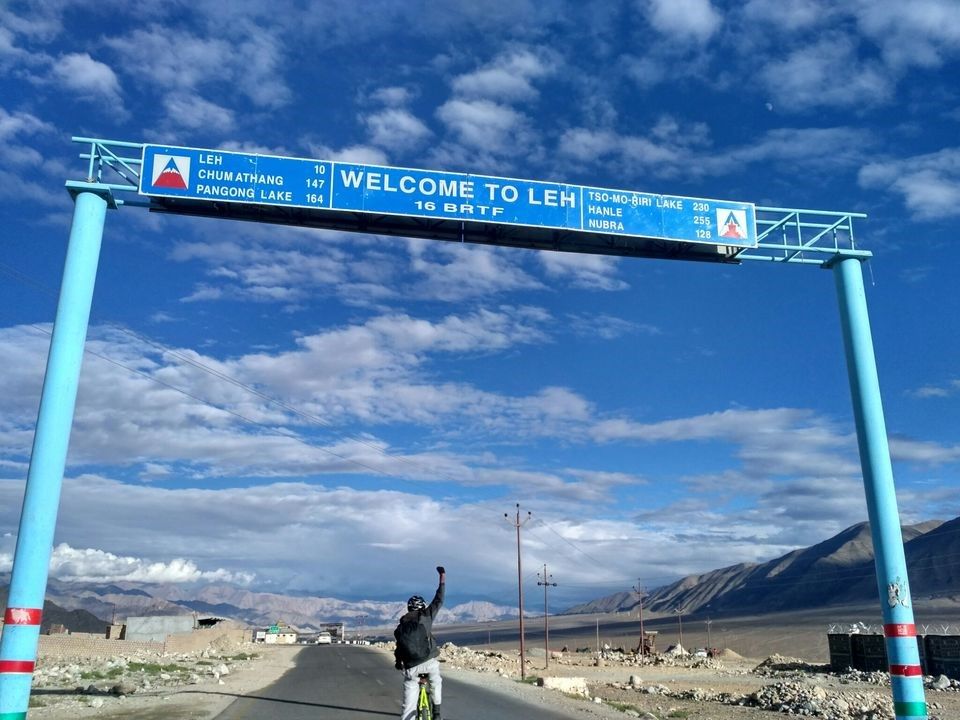 We spent couple of days in leh and visited nearby places And market. on 2nd September 2017 morning Pankaj ended his journey and left for Pune while my expedition for Stok kangri gave me more enthusiasm and energy. Will post the journey in another blog.