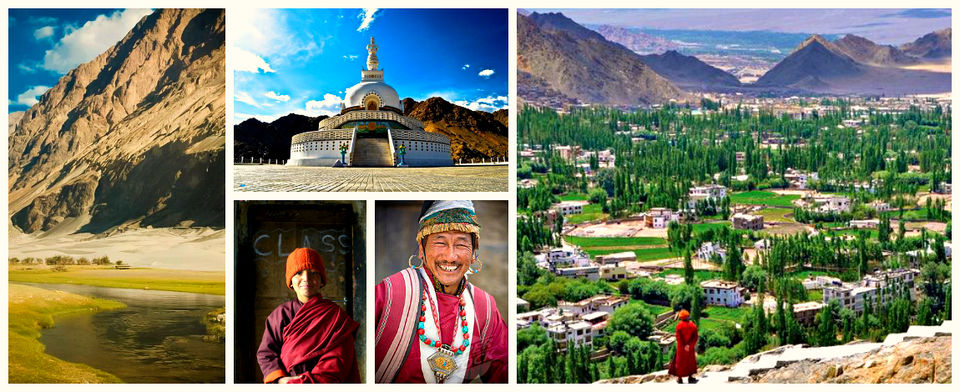 It's that time of the year again, when we pack our woolens and get ready to go to the mesmerizing land of Ladakh. We have gone there every year since the year of inception of The Blueberry Trails and still the beauty that surrounds us never ceases to inspire. It takes our breath away every time. We have designed this trip for you keeping in mind the local nuances and smaller experiences that the land offers. We try to stay away from the mainstream, beyond the usual circuits.
Trip essence:
Roadtrip-local culture-smaller villages-monasteries-white water rafting in the Indus-river-side trails-village walks-photo walks-homestays-camel safari
Trip route:
Srinagar-Mulbek-Leh-Nubra-Turtuk-Pangong-Leh-Jispa-Manali-Chandigarh
Highlights of the trip:
1. A road trip in the Himalayan desert of Ladakh. Dizzying passes and fertile valleys, snow capped mountains and quaint villages will be your constant companion, that is, apart from an awesome set of co-travelers.
2. Offbeat curated stays like campsites in Mulbek, Pangong Tso and Jispa. With incomparable views. Blues of the Pangong or lush green alpine mountain slopes. Sights you cannot forget too easily, even if you try. Alternatively, we stay in a hotel in Leh, and a basic homestay at Nubra, and Turtuk for a more local flavour to the trip.
3. Adventures like rafting, camel safaris, village walks, and river side trails. Experiences, experiences, experiences. Many of them are guided and many more will be the ones you find along the way.
4. A visit to the beautiful village of Turtuk which was a part of Pakistan till about the 70's. It was open for tourism only in 2010. We went there last year, and the year before. And we keep coming back for more. We just can't get enough of this beauty.
5. Architecture, monasteries, and local culture: Whether it's a cup of tea shared with locals or a quiet moment spend in a distant monastery watching a monk pray, whether it's marveling at the bright colours that adorn these structures or wondering how they keep warm in the -50degree weather. Curiosity knows no bounds and our drivers will have the answers to most of your queries if not all.
6. Homestay experience in Ladakh. Basic stays that give you an insight into the Ladakhi way of life. Their culture, their food, how they pass their days. Perhaps you can assist them in their day to day activities or learn their way of life from them.
7. Dizzying passes of Khardungla, Baralachha, Zozilla, Chang La and many more. The passes range from 13000ft above sea level and top it off at 18380ft for Khardungla. Literally on top of the world.
Itinerary:
Day 1. Srinagar (day at leisure)
Land at Srinagar and get a transfer to your homestay. Settle in and soak in the sun in the family lawn. Then head out to explore the city. The old city, the neighboring markets and a quintessential Kashmiri meal is a must! That's the plan in Srinagar as we gear up for the road trip ahead!
Driving distance: 11 kms
Driving time: 45 mins
Stay Homestay
Meals: None
Day 2: Srinagar-Mulbek
Another eventful day ahead with an early start from Srinagar, will take us to Kargil, Drass(the second coldest inhabited place in the world), Tiger Hill and then to Shargol village near Mulbek where we are camping tonight.
Driving distance: 240 kms
Driving time: 8-9 hours
Meals: Breakfast | Dinner
Day 3: Mulbek to Leh via Lamayuru and Alchi Monastary
Post breakfast, we head out for our roadtrip to Leh. Our first stop is Lamayuru Monastary in Sham Valley and then the oldest monastery of Alchi and our final stop is Leh.
Leh is a beautiful city, nestled in the Indus Valley. The Shanti Stupa and the Leh Palace form a formidable backdrop to the city and the roads that leave the city lead you to Srinagar in one direction and Manali in the other. Leh welcomes you with a warm glass of Ginger Honey Lemon tea and it takes very little to fall in love with this city.
Stay: Beautiful hotel overlooking the mountains
Meals: Breakfast
Travel distance: 173 kms
Travel time: 8 hrs
Day 4: Leh
Get to Leh and relax at your stay, allow your body to acclimatize to the sudden change in altitude. In Leh you will be staying in a comfortable hotel away from the main market (but a short 10-15 minute walk away). It is closer to the Shanti Stupa and gives you some great views of snow-clad peaks.
Experiences: Settle into Leh. Do local walks, a great day to acclimatize
Meals: Breakfast
Day 5: Leh to Hunder via Khardungla
Head out to the beautiful Nubra Valley. The winding climb of Khardungla, a lemon tea at the canteen there and a downward descend to Nubra, where you will pass the sand dunes of Hunder. Valley, snow, peaks, frozen rivers and desert on one single day. Need we say more? Stay in a homestay in Hunder and go to catch the sunset at the dunes of Hunder.
Stay: Homestay
Experience: Pass Khardungla, which at 17580 is the highest motorable road in the world, Live in an homestay in Nubra, go to the sand dunes of Nubra Valley and catch sunset there. We are staying in a traditional homestay in Nubra with basic facilities. The stay experience is provided to give you an insight into Ladakhi life, their food and culture and their way of life. Please do not expect urban comforts.
Meals: Breakfast| Ladakhi Dinner
Travel distance: 130 kms
Travel time: 6-7 hrs
Day 6: Hunder to Turtuk
Turtuk is a village that opened up to tourism only in 2010. A tiny hamlet 12kms from the border, it offers some great insight into the village life of Ladakh. The gorgeous landscape will bowl you over, and you spend the day with village hikes, and exploring the terrain.
Stay: Homestay
Meal: Breakfast| Dinner
Travel time: 2.5 hrs
Day 7: Turtuk to Leh
Drive back to Leh via Khardungla. Stop at the Diskit Monastary on the way, to enjoy the spectacular views that it offers.
Meals: Breakfast
Travel time: 8-9 hrs
Day 8: Leh to Pangong
A five hour drive and a visit to the monastery of Thiksey, you will pass by Chang La to reach the great Pangong Lake. The blues of the lake will leave you stumped; the beauty is legendary and rightfully so. Stay in a campsite on the banks of the Lake. Swiss Tents will welcome you and the view from your room will just be the lake.
Experience: Camping near the banks of the Pangong Lake
Meals: Breakfast| Dinner
Travel time: 5.5 hrs
Day 9: Pangong Lake to Leh
Return back to Leh. If you haven't visited any of the monasteries on the way to the Lake, you can do it on your way back.
Experience: Visit Hemis Monastary, visit local cafes for meals, try out different cuisines.
Meals: Breakfast
Travel time: 5.5 hrs
Day 10: Leh-Jispa
We start our journey to Manali. We will be covering the dist of 475 km over 2 days. We will be doing this journey via Baralachha Pass (16,500 ft) and Tang La (17,585 ft. We pass by the Gatta Loop, Pang, Sarchu and finally reach Jipsa which is the first town in the Lahaul valley that we encounter.
Stay: Swiss tents in a campsite
Meals: Breakfast| Dinner
Travel time: 12 hours
Day 11: Jispa to Manali via Rohtang Pass
Though the distance is just 138kms, the traffic at Rohtang is a regular factor and landslides are quite common. Barring that, there shouldn't be any other delay. We reach our stay at Old Manali and also explore the beauty of this quaint little town higher than the more crowded, more tourist-centric Manali.
Meals: Breakfast
Driving distance: 138 kms
Driving time: 6 hrs+traffic snarls at Rohtang
Day 12: Manali-Chandigarh
Leave Manali early to get to Chandigarh by 6pm to take flights out to Mumbai.
Meals: Breakfast
Driving distance: 350 kms
Driving time: 10 hrs
Pricing:
WHAT: Trip to Ladakh
WHEN: 17th - 28th June 2017 (12D/11N)
WHERE: Srinagar – Mulbek – Leh – Nubra – Turtuk – Pangong – Leh – Jispa - Manali - Chandigarh
HOW MUCH: Rs. 44,800 + 9% Service Tax (Per Person)
Inclusions:
1. Meals mentioned
2. Internal travel (ex-Srinagar) by Xylo/Innova/Tempo traveler (based on group size)
3. Accommodation on twin sharing basis.
4. Sightseeing according to itinerary
5. Local guide from Day 1 in Srinagar to drop in Manali on Day 11.
Exclusions:
1. Flight/ Train charges to Srinagar and return from Chandigarh.
2. Meals not mentioned.
3. Entry charges at museums, monuments, monasteries.
4. Personal expenses such as room service, tips etc.
5. Any additional cost such as additional stay, extra days of transport etc. arising from change of travel plans due to weather conditions, landslides, flight delays, strikes etc. which are beyond our reasonable control will have to be personally borne by the traveler.
6. Things not mentioned in inclusions.
For further details,
Contact -
Address:- 2nd Floor, Perfect House, Waroda Road, Bandra West, Mumbai - 400050
Email:- info@theblueberrytrails.com
Web:- www.theblueberrytrails.com
Call:- +91 8080 122 441