After graduating from college in 2013 I celebrated my birthday in Nangal with my friends.For my 2014 birthday, I went to Gangotri and Uttarkashi on an amazing road trip. In 2015, I celebrated my birthday by appearing for a travel Visa interview for Iceland. The year 2016 was a disappointment. So when my friend Bopa called me in June of 2017 and told me that he was planning a vacation. I knew this year would be game.
Bopa sent a photo of the Boulder of the Kjerag trail in Norway as one potential places for the vacation. After seeing that pic there were no doubts and no debates. We decided to go to Norway during the second week of October.And with Diwali the following week, the time seemed perfect for me to visit home for Diwali and make the trip sweeter.
Manu another very good friend of mine was doing his MBA in Paris and we successfully persuaded him to come to Norway for the weekend. When we booked our tickets, we realized that we will reach Norway by October 6th. And coincidentally all three of us celebrate our birthday during the first week of October.
I flew from Seattle on my birthday and reached Norway the next day. I met Bopa at the Oslo airport and then we flew to Stavanger. Manu joined us directly in Stavanger and we celebrated our birthdays that night. I never, in my wildest dreams imagined that I will celebrate my 26th birthday in an obscure town in Norway.
We rented a car that night and drove to the base camp of the Kjerag next morning. The drive to the base camp was beautiful and scenic.The guide at the base camp strongly recommended us to come back the next day as it was cloudy and the visibility was low. He recommended to come by 7 AM the next day in order to complete the hike by mid-afternoon and get back to Stavanger in time for Manu to catch his 4:30 PM flight.
It was an ambitious plan but nonetheless, we took his advice of the guide and decided to do the Pulpit Rock hike that day. We drove another 2 hours to reach the hike. It was a relatively easy hike but the view from the top was absolutely amazing. We clicked a few photos on top and made our way back pretty fast. The day was absolutely gorgeous and we had a lot of fun doing the hike
That night we extended our birthday celebration some more.We somehow managed to wake up at 3 AM in the morning to reach Kjerag hike trail by 7 AM. All of us were impressed by how well we executed our ambitious plan.
The forecast of the day was clear and the guide told us that Indians at best take around 5 hours to complete the hike. So we set out to match the best time to ensure Manu catches his flight from Stavanger on time. The Kjerag hike was the most challenging hike of my life. We literally climb three rocky mountains with just some metal chains for support here and there.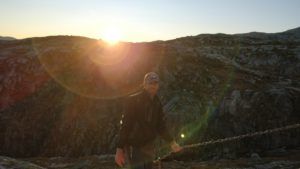 Since we started early morning there was a lot of frozen water on the rocks. All three of us slipped at least a couple of times going up this treacherous hike.It was tricky to hike certain parts that were totally frozen.
But the views up top of each hill were totally mesmerizing. The sunrise behind us was totally amazing and witnessing that sunrise just evaporated all the tiredness. And to my utter surprise, we had cell reception up top. We face timed a couple of special people from the top of the mountain.We maintained a good pace and reached the boulder in 2 hours and 15 min.
Full disclosure, standing on top of the boulder is really scary.The small jump to the boulder is not that hard but when you are 1000 m above the ground and small miscalculation can be the final miscalculation , it jump gets on your nerves. No one has ever died on the boulder but you always think there is always a first. But the feeling you get standing on top a boulder suspended 1000m from the ground is exhilarating and special.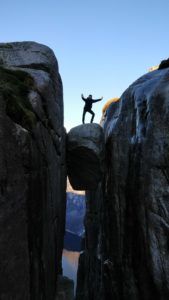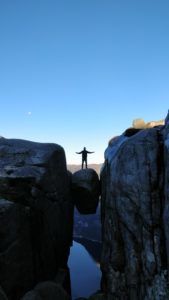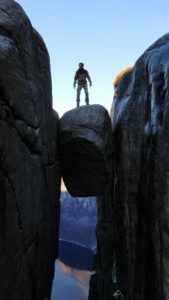 This was one of the most exciting things I have ever done in life. We were thrilled at the top and made the trip back in a total of 4 hours 30 min which according to the guide was a record for Indians. We made it to the airport well in time for Manu to catch his flight and we slept for rest of the day
Next day Bopa and I drove to Bergen a. For a 500 m stretch, he was driving more than 16kmph over the speed limit. And you guessed it, a cop stopped us. Now, I am living in the US and I feel that the traffic fines here are too much. But I had another thing coming here. The officer gave us a ticket of 4,600 Norwegian Krona. I stared at the amount in disbelief. It was $600 or 40,000 INR. The costliest speeding ticket of my life and then to top it off and to feel better we ate at an Indian restaurant that night and got a bill of $150.For the record it did not make us feel better
We travelled to various scenic places for rest of our trip with some pics below. I learned two things about Norway. Its a really beautiful place with warm and welcoming people and it is ridiculously expensive. Especially a traffic ticket.I bet the people from Norway would save money if they travelled to different countries for vacation.But in conclusion, it was one of the best trips of my life.