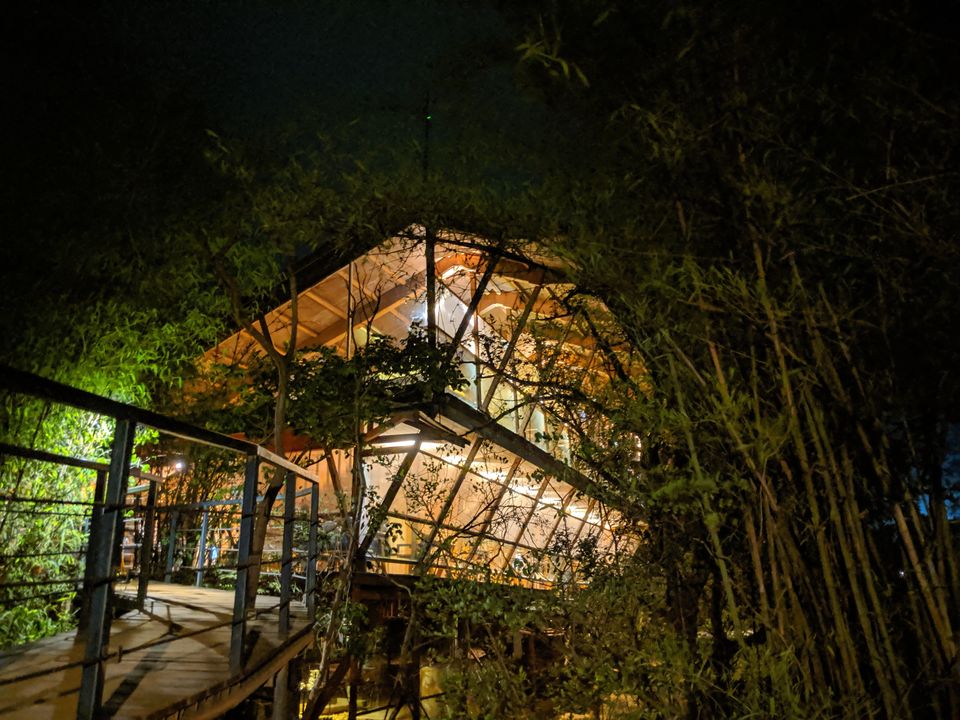 Machan is a Marathi word for hideout and this place stands true to its name. While driving to Machan, we found a lot of signboards of other resorts and hotels, showing the directions, but not even a single one, saying 'The Machan'. What instead, we found, was a signboard with a monkey sitting on a branch. Well, Yes! This was 'The Machan' for you, true to its name, they believe that it is a perfect hideout and hideouts don't publicise directions. In fact, they are considering removing these boards as well in future. Machan doesn't cater to walk in guests. They have strict security at the entrance and only if you have an online reservation, they would let you in.
At Machan there are tree houses straight out of your dreams, lush green forest to soothe your soul, yoga sessions to calm that ever-racing mind and no connectivity to help you lose yourself in Mama Natures' lap.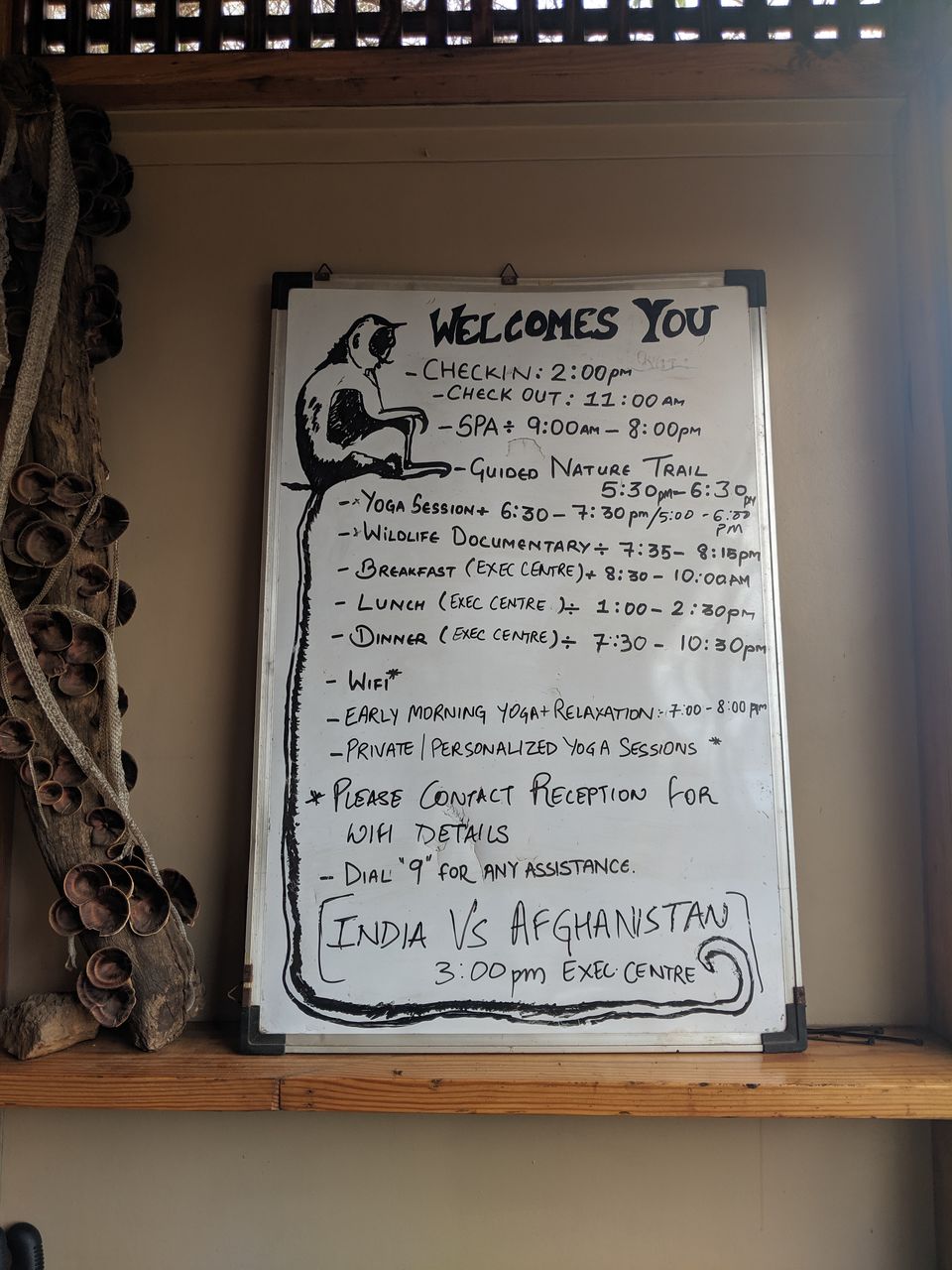 The rooms were equipped with AC, water kettle and a mini fridge. It had an eclectic décor, a four-poster bed and old ship lamps, giving a very rustic feel. It also had a fire place which could be lit during winters with the help of the staff. Bathrooms were well equipped with a shower cubicle and two gorgeous wash basins, aromatic and luxurious toiletries adorned the shelves and the room even had a bathtub facing the jungle, on the deck. We even had a living tree sprouting from the floor and disappearing into the roof in the bathroom. The room had ceiling to floor glass walls to give you an experience of stay amidst the jungle. It was so green and pretty all around.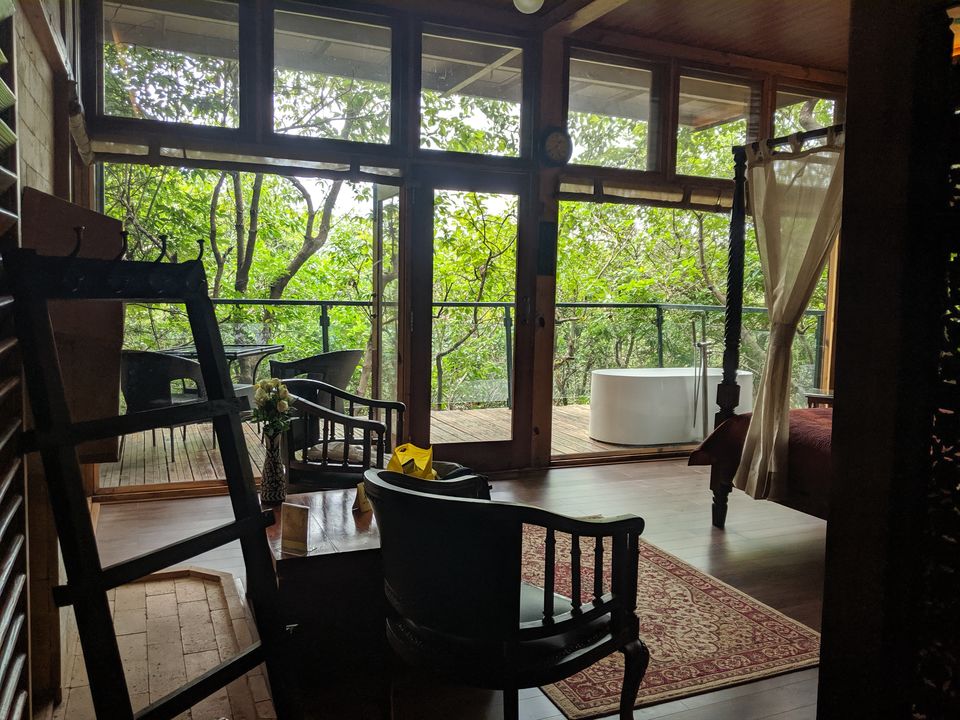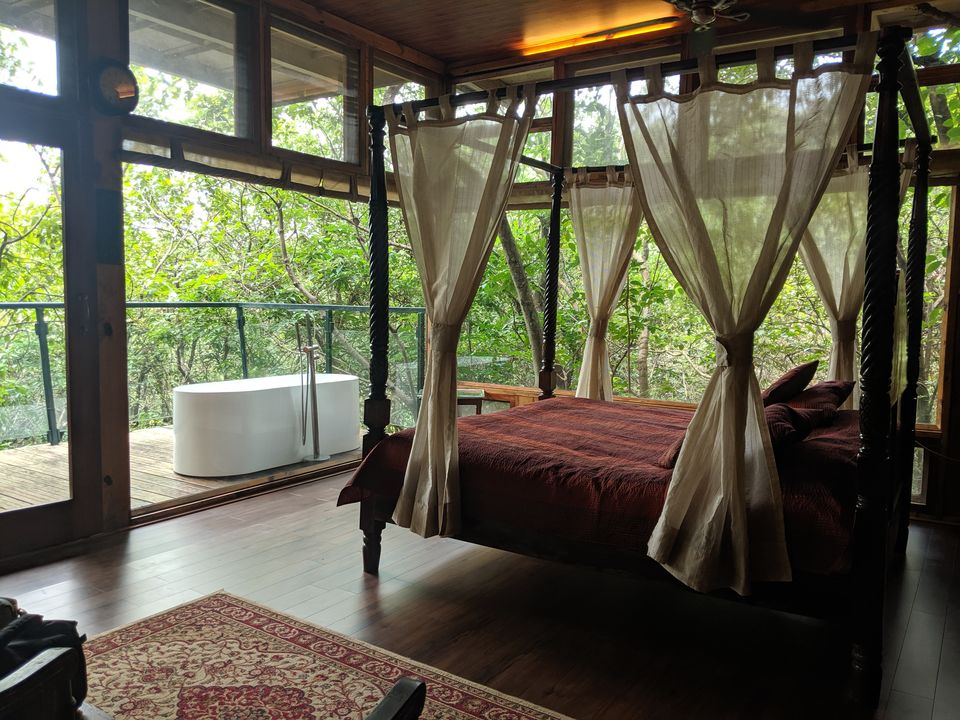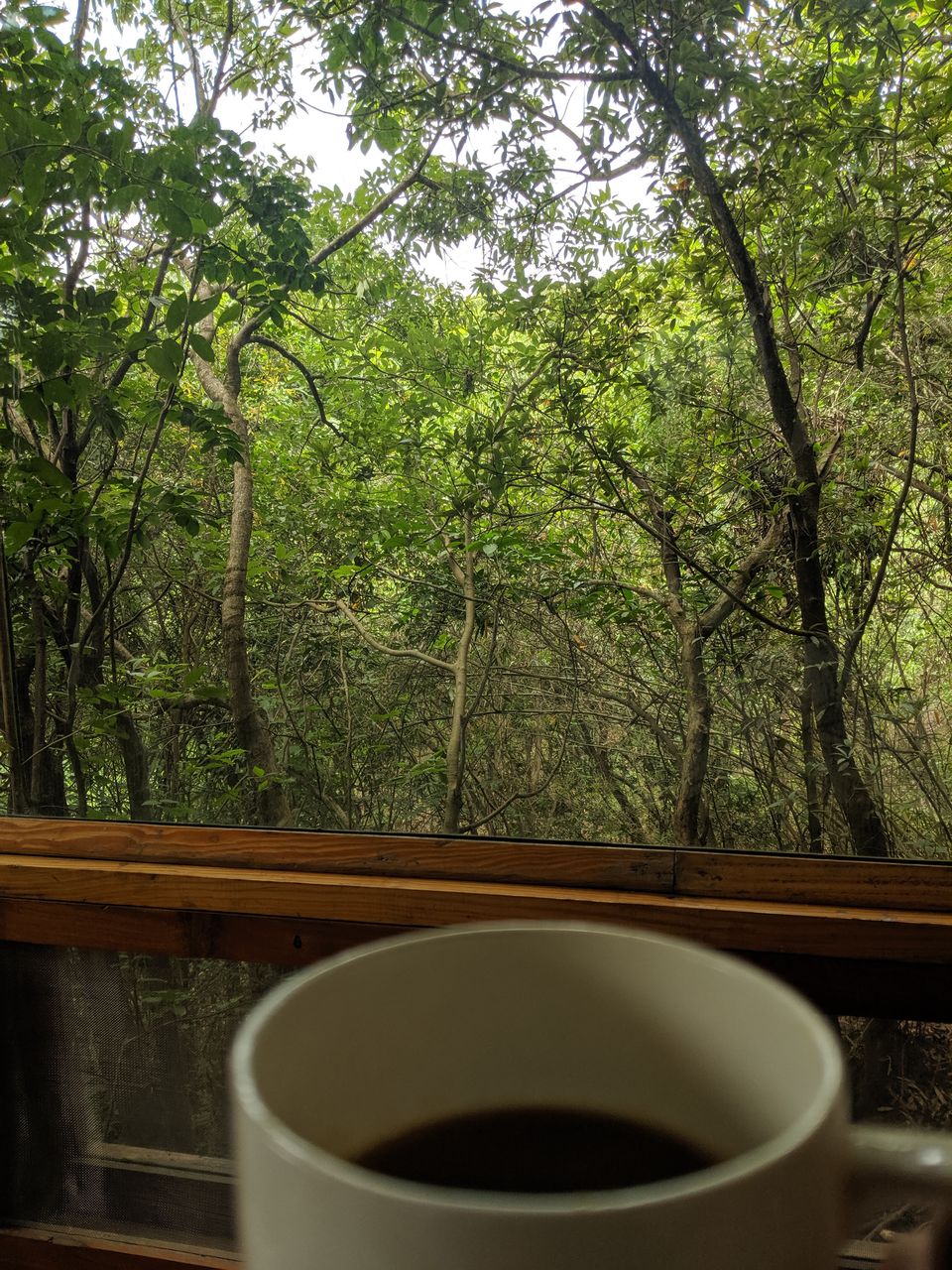 At Machan, they believe in renewable energy and thus they produce their own through solar panels. Televisions ain't provided in the rooms though they have a projector set up in the 'Executive Centre'. They didn't serve bottled water and offered RO purified refills, another little step towards conservation of the environment.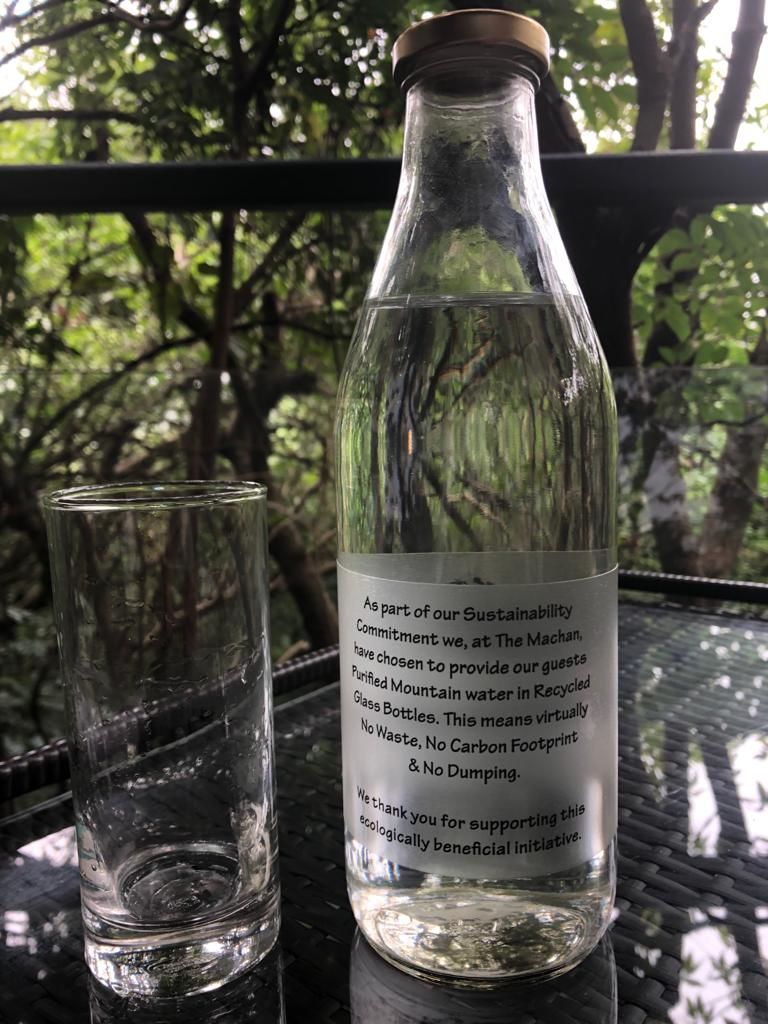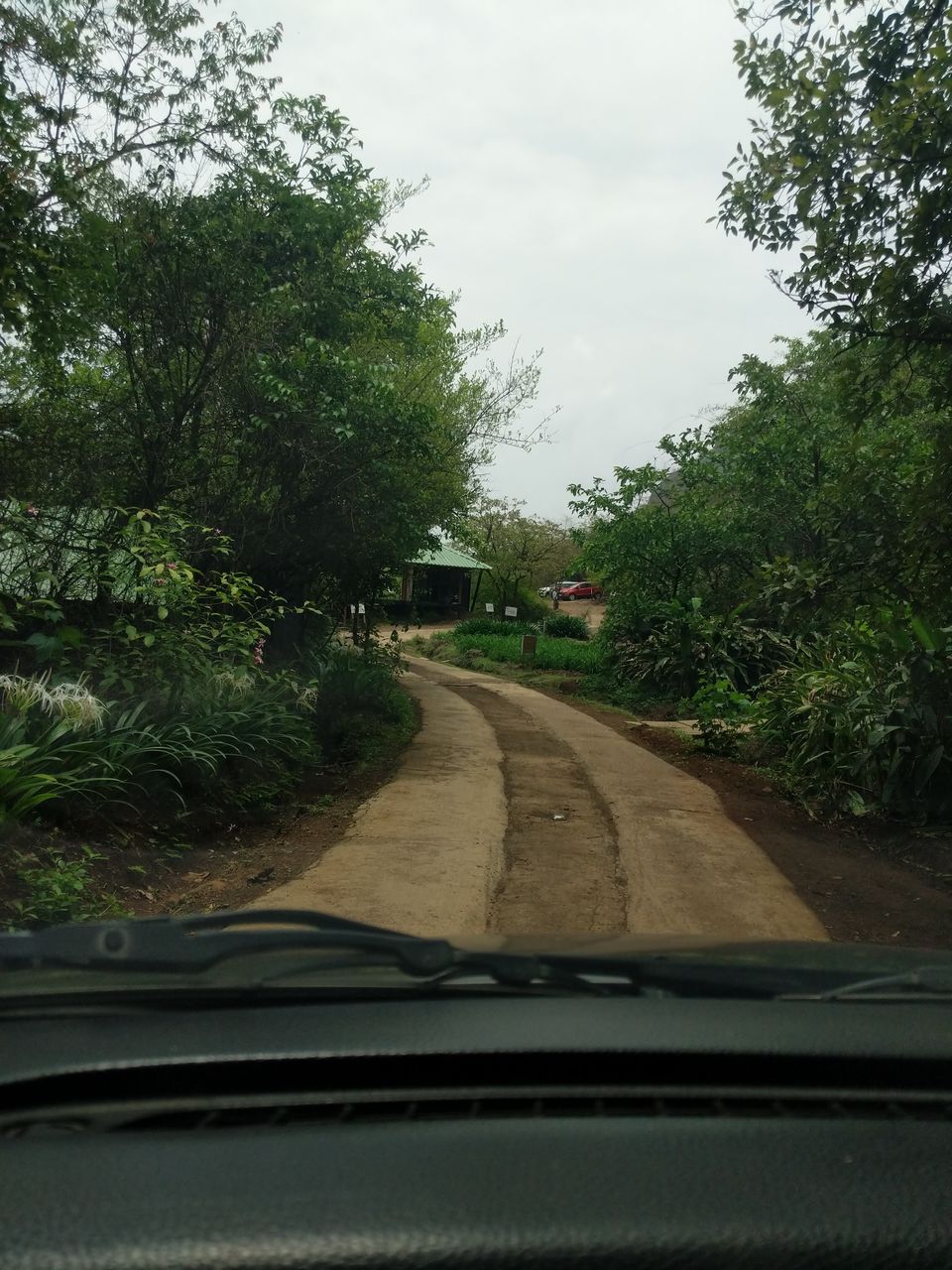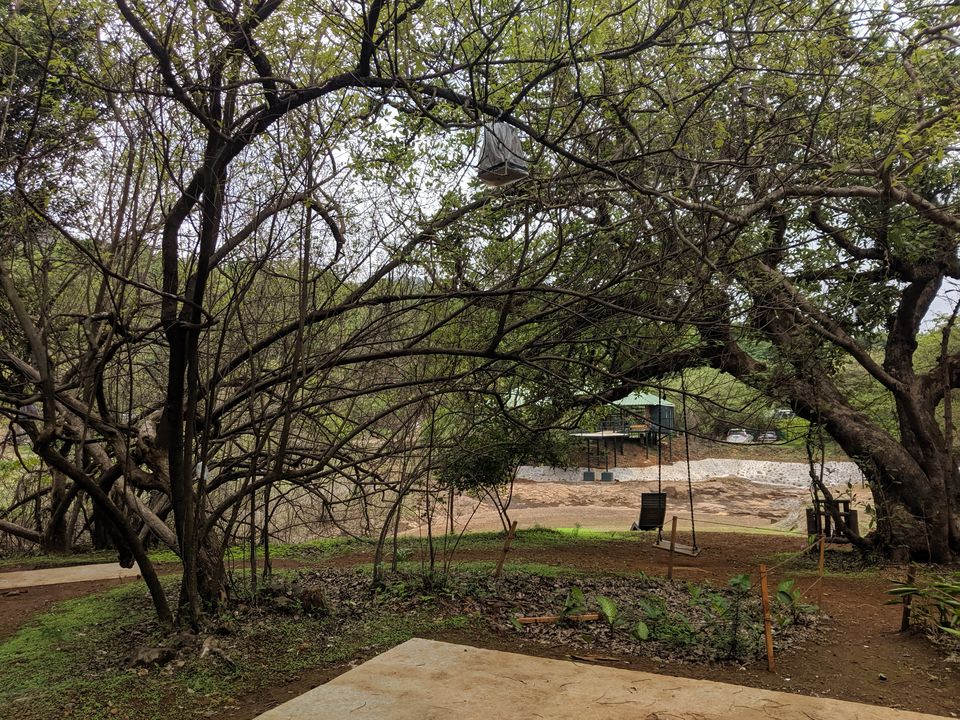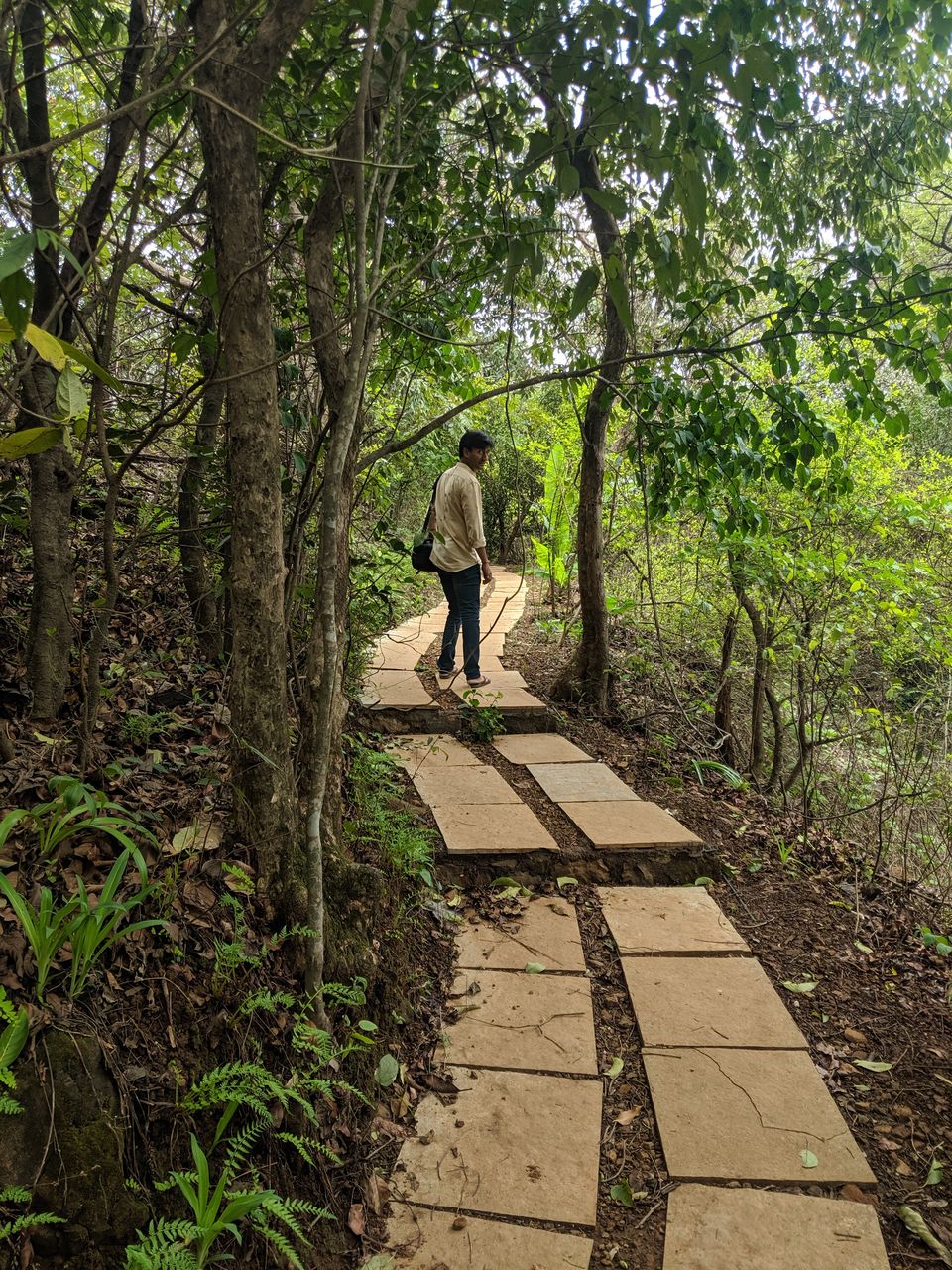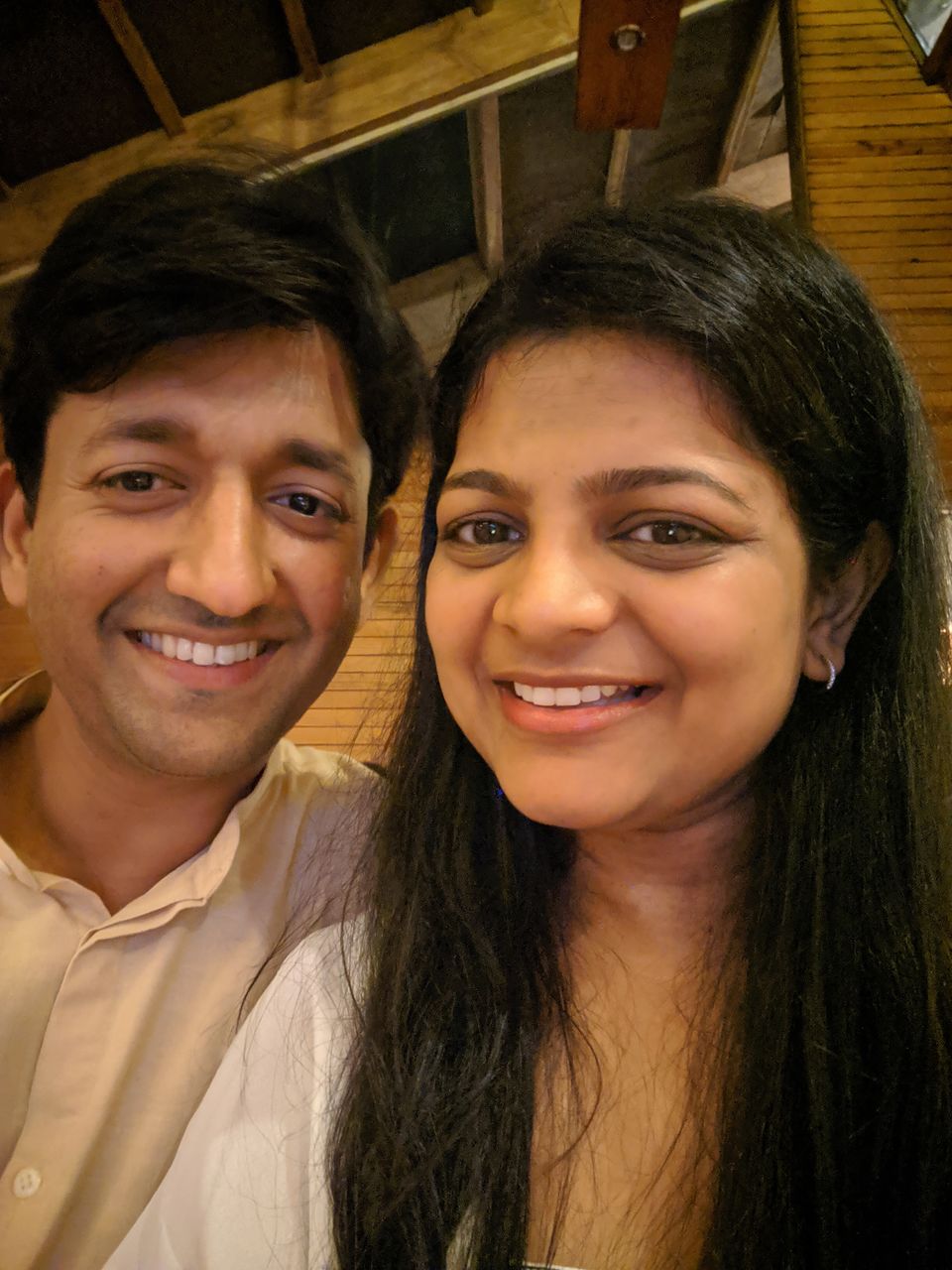 They have a strict no smoking policy and any violation would result in a huge fine. They have designated smoking area barring which the entire property is a no smoke zone. They don't serve alcohol on the premise and advise everyone to carry their own if required.
Machan experiences include Yoga, a Nature Walk and Spa. They also provide with destination dining on request. We took up the nature walk in which they take you around the property and brief you about the place, their various machans and their construction, various trees and their benefits as used by the locals since ages etc. It would be advisable to avoid taking small children along. Wear full sleeves clothes, shoes and don't forget to apply a generous amount of odomos on the body.
We had a complementary breakfast, the food wasn't the best I had tasted, it was decent. You could order for lunch and dinner on the premise, but remember to order it before hand as they prepare the food on the basis of orders. Lunch and dinner both are served only as buffet, though they have snacks and appetizers on a-la-carte.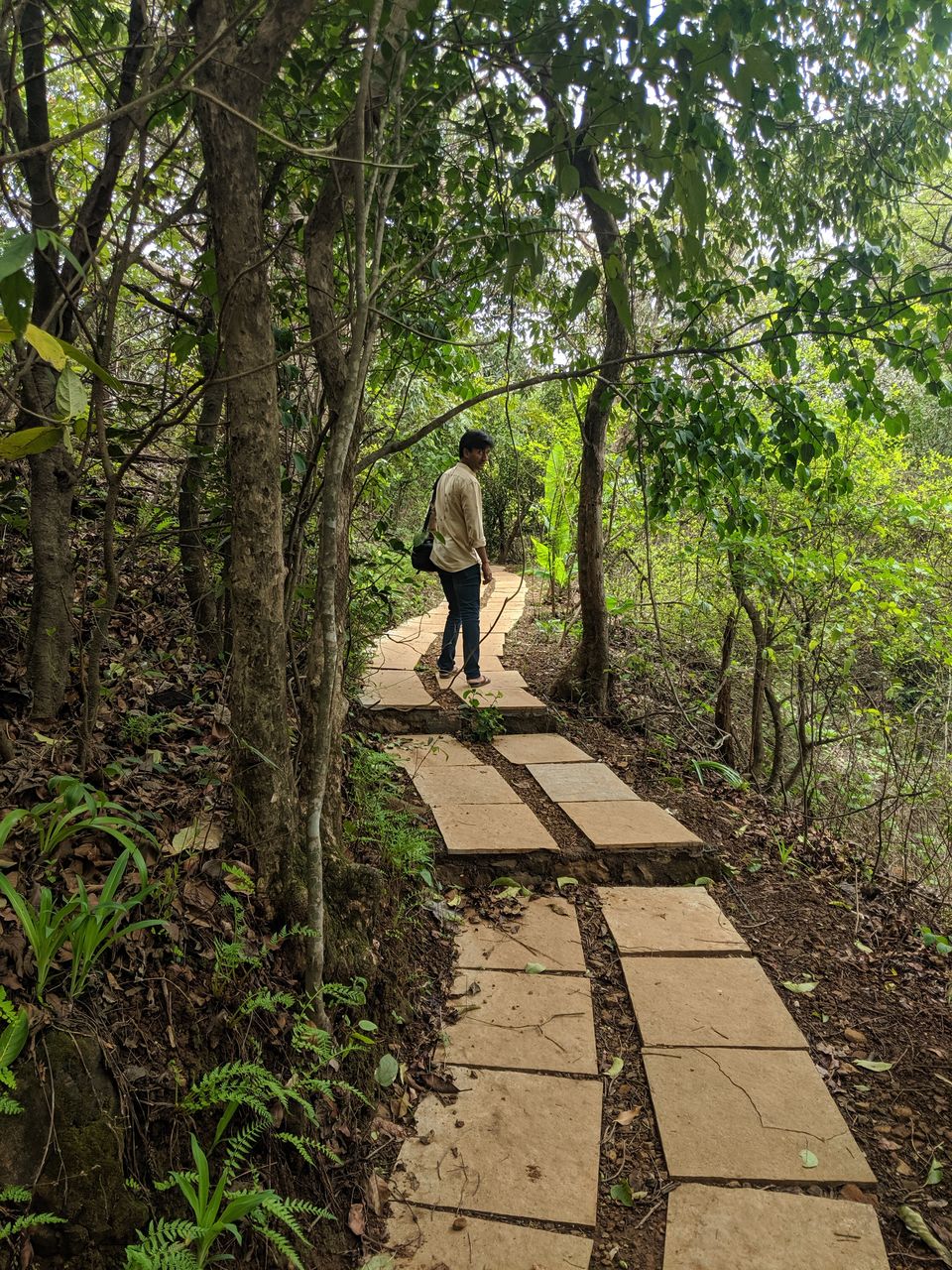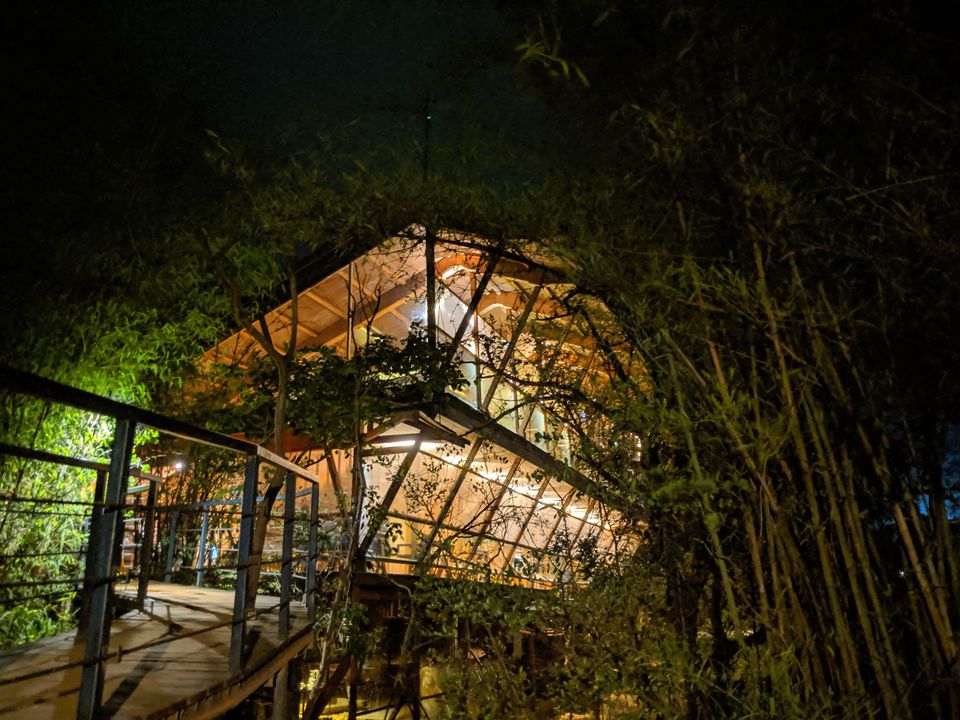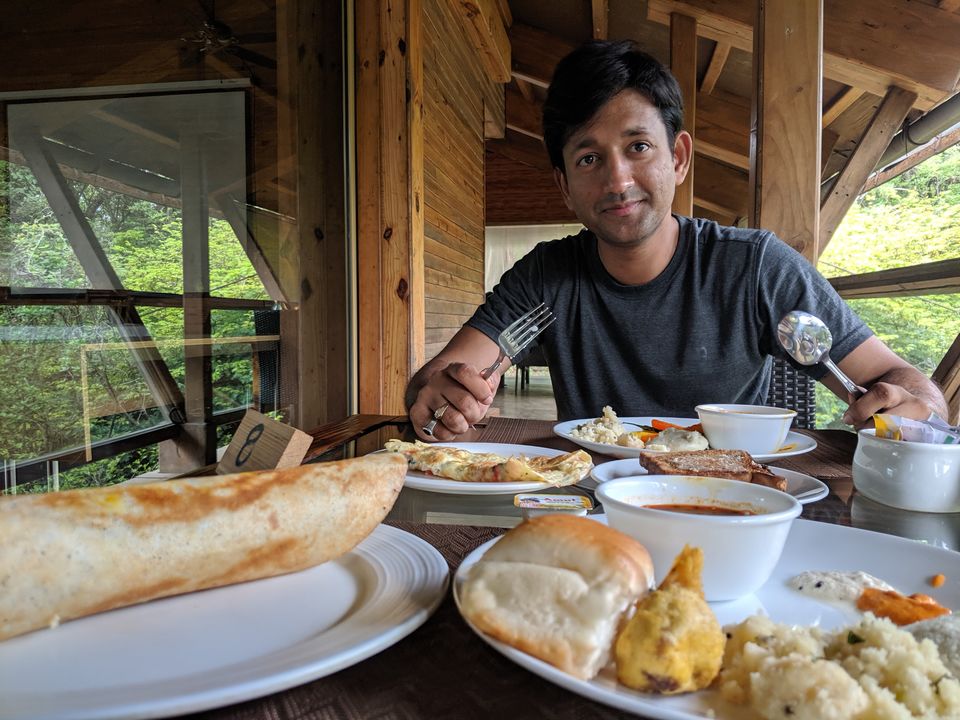 Selecting a Machan could be very confusing as all of them are just as good. They have a total of 19 Machans and the categories available are:
The Cabin/Woods: A ground based Machan, it provides you with complete privacy and is perfect for couples.
Canopy: Its so called because 80% of this Machan is suspended, 60 feet above the ground, in the air. Its perfectly well built and safe and guests need not worry about its stability. It gives you an uninterrupted view of the Western Ghats as the entire room is glass encased. Perfect for couples.
Forest Machan: Forest Machan (for 2), is a floating cabin at a height of almost 60-65 feet above the ground (with proper support unlike canopy) which provides you with breathtaking view of the surroundings. If you are a photo enthusiast, this Machan provides you with a perfect opportunity to catch those star trails on a clear night or a perfect sunset.
Jungle Machan: If you are looking for complete privacy, go for this one without blinking. Both the types i.e. Jungle Machan (for 2) and Jungle Machan Plus (for 4), are completely hidden from view and nestled within trees providing utmost privacy. The Plus category provides you with ultimate views of the open sky above and the lush green jungle beneath. It has two wooden decks (one for each room) and two beautifully done rooms (completed with bathrooms), making the Machan look straight out of fairy tales. I would recommend this one for couples with children above 12 years. Even for couples, one could go for the Plus room, if you don't mind those extra bucks.
Sunset Machan: These gives you mesmerising views at dusk as you could witness the sunset right from you deck. The location provides with privacy and is surrounded with lush greenery.
Heritage Machan: This was initially built only for the owners of the Machan, but now is available for guests as well. It is a family unit with three distinctive sleeping areas on different levels. The interiors are elegant and cosy, and provides with mesmerising views.
Starlight Machan: This category redefines the meaning of hideouts, providing you with ultimate privacy and luxury. It is their premium category and they leave no stone unturned to amaze their guests. The ceiling over the bed unlocks itself with just one button to give you a glimpse of an open sky. Its built on the ancient concept of "star bed" and so the name, starlight machan. The interiors are luxuriously done and the deck takes you amidst nature as soon as you step onto it. The bathrooms are super big and has an open to the sky shower. It has a hanging room beneath the main room, and a private plunge pool further below. All in all a luxurious setting amidst nature to help you unwind completely.
Machan is perfect for couples looking for digital detox and complete privacy, for families craving for family time together, a get together for friends and basically, for everyone looking for sometime with nature disconnected from the world beyond.
If you are driving to/from Pune, I would suggest having lunch at Toni Daa Dhaba on Pune-Mumbai National Highway. They are very consistent with the taste and would never disappoint. almost everything they serve is a hit. A decent lunch (veg) would set you back by Rs 800/- for two.
Head to this secluded place for a digital detox and a perfect weekend getaway!
How to reach: Machan is driving distance from both Pune and Mumbai. Both these cities are well connected by air and rail. You could also take a train to Lonavala and hire one of the cabs to drop you to the resort.
Frequent Searches Leading To This Page:-
weekend holidays from pune, weekend trip from pune, weekend getaways from pune, weekend treks from pune, weekend holidays from pune