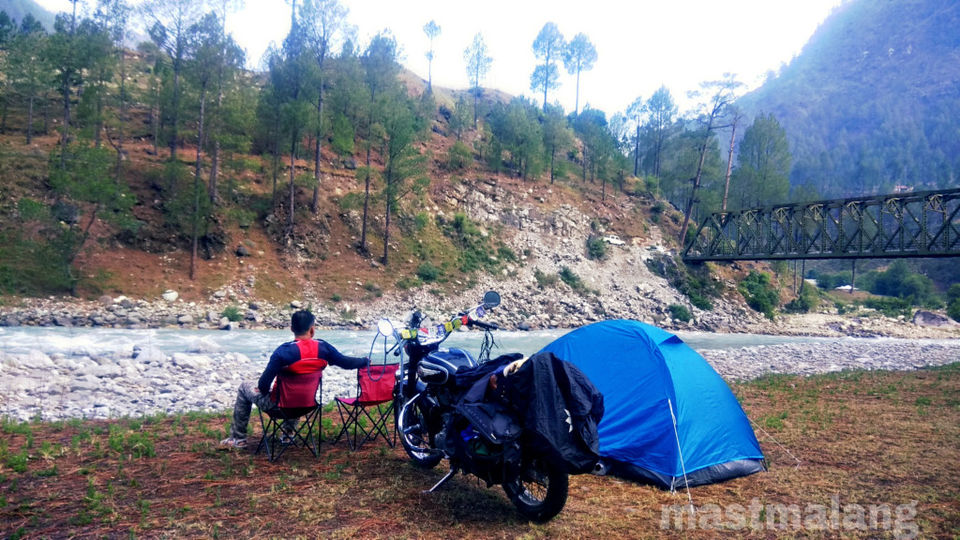 The current Pandemic and lockdown have caught us, in a weird and funny situation. While my husband, Malang is locked in the safe confines of our home in Pune, I am stranded in a hotel in Hyderabad. You can get a glimpse of my lockdown experience through my ongoing blog Locked out of Home by Covid 19.

To fill that void of 500 miles between us, we are reliving the time through the memories of past travels. This post will take you to a very special destination which is on the top of our bucket list to get over the lockdown hangover. I won't be exaggerating if I tell you that this destination is a complete package of self-reliance, social distancing and 'freedom from Mask'.
*
Perfect trip like a perfect partner is a myth.
Let me tell you candidly that one of this myth is true…. which one? For that you stay tuned till the end.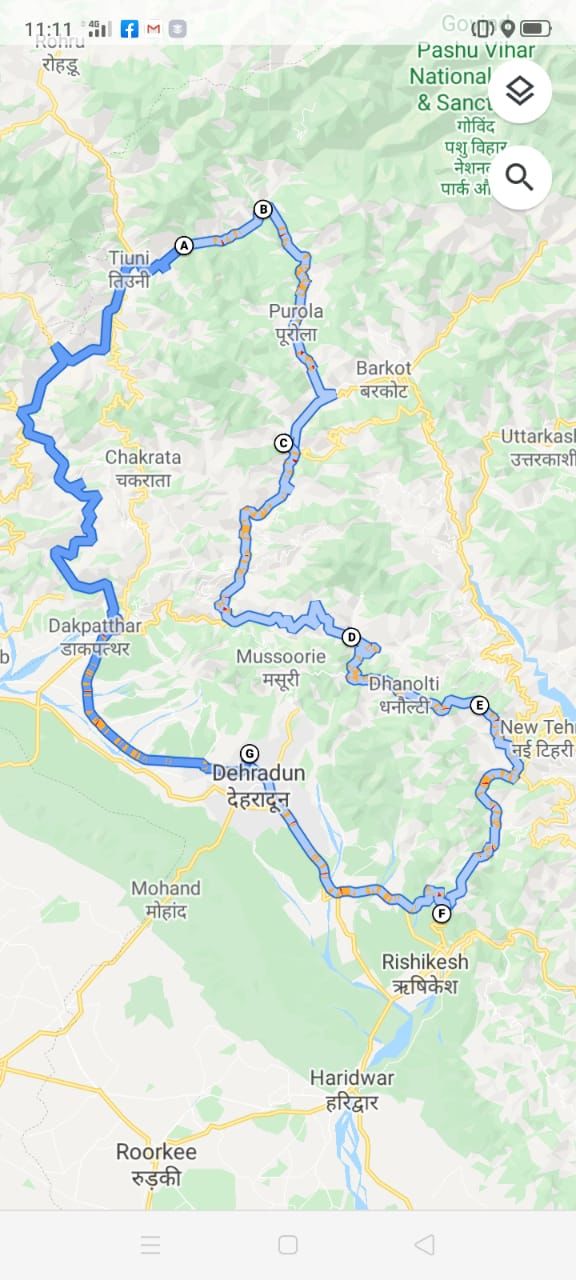 Months of May to July have a special significance in India. Being the time of summer vacations, this duration see the flood of humans sweeping almost all the tourist spots, malls, roads, parks. Naturally, for people like us wisdom lies in migrating to distant and less accessible destinations.
Itinerary: Mahsu devta temple, Mori, Lakhamandal
Time: June 2019
Days: 2 days and 2 night.
Mode: Royal Enfield, 500 cc
Kilometers traveled: Total 550 km
Route: Dehradun – Chakrata road – Guthar – Hanol – Mori (Night halt) – Lakhamandal - Narendranagar - Dehradun
Recommended for Women travelers: Yes* 4/5
*(During their travel explorations across the length and breadth of the country, Mast has sarcastically noted the shadow of patriarchy in tourism destination. It is hard to miss the skewed ratio of solo-woman and solo-man wanderers. And thus, based on her personal experience and observation, she has taken this step forward to rate the destination on the bases of its woman friendliness and safety)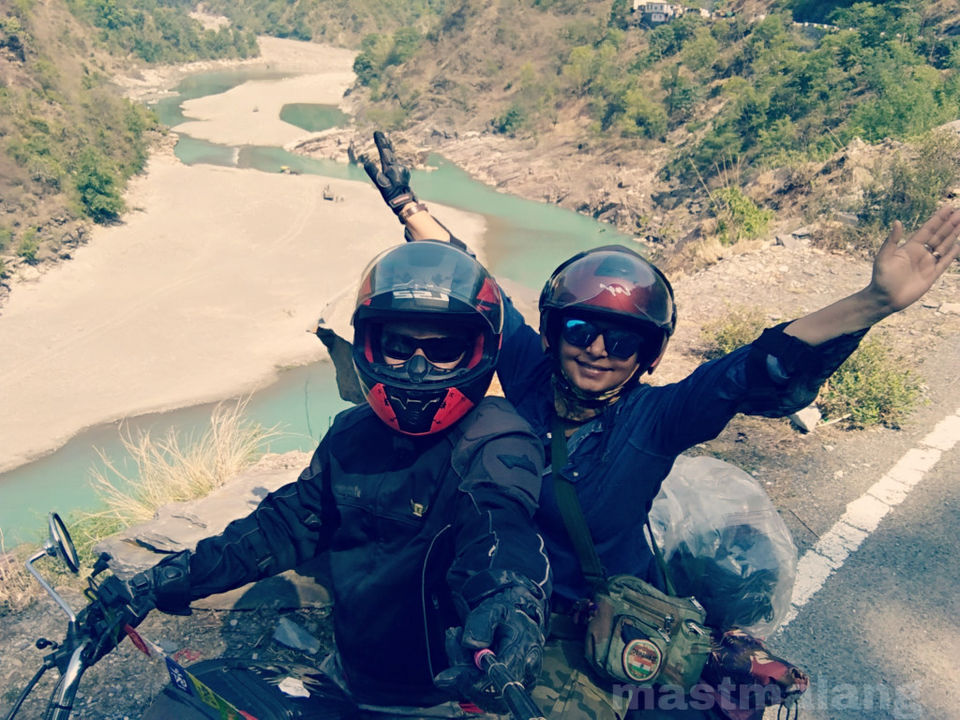 Loading our bike with Quechua tent, camping chairs, we headed for the hill station Mori, located in serene Tons valley in Uttarakhand.
Though the road is a bit narrow in some parts, but almost nil traffic made the ride pleasant. The road meanders along Tons river, which is a major tributary of Yamuna river. An important tip for going-with-flow travelers: In absence of proper road signs, google maps are the only reliable guides. As internet signals are poor in most of the places, download backup maps for reference.
We made our first stop at Mahasu Devta temple (190 km from Dehradun) in village Hanol for which we had to take a small detour from the route.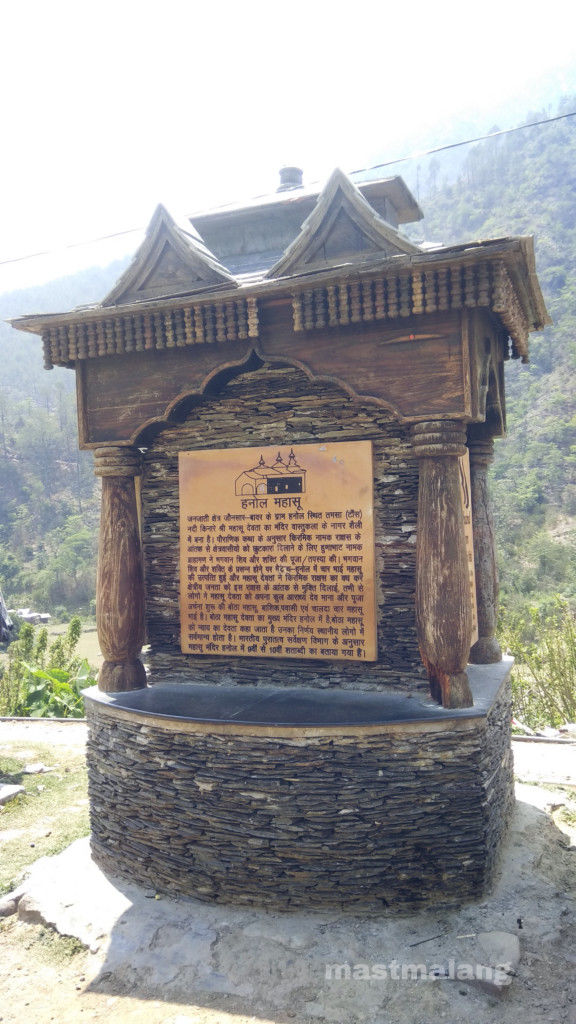 This 9th Century temple is among ancient temples of Uttarakhand. Made in wood and stone, the temple has some unusual carvings. It is dedicated to four Mahasu brothers, who apparently rid the habitants from the menace of demons. It also finds mention in Mahabharata, as this is the place where Pandavas reached after escaping from Lakhsha graha fire. Interestingly, Mahasu brothers/devta were like arbiters of disputes, which they solved through an old tribal practice called lota pani.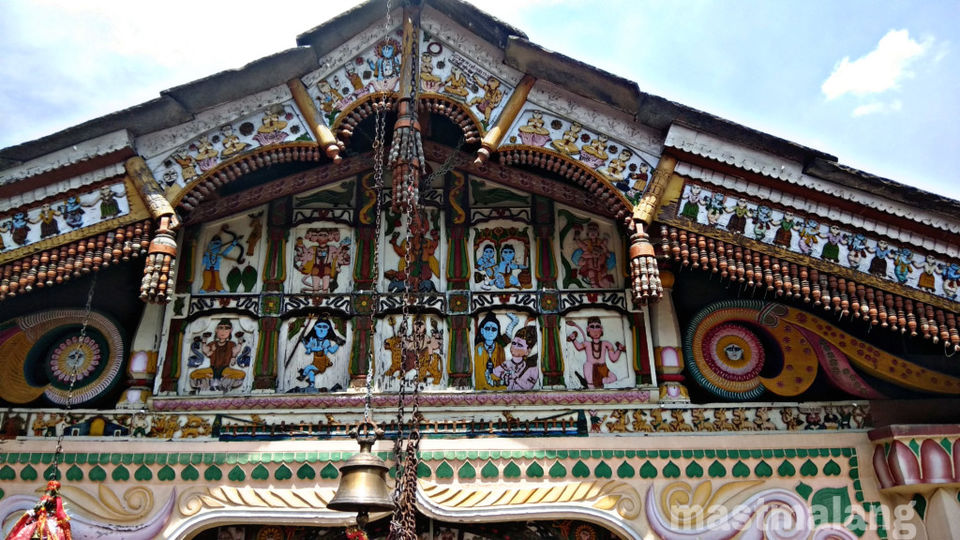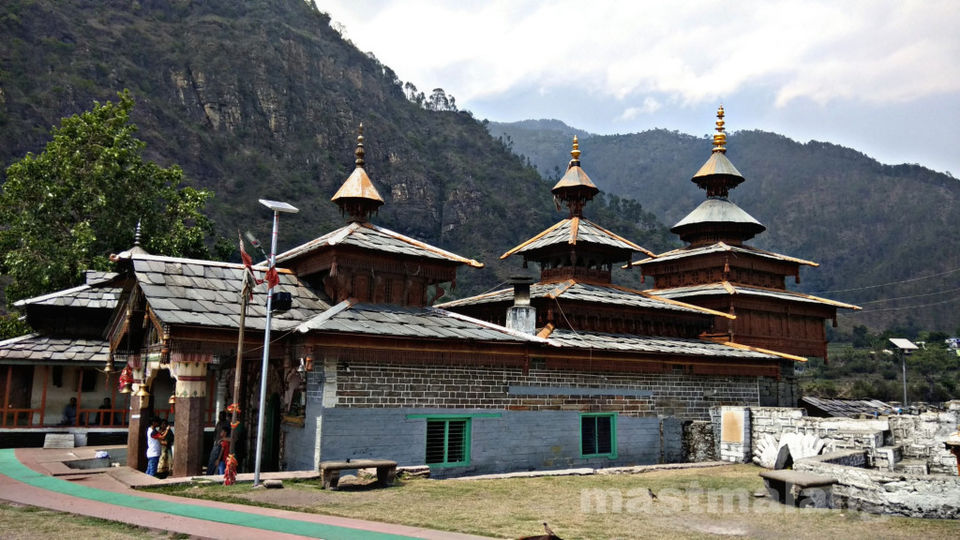 Outside the main shrine was an open ground where two black marble rocks, about a foot in diameter, were lying. They are called Bheem's marbles. It is believed that only a person with pious heart can lift them. After watching people trying their luck, I finally decided to give it a try, partly because my partner coaxed and partly because I somehow believed the legend. But I was not able to move the rocks even to an inch. I looked at Malang, who was beaming ear to ear to see his wife at last cornered....by a legend. The rocks looked small, but they felt so heavy, as if gravity was pulling them down. At last I gave up with conclusion that they are made of Lead.
Mori is a quiet hamlet in Uttarkashi district of Uttarakhand. Though it is an offbeat destination for tourists, it has many attractions to offer. For history and mythology lovers, this place offers unique temple architecture and folklores of Mahabharata period. It also boasts of Asia's tallest pine forests. One may make use of water sports activities in Tons river or camp by riverside. Sankri, about 15km from Mori, is a basecamp of many popular treks, such as, Rupen supen trek, Har ki Dun Trek, Kedarkantha.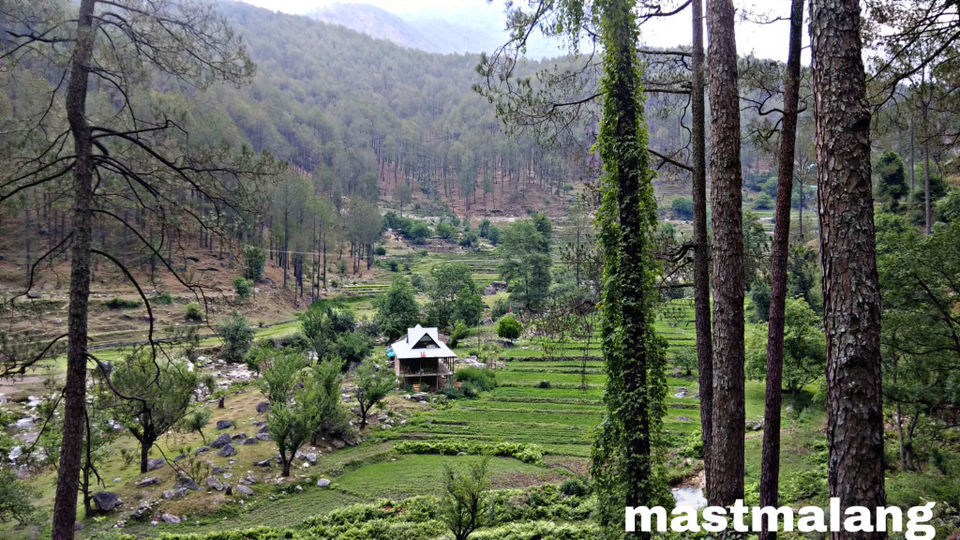 It took us another two hours to reach Mori. Our first task was to look for a place to spend the night. There was a Forest Rest House across the river. In Uttarakhand, one can explore stay in these British Era Forest Rest houses. The rates are nominal and as they are often in remote areas, they are a good place for those seeking solace. During our Chakrata trip, we had camped in a Forest Rest House, which turned out to be one of the best camping experiences. One or two adventure camps were also located nearby. However, they quoted exorbitant amount for providing basic camp facilities. The staff also did not look that well-trained and hygienic.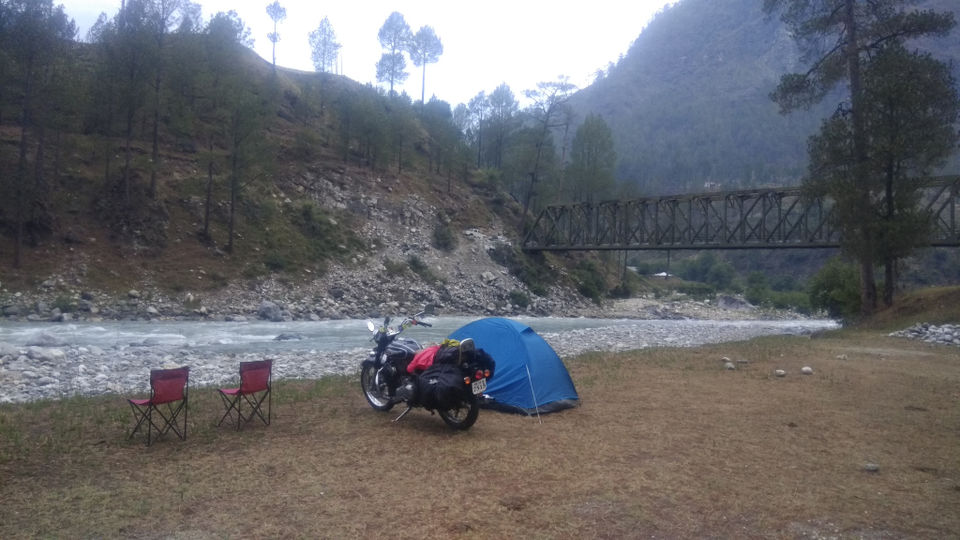 After an hour of recce, we decided to pitch our own tent. Logically speaking, one could practically camp anywhere along the road. There was Pine forest and hill on one side and Tons river with its grassy bank on other side. From our previous camping experience, we knew that it is wise to camp near a food joint or find a local offering food in exchange of money. But, the idea of homestay is yet to catch up here. In fact we were the only tourist present there. Finally, we found a small meadow next to the river about a kilometer from Mori town. Malang left to get the dinner from the town, leaving me behind to take care of the belongings.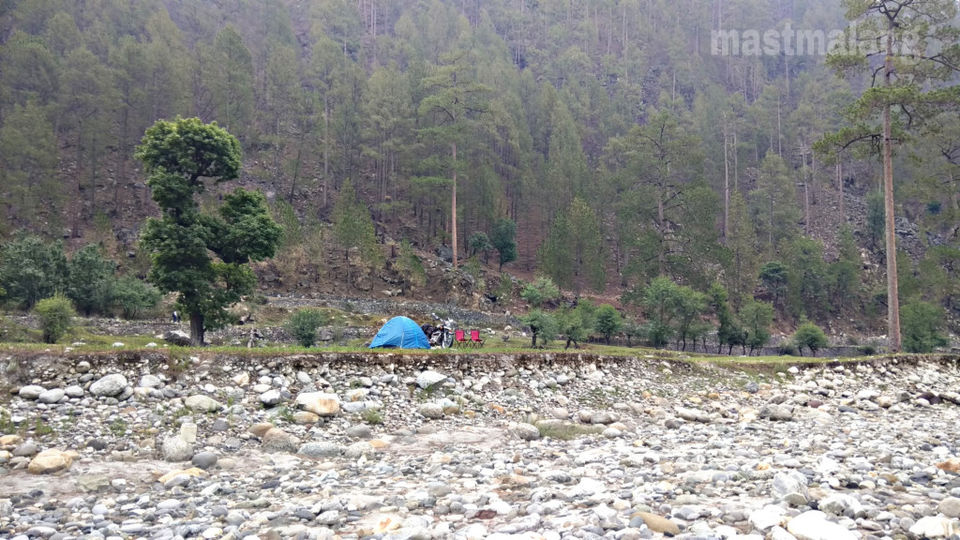 One could not have imagined an evening better than this. A soft breeze from the Pine forests was carrying along the night whispers of the leaves. No one in the sphere of one mile to steal your moment, when you sit silently on the camping chairs and watch the moon rays dance on the small waves of the river.
'I hear some noise,' I asked him.
'Oh, that's nothing but Jackals. They must have smelled chicken.'
'Jackal!! Do you think it is safe to sleep here alone? What if there are leopards?'
'Of course there can be leopards. But they are more scared of humans.'
From our past travels, I knew how much I could trust my imperfect partner, especially after my encounter with the wild bear during the Trek to Valley of Flowers.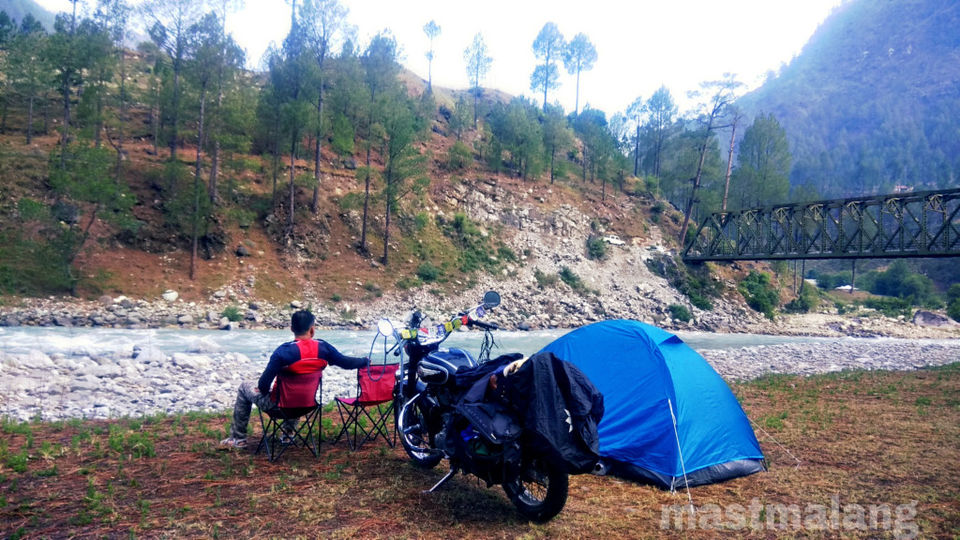 For hours, I kept vigil, holding knife in one hand and dragon torch in another. I could hear the jackals sniffing outside the tent to look for food leftovers.
The beauty of our camping site was magnified in morning. In many aspects it was a perfect camping site. It was next to a source of water. The river water was clean and fit for consumption. The slope was ideal incase of rain. And with river on one side and hills on another, you had a panorama view. It would have been a great site for a group picnic too. Not only this, there were many more sites as you cross Mori and move towards Sankri.
After bathing in river, we packed our stuff and left for the next destination: Lakhamandal.
The road further up was one of the best roads so far in their trip. You can check the video of the road at the end of the post.
It meandered beautifully through the Pine trees. The river had now broken into streams and it was now dotted with patches of paddy fields. There was so much of peace, a 'non-city non-toxicity' in the actions of farmers as they worked in the fields. As if they were living every moment of their time, unlike them. Wish we could capture that 'feel' in our camera.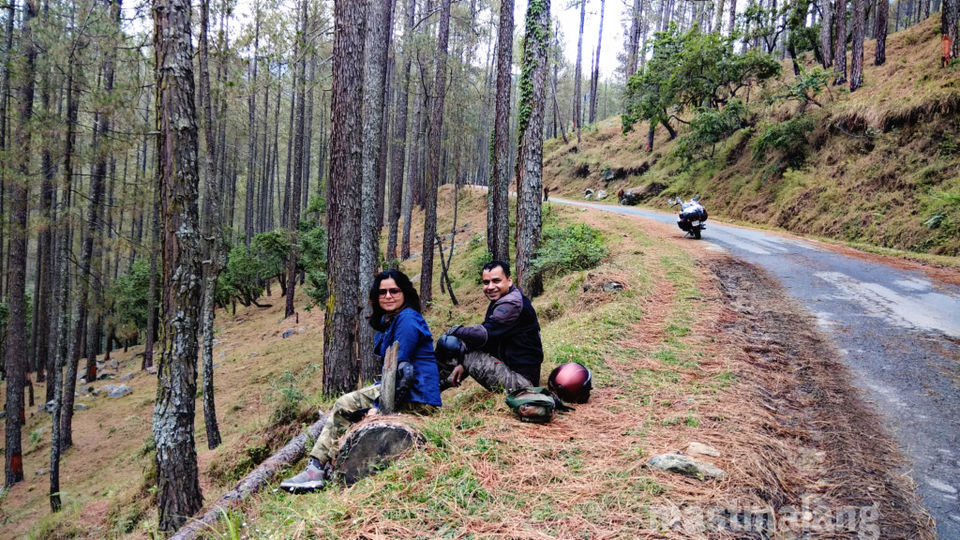 With a resolution that one day, we would be back here with our third wheel, our daughter, to spend at least a week here and teach her the ways of simple village life, we headed for the last itinerary of their trip.
As tourism is sparse in this region, you won't find dhabas or eating joints at regular interval. In a way it is good as it keeps the place clean. Still, it is sad to see that there is no well-developed garbage disposal system in mountains. Consequently, people (including locals) simply burn the plastic waste. A solution would be to completely ban non-biodegradable food packings. This was the discussion we had when we saw a pile of garbage at the back of tea shop where we had stopped for early breakfast. Especially when, as genuine nature lover, we always carry back every piece of litter with them in the journey.
*
After a detour of about 20 km, we reached Lakhamandal temple, which is situated on a hilltop. The temple is built in typical pahadi architectural style. A priest cum guide took us on a tour around the temple. He pointed out the place where ASI had carried out excavation.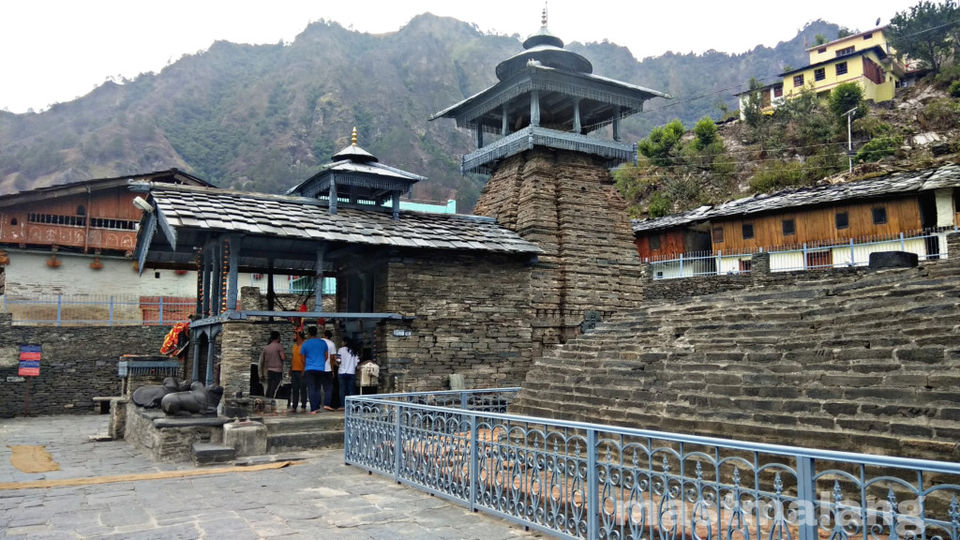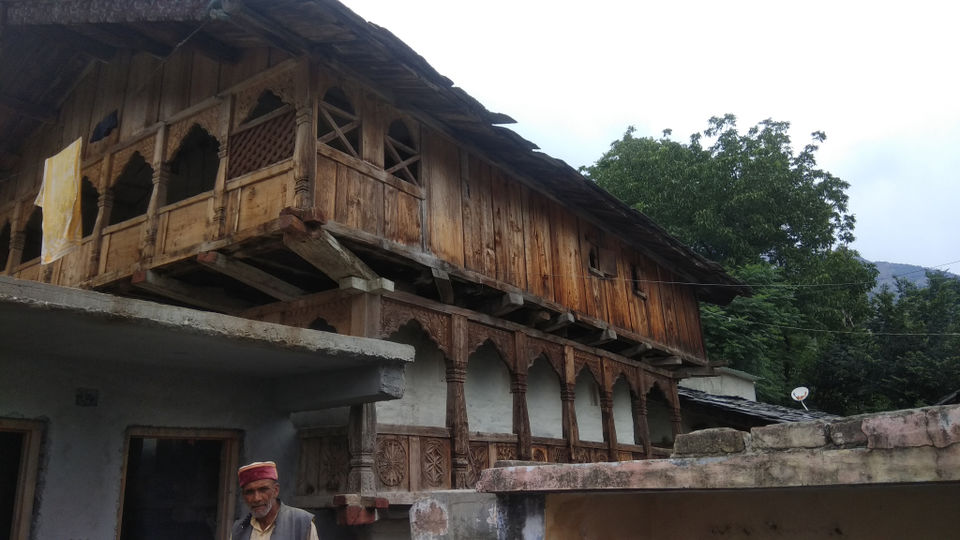 He began tour, 'You dig anywhere and you will find a lingam. That's why this temple is called Lakh-mandal.'
He pointed out at a mound like structure, 'This is the remain of Lakshagriha. The place where Duryodhana conspired to burn alive the Pandavas. But they escaped through a tunnel. Mahabharata was not a myth. The evidences lies under this ground,' the old man shared his wisdom with the travelers.' At the base of the hill is a cave which is believed to connect to the hill top, though people are allowed to access only the front part of the cave. Another interesting piece in the temple complex is a graphite lingam which reflects the surroundings when it is wet. Twin statues of Daanav and Maanav guard the main shrine as doormen.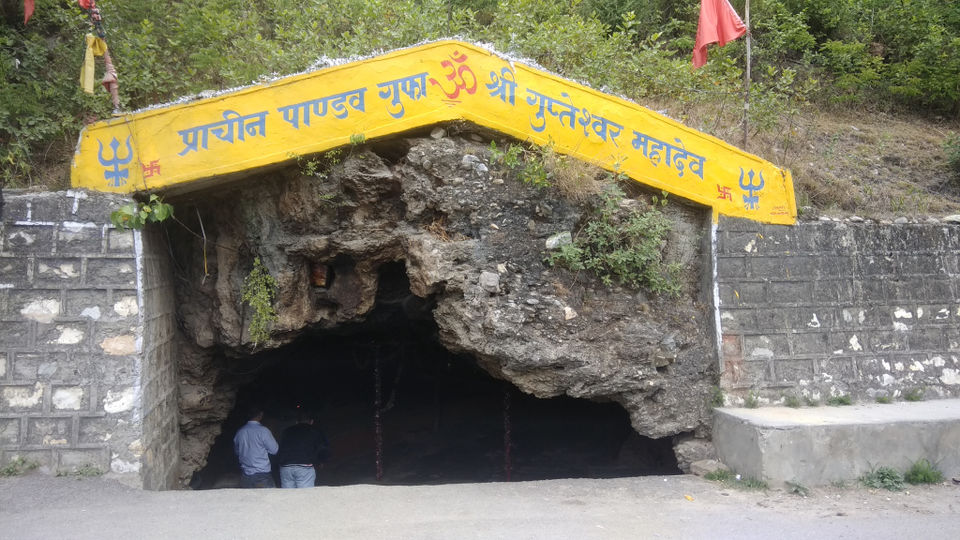 At the end of the tour, the priest offered us to spend the night in the temple complex. Wish we could, if we had more days, but not this time.
We felt fortunate to visit the sites of mythology we have heard so often. And content with the thought that the journey made us wiser than before, we turned the motorbike around.
The video from the Trip:
You can read my other Travel stories at: Travels of Mast and Malang