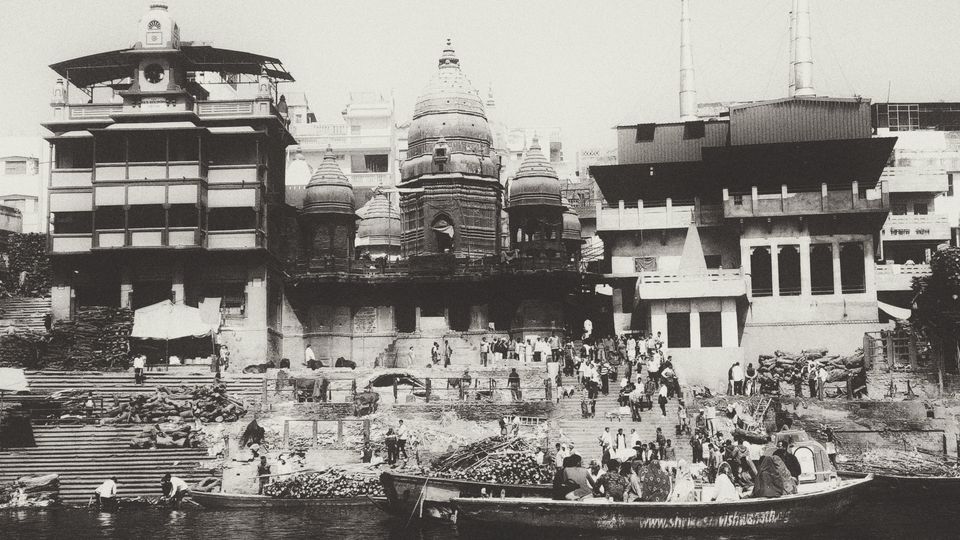 Although I've never lived in Uttar Pradesh myself, my roots still belong there and no matter where one goes in the world, the roots can't be uprooted.
Banaras, or as people call it Varanasi, is a major city in Uttar Pradesh. The people and their dialect instantly made me feel at home. The moment I landed, I could overhear people talking in 'my' language and although people say U.P is not a very safe place to travel especially for a girl alone, somehow I didn't fear being on my own.
Sometimes, there's a lot to see in a new place but not so much to feel. Banaras is the complete opposite. It's all about the vibe of every corner of this city. The city thrives in chaos yet it's the very heart and rhythm of the city that makes it alluring. It's not the type of chaos one can really imagine. Only when you go you'll see that it's not about the usual cars honking or the traffic. It's the clash of some beautiful sounds and sight which makes it peculiar.
On one hand, river Ganga flows uninterrupted while on the banks, the resting bodies await Moksh. On the streets, you can hear the sadhus chanting mantra while on the banks, the Ganga Aarti attracts attention. Within the chaos, there's a sense of peace and that's what makes it different from the normal city life. One could probably write a descriptive essay on this, however, I'll head on to the places to visit in this holy city.
GHATS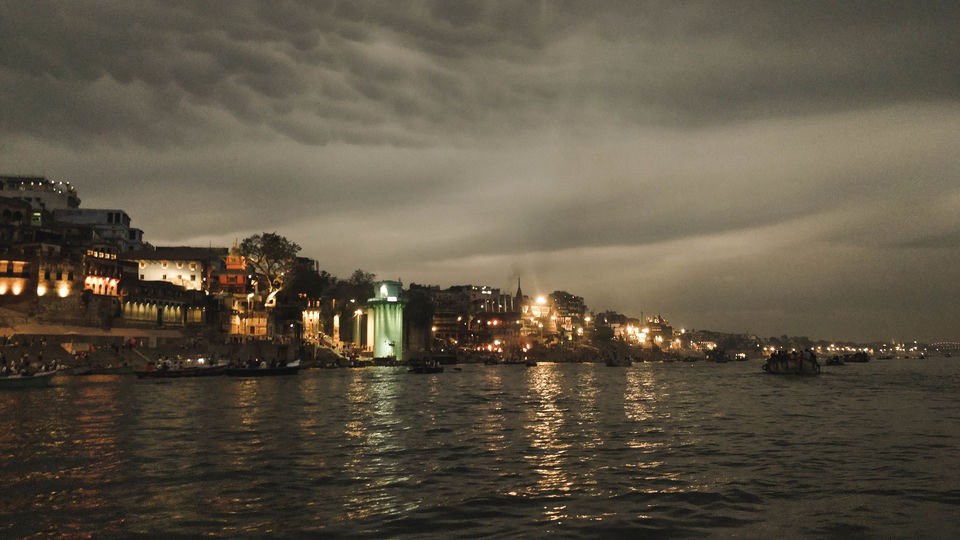 As the river flows, 88 ghats light up every evening next to it, making it beautiful sight. All in one line, these ghats are specific to different rituals. 2 of them are exclusively for Hindu cremation, 3 are for Ganga aarti and the rest are usually for the people who come to dip their heads in river Ganga which is said to wash away your sins.
Ironically, in the above image, the Ghat that looks the brightest is actually the biggest cremation Ghat, Manikarnika.
DASHASHWAMEDH GHAT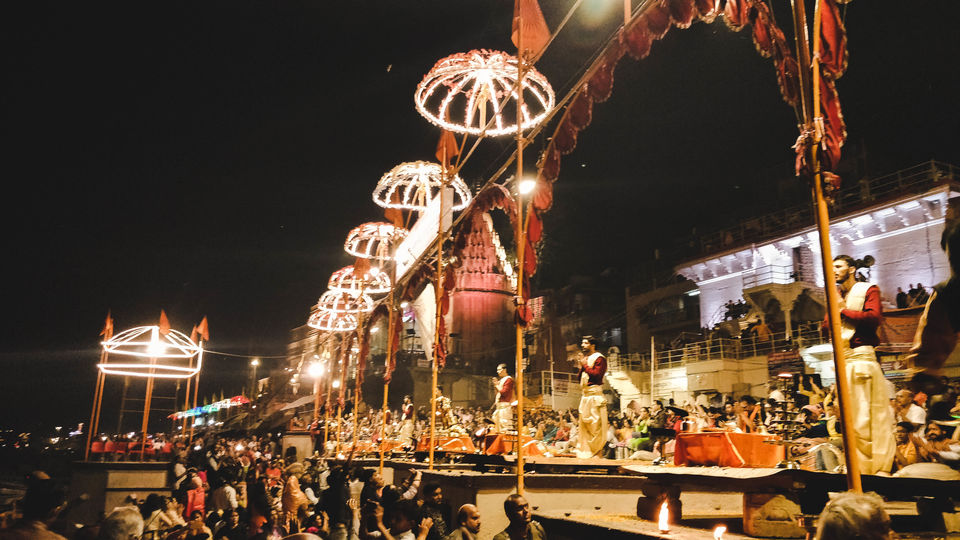 This is the main Ghat, close to Kashi Vishwanath temple and one of the best ones to see. Mythological history says that this Ghat was built by Lord Brahma to welcome Lord Shiva. Every evening, the life of the city gathers here for Ganga Aarti. Although this Ghat is mostly famous for the Aarti, it is also an important one as it is in the middle of the 88 ghat structure.
One needs to walk till the Ghat as the lane is a non-vehicle zone. Till the crossroads of the lane, one can get cycle rickshaws easily. While you walk the lane to reach the Ghat, there are a lot of the Sadhu babas and local Pujaris who sit on either sides.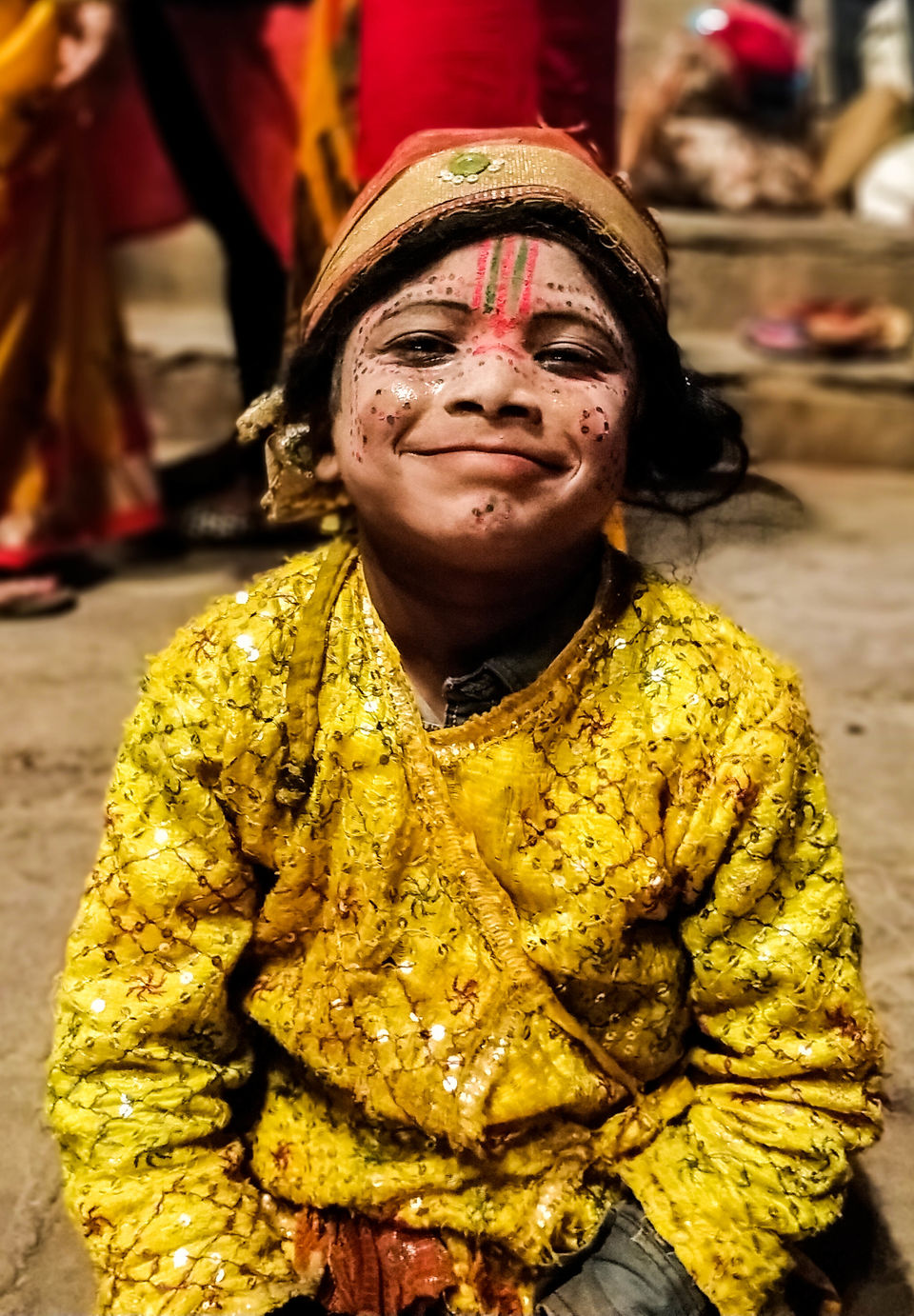 Tip: Need to be extremely careful. Even kids dress up in various forms and ask to be clicked by the tourists and later ask for money once you click them. The place is full of people, so much that it even gets difficult to find a spot to rest your back and thus, keep your valuables safe from pick-pocketing.
GANGA AARTI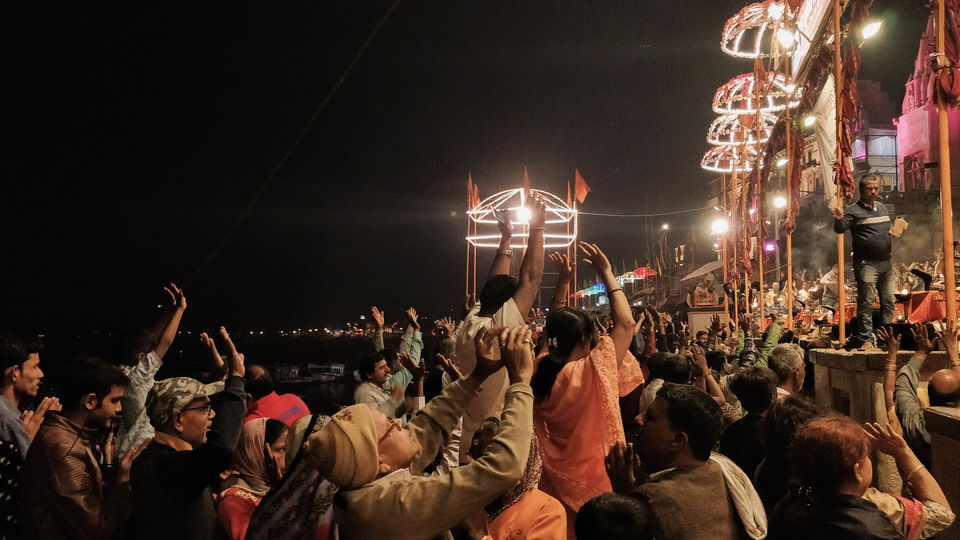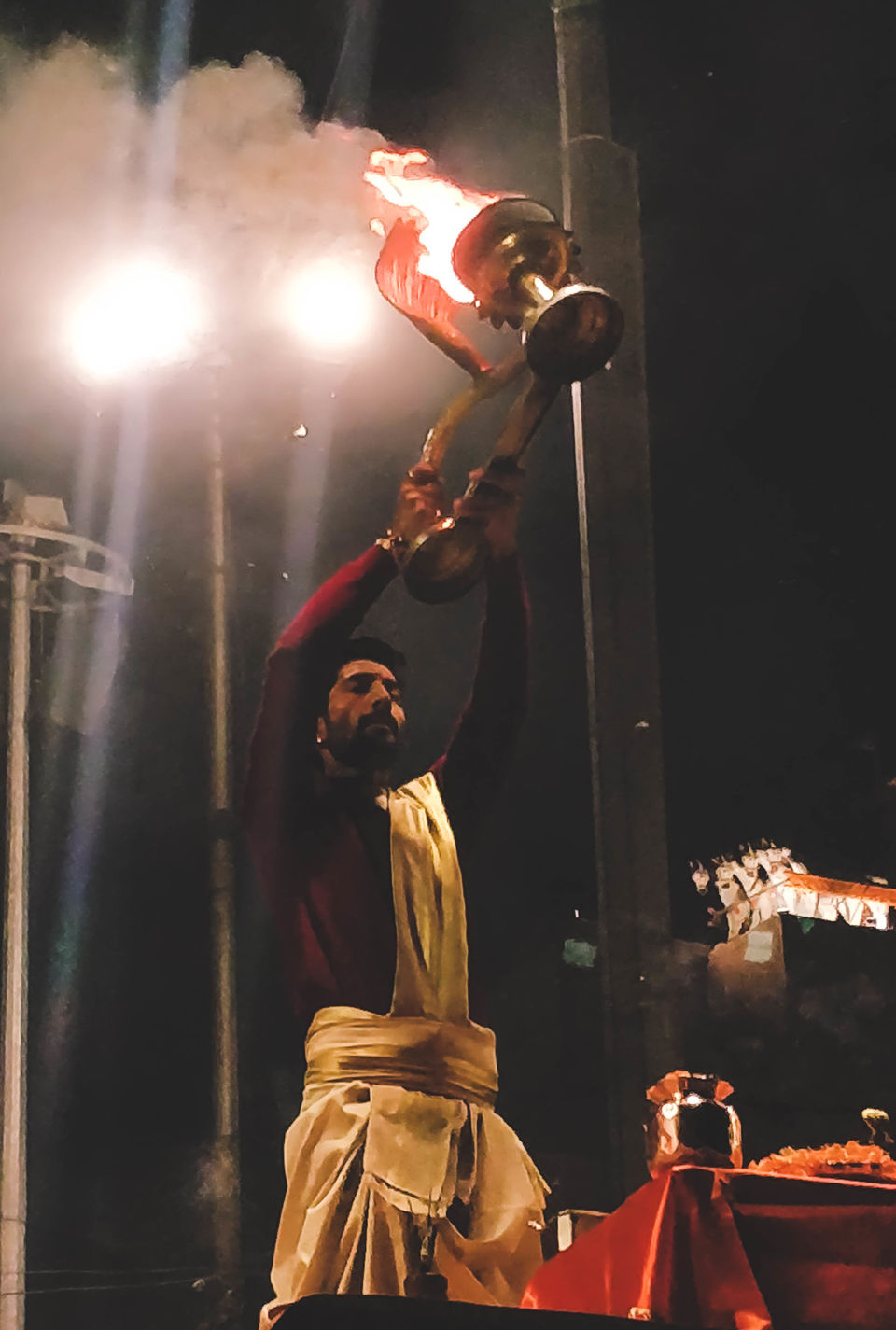 If asked to describe, I'd say – one of the most appealing, most spiritual in terms of vibe and synchronized demonstration of worshiping River Ganga.
One reason why river Ganga is worshipped is because it flows through some of the major cities of Hindu mythology- Haridwar, Rishikesh and Banaras to name a few. Ganga Aarti in Banaras is one of a kind. Hindu Pandits (priests) wear saffron robes, blow the conch shells and offer prayers while lighting large lamps. The synchronized movement of lamps by the priests makes it look brighter than usual lit lamps.
Once the Aarti is finished, the head priest pours a bowl of water into the Ganges after which people offer small lamps with flowers that float on the river.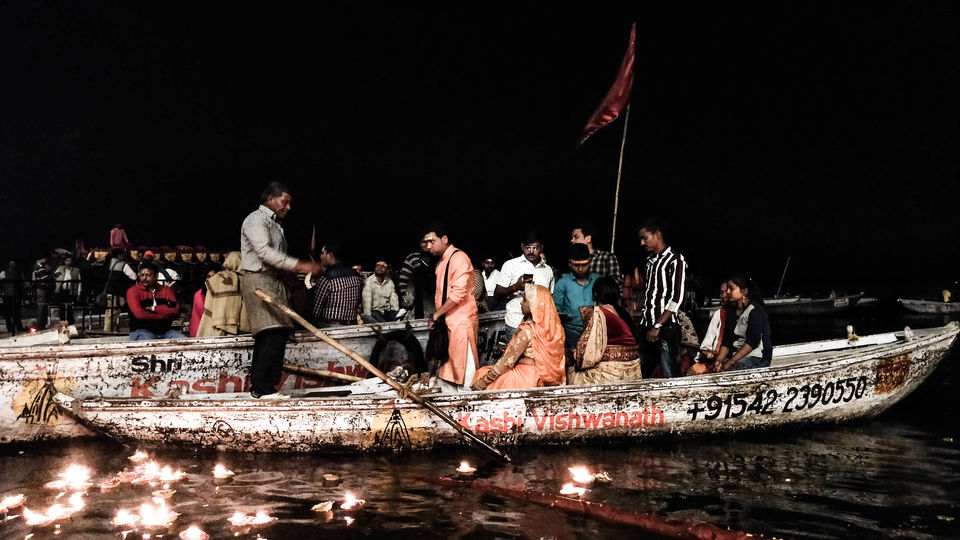 The Aarti goes on for about 45 minutes and starts at sunset. One should reach a little early in order to get a place to sit with a good view. The boats line up in front of the Aarti and charge a couple of bucks for a seat depending upon the view. If you do not require a place to sit, the sight it free of cost.
MANIKARNIKA GHAT
Holiest of all ghats and the one that is believed to help a dead human's soul find salvation (Moksh) if cremated here. Everyday 200 plus bodies coming from all over the country are cremated here.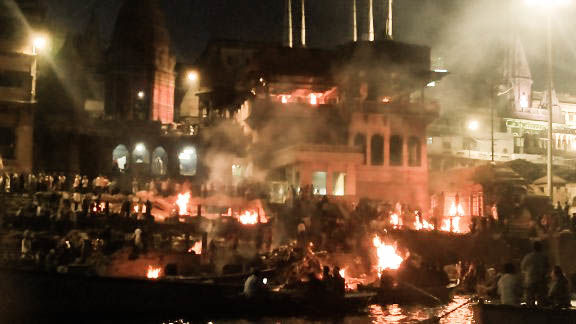 This ghat was a first time experience for me and although I was aware of how Hindu cremation ritual takes place, it still somehow shook me. Imagine one after the other bodies are being burnt. Bodies come wrapped in white cloth in bamboo stretchers, are dipped in the Ganges while the pyres are built. They charge body cremations depending upon the type of wood.
Mythology says that Lord Vishnu prayed to Lord Shiva to grant a blessing to the city of Kashi to be never be destroyed. Lord Shiva came with his wife Goddess Parvati to grant the wish as a result of which any soul that departs here shall attain Moksh (salvation).
Lord Shiva is said to be bathing here while one of his earrings fell and that's how this Ghat got its name- Mani (jewellery)/karnika (ear) and it became the Ghat for the Last bath for any Hindu body.
Death is celebrated here, it's a 'gateway to heaven' for Hindus.
Women and tourists are not allowed on the Ghat, however, one can see it from afar sitting on a boat.
SCINDIA GHAT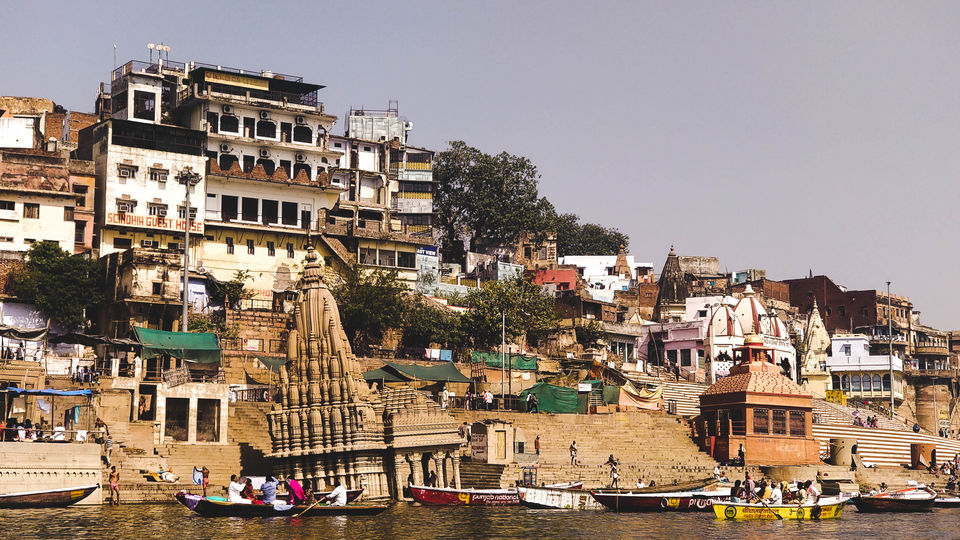 According to Hindu mythology, Agni (fire god) is said to be born here. There stands a tilted, partially submerged Shiva temple. It is said that it couldn't balance it's own weight. However, people tried to destroy and rebuild it but it could never be destroyed. Although it's abandoned now, it still stands there strong.
OTHER GHATS
Banaras is said to be one of the oldest places in history. Being a holy city for Hindus, people come here all round the year as they believe dipping their heads in the sacred Ganges will wash away their sins. It is also believed that she purifies one's mind, heart and soul. Ghats are steps that lead to the river and hence they are mostly used for this specific purpose. There are boats that one can hire to see around all the Ghats.
Tip: Bargain is the key. From my experience, the boat operator asked for Rs.2500 per ride if I wished to go alone on the boat. After bargaining enough, I toured around only in Rs. 400 which again I feel I could have done better.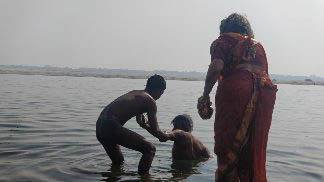 KASHI VISHWANATH TEMPLE
No pictures but an experience only for the privileged. Privileged not in terms of wealth or luxury, but privileged to seek the blessings of Lord Shiva. It is said to be one of the twelve Jyotirlingas, the holiest of Shiva temples. The queue is almost never ending, people come from all over the world and I was one of the lucky ones to have gotten the chance to visit the Shivling and seek blessings.
The temple has been destroyed by different rulers time andd again. The present temple was restored by Ahilya Bai Holkar after it was destroyed by Mughal Emperor Aurangzeb to build a mosque. Even today the mosque (Gyanvapi) and the temple share a wall. The mosque is still believed to have the remnants of the temple. The temple has 3 domes of Gold and is believed to grant any wish made while looking at it.
STREETS, PEOPLE & FOOD OF BANARAS
World famous Banarasi Saree, Kachori sabzi & Malaiyyo are unique to Banaras and one should definitely try.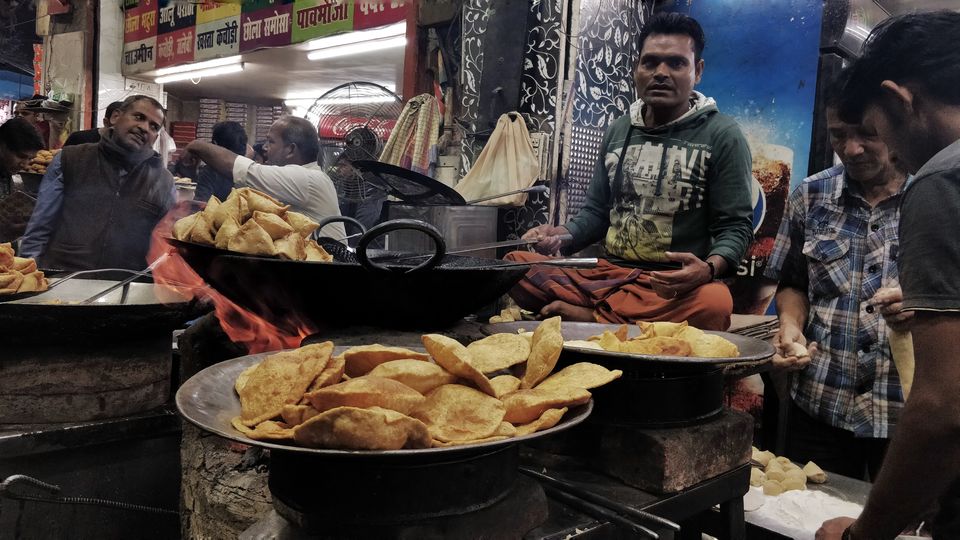 A must visit city- Banaras.
For further details on stay, travel and budget, feel free to Instagram DM- @one.mile.away or drop in an email- onemileaway.packunpackrepack@gmail.com
Stay safe, travel happy!
Article and all pictures by: Mallika Rohatgi