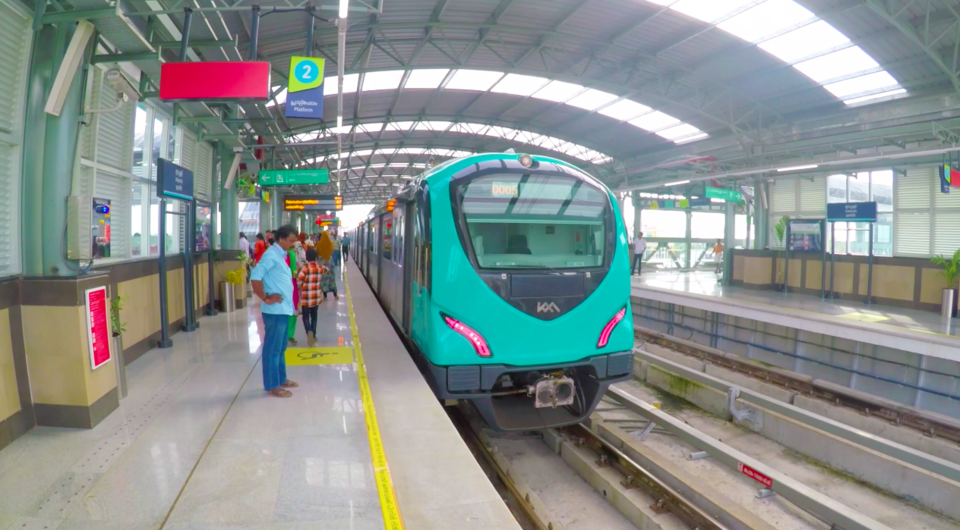 Fully excited to get on metro, running just above. It was a 3 year wait for all Kochites . Since the first pillar erected, we dreamt of seeing the bird eye view of Kochi.
We thought of traveling from Aluva to Edapally, parked our Avukuttan [ our Avenger ] at Aluva metro station and walking towards the station, we could find vertical gardening been done on one of the pillars of metro line. It will be so nice if the same is done for all the pillars. :O, we were welcomed by a well dressed security man, he directed us to the ticket counter.
Everything was very clean and well organized. The most interesting thing that we liked were the big big photographs that displayed the beauty of God's own country - Kerala, and these were set as wallpaper which gave a special effect to the entire metro station interior.
At the ticket counter all the fares were displayed, our fare from Aluva to Edapally ticket costed ₹ : 40 each.
Securites will check your bag before entering.
We were standing on the platform and found many security officers standing to manage people.
There comes the blue metro with a lady driver in its driver cabin.
Interior of metro is spacious, colour coded seats and we have our baby elephant mascot on the display screen to explain more about the safety precautions , the next station arriving and many more things.
The view of kochi, the rushing vehicles, moving buildings and the scenic greenery just below us was really wonderful to see from Metro.
Zooom........ and we reached Edappaly, it was too fast. It hardly took 15 minutes. If we travel by road it would take 30+ minutes to reach Edappally from Aluva.