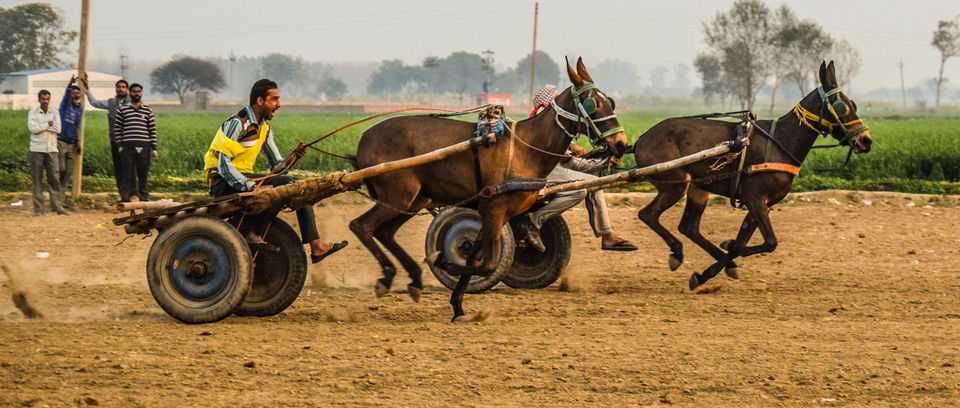 The first time I got to know about Kila Raipur Sports Festival was during a controversy where animal right activists were protesting against Bullock Cark Race. I remember a travel magazine covering the different sport events and I almost felt as if I am transferred here.

Read more about the festival on my blog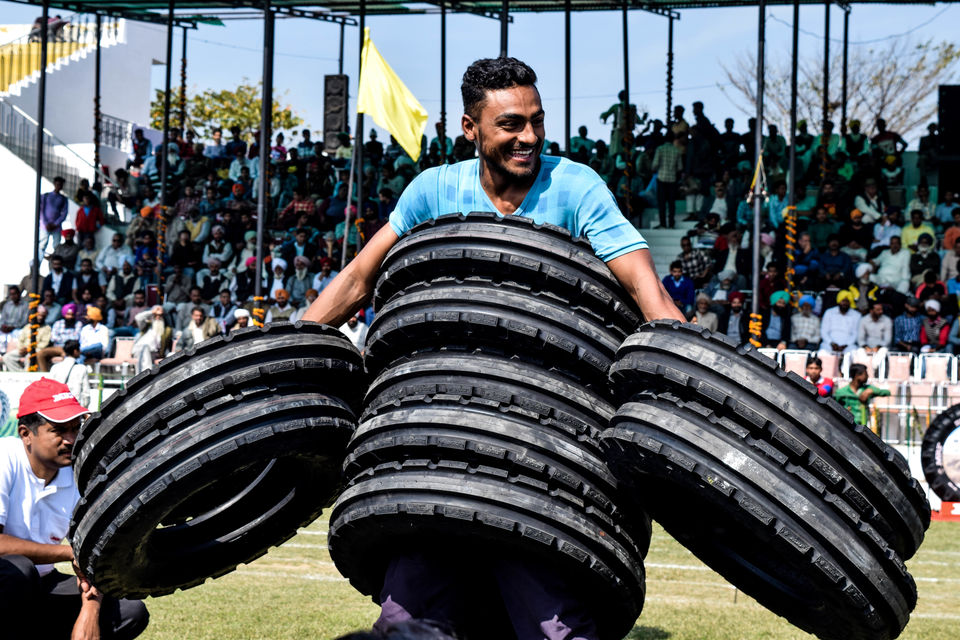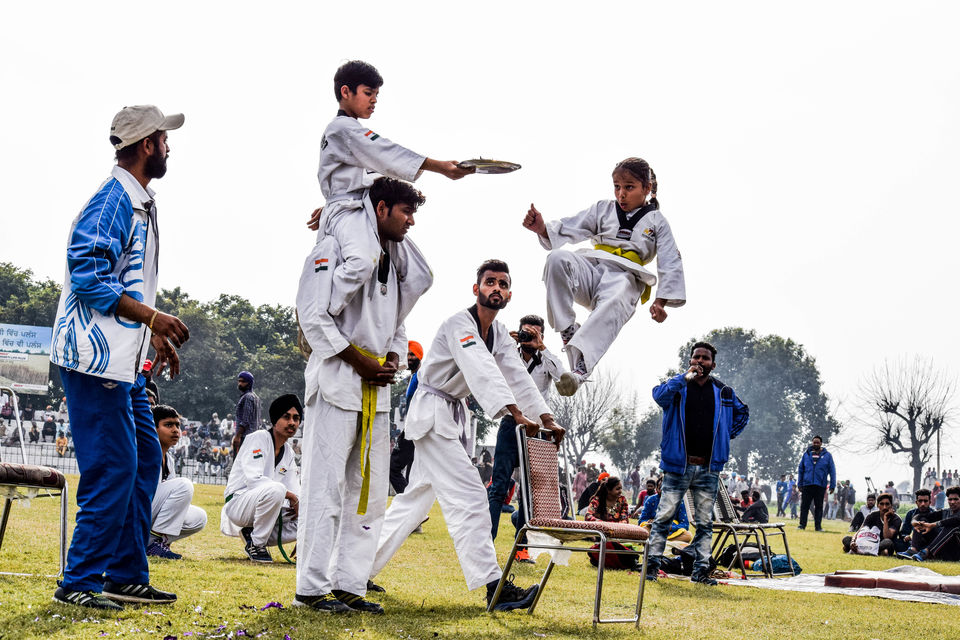 Came February 2017, I made sure that I visit this festival before it goes mainstream. I looked on the internet, and came across the official website with most of the information written in Punjabi. A few travel blogs gave me a basic idea on the festival and commute.
Kila Raipur Sports Festival, or as the locals call it, Killa Rapper, is located a few kilometers away from Ludhiana. You can either take a bus to Dehlon (pronounced Dhellon) and then take a tuk tuk to the festival ground or you can hire a taxi from Ludhiana itself. The former is a cheaper way to reach and return, while the later will give you a freedom to stay at the festival venue till long as the area gets pretty lonely after 7:00 PM.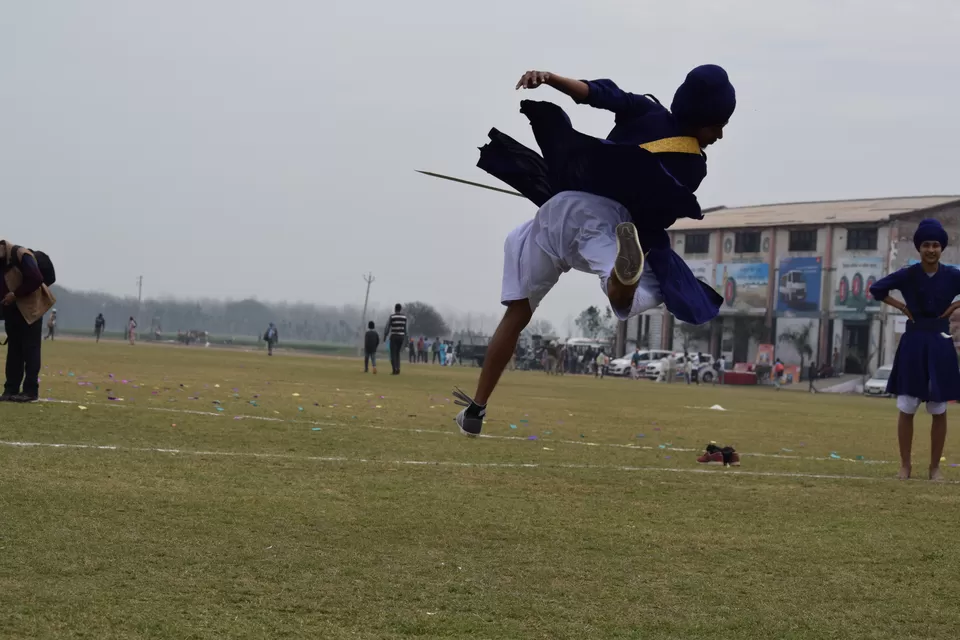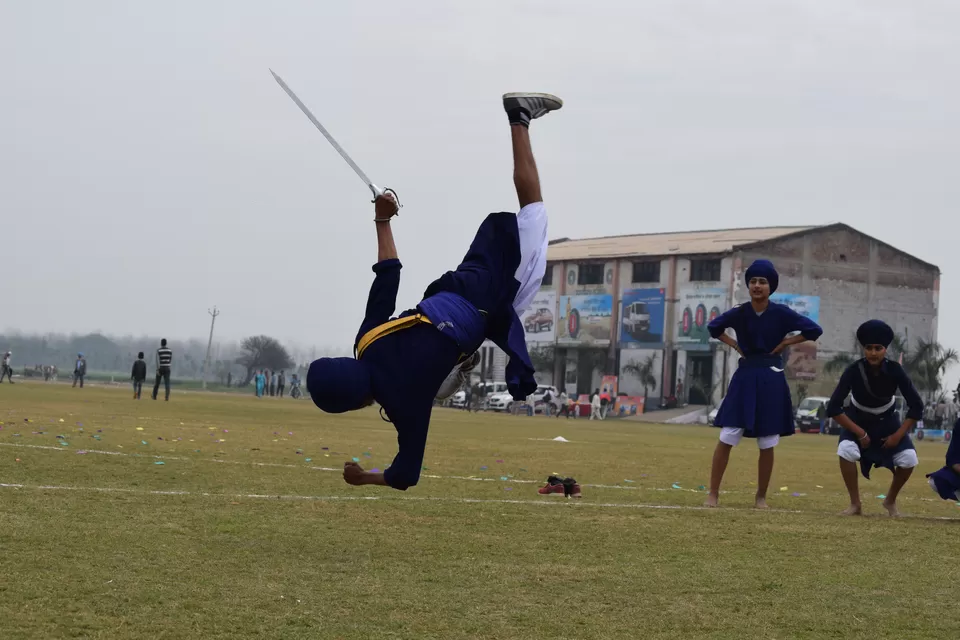 The three day festival invites competitors from far corners of Punjab. There are sportsmen who even arrive from Kennedda (that's how they pronounce Canada in Punjab). The events vary from 100, 400 and 1600 meter sprint, desi and sports cycle race, wheelchair race for the army veterans, weight lifting contests with truck tires and wheat sacks. This is one unique festival where humans and animals alike are competing for glory. There are hunter dogs from Punjab Police, the mules, horses and even camels flaunting their intricate decorations, all of them try their best to impress the audience.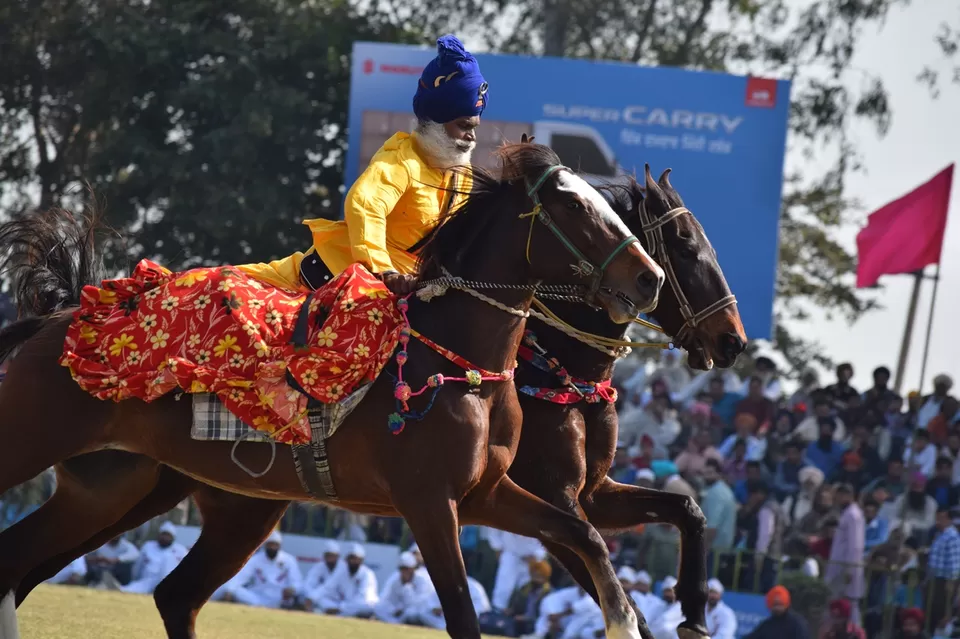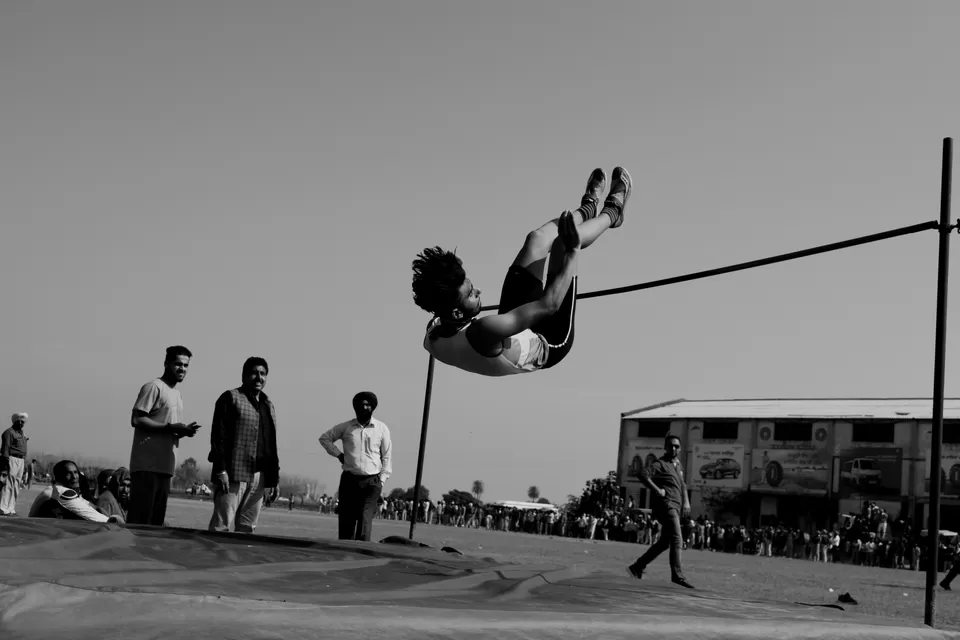 It was 12:30 in the afternoon when I finally arrived at the sports venue. For a change there were no soft drink billboards and banners sponsoring the event. KRSF is still free from the grip of corporate sponsors and mainstream tourism industry. I was told that I cannot enter the sports ground as I do not have a press pass. I tried entering once but was stopped by the ever vigilant forces of Punjab Police. I left, only to find an entrance from the fields. For the next three days, I kept hiding from the organizers and policemen so that they do not send me back.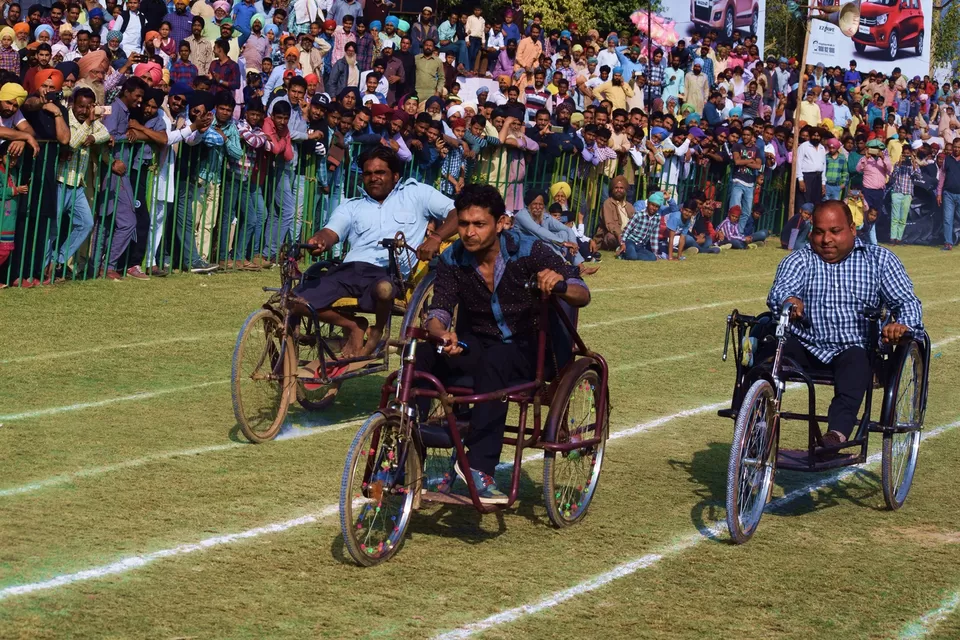 Teams from different districts of Punjab were trying to outmatch each other in a high flying kabaddi match. There were players who had previously participated in National Kabaddi League. A team member from the opposite team crossed the line and jumped on the defending team, they tried hard to catch him, he tried his best to eliminate atleast one of his opponents, both failed and the bout continued. The excitement level was so high that even though you do not know anything about the competition teams, you still feel the thrill when one of the players gets caught behind the enemy lines. His struggle to touch the white line and the struggle of his opponents trying to stop him from doing so is enough to entangle you in the feel of the event.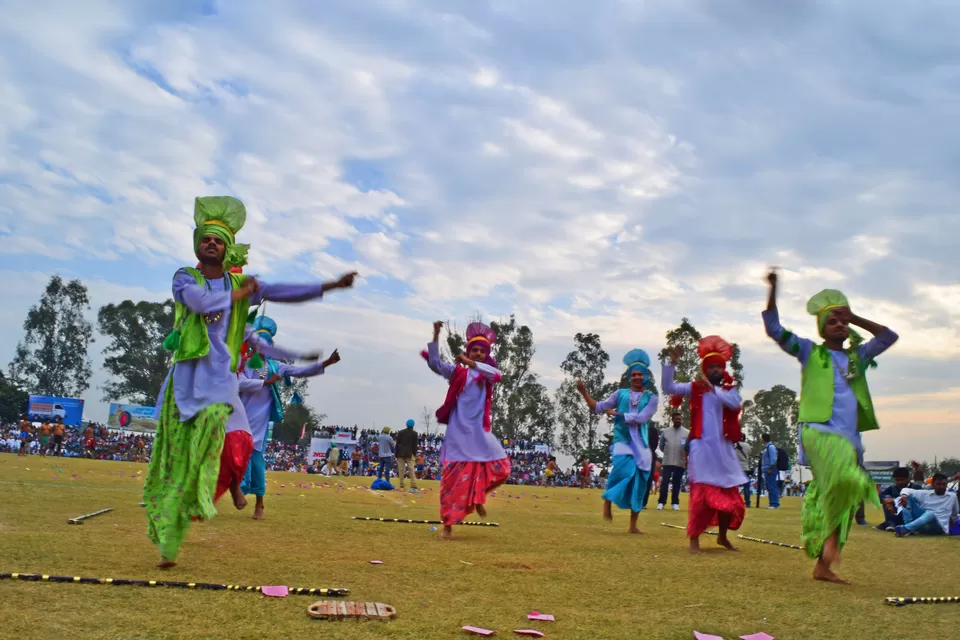 It is the local spectators who amplify the feeling. For them these sportsmen are representing their village. When they cheer, they cheer so loud that even the noise of a plane flying right over Qutub Minar loses its effect.
The race of the hunter dogs from Punjab Police is enough to thrill and scare the shit out of you at the same time. When their handlers unleash them they run at such a speed that they are simply not visible to the naked eyes. Everyone moves back fearing that they do not jump on them. Their speed was so high that my camera failed to capture them. They themselves were unable to control their speed and by the moment they stopped, they were already in the nearby fields. Not a big deal, they recognized their handlers through a special whistle and were found in no time. A journo showed me his captures of the race from his huge camera. My Nikon D3300 felt like a midget in front of his heavy duty equipment.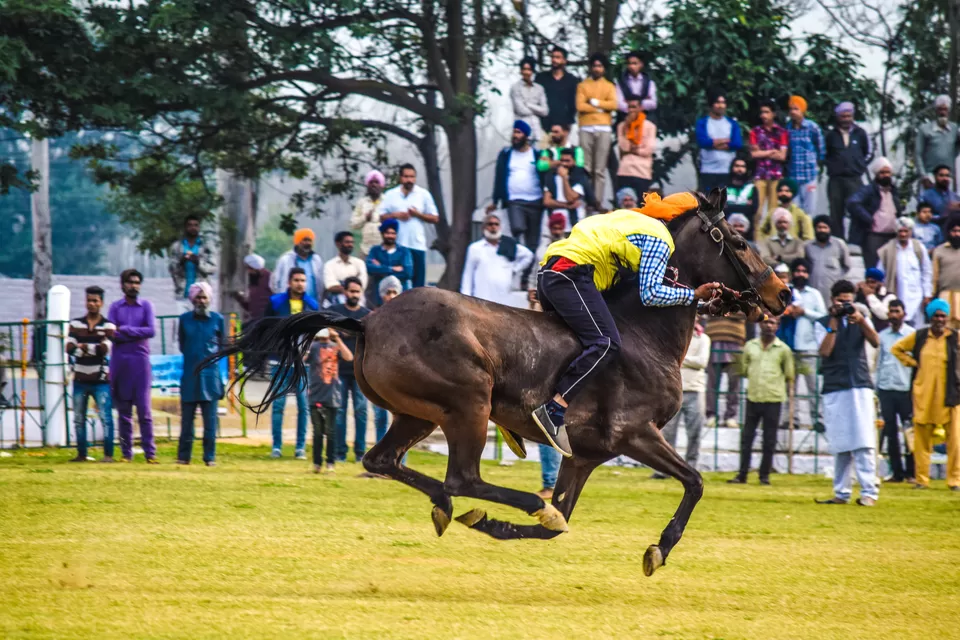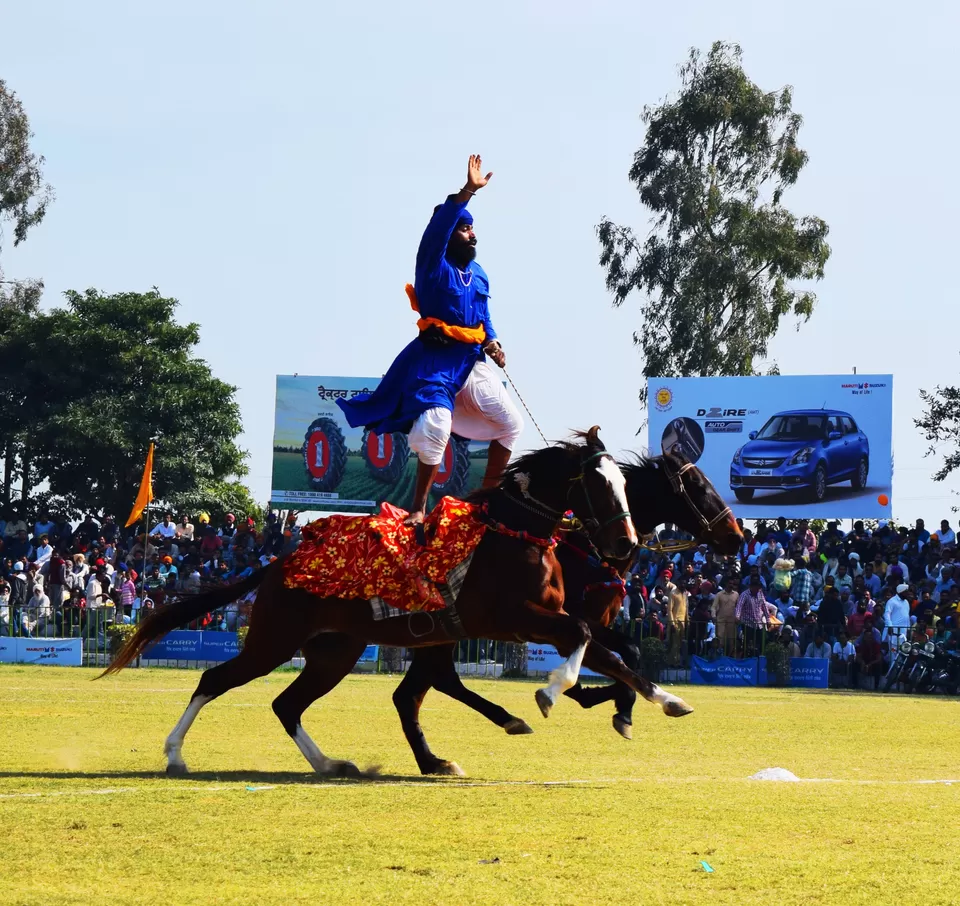 Finally, I get to see what I was waiting for. The horse race started. There were competitors from Rajasthan, Haryana and the host state Punjab. A fire in the air and the horses and their jockeys raced to the finish line. They were not running, but were flying in the air. The thrill could be felt from their faces and everytime the jockey screamed the horse responded in an equal strength, trying to outmatch the leading horse.
Kila Raipur is a visual treat. For anyone who wants to get up and close with the culture of Punjab, this is the place to be. The sports event is sponsored by Grewal foundation and invites sportsmen from far off corners of Punjab and even Kenedda. It has something to offer to everyone, whether you are a sports enthusiast, a photographer or a culture seeker, you'll find everything that you have been looking for. The range of sports varies from sprint events of 100, 400 and 1600 meters for men, women and senior citizens. There is a wheelchair race for army veterans, weight lifting contests with truck tires and wheat sacks.
Kila Raipur gives you a glimpse of rural and rustic Punjab. Green fields, glasses of lassi, sugarcane juice and spicy choley kulche are here to feed your soul. Bhangra performers take your heart away while stunt coordination by The Nihangs takes your breath away. Kila Raipur Sports Festival is one event that you must experience in the coming years before it goes mainstream.
When: Kila Raipur Rural Olympics is held every year in the month of February
How to Reach: Ludhiana is the nearest city where you can stay. There are buses leaving for Dehlon every half an hour from ISBT. From Dehlon you can catch a tuktuk to sports venue.