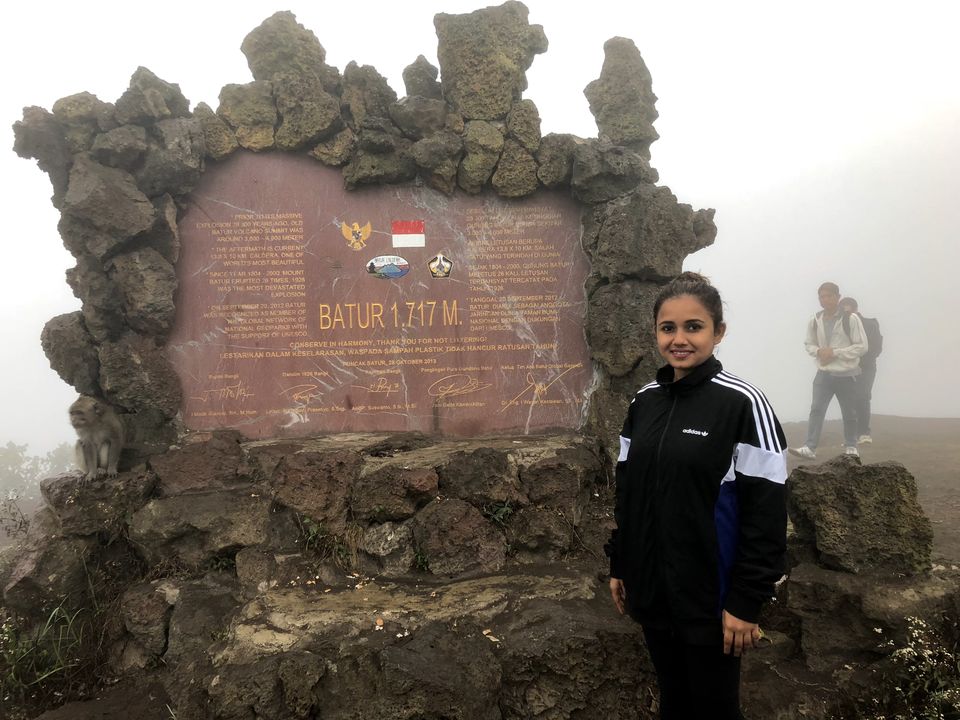 I build up my travel itineraries by reading blogs and watching YouTube videos because I am not one of the unplanned travellers. This same research led me to discovering this amazing activity in Bali which should not be missed at any cost. It is called the Mt. Batur Sunrise Trek and doing this trek was the best decision of my life. I had looked at photographs, but they don't do justice to what your eyes witness. Mt. Batur is a dormant volcano that had last erupted in the year 2000 and has remained dormant since then. Considering this, it seemed to be an adventure I wanted to go on.
- Making my mind to embark on this journey
You can book this trek from any place in Bali and usually the adventure companies provide hotel pickup and dropping services. I left the trek towards the end of my visit as I was staying in Ubud and it is closer from there. However, as I was not sure if it would be safe to climb a mountain due to rain predictions, I was still contemplating whether or not should I do it. And also, due to limited time in hand, I had either option of sunrise trekking or chasing waterfalls, which I wanted to do as well. However, just one day before I was supposed to catch my flight back to Sydney, I decided that such opportunities may come only once, and I should go for the trek as I had already seen a lot of waterfalls in Sydney. Climbing a mountain at the middle of the night was something I had never done before.
- Where did I book the trek from?
I booked the trek from one of the adventure activities company in Ubud market and there are plenty of them. They quoted 500,000 rupiah for two people, however, I negotiated the price and we settled on 300,000 rupiah for two. This included pick up, drop off, guide, water, the entrance fees, and morning breakfast.
- And the time came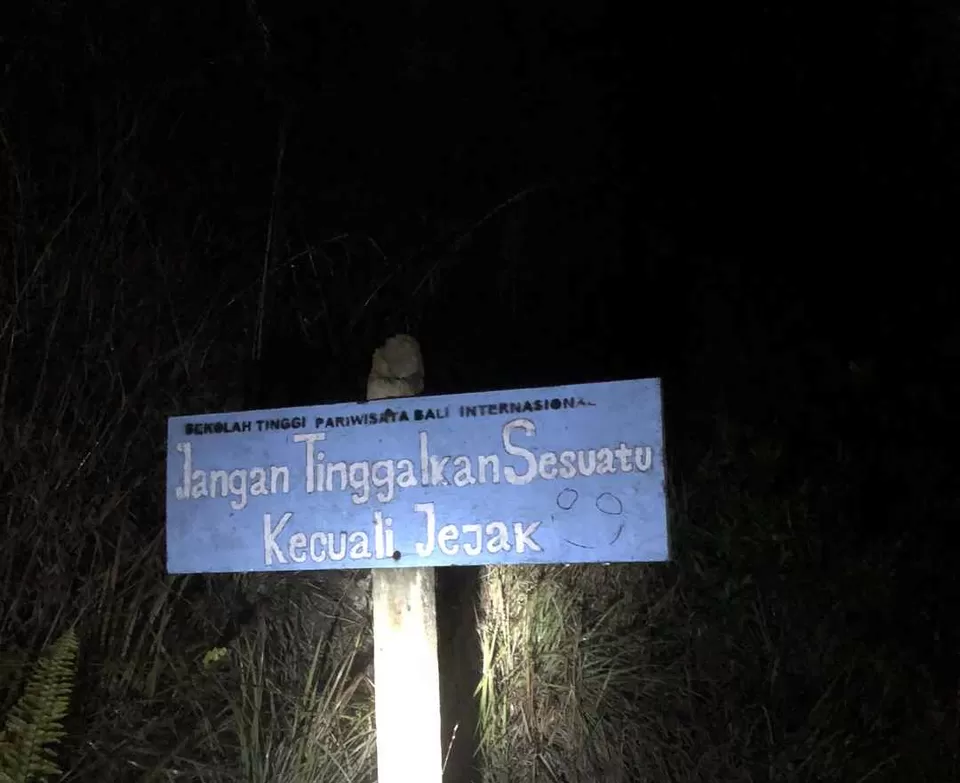 2.30 AM: After a long day of wandering around the streets, we slept for a few hours and woke up some time after midnight. We put on some warm jackets, packed some snacks in my backpack, took along some first aid, and with sleep still lingering in eyes, got ready to conquer the peak and watch the most beautiful thing nature has ever created. At around 3.00 AM our ride had arrived to pick us up. We thought that we were going to be the only few who were doing the trek as it was not a suitable weather. But there were five more people in the car apart from us, and we were going to do the trek together.
3.30AM: Half an hour later, driving through thick fog and rain, we reached Kintamani, which is the base of Mt. Batur. Here, we met our guide Yoga (I am sure that is not his real name). He took us through all the safety measures and required briefing for the trek and handed us each a bottle of water and breakfast that we will have when we reach the top. It turned out that we were not the only one group who had decided to brave the weather and embark on this journey. There were about 20-30 small groups who were accompanying us to the top.
3.45 AM: I realised that I forgot to charge my camera's battery as I was shooting my vlog and it turned off midway. What a fool I was but alternatively, I used my friend's phone to document the race to the top. After the briefing session, all of us started walking towards the eerie darkness of the mountain with flashlights in our hands, cold shivers running down our bodies, tiny droplets of rain kissing our faces and a common desire to reach the top before sunrise. The trek can be divided into three legs. The first 30 minutes were easy as the seven of us walked calmly on the path that was marked by footsteps left from previous trekkers.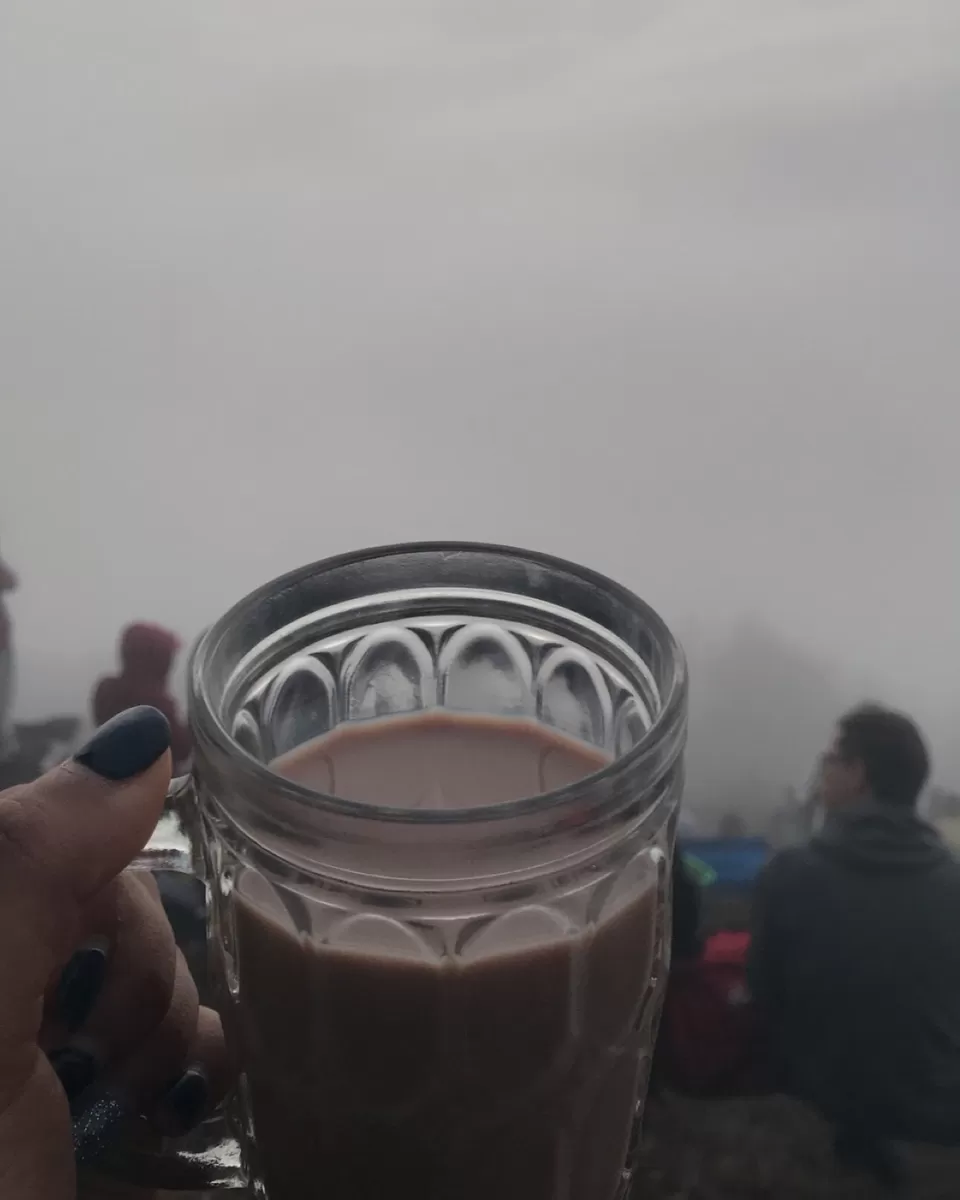 4:30AM: Ours was a quiet group and there was barely any conversation at the beginning. I hated that, so I started talking to Yoga. He had a young boyish look with abundant energy, and it seemed as if he knew the route like the back of his hand. When I asked the number of times he had done the trek, his reply left me with an expression of shock and admiration for the little boy. By the way, he was only 15 years old, was going to school and learning English so that he could communicate with the tourists well and get a better paying job. For now, he worked as a tourist guide and he was doing this trek every day from the past week. He went to school during the day and worked as a guide at night. I was astonished at how hard working that little boy was.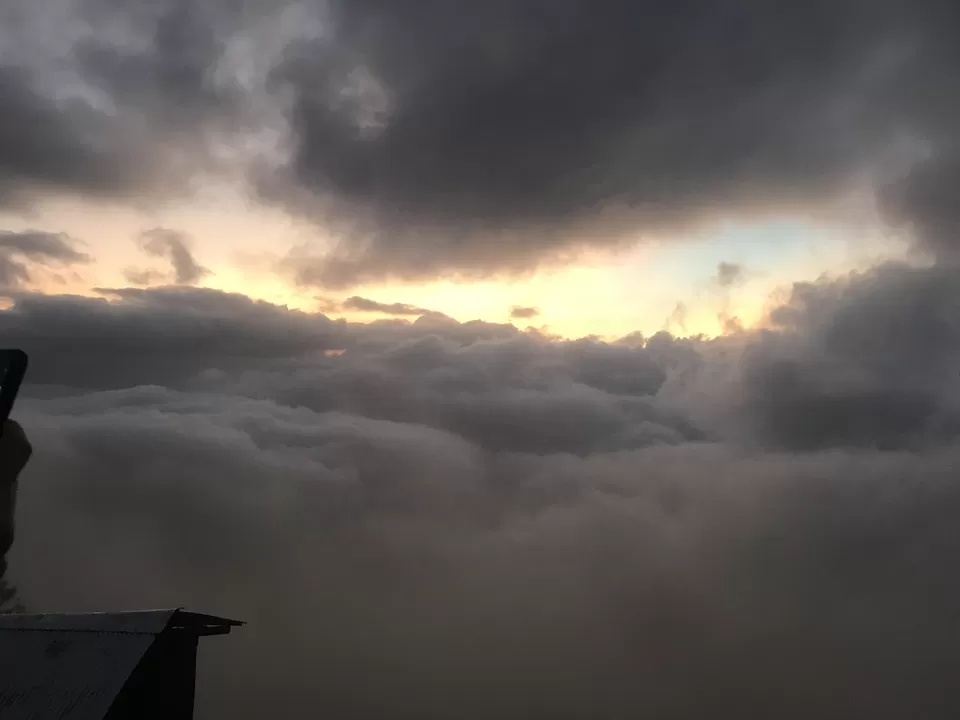 5.00 AM: The path started to incline as we got further. The second leg of the climb was steeper but doable. We had stopped at a couple of places to catch our breaths and drink some water, but it did not look as if we were not going to make it. Yoga was quick and was aware of every stone and rock. One minute I saw him behind me and the next second, he was standing before me and offering his hand to help me climb up. He was fun to talk to and shared his aspirations. As we walked, we also spoke to two more people from our group and turned out they were from Poland and on a journey around Asia. Their stories were amazing. Although they were in Bali for a week or so, they did not miss this trek. Then I realised that I was smart enough not to give it a miss. After walking about an hour from the starting point, we reached midway. Till then, the climb did not look difficult. We were definitely covered in sweat and out of breath, but I still wanted to get up there as quickly as I could. Yoga told us if we walk at a good speed, we should not take more than 30-45 minutes to reach the top.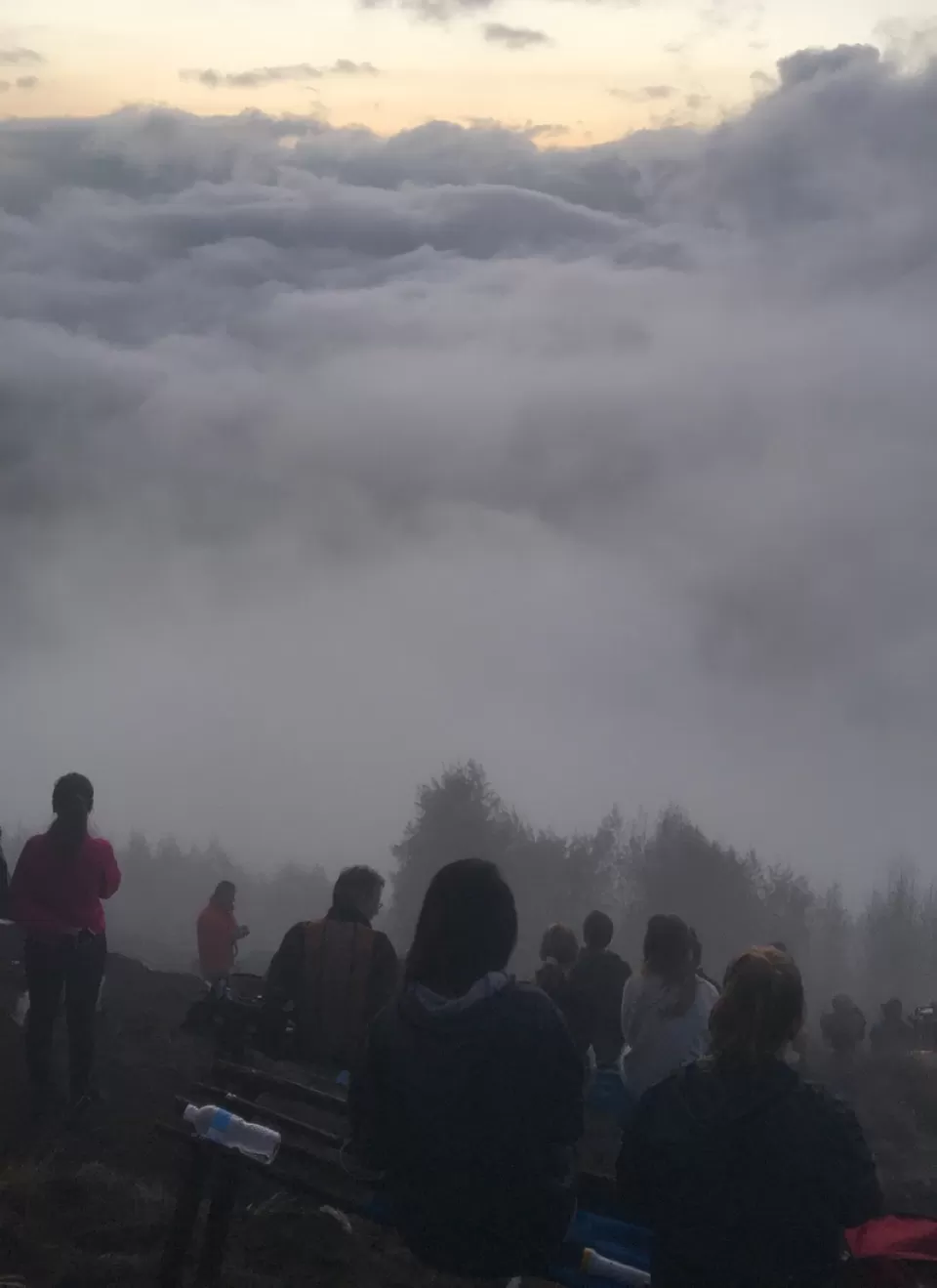 5.30 AM: We were happily chatting and walking at a steady pace, not stopping too much to save time. By now I had taken off my jacket as I felt too hot with all that walking. Suddenly the path started getting narrower, and even steeper. There were more sand, rocks, and pebbles now which made it harder to get a grip on the soil. I was getting exhausted and my calves were screaming as if asking me to slow down. But I did not want to get everyone slow, so I kept on going. There was mist, fog, cold breeze and it kept on drizzling here and there, but I was determined to go on. The Polish girl was too tired and kept on taking breaks and there was a point when she felt like she would just wait there for us to come back. But Yoga helped her climb up so quickly that we were left behind. The volcanic sand was slippery, and I tried not to slip as I could not see much on my sides without the flashlight. We had stopped on our way at a spot which was considered sacred by the locals. Yoga and the other guides offered their prayers and he explained that he prayed for his and his family's well-being and that he had not done anything wrong to anyone so may the god take him back to his home safely.6.00AM: The last 10-15 minutes of the climb were the most strenuous. My legs had given up completely and I was just dragging them to reach the top. Suddenly we came to face a clearing on the mountain side, with wooden planks built into benches and a small hut which I later found out was the kitchen. A faint morning light had started to appear, and grey-white clouds were visible. That was by far the most beautiful scene I had ever scene. I was awestruck with the beauty. We were basically sitting above the clouds. And it was very cloudy that morning as the weather was not good. We settled on to some benches and started eating the breakfast which was a sandwich, a banana, and some eggs. You can also order some hot drinks to accompany it. We ordered some hot chocolate as it was intensely cold. As you reach the top, the wind gets stronger and colder. And since I was covered in sweat, I was freezing. The hot chocolate was a relief to that.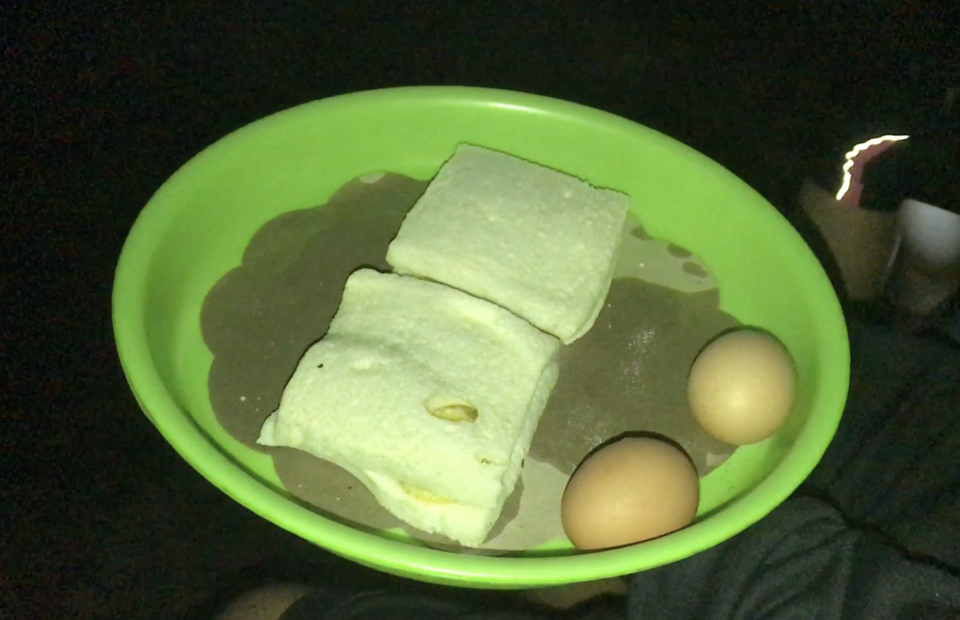 6:15 AM: And there I was sitting and looking at my watch as the minutes passed by and the clouds kept on coming and going. I had anticipated that it won't be a perfect sunrise as the clouds were too thickly blanketed around us. But my eyes were fixed to catch just a glimpse of it. And then the sunrays started shimmering out of the cloudy sky. And within few minutes we saw the sun coming up. Now, this was the most amazing sunrise I had ever seen. It kept on hiding behind the clouds now and then but, we witnessed something that can only be seen if you are willing to work hard for it.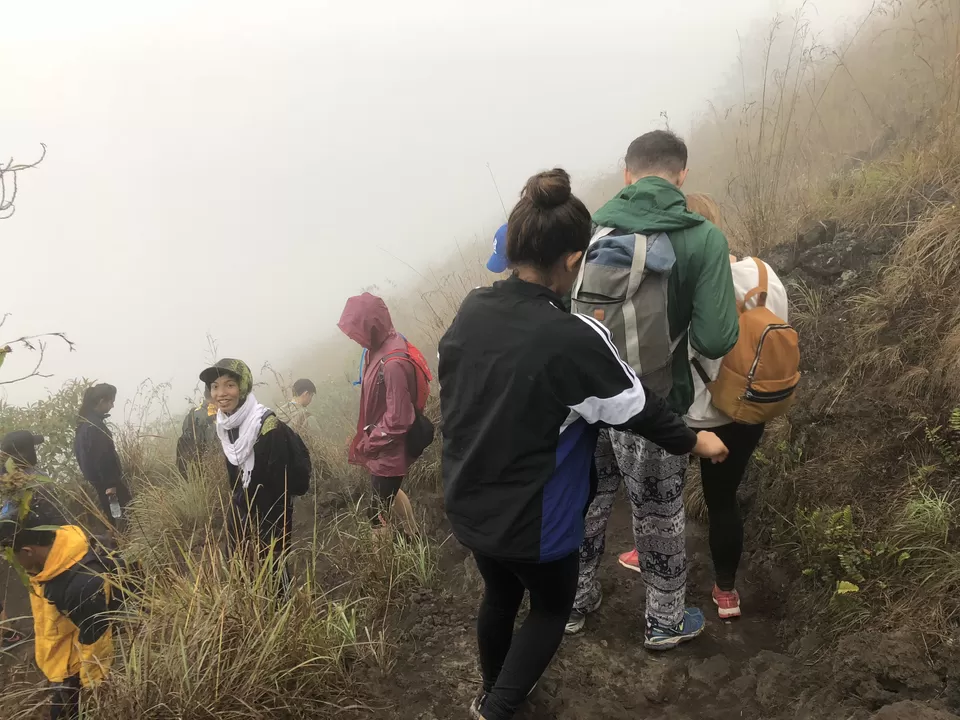 6:45 AM: We started our descend down the mountain as the crowd would get bigger as time goes by. The descent was looking to be not as hard but trust me, it is difficult to get a grip on the ground due to the loose soil. I managed to slip thrice even when I kept on holding on to the nearby rocks. I could see the path now and it was all rocks. You need to be more careful going down as it is easy to slip and hurt yourself. On our way down, we stopped at this spot to take photographs marking our victory to the peak. And Yoga also took us to this open crater hole where you can feel the volcanic steam coming out. He surprised us with us some tricks as well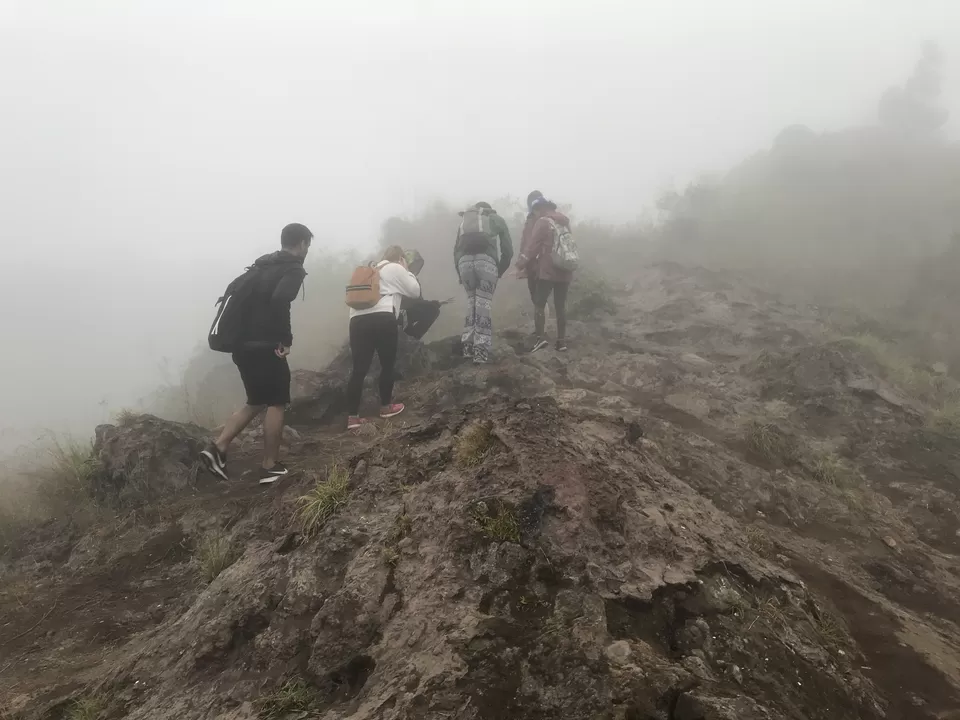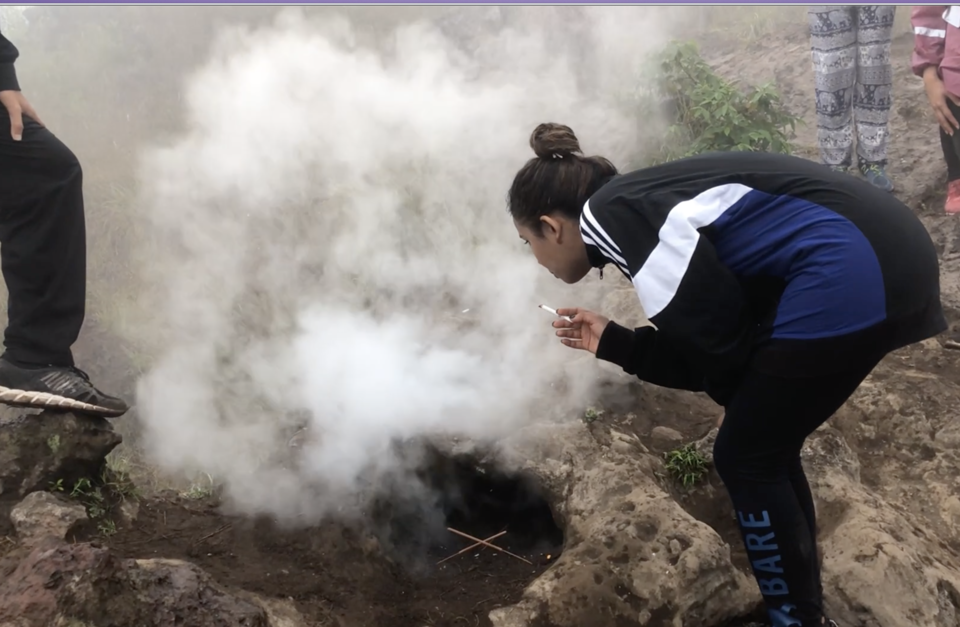 8.00 AM: It took us lesser time to reach down. We took a pit stop at a lookout which gave us a panoramic view of the valley downhill. We clicked some marvellous photographs, trying to capture the immense beauty. After the mid-point it was easier to walk, and it turned out that you can drive halfway. What a shame! Such experiences should only stay for those who choose to take an effort to go all the way up there, making their every drop of sweat count. We reached the point where we started and bid goodbyes to each other as we took our rides back to the hotel.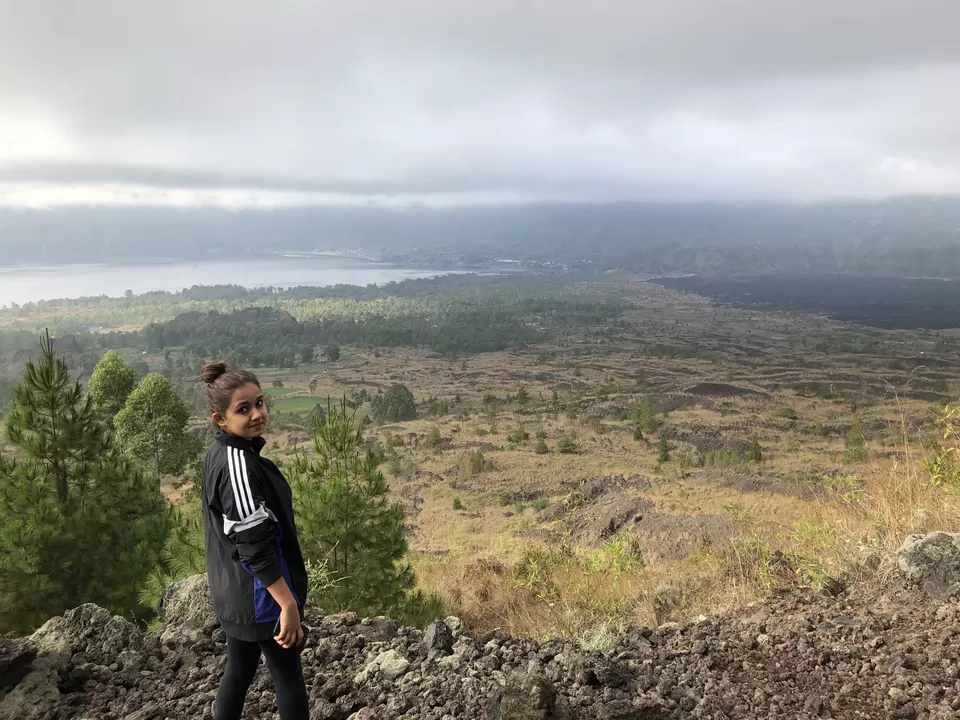 Lastly, I took one last glance back at the top where we were standing just a couple of hours ago, recollected all the memories made, tried to lock the picture of sunrise in my memory, and promised to come back again. My dear friend's grandmother once told her and she told this to me that sunrises are special because you make an effort to see it unlike sunsets, which can be witnessed by everyone. Only the ones who are willing to make an effort can watch the sunrise and this effort was worth making. We ended up rushing back to our hotel, freshened up, had some breakfast, picked up our bags and left for the airport as our flight was late afternoon that same day. But this experience was worth everything.
So at the end:
> Should you do this trek?
YES! Without doubt, this will be the best experience of your life
> How fit should you be?
Moderate fitness is alright. I don't do any kind of physical exercise daily but still I was able to finish it and so can you.
> How difficult is it?
The trek has three stages: Easy, Medium and Hard. The hard part is the last 15-20 minutes and you would survive.
> Duration of the trek?
2 to 2.5 hours climbing up and 1.5 hours getting down.