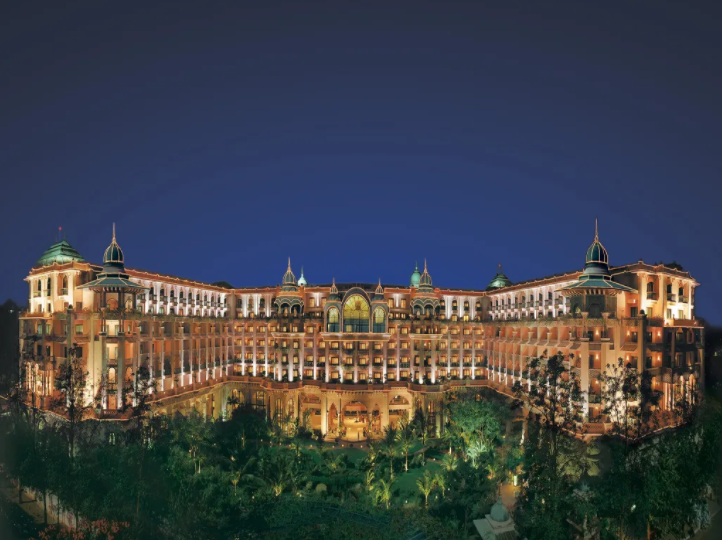 There are times when we all feel like indulging in luxuries!
This week, my sister and I, decided to get away from work and spend a day at one of Bangalore's best hotels, The Leela Palace in Indiranagar. We booked the Royal Club Suite room with the Suite Indulgence package and soaked in the royalty.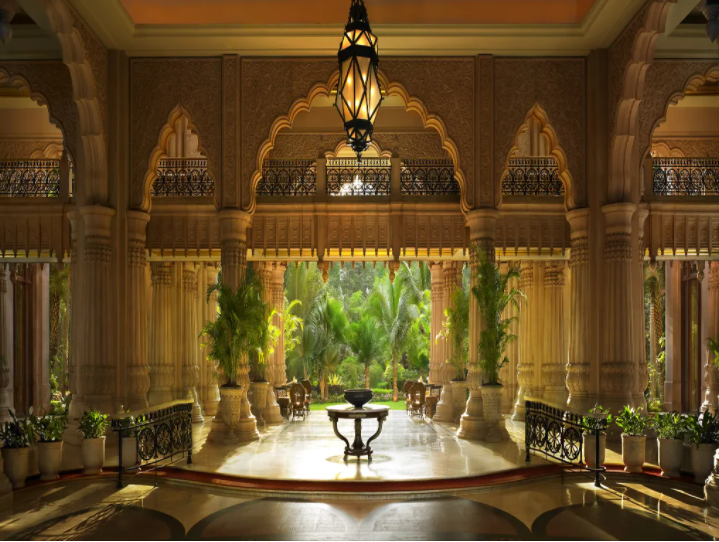 The Suite-
The suite was stunning! We felt like Princesses living in a royal palace. There were so many lampshades and chairs in the room. And there were 'four' telephones as well! (We used only one of them. :P) I am going to briefly describe the Royal Club Suite here, however you must watch the video I have attached below of my tour of the room. And trust me when I tell you that the room was huge and had so many things in it. (It took me 3 hours to record everything in the suite. )
1) The Bedroom:- The bedroom has a king sized bed with a soft duvet and a pillow selection menu. The cupboards have an iron, ironing board, torch, yoga mat, laundry bags and a safety deposit box. There is a TV in this room. There is also a comfortable couch and an attached balcony.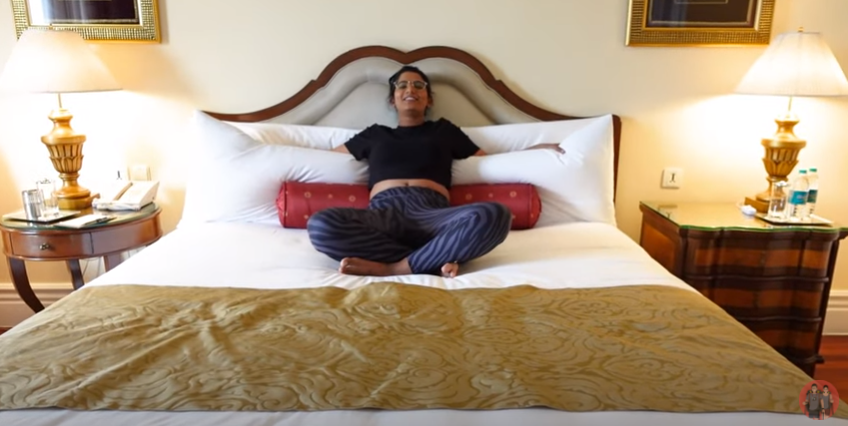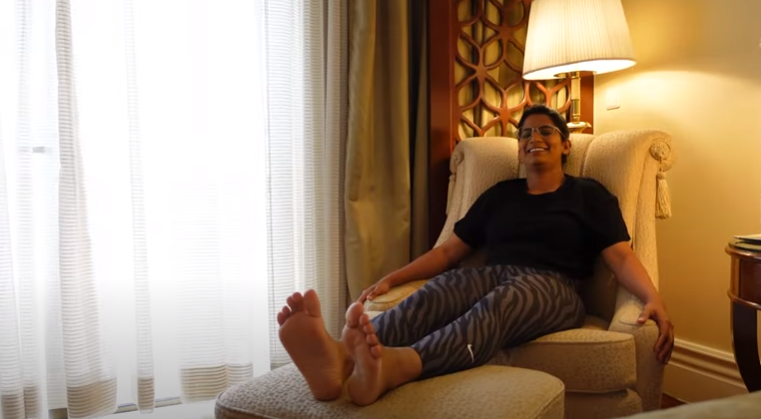 2) The Living room:- This room is enormous with a bunch of chairs and a table. There were fruits and chocolates kept for us. The room was a sight to soothe sore eyes for sure with royal interiors and plenty of mirrors, lampshades, and flowers.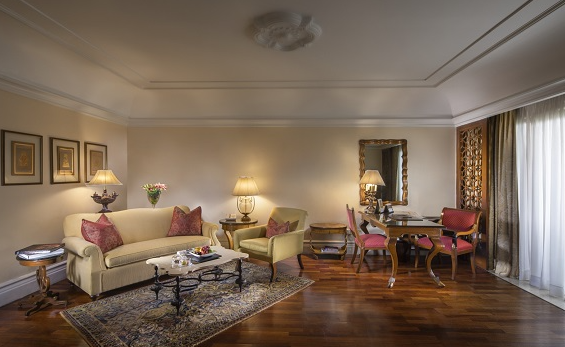 3) The Office space:- This is an extension of the living room which has a wooden table and two chairs. There are both domestic and international plug points to accommodate both types of guests.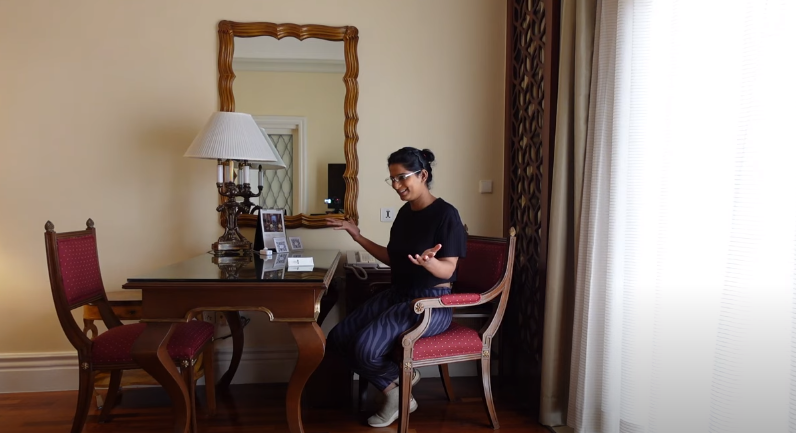 4) The Bathroom:- The bathroom is huge and has a separate room with the toilet, a separate shower cubicle with a 5 faceted shower and a separate bathtub. It has a huge mirror and a lot of towels, a couple of mineral water bottles, two bathrobes and plenty of luxury toiletries. In addition there is also a hair dryer and a shaving kit. Plus there is a phone in the toilet. (I wonder why? :P)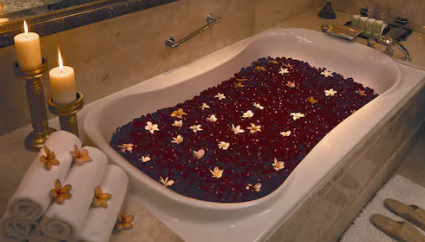 5) The Balconies:- There are two balconies: one attached to the living room and one attached to the bedroom. Both balconies are adjacent to each other, and being on the topmost floor, overlook the pool and the entire Leela property. The sunset from the balcony is picturesque!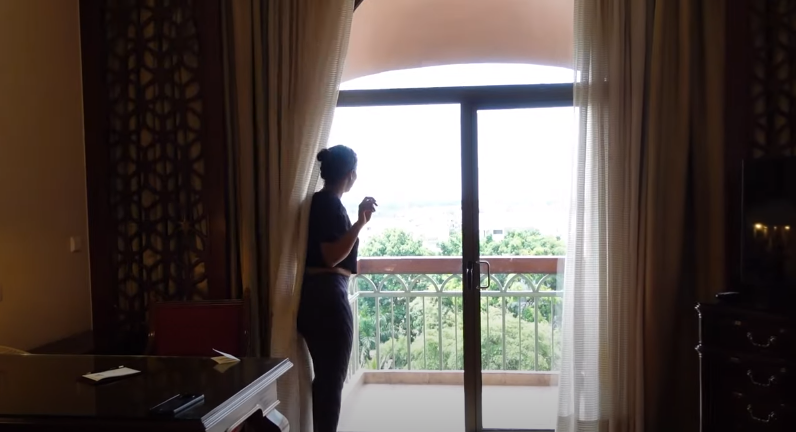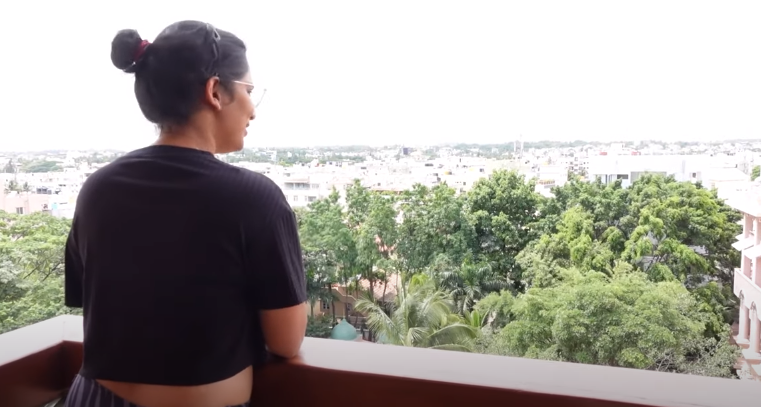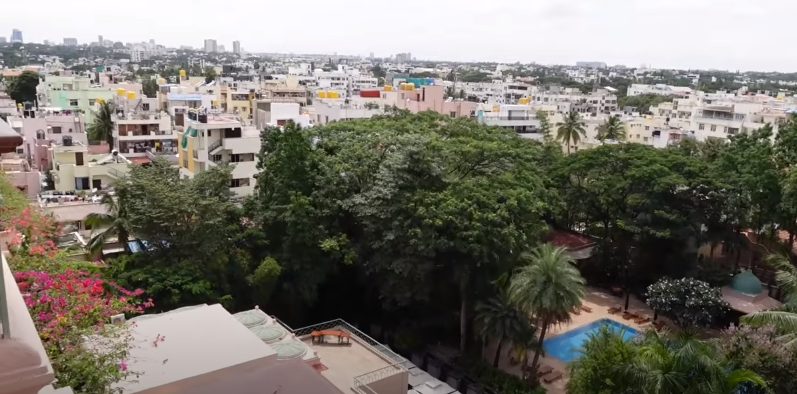 Room Perks & Inclusions-
1) Chauffer driven BMW arrival and departure: We had a chauffer driven 5 series BMW arrive at our apartment to pick us up. It arrived 20 minutes before time and patiently waited for us. Once we reached the car the chauffer efficiently placed our bags in the boot and opened our doors to let us in. The process was so smooth and quick. The BMW 5 series is really luxurious and the drive to the hotel was so comfortable. The chauffer gave us a couple of bottles of mineral water and a Sanitation kit called the 'Suraksha Kit' which had a disinfectant spray, hand wash, hand sanitizer and sanitizing wipes. The car also had Wifi which we did not use as the drive from our apartment to our hotel was really short. In addition, the chauffeur curated a music playlist for us which he played during the drive on a sound system with incredible sound quality.
While going back my sister was dropped to the airport and the chauffer accompanied her till the end. She didn't have to carry her bags at all. The best part is that she got an accelerated check-in process.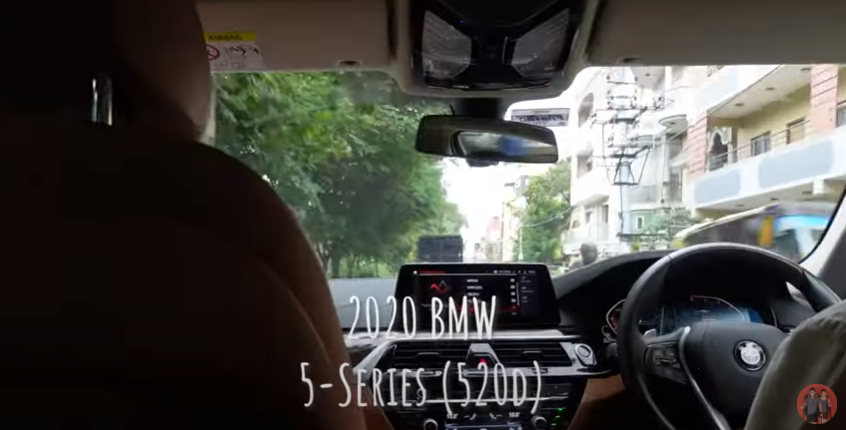 2) Early check-in and late check-out: The regular check in time is 02:00pm and check out time is 12:00pm. However, you can choose to check-in earlier and check-out later if the room has no other bookings. So, we chose to check-in at 12:00pm instead to get the most out of our stay.
3) Private express check-in: As soon as we arrived we had a butler waiting for us. She accompanied us from our vehicle to a private check-in area to a private elevator to our room in less than 5 minutes! And when we entered our room our bags also were already there. Everything was so swift and flawless!
4) Complimentary deluxe room: If you have a child under the age of 17years accompanying you, you will get a complimentary deluxe room where the child can spend the night on his/her own. However, since we were only two adults we did not avail of this facility.
5) Round the clock butler service: Have you ever been envious of Richie Rich for having Cadbury who takes care of literally everything? Well this is your opportunity with a personalized round the clock butler to take care of all your needs and fancies. We took full advantage of this service by asking the butler to schedule all our activities and meals for us and to keep our bath ready for us in time for us to get back.
6) Breakfast Buffet at Citrus: A sumptuous breakfast buffet with every breakfast food you can possibly think of awaits you at Citrus. We went for four rounds: first we had a round of Indian breakfast foods; Second, a round of English breakfast; third, a round of sweet Western breakfast foods like pancakes, waffles etc.; and finally, a round of pastries. Keep in mind that five star hotels have separate pastry chefs and the pastries are therefore some of the best in the city!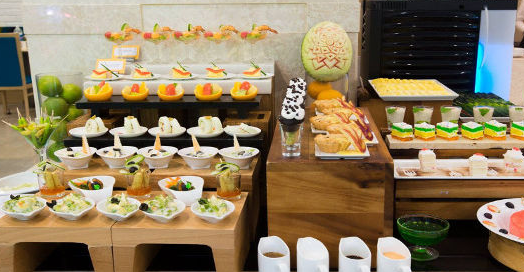 7) Chef curated 3 course meal: A three course specialized meal can be availed either for lunch or for dinner. We chose to have it for dinner. However we were not entirely happy with this experience as we were asked to join the dinner buffet instead of actually getting a specialized chef curated meal. So my suggestion would be to inform your butler about this during the check-in so that the chef gets adequate time to prepare.
8) Complimentary sunset cocktails: You have access to two hours of unlimited complimentary cocktails at the Library Bar. We reached the Library Bar at about 07:30pm and ordered three rounds of cocktails till 09:30pm. The bartender was super friendly and a great conversationalist. He curated cocktails for us based on our likes and dislikes and demonstrated the whole process to us in a fun and entertaining way. The cocktails were also accompanied by vegetarian or non-vegetarian appetizers. We received two plates of each.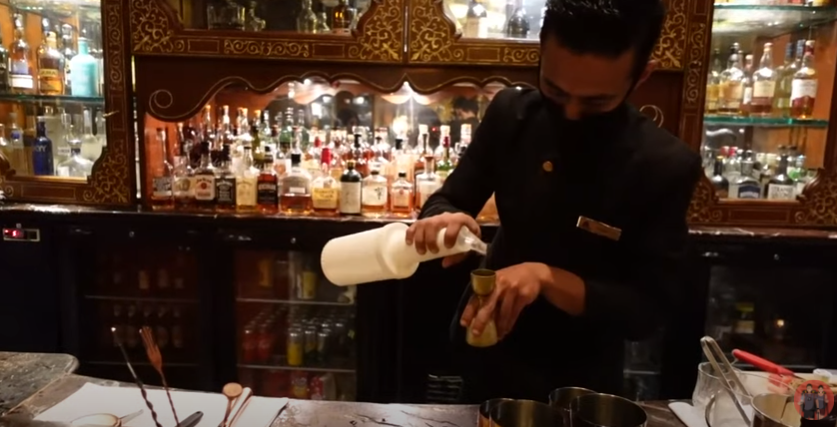 9) 'I cooked with the Chef at Leela': We got an opportunity to learn how to make the Chef's special Pork Overload Pizza from scratch. Soon after we checked-in, the butler organized a call with the head chef at Citrus who discussed our food preferences and recommended dishes that we could learn. When we reached the place the sous chefs were waiting for us. We received aprons and an envelope that contained the recipe of the Pork Overload Pizza that we were going to learn to make. The tutorial lasted for around an hour and was a lot of fun. Following that we got to savor the delicious pizza fresh out of the oven.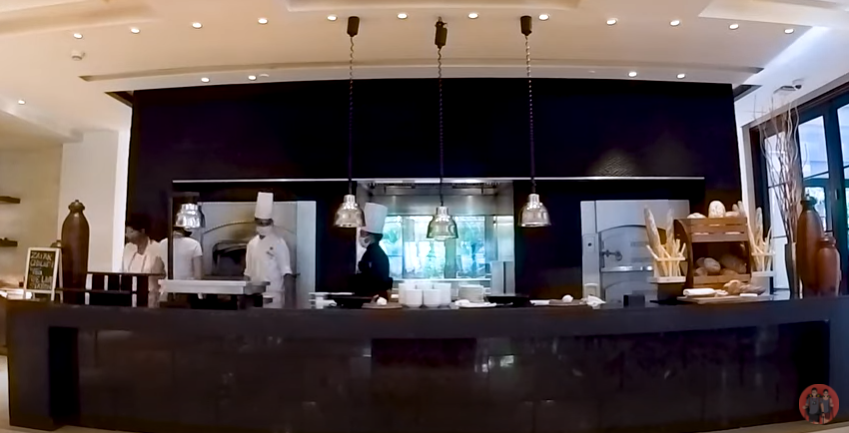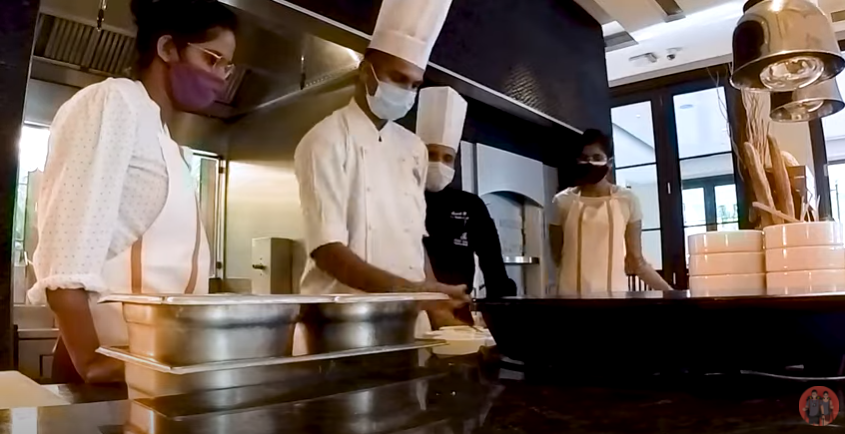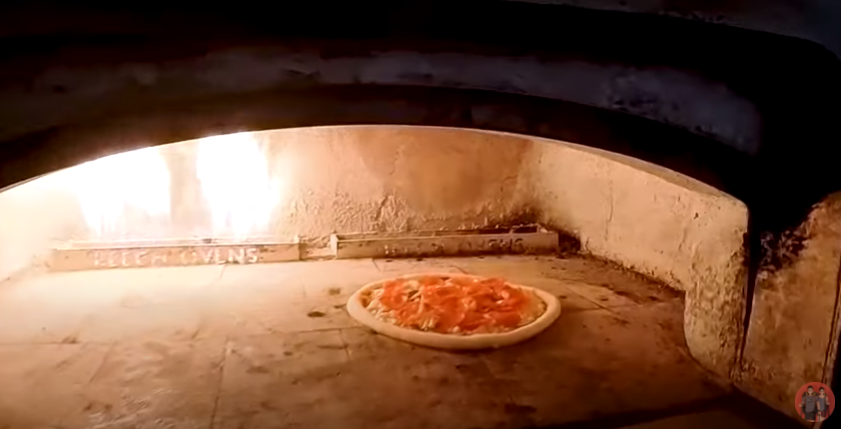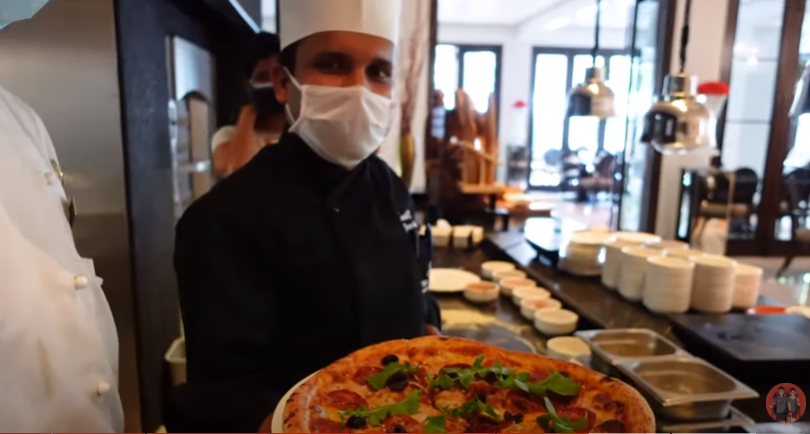 10) Privileged access to the billiards room: The billiard room is located on the 6th floor. Only guests who are staying in the Royal Club category of rooms have access to the Billiard Room for a game of billiards.
11) Privileged access to the cigar lounge: The Cigar Lounge is also located on the 6th floor and only Royal Club guests have access to it.
12) Privileged access to the champagne room: The champagne room is another facility that is available only to those residing in the Suites.
13) Private dining: You can choose to have a private meal at any one of the 5 restaurants at Leela Palace. The butler will ensure everything based on your likes and preferences is arranged for you.
14) Access to Royal Club Boardrooms: This board room is a perfect place for meetings with an area of 700 square feet and a seating capacity for 20 people. Plus, with your round the clock butler at your service your meetings can be seem less.
15) Swimming Pool: Leela has a pristine beautiful pool. Unfortunately, currently due to Covid19 the use of the pool is not allowed to ply with Government regulations. However, my sister and I sat on the pool deck and sipped cocktails which was also quite fun.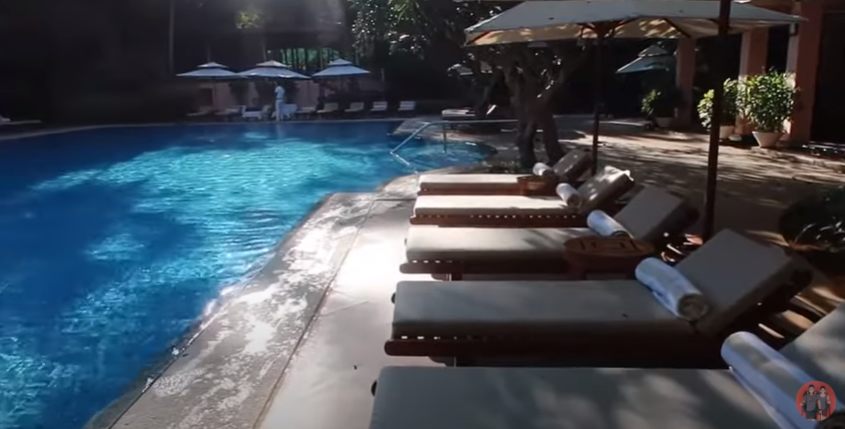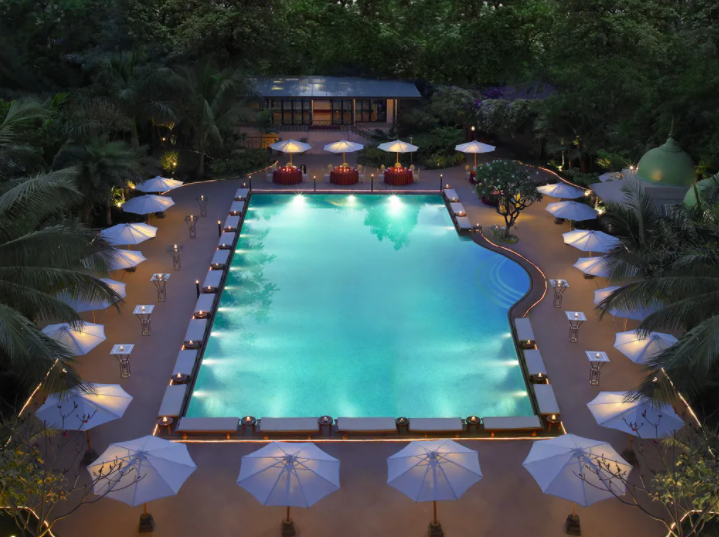 16) Spa & Wellness Center: At an additional charge you can avail the spa services offered at Leela Palace's Spa. As part of the Suite Indulgence package you can avail of a Swedish full body massage at Rs4400. The regular rate for the same is Rs6000. The services here start at Rs3500 for a 30minute foot massage or 30 minute back massage. The Spa is open from 7am to 7pm everyday. Steam, sauna and jacuzzi are services that are complimentary with availing a spa treatment but may be shut due to Covid19 so make sure to confirm this at the beginning.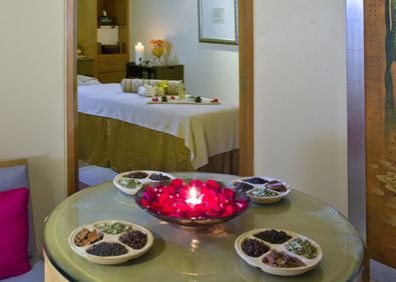 Restaurants-
The Leela Palace Bangalore has 5 restaurants:-
1) Citrus- Citrus is Leela Palace's all day restaurant that serves continental cuisine and is ranked among the best five star hotels that offers a buffet. Breakfast, lunch and dinner buffets are all scrumptious and will leave you spoilt for choice. And I mean it when I say spoilt for choice, every time I head to Citrus for a buffet I always end up tasting only 50% of the dishes that are served.
Location: Lobby level
Timings: 06:30am-10:30am for breakfast, 12:00pm-03:00pm for lunch, 12:00pm-04:00pm for Sunday brunch, 07:00pm-01:00am for dinner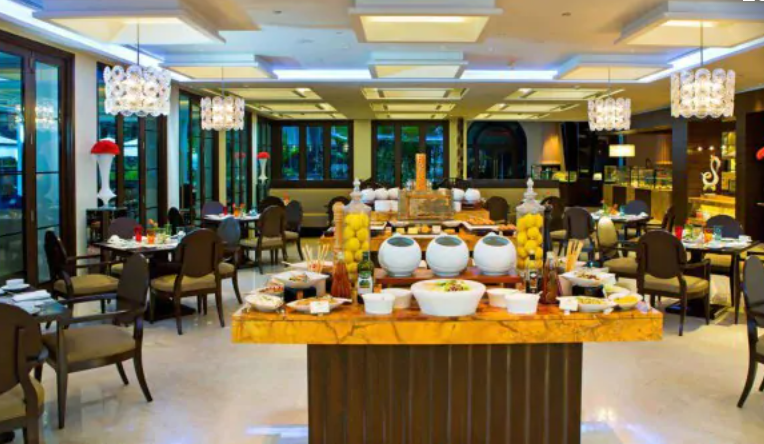 2) Zen- Zen is the most sought after restaurant for Pan Asian cuisine in Bangalore. It serves the best of Japanese, Thai and Korean culinary wonders. The interiors of the restaurant revolve around the theme of lights, space, symmetry, color and movement. I recommend the sushi platter here that is absolutely delicious.
Location: Lobby level
Timings: 12:00pm-03:30pm for lunch, 07:00pm- 11pm for dinner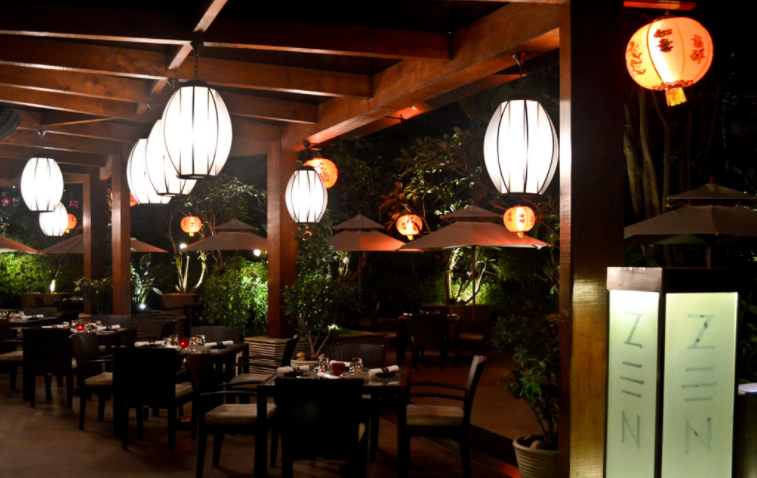 3) Le Cirque- Le Cirque is probably the most exclusive and finest restaurant in Bangalore with access only to guests. This is a Franco Italian Restaurant with Master Chefs meticulously preparing Italian gastronomic masterpieces focused on colors and textures. The Le Cirque is designed with subtle tones of beige, ebony and ochre and has a grand Murano glass chandelier hanging from its ceiling that is simply stunning. I visited Le Cirque for a birthday celebration. The food was the best I had ever tasted and the complimentary birthday cake they gave us was also mouthwatering.
Location: fifth floor
Timings: 06:30pm- 11:15pm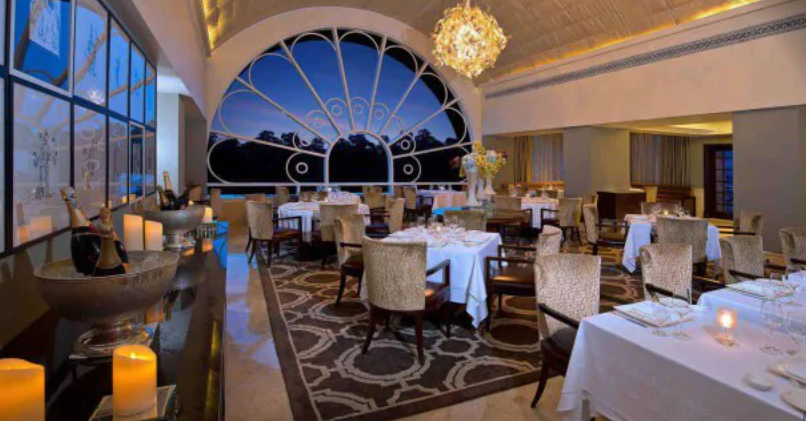 4) Jamavar- Jamavar is an award winning premium Indian specialty restaurant that serves gastronomic wonders of traditional Indian cuisines that were once feasted by the Maharajas. This restaurant is adorned with intricate Jamavar wall paintings with pure gold leaf and vegetable dyes. I can vouch that this restaurant is definitely one of the best for elevated Indian cuisine.
Location: Lobby level
Timings: 12pm-3pm for lunch, 7pm to 11:30pm for dinner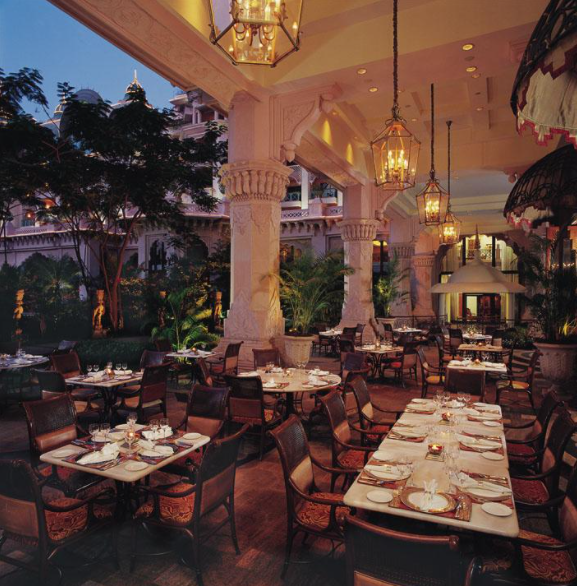 5) Library Bar- The Library Bar is a watering hole for those who seek the finest in life. This place houses a collection of some of the most rare and most expensive alcohols in the country. The bar has leather and dark wood interiors and has a style that represents a splendid Victorian heritage. The bartenders here are trained to curate personalized cocktailed that are truly innovate and tasty.
Location: Lobby level
Timings: 11am-11:30pm
Price-
Rs. 23,180 + 18% GST
So basically we had to pay Rs. 27,352 for the Royal Club Suite Indulgence package. Plus, since I paid with a debit card instead of a credit card they swiped another Rs5000 as security which they transferred back to my account within a week.
Booking details are available here.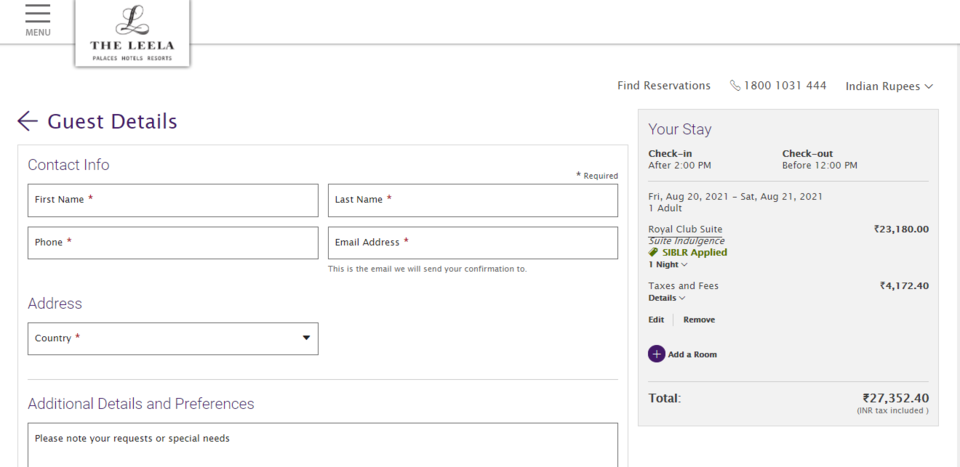 Review-
I think that the experience was fantastic and completely worth the price. However, I am aware that Covid19 has dulled down some of Leela Palace's splendor. Nevertheless, it is evident that the management and staff are giving their absolute best to make the experience of staying at The Leela Palace perfect! Looking forward to my next stay here!
Subscribe to my YouTube channel and follow me on Instagram to explore the world and uncover its beauty through my eyes!