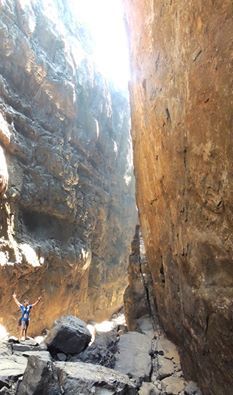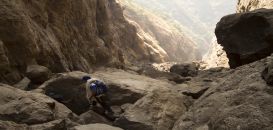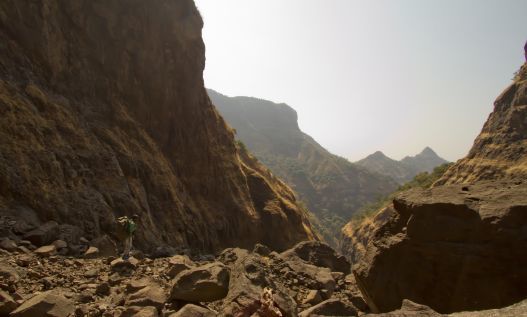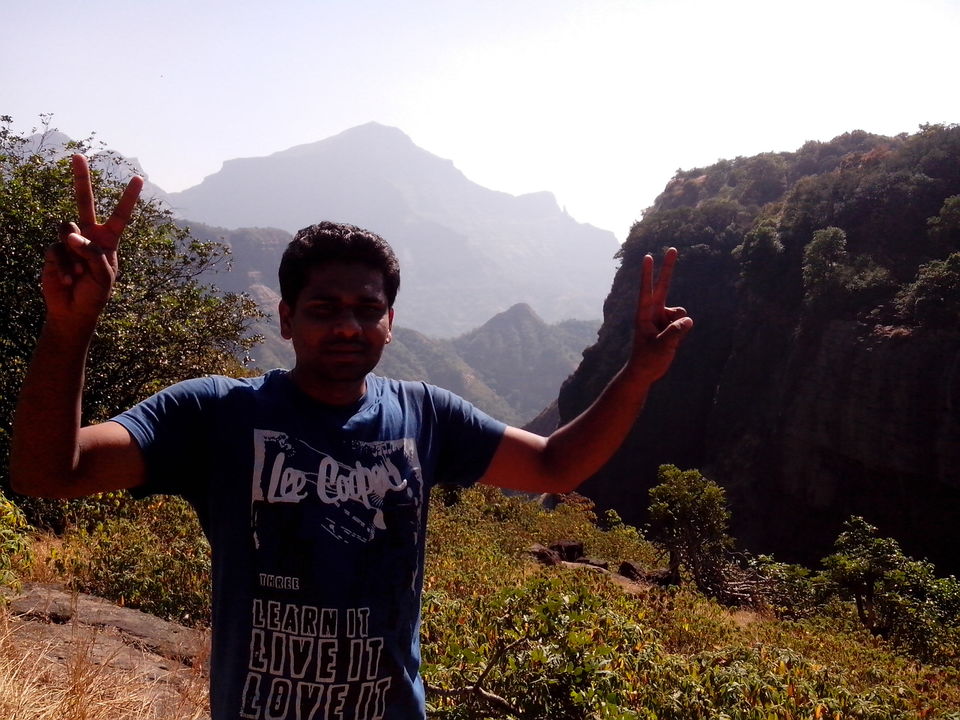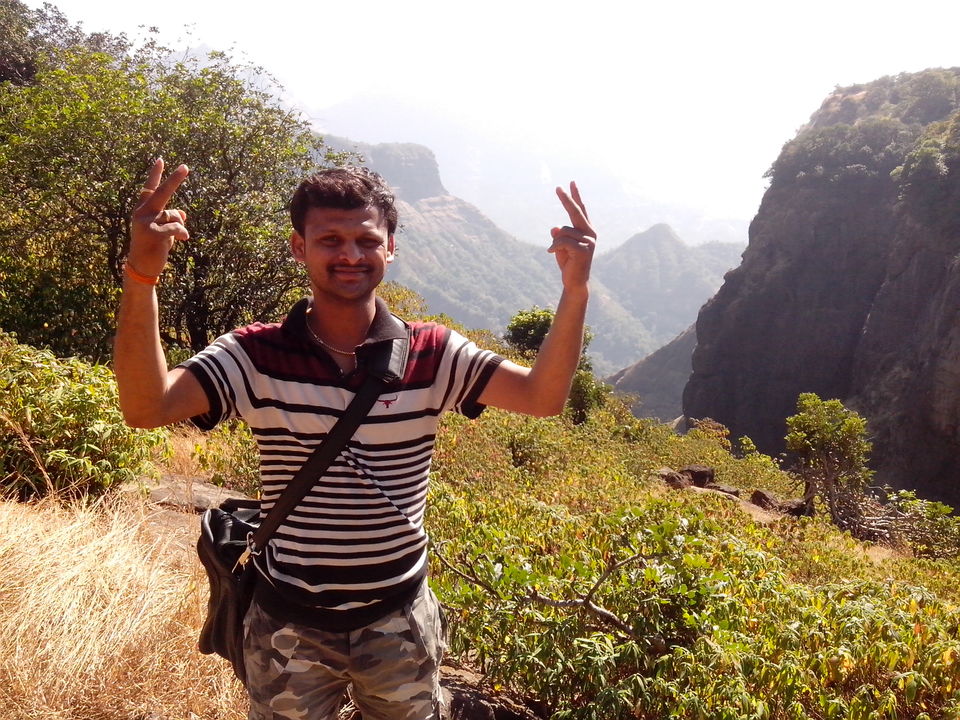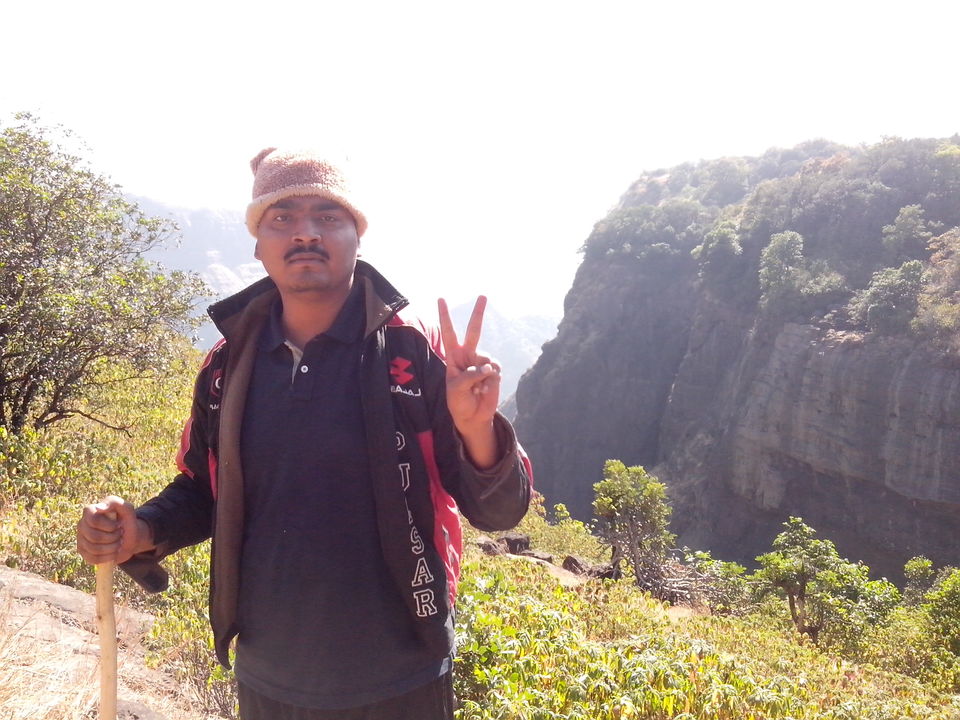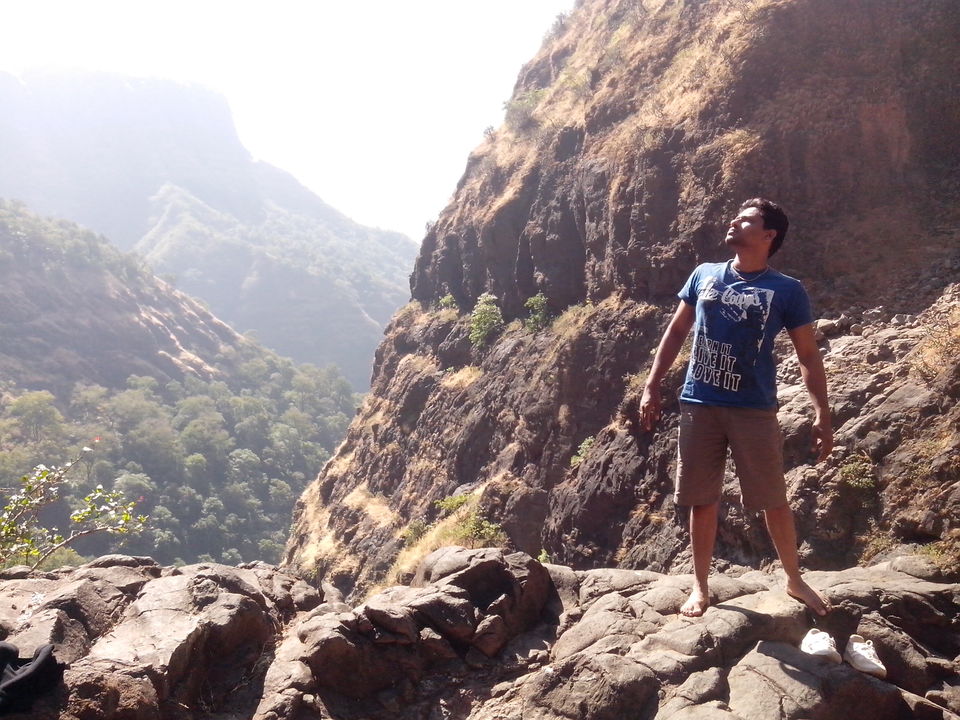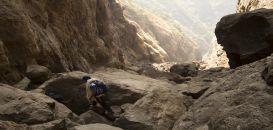 TWO DAY TREK IN VALLEY OF SHADOWS a.k.a. Sandhan Valley
I was Fan of Die Hard but not as die hard[pun intended] as after this trip to
Sandhan valley it is a 2.5 km long valley
surrounded by sheer rock about 300-400 feet long and
the valley is just about 10 ft wide at its narrowest point and with irregular rocks
and boulders scattered around makes it trekkers delight;
like what bruce willis said
when he is told by boss that all he has to do to pick up some kid...
but it turns out to
be great and
dangerous adventure
Bruce Willis:
"[mocking his boss] "Can't be a uniform John!" [to bystander]
"Feds called in a favor!
All you got to do is go pick up a kid (groans) in Jersey and
drive him down to D.C."
how hard that can be,huh cant be that hard,No,can it?No"
Thats what I Remembered when my friend MAHESH and
SANTOSH called me to plan
trip to Sandhan Valley;Nothing just go there ...step down some
little hill...
float in small pond and come back...
nothing fancy.But after pleasant drive from
Lonavla to Bhandardara approx of 7 hours with zig zag
route to small village of Samrad in Ahemadnagar
I got know what I they are upto when I saw range of
mountains like highest peak of Maharashtra 'Kalasubai',three peaks of Alang,
Malang and Kulang thrust into sky.Famous Harishchandragad is nearby.
But the area was heavenlike with greenery all around and several waterfalls.
and several waterfalls scattered all around especially in Rainy Season.Its good place to
camp here near plains of samrad village to camp out and enjoy the galaxy of stars in the night
After going to Samrad Village we met our guide Anil and helpers Maruti there.
they collected all the rappelling stuff and all the utensils to cook.
We roamed for 15-20 mins towards valley.I got know the what trip was,
when i saw the mouth of gigantic valley with scatterd rocks of size of two storey building.
Still I summoned my courage said to myself lets do this quickly and get to the pond
and come back.
but after some time climbing down, I told told our guide Maruti
that I want to go back to pavillon.
he smiled and said "look back".I was gasped when i saw that those mammoth
rocks and boulders of around 70 feet were impossiable to climb.
then there was only one choice left for me to go forward!!!
After some it was like going in going in big snakes body with darkness all around.
We gazed all around and there were only rocks of sizes one on another.
It was scary sight.
I am not Spiritual Person;but while climbing down I got spiritual thoughts like
Why this is happening to me?
Who on the Earth planned this trip?
And at the end of trip I started to believe in GOD!!!
By the way below is the photo going throgh valley.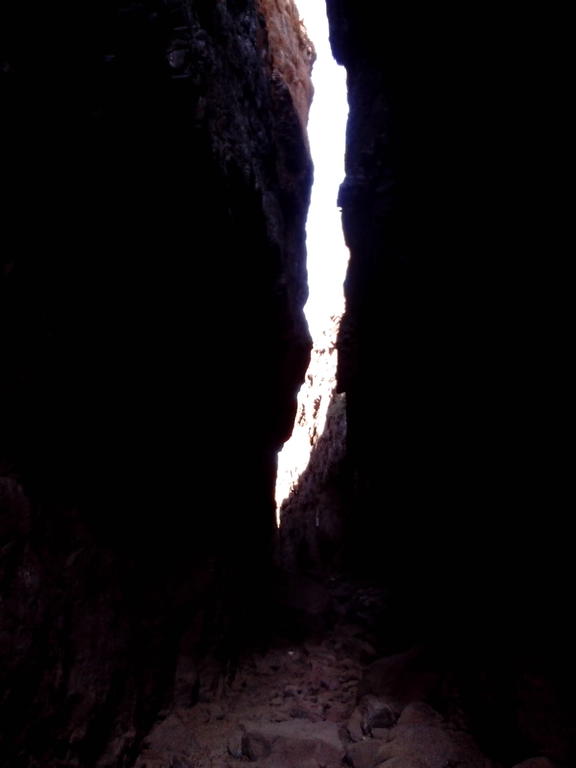 .
Then we got to point where we have to go through ice cold water of mans height
for some 50 feets with all the shoes and backpack in hands.Then actually
down ward trek begun,with a lots rocks on the one on another
it was hard to maintain balance on them.After approx
one hour we had sumptuous lunch prepared of Bhakri and Pithale
prepared by our Masterchef Maruti.After small nap
we resumed trek with reluctance.we fill so much belittled by
natures gigantic strength and beauty at the same time.
we were surrounded by gigantic rocks and valley;
"like rat in trap".
Then we arrived at rock patch of about 50-60 foot where we have rappel down.
Its pretty easy for normal guys but for me it was horrible but great experiance;
Since how wire of one inch width can support guys like me.But thanks to our
experianced guides and great motivation & ridicule
from my friends not to forget Law of Gravity i came down safely ...ha ha...!!!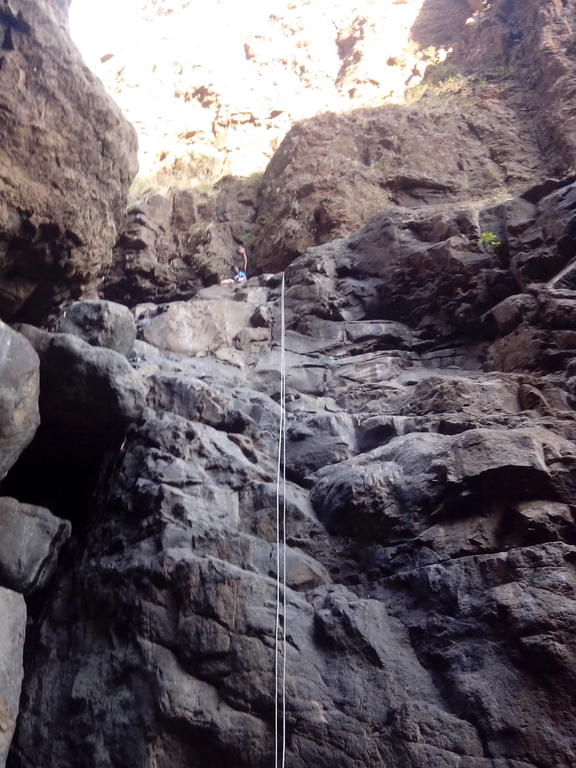 above Rock patch for Rappelling of aprox 60 feet
There were two small patches of rock where we have to use wire to climb down
from above. After 7 hours of climbing down approx at
7 PM finally we saw some what plain surface with pond with lots of water.
Our cook started to prepare for Dinner.With readymade spot made for oven 'Chul'
in rock itself
We roamed for some time.
we got the rare chance to see Dance of stars at night from aperture created by
10 feet wide and 250 ft long walls.
Great dance of stars which we rarely see in our urban areas.
We enjoyed Great dinner prepared by our Masterchef with friends.
Then tent was set up and chatting started about how innocent
we were when we planned the trip.Because for any trip we need to have proper
backpack not travel bags like us and normal gear like Night Battery,
Trekking shoes,Lighter,Crepe Bandage for emergency,power bank for mobile.
Thank god we had experianced and skilled guide for this place.We slowly
went sleep as mischivous Wind started to roam in the valley.
In the Fresh Morning we started our upward journey back to Samrad Village.
It was no big deal as always just to cross three mountains with
some Medium [Very for me] rock patches with no rope!!!!
it took us 6 hours to go upward but great thing between that at this height also there
we found watersource nearby created by water strems dried after mansoon.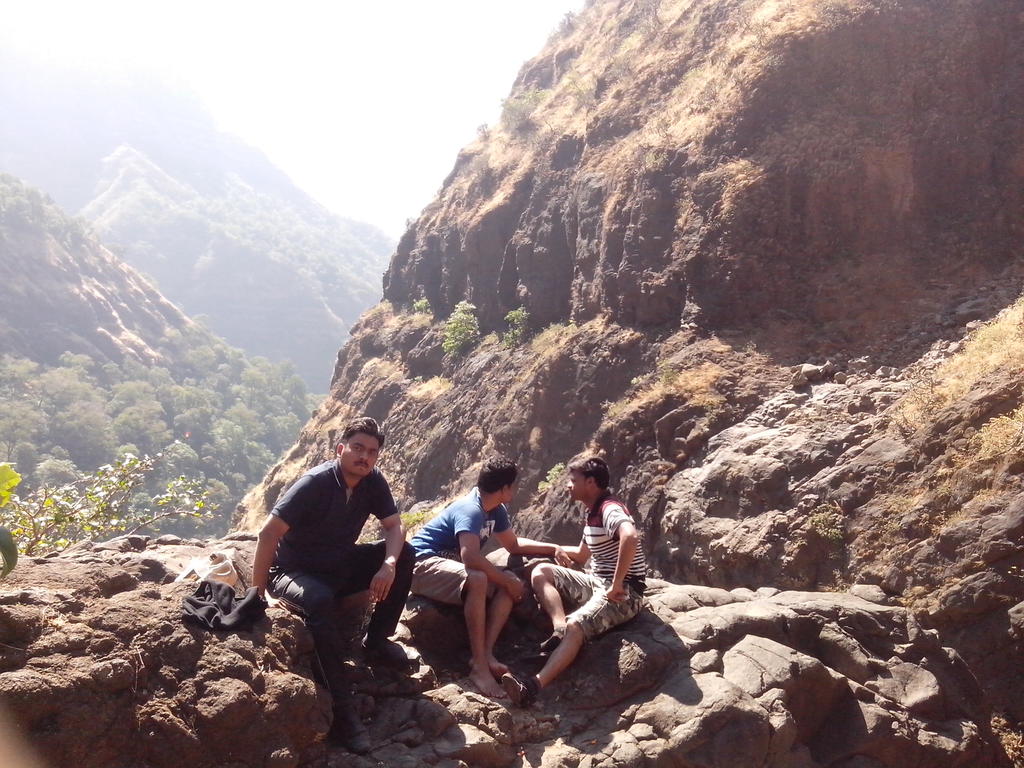 [ resting after Hardest rock patch]
after some long upward climbing for about hour or so we got to top of sandhan valley
to my dear plain surface!!!
got refreshed with tasty Nimbu sharbat and Dip in Cold water at Bhandardara dam nearby.
It was great experince to remember!!!
spot on the map[thanks to shrikantescapades.com]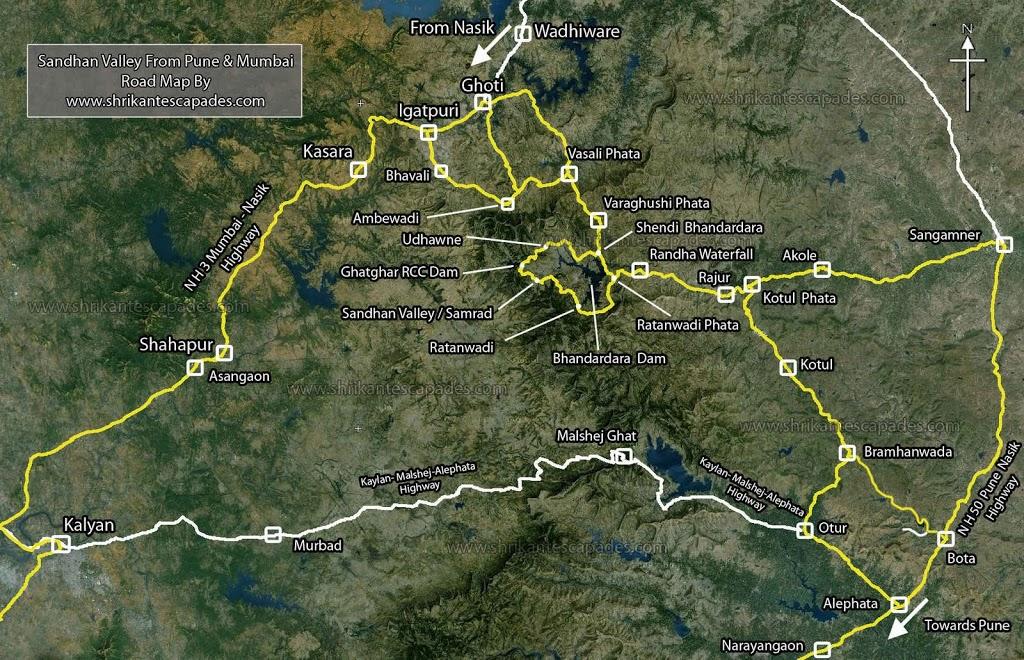 Some facts of Trip
Distance from Mumbai 185 kms
Height of Valley around 2000 feet not sure.
Water bottle and glucose.
Precautions
Get the Guide.
Trekking shoes.
Extra pair of clothes.
Tent sleeping bags provided by guides.
Route to Valley
Igatpuri - Shendi- Bhandardara- Ghatghar dam- 20 km and Samrad Village.
search on the internet for guides and nearby places to go which we missed as
it was short trip of 1 and half day
and For people like me Embrace the adventure; you not as bad as you think.
Sandhan valley is a water carved valley around 200 feet deep. Sandhan is located near beautiful Bhandardara region near village called Samrad. Samrad village and Sandhan Valley is surrounded bu Alang,Madan ad Kulang mountains. This place also has Ratangad,Ajoba and Kalsubai mountain ranges. Kalsubai is the highest peak in Maharashtra spanning 5400 feets.
Frequent searches leading to this page:
maharashtra tour packages from delhi, top maharashtra tour packages with price, family holiday packages in maharashtra, honeymoon packages in maharashtra, honeymoon packages from mumbai, international honeymoon packages from mumbai