After Sadhana Forest, I had to find my way up to Arrah to the Vasudhaiva Ride – Bihar Project, (somewhere I've never been before) to volunteer. My journey started onward such - I got a lift from Auroville to the main road, then hopped on to a local bus for a half hour ride to Pondicherry, then on to a state bus to Chennai, a four hour ride, then on to another local bus to Chennai central, 20 mins and then finally laid my bags down to rest in the train that'd be home for the next 40 hrs.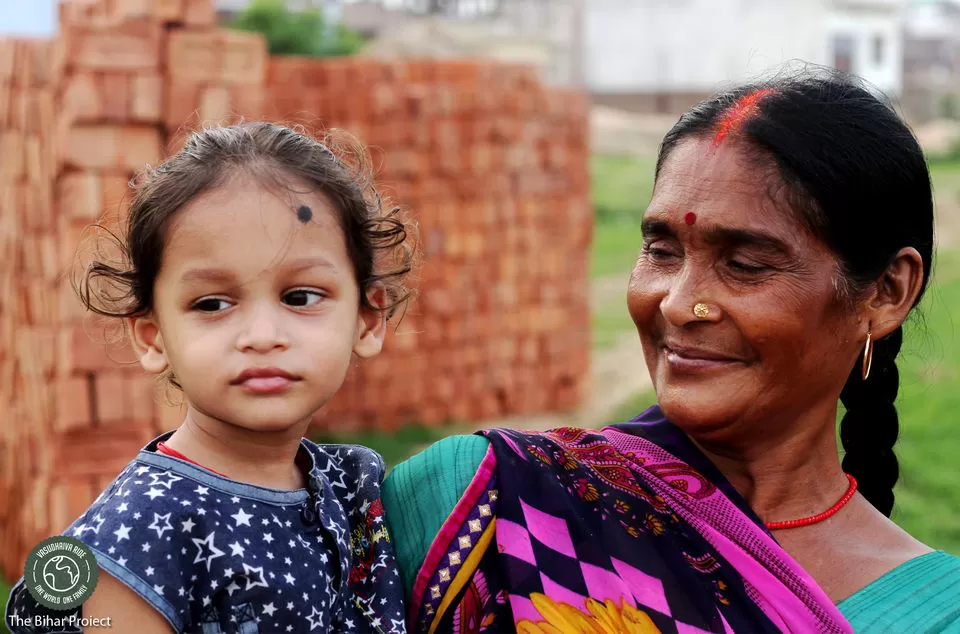 The first time in Bihar – Arrah, I didn't even know the place existed until this project came about my way. The stories I've heard about this state made me feel very differently before visiting compared to the truth of what I found once I was there. I'd pass on the one message I've learnt from this, 'travel to the places termed doomed and unveil the truth'.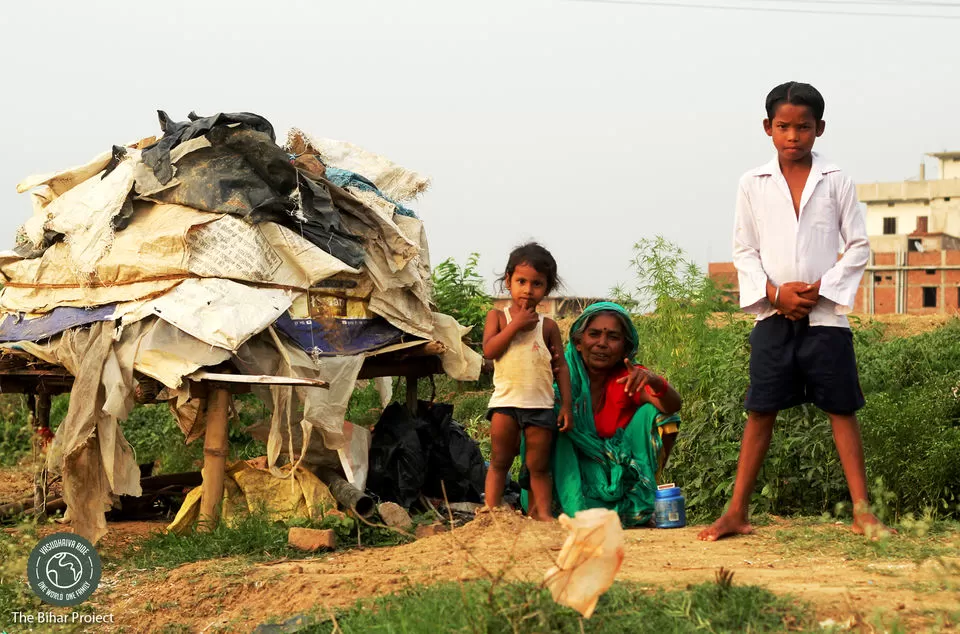 The Vasudhaiva Ride is a two year long project driven, motorcycle ride, from India to Scotland by Ben Reid Howells and Prashant Kumar. This community supported & driven ride was initiated start of 2017, the aim is to connect people for sustainable living, peace and community well-being via multiple projects carried out along the way.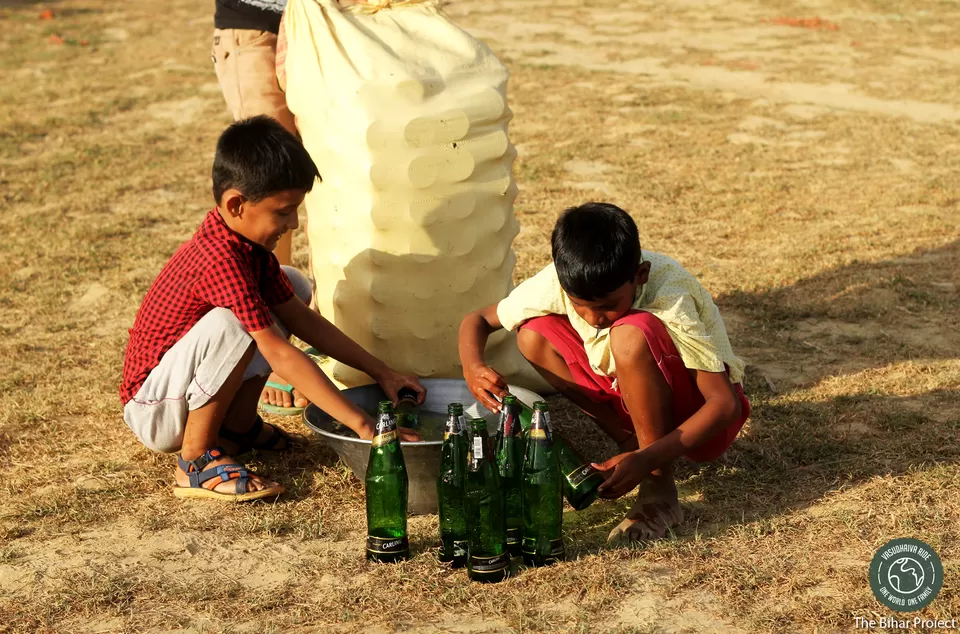 The Bihar project in particular, is the third project thus far, Prashant is born and bought up in Bihar, and has taken up this opportunity to create an uplifting platform for a better lifestyle there. The project is the creation of a 'functional art piece of human housing', a place to get inspired towards up-cycling & recycling, natural construction, urban gardening, etc.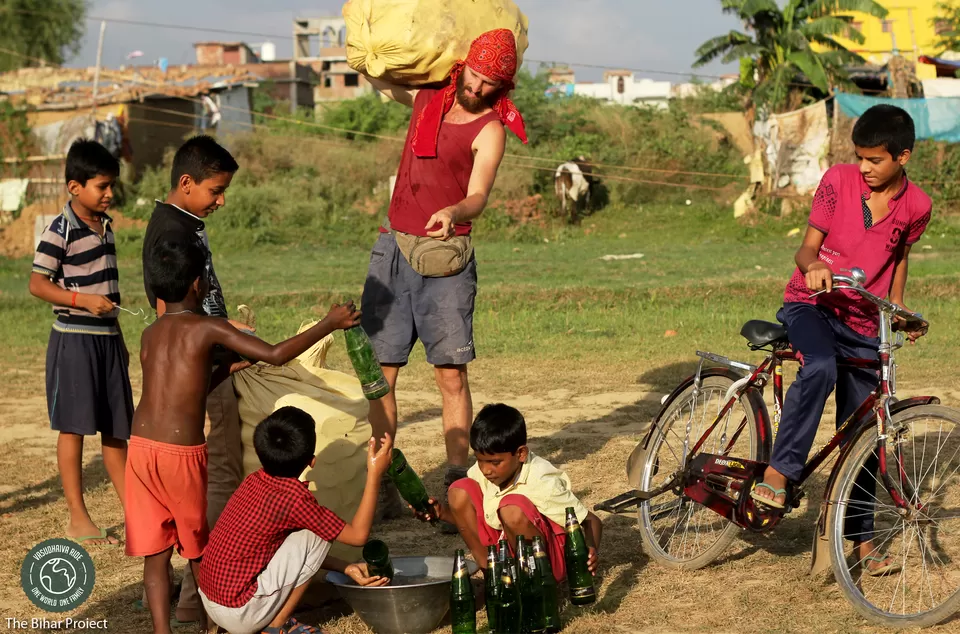 The project is underway till the end of September'17, which leaves room to be a volunteer with them and experience Bihar differently. Once the ride is complete, the space in Arrah will be transformed to a community skill development center and will be used as a model house for sustainable development & living. A living art piece, en route your travels.
The Vasudhaiva Ride is not backed by any NGO or corporate, the duo have taken it up independently and are passionate about keeping it community driven. Support them through their ride till the end of 2019 as they move across various cities & countries to reach their final destination. Follow this space with them on their official website to stay tuned for future announcements/ activities, and to get involved. Watch this video to know more;
My experience:
The 15 days with Prashant, Ben and the rest of the global volunteers was an experience in itself. I joined them at the start of the project, basically at the time, the foundation laying work had just begun, where cement & metal was used since the allocated land is mostly loose clay and quite prone to flooding. The day would start with a batch of helpers out on the field by 6am, making the most of the cool daylight hours. Mistries, labourers and volunteers (from the project and around) working towards this build, slowly raising their faith in the collective vision.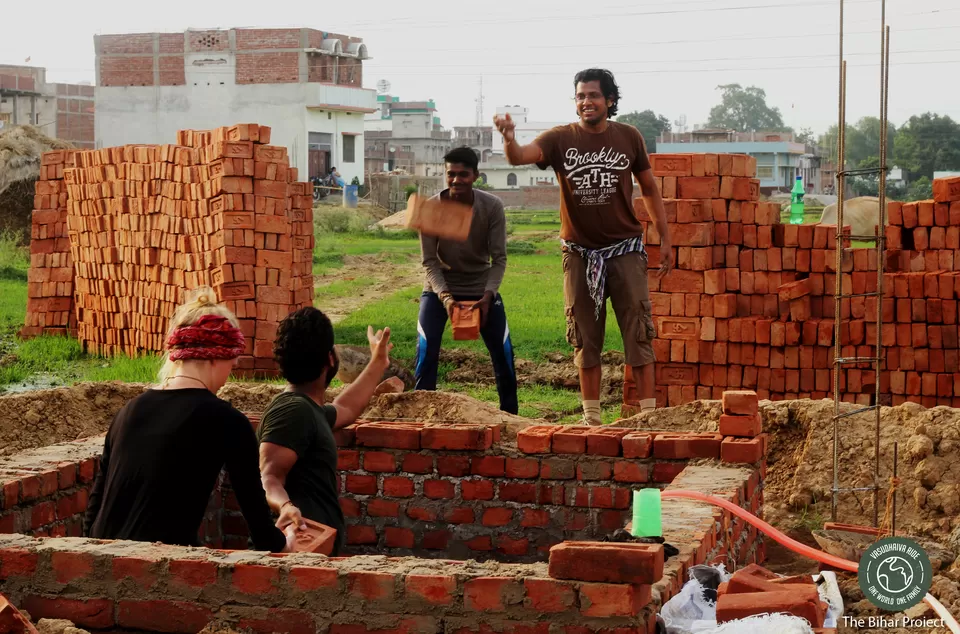 The second half of the day was used to create a sense of community among the residents of the surrounding area, including the kids, teens, young adults and adults. We'd spend the evenings with the local youth, helping them with their studies, general knowledge, playing games or just simple conversations that would double up as counseling/ mentor-ship.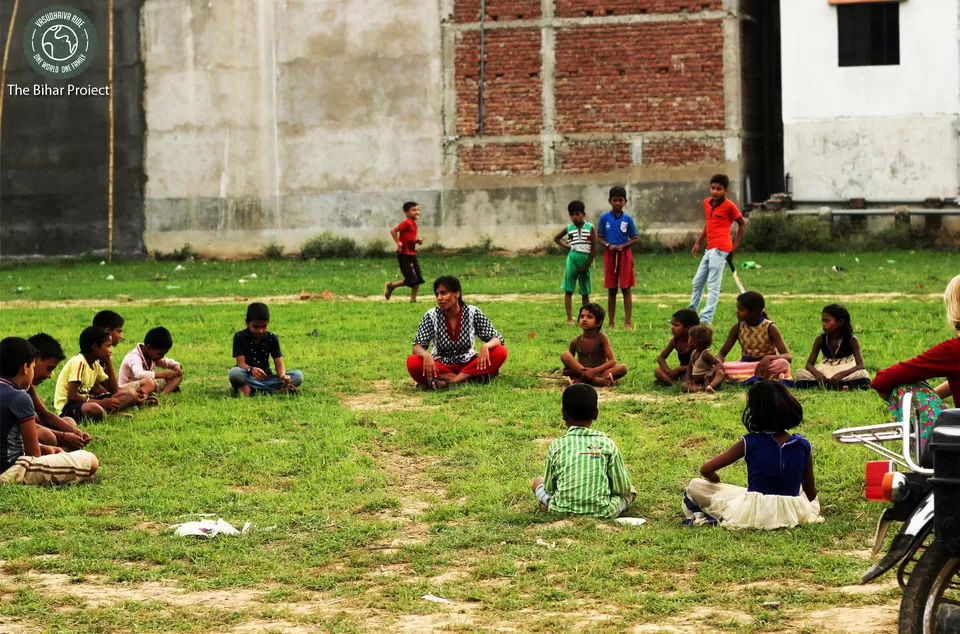 A small curious audience of one turned to thirty within a couple of days. Soon enough we had enough help hands to carry out small tasks, like one day, we did a bare hand garbage clean up along with the kids, which made a solid statement for the adults around. Garbage & waste is definitely a problem here, the system for proper disposal and pick-up just does not exist. Fortunately an initiative of this nature will open new doors for sustainable living & thinking.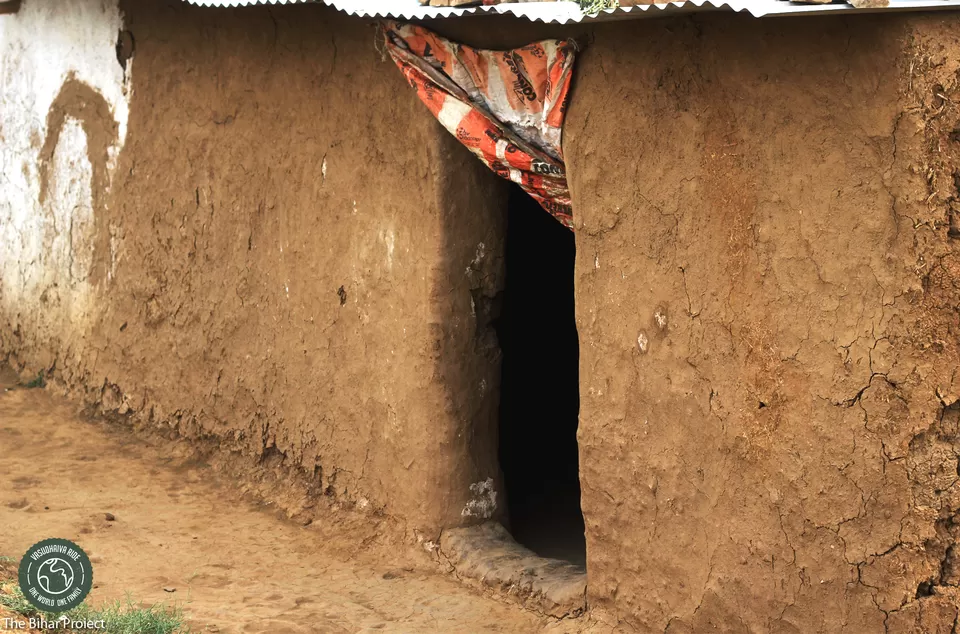 The place is no doubt one of the most beautiful I visited on this particular journey, a sense of rawness with culture mellow and vibrant. The city infrastructure is far from accommodating, but it is important to understand that it is a low economic state. The land is rich with some high quality clay and fireflies everywhere. I made a miniature kitchen set for a 6 year girl named Lucky. She was on kitchen duty for the next few days, serving out dishes faster than the bath house servants from 'Spirited Away'.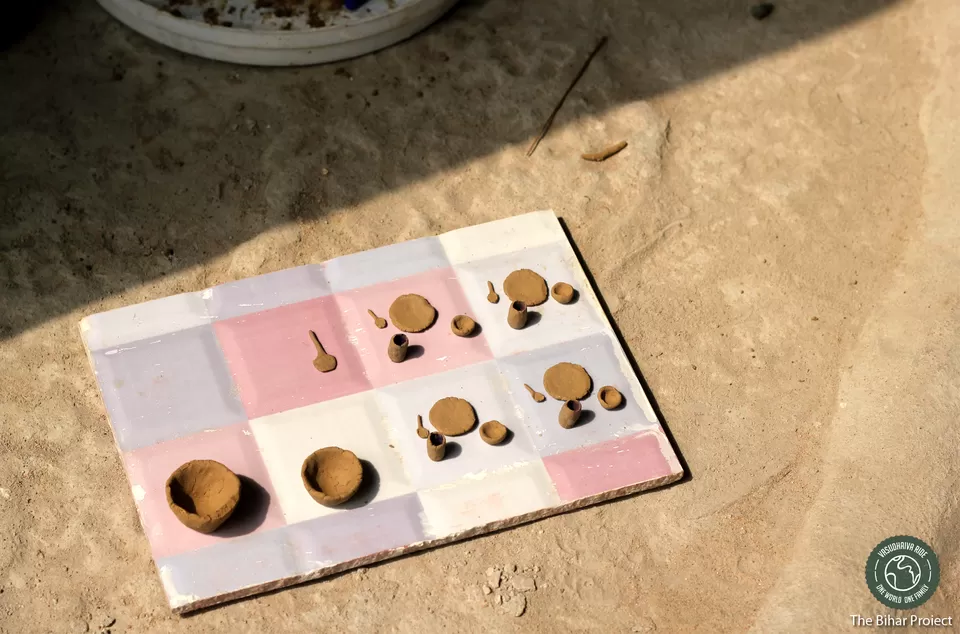 An added experience is that, the Ganges flows down through Bihar. About 15kms from the project site is a perfect spot, a village called Sinha with abundant raw clay and the Ganges River wide as ever. You'll find only a hand full of people using this part of the river for their rituals and duties, which makes the experience more exclusive.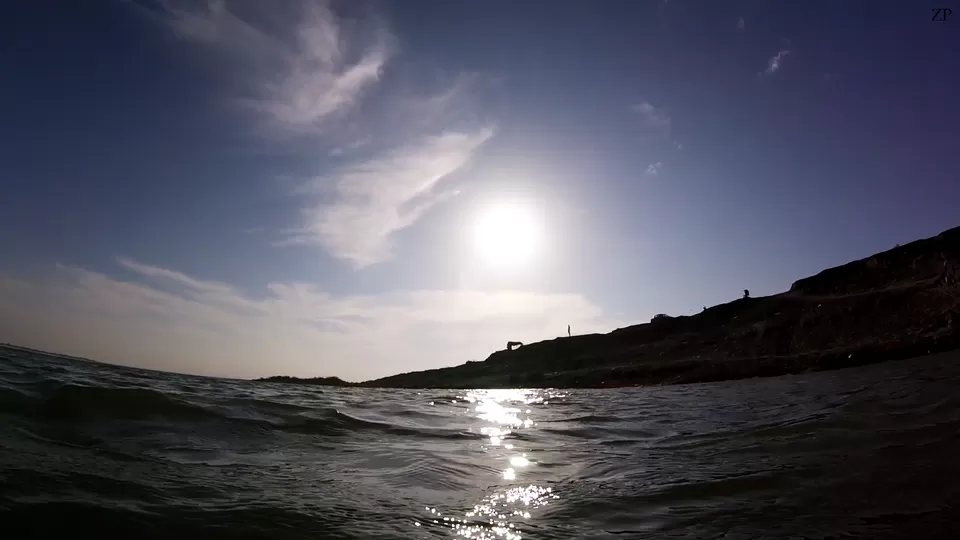 Of-course the food is gastronomical and the chai is comforting, the shops filled with cheap cloth and everything else you'd want as a basic tourist. But I've not focused on any of that, since my objective here is to shift focus on less visited cities/ states via minute places of interest.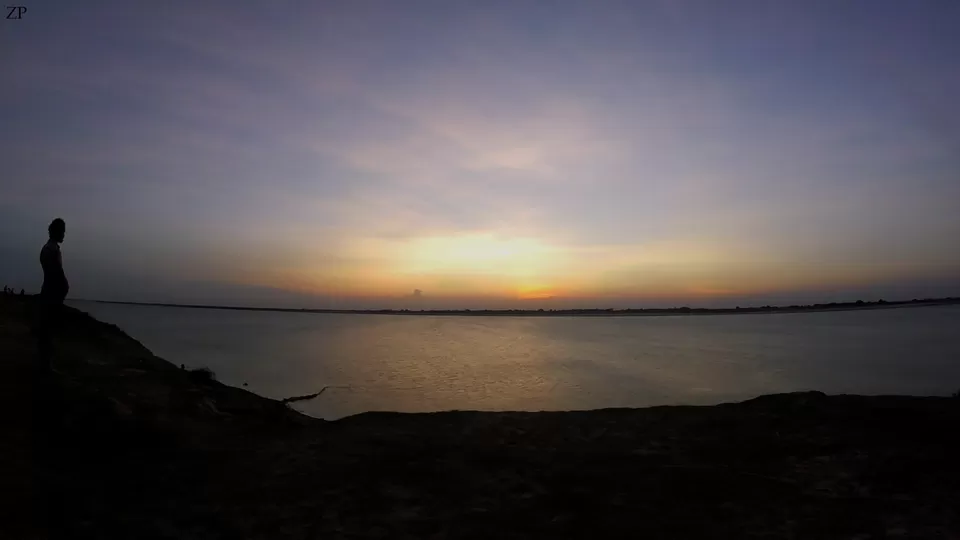 Thoughts on volunteer-tourism:
Another thing to keep in mind, the people of Bihar are warm-hearted, full of surprises and highly hospitable. Piece of advice I got from a fellow travelers in the Sanghamitra Express . Volunteer – tourism is a growing trend these days, however most of it is still confined to already popular destination, eg Dharmashala (Dharmalya) or over crowded communities. Choosing to help in areas & locations that are more in need for exposure and guidance can be of high impact. Not only is it foundation for consistent development, but also no stone left unturned right?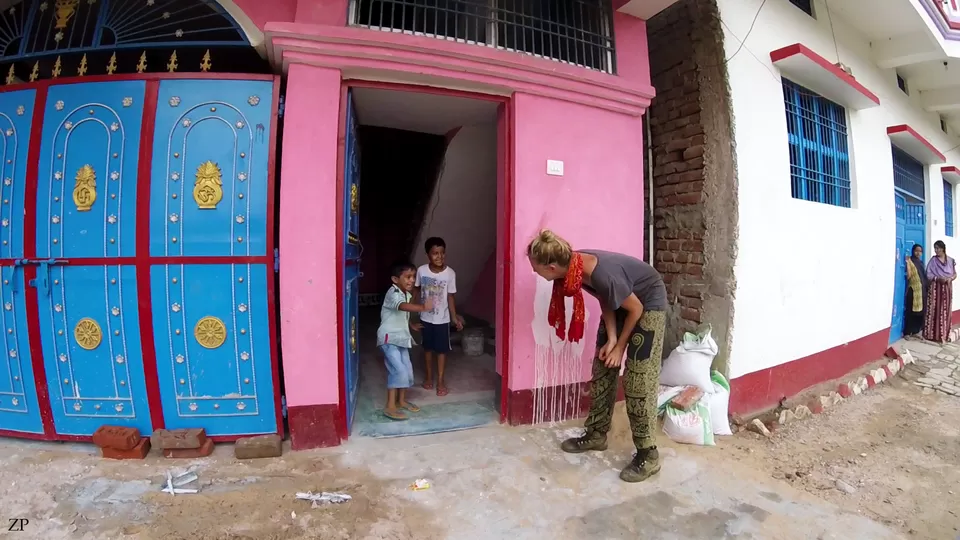 I'd prompt you to start exploring the lesser seen places, to spread the joy that travelers bring with them to new communities. Bihar has a lot to offer, with rich history and hearty spicy cuisine. Bihar is well known as the culture & power center of ancient India. It is also the birthplace of the first Indian empire, the Maurya Empire and the seat of Buddhism.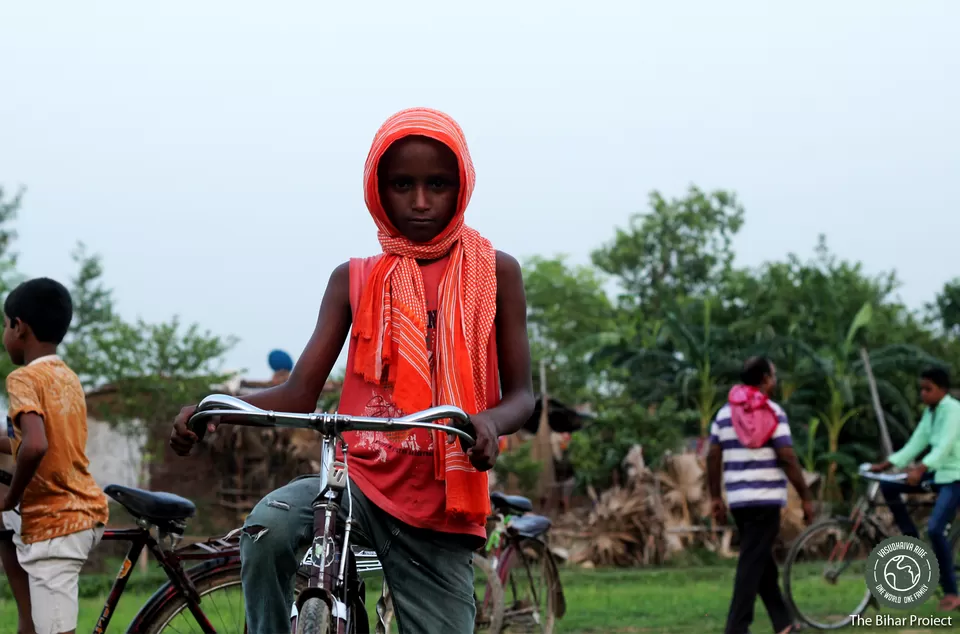 For Bihar:
Some of the well known historic sites are Bodh Gaya, Kesaria stupa, Nalanda, Rajgir, and an endless list that grows as you know more. Some top tourist cities around are Varanasi & Khajuraho, that leave Bihar bang in the middle of your journey for a stop over or passing through visit.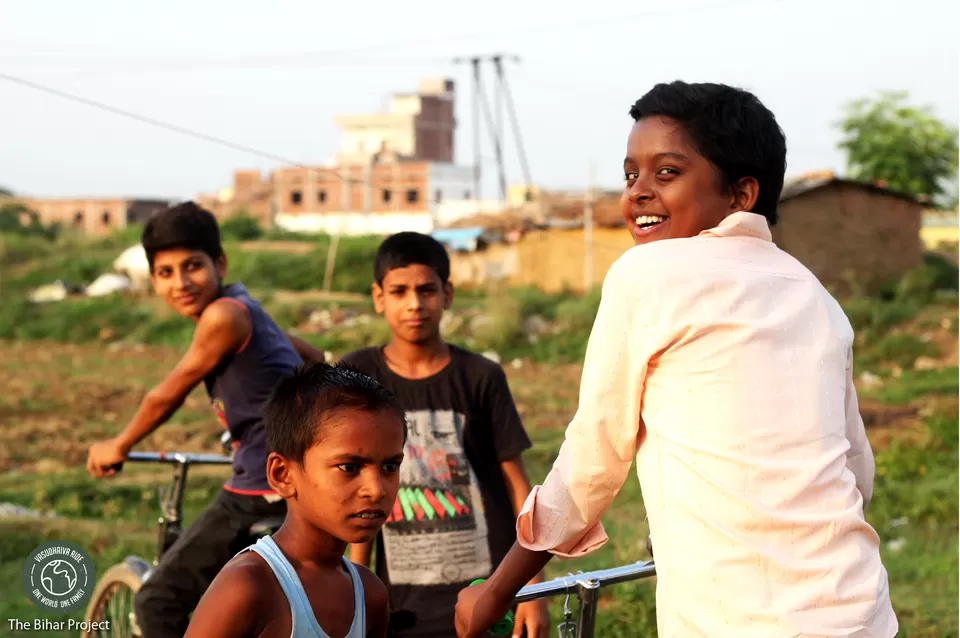 Dress modest, understand & adopt the local traditions and way of life while you're there. The internal transport is pretty efficient and drinking water plenty. That's all you need to start finding your way around beautiful Bihar!
Happy Exploring!