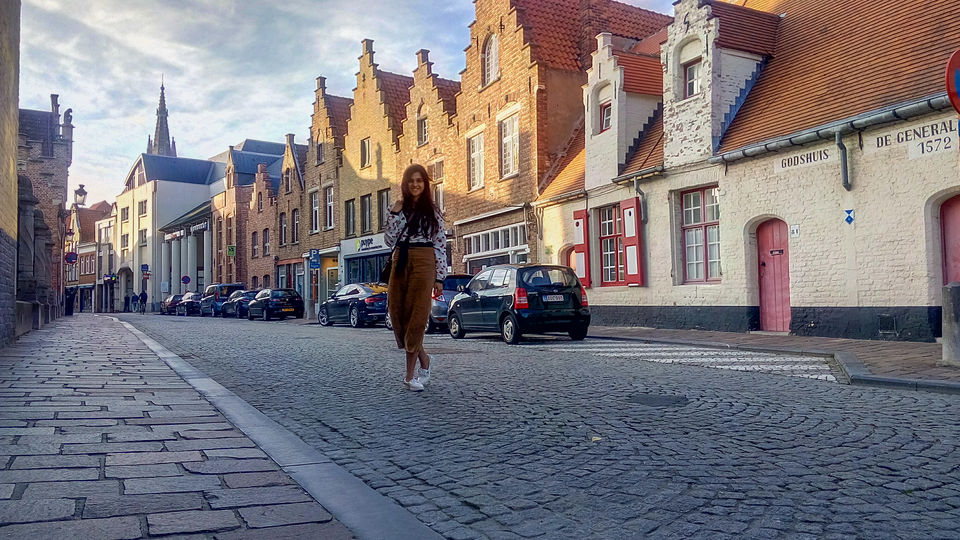 Belgium being a flat land with no mountains was not a European destination to top my bucket list. But you know when a broke wanderer's heart flutters, finding means to calm travel senses comes naturally with experience ;) With my masters dissertation nearing completion, I had no time to plan my summer getaways and as time passed, the flight rates shot up exorbitantly. This left me with my last resort, a bus journey to Belgium from London! Fortunately the bus tickets cost me 1/4th the flight rates and I knew could splurge mindlessly and live it the Belgian way *BON APPETIT, yaaaay* ;) Also being a nature lover, I planned this trip in the second week of August when florists from around the world take personal efforts to decorate the main market square and the Grande Place in Brussels!
I spent a weekend exploring two beautiful cities in Belgium, Brugges and the capital city of Brussels. Having met by the romantic air of Brugges on a Friday evening, it became imperative that I know the cause. With views that unfolded and tales that the quaint alleyways narrated, my quest to discover the reasons turned out to be a cakewalk. The sun was almost setting when I reached the Minnewater bridge. This fairytale viaduct stands across the Minnewater lake, which is now the reminder of a legendary love tale of Minna and Stromberg. A beautiful young girl named Minna is said to have escaped her Lord father into the forest to elope with the love of her life, chief Stromberg. It is believed that she collapsed of exhaustion in his arms after they reunited. As an epitome of their heartbreaking love story, Lake Minnewater is also called 'the lake of Love'! Surely complementing the romantic air of the town even, are its beliefs about everlasting love between lovers who kiss on the bridge. I was just watching a lovely wedge of swans wading in the lake whilst listening to such heartwarming things about the town, when the gentle clip-clop of horses diverted my attention to the winding streets that led up to the market square.
It never was, that I stayed out late on solo travels. Having started to travel by myself barely a year ago, I was still battling my limitations like breaking the '8 pm deadline' rule to admire the nightly shades of a new place. Turned out, Brugges had to be the starting point in taking my step across that boundary which marked the end of my comforts. Rewarding as it was, the experience was a great opportunity to spend my time doing the thing I love most, travel photography. Brugges glowed dreamily in the red incandescent bulbs that lit up the streets where I admired displays of traditional Belgian lace work and treated myself to some Waffles with ice-cream, smitten by the changing hues of dusk!
After checking into my hostel around 10 pm, somewhere while looking forward to the events of the next day and recalling moments from the previous evening, I slipped away into a dreamless sleep. Even though I woke up to gloomy grey skies, I could barely contain my excitement to step out after breakfast. I had not only booked to see the flower festival in Brussels, but reserved a place for myself to take an hour long workshop on baking Belgian Waffles!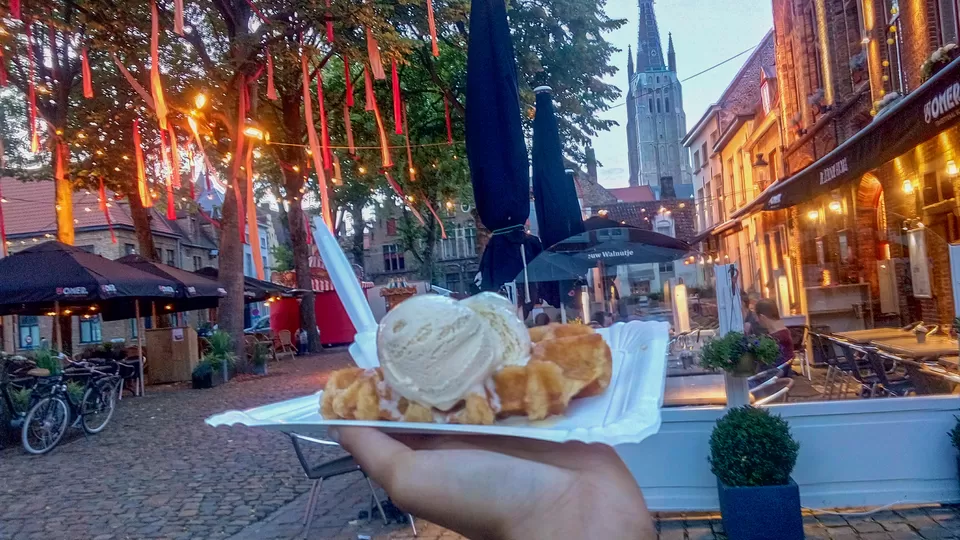 Next morning, even though I woke up to gloomy skies, I could barely wait to step out. I spent a few hours to take in the heritage sights in Brugges like the Belfry, Town Hall and their law courts. It evoked much wonder to know that their oldest building, a 12th century hospital, stands on the canals itself! A part of what is now the tourist office, was a 16th century court-room or the Liberty of Brugges! It was also interesting to find that the windows of most shops and houses drew attention with their quotes. A much needed dose of laughter and motivation hung around every corner. Seemed like Belgium knew how to make life better for people!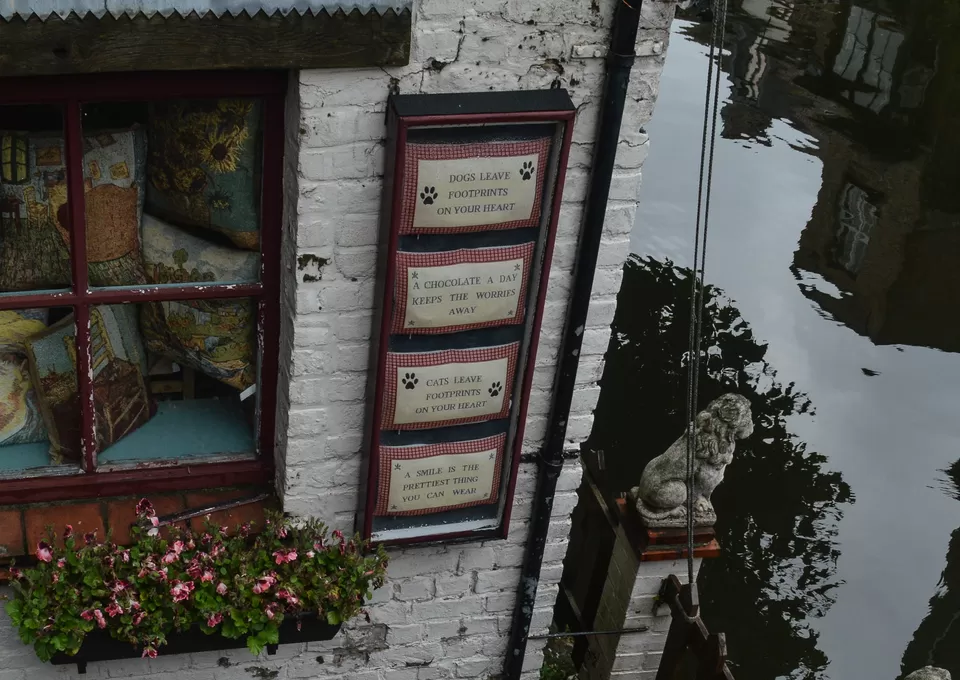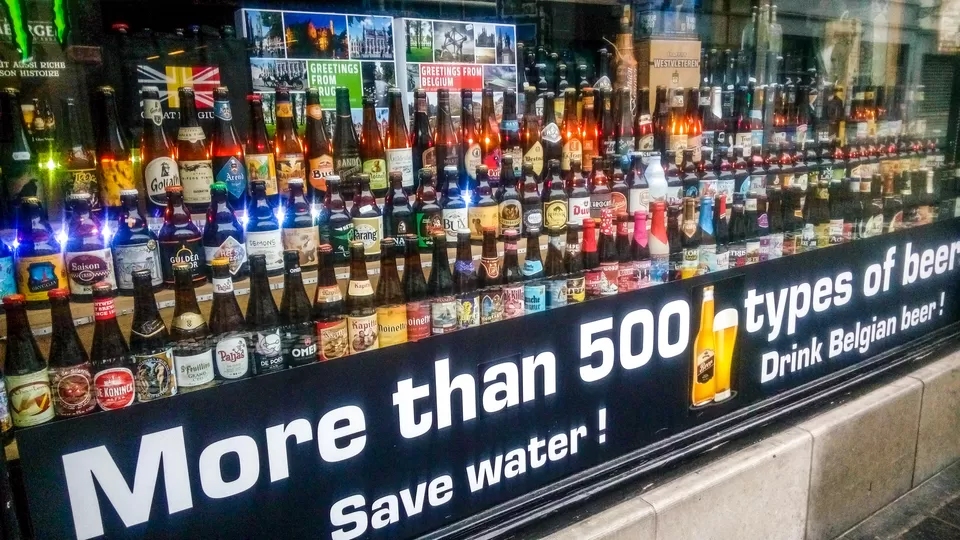 i. Brugges (23euros/night)
ii. Brussels (21euros/night)
iii. Flower-time show (7 euros entry)
iv. Waffle-making Workshop (28 euros)
After starting my day soaking in history, I left for Brussels around 10 am and arrived in the bustling main square to a rainy afternoon. What I realized though, is that the weather could by no means dampen the spirits of the crowds that had gathered to see the splendour that lay outspread. Carpets of fresh blooms adorned the massive patio. Surrounding it was the ornate and magnificent gothic infrastructure, that rose high enough to pierce the skies!
If the exteriors were extravagant, the interiors were breathtaking. Not a room in the royal household looked plain. Here why don't you take a look!
Time slipped by easily, leaving just enough time for a quick break before meeting my Belgian host who would teach me to bake waffles. At 3:15 pm, 10 of us had assembled outside the Grand Place, all of us equally eager and hungry. We were greeted by Olga, who gave us a sneak-peak into the art of Waffle-making. From her we learnt about the two types of authentic waffles. The street waffles that were sold in most shops with a delectable selection of toppings, were a delicacy of the southern parts of the country. Having originated in the town of Liege, they are also called the 'LIEGE WAFFLES'. I realized then, that I had already tried the syrupy-sweet Liege waffle in Brugges. Just as my stomach leapt with joy at the thought of baking them and stuffing myself with many more, Olga played the BOUNCER! We were about to make the Brussels waffles, which are unsweetened and soft :( My maniac sweet-tooth literally died of shock, but survived the news when we were told about the variety of toppings ;)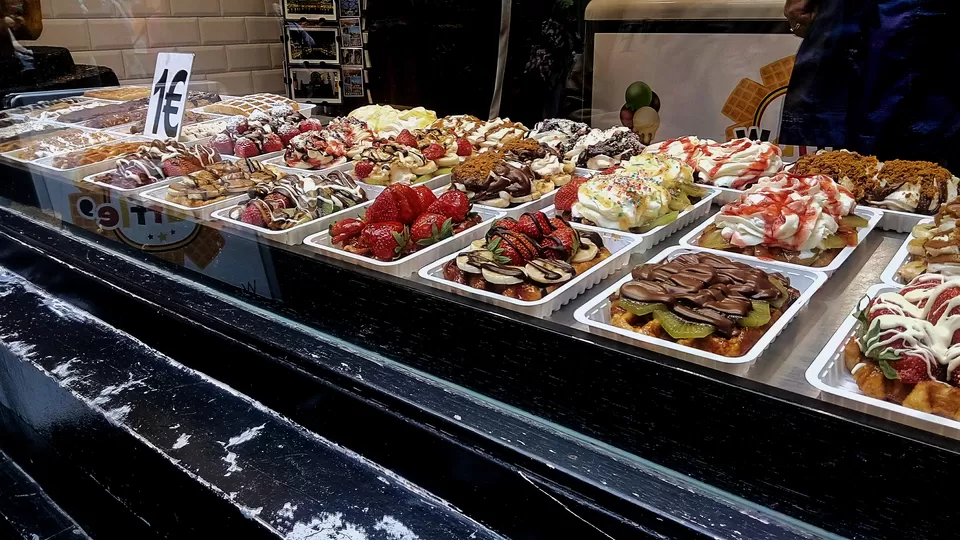 Oggling at the displays and growing hungrier with every passing minute, we made our way through the waffle street of Brussels to Olga's kitchen. What came next was the most blissful two hours of my life. We baked in teams and heard out the history of waffle making. Apparently the art form is said to have come into existence in stone age, even though the Belgians have only traced it back to the 1300s. It is believed that early men used bricks to sandwich the batter and used a long wooden rod to flip the arrangement on fire for baking their waffles on both ends until they were crispy and golden. See how the device has evolved?!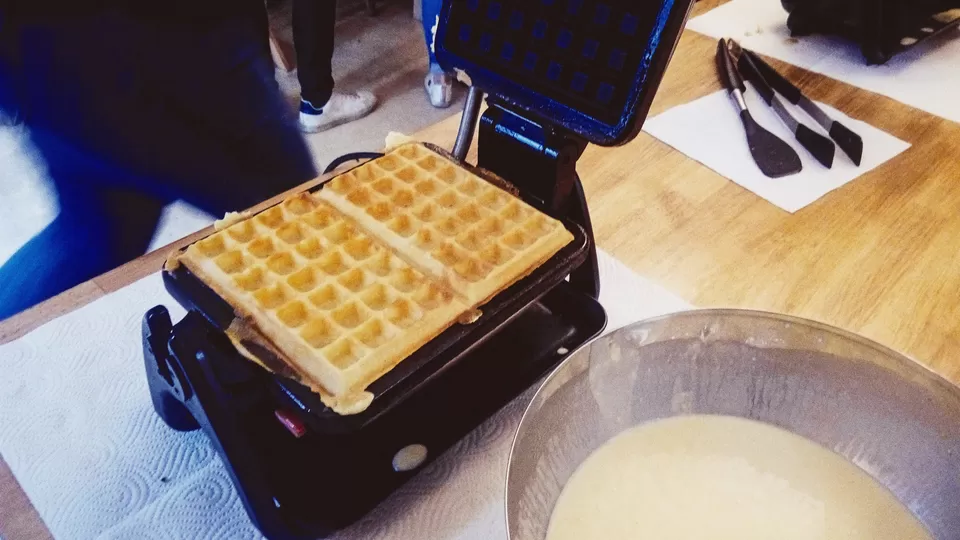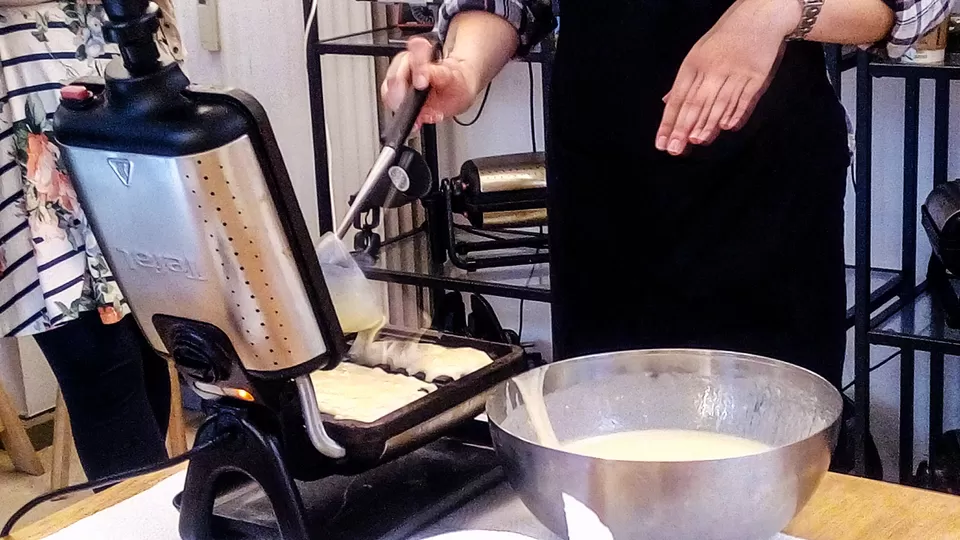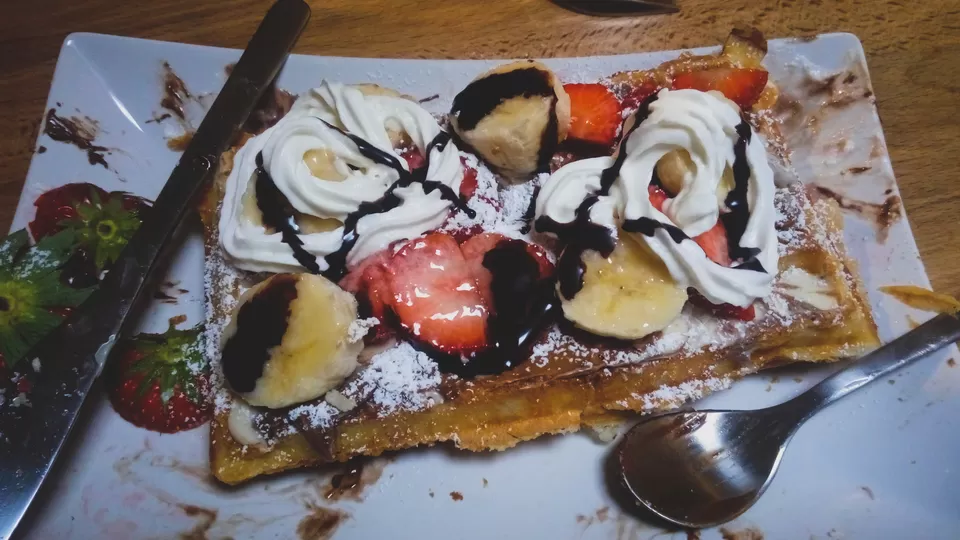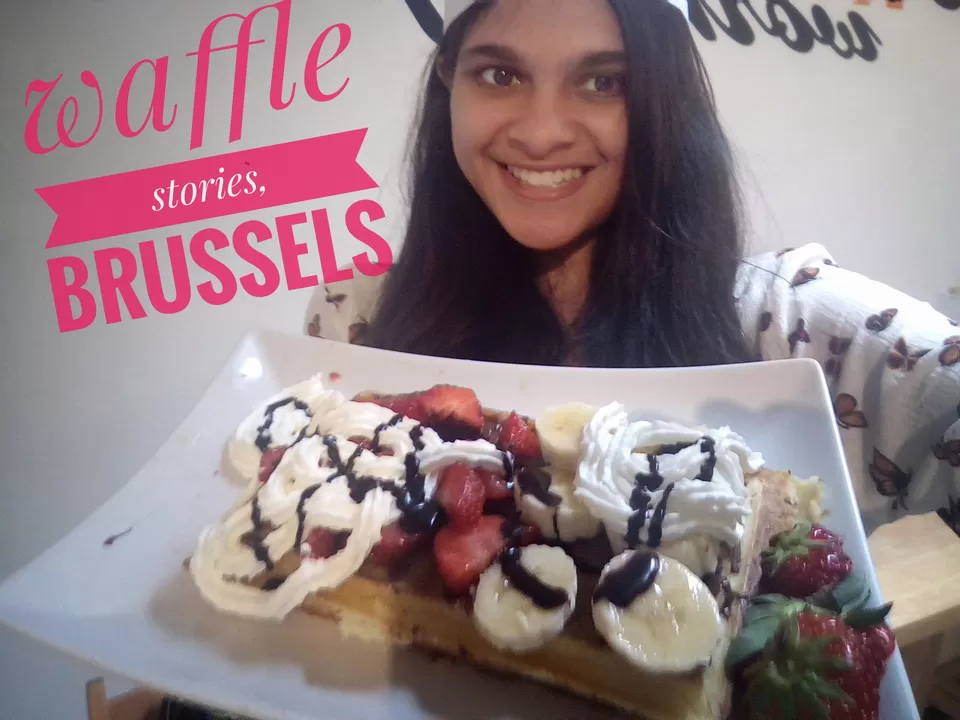 After all the hard work, I stuffed myself shamelessly even under Olga's deliberately averted gaze :P Needless to say, a generous portion of strawberries, nutella, white-chocolate, bananas, whipped cream and Speculoos (a kind of Belgian cookie spread) went in too.
As a solo traveler, I have got quite accustomed to solitude and don't usually complain. But there have been times when I have wanted to ward off loneliness that comes knocking like an uninvited guest. After this first-time experience in attending a group activity, I seemed to have discovered just about the most interesting way to meet new people and of course, learning a new skill ;-) After thanking Olga and the others, I left to check into my hostel in Brussels. The Urban City Centre hostel is not the best one I have stayed in, but I am usually content with just having a place to crash for the night. Also, Brussels isn't a city where you should crash at night ;)
So around 7:30pm, I was out on the streets once again. I walked towards the Mont Des Arts museum, to take in a most sought after view from its arena. Whether or not to be disappointed is a matter I care not to contemplate, because the SUMMER MUSIC FESTIVAL was in full swing! The streets were lively and filled with soulful music. Here and there, a little audience would gather to stop and listen. Brussels is probably one of the few cities where I willingly stepped into crowds and cheered alongside them. In its celebrations and gathering lies its very essence, the kind which would go unnoticed otherwise.
As I strolled towards the main square, my eyes caught sight of CHOCOPOLIS, a Belgian chocolate house. Amid all the activities, I had completely forgotten to try them! All hail the gateway to relishing moments of future diabetes ;) Here take a look at all that variety, sold as luxury products on the streets of Belgium! After happily ingesting samples of their white and milk chocolate, I walked on. As it neared sunset time, the rain clouds miraculously cleared away, illuminating the city with the kind of sunset which I had been wishing for! Chocolates seemed to lift everyone's spirits, including the rain God's :P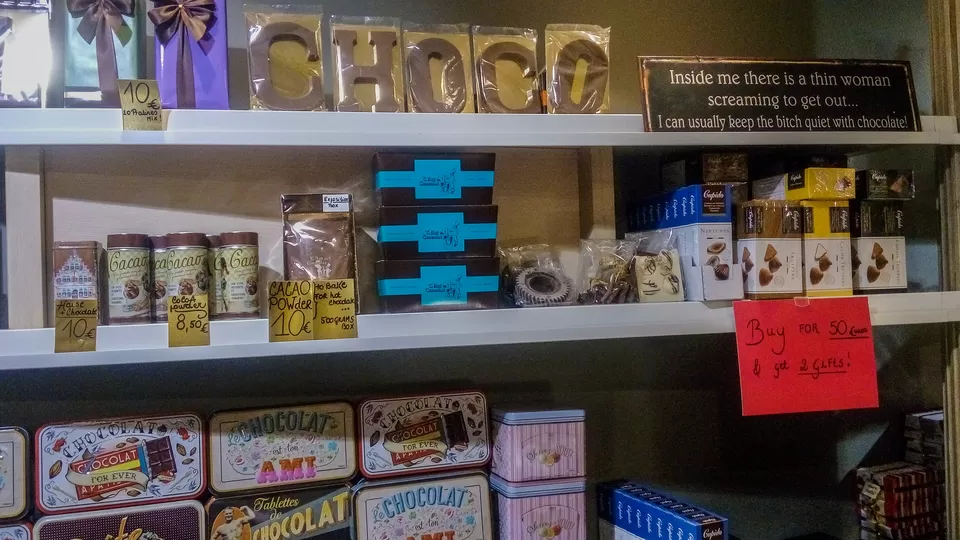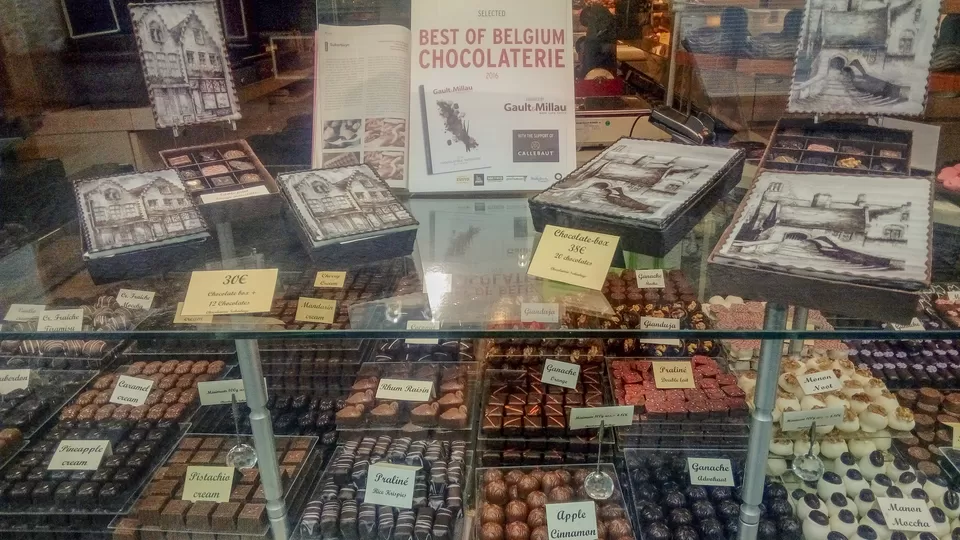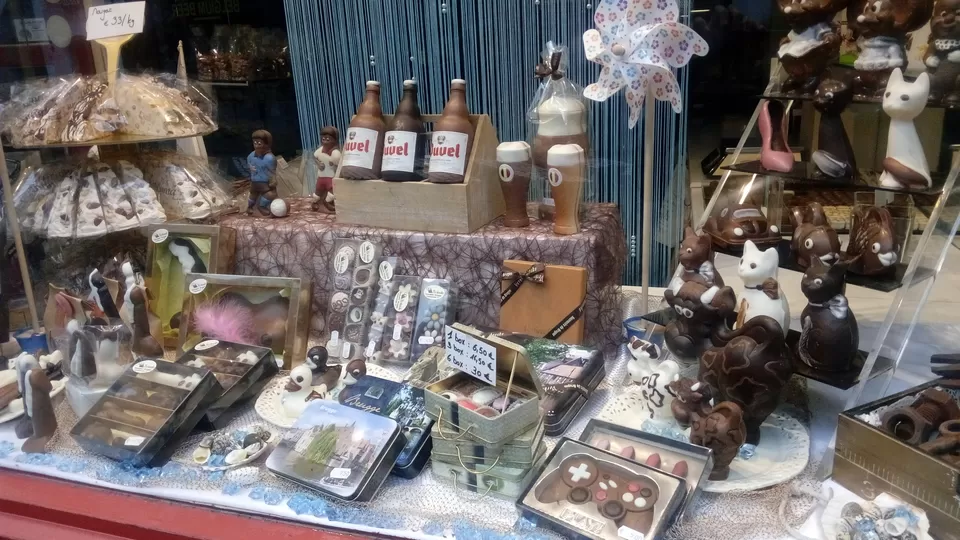 And we aren't done yet ;P There was one last dish to try, THE 'FRENCH'FRIES. Oops sorry, THE BELGIAN FRIES :D and let me give you some good reasons why you should buy them!
i. The 'FRENCH FRIES' aren't half as famous in France as the 'BELGIAN FRIES' are in Belgium! So let's give them the benefit of doubt in this dispute about the invention of fries!
ii. Trust your instincts when it comes to trying them and you shall not be disappointed because anyway, everything is gullible with a glass of Belgian Beer. For those like me, there's a cup of Belgian Hot Chocolate! :P *Just Kidding*
iii. The FRIES were delicious! That half-an-hour long queue which I reluctantly entered after my tiresome day out was totally worthwhile!
It being a long wait, I casually started to people-watch. It is when I really dwelt on the fact that the Belgians were a bunch of very kind people! From Olga's lesson to the chocolate vendors who let me take pictures in their shops to the man behind the hot counter in the fries eatery, I was inspired by each one of their demeanor. As a student I have worked part-time in restaurants to support my travels. So I know that it can get really frustrating when customers come teeming! Even with all that heat emanating from the frying vessels, the man patiently replaced the order of three women for a change of toppings. I will always recall how he cheerfully refused to accept their obligation even when they offered to stick to their old order. Such humbling acts of kindness are the ones that are so rare nowadays, that one must cross borders to learn of them ;)
While on my way to the hostel room, my over-filled belly burped out a POLITE reminder to spread word about the amazing culinary and cultural experience I had in Belgium! Back in the room, a few friendly guys from Morocco and Tunisia offered their greetings. It was good to know that they all wished to visit India one day, just the way I dream of visiting Morocco! After bidding good-bye to me they left for their night out, while I snuggled comfortably to get my night's sleep before I could take the bus back to London next morning! :D AU REVOIR! :') PS: Holiday calories don't count :P
COSTS OF STAY/ACTIVITIES: