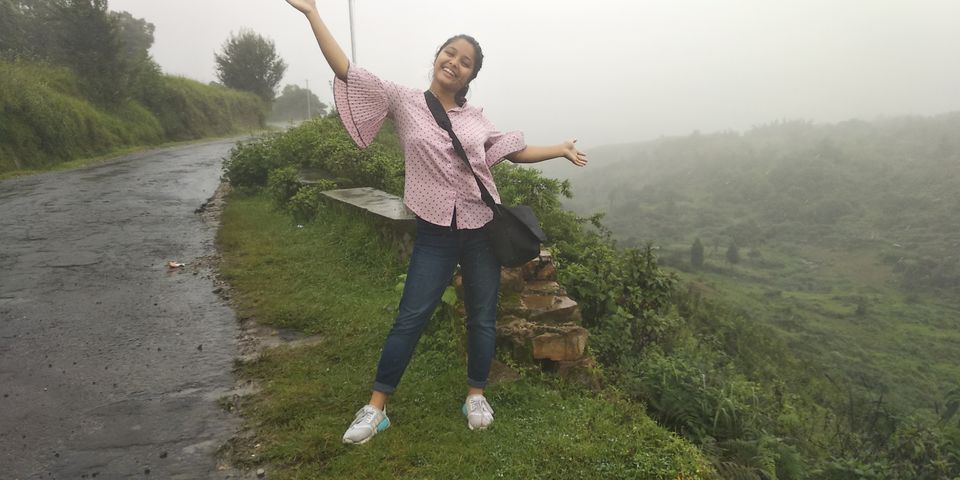 Did you ever came across the poem "The Solitary Reaper"? Where "Alone she cuts and binds the grain; And sings a melancholy strain;" said William Wordworth. It was beautiful isn't it? And I experienced the same. Hold on, I will explain it all.
I still remember the creamy summer of June, last year. When I received a call from my beloved uncle saying "I am here to give you surprise visit my dear" . I still don't know what was the matter of surprise left in it. He wanted me to take him to another side of Meghalaya. As we already had numerous trips to Cherrapunjee . "Would you like to see Laitlum?" I asked. "Cool! sounds fancy. What's its meaning?" he asked. "END OF THE HILLS" I said.
The very next day before the sun could even break, we took a hired cab. The journey to the "end of the hills" was already started. According to our maps, it was a journey of around 20kms to be covered in 1 hr and 1min. But it felt like ages to reach. The journey was a rollercoaster ride with those bumpy roads, big and small holes on the streets and sometimes there were no streets at all. Also, hearing my beloved uncle constantly complaining about it. But who knew what we were about to witness? The lush green valleys with the gorge and steep winding stairways that snake their way down to nothingness.
After a prolonged hardship we reached the Laitlum Canyon. As I stepped out of the car my eyes could only reach to the miles and miles of nothingness. I was taken aback and could no longer speak a word. The entire valley was covered with the mighty clouds. It was like a blank canvas that blankets you and you can paint it with your entire body. As I walked through the clouds I left a trail behind my footsteps only for an agile moment. The smell of the clouds gave its taste in my brain.
Some people were clicking pictures to capture the void and funnily some kids were trying to eat the clouds. I could hear the tea sellers calling out for hot palpitating cinnamon tea but they were all swallowed by the white blanket. And long after I could hear them no more. I walked towards a small stall where a kong (sister/ lady) was igniting her coal steamer to roast her corns. I waited till the coal was hot enough for the corns to pop. While I was waiting, I heard a melancholy strain. The euphonious voice was breaking the noise of the buzzing steep wind. It no longer hurt my ears. As I followed the voice I saw a middle-aged kong building her stall with the help of some bamboo straws. She had a khok or thugi (traditional bamboo basket) filled with her own nursery plants. She was wearing a kunp (traditional bamboo hat) to avoid the laser steep wind. She sang a melancholy strain as she worked. I stood uninterrupted at a distance and listened her singing. I took out my camera and tried to capture it as precisely as I could. As she arranged her stacks of poppy-patalled flowers I wondered what she sang. "Is that a folktale, some far-off things or a prolonged sorrow or pain? Maybe a welcome note for the travellers or perhaps some long fought battle tales." I asked myself. My heart wanted to rush up to her and hear about it all but my brain didn't allow me to take a step farther. Subconsciously, I never wanted to interrupt the lady. As, I stood there a voice from behind punctuated my meditative session. "Kong, ki riewhadem ki la long" ("Hey, your corns are ready girl") called out the kong. I walked towards her but my sole was captured in that very moment. I took the corns in exchange of Rs. 80 with some extra lemon zest and chilli flakes. The kong selling them looked very happy as we were her first customers and we probably took more than we could possibly eat.
My uncle asked "should we walk around the valley and enjoy the mouthwatering corns?". "Yes of course" I said. But all I wanted was to go back into that meditative zone. As I looked over my shoulder I could no longer find her. As if she was lost in the mighty void clouds. And as we mounted up the hill her melancholy strain faded away. We went so far that I could no longer hear her voice and all that remained was the buzzing steep laser wind hurting my ears again.
As I wandered around, I stood at the extreme edge, the spot they called "end of the hills". Then slowly the clouds parted and I could see what lay underneath it. As if the valleys were opening their hearts out for me so that I could reach out to their soles. And there lay the heaven below giving a peep to the Rasong village. As we stood there we saw the mighty clouds dancing and the pulleys travelling to nothingness.
While retuning we took some pitstops to the rainwashed fields of green, the Sweet falls and a traditional palace where the king lives still.
Pro tips:
1.Do carry an umbrella or raincoat to safe yourself from the rain.
2.Do carry your own eatable and water, if you want. As as you travel up stream the rates get higher eventually.
3.You can take a hired sctooy or bike from Shillong to Laitlum ( rates may very ) if you're travelling solo. But I'll suggest to take a cab if you're travelling with your family as the rain is very unpredictable.
My hired cab took around 1k from me.
5. Please do not liter the place.