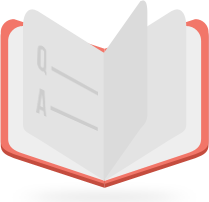 Frequently Asked Questions
INTRODUCTION
What is Tripoto?
Tripoto is a platform to share and discover amazing travel stories and itineraries. At Tripoto we are bringing together travelers from around the world to share and discover real, actionable, crowd sourced travel stories. We are mapping every single destination in the travel story along with the associated content and pictures.
At Tripoto you can find amazing itineraries created by avid travelers, celebrities or your friends and family. Each travel itinerary is linked to the profile of a traveler to help you understand the personality of the traveler better.
Tripoto eases the process of searching and discovering independent, authentic and personalized travel information on a single platform. For those looking to share their travel experiences, we are tworking on creating the best tools to enable them to tell their stories easily and beautifully.
SHARE TRIPS
Who can share stories on Tripoto?
Any traveler can share his/her trip itinerary on Tripoto. Trips on Tripoto can be either public or private.

Private trips are visible to only your friends and family with whom who you share the trip link. You can also share the same via various social media platforms such as Twitter, Facebook, Pinterest, Tumblr etc.

Public trips are visible to everyone who visits Tripoto and can be shared by all.
Even though sharing of trips is accessible to all, only the best trip itineraries get published publically on Tripoto. Our editorial team reviews every trip that is shared. Only trips that meet our guidelines and are of a high quality are made visible to the Tripoto community.
The guidelines for sharing a trip are given in section 2 of this FAQ.
How do I share a trip on Tripoto?
You can share a trip in four simple steps:
(a) Step 1 - Share Basic Information
Give your trip an interesting title so that travelers are enticed to read about your trip. Mention name of the place(s), it helps in increasing the searchability of your trip.
Upload travel photos from local drive or Facebook and add a caption to each one of them. These pictures will be displayed in the main gallery of your trip. You can also set one trip photo as a cover pic of the trip.
(b) Step 2 - Classify and Tag
(i) Classify your Trip: Choose a category (Nature, Backpacking, Culture, City and Adventure) that best describes your trip / tour. You can choose multiple options too. This will help travelers filter their search based on the type of trip / tour that they would like to experience
(ii) Tag Friends on your Trip - Log in through your Facebook account and tag your friends who were with you on the trip
(iii) Total Trip Expenditure: Help travelers plan their budgets by specifying how much you spent on your trip and on what activities (Transport, Food, Tours, Stay, Events). If you are a guide or travel operator, then you can use this section to specify how much you will charge for the tour / trip and what amenities the price includes (Transport, Food, Tours, Stay, Events). If there are any further details that you might like to add then you can mention them in Step 4.
(iv) I spent my money on : If you are a guide or travel operator, then you can use this section to specify how much you will charge for the tour / trip and what amenities the price includes (Transport, Food, Tours, Stay, Events).
(d) Step 3 - Share your itinerary - Build a detailed itinerary of your trip – the route you took, the monuments you visited, the hotels you stayed at, the places you ate, shopped or even took a walk. We would prefer if you would enter them in chronological order so that other travelers can replicate your trip. You can be as creative/funny/dramatic and real-time descriptive about your trip as you want, because other users reading and planning their trip based on your itinerary most probably haven't even been to the place you are describing. So you can include all those "must-see" and "must-do" in this section. You can tag uploaded or search trip photos to the spot, and classify type of place.
(c) Step 4 - Trip Overview - Give a good, vivid and descriptive summary of your trip here. This is where you can elaborate upon various aspects of your trip, such as the reason behind you going on that trip, to the general essence of your travel. You could also write a little about the background the place you visited and what was so special about it that drew you to that location. You are free to write as much or as little as you want but either way it should draw in the attention of others reading your trip, as though you were reading and planning an itinerary for yourself. So any interesting or life-changing day by day travel stories, here is the place to pen them down!
(e) Add Hash tags - Add Hash tags of countries, cities, places, restaurants that make your trip searchable within the site and also improve the search ability in Google by adding the right hash tags. Use comma "," to enter multiple hash tags.
(f) Bookable/Non bookable trip - If this is an itinerary you intend to sell/host mark your trip as bookable. If this itinerary is just for sharing information with other travelers mark it as non-bookable
How do I share my trip itinerary?
Here´s how:
(a) Once you enter the name of the travel spot, the same will be mapped to Google Maps. To ensure accurate location of your spot on the map, we we recommend you to mention the city/district/state/country wise name of the place.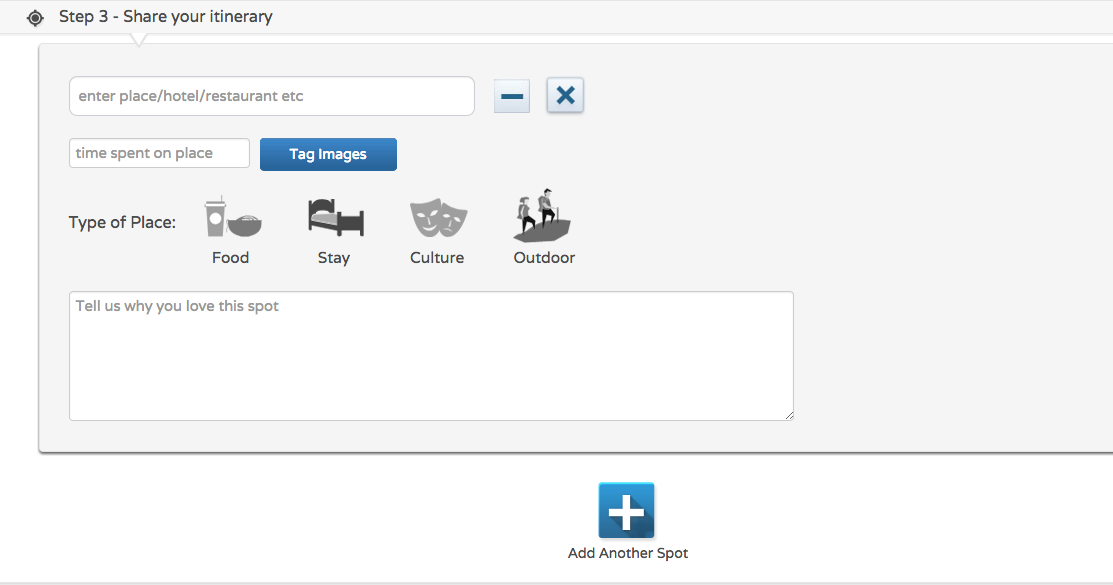 (b) Enter the time you spent at this spot. This could be in any denominations, whether hours or days or months.
(c) Write a short description of why this spot was special to you. Here you could mention anything peculiar or interesting that makes this spot such a must-see on the itinerary.
(d) Click on the 'Tag Pictures' option to tag pictures that you uploaded earlier in the main gallery. Tag each spot to multiple pictures associated with this spot.
(e) If in case, you do not find a picture in your gallery of the mentioned spot, you can choose some amazing clicks from our gallery

Why should I share my travel experiences on Tripoto?
By sharing of your travel experiences on Tripoto you can become a part of our movement to open up the world make the world a local place and help people discover unique places and live your story for themselves. If you get published on Tripoto you would be in the same league as some of the most prolific travelers and travel writers in the world.
(1) If you are a travel blogger and maintain your own blog then sharing your travel stories on Tripoto brings you closer to travelers all around the world and helps you build your own travel brand. You can create a beautiful travel portfolio for yourself on Tripoto by sharing amazing trip itineraries. Travelers across the Tripoto network will always find your post irrespective of how frequently you publish.
(2) If your trips get published on Tripoto you earn points on Tripoto that can be used for getting discount on bookable itineraries on Tripoto or to connect with expert Travelers.
(3) If you are an independent travel guide or a local travel expert, Tripoto will get you reliable leads and bookings through the Travel Expert program
How do I get published on Tripoto?
(1) Tell us your personal travel story and insights which make it interesting for the traveler to connect with your travel experience.
(2) Post original content , Do not copy/paste.
(3) Good photographs always help inspire people.
(4) Build a route map - Use "step 3- Share your itinerary" of share a trip to build a map. Add at least 3 to 4 different places you visited during the trip. Adding different places help travelers recreate your travel story with the help of a map.
(5) Complete your personal profile so people get a better idea of who you are.
The final decision on publishing is taken by our editorial team.
How do I view my shared trips on Tripoto?
Logon to Tripoto.com and go to your profile page by click on your user name at the right top corner of the Tripoto page. All published trips are listed under Tab "Published Trip" and draft trips are listed under tab "My Drafts". You can simply click on listed trip itineraries to view shared trips on Tripoto.
How do I edit trips on Tripoto?
You can edit published or draft trips on Tripoto. Go to your profile page and hover on one of the published or draft trips, it will show edit icon on top of the trip cover image. You can click on edit icon to edit draft or published trips.
How do I remove or delete trips on Tripoto?
You can remove or delete published and draft trips on Tripoto. Go to your profile page and hover on one of the published or draft trips, it will show remove icon on top of the trip cover image. You can click on remove icon to delete a trip. Press "Yes" to confirm.
DISCOVER TRIPS
How can I use Tripoto to discover best travel itineraries?
Tripoto focuses on travel information that is offbeat and difficult to discover. Tripoto search and filter option makes it easy for you to discover trips. You can search trip itineraries based on your interest, country, best time to visit, category, duration or cost.

After you find a trip that matches your interest or filter you can go to the individual trip itinerary page and look through inspiring travel photos, personal travel story of the traveler and a map to help you recreate the trip for yourself. Each travel story on Tripoto is linked to the traveler's profile that gives you insights about the traveler who has undertaken the trip.
How is Tripoto different from the other travel blogs or sites that give me recommendations?
At Tripoto we showcase complete travel stories that you can live , and not just recommendations of individual spots. We all know how hard it is to build an itinerary that matches our personality and interest. Tripoto houses a large collection of ready to use travel itineraries that you can re-create.
Each trip itinerary on Tripoto is shared by a traveler and you can get to learn more about them by visiting their profile. The traveler's profile would further help you to understand whether, the shared itinerary would match your interest.