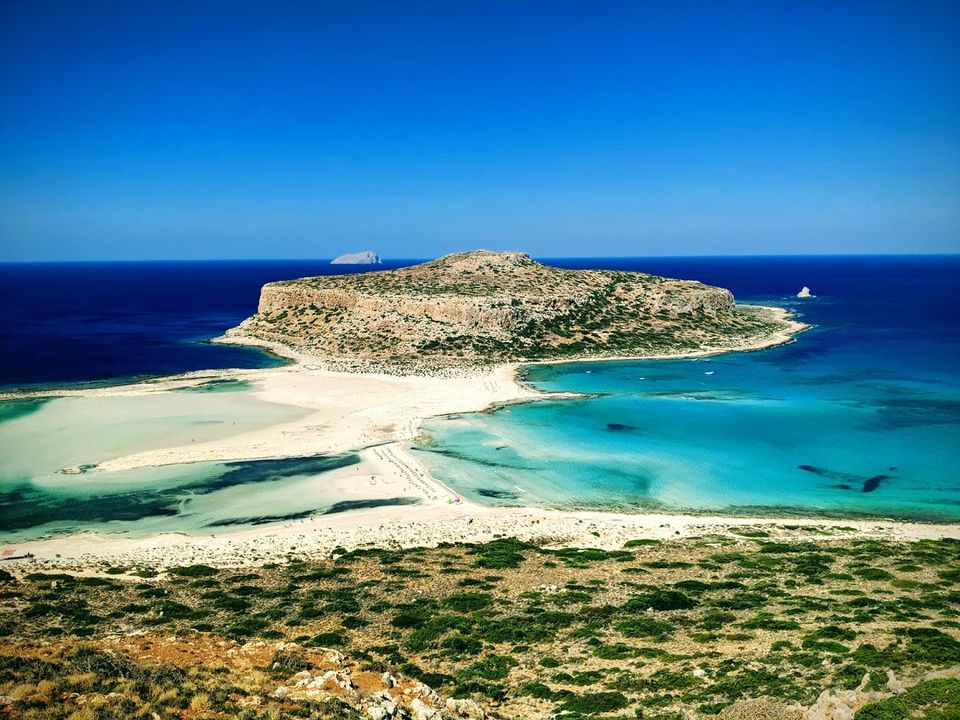 John Keats once said "Poetry of Earth is never dead" and if you wish to live through one such treasured poetry in your lifetime, Balos Lagoon Beach is the perfect destination. Why is this beach so exceptional?
It is one of the most remote beaches located in Crete Island, Greece with warm turquoise water and pink sand which literally sweeeps you off your feet. I had seen black, white, red sand before but never pink. Nature is playing with pastels at this beach.
I am not surprised to know, it was here that Prince Charles and Princess Diana celebrated their Honeymoon on royal yacht Britannia.
Also, the water is shallow for most of its length which makes it enjoyable and safe for non swimmers.
It is so isolated, that it serves as natural habitat for some exclusive flora and fauna and is part of Nature 200o network of protected areas. For example the loggerhead sea turtle- better known as the beloved Caretta-Caretta, as well as the Mediterranean Monk Seal can be found here.
There are few important things you need to take note of when planning a trip to Balos. I am listing down three different methods of reaching this place, each with its own pros and cons. Irrespective of how you reach the beach, you need to carry your sun protection - caps, glasses, sunscreen, water without fail. Once you make it, you would not get over the first view of this pristine location and the healing effect of gorgeous blue water on your body.
Reaching Balos By Car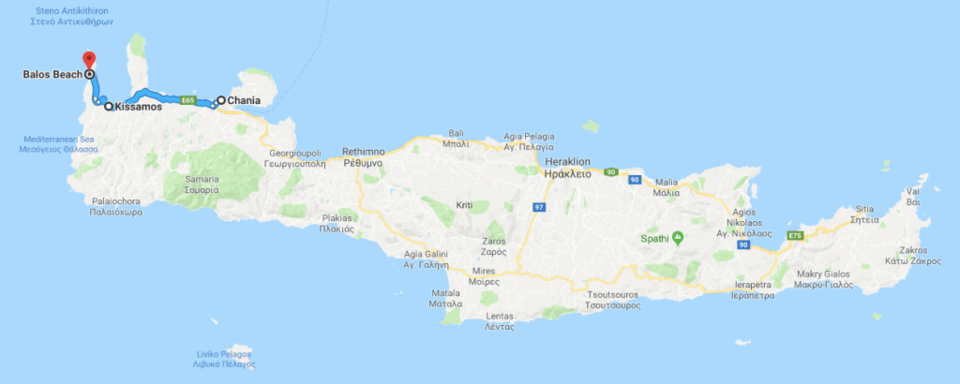 Chania is the airport for Crete Island and most common way of reaching the island other than Ships. At the airport itself, there are car rentals available but here comes the first point of caution. Ask explicitly if your car rental insurance covers Balos beach. There could be car rentals who do not prefer their customers to drive upto Balos because of the tough drive and remoteness of the location.
Driving upto Balos is recommended only if you are an excellent driver. Please do not take up this method otherwise. The 10 km stretch just before reaching the parking is a dirt road next to a cliff and would seem like forever in the sun. Wild goats jumping from nowhere make it tougher. We opted for driving and my heart was pacing all the way.
Please note -After you reach the parking, you still have to walk slightly uphill and then downhill for approximately 30 minutes. This walk can also be exhausting since it is hot most of the year.
The benefit however from this drive & hike is that you can avoid the crowd completely which comes in by Ships in large numbers. If you reach early, even before 10 am, you have the place to yourself and a few others. So our drive was definitely fruitful.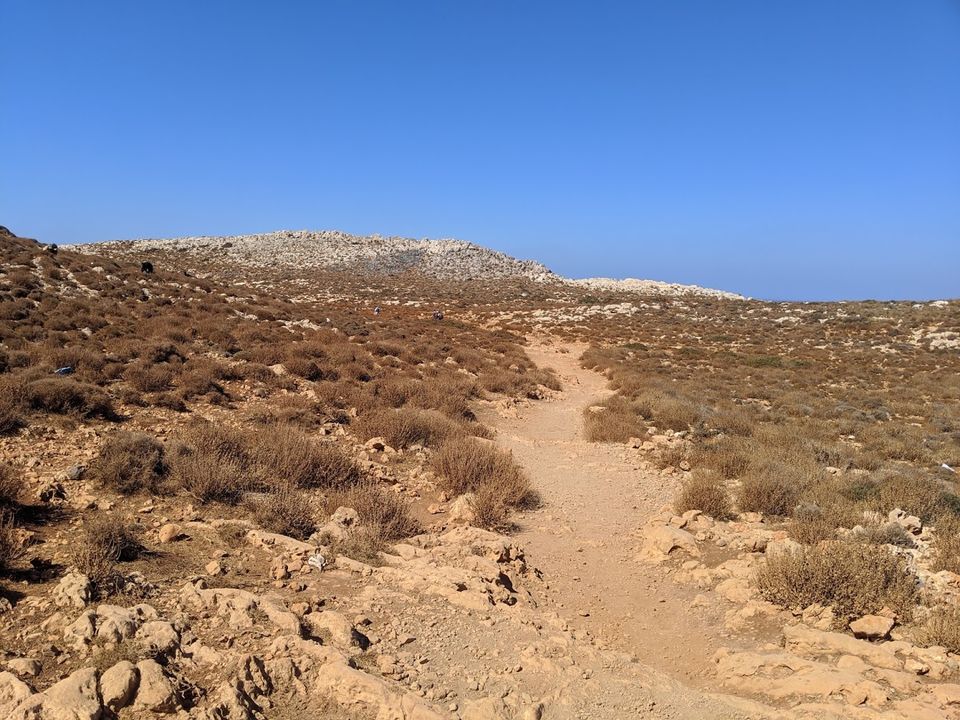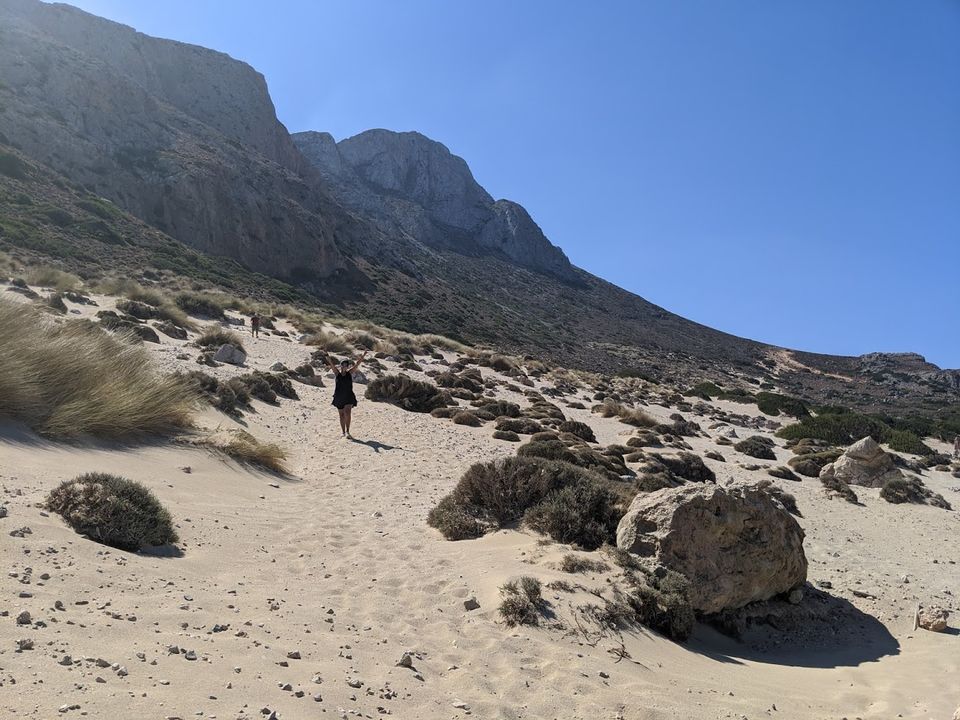 Reaching Balos via Ship
If you are the'I like to take it easy' kinda explorer - there are ferry options available from different ports in Kissamos, Chania, Rethymno or Heraklion- all spots on Crete Island. These trips take upto 7-12 hours with 2.5.-3 hours that you get to spend at the beach. Ofcourse, there will be several fellow travellers you can socialise with.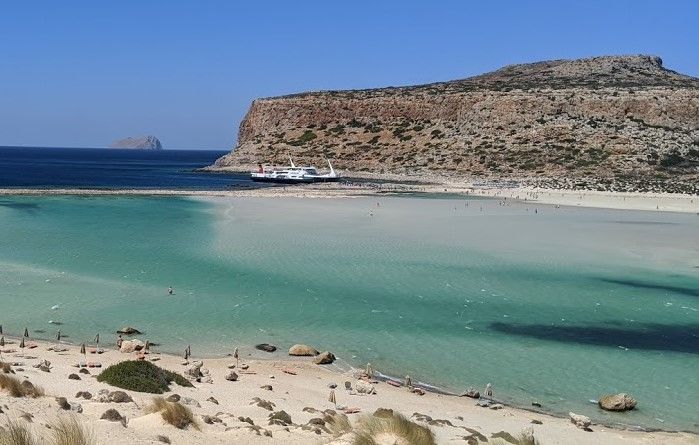 These ferry rides however on the way also take you to Imeri Gramvousa. Here, the Venetians built a fort in the late 15th century, in order to defend the island from invasions by the Ottomans. The fortress was then captured in 1825 by Cretans dressed as Turks during the War of Independence.They held the fortress, but did not manage to spread to the western region of Crete. Isolated, they turned to piracy. In 1828, the pirate ships were destroyed, and the island was controlled by the British. You would also get to see the pirate ship ruins at this spot.
Reaching Balos Hiking from Kaliviani
The area is popular for some of the world's most beautiful and toughest hiking trails. I should warn you this option is for utmost resilient travellers. One can hike from Kaliviani, which is a 10 km trail to Balos and take upto approximately 3 hours one way. If you love hiking and have a great group, then go for it.
Around this area is also Samaria Gorge - one of the most prominent 16 km hike descending from Xyloskala 1230 meters to Agia Roumeli on the coat of the Libyan sea. This in itself is a complete day trip and takes you through varied terrains.
At the end, the fruits of this journey will be real sweet. I hope you make this trip and enjoy.
If you have further questions about Balos, please comment and I will respond to the best of my knowledge. Also, if you have been to Balos, I would love to know your experience.
You can connect with me and follow my content at Tripoto or Instagram.
Ready to travel for free? Earn credits and redeem them on Tripoto's weekend getaways, hotel stays and vacation packages!
Explore the best of travel inspiration on Tripoto Instagram!