The cold desert of Spiti Valley is one of the most fascinating and mesmerizing places in India. The mammoth mountains that make the valley, are home to several small and trekkable peaks as well. The high-altitude villages in Spiti provide a closer proximity to these peaks, meaning you can climb them in a rather short time. A brilliant example of this is Mount Kanamo (19,600 ft), the trek for which starts from the world's third highest village, Kibber (14,100 ft).
Here is all you need to know about the Kanamo Peak Trek
'Kanamo' in local language breaks down to ka meaning white and namo meaning lady or hostess, giving it the name, 'White Hostess'. The trail, entirely made of scree and boulder moraine, gains an altitude of over 5,500 ft over a period of two days.
How to reach Kibber
Take an overnight bus from Delhi to Manali. And from Manali, take a shared taxi or bus to Kaza, a journey, which will take the entire day. From Kaza, Kibber is an hour away and is easily reachable via HRTC buses or private taxis. If you are doing this trek guided or with a company, then you can ask them about arranging transportation from Manali to Kaza for you.
Difficulty
The Kanamo Peak trek definitely requires prior experience of high-altitude trekking and even experienced trekkers rate Kanamo as challenging. The high-altitude combined with the extremely dry weather in the area can be a dangerous combination, which can only be tackled with proper acclimatisation and physical fitness.
Fitness required
Consider doing Kanamo Peak trek only if you have done high-altitude treks before and know how you fare in them. If you have done any one of the following then you should definitely add Kanamo Peak to your list: Pin Bhaba Pass, Rupin Pass, Warwan Valley, Goechala or Everest Base Camp. The trek to Kanamo Peak requires not just physical but mental strength as well, since the high-altitude of 19,553 ft puts an array of challenges before the climber.
If you have done shorter Himalayan treks before and want to take a step further, then here's a chart that will help you increase your fitness level. Click here to read more about preparing for a difficult grade trek.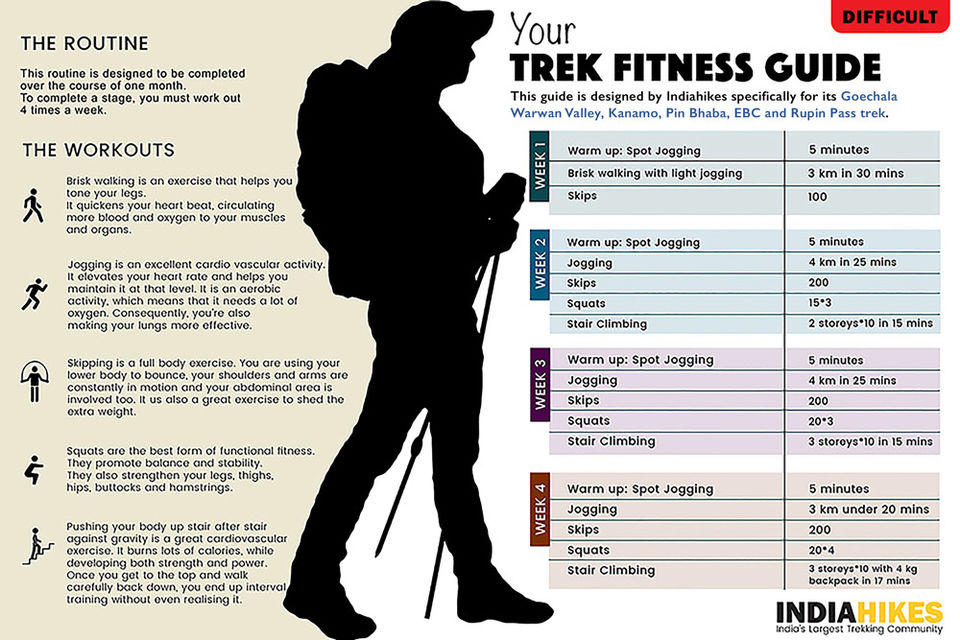 Itinerary
Even though the trek to Kanamo Peak includes only two days of ascent and one day of descent, the entire trip can easily take over 9 to 10 days.
Arrive in Manali and take a rest day.
Spend the day reaching Kaza, and stay the night here.
Leave for Kibber and spend the day exploring and acclimatising. You can also stop in between to visit the Key Monastery.
Acclimatisation day at Kibber.
Start the trek from Kibber (14,100 ft) to Kanamo Peak basecamp (15,478 ft), which can take upto 6 to 7 hours.
Acclimatisation day at Kanamo Peak basecamp.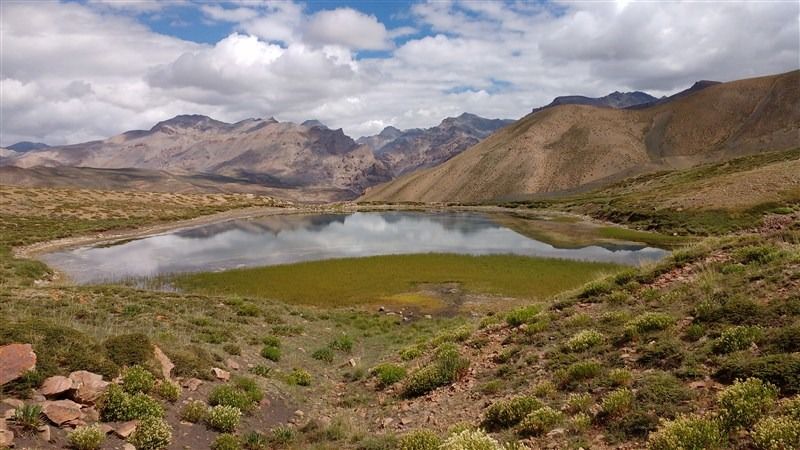 This will be the longest, most strenuous part as you trek from the basecamp (15,478 ft) to the summit (19,553 ft) and back, all in one day. That's 12 hours of trekking, 7 hours of ascent and 5 hours of descent.
Today, you go back to Kibber.
Take a long drive back to Manali.
Spend more days in Spiti Valley
After the trek, you can take time to recover and explore the magnificent Spiti Valley. From Kibber, you can move higher to the more remote villages such as Langza, Komic and Demul. If you wish to explore these places on foot, then hire any guide from Kaza.

Alternatively, you can start moving towards Kinnaur. From Kaza, take a taxi or bus to Dhankar. Visit the Dhankar Monastery and spend the night at a local homestay. Similarly, travel to Tabo (home to the prestigious and ancient Tabo Monastery) and then to Nako. You will exit this route from Rampur (near Shimla) via Kapla.
Trekker's talk
I contacted Vikas Shah, a trekker who reached the summit on the Kanamo Peak trek in 2016, and asked him how this trek is different from any he had done before. Vikas has successfully completed treks to Om Parvat, Chota Kailash, Tungnath, three times and Rupin Pass.
"Kanamo is definitely difficult, not even moderate. It is best suited for trekkers who have strong will-power and experience of handling extreme climate along with breath controlling techniques. The Kanamo base camp itself is at 16,000 ft, even staying there for 2 days doesn't guarantee that you would be fit for the challenge ahead, because Kanamo Peak is a test of both physical and mental endurance. And the trail above 16k is steep with last few hours covered with moraine so it's difficult to walk over it."
Here are his tips to trekkers considering climbing Kanamo Peak for the first time:
"Keep yourself hydrated at all times, even if it's cold and you don't feel like having a sip... better water intake means better acclimatisation!
Respect the mountains and seeks its blessing before you step over!
Be prepared to be tested mentally and physically, so give proper thought about whether you want to do this or not.
Know when to quit. All said and done, no matter how brave you are or how many peaks you may have climbed, let not your ego come in between and the moment you feel like you gonna hit AMS, return immediately."
Read 'How even the most experienced trekkers can get lost in the mountains', to read in detail about the treacherous weather at Kanamo Peak and how climbers survived it.
Kanamo Peak is also a great option if you have been planning a high-altitude trek such as Stok Kangri, but don't want to follow the herd and go mainstream. Check out this video to know more.
In association with Indiahikes.
Frequent searches leading to this page:-
kanamo peak trek, kanamo trek, mount kanamo trek, kanamo peak trek itinerary, kanamo peak trek cost