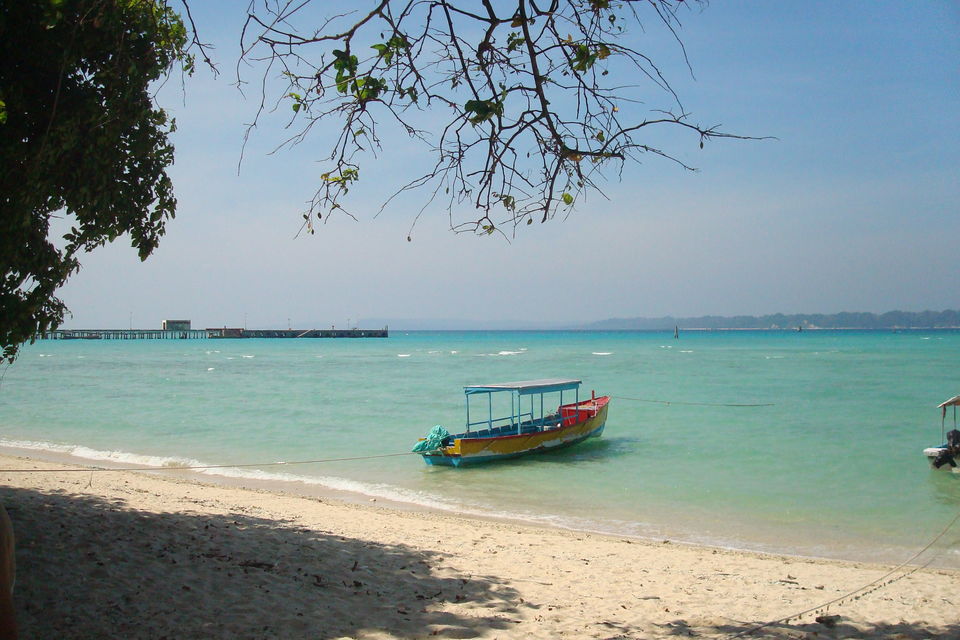 Andaman Islands and Leh-Laddakh are world class tourist destinations in India, in my vew, and this itinerary details our 2013 journey to this paradise on the Earth. With their crystal clear water, serene beaches, lush greenery, unmatched sunrise/sunset view, abundance of seafood and sea life Andaman Islands are must visit, nay, repeat visit destinations for anyone. For Indians, Kala Pani and Cellular Jail add fairly poignant bit of history as well.
Top andaman tour packages with price
Overall things to note
* Islands are only accessible with ship or airplane, and hence things are expensive than mainland India
* They suffered tsunami in 2004 but recovered well, though event may still bring out unpleasant memories for residents
* Restaurants aren't very common, and roadside shacks or your hotel's restaurant which serve food may need advance notice to prepare, specially in non-peak seasons
* Many places don't allow plastic bags, so you need to carry clothes bag for your food and other things, and will be advised not to throw trash on islands
* Don't forget to carry mosquito repellent/net, sunscreen, and swim wears
* Carry plastic pouch for phones and cameras given so much of trip is around water
* Many government museums and places are closed on Monday, so you can plan not to be in Port Blair on Monday
Flights, Hotels, and Local Travel
Being closer to equator, islands are pretty hot place in summer. Peak tourist season in Nov-Jan which is comfortably warm there. We visited in March which was fairly hot in parts, and this impact on our skin colour due to sun exposure was very visible from first to last day of the trip! Before arriving, we had booked flights with Spice Jet and hotels online.
We also had arranged with local tour operator Andman Exotic Holidays via Travel Triangle, followings:
* SUV for airport transfers, local travel, sightseeing as per itinerary
* Boat Tickets to Viper Island, Jolly Buoy Boat + Permit, North Bay, Rose Island
* Tickets to Cellular Jail Museum and Light & Sound Show
* Ferry - Port Blair to Neil Island, Neil to Havelock, Havelock to Port Blair
Our Itinerary
We landed in Port Blair airport (from Chennai) about 12:30 pm, and immediately checked in to the hotel Divyum Manor. Hotel was fairly decent but bit outside the main market Aberdeen Bazaar. For vegetarian food, there is Annapurna restaurant which serves south-Indian style meals and dosas.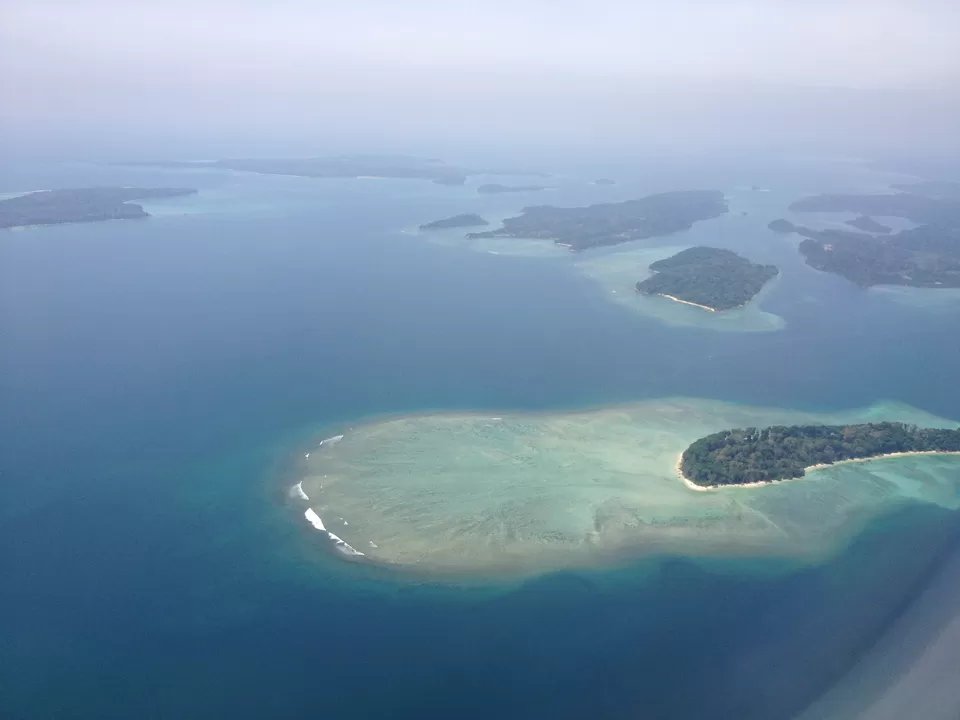 After refreshing and lunch, we took harbour cruise from Phoenix Bay Jetty to Viper Island in mid-afternoon. Viper Island is small jungle island with nothing to see, but boat/tour guide had fairly interesting stories to tell. The Britishers used to harbour and hang convicts here. This also had a jail which was abandoned after the construction of Cellular Jail.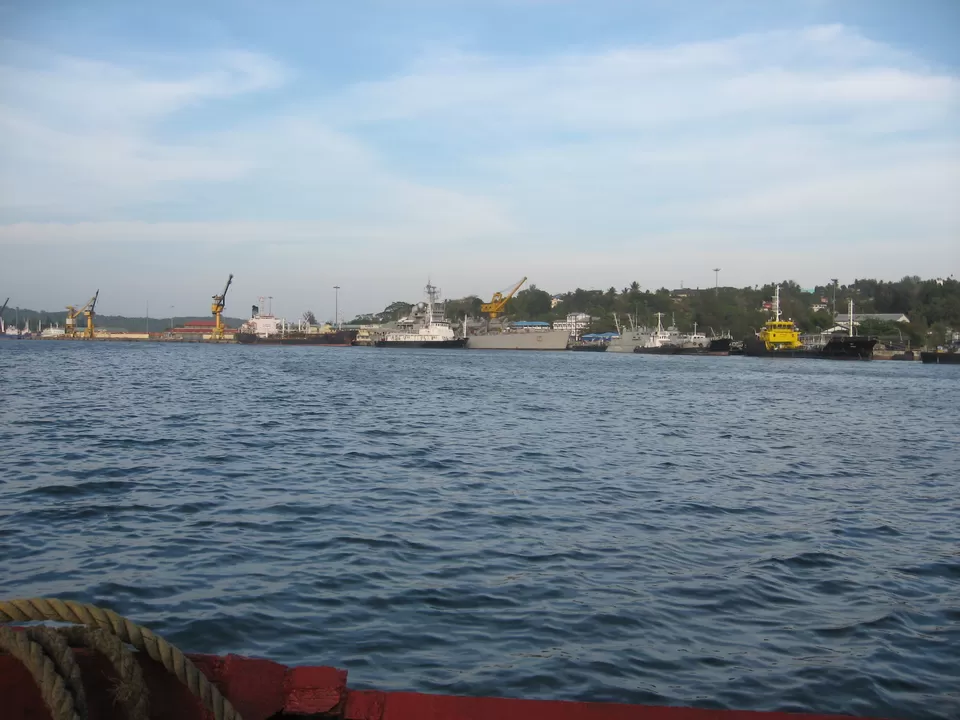 We spent that evening at Cellular Jail Memorial Museum and Light & Sound show (fee 20/-). Jail has a small museum (open 9-12am and 2-5pm, fee 5/-), and L&S show was good but not wonderful (compared to say, Light & Sound show in Hyderabad Fort). Even the history of torture, while being hard and gruesome in reality, doesn't sound that horrific in listening. We saw famous cell holding Veer Savarkar and walked around guard towers. You can probably skip this place just for what it offers, but shouldn't if you feel some patriotic feelings or want to understand freedom struggle tangibly.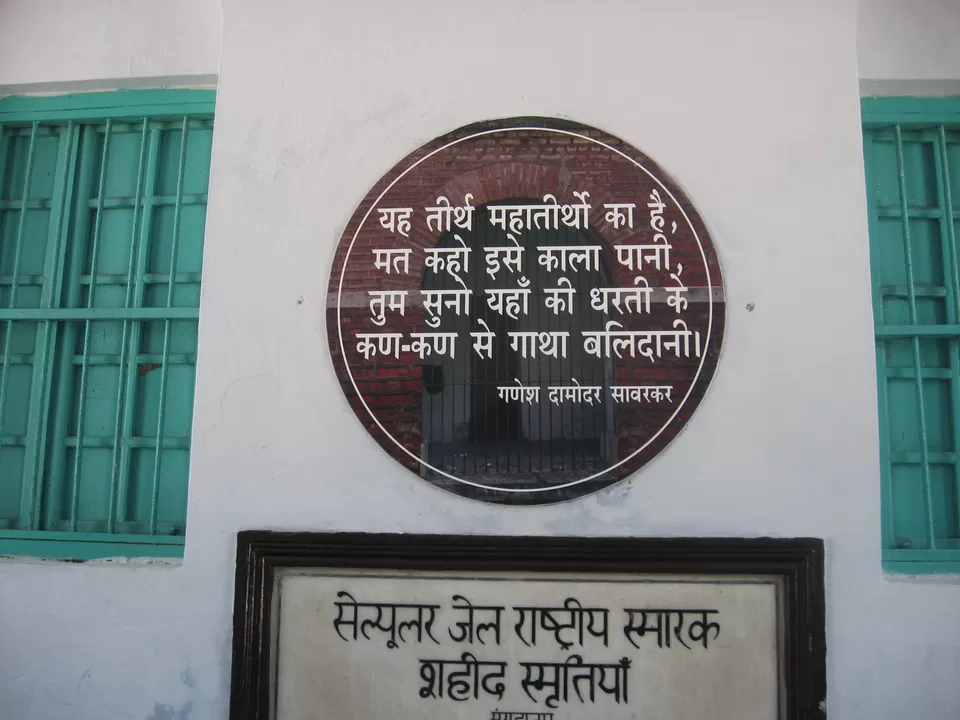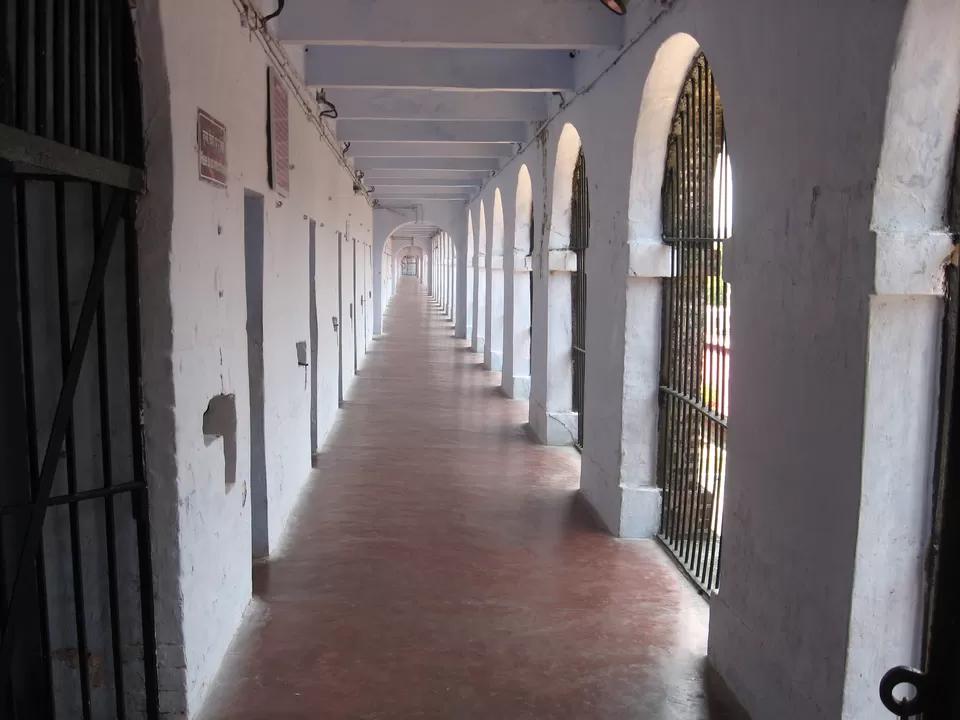 Next day, our car dropped us to jetty to take morning government ferry to Neil Island. We are glad we had Neil Island in our itinerary! It was so much fun.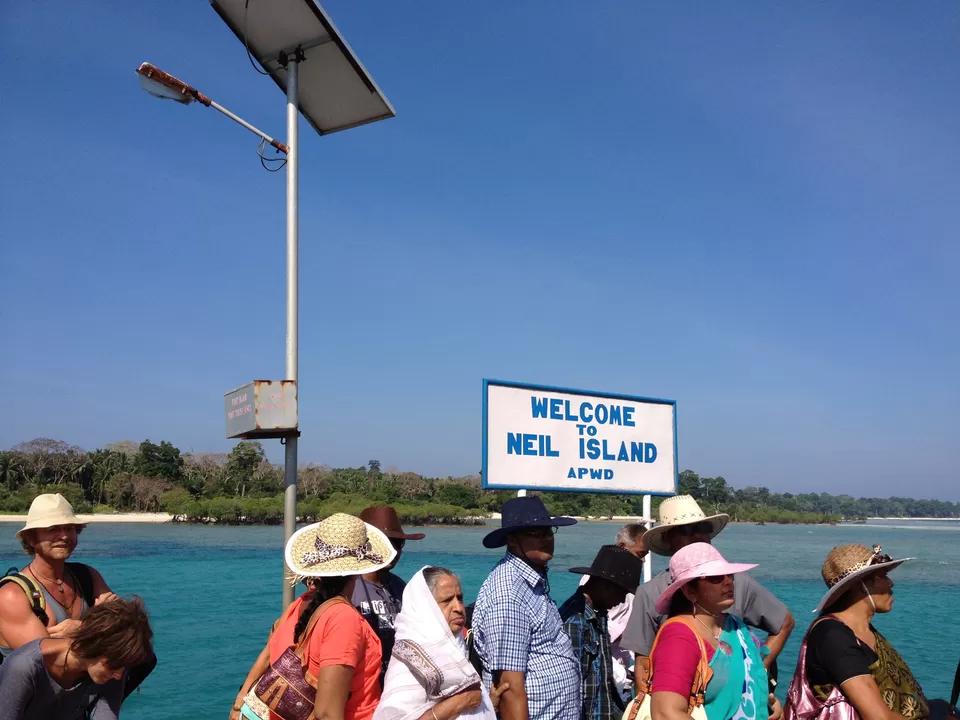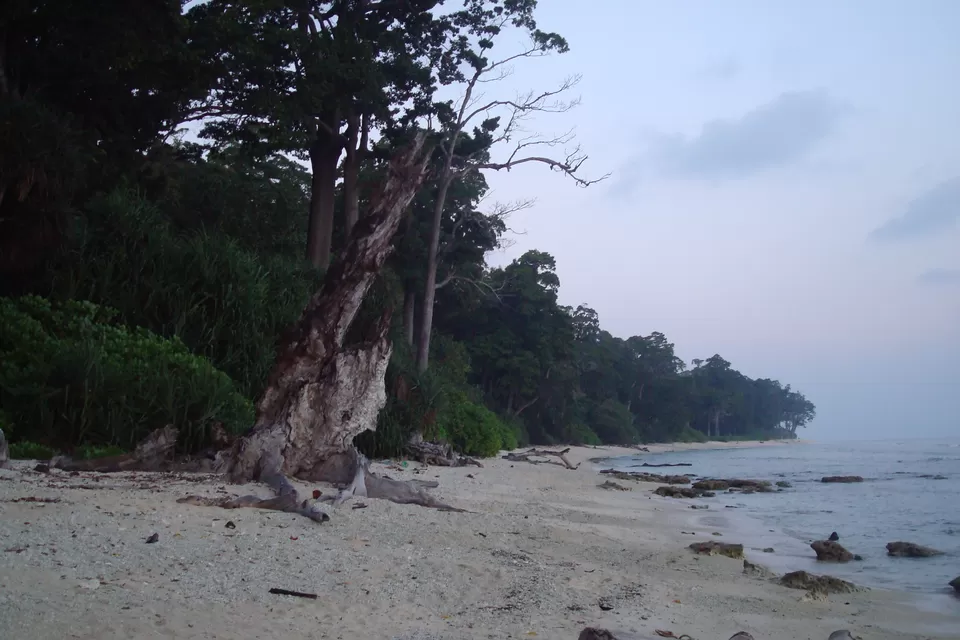 We spent the day riding rented cycles (INR 70 per day) and scooties (INR 200 per day) around the island. I still remember the pain in the bottoms riding those rough old-style cycles on rough semi-paved roads of Neil!
We bathed in Sitapur beach and walked to Howrah Bridge. Evening sunset at Laxmanpur Beach is the best sunset I've ever seen in my life. Sunset point has sea on three sides and orange hue of setting sun creates such a aura in sky and in ocean that heavens can only look like that! We pre-ordered lunch at Chand Restaurant and were served basic budget meal.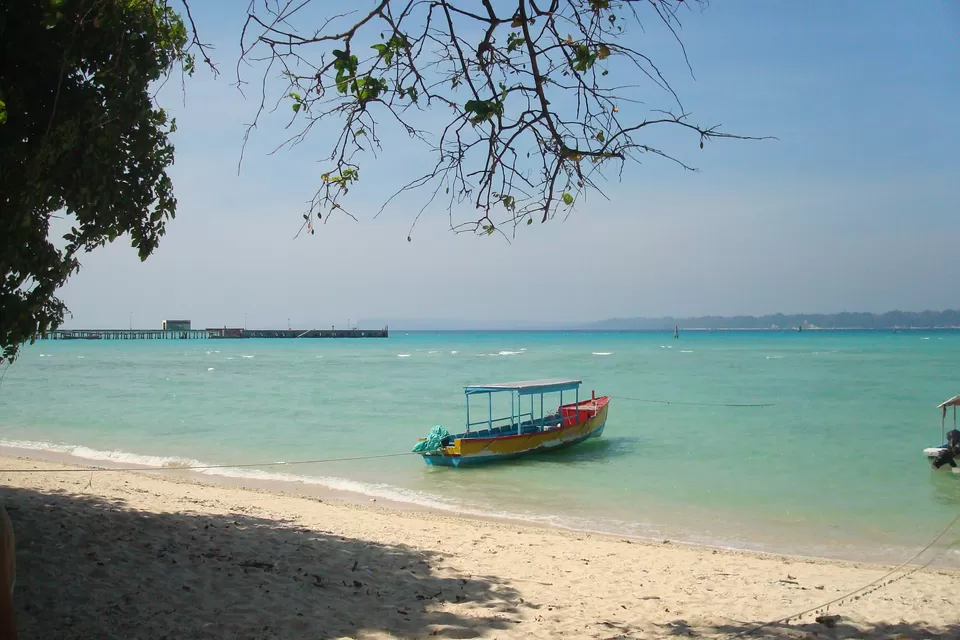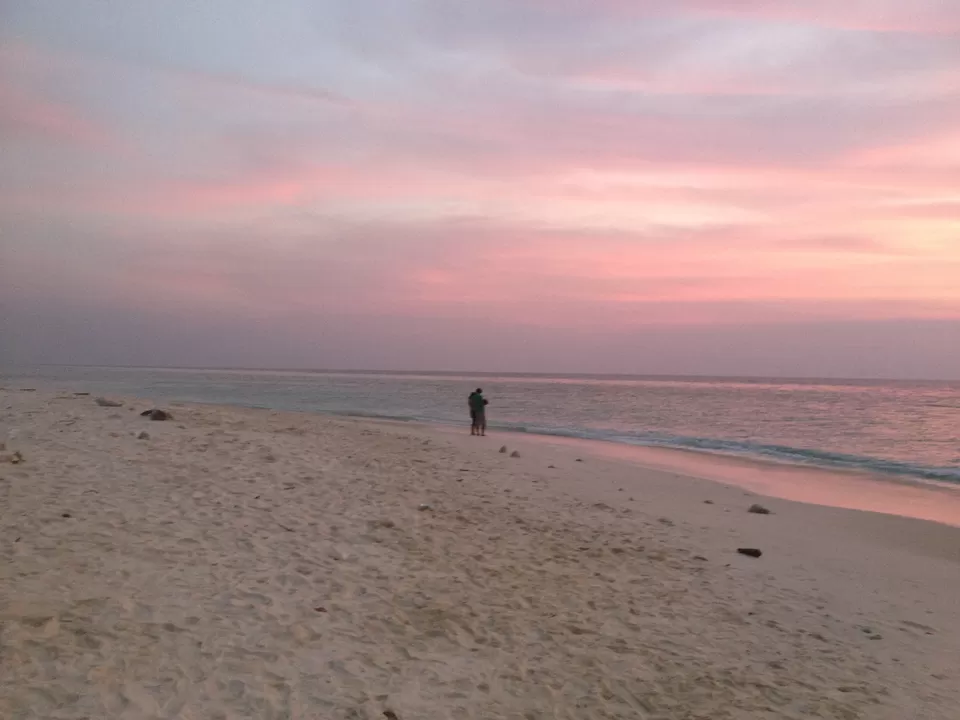 We woke up early next morning and played around at private beach, and took a ferry to Havelock Island.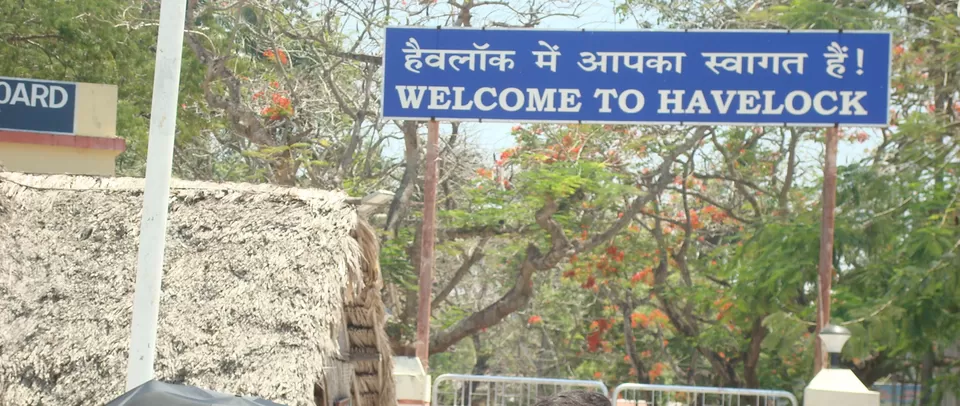 In Havelock, we stayed at Emerald Gecko cottage. Hotels are expensive in Havelock, and this was least comfortable stay with just wooden cabin and bed even at highest rate among Neil and Port Blair. We didn't hire scooties here, though could have, and used auto-rickshaw for local transport. That evening we spent at Radhanagar beach (also called Beach #7), which is considered the best beach in India and lived up to its hype. Beach has smooth silky sand and water which is so clear that you can see your toes when you stand shoulder deep in ocean! Dinner was at Anju Coco restaurant in the market. Another beach to visit is Vijayanagar beach.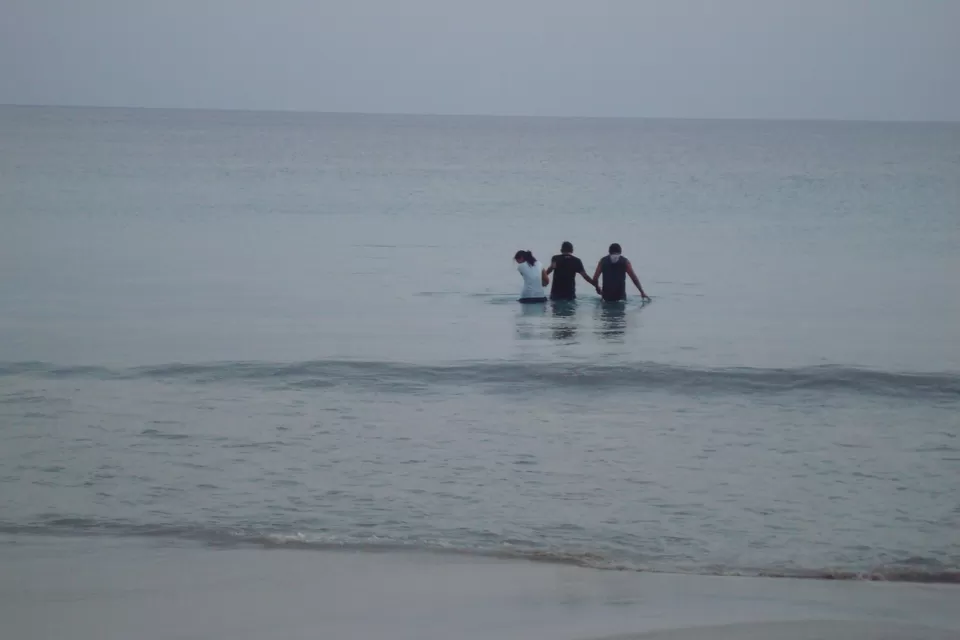 That evening, we also arranged for Scuba Diving for next day at one the shops in market. It was first experience for us, and we think we negotiated well (or we got lucky) since it was off-season! Next day, we had a boat take us to diving seat, and expert divers escorted us to 30 minute diving lesson. It was lovely and frightening at the same time. All of us managed to spend full 30 minutes inside without emergency/unplanned exit, but breathing in and out of tube is very conscious effort! For extra charge, underwater photographers took hundreds of photographs and burned them on CD for us. We took private, relatively more luxuries cruise, Makruzz, for return from Havelock to Port Blair on evening of fourth day. Our car picked us up and dropped at the hotel.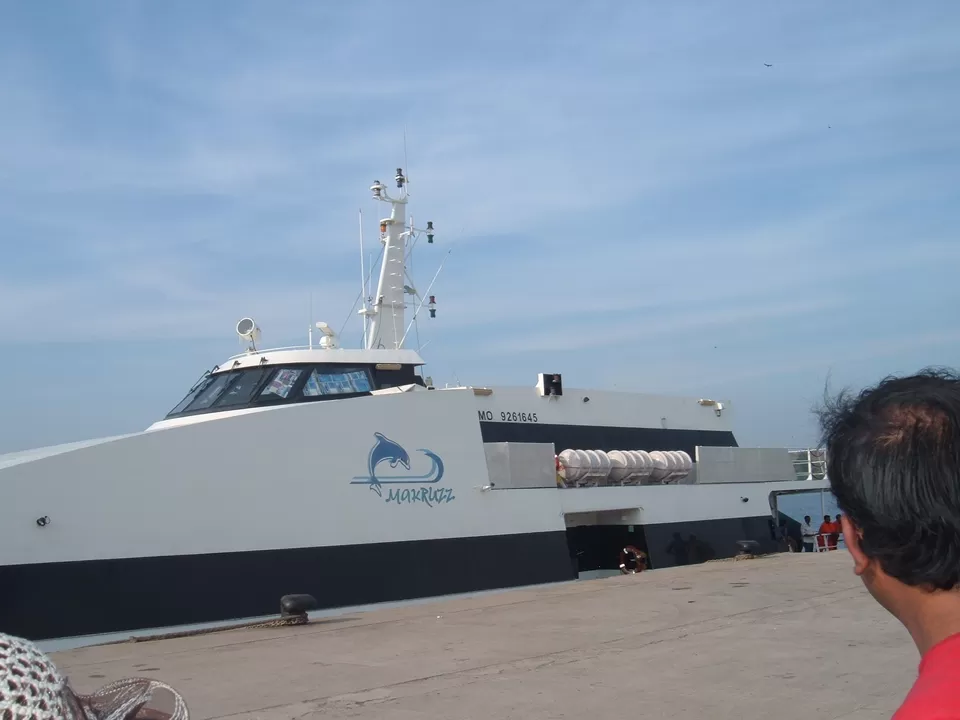 Fifth day morning was spent at Mahatma Gandhi Marine National Park. It houses shells, pictures, and aquarium of sort of marine animals. Given what you have to see at Andaman, government museums are totally not worth spending time on, and this is one regret I have is that I could have added extra day each at Neil and Havelock!
Later on, we took boat ride from Wandoor beach to Jolly Buoy/Red Skin! Ride from Port Blair to Jolly Buoy is an hour long by taxi, and it's also accessible by local bus. Jolly Buoy is environmentally protected area and needs special permits which our tour operator had arranged. We undertook snorkeling there, and it was great. Local guides are such experts in these things that they can pull 4-5 tourists (in tubes, with snorkeling kit in their mouth) using one hand and use other hand to swim out in deep sea! Lots and lots of star fish we saw.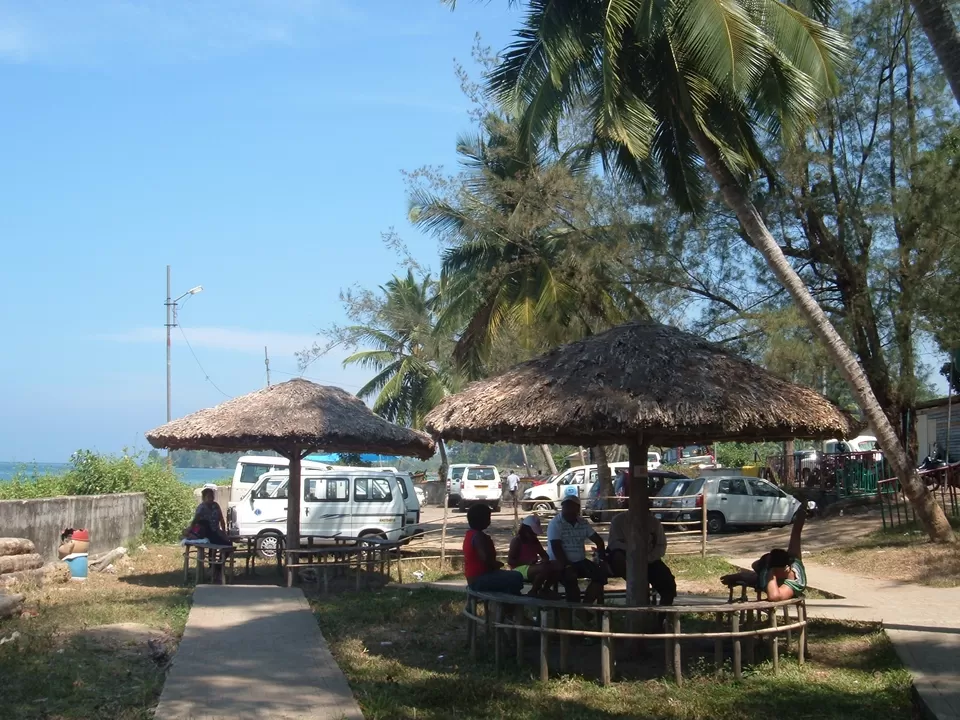 We spent evening at Andaman Water Sports Complex taking boat ride and jet skiing. They had options of parasailing as well but we had tried that Goa so skipped it. There as also an children's park and amusement park nearby.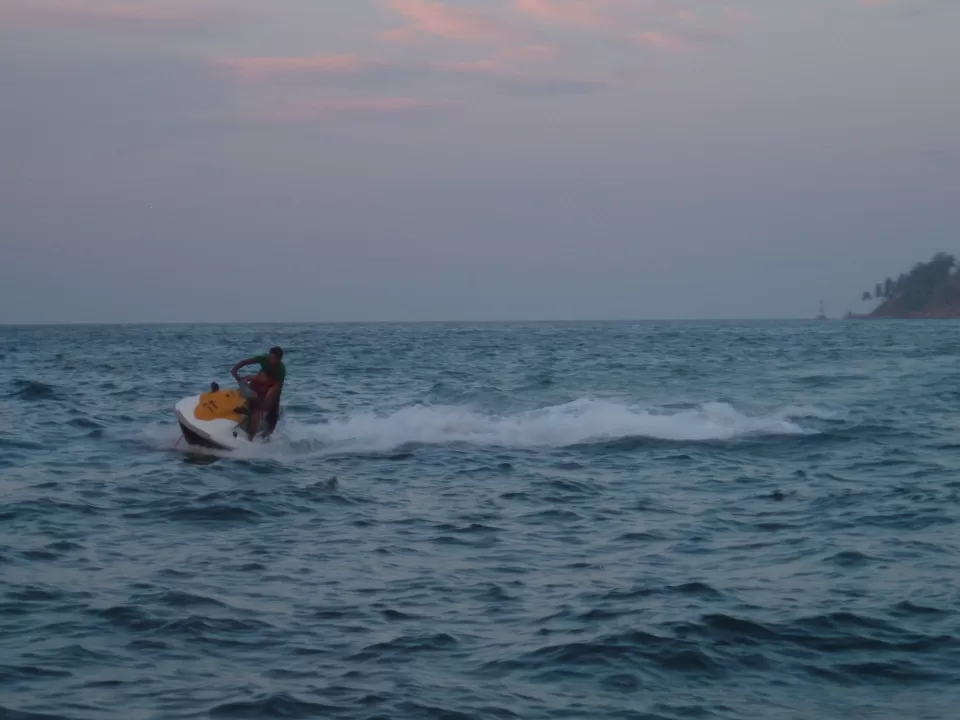 Penultimate day was boat ride to North Bay and Rose Island. There wasn't much to do on North Island, except snorkeling which we didn't try again after Jolly Buoy. We spent time bathing in the ocean during two-hour stop of boat and just hanging around. Rose Island has history in the World War and and we spent time just walking around.
Ross Island is open for the tourists to visit during day time as the boat services are available from the Phoenix Bay Jetty at 8.30 AM, 10.30 AM, and 12.30 PM. Navy has established a museum on the Island Known as 'Smritika' depicting the history of the Island.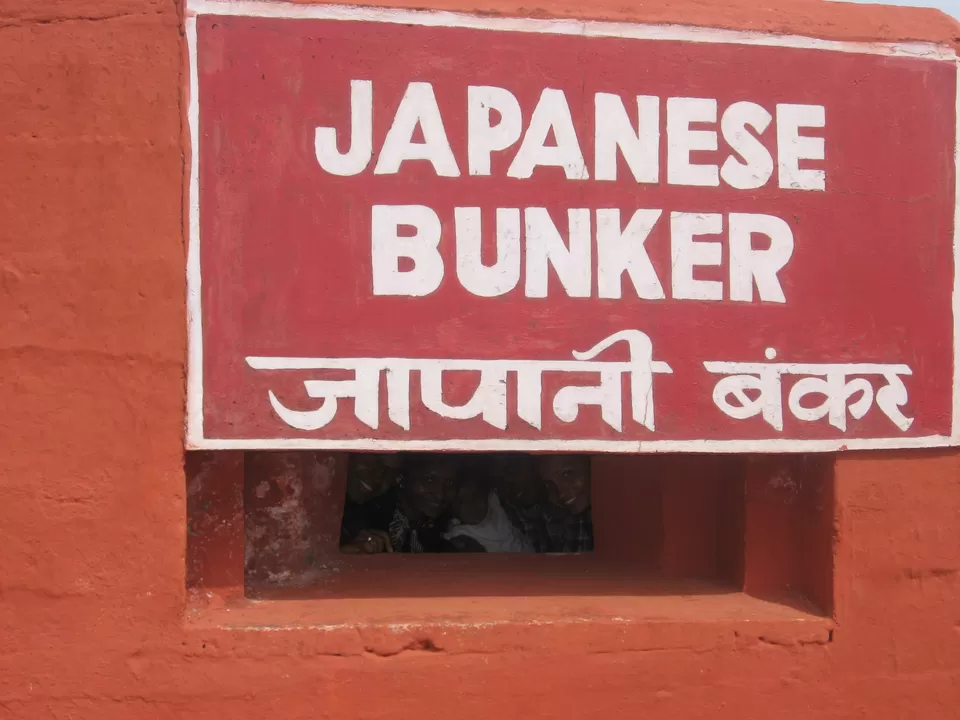 Last morning we whiled away at Anthropological Museum at Phoenix Bay (paleolithic people, tools) and Samdudrika Marine Museum till we had flight to catch at 1 pm.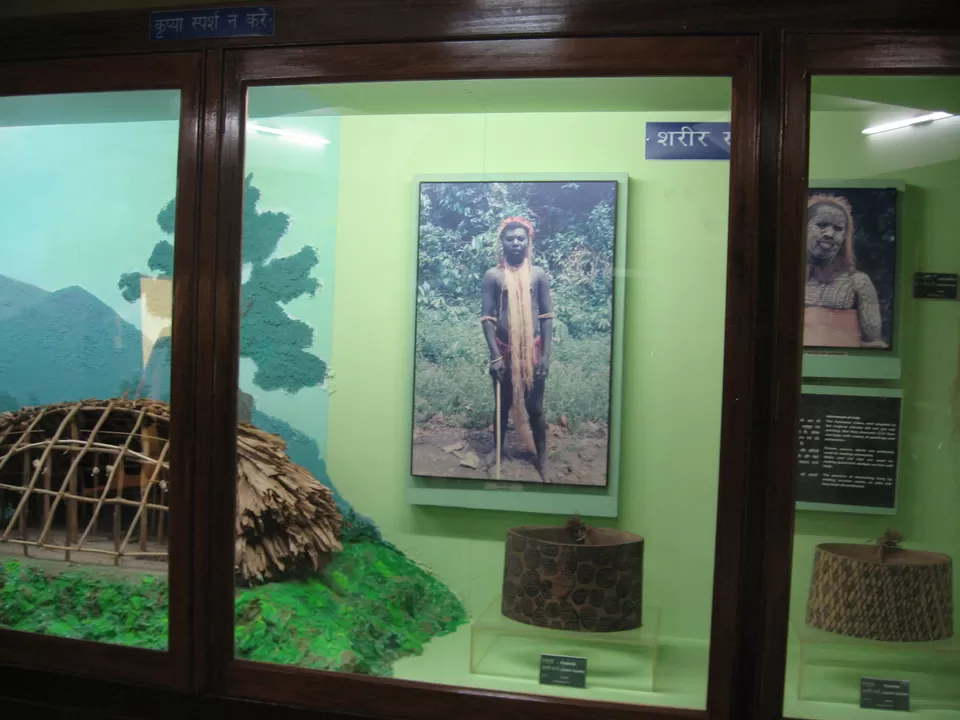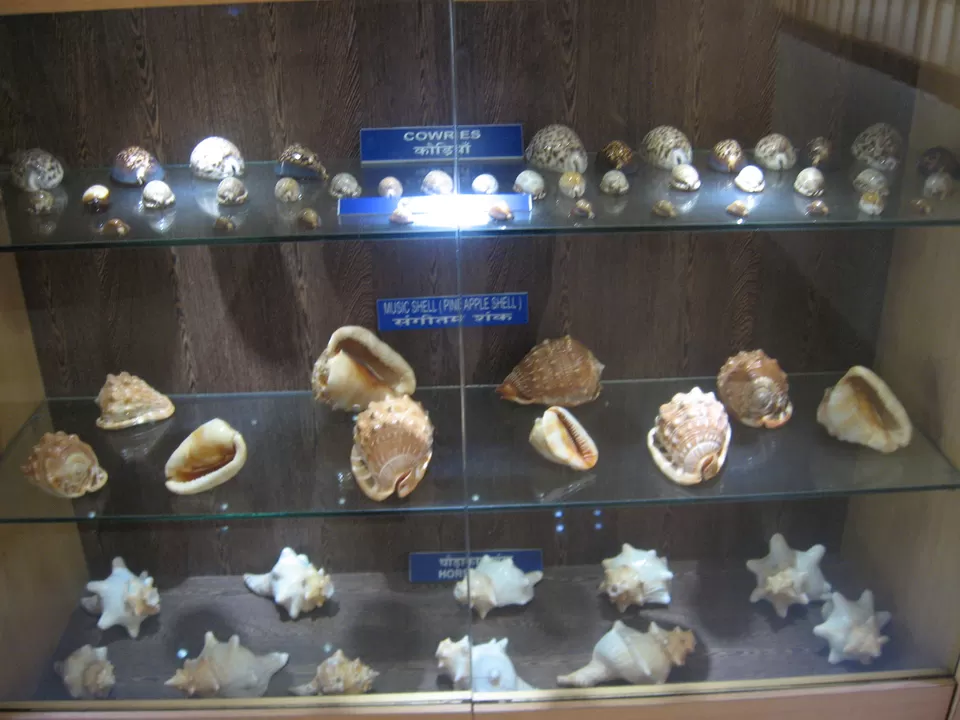 Doing It All Over Again...
If I had to re-do this, I will recommend following itinerary based on my experience:
* Day 1/2 Port Blair:: Cellular Jail, Jolly Buoy, Rose Island, Andaman Water Sports Complex (others can be skipped)
* Day 3 Baratang (if health permits):: situated between south and middle Andaman, 100 km from Port Blair by road. Need to walk 1.5 km through dense forest. Key attractions are Jarava tribe and lime stone caves.
* Day 4/5 Neil Island:: All beaches, Elephanta Island, see that sunset again!
* Day 6/7 Havelock Island:: Scuba Diving, snorkeling, Radhanagar beach
Also, finding local transport in Port Blair is easy so no need to book in advance. Auto-rickshaws are plenty, slight expensive but still cheaper than our taxi, since places are nearby in Port Blair. You will need to book a day long taxi for Jolly Buoy though.
Corbyn's Cove beach is accessible by ride from Port Blair. Other islands you can add to trip are Long Island for camping, Little Andaman for surfing, and Chidiya Tapu for bird watching. Some islands allow only day-trip e.g. Smith. Madhuban (75 km by road, 20 km by ferry and road from Port Blair) is a trekking area and one can get to see birds, butterflies, and elephant.
Booking your Own
If you plan to book ferries to islands on your own, you will need to visit/contact Andaman Teal House in Port Blair where tourism department has an office and runs cruises, ferries, and trips. For some trips, you will have to book tickets a day prior.
Following are prices I noted for various boat rides for 2013, presented for reference. Viper Cruise (100/-), Govt ferry from Port Blair to Neil Island (310/-), Govt ferry from Neil Island to Havelock Island (235/-), Makruzz ferry from Havelock to Port Blair (815/-), Jolly Buoy boat round-trip (800/-), North Bay boat round-trip (290/-)
You can also hire two-wheeler for self-driver (300/- per day, 1000/- security deposit).
Overall Costing (in INR)
Flight tickets Chennai to Port Blair (5 adults, 1 infant) and back = 32,750/- = 6,100/- per person (we booked in sale and got lucky)
Airport transfer = 5,500/-
Boat rides / Ferry tickets / Cellular Jail (as per above inclusions) = 12,250/- = 2,450/- per person
Hotel in Port Blair, AC room with breakfast (2 rooms * 1 night) = 4,420/- = INR 2,210/- per room-night = 1,100/- per person
Hotel in Port Blair, AC room with breakfast (2 rooms * 3 nights) = 13,261/- = 2,210/- per room-night = 1,100/- per person
Hotel in Neil Island (2 cabin * 1 night) = 5,000/- approx. = 2,500/- per room-night = 1,250/- per person
Hotel in Havelock Island (2 cabin * 1 night) = 5,000/- approx. = 2,500/- per room-night = 1,250/- per person
Scuba Diving (5 adults) = 15,000/- incl. pictures = 3,000/- per person
Snorkeling (5 adults) = 2,000/- = 400/- per person
Jet Skiing (2 adults) = 1,000/- = 500/- per person
Scootie/Cycle rental, auto-rickshaw, fuel, food, etc. = roughly 500/- per person-day
Approx. Cost per Person for 7 days = INR 20,000
Frequent Searches Leading To This Page:-
things to do in andaman and nicobar, 5 days in andaman, things to do andaman, places to visit in andaman in 3 days, itenary for andaman and nicobar islands, andaman and nicobar islands itinerary, budget trip to andaman, budget 4 star hotels in andaman