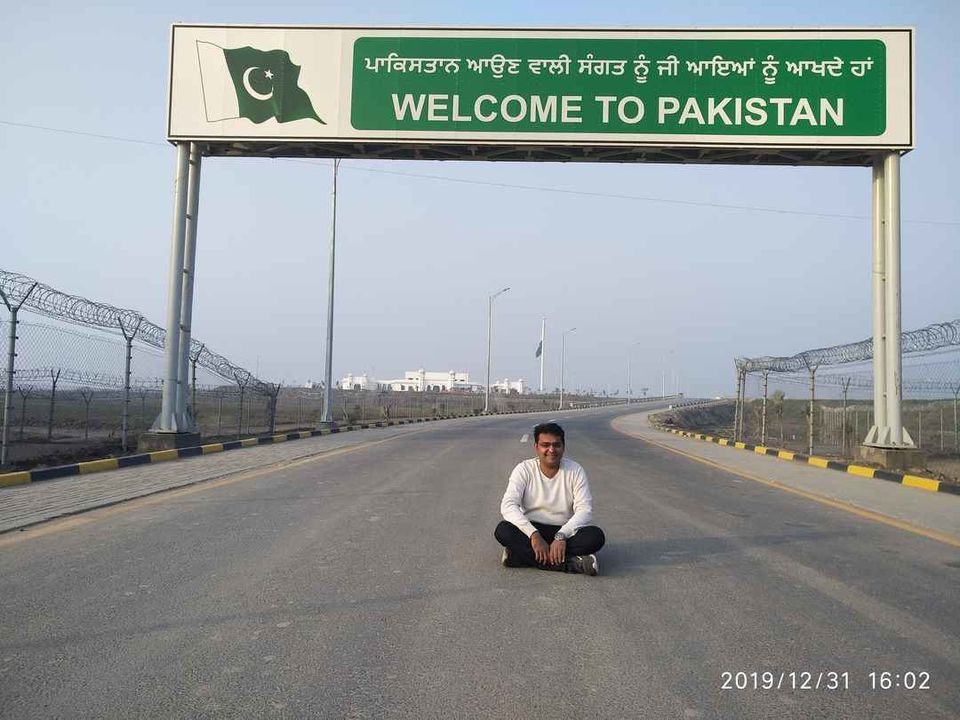 Dreams..Yes they do come true. So almost 3-5 years back i use to tell my friends that one day i wish to visit Pakistan - The neighbouring country which was part of India before Partition. Its my dream to visit Pakistan. Most of my friends told me crazy. Are you nuts ? You want to visit Pakistan. You and your wishes are crazy. It was impossible for an Indian citizen to visit Pakistan on tourist visa. Indian goverment didnt issue visa to citizen of India for visiting Pakistan. You can get visa only if you have your family members staying in Pakistan. So it was a nightmare to visit Pakistan.
It was around 9th November 2019 evening around 9 pm. I just turn on the Television and i have an habit of watching News Channel everyday. India Tv is our favourite and offcourse Rajat Sharma too. Headlines - Flashing on the screen. Indian visitors can visit Kartarpur Corridor in Pakistan. So it was around 300 people from India who went to kartarpur corridor innaugral ceremony. I could see so many people were talking and having great time at Kartapur Sahib Gurudwara.
Around 10.30 pm i started searching youtube on How to visit Kartarpur Gurudwara ? I found website for Kartarpur Registeration and the next thing which came to my mind was can a Non-Sikh can visit Karatarpur Sahib. I didnt found any clues because most of the news channel were showing Karatarpur Corridor is open for Indian Sikhs. So i thought i wont get chance to visit Pakistan.
After somedays 4th Dec 2019, i was scrolling my youtube i could see Deepanshu video on his youtube channel Nomadiac indian on his visit to Kartarpur Corridor. He showed entire journey on how he booked online, Registeration Procedure, Passport stamping, ETA Process and how one can visit Kartarpur from India. It was almost 4-5 videos and his interaction with Pakistan people who had visited kartarpur same day. Deepanshu is one of the famous Travel Vloggers of India. After watching all the videos, i was sure that anyone can visit kartarpur. I had some conversation over whats app with him.
6th Dec, 2019 Finally i made up mind that i want to visit Pakistan and came to my home and filled up the form to visit kartarpur Gurudwara Sahib. I knew i have to go through a lot of verification process. I had to upload my all documents, Pan Card, Adhar Card, Passport. The next step was i need to select the date of visit Kartarpur. Now what could be better than spending last day of the year in Pakistan - 31st Dec 2019. i had filled up the details and submitted entire form.
8th Dec - A Goverment official called me up and told me i want to visit your house. He told me that you want to visit Pakistan. So i need to verify all your documents. I was at Ahmedabad Stocke exchange with my friend Hardik Patel. My home is almost 4 kms from ASE. He came after half hour and saw my documents and had asked me some questions why you want to visit Pakistan. I told him its my wish to visit once. He took my business cards, Electric bill and then he left for Shahibaug area.
9th Dec- I recieved a call from Police Station. The lady inspector told me can you come today by 2 pm for verification. I told her yes. I will come in an hour. The lady constable started asking me question - what you do ? Why you want to visit Pakistan ? India mein gumne ke liye jagah kam hain ke tumko waha pakistan jana hain. I started laughing - and told her thats my childhood wish to visit Pakistan. She took my all documents for verification and told me after our approval this all information will go to Police Commissioner Kacheri Ahmedabad. Later when everything was over. She asked me for "Bakshish - Lao 1000rs doh.."..Laughing at her i gave her Rs. 500 and she offered me to have Tea. I told her - I will definately have this Tea worth Rs. 500. After having Tea I left for my home.
i booked the tickets for Delhi for 24th Dec and For Amritsar i booked train tickets for 27th Dec. So now the next thing was i need to tell my parents regarding my visit to Pakistan. My Dad, as always why do you travel so much. Did you tell your mom that you're planning to visit Pakistan. I told him she already knows and she doesnt have any problem. My mom never tells me No. She always supports me in everything i do..
Emotions were so high. A different Feeling. Heart beats were running at a speed of 200km/h. I couldnt describe their were so many things going through my mind as i was waiting for the 31st Dec 2019 to keep my footprints in Pakistan.
Subscribe my youtube channel - Ghumakkar Gandhi