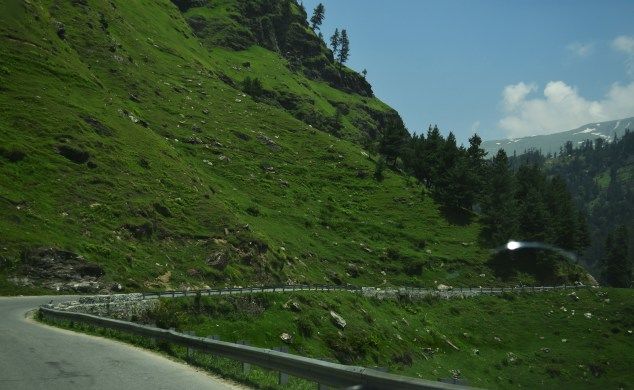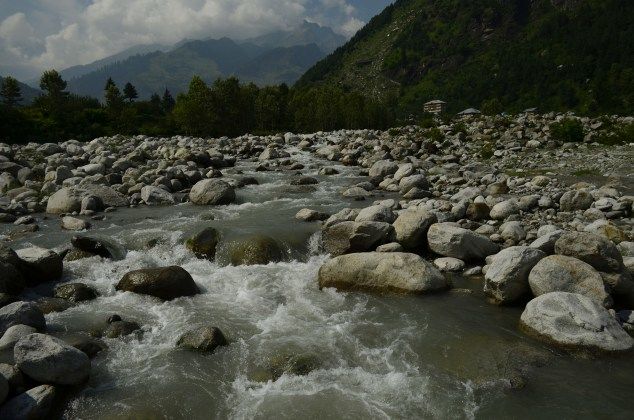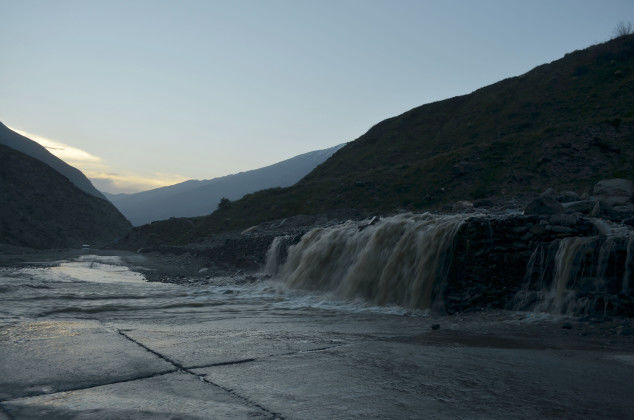 This should be a must-visit trip for all youngsters (and I say this as it is not an easy route so definitely to be avoided by people who are not physically fit). For the weak-hearted, it may put you through some stress due to the high altitudes, but that can be managed by a prescribed dose of Diamox. (I recommend taking it only & only if needed.)
Our 10 day journey started the minute we landed at Chandigarh airport & it was a trip filled with adventure, not knowing what we would see next or whether we'd make it through or would have to take a U-turn as the roads at some stretches were quite treacherous. Finally taking my dream trip, the experience was just as I had expected it to be, in fact even more. 
On my first halt at Manali , I took an early morning walk by the garrulous Beas river flowing beside the road.  From Manali, we headed to Rohtang pass, where I had another unforgettable experience that'll remain etched in my memory forever – Paragliding. I did have butterflies in my stomach when I saw that it needed me to run and jump off a cliff in order to take flight, but once 8000 ft. above, I was awe-struck and loved every minute of my 15 minutes flight.
Anticipation abound for what I'd witness on my journey ahead, we started our official Leh road-trip from Manali & took the first night halt at Keylong. The next morning, we started for Leh and knowing that the roads are going to arduous, we had to leave early. On our way we saw some really beautiful streams and at one point the flow of water was so harsh that for a minute we thought our vehicle wouldn't make it past that. But this is the entire beauty of the place, so many mysteries, so many twists on the way  that it makes the journey all the more incredible. The third night we took a night halt at Sarchu (16,000 ft) which is a barren land surrounded by mountains everywhere that you set your eyes and really cold at night. Sarchu was the place that almost all of us in the tents experienced head-aches & nausea but fret not as this is normal at such high altitudes. The best way to keep headaches at bay is to be well hydrated at all times & to eat light. 
Once we crossed Sarchu, the terrain gets a little monotonous as you will only see stretches & stretches of dry brown mountains. Sarchu to Pang has to be the deadliest road I've travelled on – steep valleys below, blind turns & extremely narrow roads, everyone in the car has to be alert at all times. Once you near Leh you will again witness some green patches of land which is a relief as this means you're coming close to some life around.
This city situated at approximately 10,000 ft above sea level is surrounded by vast expanses of snow clad Himalayan Mountains.  It is pure bliss to wake up every morning and see such beautiful sights around.  Our first day we headed to Nubra Valley where our first halt was Khardungla pass. I had the best black tea ever at the cafe here. Awesome weather, snow laden roads & steaming hot cup of black tea & Maggi noodles – life can't get better than this.  I wasn't too impressed with Nubra valley as there isn't much green here. It is barren & we couldn't even do the Camel Safari in Hunder probably due to Ramzan & we reached around lunch time.  You can probably just go until Khardung-La and return from there or if you like visiting monasteries, you can head to Diskit which has the biggest statue of Buddha in the valley.
Coming to the famed Pangong-Tso, the beauty of this place is surreal and unlike anything I have seen in my life.  Where mountains meet water and reflections of the deep blue sky make this truly a heaven on earth.  We did an overnight camp in Pangong and were lucky enough to witness the fun n frolic of the local ladakhi folk. Right next to our tents there was song & dance and lot of cheer which totally lifted up our spirits.  Photographing the Pangong lake is a photographers delight but we weren't so lucky as it was an overcast sky on the day and I was hoping till I could see the last of the lake that it would turn into the coral blue that I have seen in so many pictures. Nonetheless, being there and touching the ice-cold water is pure bliss.
You will also see some beautiful stretches of landscapes with grazing horses, yak & sheep which is a delight to the eye. Everywhere you go in Leh –Ladakh will carve a spot in your mind & heart. From Leh we proceeded to Kargil & then Kashmir.
But if you are in India, Leh should be a must-visit on your list of travel destinations. I experienced a lot of emotions in this valley, that of awe for our Militia who work day-in day-out just to keep us safe, overwhelming emotion for the beauty that is so pure, respect for the kind-hearted local folk and above all I came back with a sense of patriotism and love for my beautiful country.