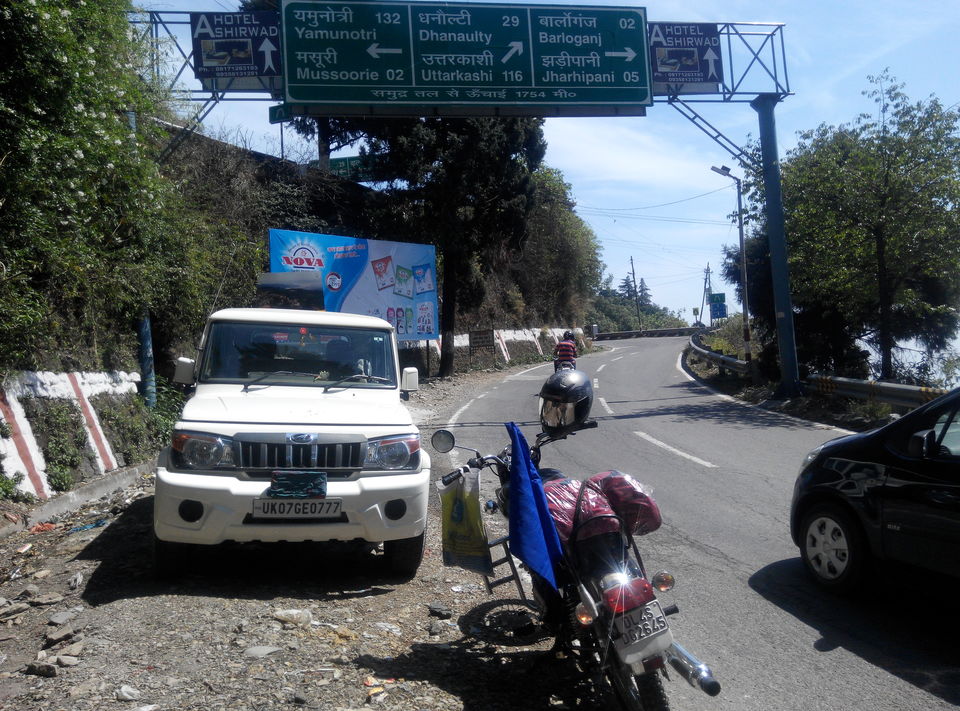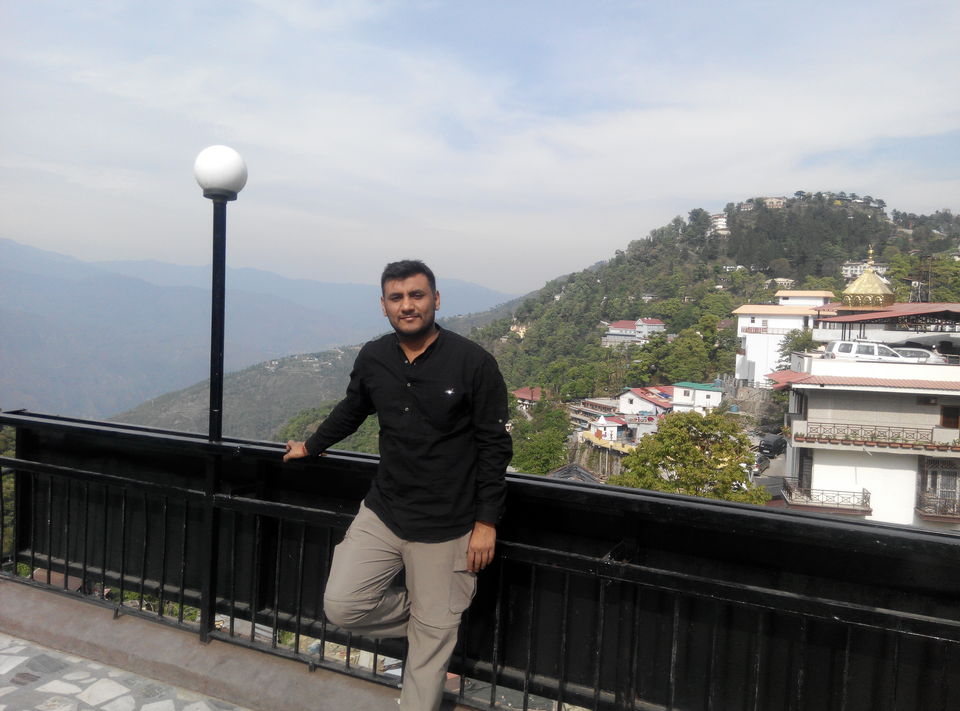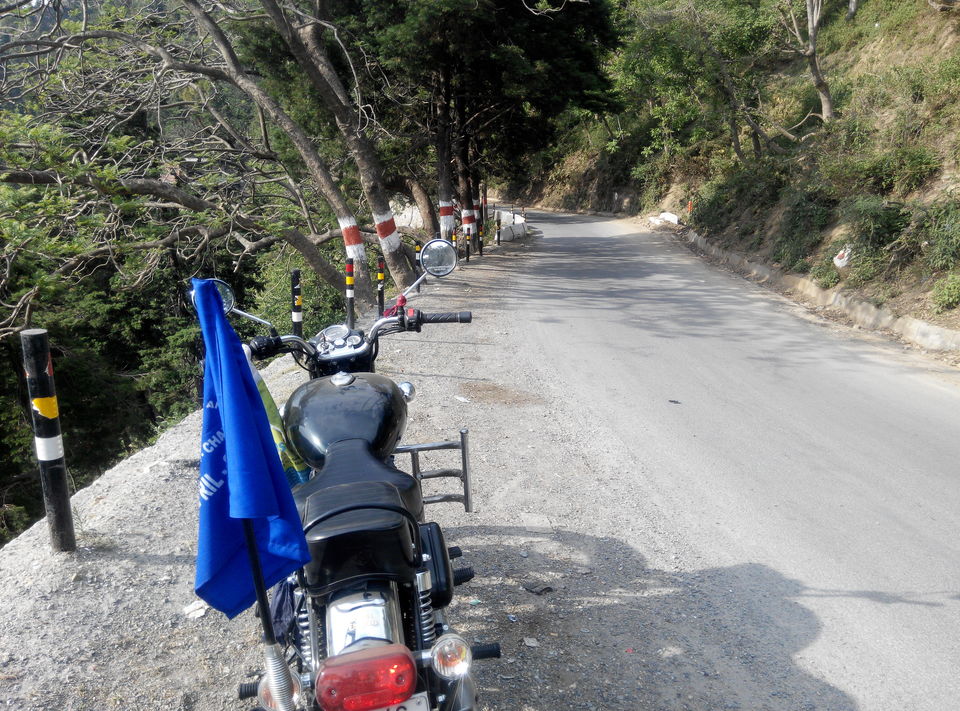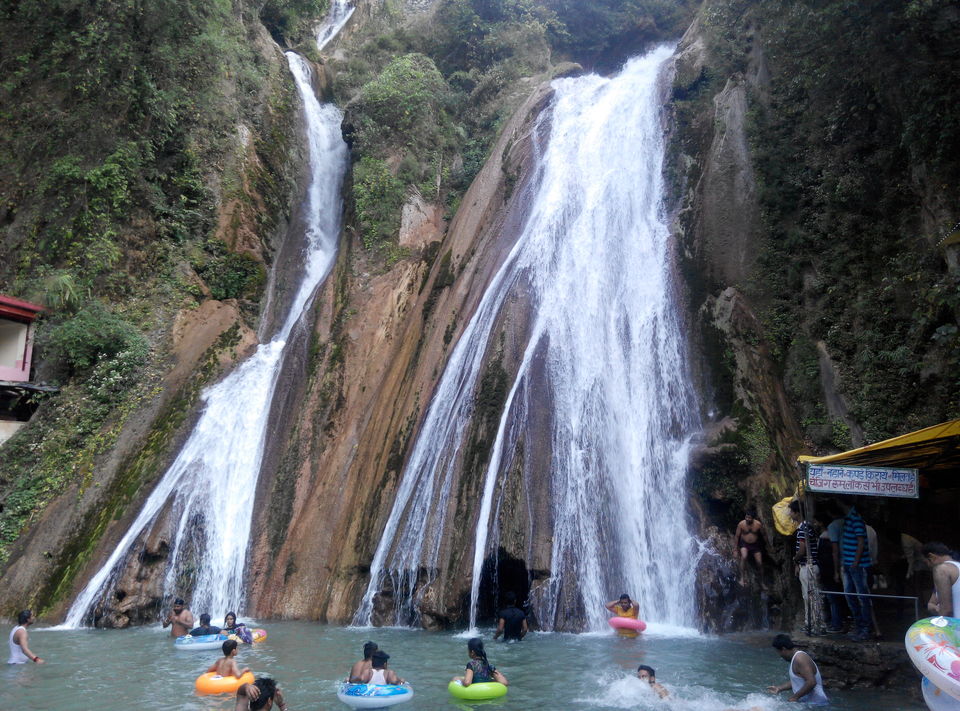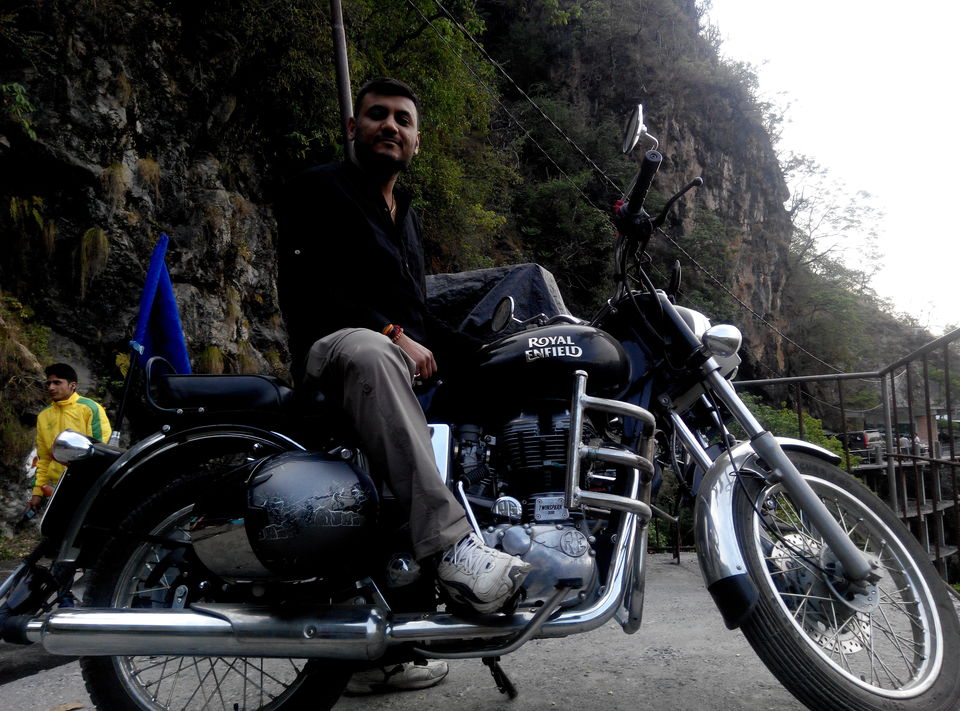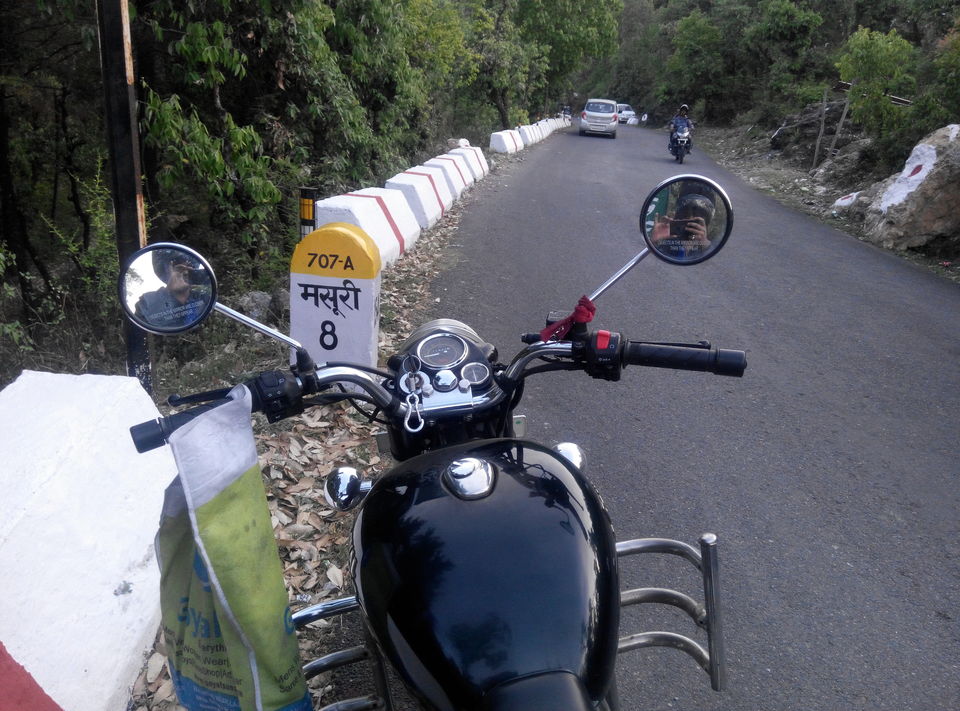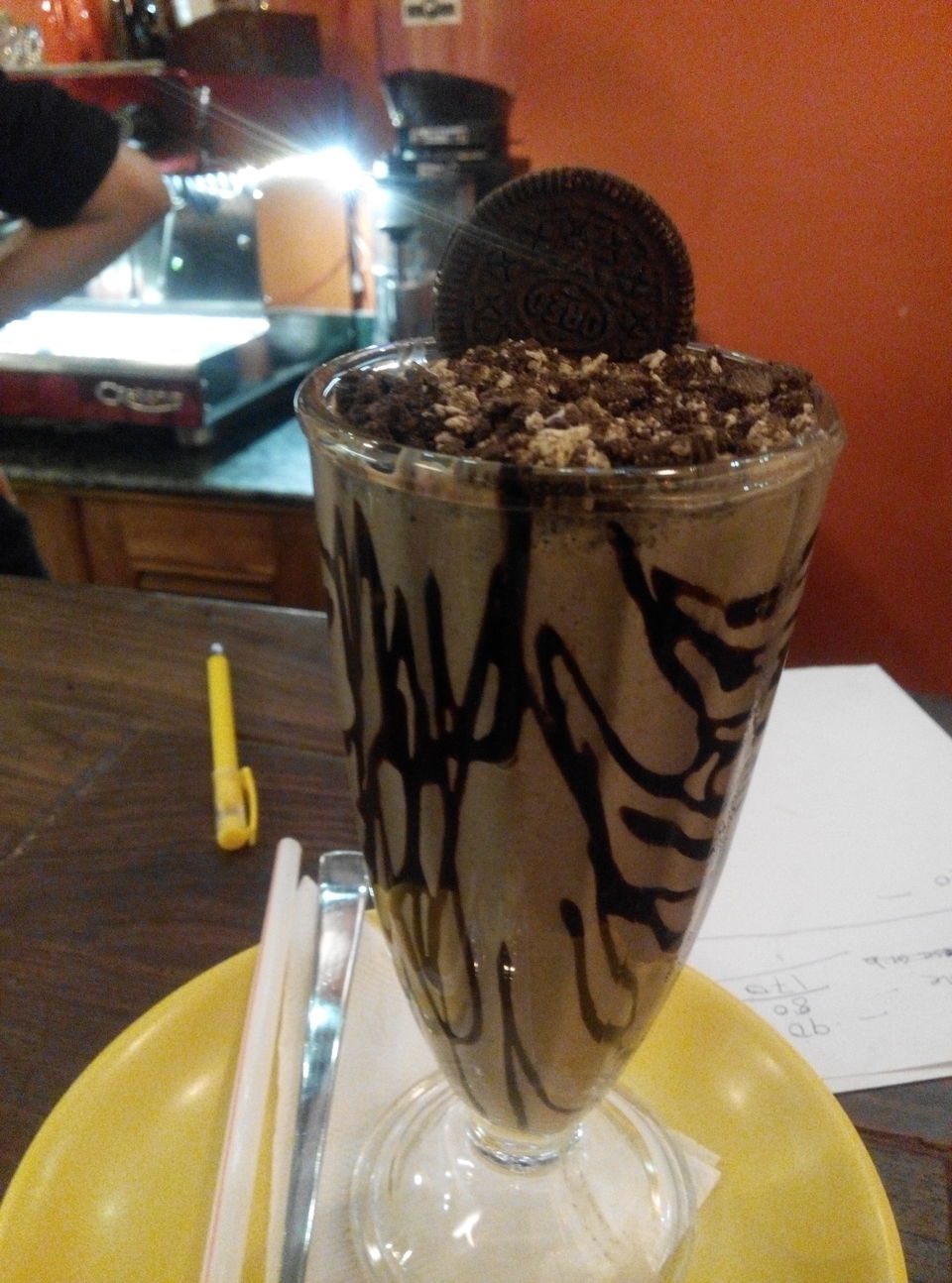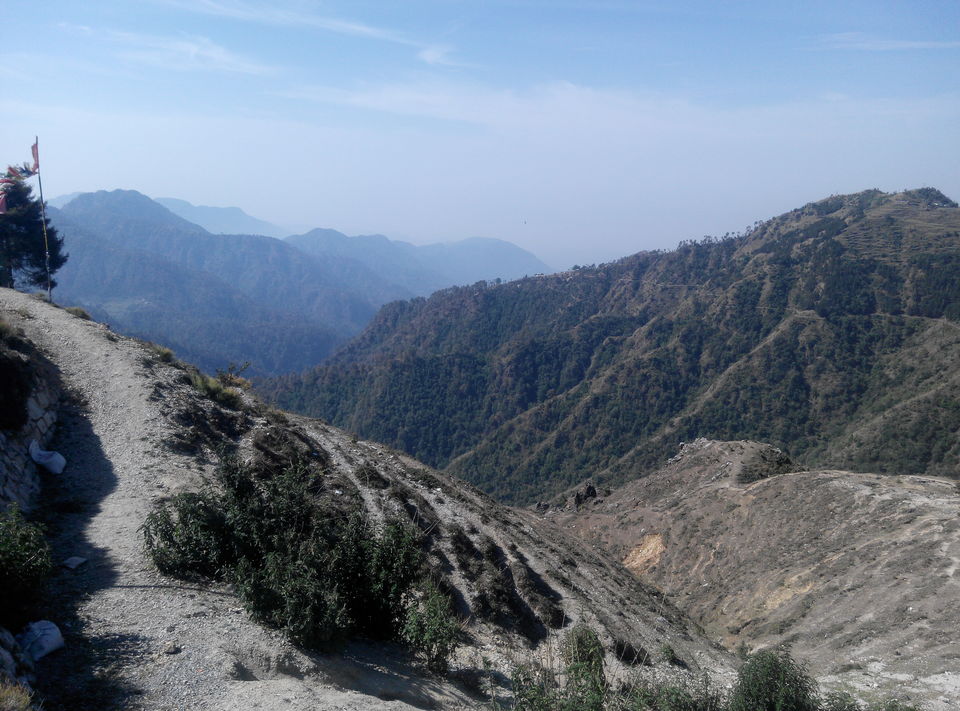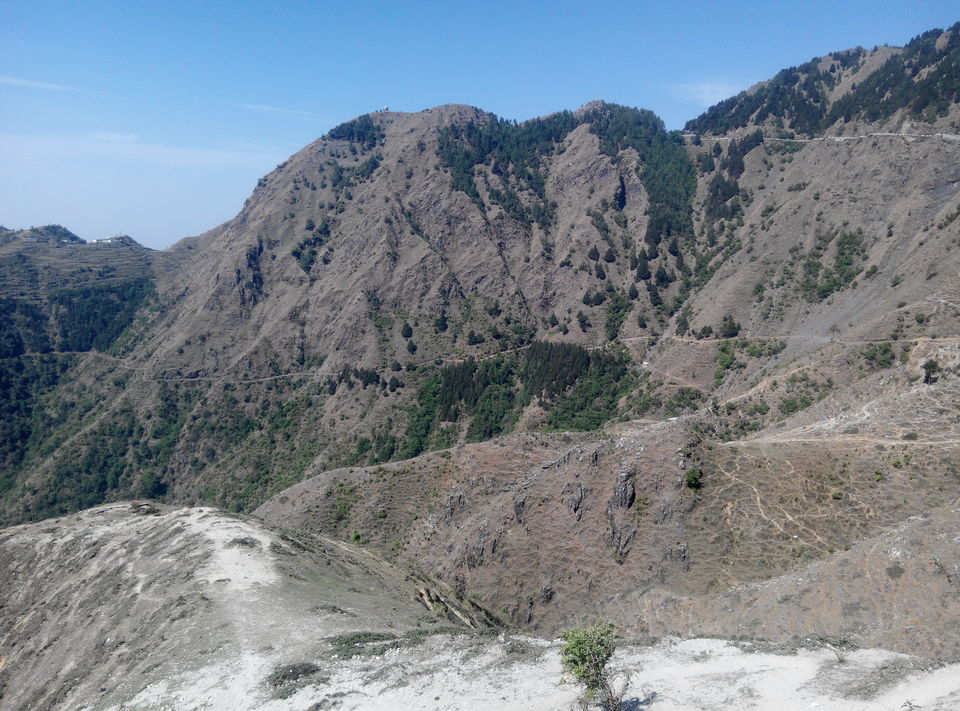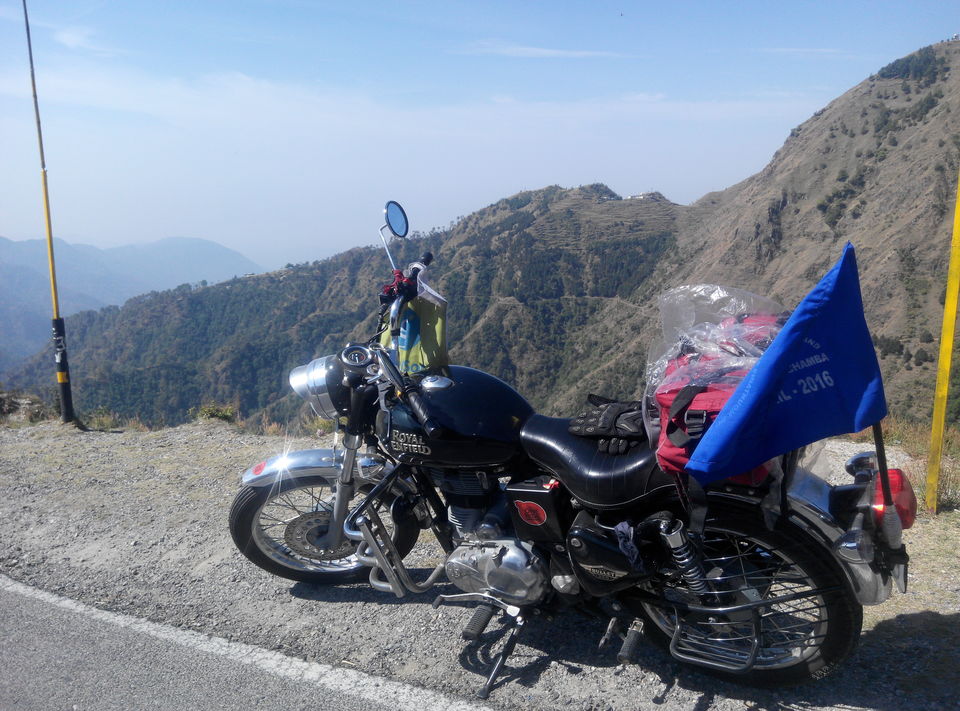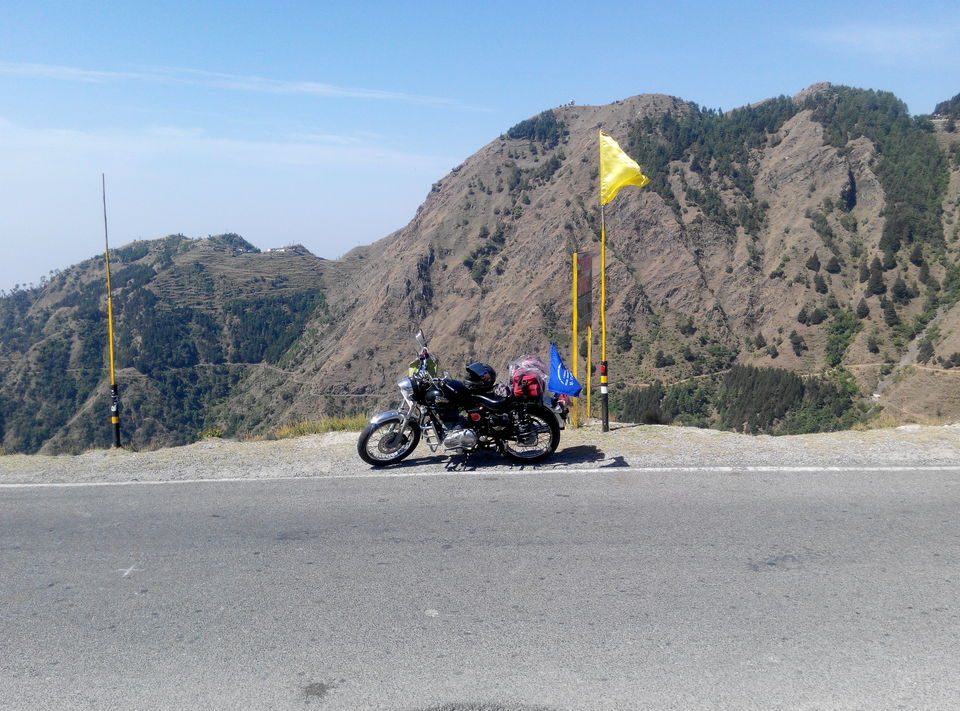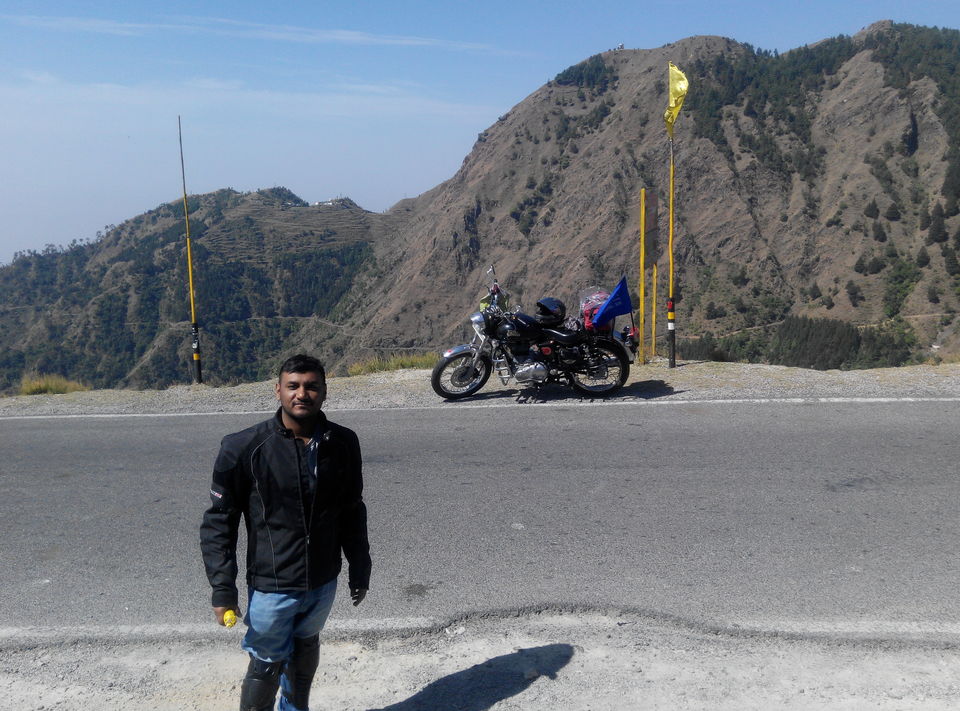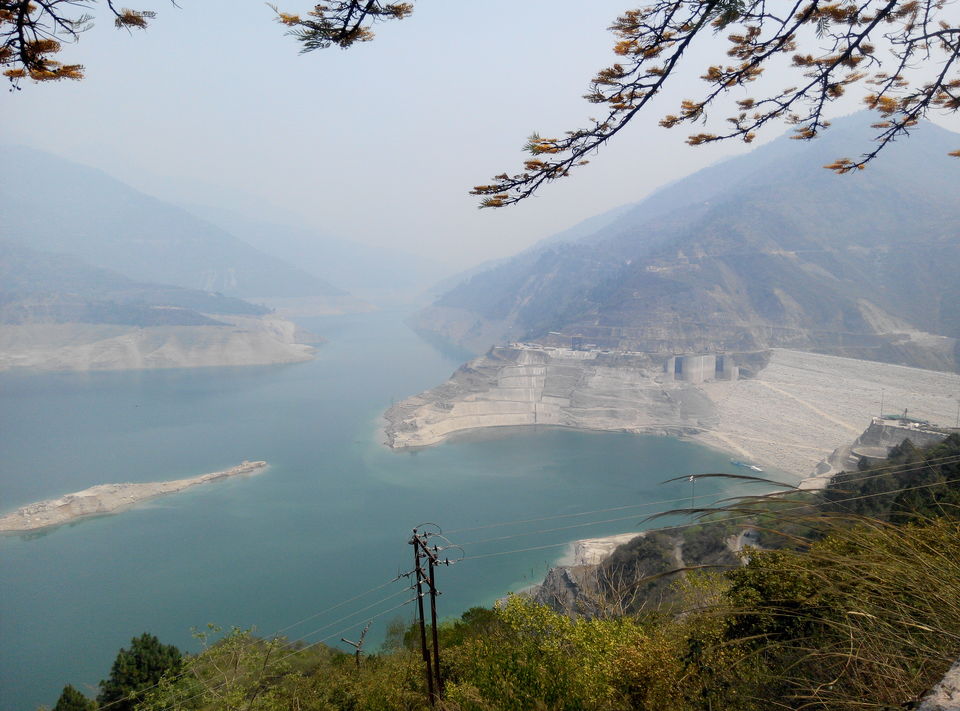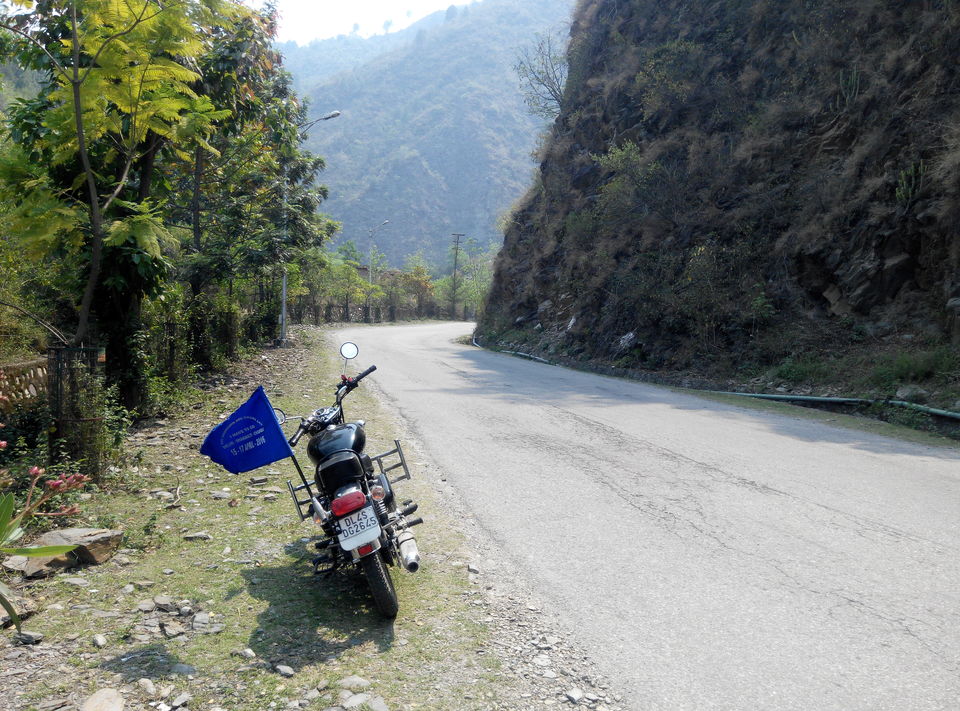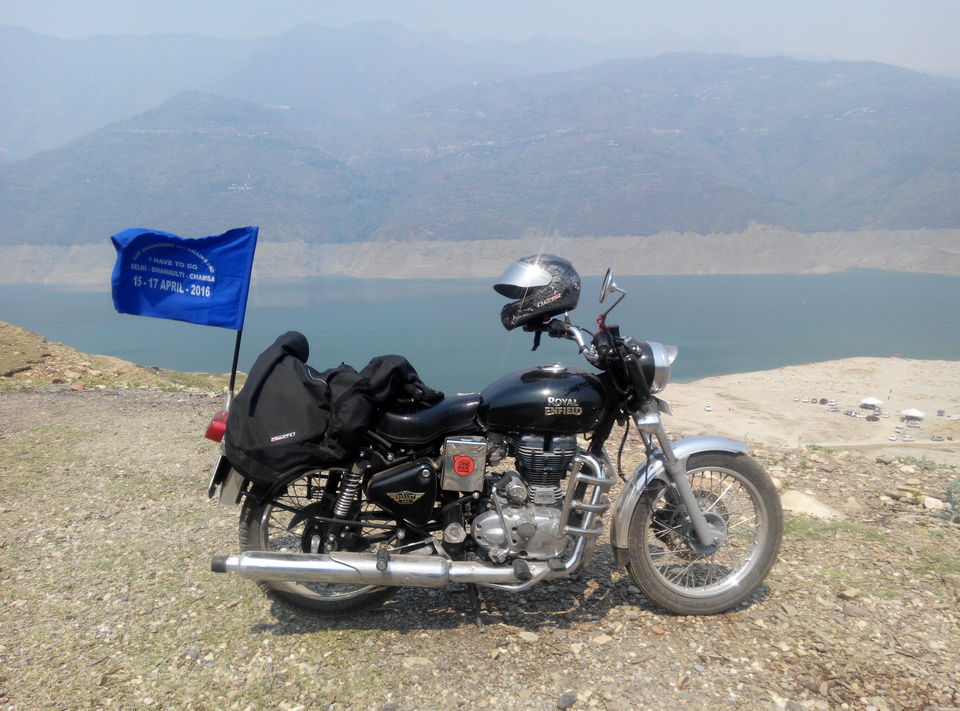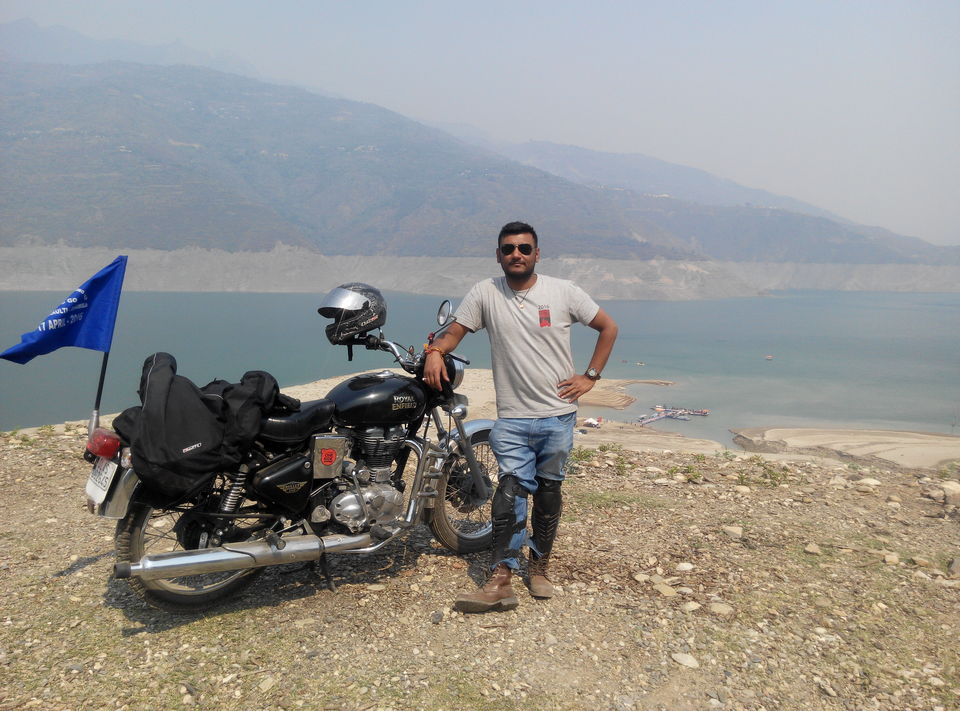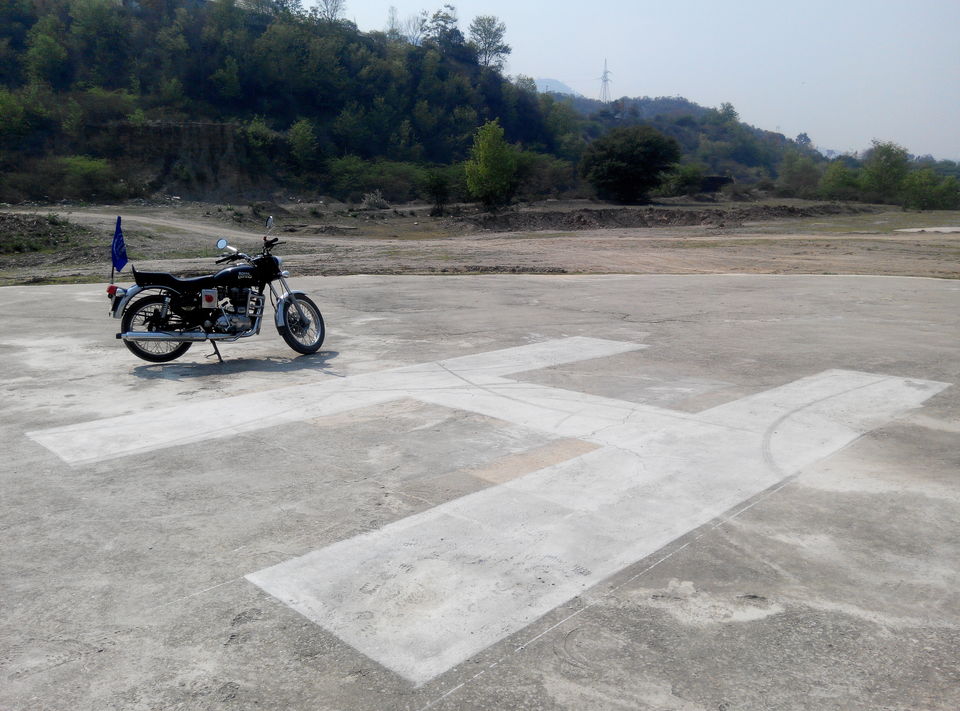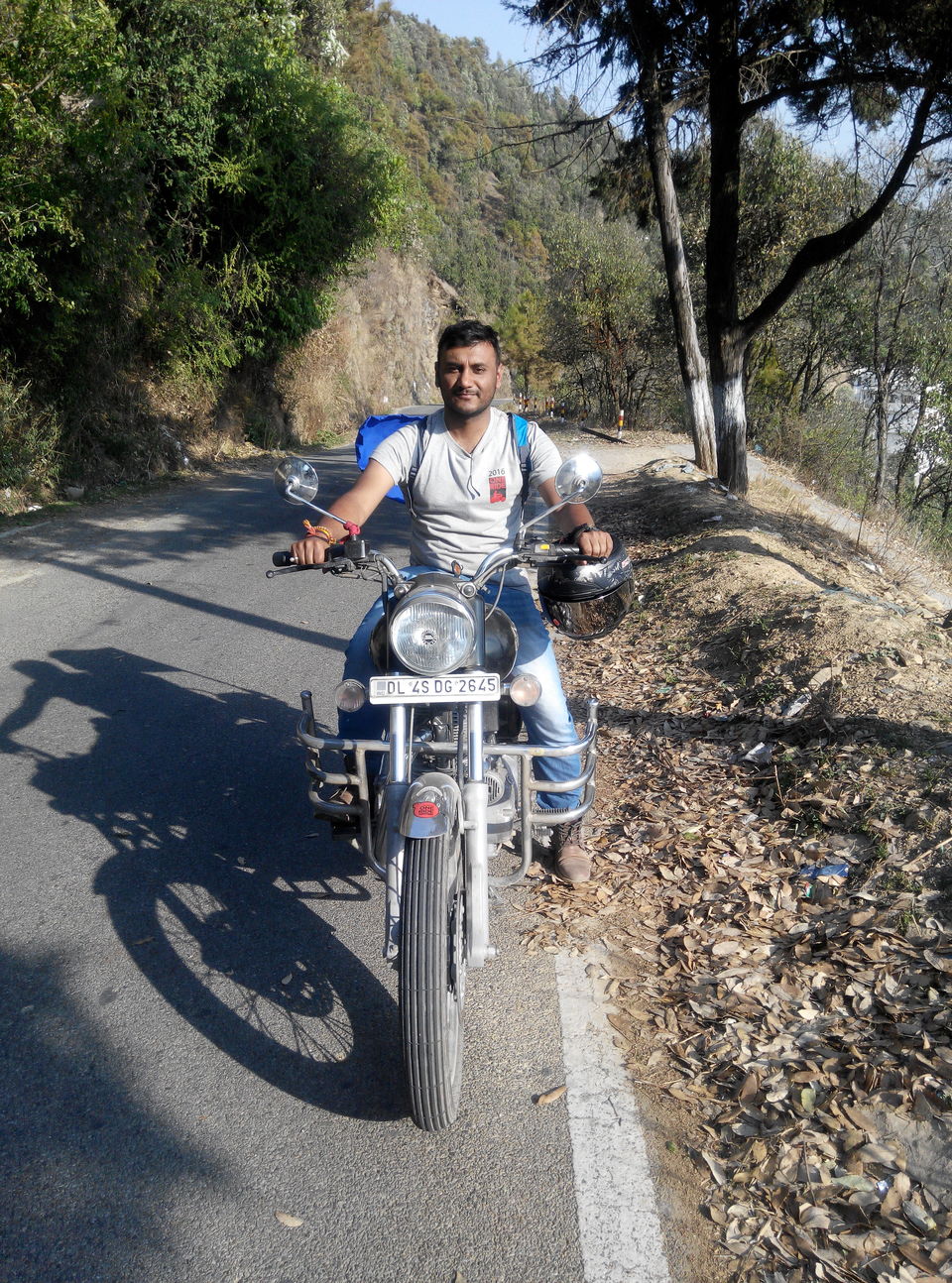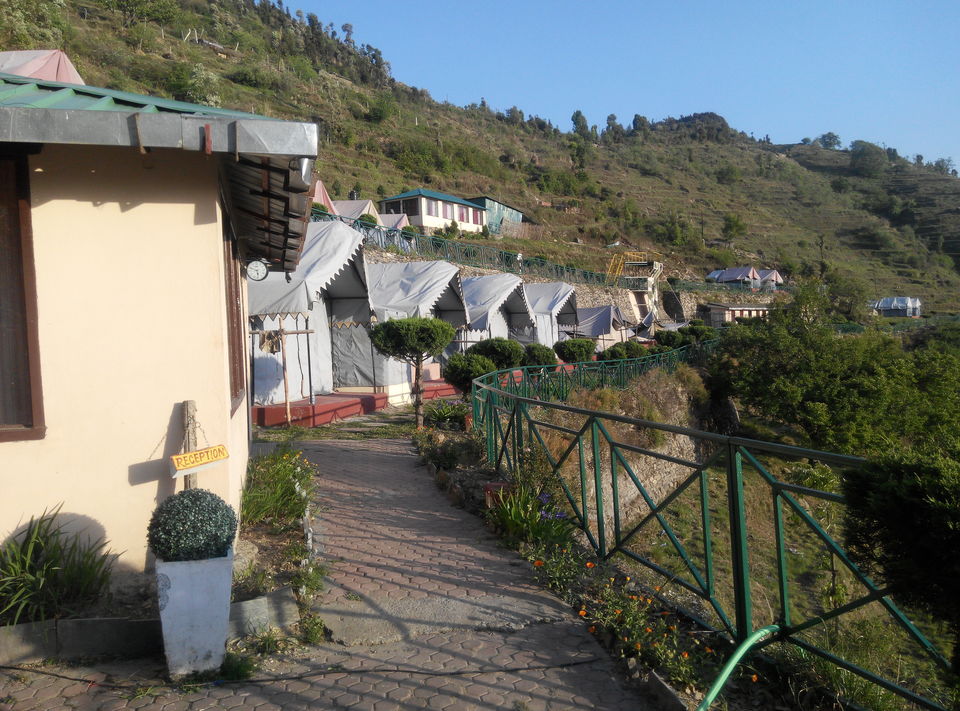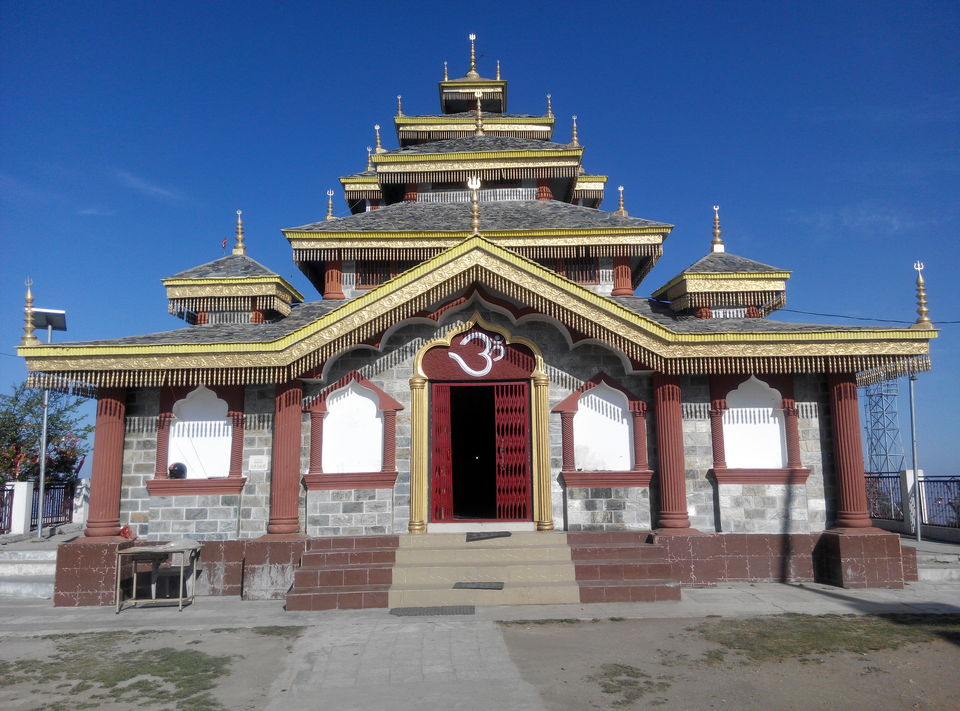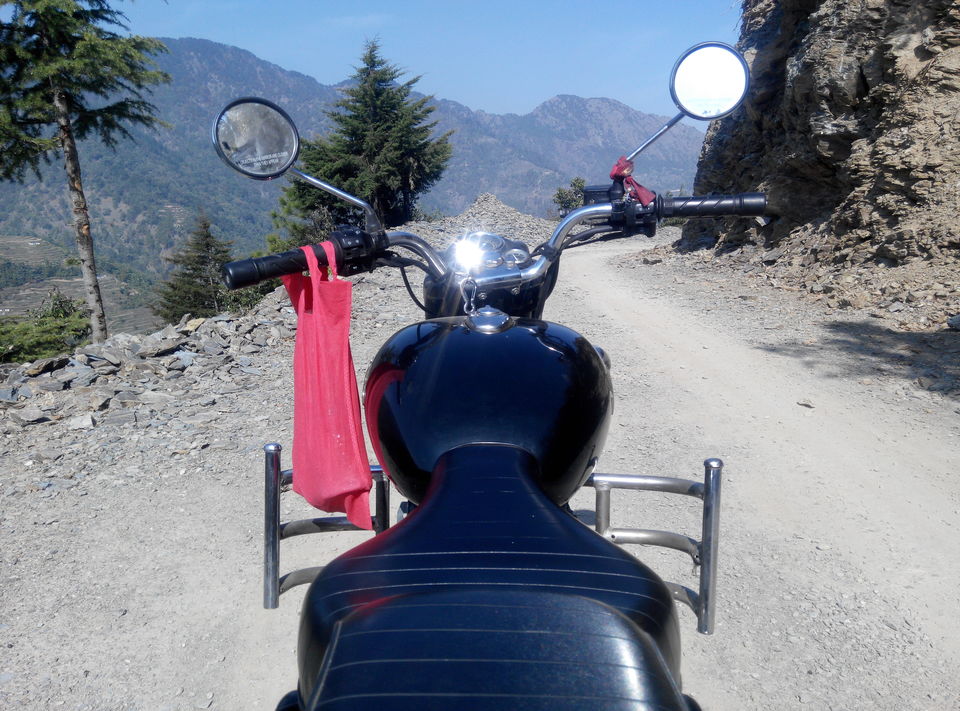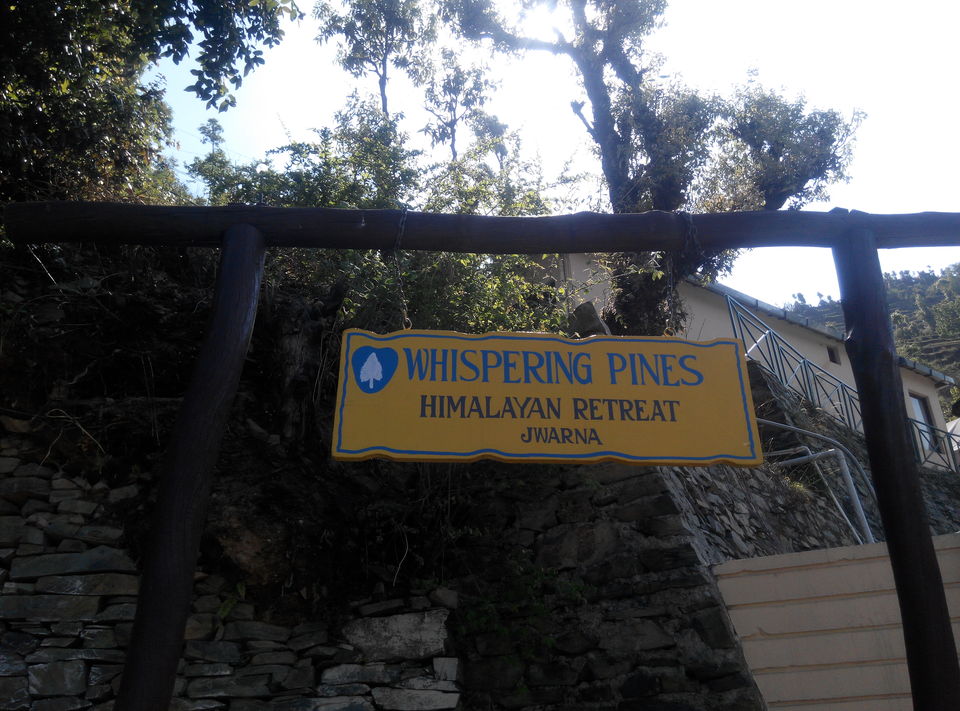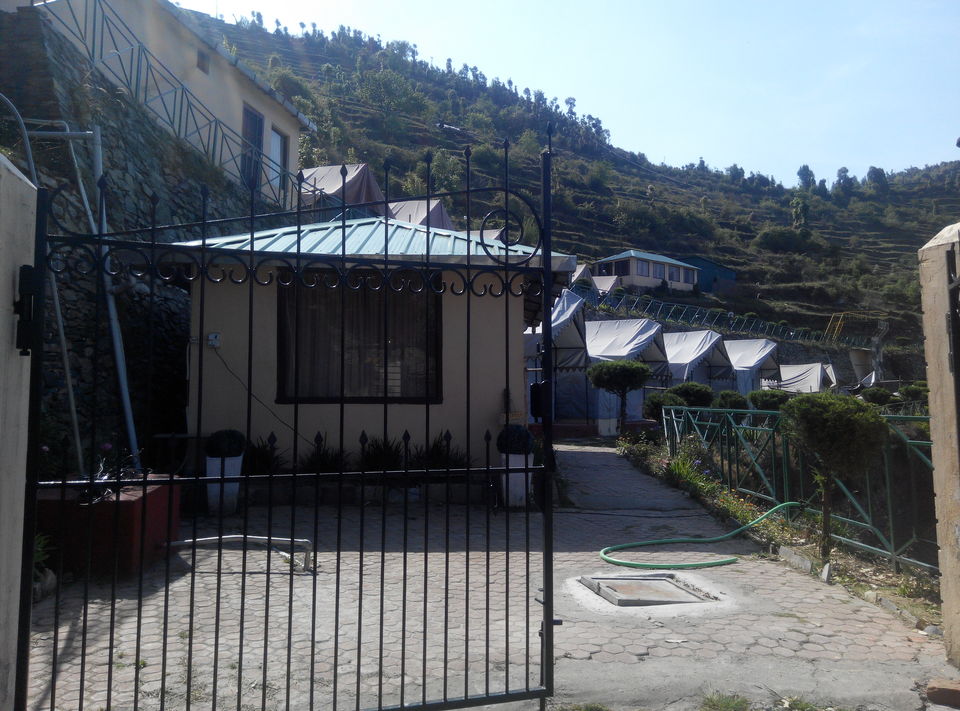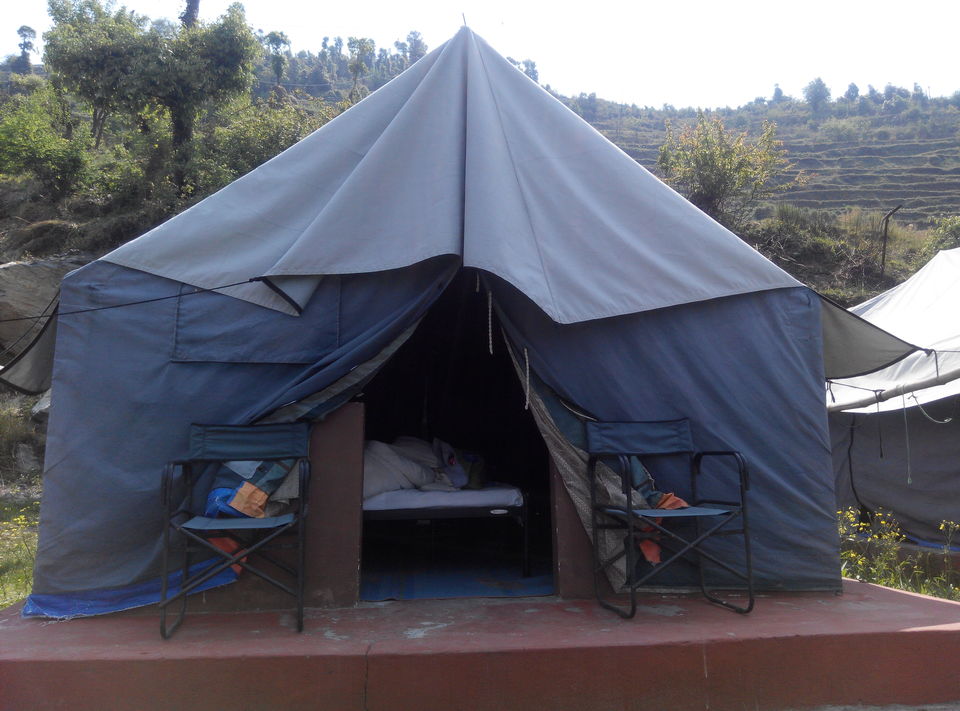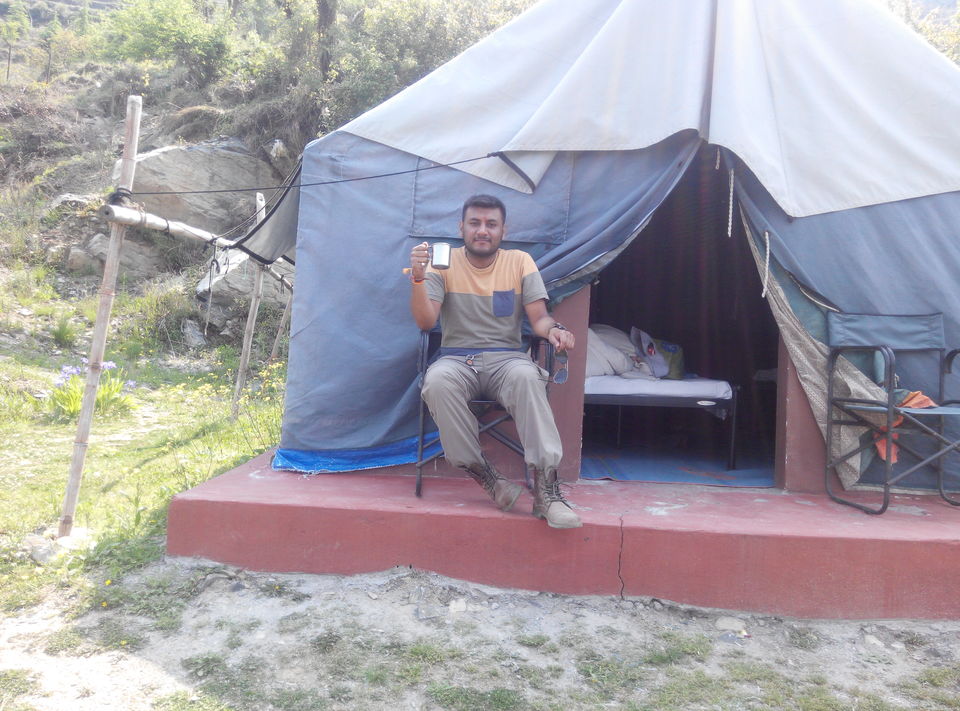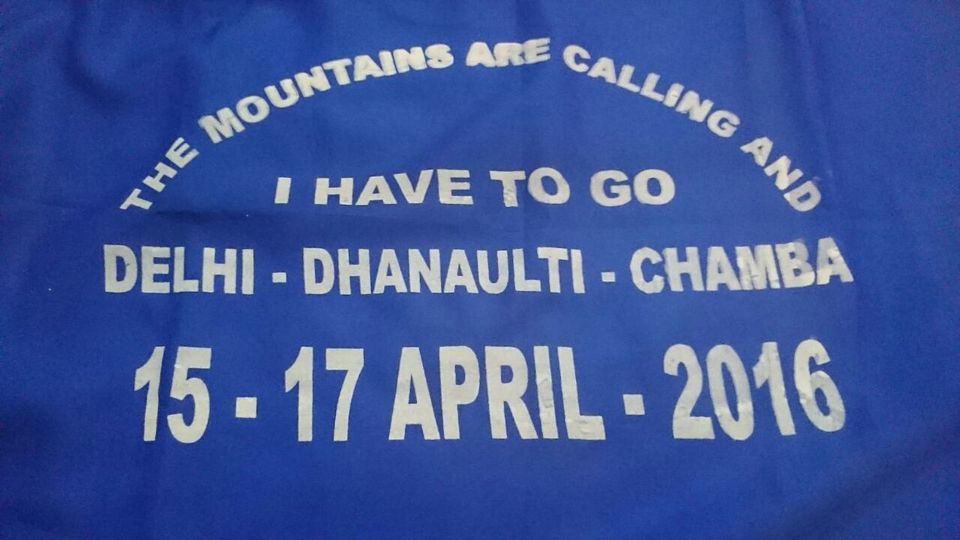 As it's a known fact that every traveller needs an opportunity to travel. I got my opportunity again on 15 April 2016, being a closed holiday on the occasion of ram navmi followed by Saturday and Sunday was the perfect opportunity. So I made my mind ten days before to hit the roads on these days. I convinced my parents for yet another solo bike trip. I planned in advance, for my stays one night at mussoorie and other night in dhanaulti. As always, decided to prepare a customised flag for this tour. This time I decided blue colour and inscribed the following:
"The mountains are calling and I have to go"
DELHI-DHANAULTI-CHAMBA"
15 – 17 APRIL 2016"
Read blogs of various solo bikers to get myself prepare for yet another solo trip.
The route to mussoorie was simply hitting NH-58 and reach dehradun then mussoorie.
A day before journey got my bike serviced. And bought an air pump from karol bagh bike market to carry along in case of flat tyre during journey. Thanks, to my father who, again was my side and prepare my bag keeping all my stuffs in a proper manner. The only thing I needed to do was give him my travel diary and atlas to keep on top of all the stuff. I quickly went to bed by 2300 hours so that I can have a sound sleep before long ride. It was 0400 hours on 15 April 2016 when I heard my alarm. I felt lazy and stopped it, but my mind signalled me quickly about my road trip. In a minute after that thought I jumped from my bed and ran for my morning chores and took bath and was ready by 0500 hours. When I stepped out of my room I saw my parents are awake. Thank god for such a lovely parents. My father helped me to tie my bag on my bike while my mom prepared tea for me. I enjoyed my morning tea at my home and was ready to hit the roads. It was 0545 hours when I put my flag on my flag post wear my safety jacket put my knee pads and sat on my bike.
Day-1
I kick started my bike and stopped at a temple in my society to get blessings of god for my safe journey. I started my bike and follow the roads to reach NH-8. From Tilak nagar I took the road passing moti nagar zakhira, old rohtak road ,ISBT .Being early on road always help to get rid of traffic whule crossing delhi. By 0715 I was on raj nagar extension. The sun was rising at its pace so it was not so warm. I was rolling on NH-58 and witnessed that there were lot of cars bearing Delhi or Haryana numbers with lot of luggage. I t was due to long weekend that most of them was going on holidays with family. The speed I maintained was 60 as there were lot of vehicles while passing modinagar and meerut until I reached the toll road which leads to muzaffarnagar bypass to roorkee.
As soon I reached toll road when the road widens up I increased to 80. Was enjoying my ride at a constant speed of 80 passed meerut toll plaza and was keep on rolling. I have decided to take breakfast break at 1100 hours. But since the sun was on my head while I crossed muzaffarnagar I decided to take a stop for 10 minutes to get my legs and hands relaxed. I stopped at a dhaba after muzaffarnagar bought a water bottle and drink full bottle. It was really refreshing, and soon I was on road again. Reached roorkee and observed the board mentioning for dehradun, take right. As I took right turn I noticed I was on NH-73 nd the road is called roorkee-chutmalpur road. I maintained a speed of 60 as it was single road. From roorkee to chutmalpur the distance is 26 kms. As I completed 14 kms I got signalled from my tummy bhai khuch khila do.My tummy is not like my bullet. It needs break, so I stopped at a dhaba in front of quantum global business school near mandawar. It was 1100 hours and I quickly grabbed one pyaz parantha and doodh patti. After finishing I again kick started my bike reached chutmal pur and took right as left turn take you towards Saharanpur and right to dehradun. Now the traffic was less and I increased my speed to 80 although road was still single. Was rolling and admiring the road I passed raja ji national park it was nice experience to ro;; on this road. At some patches where the bridge is under construction the road is bad else road condition is fine. It was NH-72 A and steadily I was rolling towards dehradun. After covering about 45 kms I eneterd the tunnel that leads you to dehradun city. It was 1230 and passing dehradun was slow due to local traffic. It took me 40 minutes to reach mussoorie road. And thereafter conditions changed now I was ascending towards queen of hills witnessing many stalls selling maggi. From dehradun to mussoorie it was 34 kms and I enjoyed my ride reaching queen of hills by 1430. I searched my hotel it was Hotel Dwaper on library road and entered the hotel parking. When I was parking my bike a man came and enquired me are u coming from delhi when I said yes he was impressed and read my flag. He wished me best wishes and I entered the reception. Soon I was in my room and it was 1500 hours. I ordered lunch took shower as I completed around 300 kms and was feeling little tired. After having lunch I went to reception and asked wether I can visit kepty falls now. He said yes. I kick started my bike and head towards kempty falls. It was 15 kms from my hotel and within 40 minutes I was at kempty falls it was descend of 15 kms from my hotel so I saved my fuel by rolling on neutral. I parked my bike, there are two spots for taking a dip below the falls one is at height and other one below. I decided to take dip on both. Don't worry if u doesn't have spare clothes there are many shops that give you clothes and towel on rent. Rent for shorts is Rs 20 and for locker is Rs 40 where u can keep your valuables. It was really a refreshing event of taking dip below kempty falls at first u will be scared to put u r leg inside as water is too chilled. But as soon u will enter u will not feel coming out. I enjoyed my bath under falls when i went exactly below the fall, the pressure of water was so high that I felt someone is punching me hard. Got clicked by the shop keeper from whom I have rented shorts. I enjoyed there till 1730 hours and came out. Got to the parking kick started my bike and ascended towards my hotel. By reaching room I felt cold and ordered a cup of tea it was great to have a cup of tea at that time. Relaxed in my hotel room till 2100 hours and then headed towards mall road.
I searched about the various restaurants and cafes on the mall road and was told that the kalsang is among the top one to have dinner. Before that I entered "café by the way" and ordered orio shake. This place is awesome for shakes and among top cafes of mussorie with couple of seats like scooter. As I was walking on the mall road I witnessed people enjoying corns from local shops, shoppimng from stalls, couples enjoying the night view of dehradun city from the mall. Soon I observed a shop named " chic chocolate" again it was one of the famous shop to taste chocolates and to buy them for your home. I bought few for my sister. The mall road in mussorie is longest of all hill station mall roads in india. I think its 3-4 kms long. It was 2200 hours and I decided to have dinner I went to kalsang and there was a long queue for entering the restaurant I enquired from a local who said u can try Momos Tibetan Restaurant. I followed his advice and really it was a great place with good staff who helped me to choose my dish that named "RU JUIZE" I ordered veg cheese ru juize and lime soda. When I got my dish it was like a soup in which 6 pieces of cheese momos were dipped. I enjoyed my food it was really yummy and a new dish for me. I finished my dinner and walked back towards my room. By 2330 I was on bed. My Day-1 was over with some great experience.
Day-2
My eyes got open after hearing my alarm at 0600 hours. I got freshen up went for a walk in mountains and ordered my breakfast at 0800 hours. Had my breakfast and a cup of coffee and checked out. While I was putting my luggage on my bike I was excited to reach my next destination that was " whispering pines " dhanaulti as I had to stay in a tent there. I kick started my bike and followed the road from mussorrie to chamba. By 0900 hours I was on that road. I was riding at a speed of 30-40 witnessing the mountains, experiencing cool breeze on my face. Getting my experience on riding in hills experiencing how to control my bike on hair pin loops sharp turns and rolling on my side always for safe journey. Dhanaulti is 30 kms from mussorie and I completed my journey in 1.5 hours with one stop for water. While going to dhanaulti I felt to get my bike fuel tank filled but I came to know that only petrol pump after mussorie was in chamba. I crossed dhanaulti and was heading towards "whispering pines" that was another 7 kms from dhanaulti. I crossed surkanda devi temple and decided to visit this temple early morning next day. After 3 kms from surkanda devi temple I saw board mentioning whispering pines with arrow towards left. This place is called jwarna as soon I took left I got scared. There was no bitumen road and it was stones and dust on the roads I enquired from a local shop at turn he told whispering pines is just 1.5 kms. So that menat I have to ride 1.5 kms on rough patch. Since I had booked in advance there was no other option then to ride on this patch. I put my gear on first gear and ride it slowly. It was complete off roading and my bull helped me to cross the patch. After covering 1.5 kms I observed 4-5 cars bearing delhi or Haryana numbers that signalled me that its my destination. I parked my bike and enquired from a man standing there and he confirmed that just 100 metres above is the gate of whispering pines. I trekked 100 metres and found the gate entered the reception to get a warm welcome by shobharam the care taker of the place. It was 1100 hours and he told me it will take half hour for my tent to get ready as check in time was 1200 hours. I decided to keep my luggage at reception and move towards tehri so that I can come back by evening. A guy took my luggage till reception and I took a leave from that place. For tehri dam I had to cross chamba. Chamba is 20 kms from whispering pines so I kick started my bike and started rolling towards chamba. Again the ride was with sharp turns hair pins with good road conditions I crossed kanatal where I saw many tourists as its also a small unexplored hill station of uttarakhand. It took me one hour to reach chamba where I got my bike tank filled. Petrol pump was on haridwar road. Chamba was a busy town with nice market. I took a u turn towards chamba – old tehri road and started rolling. As I crossed 1 km from chamba I realised I am running away from cash. I stopped my bike and enquired from a local about ATM. He told u can go to tehri and there is a place called Bhagirathi shopping complex near by which I will get ATM. So I started rolling towards tehri . It was 20 kms from chamba and road was in good condition. After a drive of 40 minutes I witnessed a reservoir signalling me that I have reached my destination. It was great view and I stopped and took some picture of the reservoir. When I reached the dam I came to know one can't see from inside as it requires prior permission. But one can enjoy the water sports and boating on tehri lake. I search for ATM but in waist as there were two ATM's and both were non operational. I rolled my bike towards the reservoir to find one royal enfield with delhi number and two riders on that. We exchanged words as they told they are also riding from delhi and staying in dehradun. I rode few kms with them to follow a small road going down towards reservoir. We parked our bikes very near to the shore of the lake and enjoyed the views of dam surrounded by mountains. It was 1400 hours and we took few clicks of our bikes and chit chatted about our ride experiences. After 20 minutes they decided to go back to dehradun and I went to the boating office to enquire about the rates as I wished to have a scooter boat ride. He told me the ticket is Rs 300 and I was just having Rs 250 cash as I culdnt used ATM. So I decided to just have few clicks and roll back to chamba where I can get money from ATM. Tehri dam was a beautiful place with time to chill and relax. I rolled back to chamba and founded three ATMs two ATMs were not functioning and the third one had a long queue. It tokk me 20 minutes to take money. Now it was 1630 and I was hungry. I decided to roll back and stop at kanatal for lunch as this way I can experience kanatal too. I rided back stopped at kanatal and had my lunch at 1715 hours. Kanatal was also a nice place and one can think to have a night stay there as it has many camps and hotels. After filling my stomach I head back towards my tent. My tent was ready and I met a couple who were enjoying rock climbing (activity inside whispering pines). They were impressed by my effort of travelling solo that too on bike. We exchanged few word and I entered my tent . It was a nice tent with a double bed and attached tent for toilet. The wind were blowing at very high speed and I thought the tent will get blown off. But when shobaram ji came to me and said dnt worry sir just enjoy u r stay and come to dining hall by 2100 hours when the dinner will be served. It was 1900 hours when I had a cup of tea and headed to explore the place. Had talked to the near by villager who told me that how hard is to get drinking water here and in winters we experience snow all around. Whispering pines was really at a very good location and one can indulge in activities like rock climbing, trekking, basket ball, rappling etc. Soon there were darkness all around and I was in my tent with a one bulb light. I relaxed and by 2100 hours entered the dining hall where I saw a family of three was having dinner. I went to take my plate shobaram had arranged a buffet that included a dal, bhindi sabzi, panner sabzi, curd, rice , paranthas and chapattis with a non veg dish as well for non vegetarians. As I was taking my food the family started interacting with me and said that shobaram told that u r coming from delhi on bike. Again we interacted about our experiences and I came to know that this family from Bangalore is taying here from past 4 days. The lady was retired teacher and said after retirement now there only aim is to travel. They told me how they are planning to visit a village school next day to observe the teaching methods here. I enjoyed my dinner and interaction with them and ended the food with two rasgullas. After coming out of dinner hall we at around a bon fire which shobaram has arranged and interacted with other tourists. We all shared our experiences and chit chatted for one hour till we call it a day. I was in my tent by 2300 hours. It was really started chilling and I entered in my rajai and soon fall asleep.
Day-3
I got up by 0500 hours opened my tent to witness a beautiful valley in front of my tent. Really it was a wonder full view and without any mobile network you feel so good that there is no one to disturb you. I took shower and started my bike to reach surkanda while all other tourists were sleeping insided there tents. I reached surkanda by 0700 hours. Surkanda devi temple is at a height of 2700 metres and it's a 3km trek from where one parks vehicle. I parked my bike and started my trek. It was tough treks as it's a steep ascend. I met a group of 4 youngsters who were from Faridabad. We interacted and they asked me to come along with them. So we all started our trek to surkanda they were very nice and along with them we kept trekking and interacting and reached the temple in 1 hour. Wow it was a great sight temple location was just awesome and one can witness the great view of snow capped Himalayas towards north side and cities like dehradun and hrishikesh. The pujari told us that here the sati head was fallen when lord shiva was passing this place carrying her dead body. The view all around was awesome and to reach there early morning was really a good decision. We all witnessed the temple as it was peace all around. There are few shops at back side of temple where one can have magi and tea. We decided to descend by 0900 hours. It took us half hour to reach back at parking place where I said good bye to the youngsters and rolled my bike back to whispering pines. Thank god for sending such lovely bunch of people around me whenever I travel solo. I reached my tent by 1000. Went to have breakfast where again that family asked my how was the temple as the lady said its tough for her to trek 3 kms at this age. I showed them the pictures of the temple as I said dnt worry u witness the view of temple from here itself. We all laughed had our breakfast. I said good bye to them and they wished me best wishes for my journey back home. I packed my stuff, got some clicks and was in a low mood as my journey was coming to an end. This place was really awesome to stay and relax from the loud city noises. It was 1100 hours and I checked out. I started my bike after tying my luggage and was on road again for returning back home.
While I was descending back from mountains rolling at a speed of 30-40 witnessing the mountains as I was leaving the road behind. I was taking along me with the memories of such a beautiful and natural place, lovely people, and an experience of riding in mountains. As I was completing my yet another solo trip this beautiful thought came to my mind by Henry David Thoreau.
"The man who goes alone can start today; but he who travels with another must wait till that other is ready."
Journey back home was with lot of traffic at places near raja ji park dehradun-chutmalpur highway and hell lot of traffic from meerut to delhi as all cars bearing delhi numbers were heading home after a long weekend. Traffic made me reach home by 2230 hours.
When, I have decided to write a blog on my experience. First I thought it to keep it short. But when I started writing automatically the sequence of events I experienced came to my mind and I kept writing.
After completing the blog when I saw its length the following travel quote matched my writing style.
"Traveling – it leaves you speechless, then turns you into a storyteller." – Ibn Battuta
It was away from busy mall road. and on the way to kempty falls. As mall road does not allow vehicle entry from 1600 to 2300 hours staying away from it helps you take u r vehicle wherever u want. and its walk able distance from mall road.
Its natural , stay in a tent with no mobile network except bsnl. staying in lap of nature whare u can hear noice of winds, birds or u r innerself.