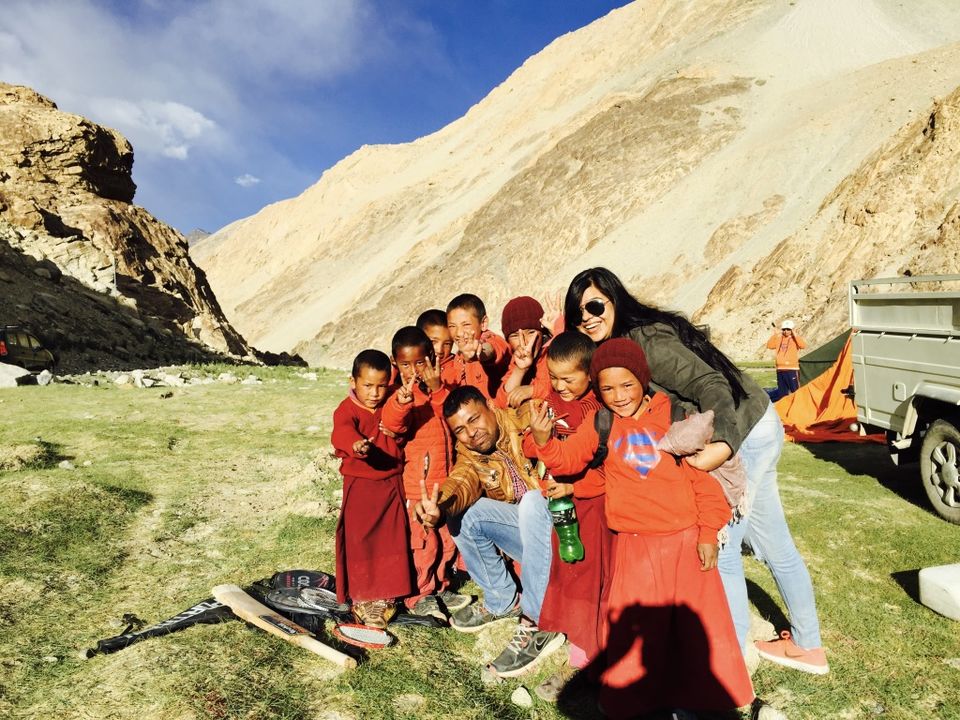 #SwipeRightToTravel What comes to your mind when you think of a Ladakh trip? The thoughts that you have in mind are pretty much the same that every adventure junkie has in mind. The same was with me when I decided to go to Ladakh in 2015, well the idea came some years back to be truthful but the execution started in 2015. We decided to do the standard bike trip with a group of 7-8 people but as time progressed and the vicious circle of corporate enhanced we three were only left for the trip. Thankfully all three of us knew how to ride a bike so carrying the other person over the whole trip was not an issue, though the issue was during the sale season I had pre-booked the flight tickets to Srinagar. Some people have a view that Leh-Manali and vice versa route is beautiful but if compared to Srinagar-Leh route its just nothing. Neither we could hire bikes from Srinagar as they were not available and we couldn't even transport ours due to shortage of time, left with no other option we resorted to hire a taxi which could take from Srinagar and drop us at Manali( My both friends almost killed me for this idea though, little did they know that our trip will be the one to cherish forever) We landed in Srinagar and the trip began with the royal dinner of Kashmiri Wazwan.
The next day we started our journey, on our way to Yusmarg we trespassed an apple orchard, not to steal apples though but to click pictures, the man who was the owner of place was really happy after seeing some crazy tourists like us and in return he gave us the first hand picked apples of the season. That was the point of realisation for us. We were on that trip as three friends but then we decided to be the individuals who went there to explore the place, to talk to the locals, bring a little joy in their life if we could!

We moved on to our journey talking to more and more people, eating, sipping kahwa with them, trying the authentic hukka in Pahalgam. The moment we opened ourselves to them, they embraced us as one of their own.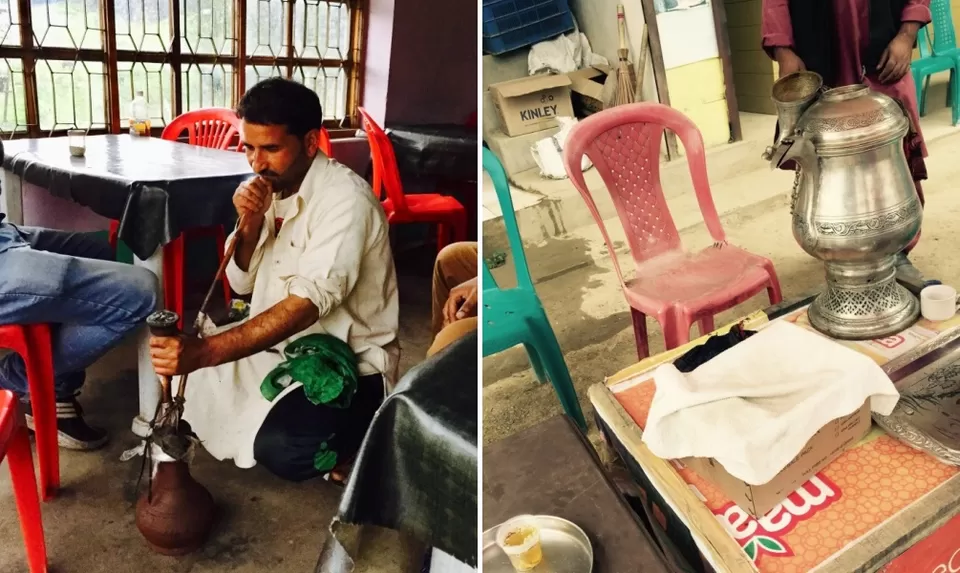 Kashmir was a beauty but as we say the journey is all about the people, the man who took us around to places was the guy who also told us about the stories of shooting of Bajrangi Bhaijaan in Kashmir. He was the one to respond to all our queries which began from saffron to pashmina to willow balls. He made our last night memorable by taking us to savour the street delicacies of Kashmiris.

When we were leaving Kashmir, we felt the best is what we have experienced, little did we know that the Tibetan guy who came to pick us up from Srinagar would make our trip to Leh amazingly beautiful. The taxi did not belong to him but even then he allowed me to drive it to some distance, which itself meant a lot to me.

On our way to Leh we visited Nun Monastery (which is not a known destination among tourists). We were offered Tea and biscuits and also we got to interact with their family members. I couldn't help but chat with the little girls who lived nearby, on their way to fetch water to their home.

Our day didn't end there though, we went to Thicksey Monastery but when we were about to exit the place, we saw an alley that went inside and at a distance we saw two little budding monks walking away. I desperately wanted a shot which captured the walls of monastery with those two little heads, So, I followed them. To our surprise they both were really friendly ,as they got some time to spare they didn't mind chatting with us and getting a glimpse of the outer world that we ALIENS came from.
I showed them all the pictures we took till that time and most of the stuff that we can tell them about ourselves. The lil guy loved my shades though, and i loved them on him. They could only spare half an hour with us which was a delightful session for us.

We reached Leh and there we got to interact with another Ladakhi guy who was waiting for us with more humbleness. He made all our hotel arrangements so that we can come and rest after the long day road trip.
Two days in Leh were great but the morning we were to leave for Tso Moriri post renting a bike for 3 days, I suffered a sun stroke. My condition was such that going further didn't seem like a feasible option. My friends were at fuel station to fetch fuel for the trip ahead, my condition deteriorated at the bike rent office. The owner of the place didn't think for a second and took me in his car to the nearby hospital. I couldn't get his picture because of the health conditions off course but the way he helped me out of the way leaving his shop and taking me there was really commendable. Thanks to him, that after getting 3 injections I could go to the highest motarable road, Khardung La. If only I could thank him enough for that day.
After coming back to Leh from Tso Moriri we left for Pangong Tso and on the way we visited ever famous The 3 Idiots school. To our despair the authorities didn't let us meet the kids, saddened by the incident silently we proceeded to our next stop with all the goodies we got with ourselves to distribute among the kids. After some distance we saw a group of kids enjoying a day out near the banks of a seasonal river. We couldn't hold ourselves and went on to play cricket with them. They were overjoyed with the goodies and so were we after spending that time with them.

Pangong Tso was such a vast and beautiful place that my words would seem petty to describe the beauty that it holds. The little girl who posed for us while we were leaving shows the fact that sometimes words are not required for someone to understand us.
Our trip was coming to an end but by the look at our faces it was evident that a part of us was left in Ladakh. We didn't wanted to go back but life had to be resumed. We parted ways with our beloved Ladakhi friend who made this trip possible for us with a dinner at Manali. As if we were not already indebted with the kindness, he offered a religious ring to me as a parting gift. I had no words to say, it imbibed a feeling that's so strong that it'll take me back again and again to meet those people. At the end of those 13 days I couldn't hold myself to promise him that every few years I'll come to visit Ladakh.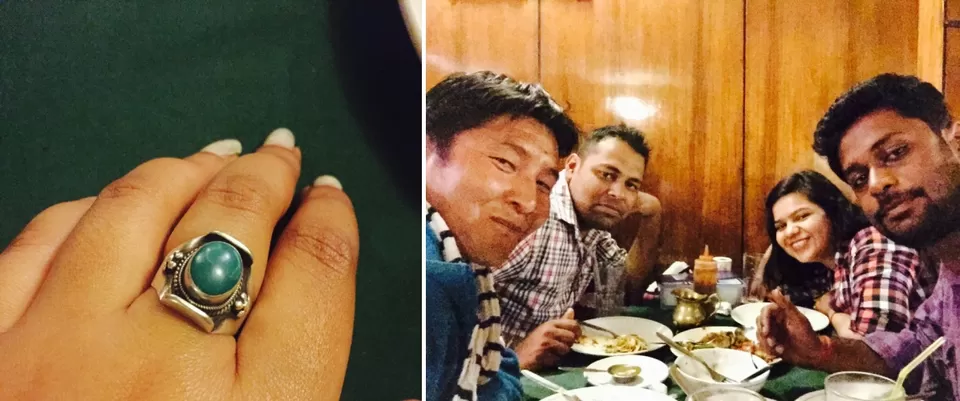 Needless to say a writing space couldn't suffice my saga of the people I've met in those days but I've tried my level best to put those in words. Though I've returned from Ladakh but the humbleness and kindness of Ladakhi people will always linger in my mind. There are a number of people who cannot be listed in the space but they remain an integral part of my journey as well.
Be it the cute baby of the Dhaba wali, the Shikara guy at Dal lake who let me row the Shikara , the shepherd who let me play with a month old sheep, the little boy who took me around in Pahalgam with his horse, the unknown goodbye waves to Army people, and everyone else made a connection that goes beyond words.......