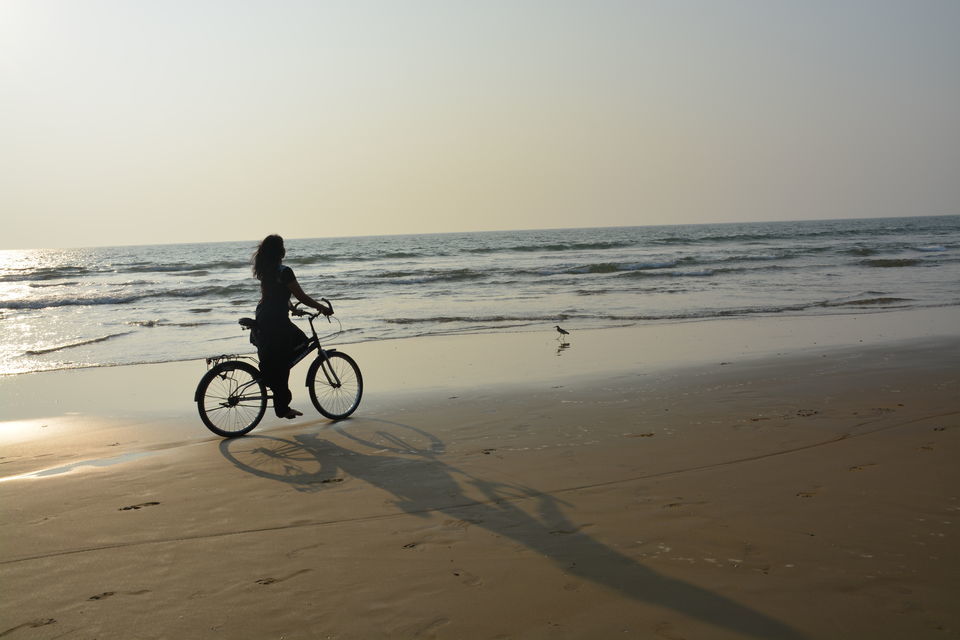 Trying to set my priorities straight and decide for myself whether I am a beach or a mountain person, I decide to choose a new shore this time. Weary of several Goa visits, the crowd and loud music, I opt for Gokarna instead. This temple town is on the western coast of India in the state of Karnataka. Not as popular as Goa, but it definitely has a charm of its own. A place almost similar to R.K. Narayan's Malgudi- the narrow lanes, religious processions, palm leaves stooping over thatched roofs- took me back to Malgudi days. I have always pondered over the idea of how an author creates characters and instances inspired from his own life and still manages to appeal to all his readers to such an extent that they start picturing themselves as one of the persona and relate to every event written in the book.
Gokarna has a certain serenity and calmness unlike other beach places in India. This is probably the result of amalgamation of luxury and culture in appropriate proportions. Apart form the devotional places, the beaches offer a number of water sports and adventures. The moderate weather makes it even more soothing. The beach trek from Kumta to Gokarna is something one should look out for. One might discover a new shore on the way. Star gazing is usually meant for high-altitude ranges but surprisingly, in Gokarna, one could see stars all around post nine at night.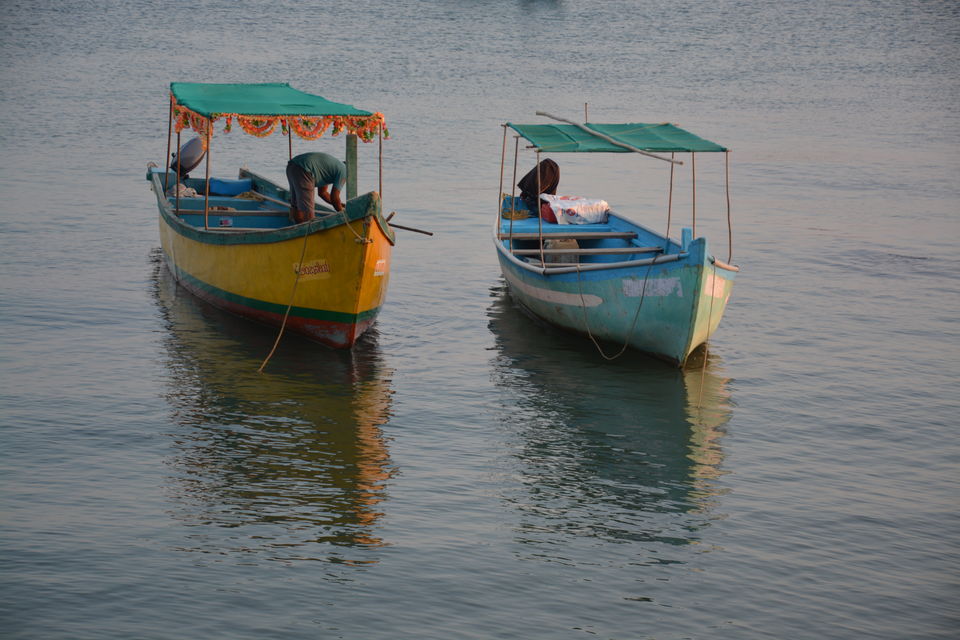 At sunrise, as I walk down the Mahabaleshwara temple road, I see women sprinkling water in their courtyard and a few on the verge of completing a beautiful rangoli design at their doorsteps. The old man skims through the morning news while enjoying his filter coffee. For them, the day starts much before sunrise and ends with dusk. I am especially fond of places untouched by the glitz of modernity and guess what- I had just landed in the perfect place. The architecture and paintings particularly caught my attention. A lot of skill was devoted to beautifying them. The designs were simple, elegant, cost-effective yet could compete with the aesthetics of a professional designer. Every carving, wall and window spoke a lot about the town, its history and the way of life.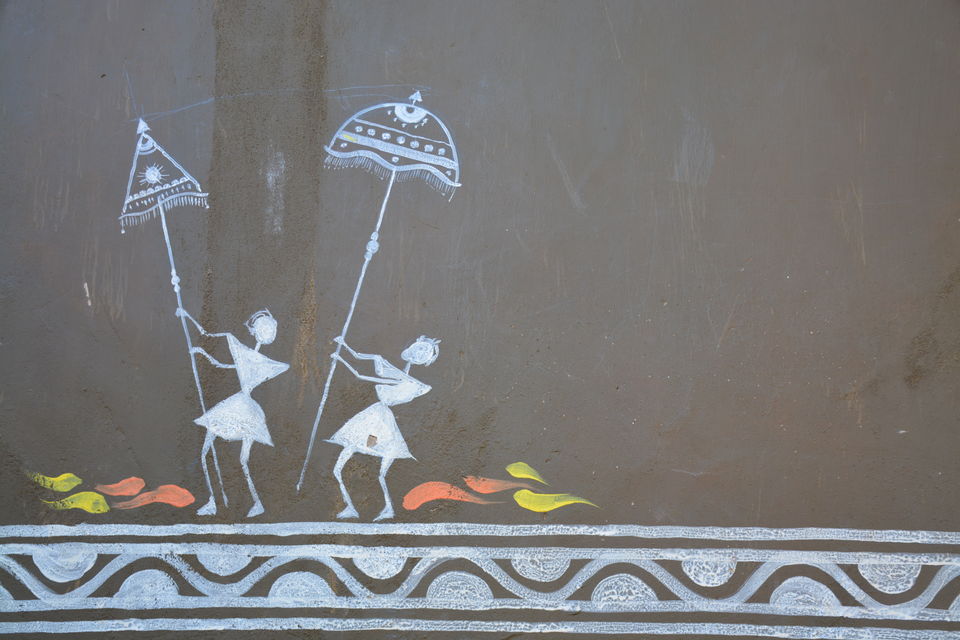 Brought up in Mumbai, warli paintings are not atypical to me. I remember, as a kid, preferring this artwork over other forms best for its simplicity. It is a style of tribal art. The designs and patterns came from their daily observation of life and people. A common man living in any part of the world could interpret and relate to it easily. Well, it is said to have originated from Maharashtra but it has spread all over India. And Karnataka, as a neighbouring state no doubt has been influenced to a great extent by this art form.
Gokarna is the abode of Lord Shiva. Hence, temple processions and other religious activities are not apart from their daily lives. The above wall illustrates two temple attendants carrying decorated umbrellas for the deity during one such procession. With minimal colours and a simple idea, the mud wall looked catchy.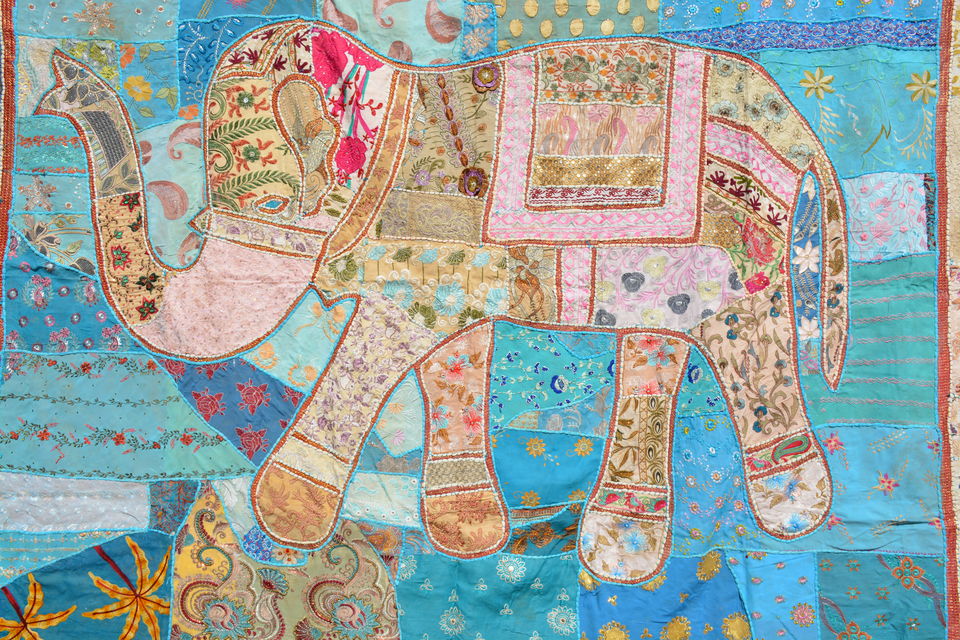 Spirituality in Indian religions is deeply rooted in the natural environment. Be it worshipping trees, rivers or animals, every belief seems to have stemmed from a logic and reason. Elephants are intelligent animals and are capable of showing great compassion and also expressing grief. Hence, depiction of an elephant is supposed to symbolise prosperity, wisdom, stability and power. A gorgeous elephant embellished in jewels and beautified with rich colours adorns the walls of a house.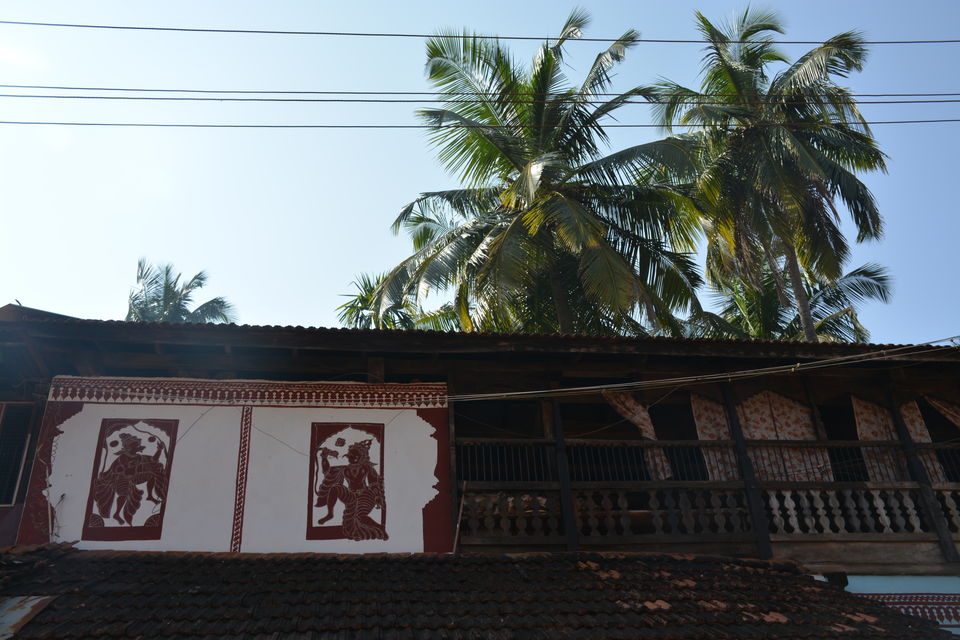 Temples in southern India follow the Dravidian style of architecture. A tough competitor to the Greeks and Romans, I must say. The architecture encompasses an assemblage of expressions over space and time, constantly absorbing new ideas. Though the patterns have evolved, it retains a certain amount of continuity and individuality of its own. The wall above portrays the monkey god Hanuman and the legendary bird Garuda facing each other. Even without these explanations, the wall looks picturesque.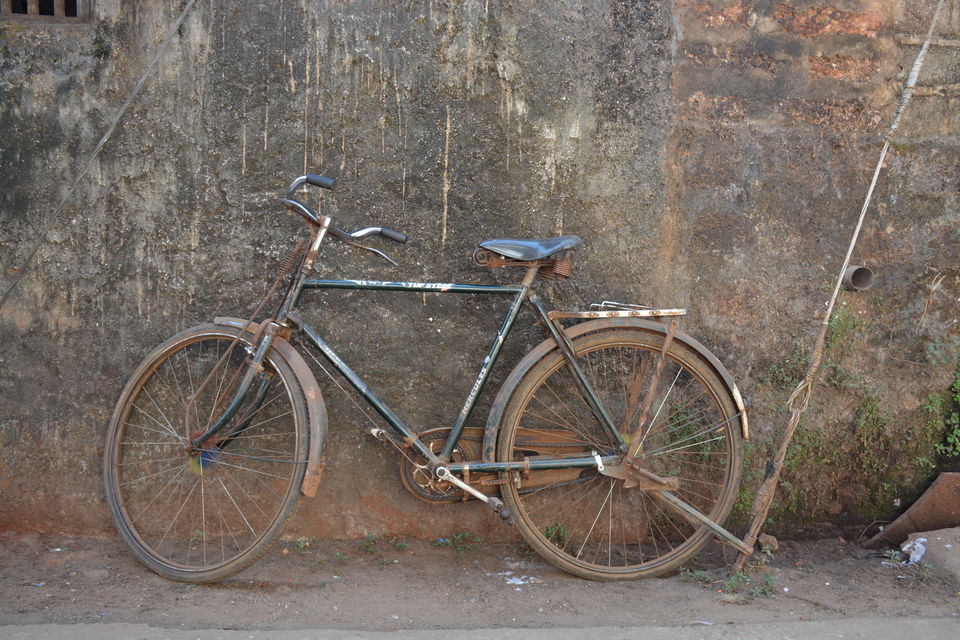 One could hire a bicycle for around 20 rupees per hour and drive around the small town. Riding a two wheeler on the sea shore is probably the most liberating way to burn calories. Every household had a cycle parked in their courtyard. This small town sets an example to other cities inspiring them to become environment-friendly.
On my way back from the Gokarna beach, this book shop attracted a lot of foreigners and tourists. Religious texts, devotional songs, music CDs and what not! One could also find musical instruments from all over the world in these stores. Lord Krishna and Radha invite book lovers as they gracefully sit on a swing decorated with flowers. This is probably the most exquisite book shop I have ever come across.
A peculiar wall to be seen in a town, isn't it! Also took me a lot of time to interpret what it meant. There is a popular myth associated with this town. King Ravana, after severe austerities acquired the Atma Linga and was on his way back to Lanka. He stopped at Gokarna for his evening prayers and was told by Lord Shiva to not place the Linga on the ground come what may. Lord Ganesha purposely disguises himself as a Brahmin boy and agrees to help Ravana hold the linga while he finishes his prayers. On one condition that if Ravana delays, he would call for Ravana thrice before placing it on the ground. And as intended, the mighty and conceited King Ravana goes back home disappointed. This atma linga later came to be knows as the deity lord Mahabaleshwar of Gokarna.
Lord shiva ornaments himself with a garland of 108 skulls indicative of births and deaths. Every skull being knit together is suggestive of the immortal bond before achieving everlasting knowledge and freeing oneself from the birth-death cycle. Questioning and understanding mythology surely makes us a little more saner and a little less agnostic.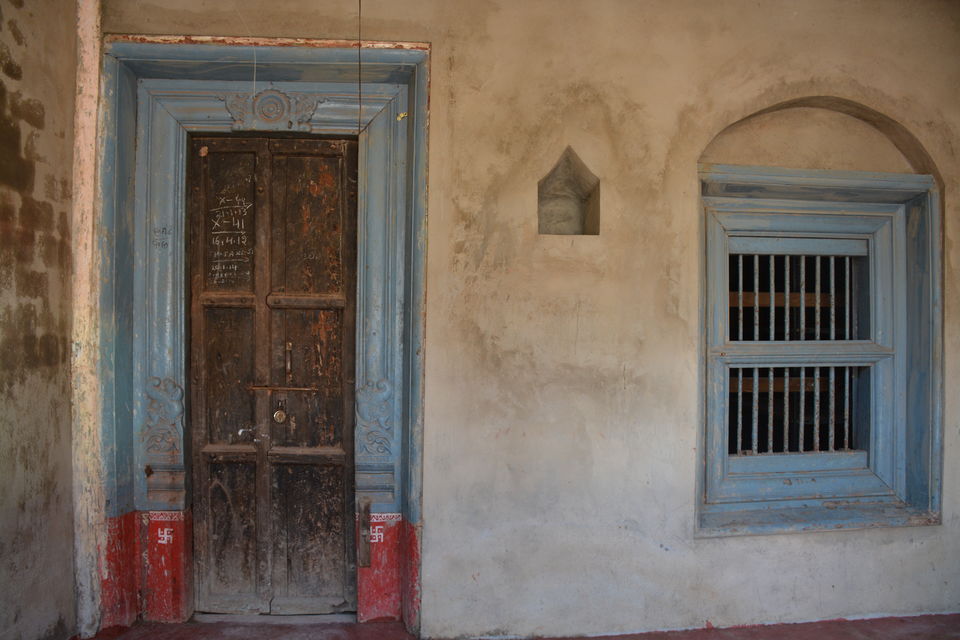 Taaq, a vanishing element of today's hyperlocal architecture, is used to store newspapers, magazines or to place lamps post dusk. A small pretty thing. Not to miss, the owner's kid seems to be either weak or too fond of mathematics. Multiplications and numbers were scribbled all over the door.
Had only heard of walls having ears; in Gokarna, they also speak quite eloquently!
visit www.bytheroads.com for more.