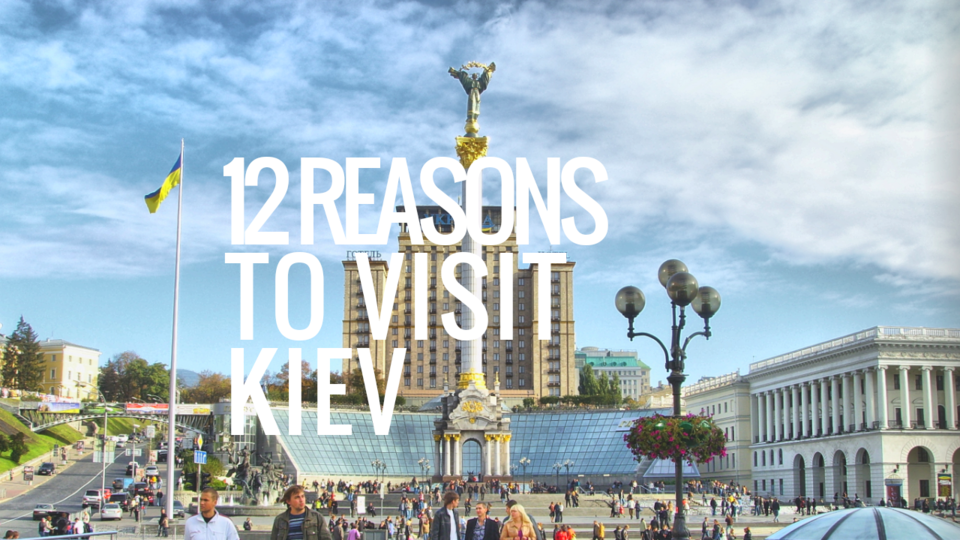 12 Reasons to visit Kiev
I spent 6 days in Kiev(Total 15 days in Ukraine including Odessa, Lvov) in July 2017. In this post, I'm going to share with you my experiences and tell you why this city stole my heart.
My biggest goal in writing this post is to spread the awareness about how lovely Kiev is and why I highly recommend you to travel here.
I walked a lot all around the city during my stay. From what I saw with my own eyes, the daily life in Kiev is similar(maybe more peaceful) to any other big city - people ride the underground metro or the Bus to work, friends/students hang out in parks or near the independence square, they hang out in cafes, and they most definitely go to pubs/bars at night. The city is peaceful during the day and it turns into a party hub when the sun sets. Heaven.
I will be a little selfish here, it's a good thing for regular travellers/ globetrotters that the whole world is uncomfortable to travel to this beautiful country. It keeps the prices down and even importantly the crowds. I know the perspective about Ukraine is going to change sooner or later, but meanwhile, till it lasts let us enjoy this gift known to a few.
Why Travel to Kiev?
The first question when I told my friends that I was going to Ukraine was, Why Ukraine?? Isn't is unsafe in there? When I was researching for the trip, to my annoyance I found mixed opinions of people who had travelled in Ukraine. Some felt it was risky and others were totally fine. Now that I have travelled myself, I would like to make this crystal clear, IT'S SAFE IN UKRAINE. I agree there were difficult times when the revolution happened in 2014, and maybe still the most eastern regions of Ukraine are not that safe. But as far as my experience goes Kiev and all the western parts are totally free of any tension or violence. It's as safe as it gets. I roamed the streets at 3 in the night and didn't for even a second felt threatened in any way possible.
So if anyone asks about Ukraine, do tell them it's safe, just keep clear of the most eastern parts that's it. For any backpacker or a traveller on a tight budget, Ukraine offers so much. It's one of the cheapest countries to visit in the world.
The expenses:
I could go on and on but the best way to show you is by running through some costs. These costs come from what you would spend in Kiev, which is where I am based, but get out of the capital and things get even cheaper. The thing that initially shocked me on arrival was when paying for a metro ticket. It cost 5 UAH. That's 12 INR or 15 US cents. Yes, you read that right. The price is same for any route and any distance. Cheaper than India!! Never imagined anything like that was possible. Taxi ride using the smartphone app Uber/Uklontaxi costs around 120INR or $2 for around 10-15 minutes of driving. I trusted Uber more than Uklon taxi as Uber had more people understanding English. For a European country, these prices are a joke. A piece of advice:
a)Never get in a taxi yourself, you will be most likely ripped off. Book via Uber or better ask a local to hail a cab. b) Get a good sim immediately with internet and always keep your google maps and translate on standby. Average price for a local beer $1 (the important stuff right)! Don't know why but( I didn't try personally but saw few billboards in the mall) 1 hour of bowling in a mall - 65INR or $1 per person. Ukraine has got thousands of Coffee shops.There are coffee vans all over the place where you can get a quick coffee fix for 35INR or 50 cents. There are several hostels for backpackers and great hotels as well for the luxurious traveller. A standard hostel with a 6 person dorm room costs 325INR or 5-6 USD per night. These prices are crazy as hostels in Spain, France, UK, and other western European countries easily cost more than 20-25 USD per night. All these prices are highest in Kiev and decrease once one moves out of the capital city towards Odessa or Lviv.
Alright, so now that you have an introduction to my feelings and experiences. Here are-
12 reasons to visit Kiev
1.Architecture:
In short, the architecture in Kiev is mind-boggling. There are several monuments which will blow your mind for sure. Pechersk Lavra Monastery, Saint Sophia Cathedral, Maidan Nezalezhnosti (Independence Square) are few prime examples. Don't miss anyone of them.
2. Cheap:
The country is one of the cheapest in Europe and Kiev is also the cheapest capital city in Europe. Few prices I have mentioned above, but there are many more things which are amazingly cheap.
3.Friendly Local people:
The language problem is quite evident from the word go. As you land in Kiev you will definitely face the barrier, but don't worry the locals are uber friendly. They will go out of their way to help anyone. We met a couple of students in the war museum. They spoke a bit of English. But with the help of Google Translate, they explained everything about the museum which doesn't generally have much English translation going on.
4.Food:
Kiev has an amazing variety for all the Gastronomes out there. From the delicious Borscht(probably the most famous Ukrainian food) to the mouth-watering Vareniki(Dumpling), Kiev offers something for everyone.
Borscht: Borscht is a soup with quite a few different variations. It's popular all over Eastern Europe. Ukraine, Russia, Lithuania, Estonia, Poland-you name it. But the Ukrainian version of Borscht is the one commonly referred to in English. It almost always contains beetroots and is an appetizer at a lot of meals.
There are different variations in colour such as green, which can be an interesting experience to try out! In addition to the beetroots, there are a lot of other ingredients. Usually, some type of beef or pork is involved, and other sautéed vegetables.Nearly every place will have their own special take on borscht, so don't expect to ever get it the same way twice.
Vareniki: Vareniki are noodle-based dumplings that come with every flavour imaginable. If you venture into some of the Soviet-style kitchens (as indicated by their hideous wallpaper and staff attire), you'll see entire menus of these dumplings. Of course, some Vareniki have some of these things mixed together into a delicious combination. The dumplings are usually either fried or boiled (we recommend trying one of each cooking style as the portions are often small) and served on the top or side with sour cream.
Other food items one must definitely try are Chicken Kiev, Potato pancakes, Shashlik, Georgian food. Another tip for all backpackers is that the supermarts have ready to eat food available so have fun experimenting when you sometimes won't be able to convey what you want to eat.
Kiev has several open-air restaurants which are quite cool. Don't worry about the prices, even the most elite ones won't cost more than 15-20 Usd. We had our lunch right opposite to the Maidan Nezalezhnosti and it cost us about 10 Usd only.
5. Wall paintings and Graffiti:
People are very creative with their wall arts. You can easily find humongous wall drawings all over the city. It's amazing how they have painted so many buildings with this amazing paintings.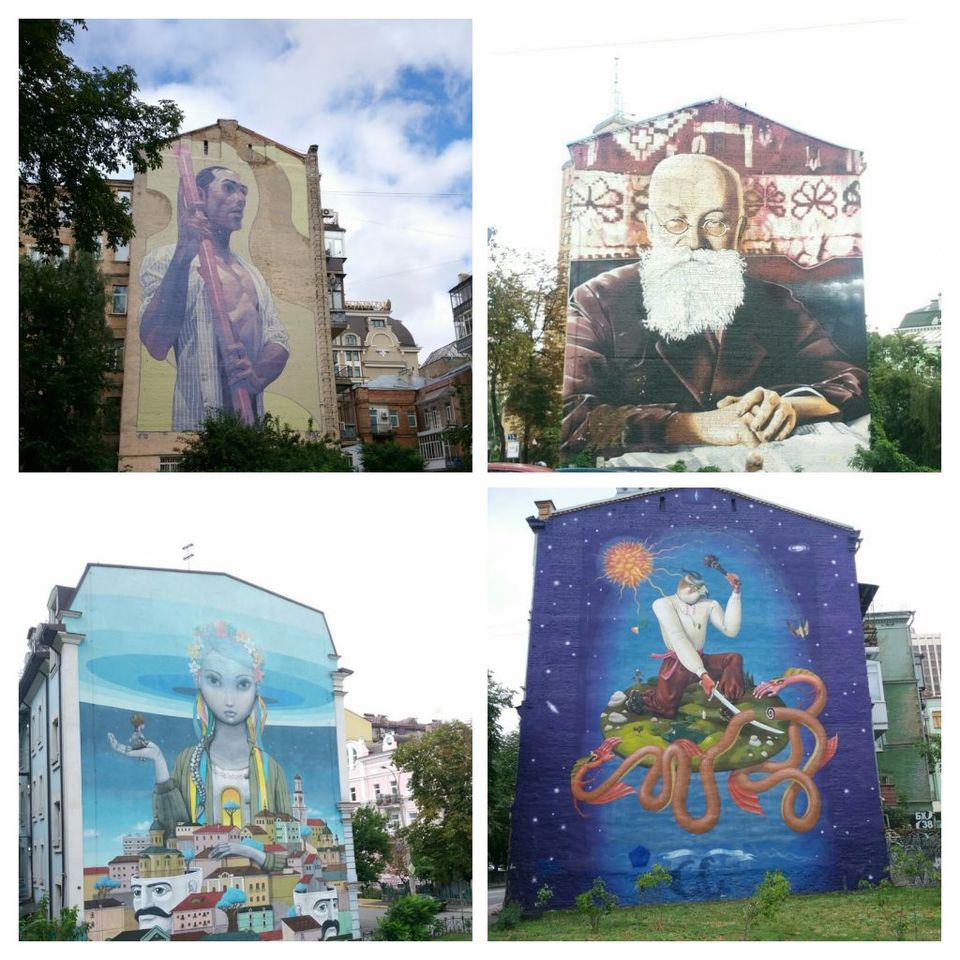 6.Nightlife:
Kiev comes to life at night. The party starts at midnight and goes until noon the next day. There is a wide variety of fun pubs, bars, swanky lounges and insane nightclubs.The best clubs are the Carribean, De luxe, Saxon, Sorry Babushka, Heaven and Arena. Beer and vodka shots are available for $2-3USD, and the people are so friendly that you're never going to want the night to end. The music is generally electro, pop, R'n'B. I went to a club called Sorry babushka(which literally translates to Sorry Grandma). Brought my Bollywood moves out and the people excitedly followed suit. They loved the steps of "Lungi dance" and "chammak challo". The dance floors(three levels) although huge were still fully packed. My night ended at 4:30 when my friend dragged me back to our hostel. Good times !!
7.Coffee to go:
I've never seen a city with more pop up cafes and pop-up bars than Kiev has. In every area of the city, you'll notice the street corners and sidewalks lined up with pop up cafes, which usually take the form of graffitied cars! They are small but have all the varieties one craves for.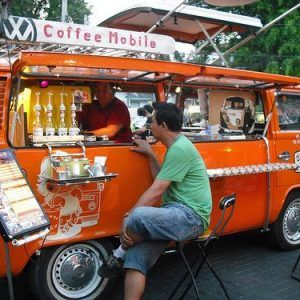 8. Cleanliness :
Kiev is a very clean city. It is impressive to see the citizens always taking very good care of their home by not throwing trash on the street and putting an effort into maintaining the cleanliness of the buildings. It really inspires you to keep your own city clean.
9.Mother Monument and world war 2 museums:
Visit to Kiev is incomplete without marvelling this beautiful and huge monument.The mother monument. The statue is massive(102M high) and it overlooks the city of Kiev. They only accept a few people per day to climb all the way up, and you will need a private guide to take you up the steep ladders and narrow passageways. The monument is a part of the world war 2 museum which in itself is an eye-opener. The museum is huge and consists of over 300 exhibits.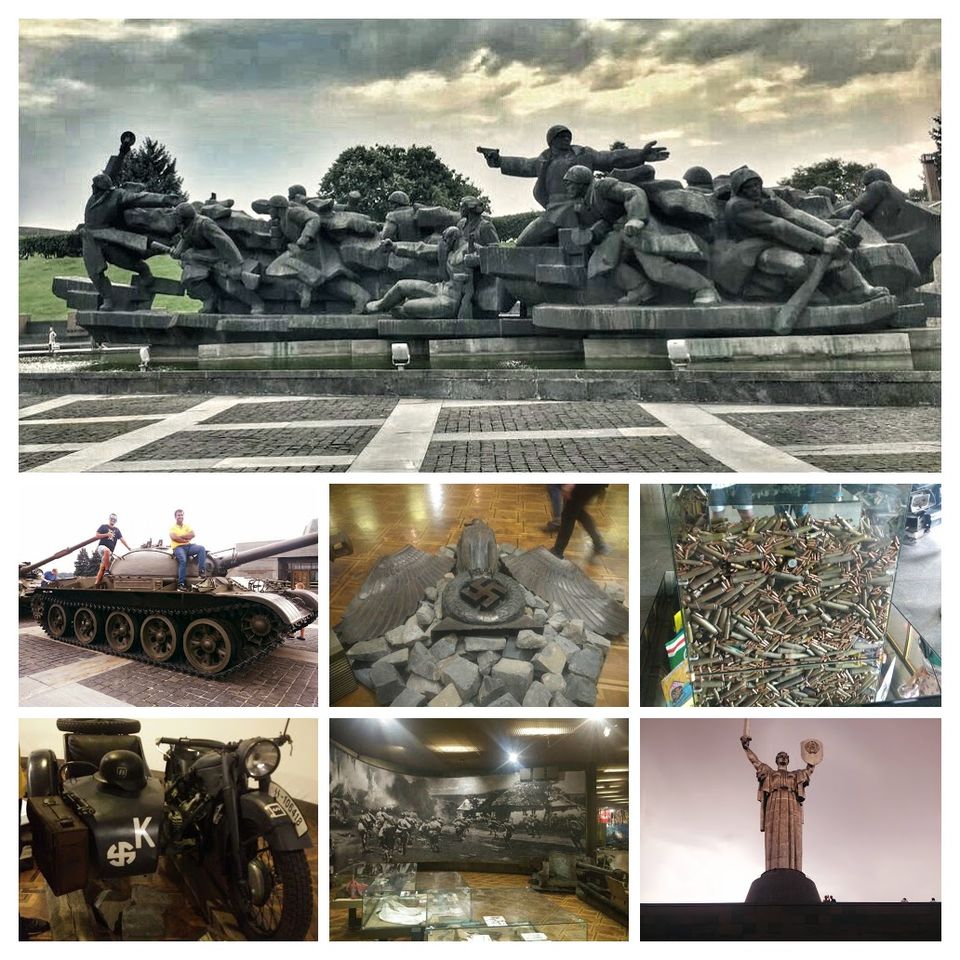 10. The underground market:
Kiev is been developed in such a way that for crossing a busy road(only a few parts) there is a provision of walking underground through giant markets to the other side. Strangely these markets consist of everything and you get a feel of a mall while passing them.
11.Skydiving:
Skydiving in Ukraine is hands down cheapest in the world. I did a tandem dive with video making for only 5000 UAH ie 11500 INR or 180USD. This price is astonishing. In India it costs about 35000INR and even Dubai and Thailand is way expensive then Ukraine. So if you are in Kiev skydiving is one thing I would recommend above all. Note: Skydiving only occurs on the weekend in Kiev so plan accordingly.
12. Beautiful people:
Last but not least, Ukrainian people are simply gorgeous. Tall, blue eyes and that slick accent. For all the singles out there, Ukraine is a great place to find your ideal match. This indeed is a cliche but Ukrainian girls are (without question) the most beautiful in Europe and quite likely in the world(No offence to non-Ukrainian girls)
Kiev is one of the best cities you will travel to, so pack your bags and head to Ukraine. Thanks for reading my post about 12 reasons to visit Kiev, and I really hope that this article inspires you to go there and experience it for yourself! I know that I'll definitely be making a visit back to this wonderful place in the near future! Feel free to comment or share the article.
Find more of my travel blogs here: New Adventure Blogs
Written by- Anshumali Negi( Navigating Officer on merchant ships)
Every New Journey Calls For A New Adventure!