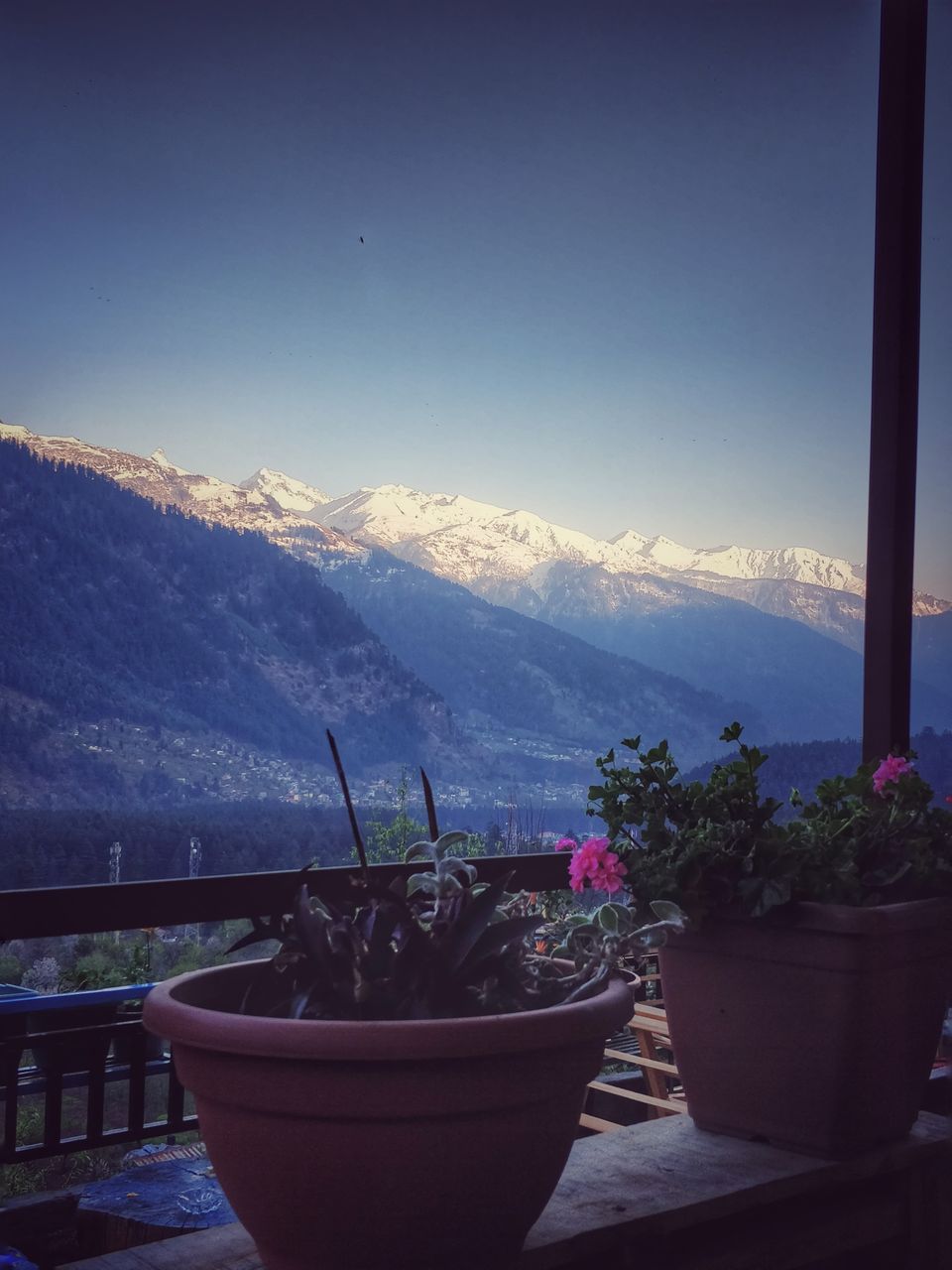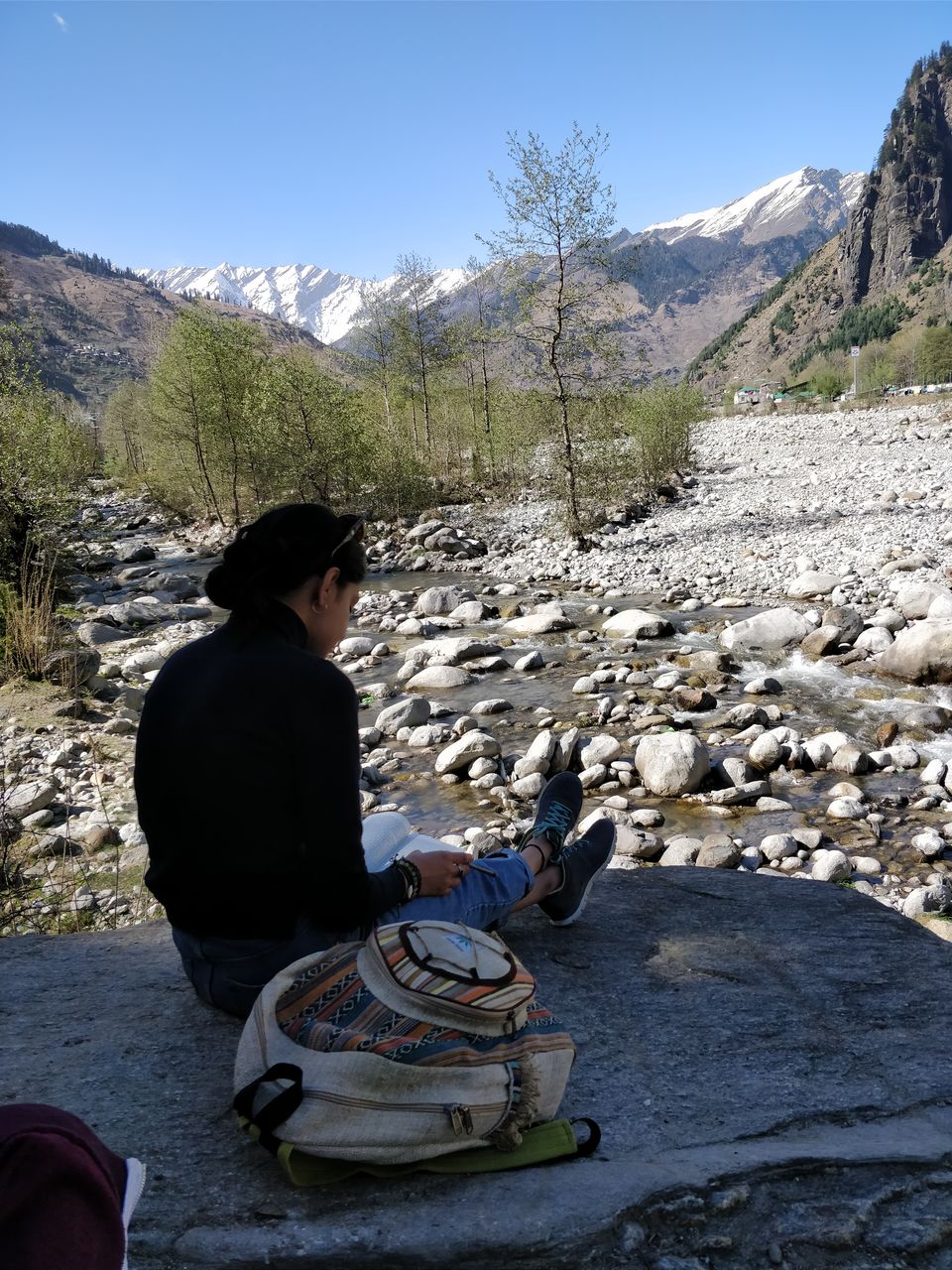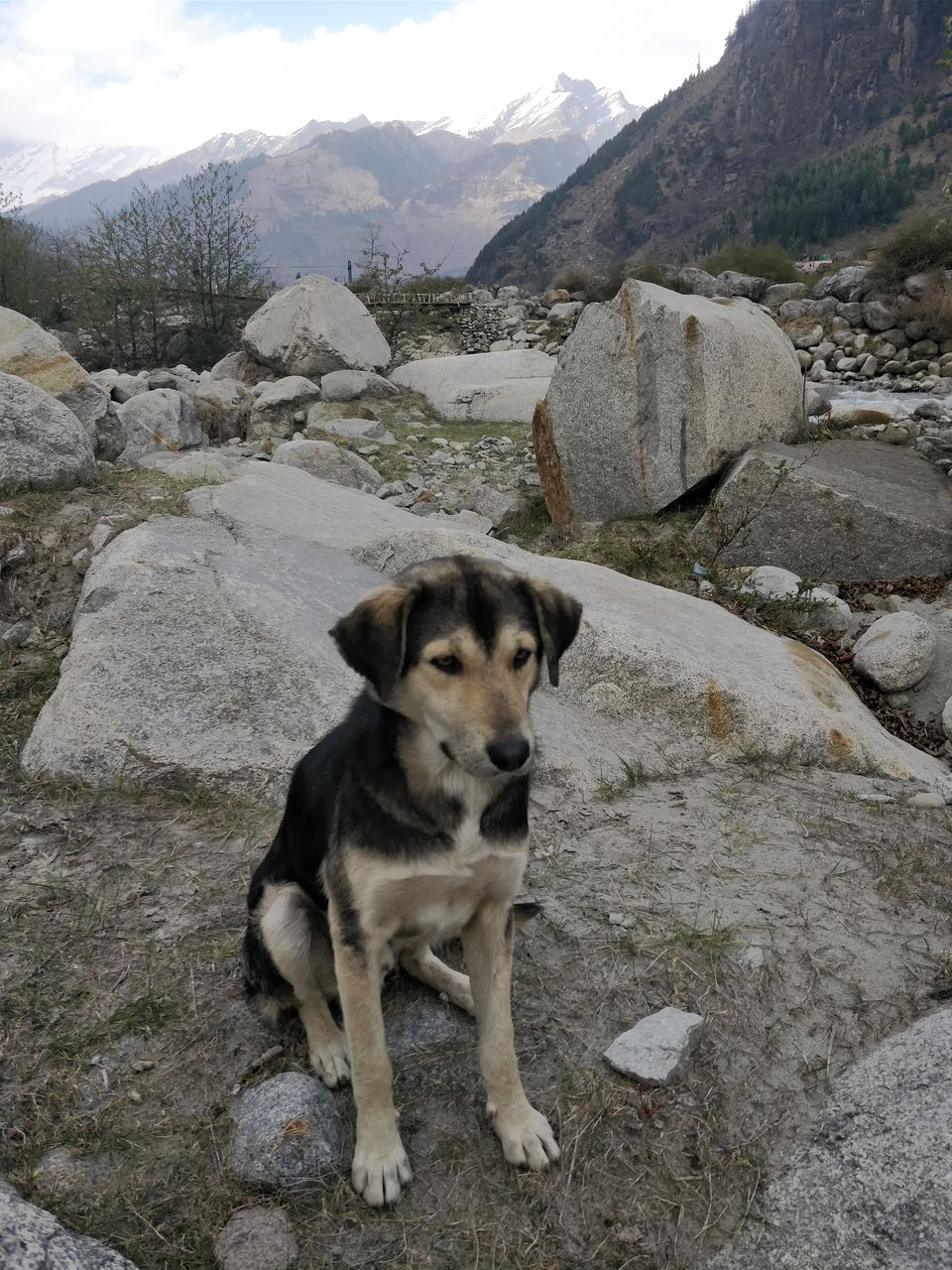 This is not a travelogue of an experienced traveler. This is an expression of an amateur adventurer who left on an overnight Volvo to a surreal valley in Himachal, Old Manali. My fellow travellers were numbered, we were three females from the country's capital looking for a week long escape into a world without concrete, without pollution and most importantly – low network services.
Being a small group of female travelers, the rituals during the days leading up to our trip were rather strenuous. Societal norms, our overly possessive parents and our in-built pessimistic fear of what's to come coupled with the fact that neither of us had travelled without our male friends or family members seemed to cross our minds now and then. But we were determined, as determined as young adults looking to tread along their own path are. And that's a whole lot of determination put together when there's three adrenaline seeking, life loving, enthused individuals going on a trip together.
We ended up discovering a lot more than the place. 25th March, 7 PM, the streets running past the Kashmere Gate metro station in Delhi are bustling. After a 45 minute journey to our bus station across the road, we caught a glance of our chariot. The Himalayan Nomad. The next 15.5 hours were spent streaming Wild Wild Country on Netflix, listening to the neighbors' snores and munching on our goodies. We even rationed our water intake for the fear of an untrustworthy bladder. I barely had shut eye for more than 3-4 hours, the giddy feeling in my stomach was trying to signal an adventure. And we were more than ready for it.
We reached the Private Bus Parking at 10 AM, and took a cab to our Bag packing hostel called 'YOLO Bagpackers' located in Old Manali. At the hostel, the people were friendly to the extent of not being over bearing. That's the beauty about the humans in Manali, they will be warm to you because of their own personal contentment. They care little about business, little about worldly treasures, and more about actually living the life us city kids always yearn to have. The man with all the tricks up his sleeves, he cooked and cleaned for the entire hostel – our man Ajju, escorted us to the room. We also had the sweetest furry friends to welcome us, Bhaalu (he sure looked like one) and Ludo. I would recommend the hostel to anyone who isn't too fussy about their bedding, is looking for cheap accommodation, a party at 10 Am and overflowing Ginger lemon honey tea. Our hostel was a haven to retire at each day.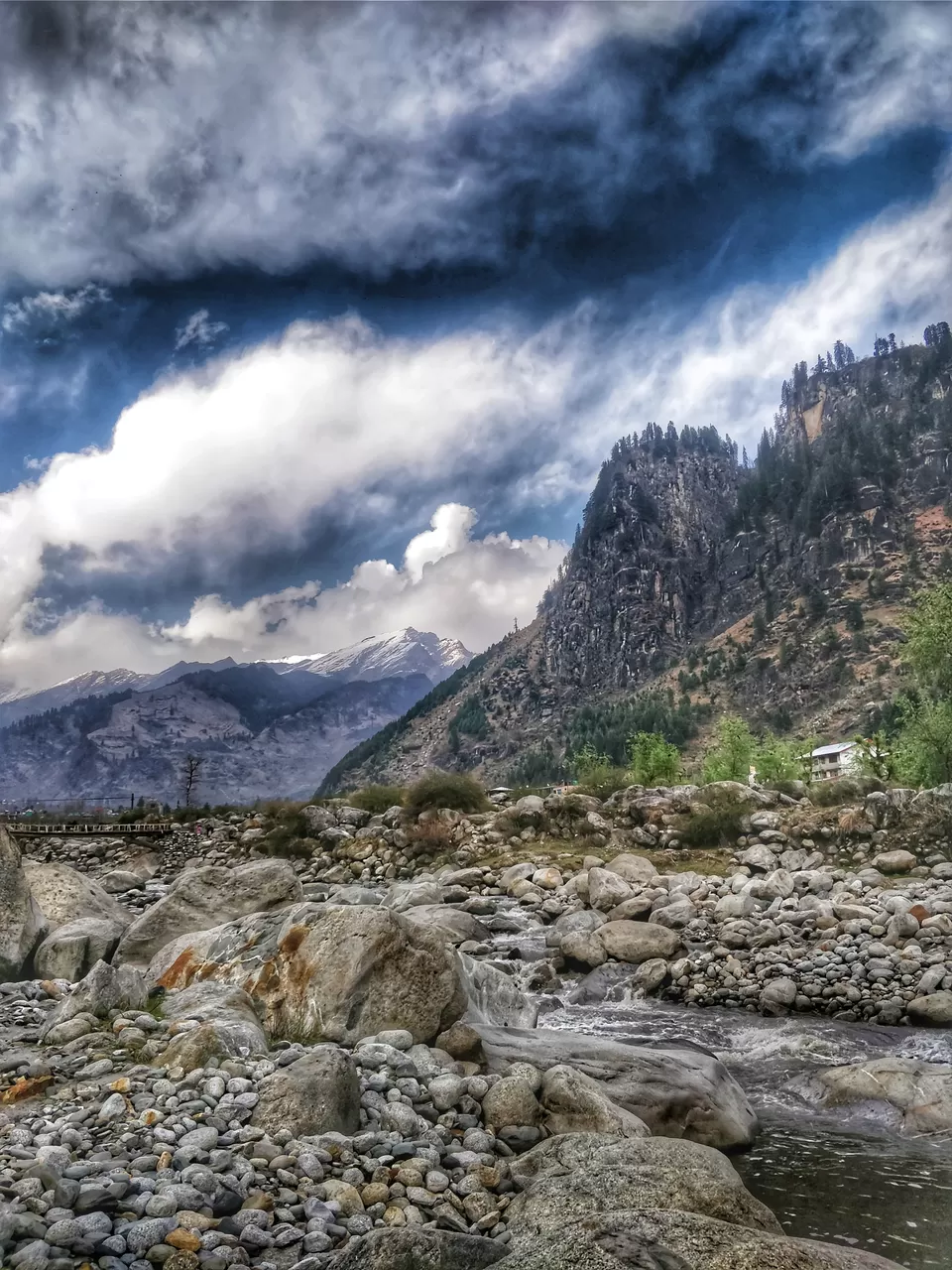 It was now the 26th Afternoon and we had half a day of light, so we decided to keep the day an easy one with a Bud and Grub meal at Café 1947, only a few minutes from YOLO. The service was hospitable, and we also made our first friend who would shower upon us blessings of Lord Shiva at Café Kathmandu. All these cafes line along the riverside, and the ones further up share their space with the German Bakeries, accessories shops showing off their dream catchers, kirana stores and very rarely, a liquor shop. The plan for Day 1 was just taking up all the rest to prepare for the adventures of tomorrow. We had made a pact, a budget trip that would not burn a hole in our pocket. We chose to do one that would make our foot soles cry for help while our eyes and other senses gave into the hypnotisms of Old Manali. By 8 Am, we were on foot and walking to a nearby town called Vashishth to witness the famous Jogini Falls.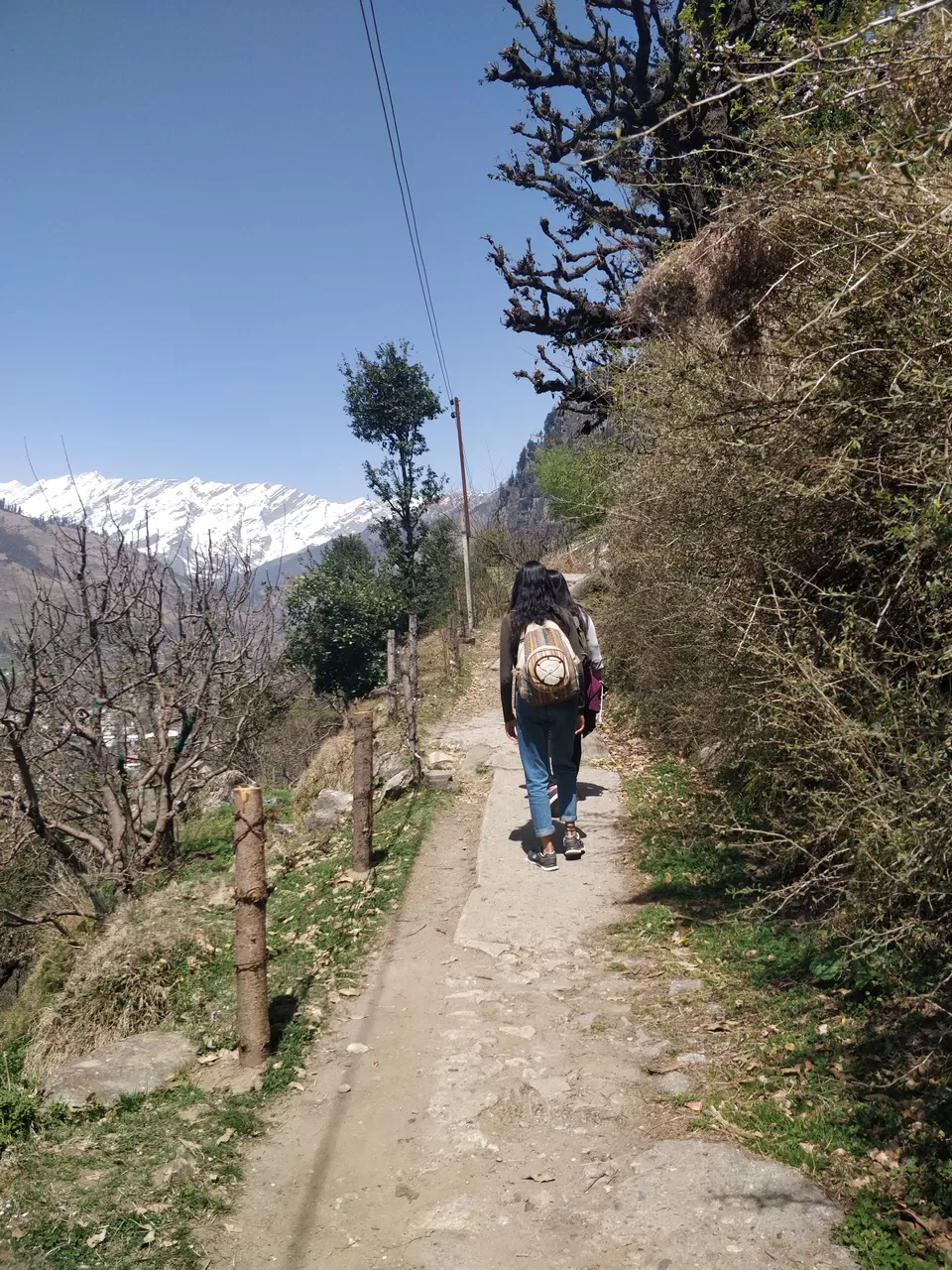 The walk through the temple town is extraordinary, taking you through a narrow path with village huts and houses on both sides. The temple town then gives way to forested lanes and breathtaking views. The actual waterfall is a bit of a disappointment, but we found our spot in the woods and the views from the Falls made the trek worth it.
Vashishth is a hippie town, sort of like how Old Manali would have been in the 80s or so I imagine. It's raw, fresh and unexplored as compared to the heart of Old Manali. There is a tiny café with Thermocol mats and wooden blocks for a seating arrangement, we discovered it on our way back down. The place boasts of the best vegetable maggi, and a glass of fresh mixed fruit juice that we devoured with delight. With Floyd playing as the back score, and heady peaks up front, we felt like this was one of our better decisions in the recent past – to take this trip.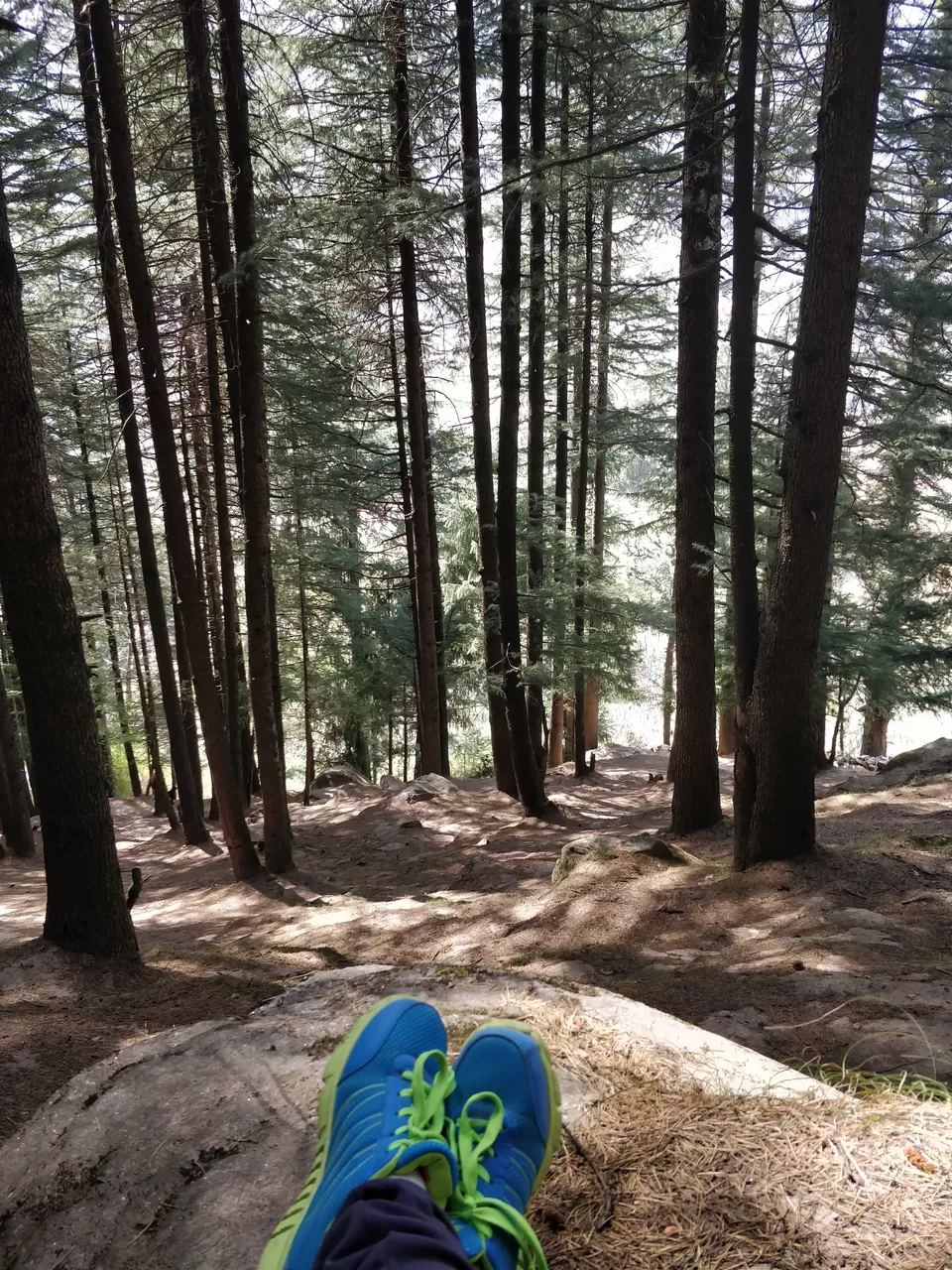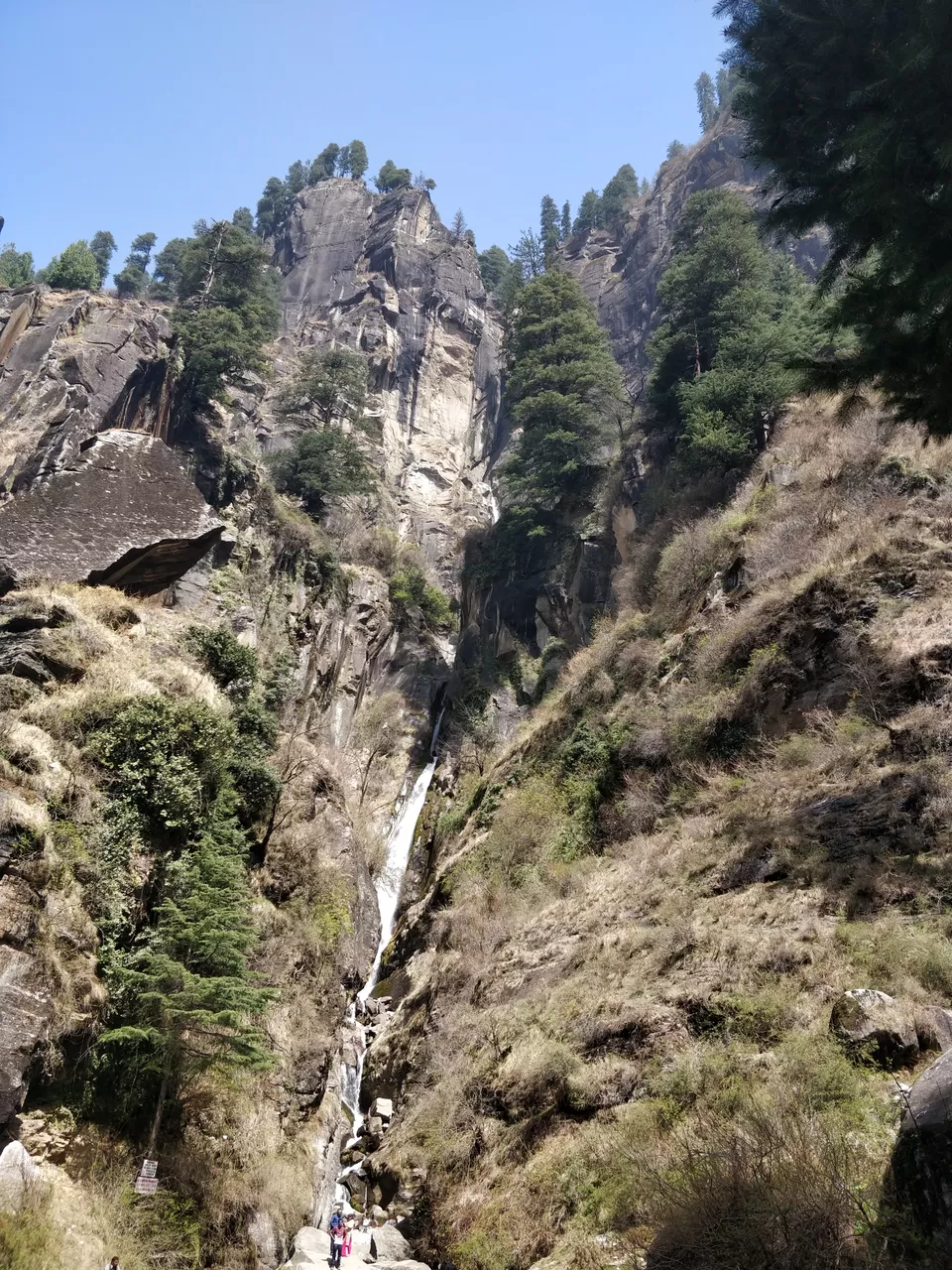 By dawn, we were back at the hostel for our daily dose of Gingerale and a game of Jenga. By the third day, I was in awe of the locals, the Pahadis. I found myself yearning for the same peace of mind they all seem to have, the calm composure and blood flushed cheeks and a sweet, helpful voice. The vibe, the place, Old Manali had me. You seldom find such warmth amidst concrete jungles like the ones we come from, and being in the hills is bound to make you feel existential about your life back at home – Am I really living? You think about moving your life to the hills, you're enraptured by the omnipresent sound of the water and your nostrils feel like they have breathed in air enough for a fortnight.
The next day was an equal adventure. We walked over to a beautiful river side about 4-5 km from our hostel. The spot was one visited by horses, and yaks and the local fishermen. It was a spot very close to a secluded resort called Shobla Pine Royale. The way to Shobla was gorgeous, untainted, and overlooked the snow peaks on both sides. It was said that this spot was where all the 'Raves' of Manali used to take place up until the authorities intervened.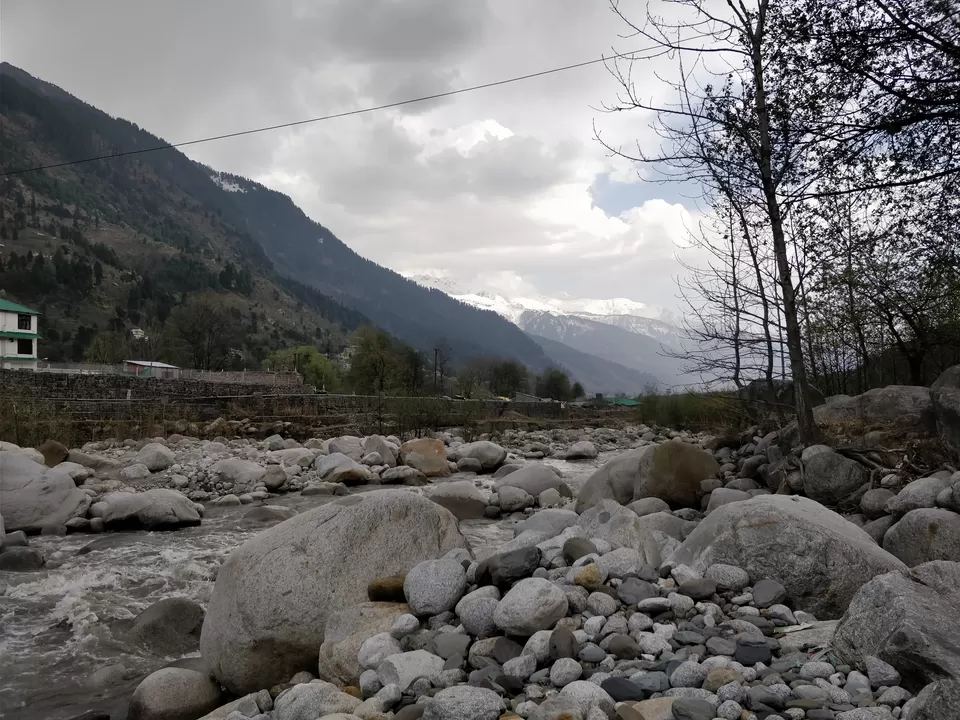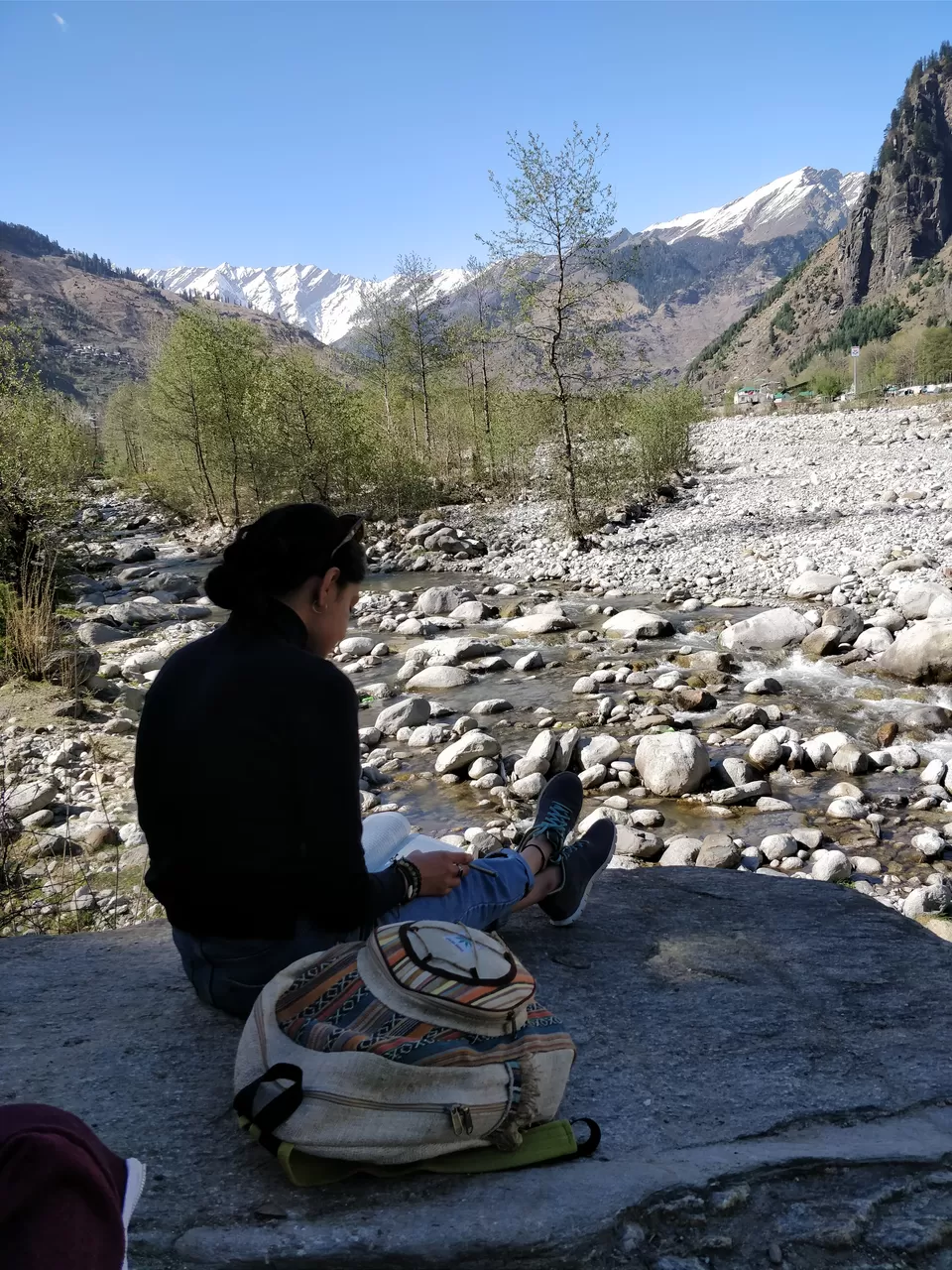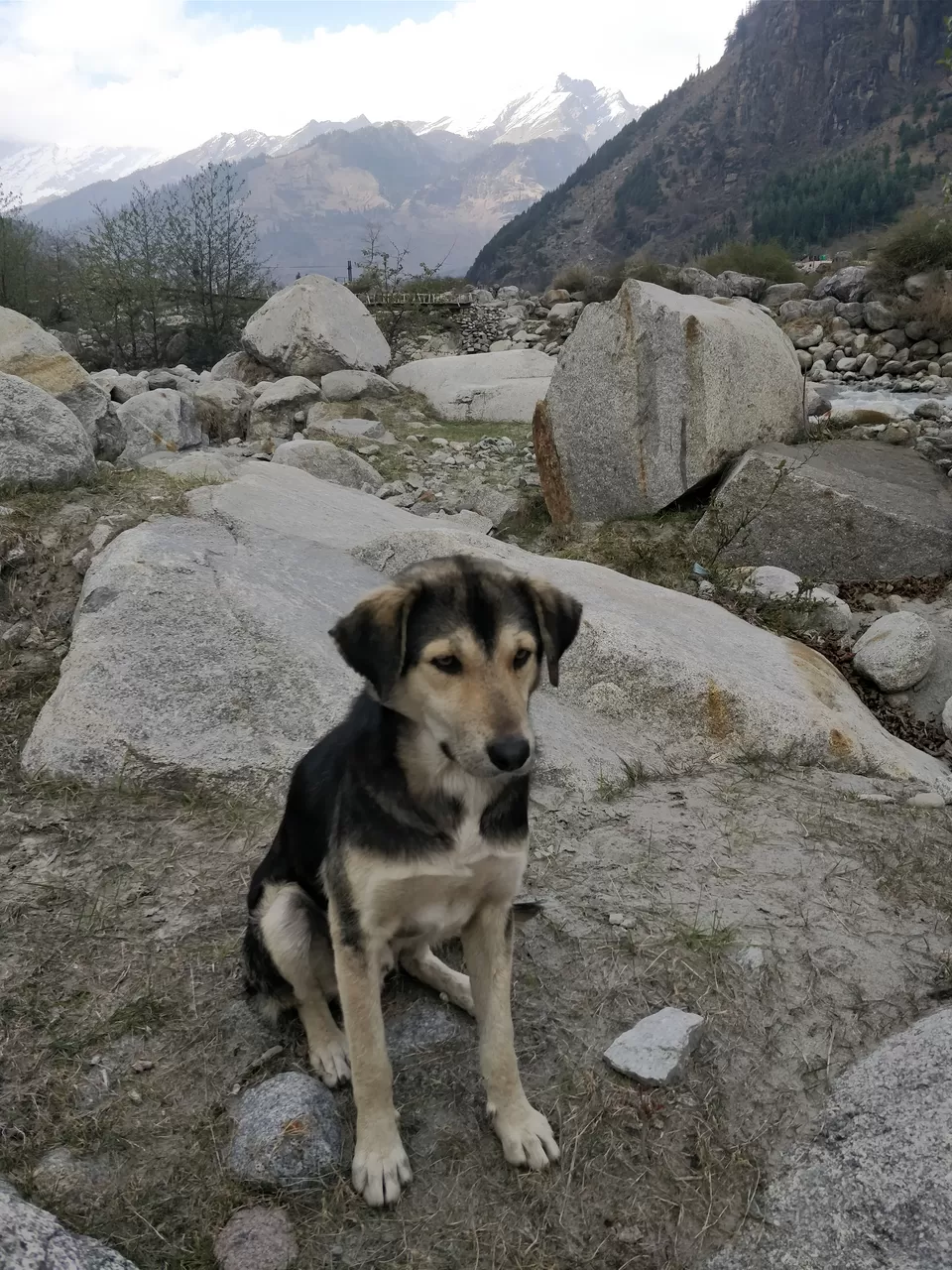 The spot really was something else, the horses there were almost majestic, unperturbed by our presence as though they belonged to another world. Ahead of the Shobla, if you keep walking through the trees and follow a path made over time with footsteps – you reach a tiny little village called Goshal. With only scattered huts and tiny houses with yaks outside each of them, we followed the sound of the stream and reached a bridge that crossed over to another town Bahang on the Leh- Manali Highway. Someone once told me that you discover the most if you just keep walking, and so we did. We saw hues and views beyond comparison that lingered on my mind till our dewy slumber. I feel like I even dreamt of Manali while being in Manali.
The next day was the real deal. We were planning to cover the Hampta Pass trek starting from a village called Prini. About 30 minutes into the trek, we found ourselves climbing a steep mountain that obviously turned out to be the wrong route. I think we went a little overboard on our adventure meter there as it was quite a steep slope to climb without proper gear or a guide. We came back down carefully, and traveled like the locals – in a tempo that took 45 minutes to drive up to the most surreal spot I have ever seen in my life. It was an aerial view of Old Manali, and we had reached even higher up than Hampta Valley. Our task then was to find the trek that cuts through the forest from the main road. On most curves, we were lucky except one where we found ourselves hanging on a tree branch waiting to make a jump on to the road. We were quite inexperienced, but extremely driven to figure our own way out. With blistered feet, crooked backs and 5.5 hours later – we made it all the way back down and that was the walk that defined our week in Manali.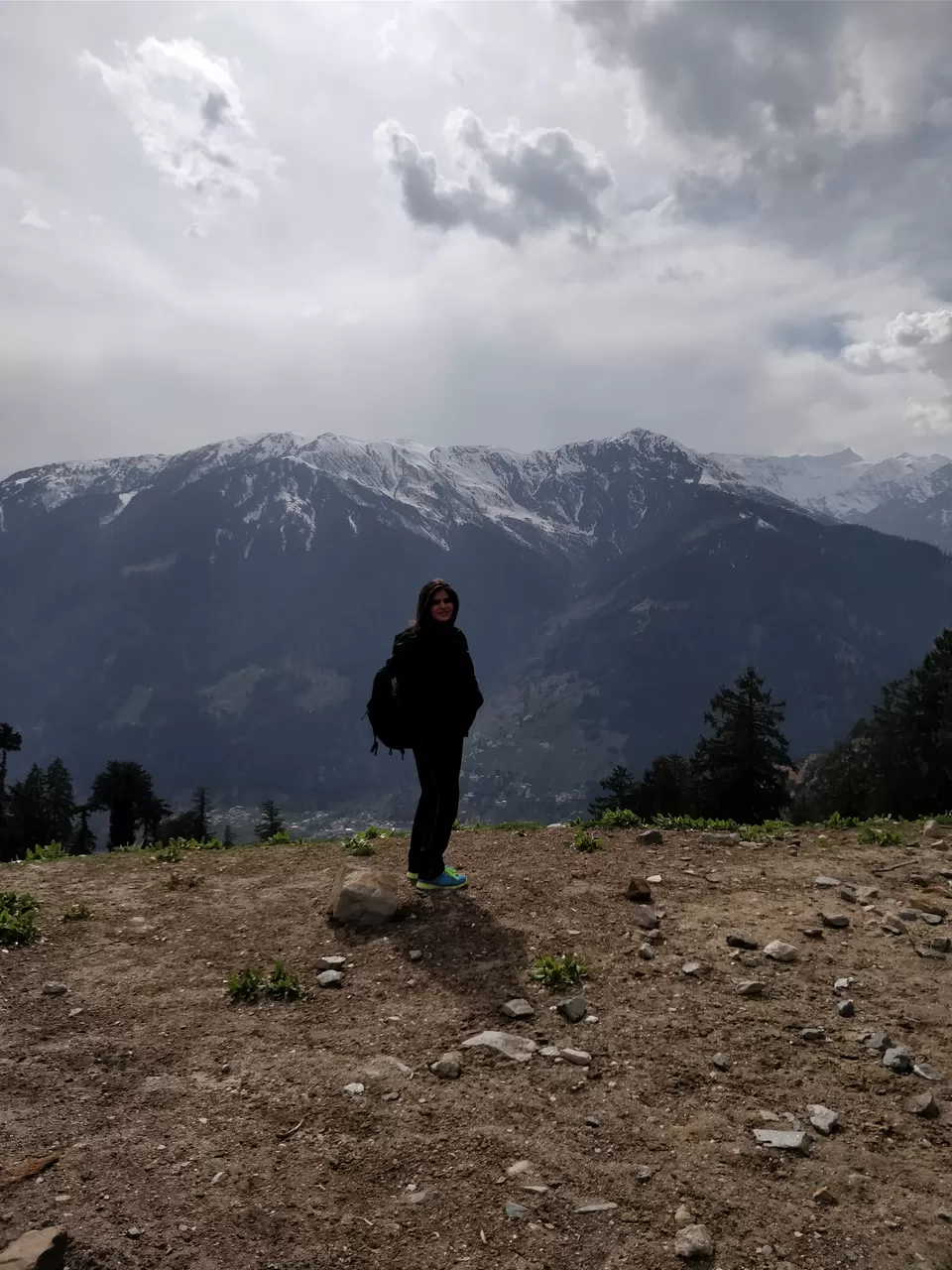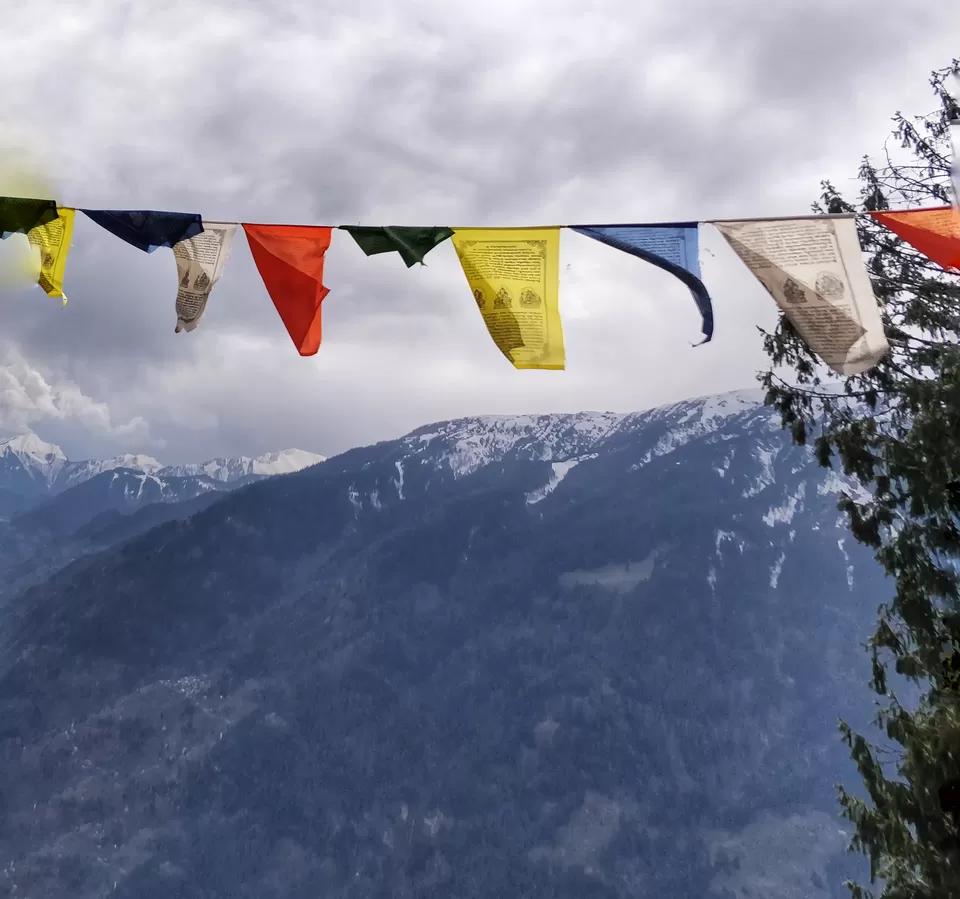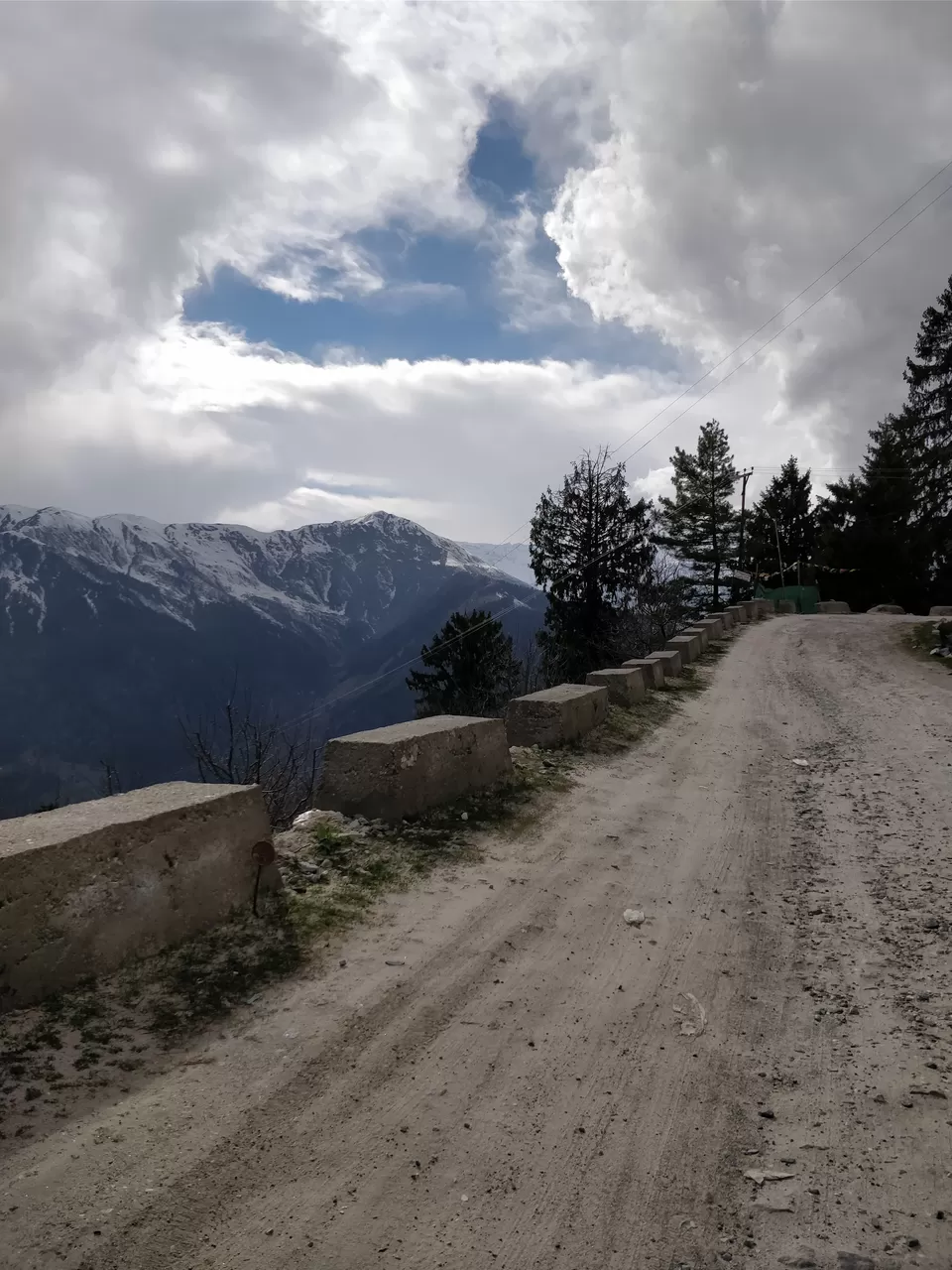 We climbed up a steep mountain with a thin sheet of snow, we discovered a cave with eerie doors, we even witnessed a snow fall up there. I felt like we were in another dimension of reality, in a Rick and Morty episode of how the hills might be a simulation or just another reality amid multiple realities. But it wasn't, we were there and we were really awakened to our senses. In that moment, we were truly content. The rest of the night was spent at our hostel with our hostlers making us bob our head to the beats playing downstairs while I had my feet dipped in hot water to take away the pain after a beautiful sighting.
We spent the next two days at a spot with an unparalleled view. About 45 minutes from our hostel, up- hill, you reach the last café on the trail – Rockies Café. It's a place where the Gods come for a stroll, a place where we met our Shephard Boy who recited stories of Manali in its raw, unexplored days. He had a sheep named Mangatram that walked with an air of royalty, and seemed as though they just floated, as though its feet seldom touched the ground. We spent the next few hours at Rockies, almost in silence, one with ourselves. The place does that to you, you feel at one with nature, hearing the cows moo and the birds chirp and the sun slowly fade on the snow clad peaks.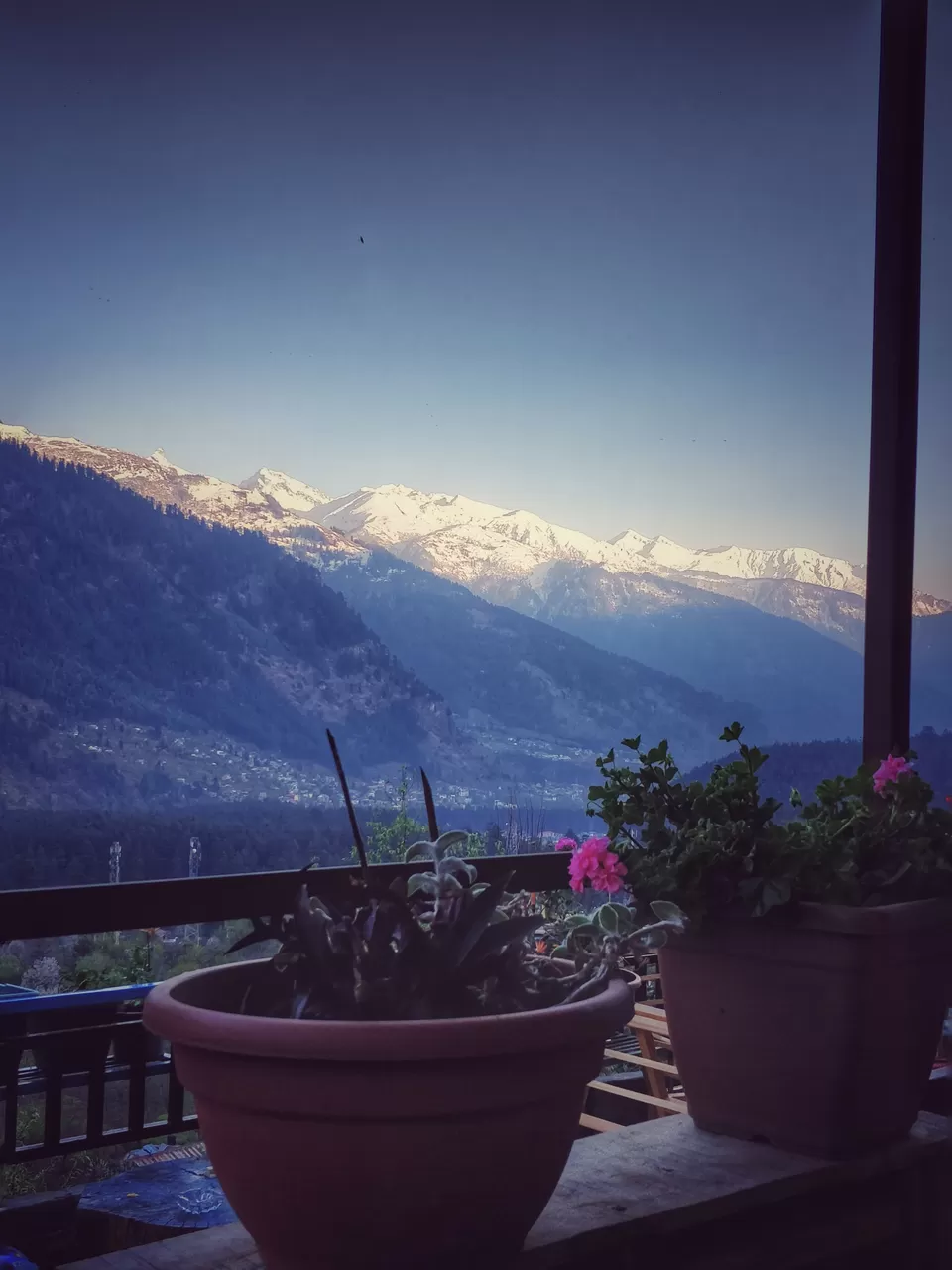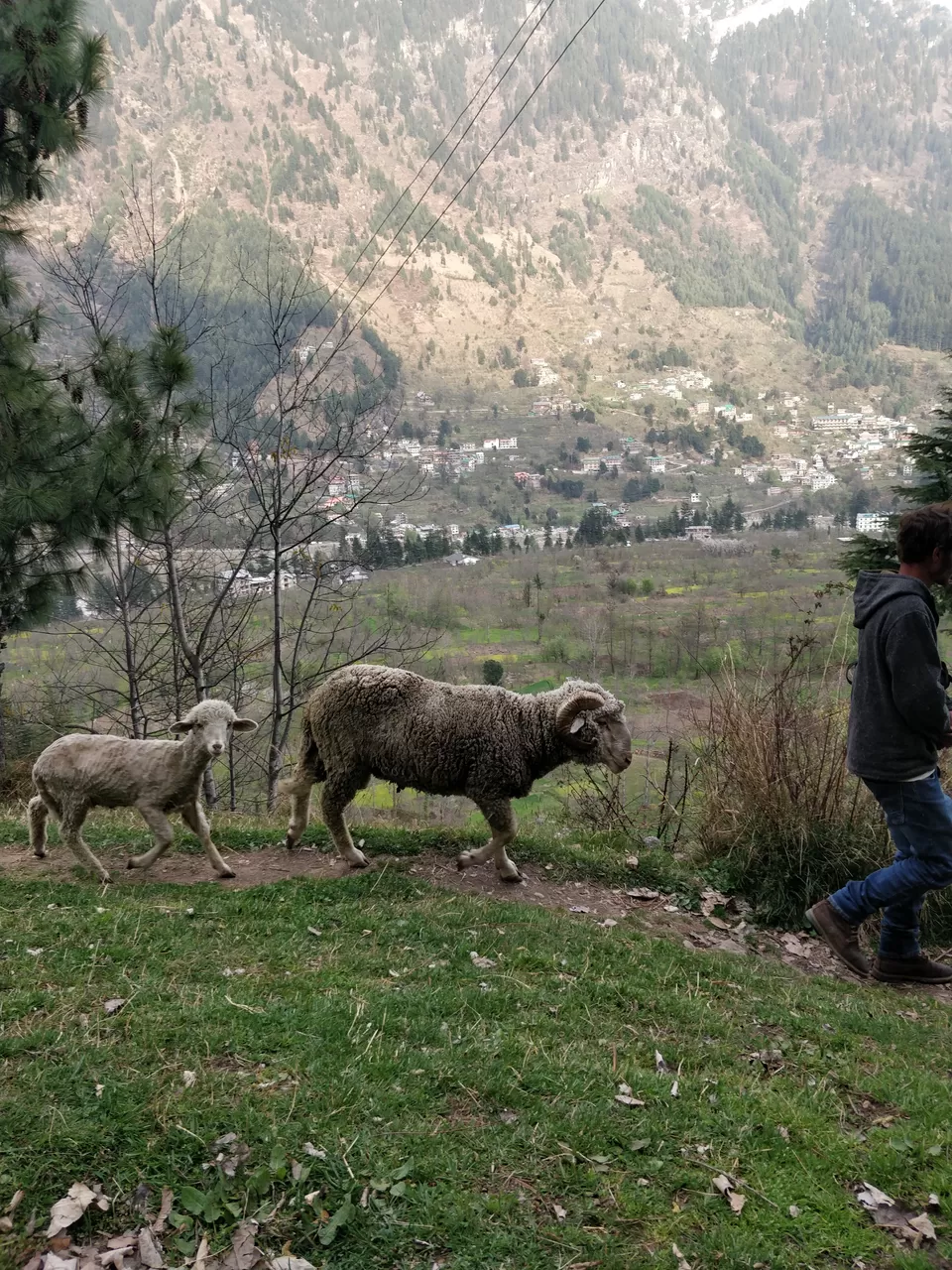 You feel anew, refreshed, energized and ready to take on life with a new worldview. Sadly, the vacation is called so because it must draw a natural end. 31st March was probably a day spent half anxious about returning to the real world, and half spent cherishing our last few hours with Bhaalu and Ludo, playing Jenga with our hostel friends. The clock struck 4 Pm, and as we were taking out our bags to head out – Deepak, the owner of YOLO, called out to us and said "Why don't you move here? You'll live 20 years longer, and you could even run your own hostel. That's life." The next thing I know is I'm waking up to the heat of Delhi with Deepak's contact on Speed dial even now. There truly is so much more left to see and feel.