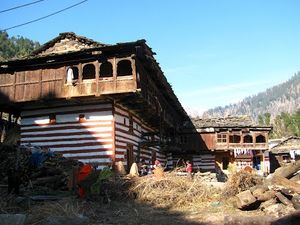 Best time to visit
If you wish to avoid the cold, try not to visit this place during the winter months.
Things to do
Trekking and bird watching is organized and one should make use of the opportunity.
Budget
A number of pocket-friendly hotel provides reasonable and comfortable lodging within the range of INR 500 to INR 1000.00
Old Manali
Also called the hippie hub, Old Manali is known as a global village where foreigners from many countries come to experience the atmosphere and excitement. The place is extremely charming and it is no wonder that many choose this place as their honeymoon destination. Old Manali is famous for its riverside café by the name of River Music. It is also called Moondance and serves up a hearty menu of soups, momos, pasta, sandwiches and much more that go well with ginger and honey flavoured teas. There are a number of shops that sell drapes here, the most famous being a shop called No Problem International.
Places to stay near
Old Manali
Explore Hamta - A village homestay!
Pause@Manali Cottage Room
Cosy Swiss Tents Next to River Side
Reviews of
Old Manali
•
25
Attractions near
Old Manali