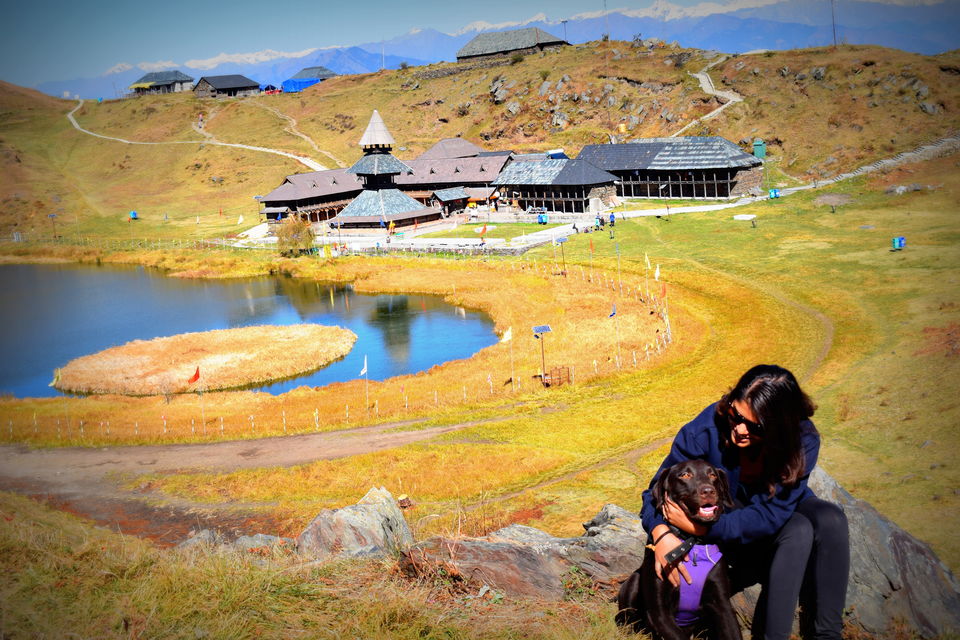 Not much into trekking but willing to go for at least one every year, this time again I chose to volunteer for 'Tails and Trails' that runs on the idea of "Why not trek and camp with your dog?" This was their third edition and they chose Prashar Lake trek this time. I was super-excited to go for this hike because I love dogs, mountains and camping- in this particular sequence. Apart from that, I was thrilled to see the mesmerising views of the Dhauladhar, Pir Panjal and Kinnaur mountain ranges. The lovers of architecture have an added advantage of visiting the local temple of Prashar Rishi that is built next to the lake. It blends perfectly with the background with its captivating Himachali design.
I was eager to meet all the pooches with whom we were going for trekking. This time, there were five of them.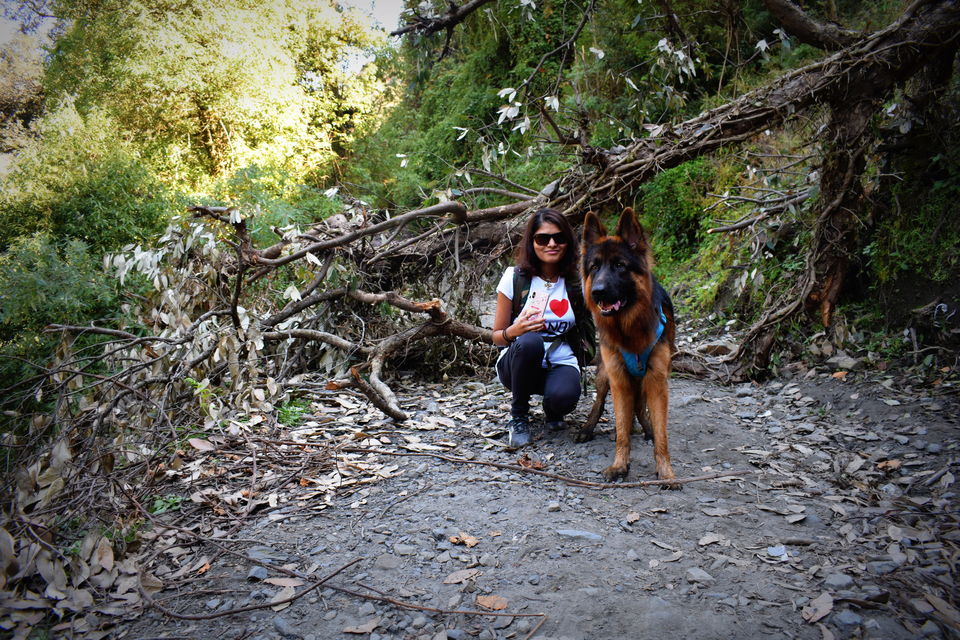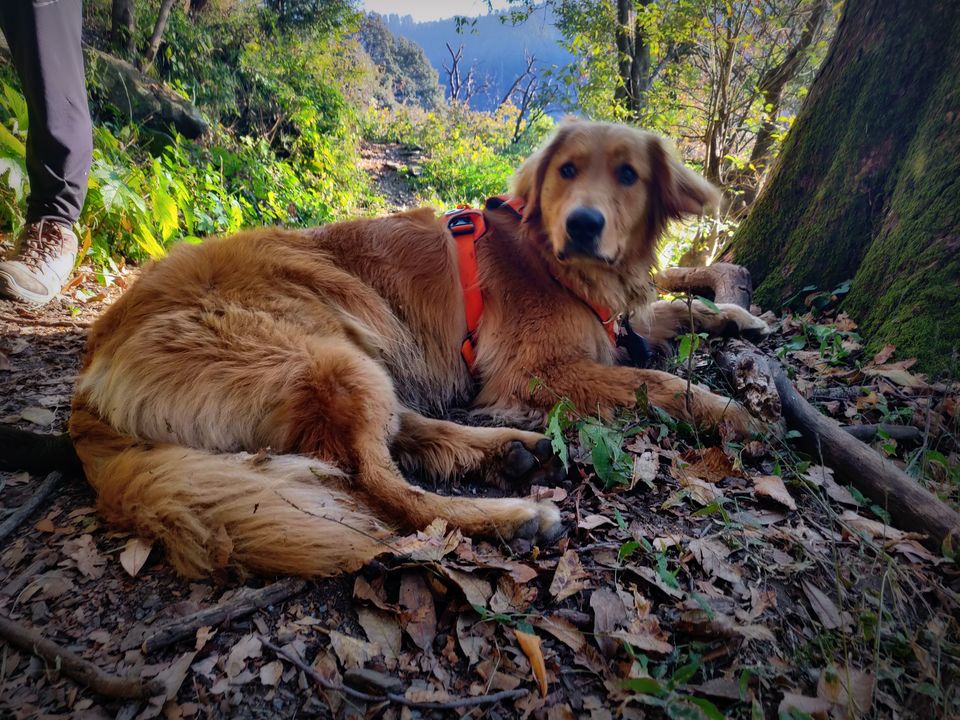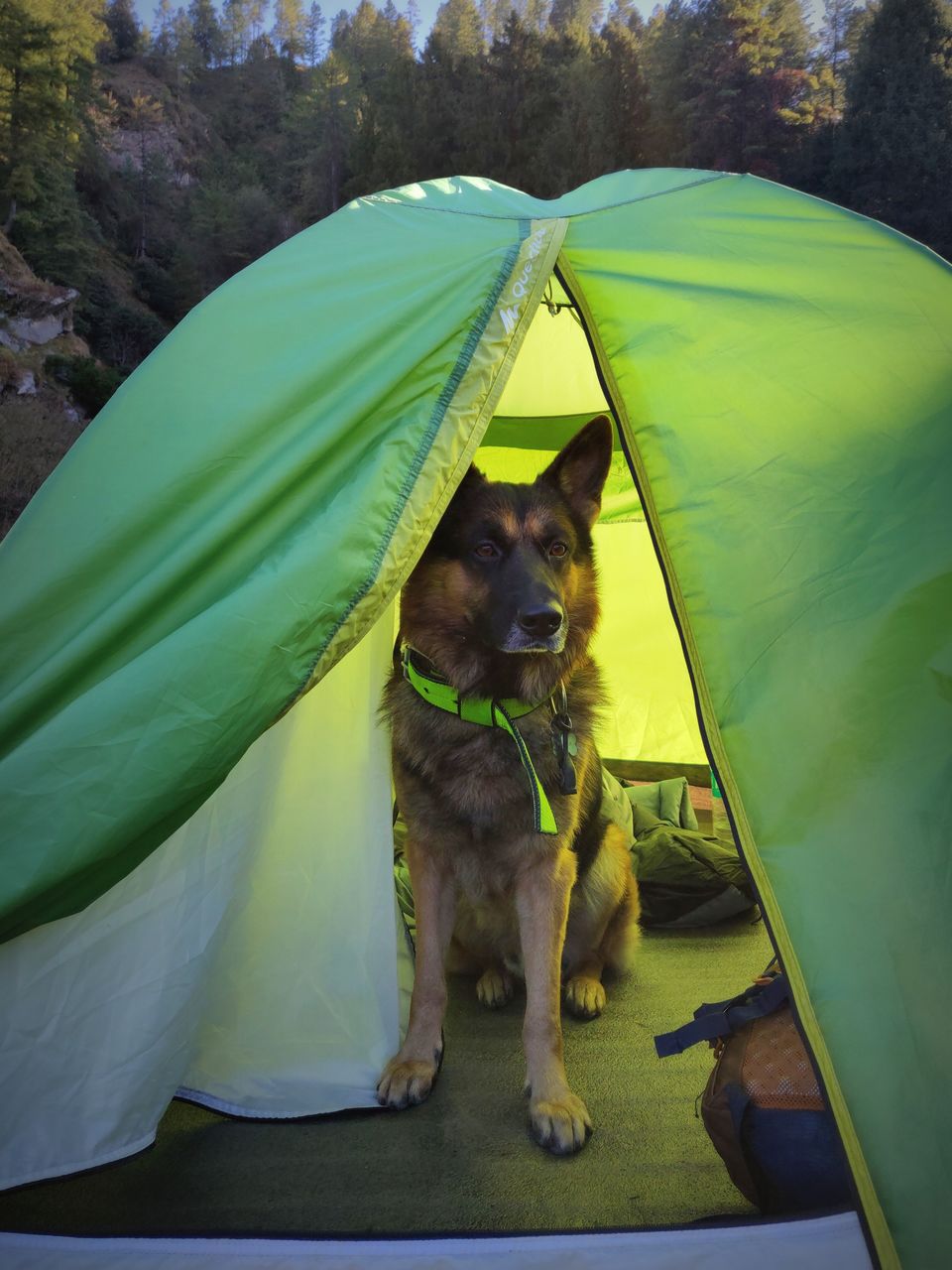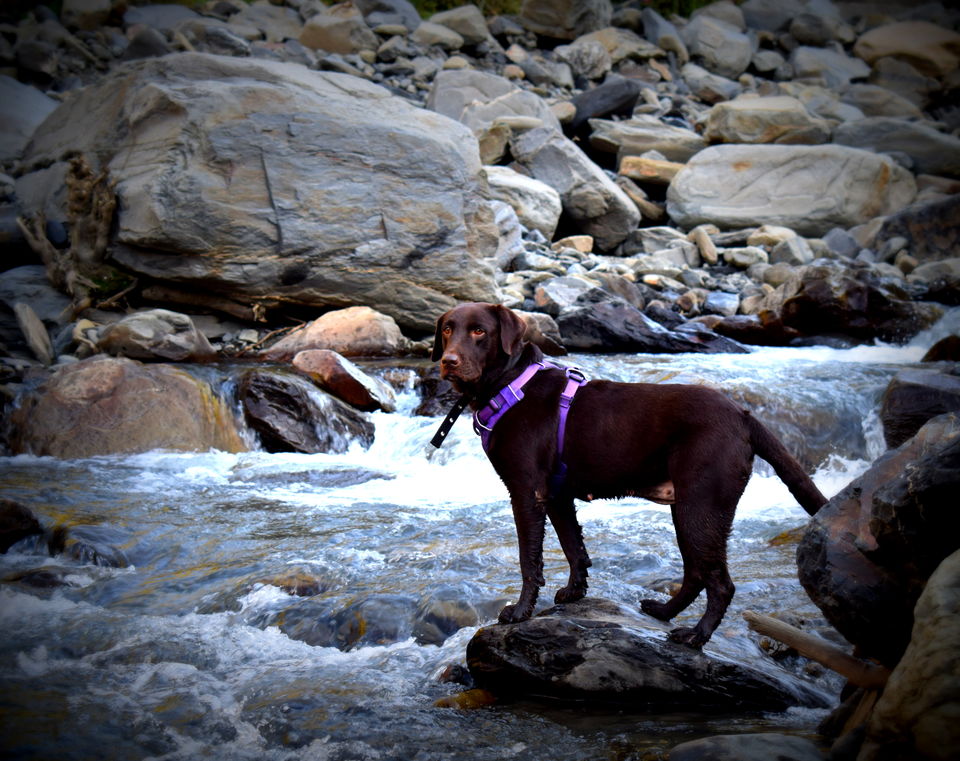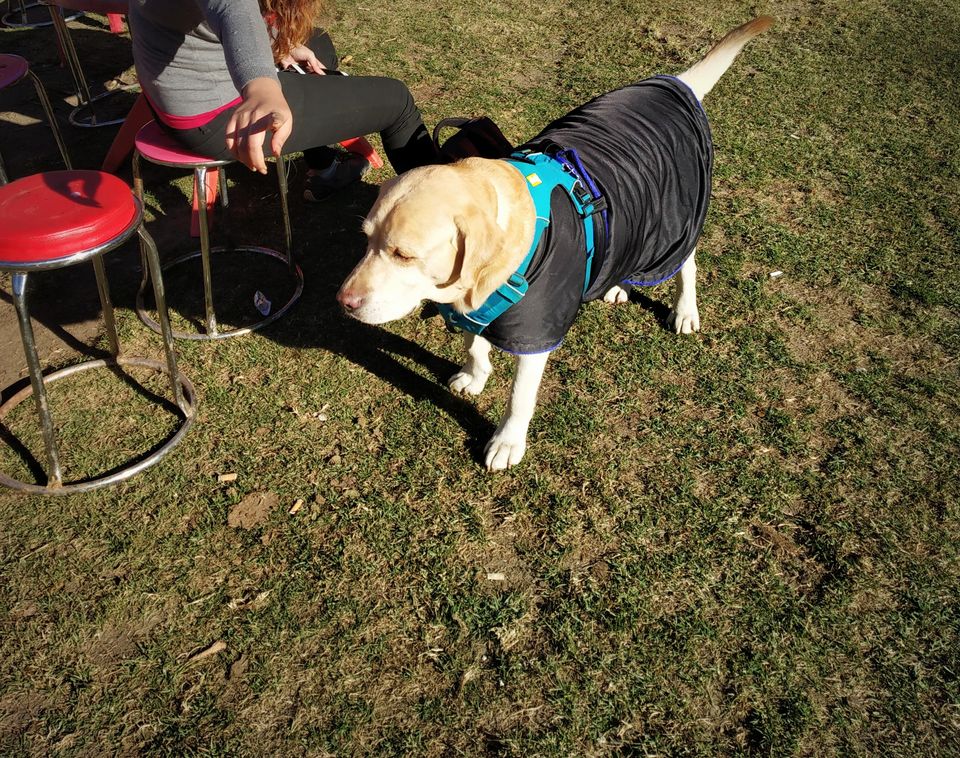 All these dogs went through a pre-medical checkup. They followed a personalised diet plan as per their general food habits and allergies, if any. Along with that, they were made to exercise as well in order to make them fit so that they can fully enjoy the unique experience during the trek.
Day 0
We left from Delhi to Mandi at night. The dogs were without any leash inside the bus. After getting annoyed and barking at each other for a while, they settled down peacefully with their respective parents. Their comfort was of utmost importance for us. And considering the need of the dogs to pee, it was obvious that small breaks would be taken during our road trip.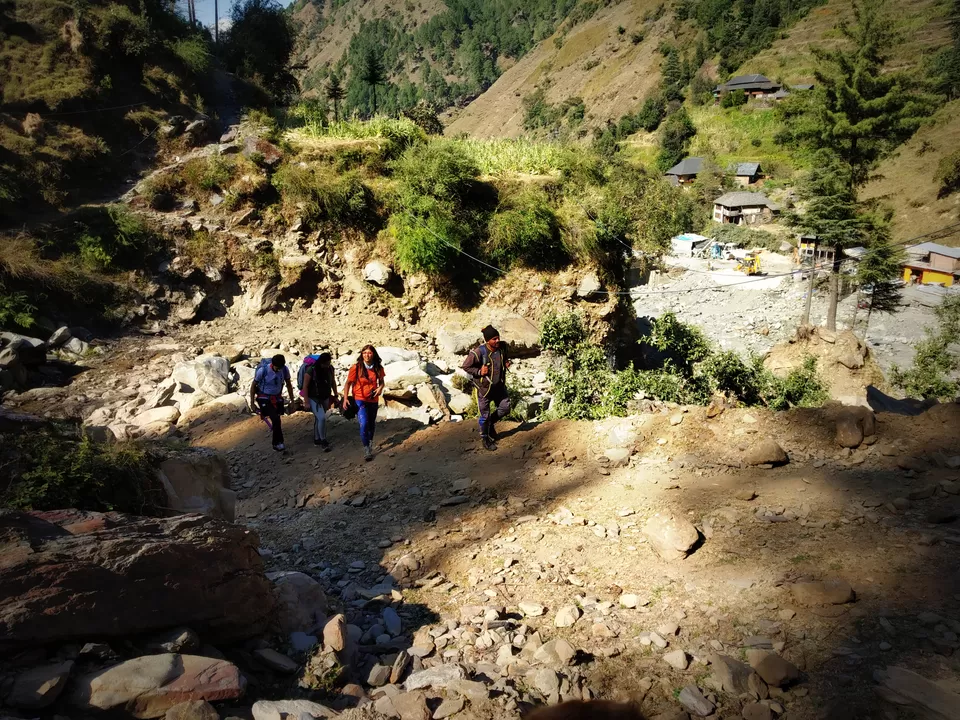 After reaching Mandi in the morning and having a light breakfast, we left for Baggi, which is around 30 kilometers from there. From Baggi, the actual trek to the Prashar Lake started. The distance to the lake is nearly 7.5 kilometers. Along with our five adorable pooches, we started to trek amidst the charming trails surrounded by trees, mountains, plants, birds, rivulets and clean air. The hike started with a steep ascent through an open land. We could see rhododendron there and also noticed the trail becoming a gradual ascent for a while.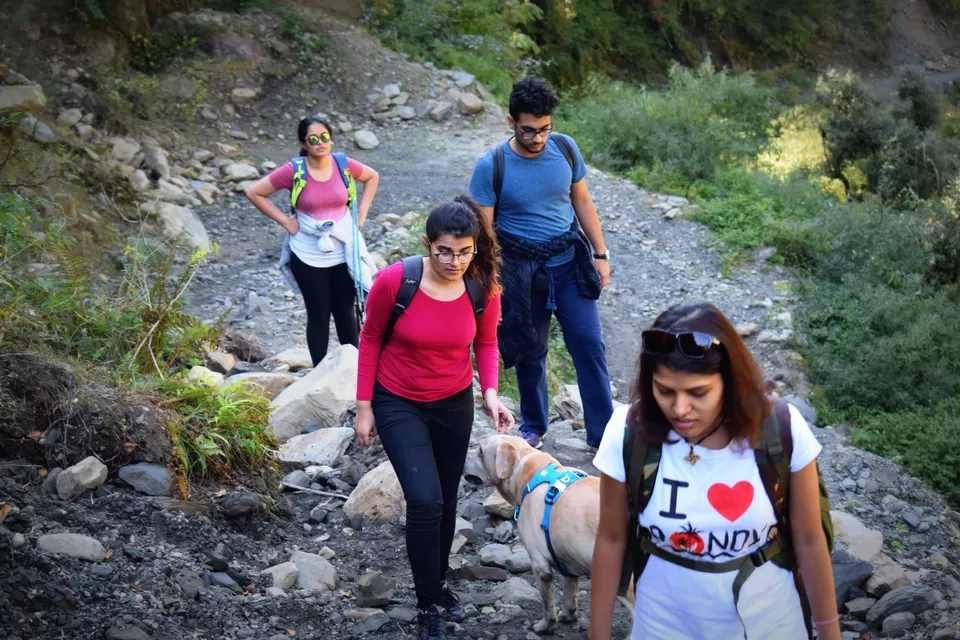 In between the trail, there were few sections that were quite strenuous and demanded a lot of strength. Taking a break after every five minutes had become mandatory for me at least.
I started humming my favorite song "If I could, I surely would" to distract my mind. But it proved to be useless. I noticed even that was requiring a lot of efforts because of the uneven and steep terrain. I was exhausted. My ears were paining (probably due to the high altitude) and my legs were tired. Throwing all these thoughts down the valley, I continued to sing slowly and take baby steps.
The greatest relief during the trek was the beauty of the nature that was engulfing me from head to toe. Running my fingers over innumerable types of plants and flowers was a soothing feeling. I knew that I would not be able to see all that back in Delhi. And that was something that kept me going and appreciating whatever I was experiencing that time, including the pain.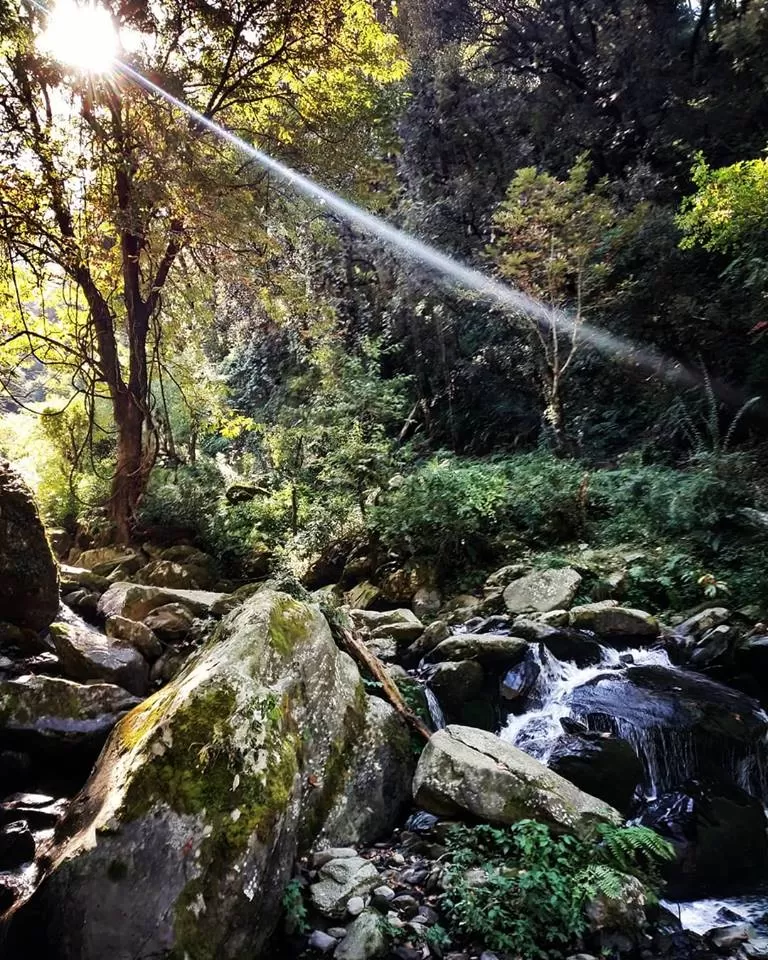 On the other hand, all the dogs were highly energetic. They used to first run ahead to a good distance, inspect the trail and then come back to their master to accompany them. They were double-trekking and their 'to and fro' moment was making me feel envious of them. These bouncy furballs were enjoying the trail in the truest sense while we hoomans were waiting desperately for the trek to get over.
For some part, the trekking required less efforts while for the other, it made me thought "Probably I won't go for any trek next year. It's like a trap. Once you start hiking the trail, then there is no option of going back. There is no car that can take you directly to the destination. So, what if someone gets sick?"
"Can't a helicopter come here right now to pick me up and drop me directly at the camping site? God, I am missing my comfortable bed. I want to sleep with my blanket over me. Maybe I should now focus more on building my stamina. Otherwise, how will I ever go for longer and tougher treks that require at least 3-4 days? When I will return to my home, then my major focus will be on having a fit and strong body. But then how these dogs are doing it so easily without hitting the gym even once? Urrrgh!!"
There was a long stretch of a steep hike as we were nearing our campsite. "Probably, I should invest in a good pair of trekking shoes," I told myself while thinking about the cover page of 'Wild', the book I was reading those days. "Maybe my feet would hurt less if I have the right pair of shoes." I was wearing the ones I wear while going for running.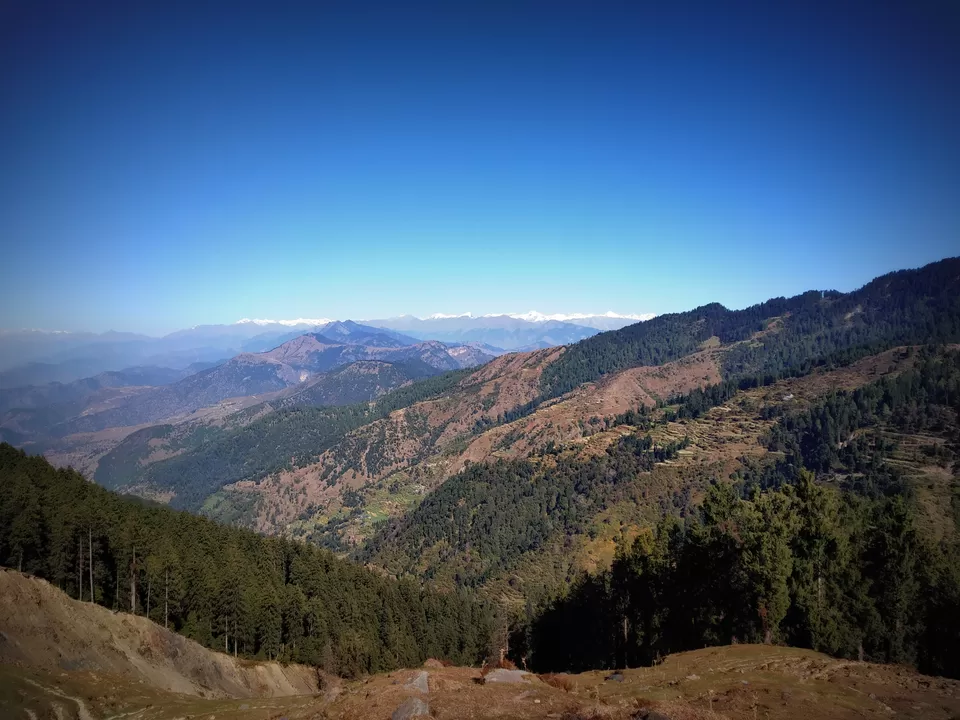 It was getting dark and we had still not reached the site. There was this girl who was trekking for the first time. Unable to take the pain anymore, she burst into tears. In her weak voice, she said, "I don't like cold. I don't like mountains. Why did I come here?" "Because all this is needed right now," I responded reminding myself the same. I said, "You will not understand this right now, but after you will reach your home, you will probably miss all this." And she continued crying. But the best part was that she refused to take a ride in a car to the campsite that was still ten minutes away. It was an irresistible offer for her but she simply rejected by saying, "No, I will walk."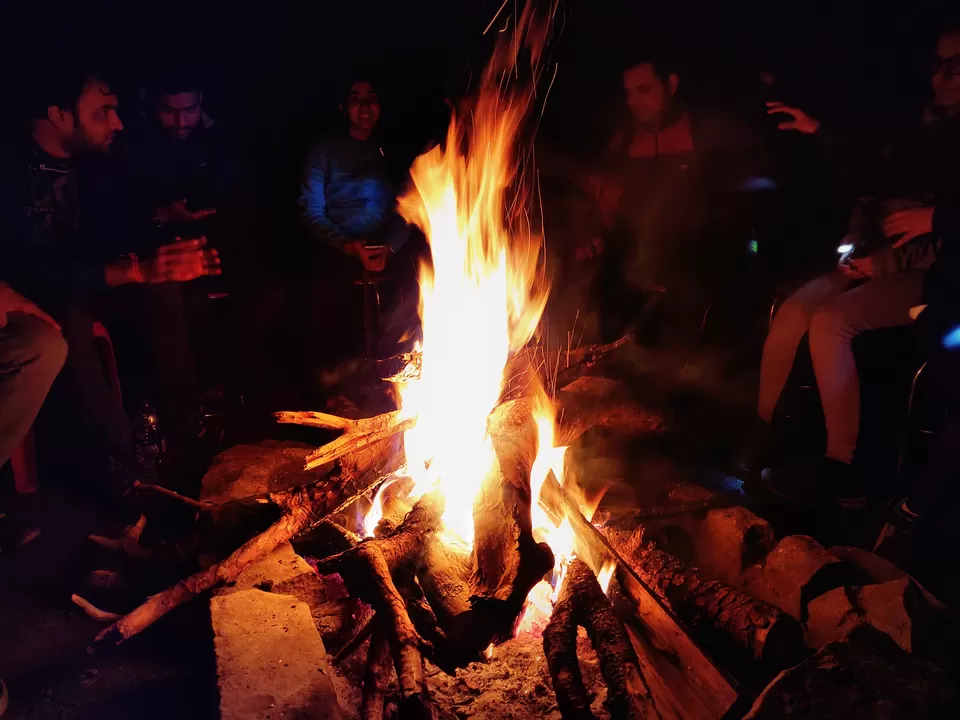 And after literally dragging ourselves, we reached the campsite. The first thing that I noticed there was the bonfire. It was icy cool at that time. I straightway went near the fire, put my feet at a safe distance and started to figure out the constellations. The sky was absolutely clear and I could see innumerable stars.
Too tired to have the dinner, I slid inside my sleeping bag at the end of the day. My back was hurting so badly that I was unable to move at all. Moreover, it was freezing cold at night. I couldn't feel my feet. At that point in time, my heart couldn't distinguish between the sorrow of my physical and emotional pain. I wanted to cry for missing the people I no longer have in my life and can never have. "Please," I thought "Please." I reminded myself that I am already doing everything humanly possible, and if it is making even one per cent sense, then things are going to be okay. And I didn't know when I slept.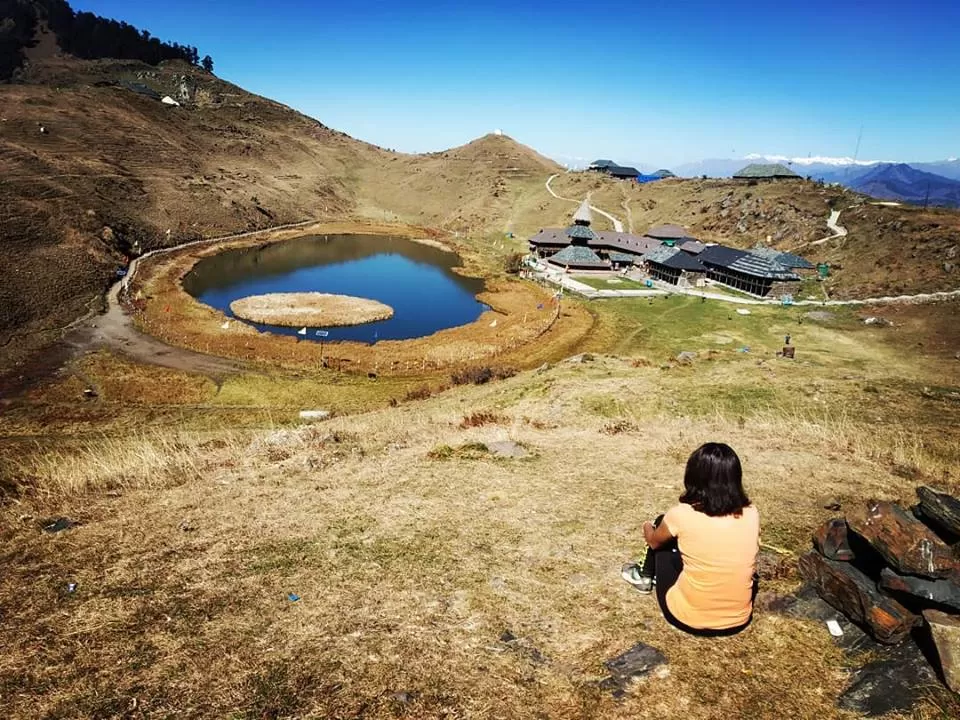 That day, we trekked from our base camp for two kilometers to reach the Prashar Lake. The lake has a round, floating island inside it. This floating piece of land moves in all directions in the lake. Nobody knows how deep the lake is as no one is able to determine its depth yet. The mystery still remains unsolved!!!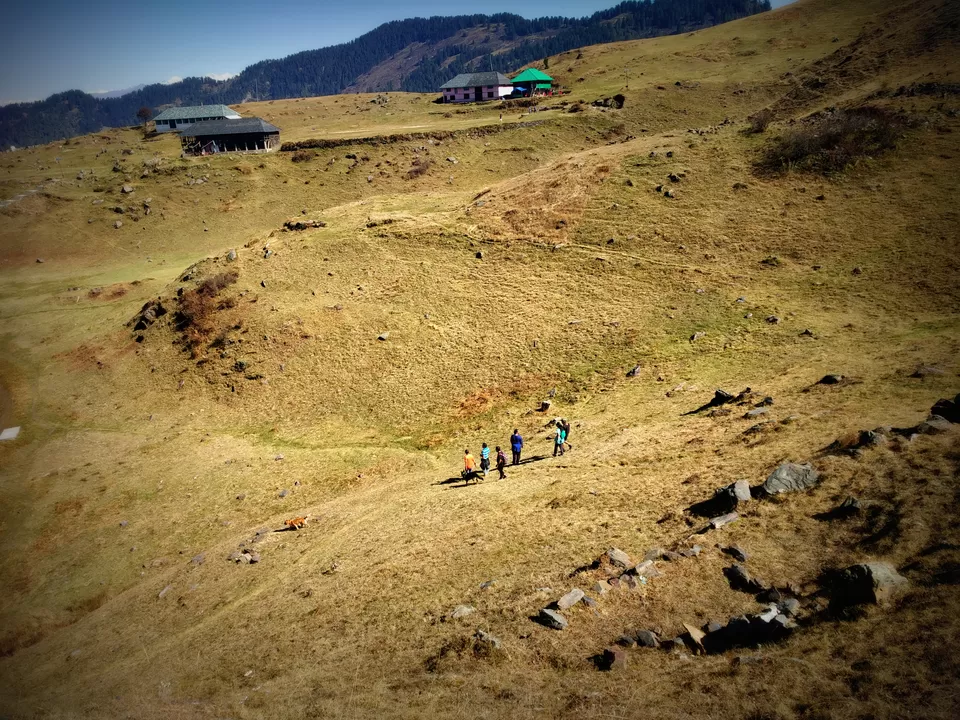 If you climb the nearest top from the lake, then you can see whole mountains from there including Papsura and Dharmsura.
Known for its fantastic architecture, there is a beautiful temple beside the lake dedicated to sage Prashar.
After absorbing the splendor of the place, we started to trek back with lots of beautiful memories and experiences.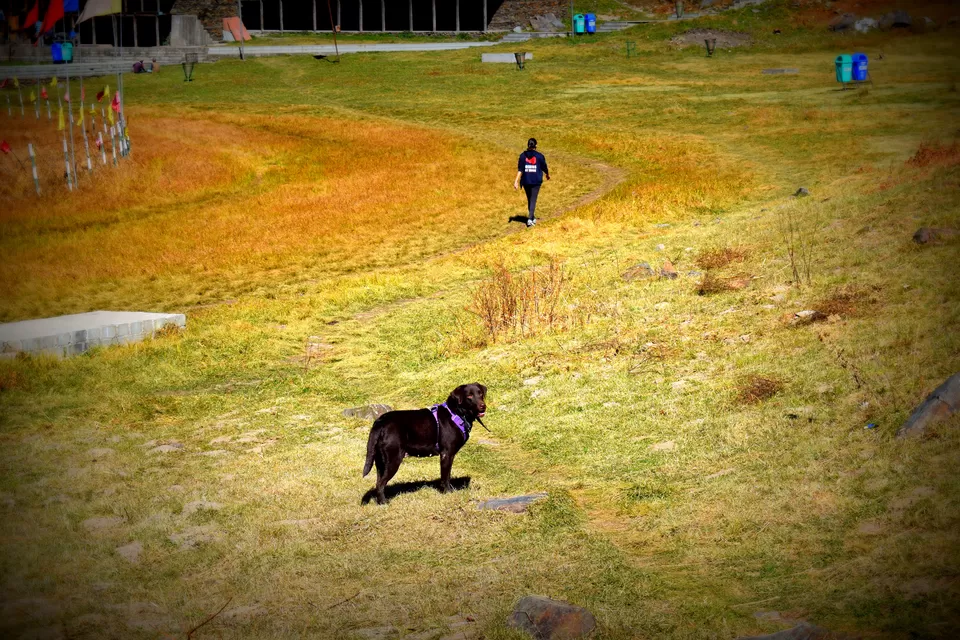 The best part about the treks organised by Tails on Trails is that the money raised is given to the animal NGOs in Delhi. So while spending some quality time with your floof away from the hustle bustle of the city, you are also contributing for a great cause.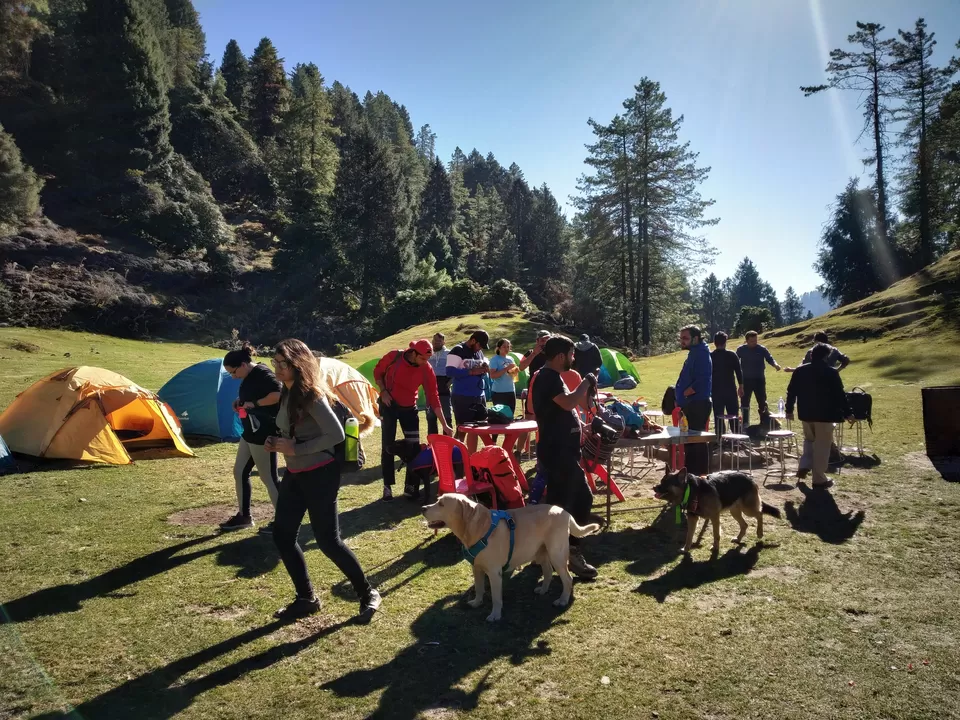 So, why you should also go for Prashar Lake trekking? For one simple reason that it will give you a reality check of your fitness level. Moreover, hiking on such a tough terrain for long hours will give you enough time to calm down your otherwise over-thinking mind. And it may sound funny, but I personally believe that one should definitely go for trekking with whom one wants to sort out a matter or clear things up. At some point of time, trekking demands teamwork and companionship. So in future, if you ever have a small fight over something with your spouse or a friend, then you know where to go. Prashar Lake can be the best getaway for that matter. Try to do a difficult task together that requires the strength of mind and body instead of just clubbing or watching movies. It will surely create more value for you.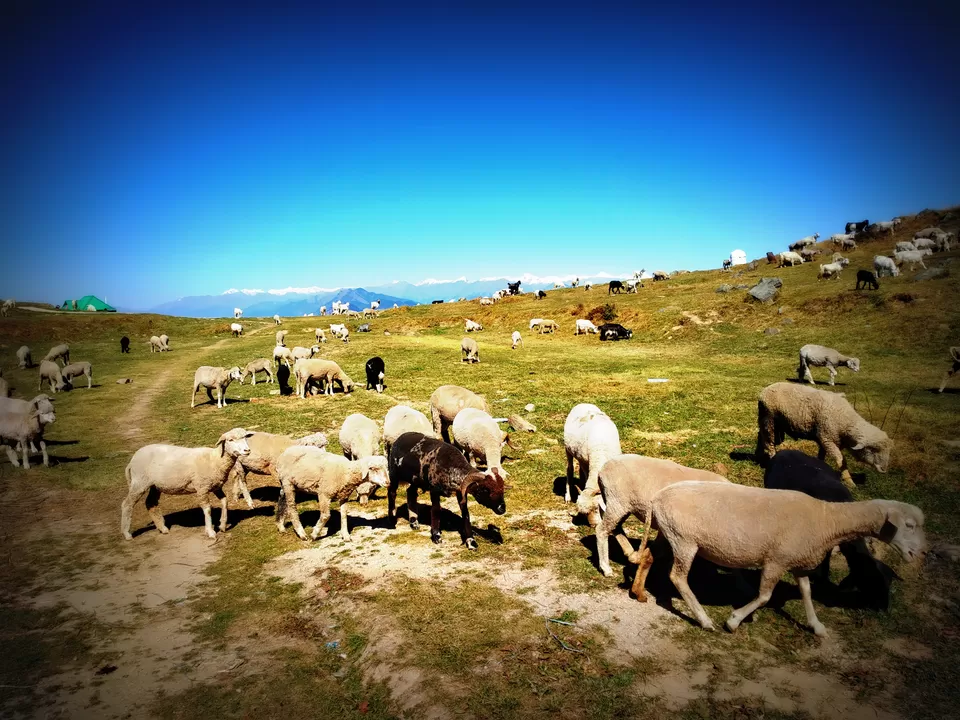 And please remember this:
• Ensure that your backpack is not heavy. Carry only what is really required. Especially, don't pack for 'what if' situations because that will only add weight to your bag. Carry only the basic necessities.
• Don't forget to carry your medical kit, along with sunscreen, lip balm, torch and at least two water bottles of one litre each.
• Do not throw away anything there, especially the non-biodegradable items. In case you use something like wet-wipes etc., then make sure to carry them back with you. You should not harm the environment in any way.
Have a look at some more lovely pictures taken during the trek: