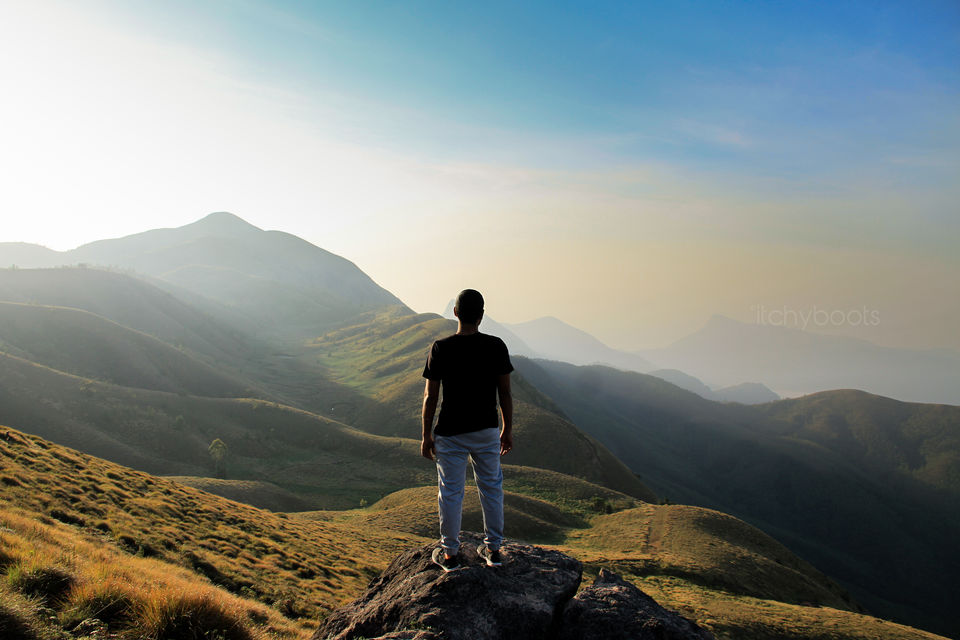 For a very long time, my friend and I were planning to do a long ride. And last weekend, we saw an opportunity coming. As we liked it to be a bullet [Royal Enfield] ride, we managed to arrange RE 350 Standard and a 350 Classic. And yet again my friend bottled out the night before and this time I was so determined that I did it solo.
It was a little late in the morning, when I started from my place with two route options to Munnar in mind, First with 160 km and another some 270 km. There was a 30-minute ride ahead before anything to decide. When I hit the Salem -Cochi Highway I went for the second route which goes via Palakkad-Thrissur-Chalakudy-Angamaly-Perumbavoor-Kothamangalam-Adimali-Munnar which happened to be one awesome ride. I stopped for Breakfast at Kanjikode Malabar Hotel. Had Puttu and Appam with kadala curry, the infamous Kerala dishes. The next break I took was somewhere near Oonukal for a chai. There were no thoughts in me. I just enjoyed every minute of the ride. The route was so green and scenic. I would say 'a perfect path to ride'. The bridge to cross Periyar River was one stunning place I enjoyed. Crossing the bridge is starting of ghat section. There were road construction works happening all the way. I couldn't stop anywhere in-between as I was asked to report to the checkpoint just to avoid elephant encountering. But there are places to see and spend some time while you en route to Munnar.
You can see a glimpse of Thotti Aar frequently as we ride along as it runs parallel to the road.
Cheeyarappara Waterfalls may be a perfect place to refresh after a long drive or ride. But this time it was running dry I guess. I'm not sure as I didn't stop there.
With vehicles stopped along the roadside and Tourist crowds, one would easily know they are at Valara falls. Heard the view of the waterfall is good. Many chat shops are around.
I was unaware of the left I took, which added 5 km more to the ride. But there were very few down going vehicles and also I route offered to see Karadipara view. As it was misty, I don't know what exactly the viewpoint offers for the eyes. Also, there were no people to ask about it at that time. I guess some rock that resembles bear's face.
It was around 03:00 PM when I reached the town. Tandoori Chicken and Ghee Rice for lunch at a nearby hotel. Food was good. Only at Munnar, I remembered 'Oh shit, I haven't snapped a single photo throughout the ride'. Then I thought of trying my luck buying a Lottery. Who else try there luck with the lottery tickets?????
My plan was to reach base camp by the end of the first day and start as early as possible on day 2 for the trek. As I've booked the passes already, I headed directly to the base camp. You can spend some time at KDFC's flower garden which is just 2.5 km from the town. Else you can continue to base camp. You must get the forest department's permission to trek Meesapulimala. To enquire availability/ book camping passes contact KDFC's Ecotourism. It costs Rs.4316 (2 Adults) for base camp stay. It includes day-1's dinner, day-2's breakfast and maybe lunch too. You have other costlier options too (Rhodo mansion, Sky Cottage).
Ride to base camp was through kilometers of tea estates and plantation forests. There were few checkpoints where you must register your entry and also produce the entry passes. There was a playground at the foothills which had a stunning scenic view. I fell in love with the place and wished there were people playing football. It is sad to see such places filled with plastic things. A store opposite offers a refreshing Kattan chai.
It was little after 6 in the evening. After riding some 26 km from the town, reached the base camp. The last stretch of road was too steep and harsh. One must ride with the utmost attention. Not recommended if it rains. The base camp had eight tents that it can host 16 guests a night. The temperature got low around 18 degree C which was okay for the summer. They provided sleeping bags in the tent. Toilets were clean but can be better.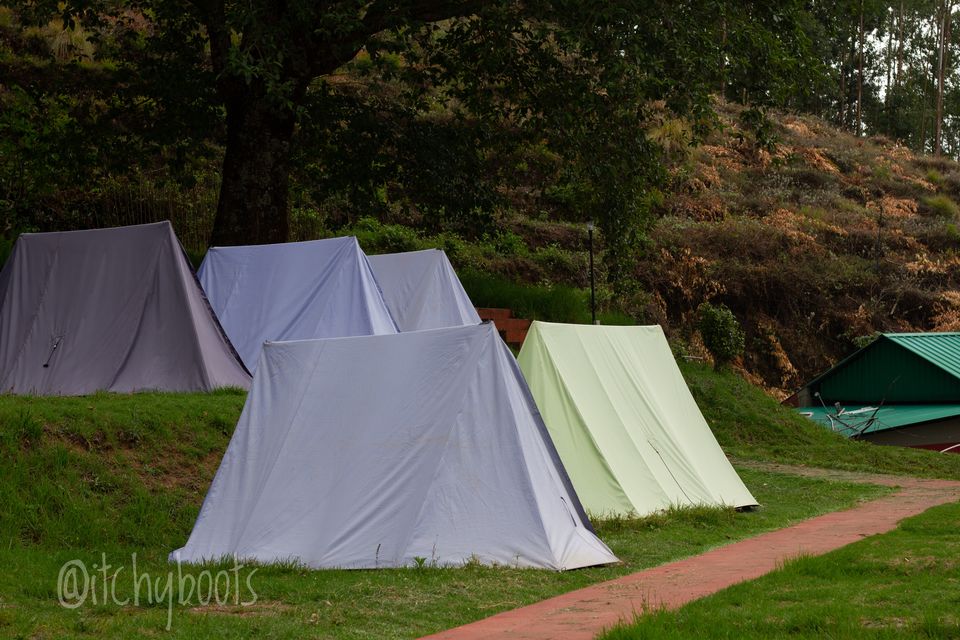 End of day 1 was an organised campfire under the roof in the middle of the arranged chairs. Dinner was provided in the same arena. They hosted 15 people that day, few foreign trekkers, a couple, a group of IT people from Chennai, the guide and me. It was fun.
Note: You can rent bikes from Coimbatore. I actually borrowed my friend's Royal Enfield Standard 350.
Day's Expenses
Fuel Rs.1000
Breakfast Rs.115
Refreshment Rs.40
Lunch Rs.150
Re-Fuel Rs.200
Lottery Rs.30
Total Rs.1535