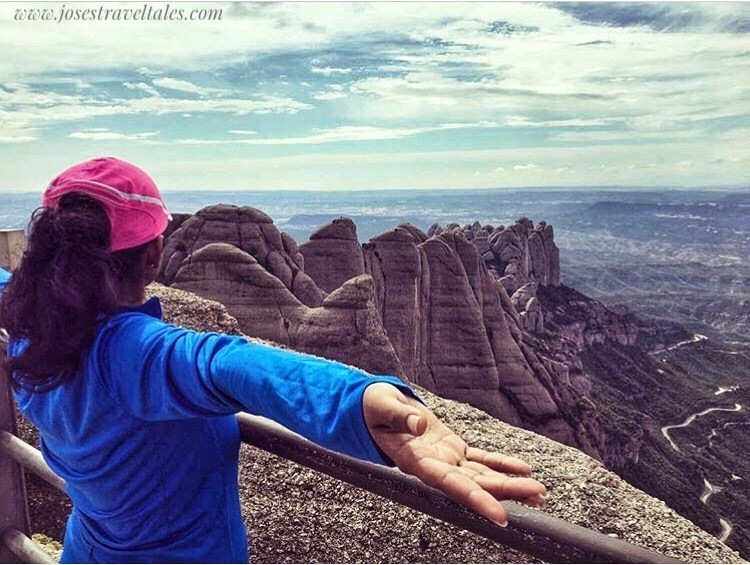 Montserrat remains one of our favorite destinations in Catalonia for various reasons - The multi-peaked mountains and rock formations look surreal, the place is not too far and is only about 50 km from Barcelona to Montserrat, it has plethora of hiking trails making it the best place for hiking and adventure enthusiasts , it is a pilgrimage destination for the pious and above all it is a great way to escape the hustle and bustle of city and see Catalonia's incredible landscape. A trip to Montserrat is one of Barcelona's most popular day trips and is a must do while in Catalonia. This blog post will tell you How to Plan a Day Trip to Montserrat from Barcelona. We also give you some useful travel tips.
How to Plan a Day Trip to Montserrat from Barcelona
There are umpteen options to reach Montserrat from Barcelona. We are sharing below all the options so that you can choose whatever suits your convenience.
Barcelona to Montserrat By Train
This is the most popular transport option owing to its convenience. Most tourists visit Montserrat using the train from Barcelona. You need to go to Placa Espanya station and then take the R5 Ferro Carril Train to Manresa. The first train from Barcelona to Montserrat is at 8:36 AM. Trains leave every one hour and the journey takes approximately 1 hour and 15 minutes .Check HERE for the Montserrat train timetable. If you are opting for the train option, then you have to choose between rack railway or the cable car option. The station you need to get off at depends on the above stated option. If you want to take the rack railway, then you must get off at Monistrol de Montserrat. And if you wish to take the cable car, then you should get off at Montserrat Aeri. You can buy the tickets directly from the ticket vending machines at the station or at ticket counters. You can buy a train + cable car combo ticket, train + rack rail combo ticket or Tot Montserrat (ticket inclusive of lunch, museum and travel). It is good to know that tickets are not discounted for senior citizens and you will have to pay the full price to visit Montserrat..
Train and Cable Car
- This is the fastest way to get to Montserrat but it is more expensive when compared to the Rack railway option. The cable car departs every 15 minutes and the trip takes about five minutes. However, the Cable Car option is not feasible for those people who are scared of heights or those who have heart ailments/ disabilities. Also since the Cable Car is small, it can accommodate only few people at a time. If you miss your turn then you will have to wait for the next Cable Car to arrive.
Train and Rack Railway
This combination works out cheaper but takes longer duration to reach the Montserrat Monastery. Once you get off at Monistrol de Montserrat, you need to get into the green colored rack train / funicular which is also known as Cremallera de Montserrat. This tiny train goes at a slower pace but still gives you splendid views of the mountains and will leave you at the entrance of the Montserrat monastery. Once you get off the train, make sure to get into the rack rail which is already waiting at its designated stop. If you miss hopping onto it, you will have to wait for close to 40 minutes for the next rack rail. The frequency of the rack rail is very poor in comparison to the cable car. You can check the link for Cremallera Timings and Ticket Prices .
Barcelona to Montserrat By Hike
From Plaça Espanya, take the R5 line to Monistrol de Montserrat. From the train station, walk through the town of Monistrol and then hilke your way up. There are several hiking options and we chose to hike from Estacio de Monistrol/ Monistrol Station until Sant Jeroni ,the highest peak of Montserrat. We took several stops during our hike as the weather was too hot and humid. It is very important that you check the weather before you go on your hike and also carry some snacks, water, sunscreen, walking poles and important medicines with you. We recommend you wear a cap and a jacket and also sport comfortable shoes.
Barcelona to Montserrat By Car
If you own a car then this is the best option. You can simply use GPS and drive your way from Barcelona to Montserrat. The journey takes approximately one hour. Upon reaching Montserrat, you can park your car at Monistrol- Vila or Aeri de Montserrat station. There are a total of 400 parking spots and there is no parking fee for it!
Barcelona to Montserrat By Bus
This is a great option to travel to Montserrat if you are all by yourself and still wish to hit the road. Buses run daily from Barcelona to Montserrat and these buses leave from the coach station that sits next to Estació Sants train station . You can check here for Bus Timings and Ticket Prices.
How Long do you need to visit Montserrat?
Montserrat should not be visited in a hurry. You need to definitely dedicate some time to really enjoy this beautiful place. We recommend you keep aside one full day to make the most out of your trip. We have been there several times and each time for a different purpose ( religious/ adventure/ sightseeing) and every single time we ended up spending the whole day there to soak in all the goodness the place had to offer. We also think it is important you leave early morning so that you get more time to see and enjoy the viewpoints.
Where to Eat In Montserrat?
If you are looking for food options in Montserrat, then there are a few restaurants and cafes. Restaurant Abat Cisneros is ridiculously expensive where you can enjoy a three course meal for €27.50. La Cafeteria in Montserrat is where we ate. They serve fast food, cake and coffee at more reasonable prices. However if you are on a budget, then the best option would be to bring your own meals and snacks from home.
What to do in Montserrat ?
Visit the Black Madonna
The Montserrat Monastery dates back to the 10th century and houses around 100 monks. These monks follow the Order of St. Benedict and are linked to two other Monasteries - El Miracle and St Micheal of Cuixa. Entrance to the monastery is free. One of the top highlights of Montserrat is to visit the Black Madonna/ La Moreneta who is the Patron Saint of Catalonia. The Black Virgin is seated at the Basilica .There is a popular tradition where people queue up to kiss or touch the Virgin Mary's hand. Please give yourself at least 30 - 60 minutes as the waiting time to touch the Black Madonna. The Montserrat Basilica is big, beautifully ornate and its Gothic architecture will leave you spell bound.
Check out the Art Museum of Montserrat
If you are into art, then you may want to visit the Art Museum which houses masterpieces ranging from the 13th to the 20th centuries. The museum also holds paintings done by renowned artists such as Picasso, Dali etc. You must pay €7.00 to enter the museum. Students, Retired persons and children are eligible to get tickets at discounted rates if they produce an ID card.
Light Candles at the Cami de l'Ave Maria.
In my opinion this is a very Instagramable place in Montserrat. You will find an area with the picture of the Black Madonna and hundreds and thousands of colored candles all stacked up. You can pay a small donation of €2 to take a candle of your choice. Every lit candle to me screams hope and thanksgiving to the Virgin Mary.
Watch the Choir Performance by the Montserrat Boys Choir ( La Escolania )
While visiting Montserrat make sure to catch the choir in action. The specialty of La Escolania is that it is one of the oldest choirs in Europe and listening to the boys is a heavenly treat. They perform twice daily at the basilica at 1:00 PM and at 6:45 PM. Save up some space on your camera to record this spectacular show.
Santa Cueva de Montserrat
You ought to see this 17th Century chapel during your trip to Montserrat. You can walk directly from the Montserrat Monastery to reach the cave or opt for the Funicular de Santa Cova. The Funicular leaves you at the starting point of the walk towards the cave chapel. The walk is close to 20 minutes before you reach the small chapel which houses a grotto. It is believed that the Black Madonna was originally discovered in this sacred grotto by the shepherds. And later on the statue was moved to the Basilica. The path that leads to the chapel is lined with statues that depict scenes corresponding to the various mysteries of the Rosary.
Walk And Hike In Montserrat
If you fancy hiking and wish to enjoy some splendid views of Catalonia, then Montserrat is the place to be. There are several hiking trails ranging from 2.5 km to 7.5 km .These hikes are recommended only if you are in good form.If you have the time and energy, we urge you to hike up Sant Jeroni which is the highest peak of Montserrat with a height of 1236 meters. For the best view points head to Mirrador de Sant Jeroni (Viewpoint of Sant Jeroni)
Pick up some authentic mountain produce
Do not leave the mountains without buying some local products such as honey, cheese, liquor, oil, meat, fig cakes , chocolates etc. It is very typical to indulge in some cheese tasting at the Montserrat market stalls.
Travel Tips for Montserrat
Always plan to arrive at-least fifteen minutes before the departure of the train from Plaça de Catalunya. By doing so you can be sure of getting a seat in the train. If you arrive just in time to board the train, then chances are that you will have to stand throughout the journey. We do not recommend you visit Montserrat on public holidays for two reasons. Firstly, the train frequency will be lower than usual days. Secondly, Montserrat tends to be overcrowded with tourists and locals on public days. Check the weather in advance and dress accordingly. If you are planning to hike, carry a cap and jacket irrespective of the weather as the weather is very unpredictable high up in the mountains and it can get very cold. If you are on a budget then carry your own lunch and snacks. Dress appropriately if you plan to enter the Basilica. Carry a scarf or a long shawl to cover your shoulders. If you are interested in doing a spiritual retreat then you should contact the Centro de Coordinacion Pastoral at the abbey. E-mail: ccpastoral@santuari-montserrat.com If you are interested in doing something very touristy then do club your visit with Tapas and Wine Tasting at Oller del Mas winery. There are several tour operators that organize these guided tours. You can check HERE for more information.
We hope you found this blog post useful. Have you ever been to Montserrat before? Let us know what was your experience like in the comments.
If your interested in half day trips from Barcelona, then do check out Figaro
Follow us on Instagram, Facebook and Twitter too to stay updated on our posts.
This is a travel and food blog by Vini & Jose, a fun indian couple who are absoloute travel junkies. They have visited 27 countries so far and look forward to creating many more memories across the globe. Through this space ,they would like to share their travel stories and adventures with the rest of the world and also inspire their readers to set out and explore those paths less travelled.