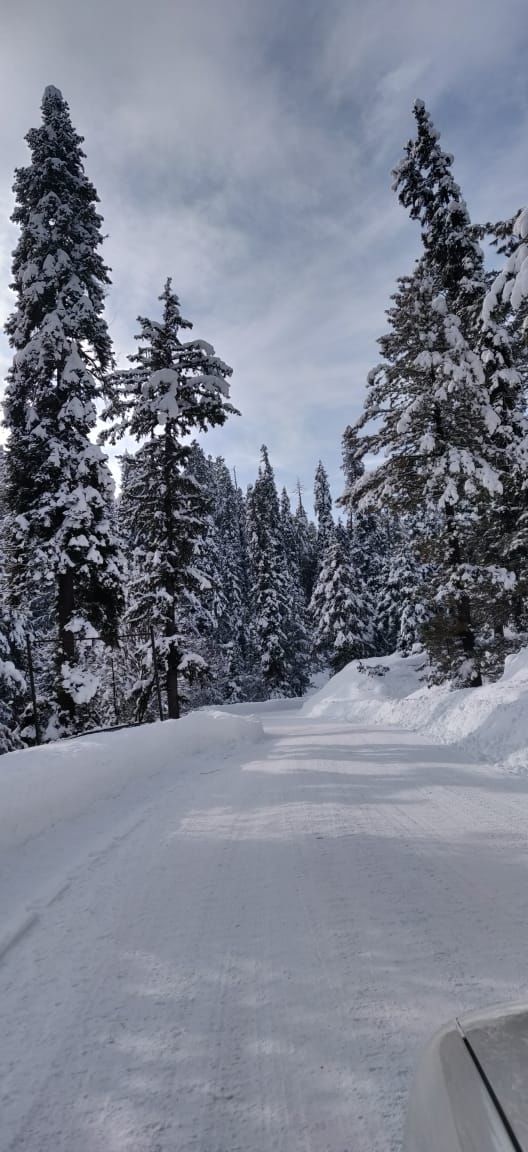 We were a group of six people who embarked on this "ski only" adventure. Four of the six people, had never skied before, including myself.
We took the flight from Delhi to Srinagar in the morning at 7AM. The initial timing of the flight was 8:30AM but because of snow storms in Kashmir, it was preponed to 7AM. The flight timings are often subject to changes because of weather. So be prepared for last minute changes in flight timing. The flight duration was about 1.5 hours.
We landed in Srinagar and straightaway proceeded to the ski town of Gulmarg. The drive was about 1.5 hours, out of which half was on snow covered roads.
Upon reaching Gulmarg, we checked into our hotel. The hotel was called Kolahoi Greeens and was located right next to the skiing slopes. The hotel was a great deal for us because it was newly renovated and close to the action. All hotels in Gulmarg are gas heated because the winter temperatures at night can drop to as low as -20 degree Celsius. So once inside the hotel, you can roam around in a casual T-shirt and pyjamas. Two of the six people had been to Gulmarg before, so they handled all the bookings and got us a great deal. The hotel cost us only 4500 per night (the Gulmarg expedition guys got us a good deal) and was well worth it. For luxury travelers, the only five star option in Gulmarg is Khyber which is over 20000 per night.
Upon checking into the hotel, we straight away changed and proceeded for skiing. Let me give you guys a brief about how skiing works. Firstly, even before you can embark on your skiing holiday, you will need to buy some stuff. This stuff is extremely important because it will keep you warm in sub zero temperatures. You will need three bottom ski layers - the base layer which is made of the skin hugging material, the middle layer which is a fleece like material and the top layer which is your ski pant. Similarly, for the top, you will need a base layer made of the same skin hugging material, the middle layer which is made if the fleece material and the top layer which is your thick ski jacket. I had not purchased the middle fleece layer for my top because I had a sweatshirt which was similar. Apart from these, you will need two pairs of ski socks, water proof ski gloves, a Balaclava and some eyewear to protect from the sunlight. You have to keep in mind that all outer layers have to be waterproof. If they get wet during skiing, you will end up having a terrible experience. All the above items should cost you about 10000 from Decathlon at Huda City Center and they are a MUST. Secondly, the other stuff you can rent from a ski shop. This includes your skis, ski poles, ski boots, helmet and eyewear. We rented our stuff from 'Gulmarg Expedition' which was right next to our hotel. One of our friends had a contact there, so they helped us with all our bookings, including the hotel, transportation to and from Srinagar, ski equipment and guides. They were extremely professional about everything.
Each of us had a personal guide with us. On the first day we went to the smallest of the learning slopes called 'baby slopes.' We started with learning how to stop using the snow plough technique and how to control weight distribution on the ski. The biggest problems that I faced was the fear of falling whilst on a slope (shifting weight towards the back will always result in a fall). I fell numerous times on all three days and so will you. The best way to deal with it is to try and ski without fear.
We skied from 11AM to 4PM. Post skiing, we returned to our hotel. There is absolutely nothing to do in the evenings. You can sit and chill in the room, listen to music, maybe play some card games. You can also take your own alcohol since it is not available anywhere in Gulmarg, barring one hotel.
We got the dinner buffet at our hotel itself. It cost us 500 bucks and was great. I would highly recommend booking the dinner buffet in advance because they only do it if enough people have signed up for it from before.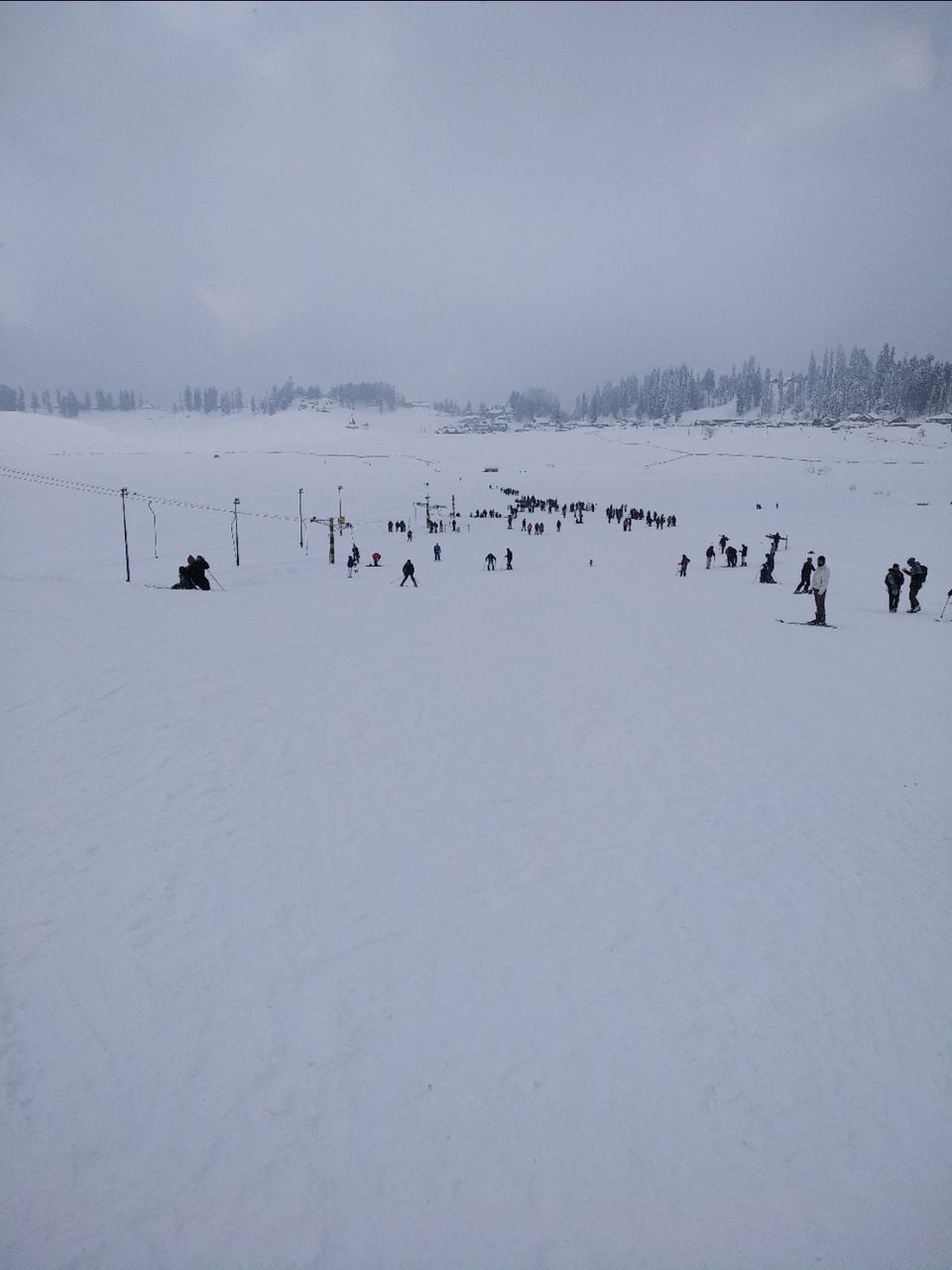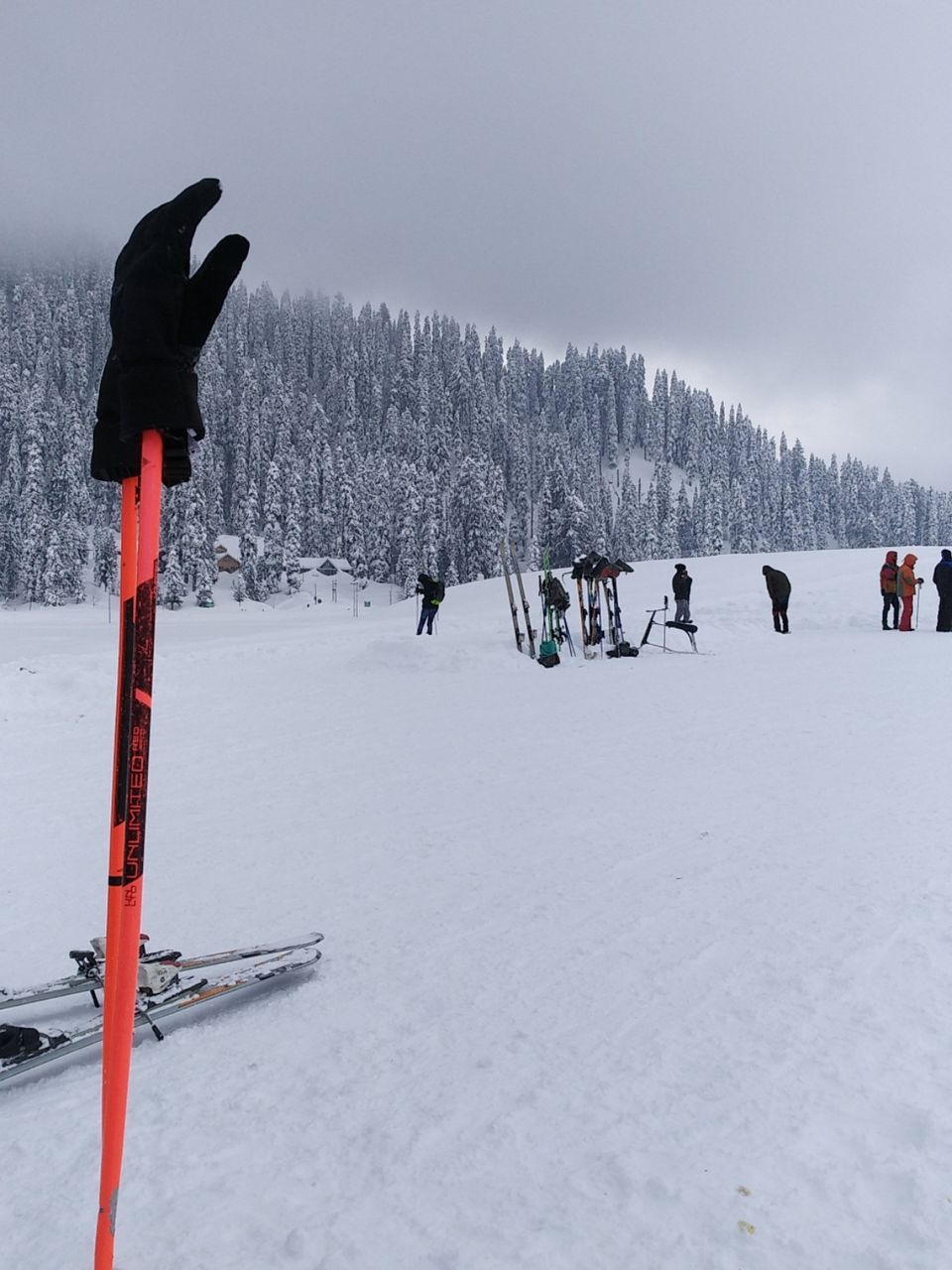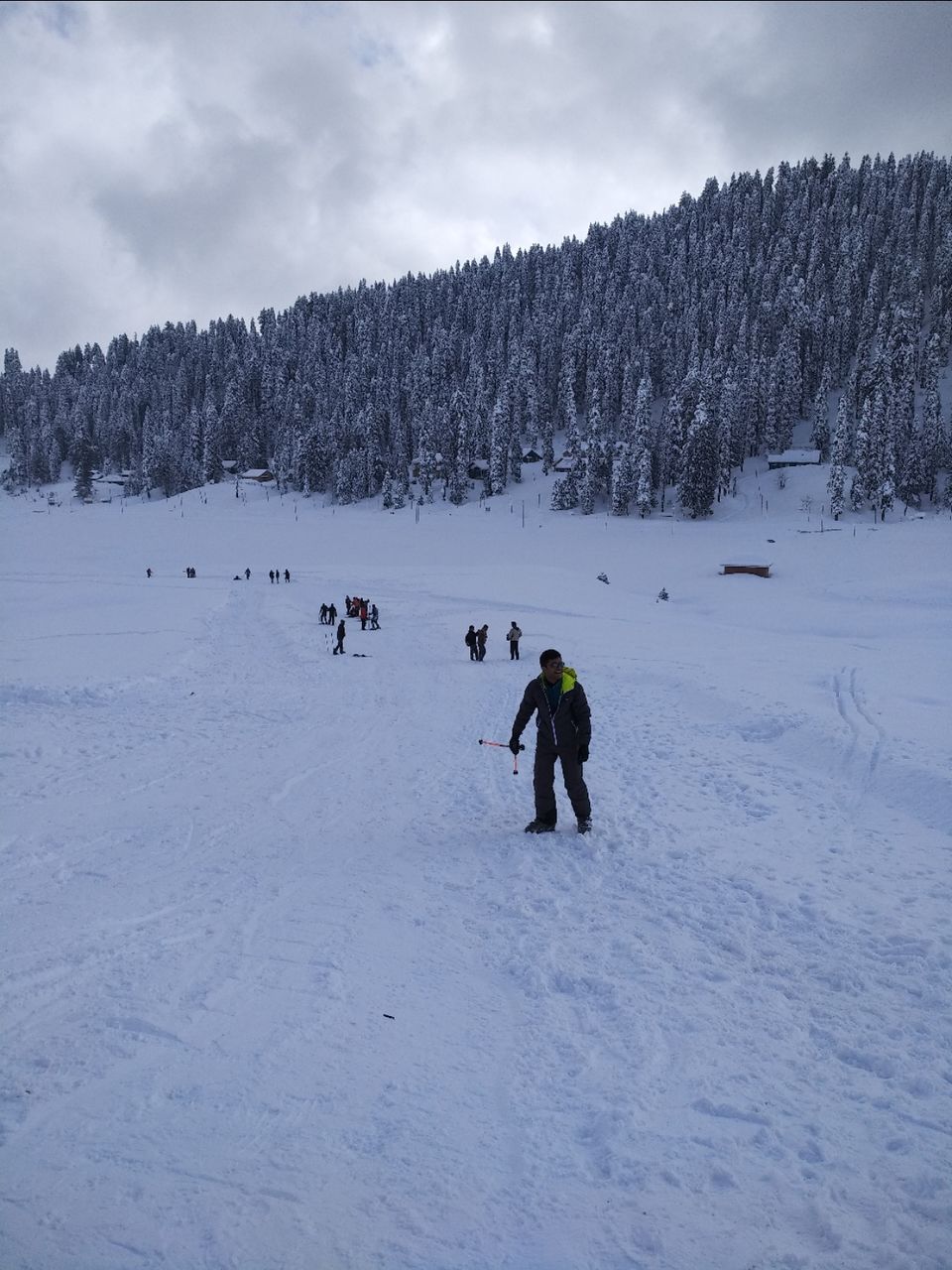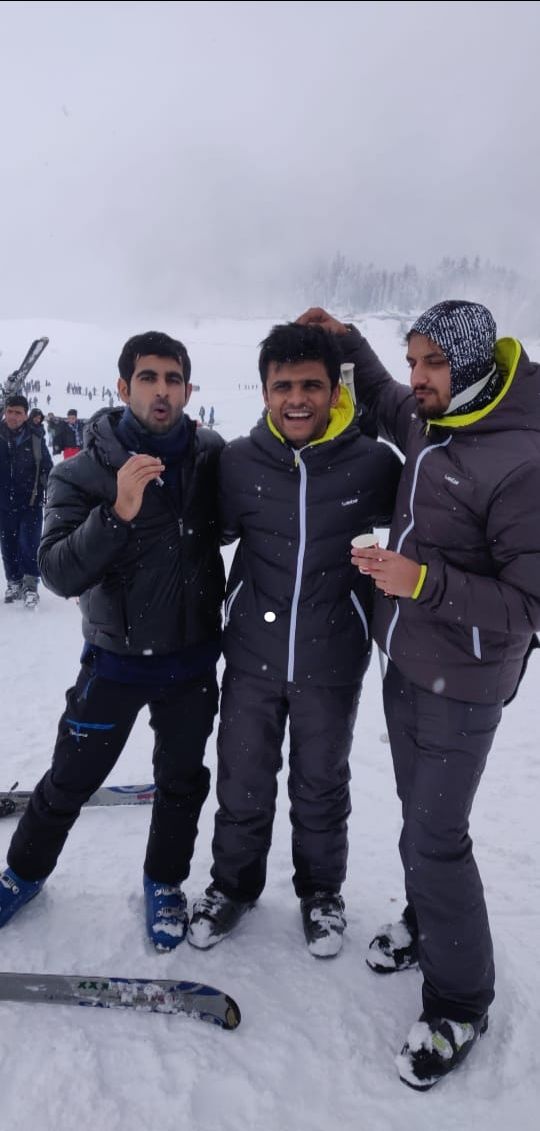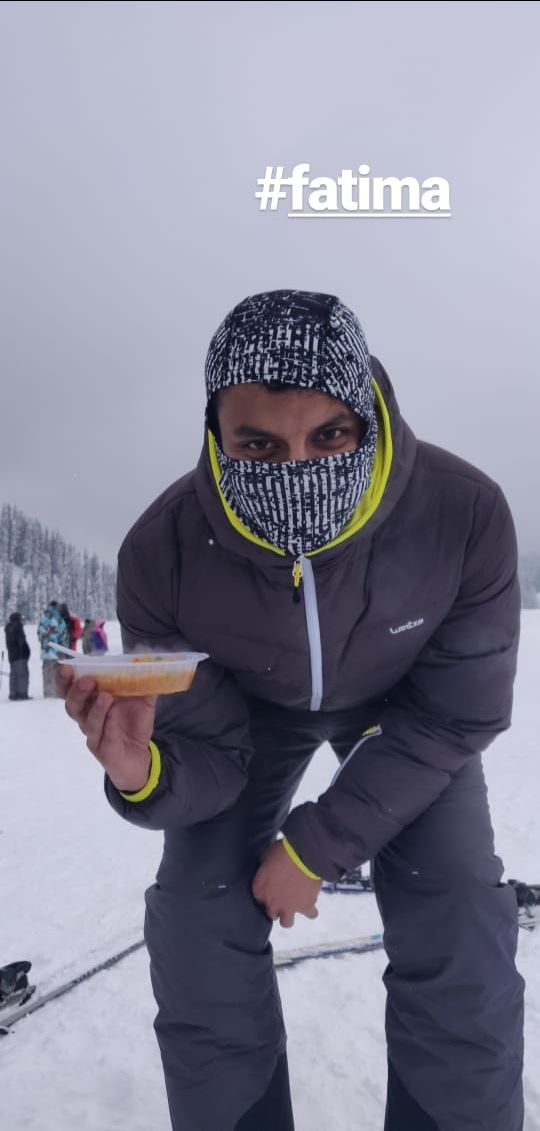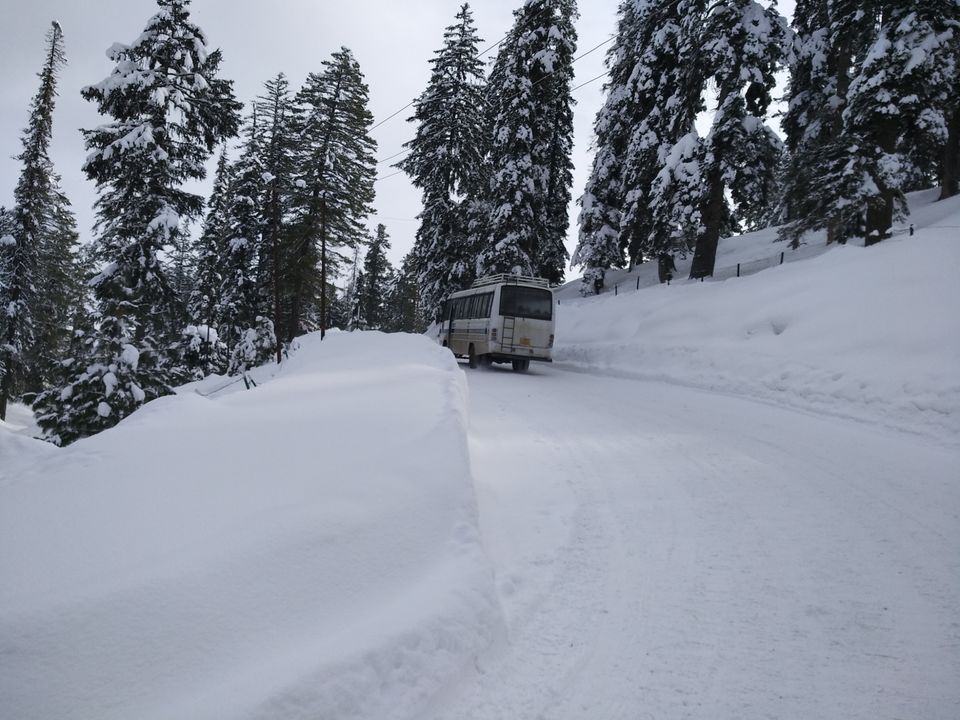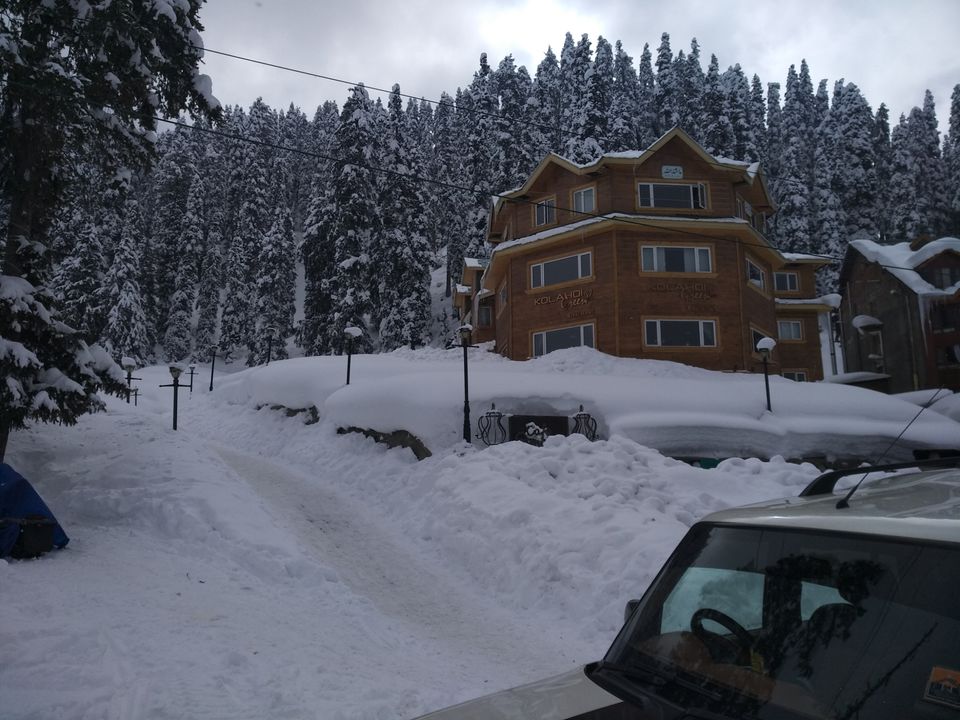 Today we started skiing at 11AM. Firstly we went to the same baby slope as yesterday. Here we did 6-7 rounds of skiing. Today we were concentrating on learning how to turn with the snow plough technique. After this, we went to another nearby baby slope. This was a bit steeper and more challenging. We did about 3 rounds of skiing here, turning with the snow plough technique. The tough part about skiing these first two days was the walk up to the top of the slope after every round of skiing. We finished skiing by 4PM.
We got an early dinner at the hotel itself and then headed to Khyber. This is the only five star property in Gulmarg and is located 600 meters from our hotel. Here you can take your own bottle of alcohol and sit by the restaurant area and drink. We took two bottles of wine.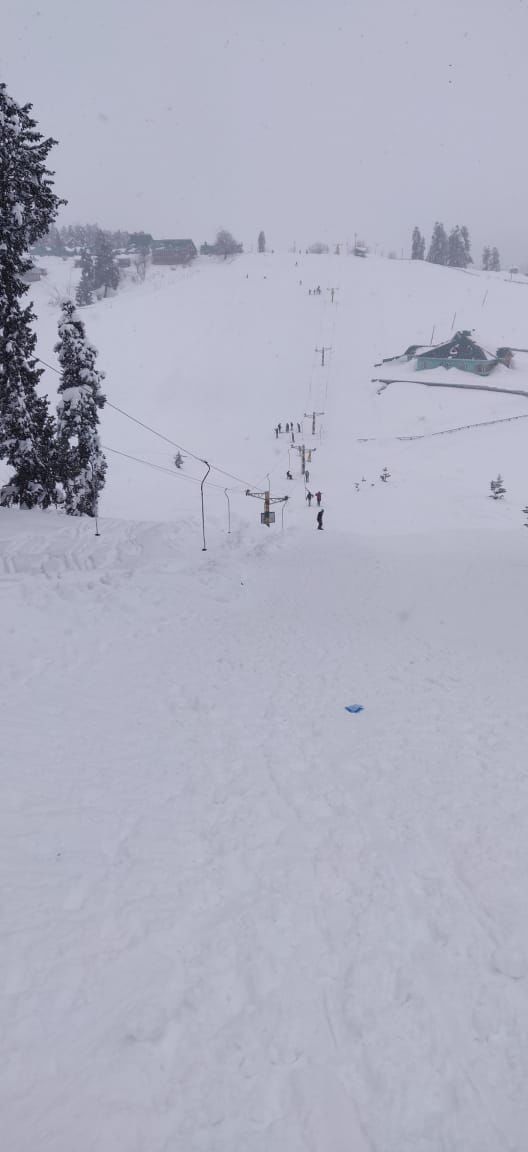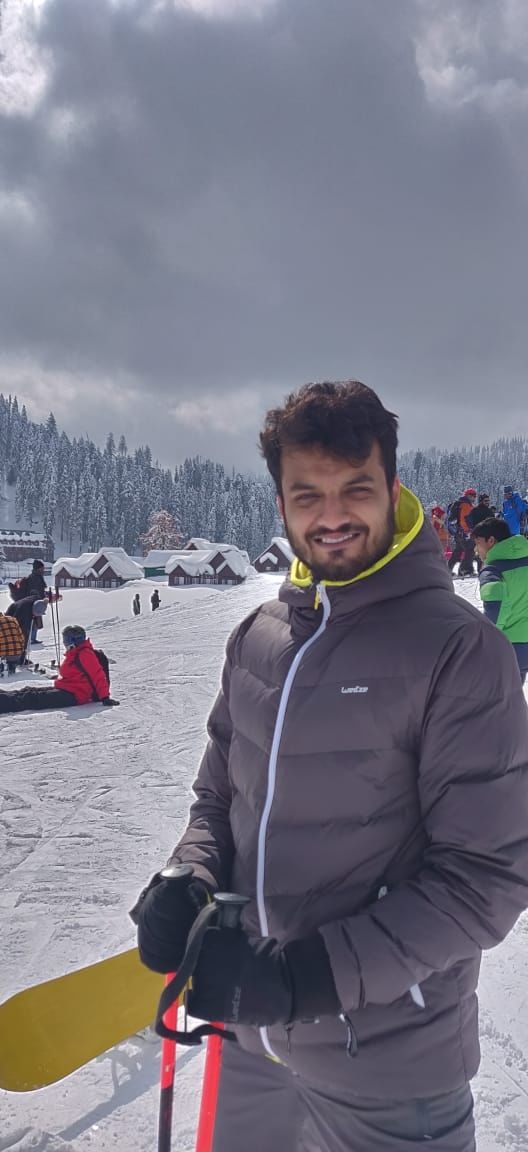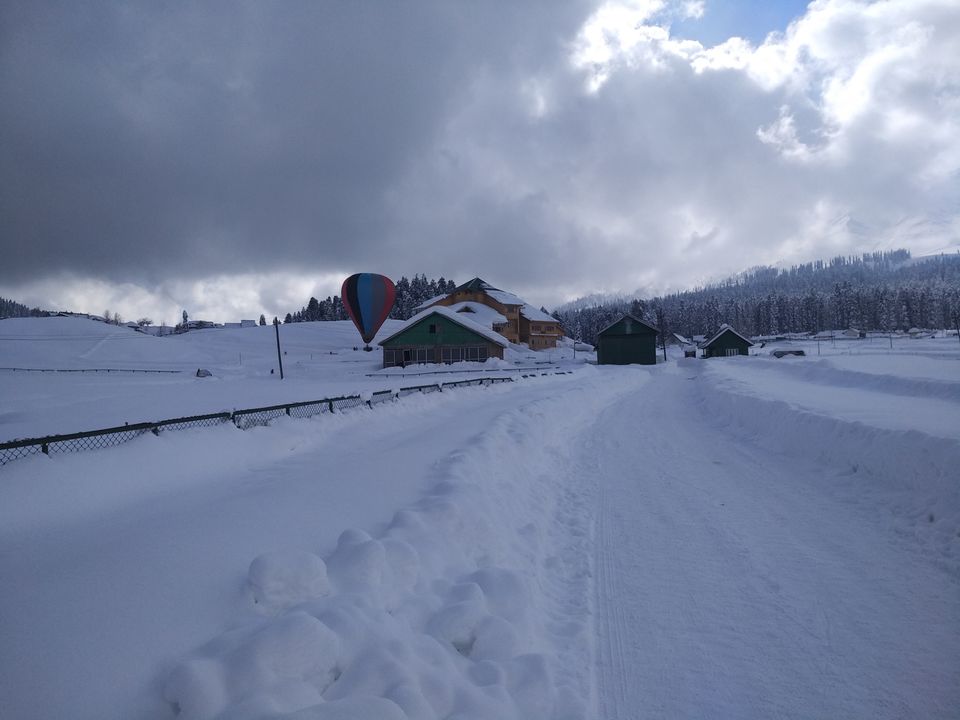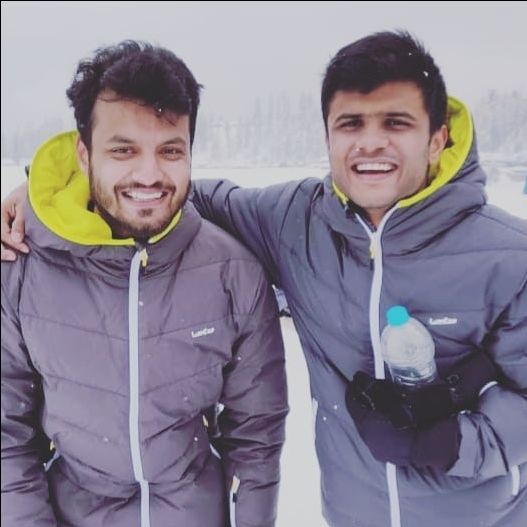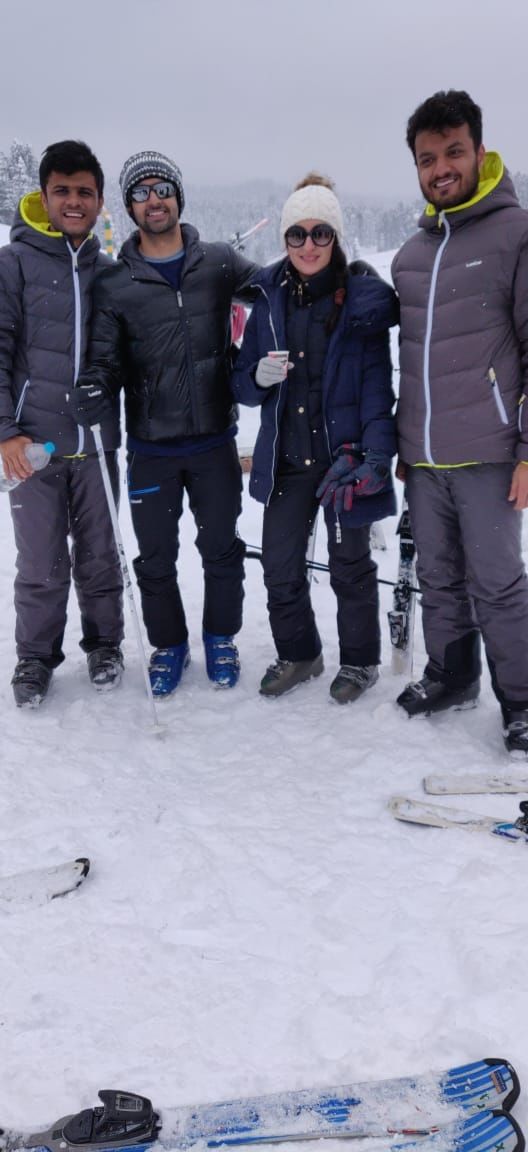 Today, being 26th January, everything was super crowded. Huge number of people had come up from Srinagar. Also, Internet services in Gulmarg were stopped from 2AM to 2PM, due to security reasons.
We started our ski day at 12PM and headed out to another baby slope. This slope was a little offbeat and was used by the Indian Institute of Mountaineering and Skiing. We used this slope because all the other slopes were super crowded with tourists. Here we practiced for 3-4 rounds, focusing on going down in turns. After this, we headed to phase 1 which is a 5km ski track down the mountain. You have to take the gondola up to the top and then ski down. This was fun because here we could ski over a long distance. There were two very steep and tricky parts on this route and I fell multiple times on both. We did this entire route twice before heading back to the hotel. Today was the best day because we were able to enjoy skiing and there was no physical exertion of continuously climbing up the slopes.
Post skiing we got dinner at the hotel and headed to Neydo's. This is the only bar in all of Gulmarg. It was a little far away from our hotel, so we had to take a car ride. It was a nice chill place where you can enjoy a drink and unwind.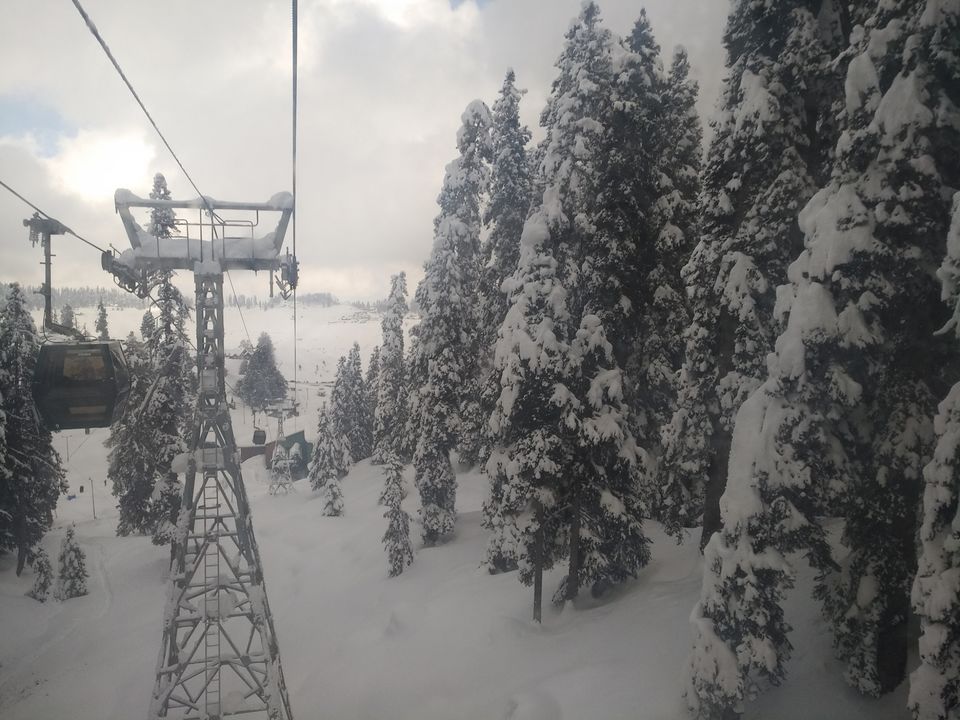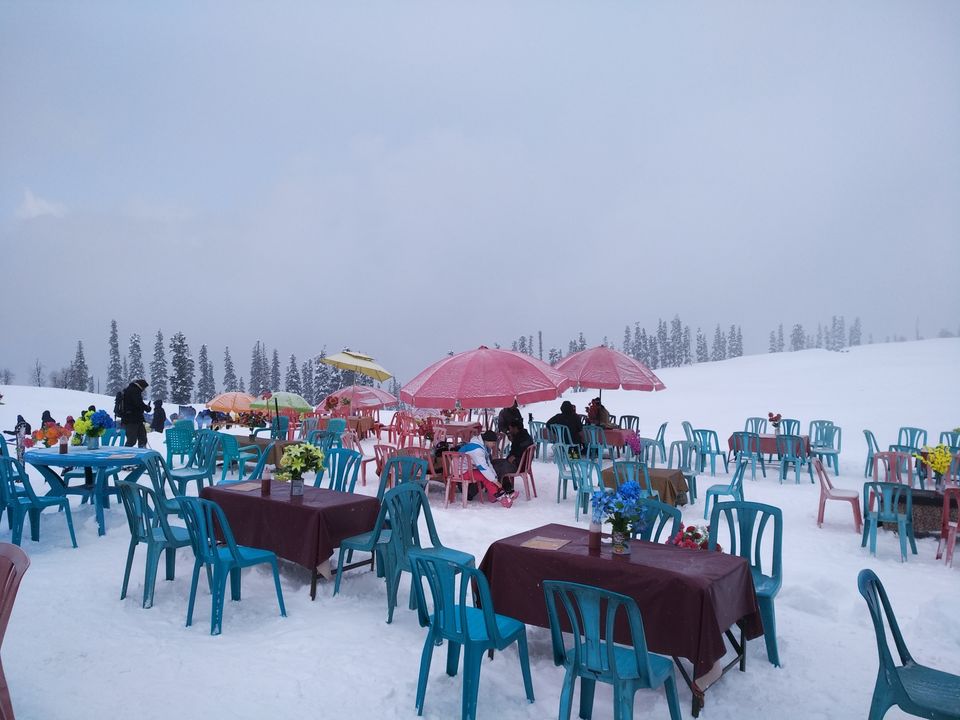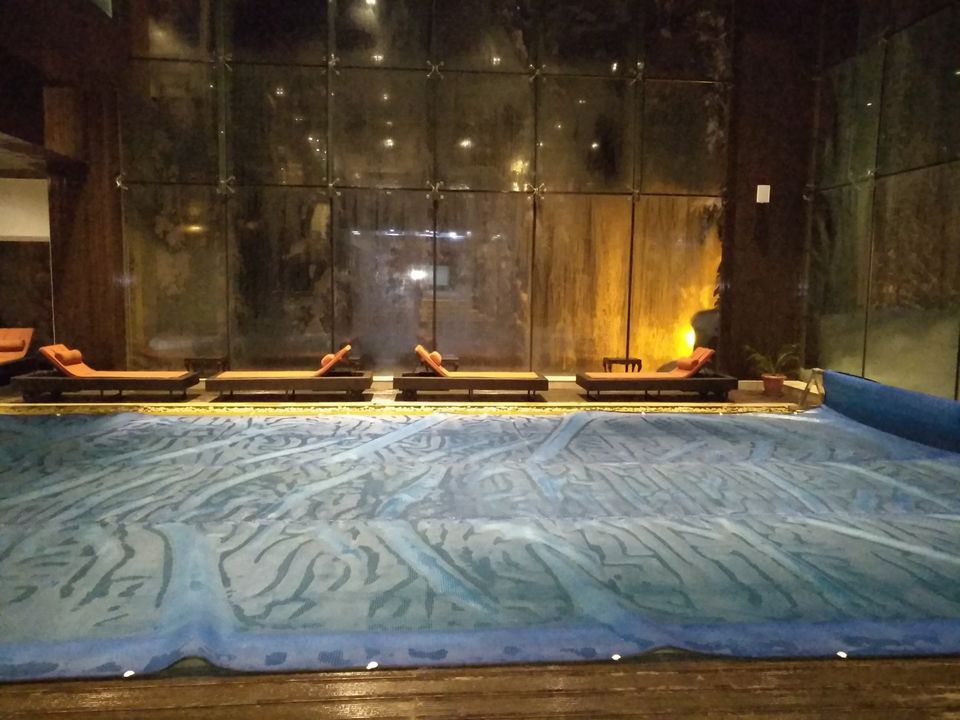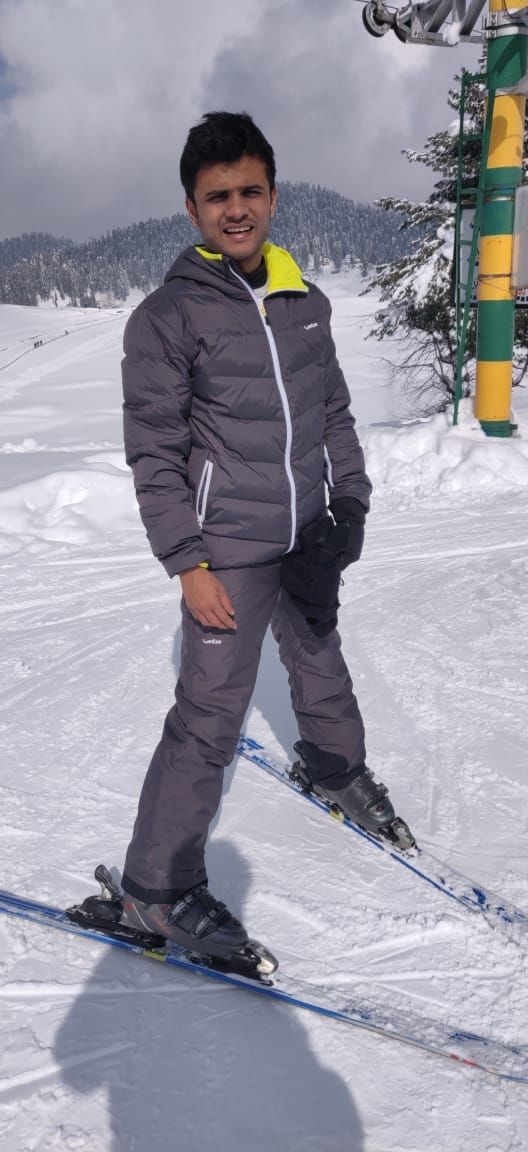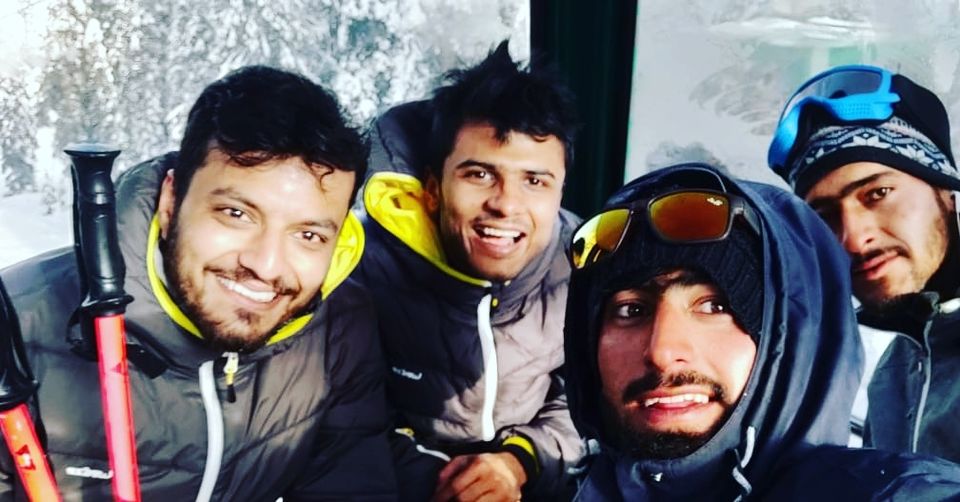 We left for Srinagar at 11am. Our flight was originally scheduled for 4:15PM but was preponed to 3PM. Initially we had planned on eating some nice kashmiri food before flying out, but because of this time change, we had to skip that part. Two good restaurants in Srinagar are Adhoos and Mughal Darbar. Both are located in Lal Chowk.
We landed in New Delhi by 5PM.