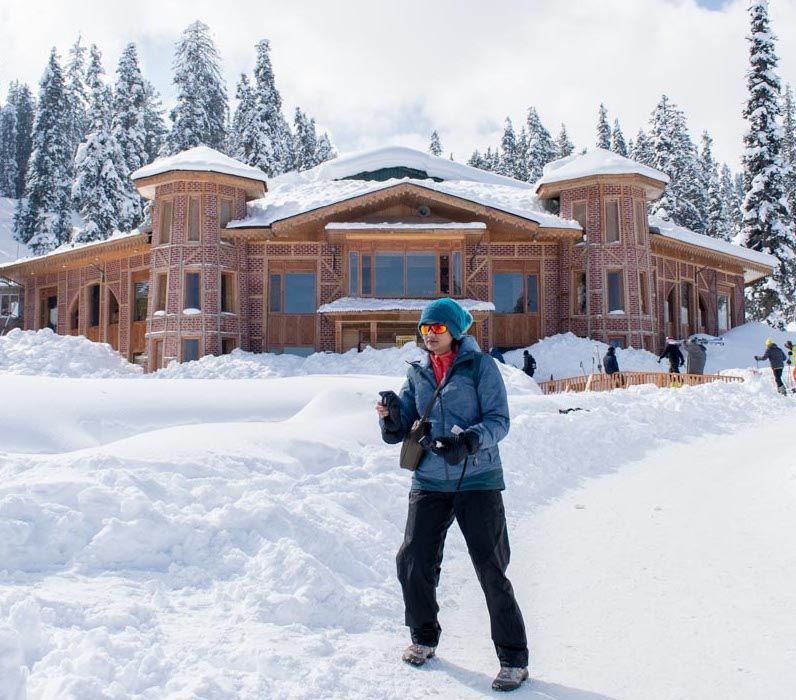 Visiting Kashmir was a dream, so I decided to act on it.
My initial plan was to spend 5 peaceful days in the valleys of Kashmir. Sipping on Kawah, prancing through the snow-laden hills, I intended to read a book and finish writing a few long due articles, a glorious result of procrastination, you see. But as it turned out, two of my footloose friends, Vikas and Harsh, decided to join me and what was supposed to be a leisurely stay in Srinagar, eventually turned into an adventure in Gulmarg. And guess what, it turned out to be one of the best experiences of skiing in India for us.
All about enjoying skiing in India

How to reach Gulmarg
To get to Gulmarg, you'd have to reach Srinagar, the capital city of Jammu and Kashmir. It is well connected with all the major North-Indian cities via flights, trains and buses. If you are travelling from any southern states, I'd advise you to take a flight as there are only a few trains available, which takes forever to get you to the destination. Once you reach Srinagar, you can either hire a private taxi to Gulmarg, which charges about Rs. 2500 or take a shared taxi that seats 9 people for Rs. 180 per seat. I opted for the latter, obviously.
Gulmarg - Skiing | Dos and Don'ts
Dos
1. Ski with a local skiing company/ trainer. Winter sports and tourism is a major source of income for small businesses in Gulmarg. Support them. I decided to train with the Himalayan Ski School, you can contact Shahid, the owner, directly at +91 7006575092. They provide you with Ski gear on rent for Rs. 300 a day and if you opt for a personal trainer, that would additionally cost you Rs. 1500-2000 per day. Needless to say that it is one of the best places for skiing in India.

2. Load yourself with a heavy breakfast as your training will burn a lot of calories.
3. Book an accommodation close to your training slope. Beginners usually train at the Bunny Slope in Gulmarg.
4. Instead of wearing multiple layers to stay warm, buy a waterproof jacket that can keep you warm till -10°C and wear a warmer inside. Less layers = Ease of movement.
5. Carry a small insulated water bottle. Even in -13°C, constant workout (skiing down the slope and walking back up the hill) will dehydrate you.
6. Carry full coverage ski goggles/reflectors or trust me, you'll damage your eyes with the bright light and exposure.
7. Apply a thick layer of Sunscreen because the mighty sun is too generous and your skin will burn like a barbecued chicken.
8. Carry a small and light backpack to carry water and protein or granola bars. Skiing can get tiring and your body will appreciate a healthy snack while training all day.
9. Carry dry shampoo because you ain't getting any water to shower. You'll be given a bucket of water to clean up, brush your teeth and wipe your ass!
10. Whether or not you qualify to ski on Phase 1 (Kongdori) and Phase 2 (Aparwath peak), take the Gondola ride for the love of the fairytale views. It is reckoned to be world's second highest cable car project. Wohooo!
Don'ts
1. Do not bring any single-use plastic to this region. Waste disposal is an issue in high mountains.
2. Do not try skiing yourself if you are a beginner. I know YouTube videos look convincing but it's no cakewalk. You may end up injuring yourself or those around you.
3. Don't even think about becoming an expert in a day or two. You'd need 4-5 days to get the basics right. Plan your trip accordingly.
4. Do not wear slouchy or flow-ey clothes.
5. Do not layer up on your legs. Ski boots are heavy and tight. It will hamper blood flow in your feet.
6. Don't try skiing on powder snow unless you know what you are doing. Powder snow is difficult and tricky. Basically, not for beginners.
Food in Gulmarg
If you are a vegetarian, you'd be stuck with the basic Rajma, Paneer, Rice, Aloo and a few green veggies. But if you are a non-vegetarian, you can easily find Wazwan, an extensive platter that comprises of 32 mutton and chicken dishes. Apart from these, sip on Kawah, Kashmir's special winter beverage to soothe your soul.
Stay in Gulmarg
There are various cottages and hotels at your disposal. You can opt for JKTDC quarters. I stayed at Poshwan Hotel, which costed around Rs. 1600 per night (with room heater) and was only half decent.
Well, this is all you need to know for your first trip to Gulmarg. to best enjoy skiing in India. Try to add a day or two to explore Kashmir while you are at it. I will soon pen down a blog on my brief Kashmir visit. ... You can follow me on Instagram and Facebook. I am quite responsive there. If you are looking for a few hidden gems to explore in India, try reading my blogs on Jibhi, Totam and Amritsar.