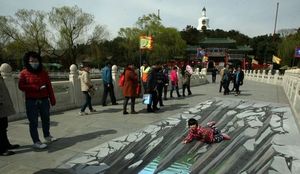 Places to stay near
Beihai Park
Hutong Guest House丨6 beds room 2#
vintage Beijing, private bathroom
Amazing Private room with a big tv!
恭王府.什刹海.后海.南锣鼓巷.鼓楼老北京胡同文艺书屋四人间
D.Loft 3 - Modern Courtyard House
Reviews of
Beihai Park
•
1
After a much long walk around 798 Art Zone, I decided to catch a quick break at a former imperial garden of Beihai Park which is barely 16 km away. Don't miss this place as it contains numerous historically-important structures, palaces, and temples. First built in the 11th century, it is among the largest of all Chinese gardens. But what excited me the most was the captivating 3D artwork in the park known as "Broken Bridge". The artist couldn't have been more literal. Situated in the northwest of the Forbidden City, this place is beautiful and qualifies for the most relaxing hikes in the city.
Attractions near
Beihai Park